Best TV Trays Reviewed & Rated for Quality
In a Hurry? Editors choice: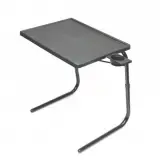 Test Winner: Table Mate II

What makes
watching a television
show even better? Snacks! Snacks are for solace, celebration, and sustenance. It's hard to get through a long day without a snack. But how does one balance the tricky balance between TV watching comfort and keeping snacks within easy reach? The answer, of course, is the TV Tray. Okay, we exaggerated a little. TV trays have been around for ages, though it's only recently that they're no longer just a thing of the 1970s. Contemporary TV trays have greatly aided our multitasking skills. Now we're able to
eat dinner,
hold a drink
, watch TV, and keep our hands free all at once! Here are the best of the best TV trays.
Standout Picks
Criteria Used for Evaluation
Brand
We've discussed furniture quality as an important point in deciding which products to put in before, but this buying guide more than ever needed to focus on the structural integrity of these TV trays. TV trays are meant to carry food, liquids, and sometimes your important work. Sometimes even nosy cats, which could make for a disastrous result if the tray collapsed all of a sudden.
We're focused on bringing you the best, which is why we looked at both the material qualities as well as the manufacturing qualities. You'll also notice that we took the time to think about the longevity factor as well for many of these TV trays. Some materials last longer than others, especially when they're weight bearing. These TV trays can (for the most part) carry an average amount of weight; normally a couple of drinks and a plate of food, as well as a laptop. That's enough to keep the integrity of the tray (ensuring it doesn't warp), as well as the structural integrity of the legs.
The way the tray stands or balances is also an important option, as most of the things going on the TV tray shouldn't be wobbled onto the floor. Wiggly legs are a bad thing. If you're getting up and you accidentally knock your TV tray, you don't want to worry about the whole thing coming crashing down! This is one of the structural integrities we looked at when deciding which TV trays to put on the list.
On the whole, these TV trays are built well out of excellent materials. We don't have much to complain about in terms of the build quality, except in the few cases we discussed in their specific points. If that's not a recipe for a great product, we don't know what is!
Versatility
Versatility is a surprisingly big issue when it comes to TV trays. Sure, it might seem like the best idea to get a tray with a little raised edge on it. After all, we don't want our salsa sliding off in the middle of the football game. But what happens if you want to use that tray for working on as well? All of a sudden that edge becomes an uncomfortable hurdle to be fought through. Work is already a hurdle enough, making us less inclined to add things to it that will make it even harder.
It's important to think about the versatility of a product before purchasing it. Unless you're looking for a product that has one specific purpose as a watering can. TV Trays are not watering cans, though, which means we need to look at all the options before settling on one choice.
These TV trays have been thoroughly tested for versatility. We've visualized all the potential situations you could use a TV tray in and have accurately adjusted our reviews of them to include these options. When purchasing a TV tray, be sure to think about the reason you're wanting one. If you want to use it for work, don't purchase one that has a raised edge on it (trust us, it's not comfortable to rest your forearms on). If you want one that's not going to let your craft supplies slip off, definitely pick up one with a raised edge. If you want to treat your partner to breakfast in bed, consider one that has a detachable top. Whatever your reasons for picking up a TV tray, be sure you're keeping them in mind while looking.
Size
Size also goes along with the versatility aspect but is something to consider independently. The smaller space, the more you might be tempted to get a smaller TV tray. Trust us, though, the bigger the better. Many of these options fold down flat, making it easy to store them without much obtrusion into your day to day life. It also makes them easy to pack away and pull out depending on how much extra space you need.
The space of the leg room is also incredibly important. That should be a consideration when it comes to purchasing your own personal TV tray. We tried to think about it when crafting this list, but ultimately the amount of legroom you need is up to you. We've pointed out the trays that have the biggest amount of legroom, and also included options that have little to no legroom.
The tabletop size is an important thing to look at as well, as that's the amount of space you're going to be able to use. If you only want a little TV tray to place a glass of wine on, there are a few great, smaller options. However, if you're looking for something to build a big puzzle on or put out for snacks when you're having a party, you really need to look at the size of the tabletops. Bigger might actually be better, depending on the needs you have!
Value
Price is important. You work hard for your money, and you don't want to waste it on products that aren't even worth the shipping you paid for them. These TV trays all fall within roughly the same price range, making it hard to judge any of them negatively. An average price certainly doesn't make for an average product, though, as many of these have outstanding quality.
While the prices are all similar, the benefits and drawbacks vary. Some have a bigger tabletop, but a base that's less sturdy. Some have a cool design, but might not be as well made as another tv tray. While there's a variety in the trays, there aren't any marked differences between the prices. This leaves it up to you.
We've tried to equip you with all the tools you need in order to make the right choice of TV trays for your life. There are a million different reasons to purchase one, but only one choice that will be right for you. We can't make that choice. You're the only one who knows your budget, making you the expert on the tv tray that's right for your life. The prices are average, but the products aren't, making it easy to choose the perfect match for your living room, dorm, or kids' playroom. The options are really endless when it comes to TV trays!
Durability
Lastly, you will want to keep durability in mind. Make sure that when you are selecting TV trays, you know what they are made out of. The material can affect a few things. For one, if they are not made of a sturdy material that can hold weight, then you run the risk of them collapsing, not only spilling and breaking things but potentially hurting you or children or pets along the way.
Secondly, very sturdy material like wood or even metal can be heavy. This means that your trays would be harder to move around the house wherever you want to use them; whether that's in front of the TV, while in bed or at the side of a nice bath.
Best TV Trays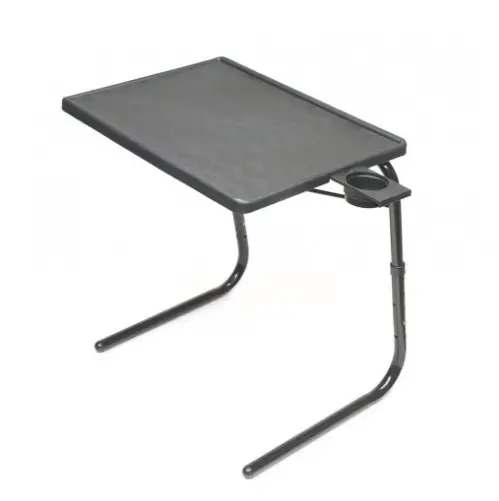 There's only so much a company can do to a TV tray to make it stand out. In Table Mate's case, they've carefully crafted a TV tray that can withstand many things. It's strong, stable, and the benefits are huge. This is the perfect TV tray to kick off our list. And in such a great color! Black is the best for covering up sticky fingers. For those looking for a personal TV tray, there are other colors.
Cupholder Included
There's nothing worse than trying to balance a bowl of chips and a cup of pop while struggling to find your cellphone. The cupholder that's included on the side of this tv tray makes up for all those years of spilled drinks on the couch. This cup holder fits most average sized cups and bottles, making it perfect for those nights where you want a bottle of something other than Diet Coke.
Adjustable Height and Angle
One of the most annoying things about TV trays is the fact that sometimes they're a little too high, or a little too flat. Every so often we need a little bit of an angle added to our desks. Maybe it's to dump the rest of the Doritos into our mouth, or maybe it's to lie a book flat against for us to read while we paint our nails. Whatever the reason, this TV tray is able to have both its height and its angle adjusted. Talk about customizable! Now there's no more struggle to find a perfect fit; the perfect fit forms to you!
Cost and Value
The price might not be as budget-friendly as the cheap plastic trays of yore, but this is definitely a type of furniture that it's okay to spend a little extra money on. To get something stable and strong that's going to last no matter how many chip bowls you put on it? That's priceless.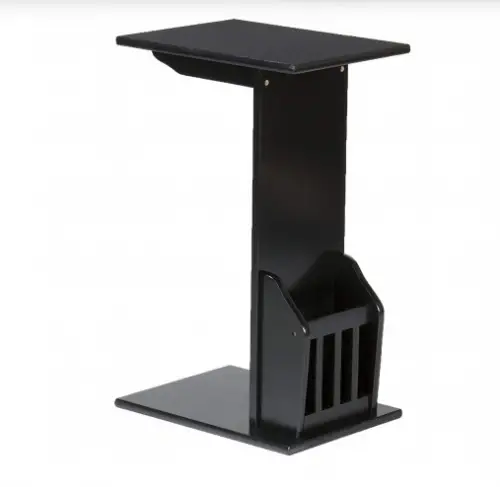 This tv tray is technically called a "snack table". It's built for putting tons of snacks on top, without having to worry about the table giving out underneath. The more snacks the better, in our opinion, making this tray an excellent choice for any snack lovers out there. The build itself is good for snacking too, as the base can slide underneath the chair, sofa, or deck lounger; wherever you're sorely in need of snacks!
Sleek Style
Many TV trays look like the ones we see in old movies or cartoons: they have the legs and the little plastic top, either placed delicately on top of the legs or attached and able to be folded down. While this tv tray isn't fully collapsible, the sleek style means you'll never have to put it away. It looks classy enough to be a presentation lectern, even though it's probably not big or tall enough. The dark color matches many contemporary stylings, which means it fits in well with most modern homes.
Magazine Holder
It's not like magazines are a huge burden in the home, but they certainly take up space and make coffee tables look messy. The more we can organize our lives the better, we think. This is why we love this tv tray. This tray might be a little small on top, but the bottom has a lot going on. There's a whole magazine holder down there, making it easy to organize your old, current, and upcoming reading material.
Cost and Value
At approximately the same price as our first option, the two are definitely tied in terms of budget friendliness. While some will like the maker's syle of our first choice more, we feel that the make of this table makes it an excellent value for the cost. Plus, you're also getting a magazine rack with this table. Talk about multi-tasking!



While Home Basics might be a well-known name to some, we hadn't heard of them before setting our eyes on this beautiful tv tray. It was love at first sight, though, as we're suckers for that fake marble finish. A perfect addition to any dorm room or shared apartment, the variety of finishes make it possible to find a basic tv tray for everyone.
The Sheer Coolness
Coolness is now an undisputed positive of these tv trays. This one takes the cake due to the finish that's on it, but the other styles Home Basics carries are also a great option. The marbling on this one is a trendy look, and it comes in both the black as well as the white options (to match whatever Instagram theme you're going for). The other patterns are also sweet, featuring inspiring words as well as graphic designs.
Padded Feet
We're not confident that the other TV trays didn't have this. It's more than likely that they did, but we just didn't see it listed. This TV tray's padded feet is a perfect feature for those that might be renting a place, as it takes away the fear of scratching or marking a wood or laminate floor. Plus, it's easy to push to the side when you need to get up and stretch during that Netflix binge.
Cost and Value
The cheaper option for a full TV tray on the list, we believe that this one is a perfect "happy new home" gift for your college-age kid or recent grad. The look is youthful and fresh, while the manufacturing is just as good as any of the other tv trays out there. All in all, this is a solid product that will certainly last a whole university degree.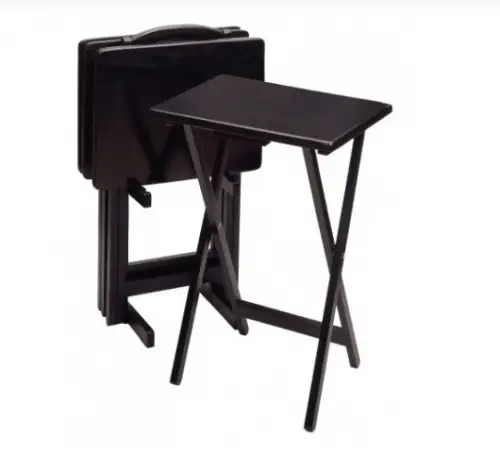 You'll find when you order a TV tray that one is never enough. Not only do they all of a sudden become the most useful furniture product you own, but everyone in the family will want to use it too. Winsome Wood, the creator of this gorgeous dark wood TV tray, is clearly thinking ahead by including 4 trays in this one product. Selling them as a set makes a whole lot of sense. Bring one into the home and we guarantee everyone else will want one too.
Carrying Handle And Storage Rack
We lumped both of these together as they both aid in keeping the house clean and tidy. Having a carrying handle makes it easy to pick them up and carry them into the closet, while the storage rack meant specifically for these tables means there'll never be a question about where a missing table has gone. Plus, both of these features make it easy for kids and teens to set them up and take them down themselves.
Set of 4
We know we've said it a thousand times, but we actually love the fact that you get 4 trays in this set. When you're purchasing a TV tray for yourself, it goes without saying that you're likely going to have other people in the house or apartment wanting to use it too. While we have nothing against sharing, we also know that there's inevitably going to be arguments over who wants to use it when. When you order these TV trays, you're not just getting one; you're getting 4, making it easy to divide and conquer TV tray usage.
Cost and Value
The price is higher upfront for this product, but it ends up working out to be less per tray than any of the other options we've seen on this list so far. The make and materials are of high quality, with manufacturing errors being few and far between. While assembling yourself might be a little annoying for some, it does make for a sturdy table. We feel that this is an excellent investment to make, as the trays ultimately are a lower price (and the storage rack is a nice element too).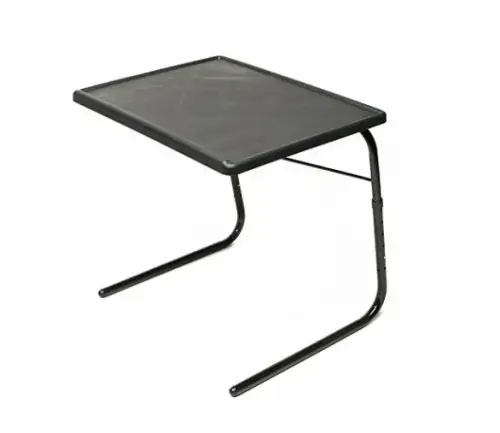 This dark colored tray isn't the only color option Table Mate offers, but it's certainly our personal favorite. This TV tray style is a little different from some of the others we've seen. While some trays feature a fold out or extendable legs, this tray just slides right under the couch. It uses tension and weight balance to stay upright and to keep your precious snacks afloat. Simple, straightforward, and offering more legroom than other TV tray counterparts, this tray is an excellent option.
Big Surface
One of the most common complaints we've seen in our extensive research on tv trays is the fact that the surface area might not be as big as we need it to be. This is a big issue, especially when it comes to utilizing a tv tray for work or crafting purposes; and don't even get us started on those 1,000 piece puzzles. The more space the better, we feel, which is why the extra 5" they've added to both the width and the depth are a huge positive.
Legroom
Part of our love of the bigger tabletop size we mentioned above is the fact that it means there's a little more legroom. No crossing beams holding up the flattop means more room underneath the table. This is perfect for those that have longer legs, or just want a little more space to stretch out. This also makes it our favorite TV tray to utilize for laptop work and studying. Stretching out on the couch is much easier with this tray.
Cost and Value
At a slightly higher price point than the other single trays we've looked at, this is a product where we carefully need to evaluate the cost vs the value. This table is sturdy, big, and made of materials that aren't going to warp or snap. While we need to be careful when putting heavy weights on it, on the whole, it's a reasonable price for the quality. If you're looking for more of a work surface than a snack table, this is a good investment piece.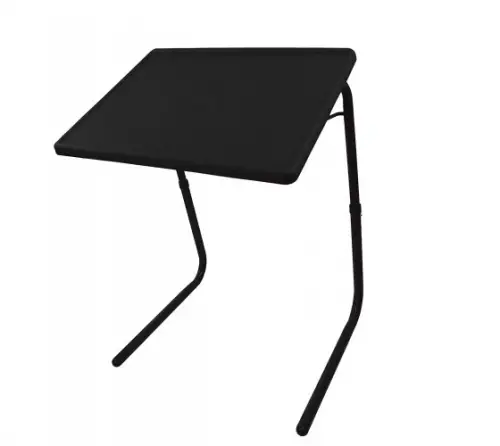 Don't be fooled by the name of the company. This 5starsuperdeal table is actually a superstar of a table. While it's only clocking in at 4 stars, that's still in the excellent product range. This table is similar in style to some of the other options we've seen. There's legroom, flat tabletop room, and enough stability to hold a laptop. The title says portable and foldable, which are just two other amazing qualities this tray has.
60 lbs Weight Capacity
The more weight a tv tray can carry, the more pizzas we can put on it. If a large pizza typically weighs 2.5 lbs, that means we could stack a whopping 30 pizzas onto this one TV tray. Or, you know, you could just put your laptop and a bowl of chips on it like a regular person. But c' mon, don't tell us you've never thought about eating 30 pizzas before.
No Tool Assembly
Product assembly seems to be a sore point that comes up more and more when talking about tables and chairs, and other practical-use furniture. Most of the reviews that have been disappointed in any of these tv trays are due to the fact that the purchasers haven't had the proper tools to put the product together. With this tool free assembly method, there's no need to worry. You donAllened a screwdriver, wrench, or Allen key to put this baby together! Just your two hands!
Cost and Value
A little less expensive than some of the other trays on this list (especially if you purchase a bright color), this tv tray is pretty comparable in build to the others on the list. Unless you're happy with a bright pink tray, you may want to consider a different brand. The price difference is noticeable, but not extraordinary. And the build is just as good as the others. We will point out that the tray itself is on the smaller side, which means it's likely only going to be able to hold a bowl of chips or a laptop… Not both.

7

. Lifetime 80251 Adjustable Folding Table TV Tray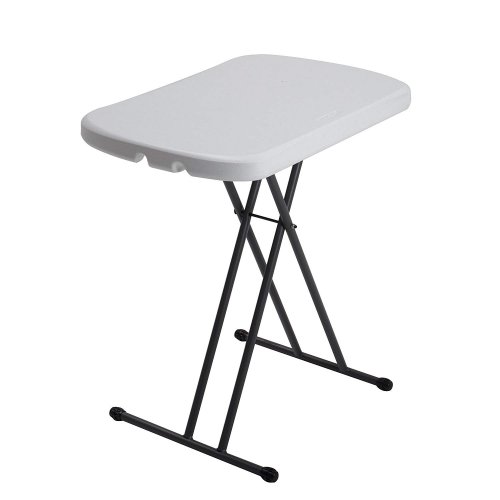 This foldable and adjustable table TV tray is just what you are looking for. It fits all of our criteria so well, it's actually exciting! This Lifetime table is foldable, portable, easy to use and clean and it is incredibly affordable, just to name a few exciting features.
Sturdy
This folding table TV tray is one of - if not the most - sturdy option we have on our list. It is designed to sit level and strong, hold the weight of your food and other things you put on it, and it is not going to collapse while you are using it. Also, if you bump it, it's likely it won't tip over. You would really have to push it. And even though it is durable and strong, it is still a portable table, so you can move it throughout the house without too much effort.
Stain-resistant design
The top of this table is white, but don't let that alarm you. It is designed as a stain-resistant tabletop! We all know that spills are inevitable and wear and tear happen over time. But a quick wipe up and the top of this table tray is clean and like new.
Cost and Value
This TV tray table is one of the most affordable on this list. By judging all of the positives that this table has to offer, too, we'd say that it has a lot of value for a totally affordable price.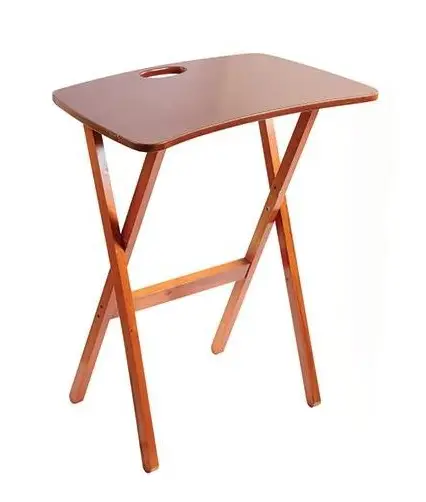 The tray itself looks like a classic, crossed beam style with a flat top tray. The design might be standard, but the execution is anything but. This is an incredibly sturdy folding desk, in a beautiful style. Anyone would be proud to own this tv tray, so keep your eyes peeled for it to come back in stock.
Wooden Look
The rustic finish is about as versatile as it gets. This woodgrain is a classy pattern that's going to fit in with most lighter wooden floors and furniture stylings, making it the perfect choice to go along with any and all furniture choices. Even if your room is designed in a contemporary way, this tv tray is still going to work.
Built in Handle
Some trays have handles that are simply straps. While these are an excellent touch, they're not the sturdiest design in the world. Fabric handles have a tendency to rip and tear, as well as pulling away from the rest of the tray. This product has the handle built in, making it the perfect way to ensure that you're going to have a handle for as long as you have this tv tray.
Cost and Value
This averagely priced tv tray is a great addition to any living room. The wooden look is perfect for matching IKEA-inspired furnishings, while the make itself is both sleek and rustic. How is that possible? Television magic, of course. It's neutral enough to match any decor, making it the perfect fit for a variety of homes.

9

. Birdrock Home TV Tray Side Table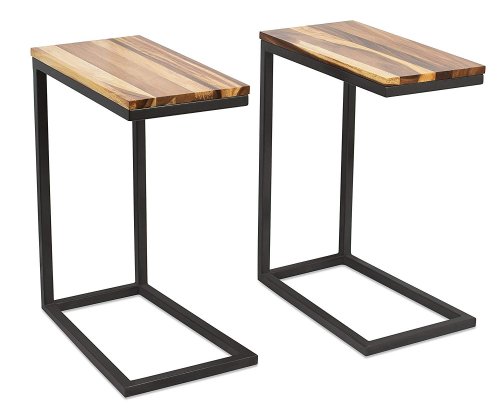 These Birdrock Home TV trays are beautiful. Not only that, they are sturdy and versatile. Use them as a TV tray while you eat dinner during your favorite show, then clean them up and push them off to the side of your couch and suddenly you have two beautiful end tables.
Portable
These table trays are definitely sturdy, but they are still portable. The way that they are designed is to be versatile in your home. As mentioned above, you can use them for holding your food for one second and then the next they become beautiful home decor end tables while not in use. These are TV trays you will want to keep out all of the time, not hide away in a storage closet.
No crossbeam
We never even thought about this being an issue until we started reading reviews, but these TV trays do not have any crossbeams. Which is a good thing if you want the leg room! And don't worry, they are still two very stable tables. The way they are designed, you can choose to turn them so that the table top is either horizontal or vertical.
Cost and Value
These two are definitely a bit pricier on this list, however, their quality, design and the fact that they come in a set makes it totally valuable and worth the price. So, while they are going to cost a little more, we think that the price is fair.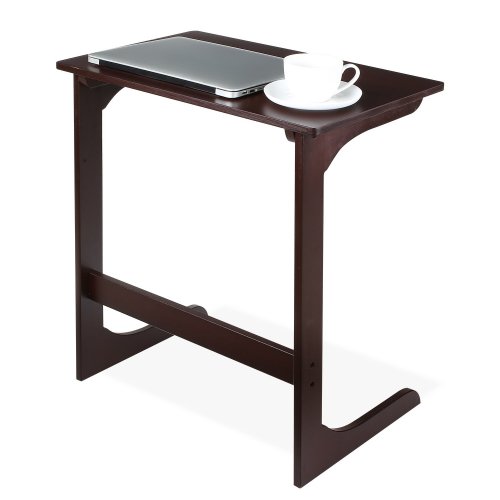 This tv tray has a much more classic style and look. It's perfect for what you need it for: eating food or holding your laptop to work from the comfort of your couch. It is designed to slide under the couch and give you leg room.
Eco-friendly design
One of the best things about this tv tray table is that it is made of high-grade 100% natural bamboo. That means that this is an eco-friendly choice for your home. Not only that, but this side table also has a non-toxic finish so you don't have to worry about that when using it to hold your food.
Lightweight
This tv tray table is lightweight and easy to move around. You can move it from room to room or easily store it away when you are finished with it. Move this end table from your living room, to your bedroom to right next to your bath.
Cost and Value
Again, this is one of the most affordable on this list. It is sturdy and looks nice in your living room. This is definitely a tv tray table that you get what you pay for. So while it may not be the most high-end, it does what it needs to do.

Subscribe to our Newsletter