Best Energy Drinks Reviewed & Rated for Quality
In a Hurry? Editors choice: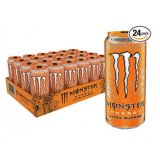 Test Winner: Monster Energy Ultra, Sugar-Free

Let's face it
, unless you have superhuman powers or you're Beyonce, you are going to need a little energy boost to keep you going from time to time. Whether you're a working mom on the go, an athlete looking for a competitive edge, a college student trying to make Dean's List, or a thrill seeker, there's an energy drink for you.
But not all
energy drinks
are created equal. Some are specially designed to boost brain function, while others are created to stimulate the body. There are even energy drinks targeted exclusively at gamers! Plus, there's a big difference when it comes to ingredients. Some drinks come loaded with sugar, including natural or artificial sweeteners instead.
We've put together this list of energy drinks to help you decide which beverage to reach for when that nagging, familiar slumpy feeling hits and won't go away.
Standout Picks
Criteria Used for Evaluation
Effectiveness
Though some will drink energy drinks purely for flavor, let's be honest, we're here for the pump-me-up.
All but one of our drinks contain a blend of boosting ingredients to give you what you need. But pay attention to who each product is geared towards in order to get the best result possible. If a formula is specially designed for a gamer, don't down it before you hit your next gym session.
Whether you're a skater or a gym buff, an exhausted parent or a student, a gamer or yes, even Beyonce, there's an energy drink for you. Actually, there's probably more than one! So consider the options and find just the right one that suits your fancy.
Value
We considered true value. Are you getting what you're paying for, and how does it stack up against your average cup of coffee?
All of our listings fall below the $3 mark, making them cheaper than your average cup of coffee offering the same amount of pick-me-up, not to mention all of the additional benefits our beverages provide.
Many of our beverages include added vitamins, antioxidants or electrolytes, so you're not just getting hyped--you're getting nourished too.
Product Purity
No matter how amped a drink gets you, you're not going to turn to it for everyday gas if tastes horrible. That's why taste was one of our number one considerations when selecting our energy drinks.
Most of the products on our list come in a variety of flavors. Though some folks will find their flavor and stick with it--like ordering the same thing at your favorite restaurant every time--being able to try different flavors within a brand you love keeps things from getting stale and boring.
We also made sure to include a mix of natural energy drinks for those seeking more holistic options. Whether you want all the sugar, are fine with artificial sweeteners, or are after natural sweeteners only, there's something for you on our list.
Use
Not all energy drinks are created equal. We made sure to clearly list the caffeine content of each beverage so you don't get in over your head. By consulting a third-party source, we were able to check caffeine levels advertised and provided the actual content.
Ease of Use
We looked for energy designed for people on the go. Powders, shots, and small bottles get high scores on our list.
10 Best Energy Drinks
1

. Monster Energy Ultra, Sugar-Free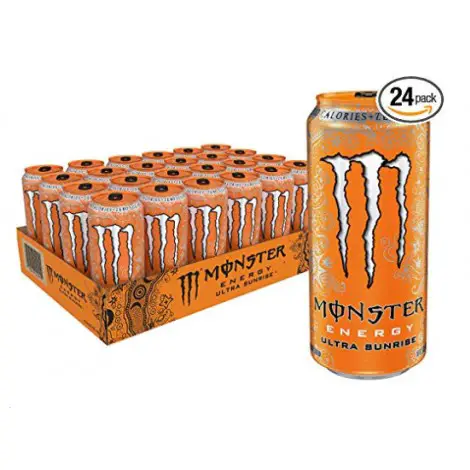 Monster Ultra is Monster's best selling product and ranked #1 across multiple sites. Because it is sugar-free and calorie free, it comes with little to no crash and is a perfect pick me up for those watching their caloric intake. But even though it is Ultra, it doesn't compromise on flavor and still boasts a fizzy, smooth taste with almost no aftertaste at all.
No Unpleasant Aftertaste
Monster repeatedly ranks high in the taste category, and this Zero Ultra version is no different. In fact, it stands out among other sugar-free drinks because despite it not having sugar, it leaves the drinker with no weird and unpleasant aftertaste. Monster's Ultra line comes in five different flavors: Ultra Blue (berry flavored), Ultra Red (cranberry flavored), Zero Ultra (light citrus flavor), Ultra Black (black cherry flavored), and Ultra Sunrise (orange flavored). After pouring over tons of reviews, Zero Ultra flavor is the fan favorite. Each can gets its kick from B3 vitamins, ginseng extract, and about 140mg of caffeine a can (Ultra Sunrise contains 150mg).
Long Lasting Effect
Ultra Sunrise, with 150mg of caffeine per can, gives the fastest and longest lift. Ultra Blue, Red and Black take a little longer to kick in, but still provide a sustained effect. Zero Ultra has the least amount of caffeine, but it was still voted number one among drinkers because it provided a nice lift during the afternoon slump without causing a huge jolt of energy or a big crash later.
Cost and Value
Monster Ultra packs a lot of value. Each can contains as much caffeine as your average cup of coffee house coffee, plus Ultra comes in a variety of flavors to suit any mood--all costing less than $2 per can. Try finding a coffee house coffee at that price point. Ultra provides value and variety.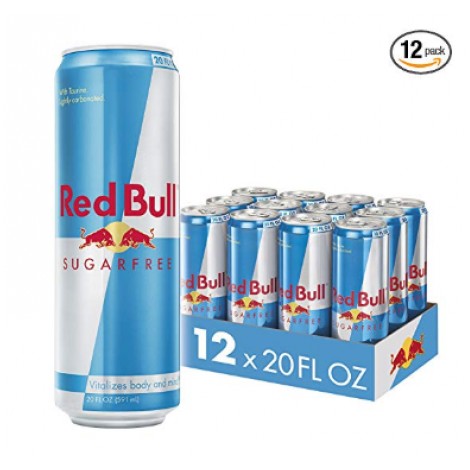 Red Bull Sugar-Free comes in a close second behind Monster Ultra in terms of taste, calories, and effect. Reviews boast a minimal aftertaste despite containing artificial sweeteners, and with only 5 calories per serving, the taste is hard to beat. Plus, there are three amazing flavors to choose from, and its small, compact size makes it super portable.
Great Sugar-free Taste
Red Bull is one of the most iconic energy drinks out there, and they recognized a need to provide sugar-free options to their customers. So they remade their original flavor using sugar-free ingredients--but they didn't stop there. Now if you want a sugar free boost, you can get it in two other flavors as well: The Lime Edition (Limeade flavor) and The Purple Edition (Acai Berry flavor). Red Bull uses two artificial sweeteners (aspartame and Acesulfame K) that have been researched in great detail so you know you can rely on them. The energy in Red Bull comes from caffeine, taurine, and B vitamins. Red Bull packs in the same amount of caffeine as a standard coffee, ounce per ounce.
Long-lasting for Long Shifts
Red Bull Sugar-Free contains 80mg of caffeine in every 8.4 ounce can--that's as much as a cup of coffee that is the same size. Drinkers report feeling an immediate lift that lasts for 4-6 hours. This beverage is especially popular among those who work long shifts in customer/patient care.
Cost and Value
Red Bull Sugar-Free provides convenience and value. Ringing up between $2 and $3 a can, it's still cheaper than your average coffee house cup, and it's much more portable too. Red Bull products use high-quality ingredients that are consistent and that you can rely on.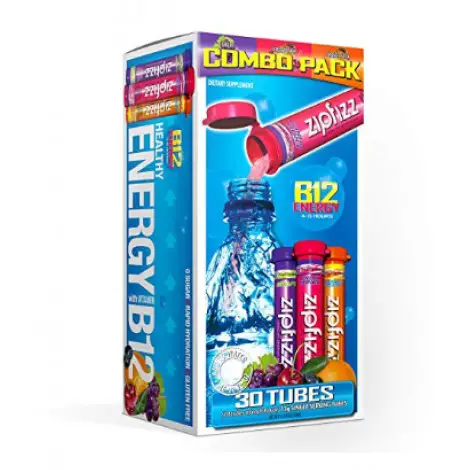 Zipfizz really is healthy! With tons of antioxidants and micronutrients, it provides natural and sustained energy for up to six hours. Zipfizz only has 20 calories per serving and it comes in 11 delicious flavors, making this super portable energy option is a must. If that's not enough, it has some extra good stuff that helps to keep you hydrated so you won't feel all dried out afterward. And the best part? It's super affordable.
Tons of Flavors to Choose From
Zipfizz comes in 11 yummy flavors with options like blueberry raspberry, citrus and orange cream to name a few. One tube of Zipfizz comes packed with tons of goodies. With a load of antioxidants for a natural boost, electrolytes from Magnesium and Potassium to help keep you hydrated, half a day's multivitamin, no sugar, and 24 other nutritional ingredients, this product delivers more than just energy. 100mg of caffeine naturally extracted from green tea and guarana provide the final kick on top of it all.
Extra Long Boost from Electrolytes and Antioxidants
Because Zipfizz is loaded with vitamins, electrolytes, and antioxidants on top of caffeine, the lift is almost immediate and lasts for up to 6 hours. 100mg of caffeine is about the same as you would get in a small cup of coffee--but without all of the other benefits that Zipfizz provides, of course. Plus, the natural ingredients and emphasis on hydration leave you feeling refreshed, not drained and dried out.
Cost and Value
This product may have the best value of any on our list. Ringing up at just over $1 a tube, it is one of the most inexpensive options out there. Even more so considering that 2 tubes a day equal one multivitamin--that's a lot of bang for your buck.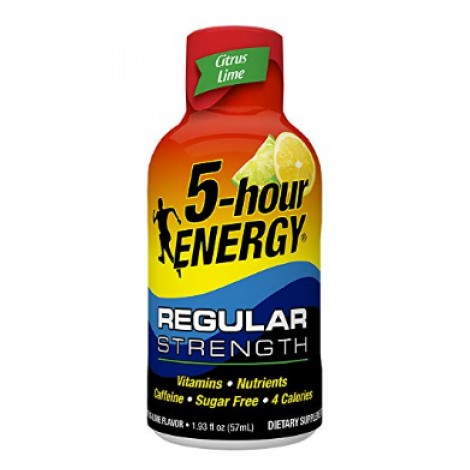 Another great portable option, 5-Hour energy can pick you up anywhere you go and it doesn't require refrigeration. Coming in 10 different flavors and with just four calories, this product is great for those who need a boost while watching their waistlines. Plus, since it comes in a shot, it goes down super easy, works incredibly fast, and gives you that boost you need for hours.
Tons of Taste in a Tiny Package
5-Hour Energy comes in 10 amazing flavors: Berry, Pomegranate, Lemon-Lime, Grape, Orange and Pink Lemonade. Extra Strength 5-Hour Energy comes in Strawberry, Watermelon, Grape, Berry and Sour Apple. Berry is the most popular flavor among drinkers. The shot is not carbonated and it's one of the only beverages on our list that you aren't advised to drink cold. 5-Hour Energy is sweetened with Splenda, so you won't see a sugar crash in your future. Each shot contains Niacin (which may make you feel a little flushed), Folic acid and an absolute truckload of Vitamins B6 and B12. Its proprietary energy blend includes taurine and a whopping 200mg of caffeine--quite a bit more than your average cup of joe.
Long Lasting Effect in a Shot
Since 5-Hour Energy comes in a shot, it is easy to take down in one gulp and delivers almost immediate energy. As the name of the product suggests, it provides steady energy for 5 or more hours without that familiar crash that comes with other products loaded with sugar. If you aren't used to consuming caffeine daily, one bottle may be too much for you, so start with half at first.
Cost and Value
5-Hour Energy offers great value. At just about $2 per bottle, with 2 times the amount of caffeine as your average cup of coffee, it's a nice alternative to your usual drip. Plus, just one bottle can power you through even the toughest shift.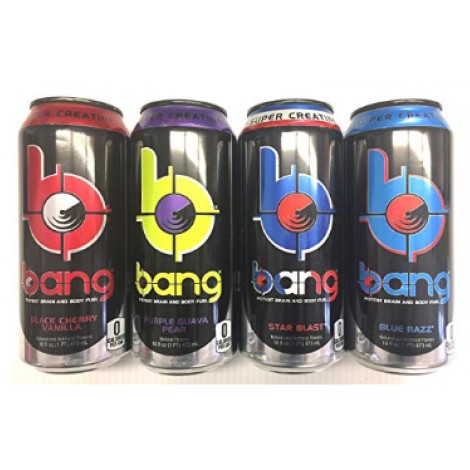 And they mean Bang for your flavor and quality buck. VPX has almost 20 flavors to choose from, and what makes them even better? VPX is produced by a pharmaceutical company, so you know you're getting the highest quality ingredients backed up by real research. Plus, Bang provides ingredients for your brain and your body so you can grab it before your big meeting or workout.
20 Different Banging Flavors
Bang comes in almost 20 flavors ranging from options like Black Cherry Vanilla to guava pear to root bear and literally everything in between. If the variety of flavors wasn't enough, it's creatine formula makes it great for athletes and those planning to hit the gym by increasing energy and encouraging your body to burn fat. Did we mention there are 0 calories, carbs, and sugar in each can? And since the product is produced by a pharmaceutical company, you know you're getting well-researched ingredients that do what they say they're going to do. With 300mg of caffeine and a boatload of B Vitamins, Bang is definitely an energy beast.
Amp Up Your Workout
Since Bang has creatine and caffeine, it is designed to power not only the mind but the body as well throughout the day. Drinkers call Bang the best pre-workout beverage they've tried, and despite having a high amount of caffeine, reviewers report having minimal jitters or crash. However, if you aren't accustomed to taking down large amounts of caffeine, this product may be too much for you with a whopping 300mg in each can. At the very least, you won't need more than one.
Cost and Value
Bang is a little more expensive than other products on our list so far, coming in at about $3 per can. Still, with 3-4 times the amount of caffeine in your average cup of coffee, you are certainly getting bang for your buck. On top of it all, Bang gives vital power to the body as well, and because it is produced by a pharmaceutical company, you know you're getting the right formula to power you through.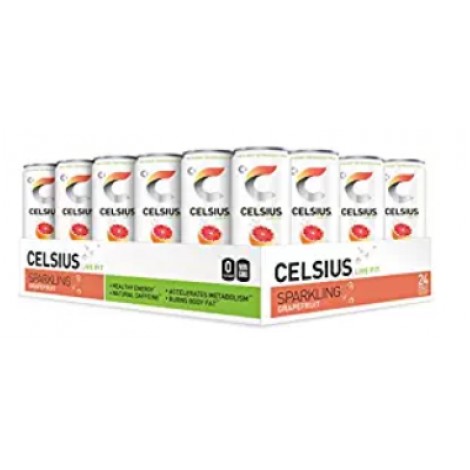 This product is geared towards those who want to get an extra punch in at the gym. Celsius has no sugar, no high fructose corn syrup, and no crash, making it the perfect beverage to crush before a workout. And this beverage really does what it says it does. It's clinically proven to boost metabolism and help you burn through calories even faster. What's more, it's totally vegan and free of artificial preservatives and flavors--you can taste the realness.
Special Formula to Help Regulate Blood Sugar
Celsius Sugar-Free comes in comes in 6 delicious carbonated flavors (Orange, Grape Rush, Watermelon, Wild Berry, Kiwi Guava and Cola) and 2 new uncarbonated options (Peach Mango Green Tea and Raspberry Acai Green Tea). And with no aspartame, there's no yucky aftertaste. Celsius gets its energy from Green Tea and Guarana, but where most drinks pull from the Guarana root, Celsius uses the seeds which have far more energy packed inside of them. As an added bonus, Celsius uses ginger in its formula to aid with boosting metabolism and providing soothing effects to the gut. Celsius is also packed with Vitamins C and B, as well as Chromium which is used to help regulate blood sugar in the body and prevents a nasty energy crash at the end of your workout.
Energy From Guarana Seeds
Celsius has tons of vitamins and about 200mg of natural caffeine per can, so it's going to hit you quick--especially since it's geared towards athletes who have no time to waste. They instruct athletes to drink about 15 minutes prior to working out. It is designed to raise your body temperature, so expect to feel the heat, but it's all worth it. Drinking before a workout could result in burning an extra 100 calories. Don't believe it? This research is actually backed up by 6 clinical studies.
Cost and Value
Celsius comes in at about $2 per can, giving it a great value. Additionally, many users report diluting the non-carbonated options with water and drinking them throughout the day for a more prolonged boost. And without all the artificial ingredients that other products use, plus the fact that Celsius is backed by 6 clinical studies, you know this is a beverage you can rely on.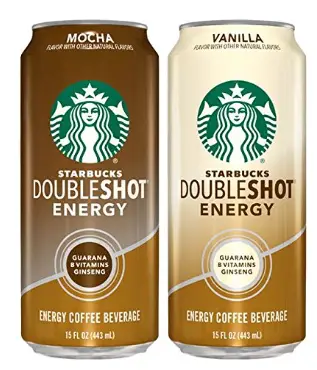 While coffee may not be the style of beverage that comes to mind when you hear "energy drink," it has been picking people up for ages. This portable can combines coffee with traditional energy drink ingredients for a majorly tasty boost. Although it contains more calories than any other beverage on our list, once you taste any of the 5 amazing flavors, you'll definitely see why it made the cut.
Dessert-Like Taste
Doubleshot comes in 5 delectable flavors: Coffee, Vanilla, Mocha, Hazelnut and White Chocolate. Each can has about 200 calories, though only about 20 of those calories come from fat. If you consider the 12 grams of protein along with the two servings of coffee inside each drink, the calorie count doesn't seem so steep. Besides coffee, Doubleshot Energy gets its boost from Taurine, L-Carnitine, B8, Ginseng, and Guarana. Though this product includes real sugar, the nasty crash associated with sugar is balanced nicely by the 12 grams of protein. Simply put, Doubleshot Energy is delicious, and not nearly as much of a guilty pleasure as it seems.
Packed with Protein
Starbucks Doubleshot Energy combines all the goodness of sweet, coffeehouse treats with the power of your standard energy drink--plus a whopping 12 grams of protein. You will gulp down every delicious sip in a flash, and the unique blend of ingredients will power your body and mind for hours. The protein also serves to tame your appetite while giving your body a boost.
Cost and Value
Starbucks Doubleshot Energy comes in as one of the pricier items on our list at almost $3 a can. However, when you consider that each can contains 2 servings of coffee and a load of protein and B Vitamins, you can see why it hits this price range. And on top of it all, it tastes like dessert. You deserve to treat yourself after all.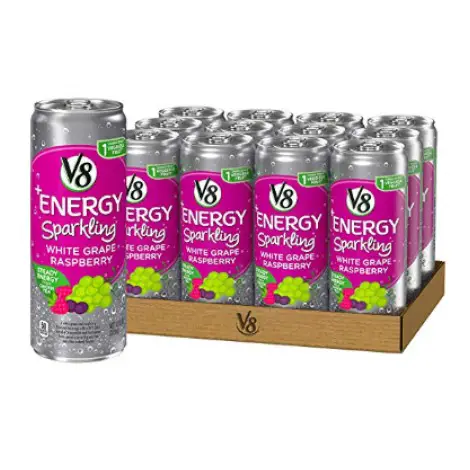 This V8 + Energy drink provides about as much caffeine as a cup of coffee, and it also dishes up one whole serving of vegetables and fruits. With half as much sugar as other full sugar energy drinks, and with no added sugar at all, this is really a beverage you can get behind. Plus, there are no artificial flavors or colorings and V8 is 100% GMO-free.
Natural Life from Fruits and Veggies
V8 + Energy is packed with fruits and vegetables, so it provides a naturally smooth come-up. Then the 80mg of caffeine from green tea keeps you up and going. With no added sugars and a balance of nutrients, V8 gives you energy without the jitters and crash.
Unique Taste
This drink comes in a number of flavor options such as orange pineapple or blackberry cranberry and in 8.4 ounce or 12-ounce cans. These drinks are lightly carbonated for a refreshing taste that will prove to be as tasty as it is energy-giving.
Cost and Value
This fresh and fruity beverage comes at a pretty low-cost point--about $1 per can. Considering a full serving of fruits and veggies at the store would cost about 50 cents alone, you're really getting a lot for your buck here.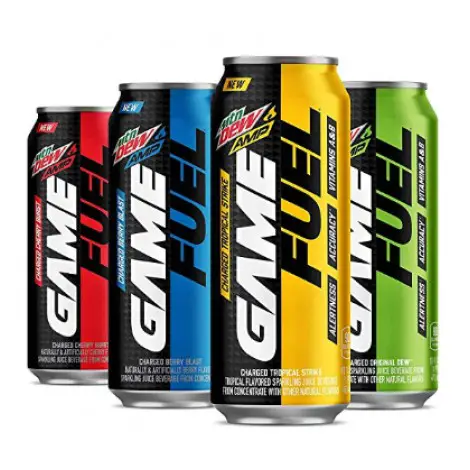 An energy drink designed just for gamers? That's right! This special formula combines caffeine and theanine to boost accuracy and make you more alert. But it's not just the formula that makes it an ideal grab for gamers. The bottle is specially designed to be easily accessible and to keep equipment safe.
Special Formula Designed for Gamers
Game Fuel comes in 4 radical flavors: Charged Tropical Strike, Charged Cherry Burst, Charged Berry Blast and Charged Original Dew. This new and improved formula contains about 5% real fruit juice. It has far less sugar than the original version, but that sugar has been replaced by artificial sweeteners. Each 16-ounce bottle has about 90mg of caffeine and is balanced out by a formula of L-theanine, ginseng, yerba mate, Vitamin A and tons of B Vitamins.
Great for Long Gaming Sessions
With 90mg of caffeine per bottle, plus an array of high energy supplements (L-theanine, ginseng, yerba mate, Vitamin A, and B Vitamins), Game Fuel will definitely give you the boost you need. The formula is designed to pick you up quickly and help you to maintain focus, so it won't leave you feeling jittery. It's especially great for long gaming stretches where accuracy is key. And because it's resealable, you aren't forced to consume the whole product in one go.
Cost and Value
Game Fuel rings up at about $1.50, making it a super affordable option. It's portability and unique formula make it a great choice for gamers who don't want to lose their favorite game to a 12-year-old.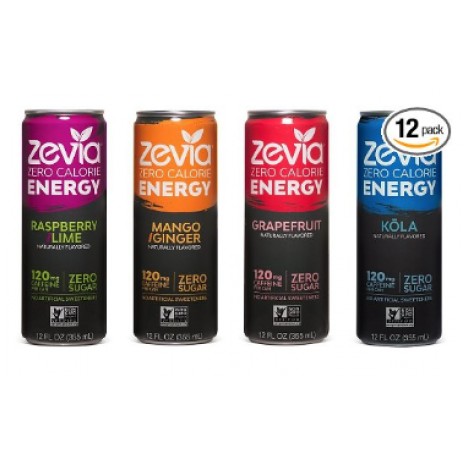 This product boasts A LOT of zeros: zero calories, zero sugar, zero gluten, zero artificial ingredients. What it does provide is all clean, all natural ingredients and more caffeine than your average cup of coffee. So if you are looking for a purer, lighter energy boost, Zevia Zero is definitely one to consider.
Gluten-Free, Kosher, and Vegan
Zevia Zero comes in 4 tempting flavors: Raspberry Lime, Mango Ginger, Grapefruit, and Kola. Zevia uses only naturally clean ingredients, deriving its sweetness from Stevia leaf. This product is gluten-free, kosher, and vegan, not to mention free of genetically modified organisms. Its energy punch comes strictly from 120mg of caffeine, so it falls more in the technical category of a soda than an energy drink. However, its design and utility make it much more than your average soda.
Power for Hours
With 120mg of caffeine, this baby will get you going. Its super light formula goes down quickly and smoothly, and will power you for hours. Remember, all the energy here is coming just from caffeine, so expect it to have the same effect as a 16-ounce coffee. But no need to expect a crashing feeling, as the natural stevia will let you down easy.
Cost and Value
Zero Zevia also rings up at about $1.50, making it a super affordable option as well. And since it only gets its energy from caffeine, it's comparatively a much cheaper option than your coffee house drip.

Subscribe to our Newsletter