Best End Tables Reviewed & Rated for Quality
In a Hurry? Editors choice: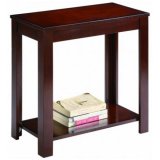 Test Winner: Crown Mark

Whether you find yourself owning your own home, renting, or currently residing in your college dorm, having the perfect additions to your personal space goes a long way in making a person feel comfortable and at ease. One of the most important pieces you'll find yourself seeking is the perfect end
table
. They can be quite versatile in any home, no matter the size. These unique tables can be used to hold
precious memories such as family and wedding photos
, to the perfect addition to your sofa, allowing you to access your table to hold your necessities while you are relaxing for the evening.
Standout Picks
Criteria Used for Evaluation
Size
Making the determination of how you plan on using yours is one of the deciding factors when choosing the size that best suits your needs. In most cases, they need to be tucked away in smaller areas of the home allowing for the display of personal possessions or use by those sitting nearby. If you live in a smaller living space, you'll want the sleeker, more compact options to use around your home. If by chance you live in a house with lots of space to fill, going with the larger designs may be your best option. However, considering the uses for these accent pieces, smaller sizes often make them more sought-after.
Color
Every home has a design scheme. Whether you are a fan of multi-colored décor or a more traditional, laid-back home, choosing a piece that accentuates the current flow of your home is important. With so many options to choose from, homeowners will be able to find the best piece to add to their collection while maintaining the color scheme they already have in place. Cherry, honey, white, black, and even teal blue are all represented throughout this buying guide giving you an array of colors to choose from.
Value
When shopping for items for your home, pricing is one of the most important things to look at. Everyone wants something that is affordable. If you are living on a budget, you still want your home looking as great as possible. Choosing an accent table that does its job of bringing functionality and style to your home, while sticking to the price range you are hoping for offers you a winning situation. By comparing pricing in this buying guide, we've shown you what is offered for the extra cost, allowing you to make the decision of which piece is best suited for your bank account.
10 Best End Tables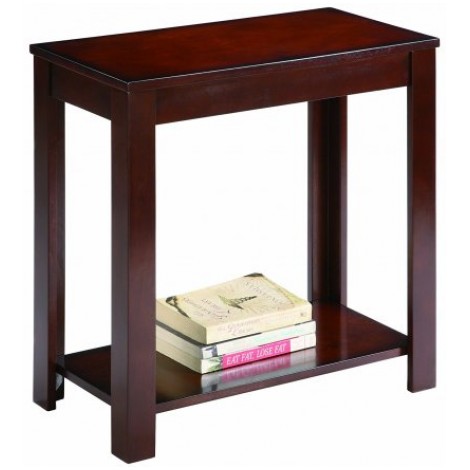 The Pierce chair side table by Crown Mark is an excellent choice for any space in your home. This gorgeous end table combines attractiveness, sturdiness, and space saving to bring you a great end table that will accentuate any area of your home you choose to display it in.
With an espresso finish, this table gives off the style and beauty you want for your home while maintaining its versatility for whatever use you may have in mind. This transitional style option comes in at 24 by 12 by 24 inches high giving users enough tabletop for their individual use while also giving this product the unique ability to fit into some of the smallest recess of your home.
Another amazing bonus is the ease of assembly. With all hardware included, this great looking end table can be quickly assembled, with some customers boasting assembly times of less than ten minutes. With only 4 bolts and 4 screws needed, you will be enjoying this great looking addition to your home in record time.
This amazingly versatile table gives homeowners the option of using it in any area of their home they require. With the many uses, additional lower shelf, and ease of construction, you will find this end table well worth the rock-bottom price you'll pay to add this beauty to your home.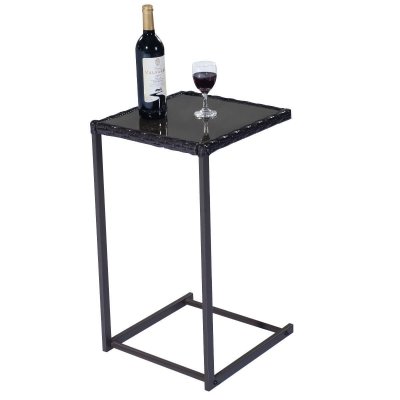 A nice modern looking combination of Steel wicker and glass the Tangkula C-Shape has a lot going for it. It will look cool and modern wherever it lands whether it be next to your bed or next to your favorite sitting chair.
We like this little accouterment because with just a little bit of movement you can slide this underneath a chair or sofa and it turns into a little dinner tray that you can set plates, a glass or even work upon, and it's also just big enough to be able to comfortably do double duty as a table and a tray.
A nice combination of steel, glass, and wicker make but all in stylish black make this a unique combination of style and classical. Plus the C-frame adds to its modern feel. A lot of attention to detail went into the manufacture of this table and so it makes the top of our list.
This comes in at a pretty nice price. So it won't break the bank and it'll give any living room a nice modern feel. That's why we put it in our number two spot. Plus we just like the steel, glass wicker combination and the fact that the unique C-shape make it such a versatile piece of furniture.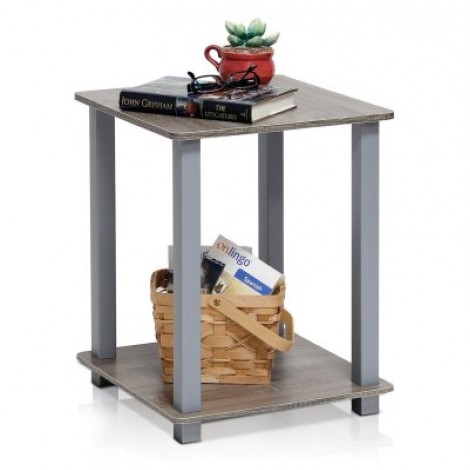 Furrino's Simplistic Series two-piece set is the next on our list. This set boasts a different design from the others as it is French Oak grey in color and is made of composite wood and PVC tubes. This compact design allows for use in smaller areas where taller pieces may not be a good fit
This set features a French oak grey color that anyone would love to place in the corner of their home.
Furrino's two-piece set offers the advantage of rounded edges. This is great for families with smaller children who often find themselves stumbling and injuring themselves on sharp corners.
Two-pieces for the price of one is a great value no matter how you look at it. This set offers everything you need when looking for the best accent pieces for your home at a price no



Winsome Wood made our previous list but we found this table that we think is a big improvement on the product that we had in this spot previously. Not that we think there is anything wrong with the Winsome wood piece that used to live here but we just think this one is a bit better.
This is what put this one over the top for us. There is just a lot of room to store your 'stuff' in here. For us, we find that a close shelf makes for a cleaner looking bedroom or living room end table because ours are littered with books and magazines. So whatever it is that is taking up space in your living or bedroom area is going to find a home nestled in this nice little cabinet.
This is a nice little feature that we feel compelled to comment upon. You can get this desk in four different finishes. This, of course, allows you to customize this to match whatever you've got going on in your house. Trust us this can be a big deal if you're picky about getting that exact match for your furniture.
A bit pricey but not too bad. It's certainly doesn't fall into the "this is a steal" category but we still like this table just because it has a really clean, classy look and lots of storage space for whatever needs stowing away. Plus this is just the right size to go wherever you need it to go. Bedroom, Living room. Whatever you've got this table has you covered.

5

. Brightech Modern Nightstand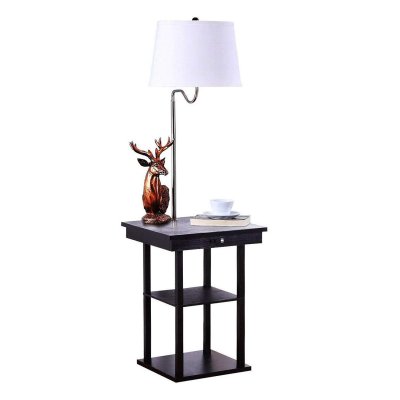 Another Classic design and this one comes with open shelving but that's okay, as long as we have somewhere to put our stuff. Plus can we talk for a moment about the fact that the map is attached to the desk and it has a USB port. It's like one of those hotel lights right next to your bedside. Despite its very modern touches, this has a classic feel and it'll stand out wherever it ends up bedside or in the living room next to the favorite chair.
We just dig what they've done here. The attached lamp is cool enough but it also has a USB port so if you have to have your phone handy (you really shouldn't have your phone handy), it'll be right there fully charged ready to jump out of bed when you do first thing.
And this is pretty cool as well. Not only do you get an attached lamp but you get an attached bulb! Listen at this point nothing surprises us, but this is actually pretty thoughtful because a 20-thousand hour LED light is a bit of an expensive proposition. So, thanks Brightech, we owe you one.
Okay, it's not cheap but that's okay. For what you're getting, check the included LED Bulb is saving you a few bucks off the bat so that's a plus. And having to buy your own lamp will set you back at least a 10 spot so even though this comes in on the high end the added features have impressed us.

6

. Signature Design by Ashley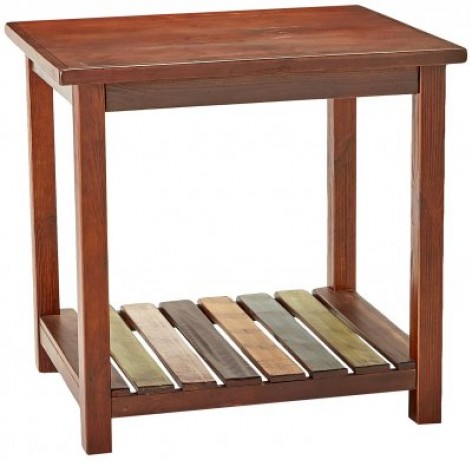 The Mestler accent is ideal for those who want a rustic, worn, feel from their side table. This plank design gives an ideal look for those who have designed their home around a feeling of warmth and natural beauty. A quaint fit to any corner of your home, this table is made from wood and wood veneer giving it a sturdiness you need from an addition to your home.
Ashley furniture prides themselves with the care they take in packaging and shipping client orders in both a fast yet efficient manner. Their crafted materials are sent with care in hopes it makes it to the consumer safely.
This table features a plank designed bottom shelf that is great for displays or simply looking great. This rustic feature will be an eye-popping addition to your home.
As one of the more expensive pieces on the list, the Mestler by Ashley makes a lovely addition to any home. It's gorgeous look and sturdy craftsmanship make it well worth the cost you pay for this eye-catching addition.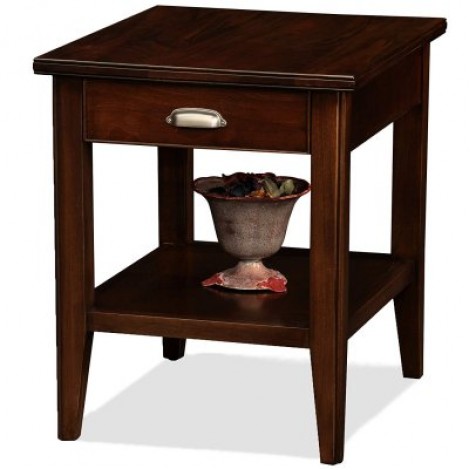 This piece is a wonderful addition to any home. Its hardwood design offers complete sturdiness while the finish offers an elegance any homeowner would love. The compact design allows this piece to be used anywhere you need an accent or table to hold special treasures. The small drawer gives you space for extra items or paperwork and whatnots you'd prefer guests not to see.
One of the main purposes for an end table is to be a discreet part of your room's décor. This piece does just that while still looking great.
Unlike many pieces bought for the home, this one will stand the test of time. The hardware included for construction is sturdy allowing you the comfort of knowing once assembled your accent will not only look great but do the job you've chosen it for.
Although slightly pricier, this amazing option is sturdy and manufactured with great workmanship. With the addition of the drawer and bottom shelf, this great looking table is well worth the extra costs.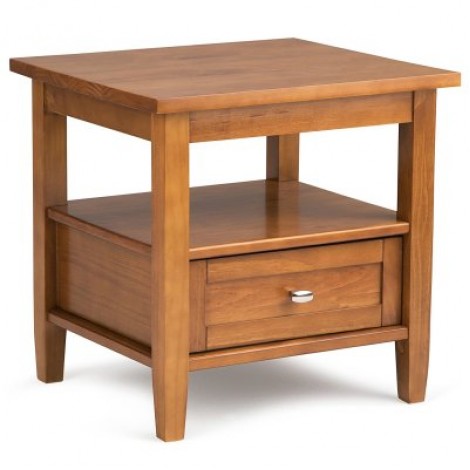 The Simpli Home Warm Shaker piece is uniquely designed with a lower drawer that also crosses as a shelf. Made from solid pine, this accent piece is lacquered to a honey brown that offers a warmth to your home while providing buyers the pleasure of experiencing a sturdy table that will fit almost anywhere in your home.
This piece is sure to last. With its solid pine construction, this was built to stand up to whatever you plan to use it for while looking amazing.
This uniquely designed end table provides plenty of space for storage and display. The lower drawer provides enough room to tuck away everything you want out of sight while also giving the extra space needed for display on top. When needed, the drawer opens, providing you with yet another display area.
This warm, lovely addition to your home is a great value for the price you pay. With the solid wood construction, additional storage, and appealing appearance you'll find yourself satisfied that you've found a product well worth the price you pay.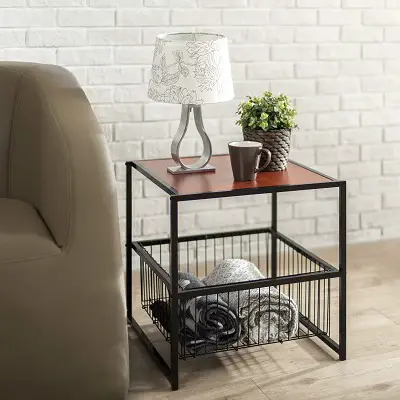 The Zinus Modern Studio Collection piece is a great way to bring a modern feel to any room. This uniquely designed end table provides not only a place for displaying your items or leaving your television remote, it also comes with a wire framed basket underneath for additional storage.
If your home has a modernized look and feel, then this piece is the one for you. Sleek and compact, you'll love this addition to any room.
The Zinus gives those who love taking it easy a great place to keep a snuggly blanket. Their wire mesh basket is a great storage area whether it's for knitting, magazines, or even snacks for those late nights watching television.
With the additional storage basket underneath, you'll find this table provides the touch of modern sophistication and design you've been wanting for your home. The extra storage space gives you all the extras at a cost you'll love.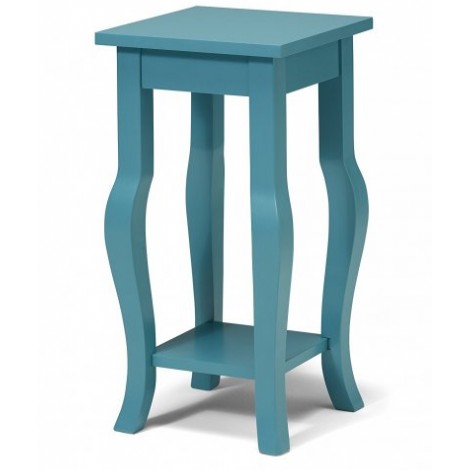 Last on our list, the Kate and Laurel pedestal-style product is an attention-grabbing accent to any home. Its wood design provides the sturdiness buyers hope for and the stylishly, curved legs provide the unique look you want in your home.
The curved leg design of this piece is sure to catch attention. If you want to add a bit of style to your home, this piece is for you.
The pedestal accent line comes with many choices of colors to choose from. No matter the color scheme of your room, you'll find a table that will fit in any corner for displays or by any piece of furniture making it the perfect end table for your tastes.
The unique look of this piece makes it well worth the cost. The array of color options and curved design of the legs makes this end table stand out in the crowd. The craftsmanship makes it a valuable addition to any home.

Subscribe to our Newsletter