Best Triathlon Gear Reviewed & Rated for Quality
In a
Hurry? Editors choice: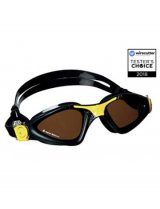 Test Winner: Aqua Sphere Kayenne

There are few physical sporting feats on the planet that are more challenging and more glory-winning than completing a triathlon.
Finding its genesis way back in the early 1900s where the first water leg was actually completed in a canoe, this rigorous competition requires epic training rituals, unheard of conditioning, and the mental fortitude of a warrior--and, of course, all of the necessary gear.
Since speed is a premium, you'll want minimal gear that is of the highest quality. Choosing items that fulfill multiple purposes and that can transition from one leg to another is key.
That's why, for the pro triathlete, a
triathlon suit
that works as biking, running, and swimming gear makes for the best triathlon clothing.
But we've also packed this list with a bunch of other goodies you'll want to have in your saddle before your next big race, so take a look.
Standout Picks
Criteria Used for Evaluation
Features
When considering the products that would make this Ten Best List, we looked at the features that each has that sets it apart from other options and makes it a better buy. We liked choices that are easier to use and to put on and we also like products with added extras for better performance.
Comfort
Of course, we always look for comfort when suggesting athletic gear. Because you are going to be pushing your body to the limit in this gear, it needs to be top-notch. We like products that cut down on size and that cut down on chafing. We also choose options that come with padding in the right places so that you can ride and run in comfort.
Materials
Looking at the materials that each product is made out of is important to us. We want to bring you choices that are artfully constructed and that will hold up to the test of time. We also want them to be well suited for the job which means they have to offer breathability and materials that can stand up to the onslaught of a triathlon.
We also want to ensure that the products that you get will stay in place where you put them and this has a large part to do with materials as well.
Durability
To that same end, we want to make sure that the products that you are getting will actually hold up. While some of the options on our list have reviews of less durability, they are very inexpensive and replaceable.
As for the others, we value a product that has durable stitching and closures as this is a must for maintaining competitive.
Value
In terms of value, we love products that can be used for multiple different legs of the race and we like choices that can be used for training as well as in the actual race. This increases your use per dollar which inherently drives the value of the product up.
10 Best Triathlon Gear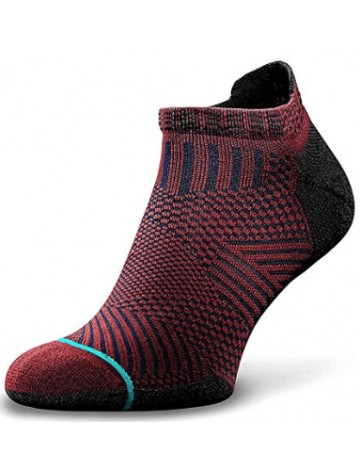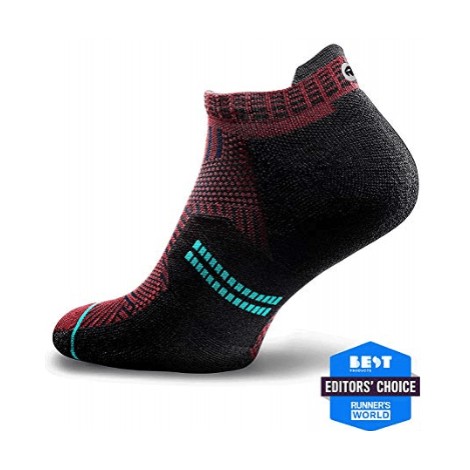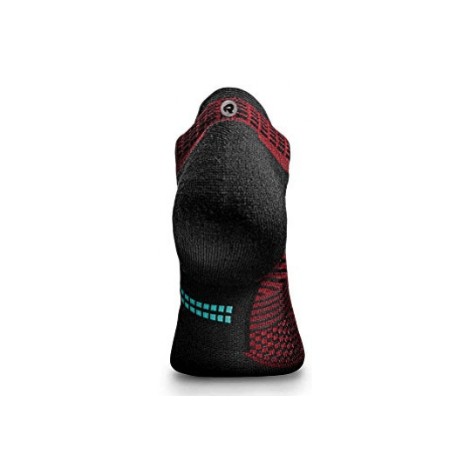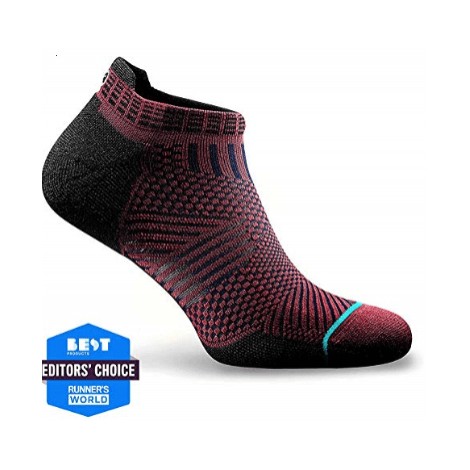 We jumpstart this Ten Best List with the Accelerate anti-blister socks from Rockay. Not only are these some of the best running socks that money can buy, but they transition super well between cycling and running which is critical during a triathlon. Made from a super breathable material with your comfort in mind, you'll be able to plow through each leg without beating up your feet.
Keeps Feet Dry
While one could argue that you can only be so comfortable while swimming, cycling, and running your way through a rigorous triathlon course, Rockay begs to differ. They deliver supremely comfortable and breathable socks with their Accelerate model.
These gems are made using Merino wool that is organic and harvested from happy sheep in South America. Merino wool is one of nature's miracle fibers that lends itself super well to making socks that actively wick away sweat and moisture from the skin so that you can remain comfy even when you're laying it all on the line.
This fiber also fights the build-up of stinky bacteria which means fresher socks for longer. For these reasons, we award major points in the Features, Materials, and Comfort categories.
Seamless for Comfort
One of the key features that you'll want to look for in any triathlon sock is a seamless toe. Eliminating the toe seam means truly magical things for your toes whether they are in cycling shoes or your running kicks. This majorly cuts back on friction and on the possibility of developing a blister during the race.
But that's not all for comfort. These babies are padded on the top to protect from lace pressure, they are padded at the toe which is key for cycling, and they are padded at the heel (the entire heel) which will bring sweet relief from impact while you're running your heart out.
And to top it off, there a nice compression joint around the arch providing natural support, as well as an elastic cuff that works to ensure that your socks stay where they are supposed to whether cycling or running. More points for Comfort here.
Cost and Value
But perhaps most importantly, these babies are truly durable enough to sustain the assault of a two-part cycling and running race (assuming you won't be donning these during the swimming leg). The design is unbeatable and they won't break down during the race or in the washing machine.
How can you be so sure? Rockay backs their products with a lifetime guarantee which states that they will replace a worn and torn pair of socks with a new pair, no questions asked. Now that's quality you can rely on.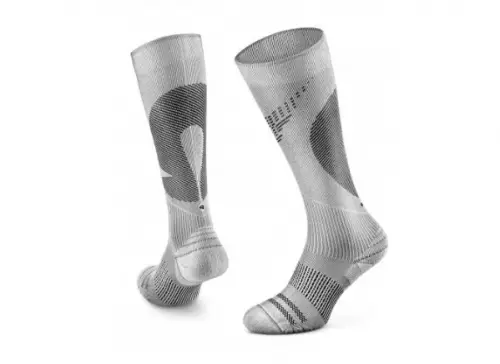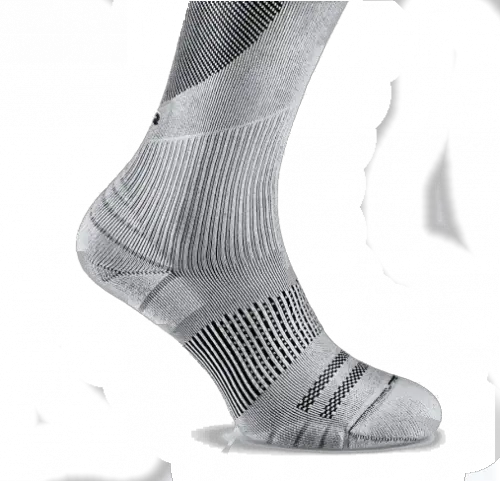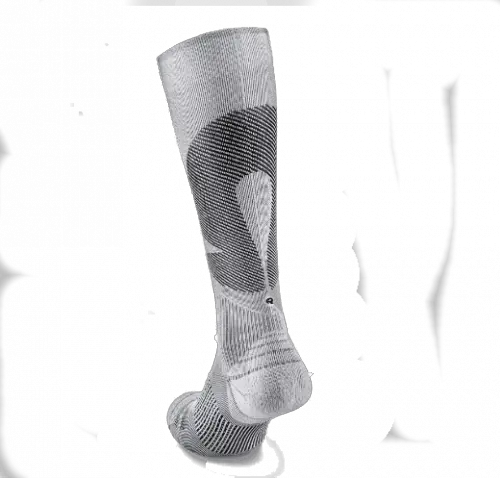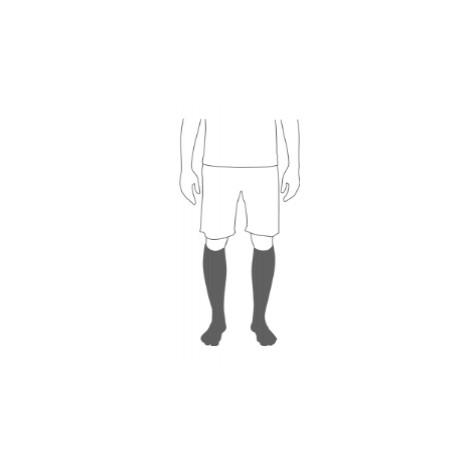 Rockay's Vigor Compression Socks are another great option that will perform excellently in both the running and cycling legs of your next triathlon while giving your legs tons of support and compression to keep you powering through. And you'll love all of the cushiony support they have to offer as well.
Compresses to Knee
The Rockay Vigors are designed for compression all the way up to your knee. With graduated compression, you'll get the best support for each area of your leg.
The compression works to increase the flow of blood to your legs which helps more oxygen get to your muscles. This means that you can power through for longer and that you won't exhaust so easily.
Plus, you'll enjoy loads of arch support along with the support to your calves. And even though these come up to the knee, they are finished with breathable mesh zones so that you can get a nice airflow around your calves, and so that sweat can be wicked away.
They are also promised to stay in place. While other compression socks on the market can be hard to put on and a pain to keep in place, these babies stay where they're put when you put them. That's thanks to the specialized fibers that make them up (all of which are from recycled materials).
For these reasons, we award tons of points in the Support, Comfort, and Materials categories.
Loaded with Cushioning
And just because these things do so much good for your legs doesn't mean they have to be uncomfortable for your feet. You will get all of the benefits of the cloudy cushioning at the heel and toebox which help to absorb shock and keep you pounding through the miles as well.
This helps aid in the fight against blisters, as well as the absence of the seam in the toe.
For this, we award points in the Comfort and Materials categories.
Cost and Value
As always, we love a Rockay product. They are insanely durable and their quality is hard to beat. Plus, you won't have to wash them every time because of the Polygiene technology that fights against odors which work to extend their life even longer.
And Rockay also guarantees this product for life, so if it should start to loosen up or become less than perfect, Rockay will send a pair to replace them for life and with no questions asked. We love that Durability and Value.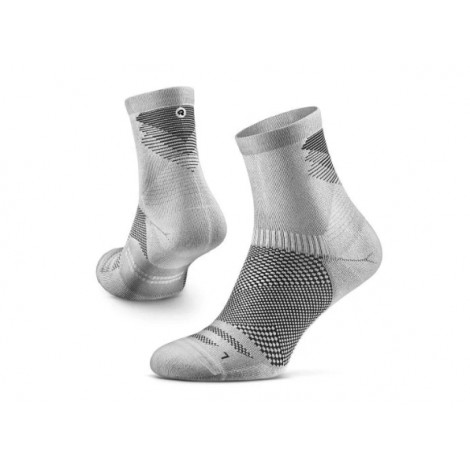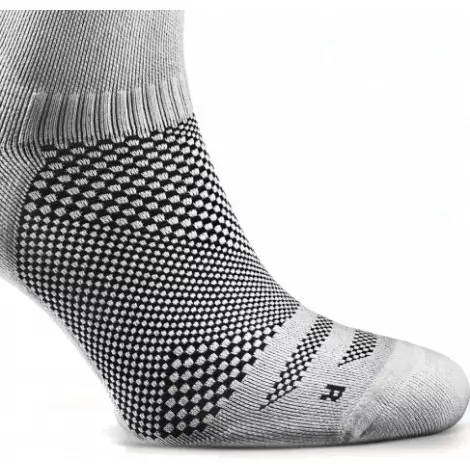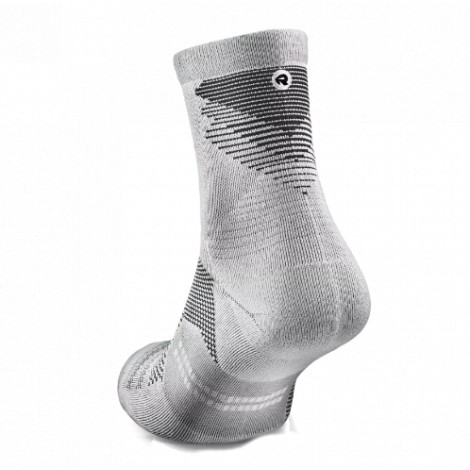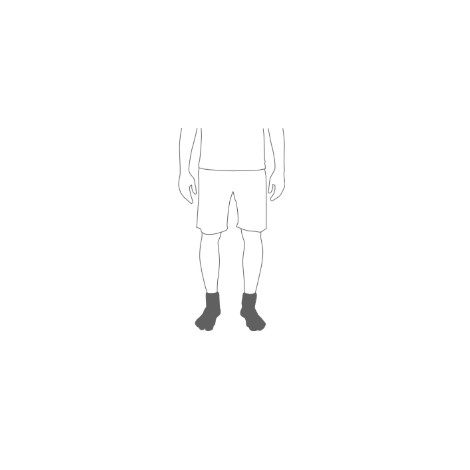 Coming in at a close third are the Rockay Razer Trails. These puppies are designed to be seamless to cut down on chafing and potential blisters, no matter if you're biking or running. As these were designed with the trail in mind, they transition magically and provide ample support and compression and can fulfill all of your sock needs for your next big triathlon.
No Toe Seam
The Rockay Razer Trails boast one of the most critical features that any triathlon sock can have--it has done away with the toe seam. For generations, toes have been at war with this seam and finally, the battle is won. Eliminating this feature means that blisters are less likely to develop.
Along with the performance padding that is incorporated into every sock, as well as the breathable mesh that encourages airflow (cutting down on the moisture-induced friction that also frequently results in blistering), you can rest assured that your tootsies will be riding and running in supreme comfort. And for long races, breathability is a must.
For these reasons, we award major points in the Comfort and Features categories
Ideal for Cycling and Running
The Rockay Razer Trails have a higher profile than Accelerates but a much lower profile than the Vigors. This middle ground allows for nice breathability while still providing the necessary support to the foot and ankle.
This profile makes them well suited for both cycling and running alike. We absolutely love the compression-like quality of these and the way in which they hug tightly around the arch, providing lift and support where your tootsies need it most.
In fact, every component of the sock is included because of its advanced support and elastic properties. They are also all 100% comprised of recycled material so you get to help the earth while you hug your feet.
This earns the Razer Trails sailing marks in Materials and Features.
Cost and Value
As for Value and Durability, the Rockay Razer Trails ring up on the higher end of our price range but they deliver more than your average pair of budget socks will.
Not only are the socks designed to withstand the beating of a triathlon or marathon, but they also are infused with Polygiene which helps to keep bacteria that smells from breeding in your socks.
This means that your socks will last longer and that you actually don't need to wash them every time you use them (but you probably should after a big race!). This is great news for you and the environment.
And if your pair does start to lose their original luster, simply let Rockay know and they will replace them for the entirety of your life. You can't beat that Durability or Value.

4

. Synergy Triathlon Tri Suit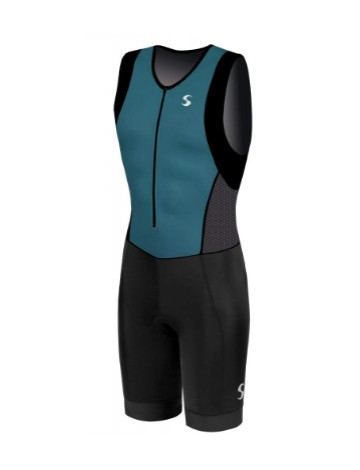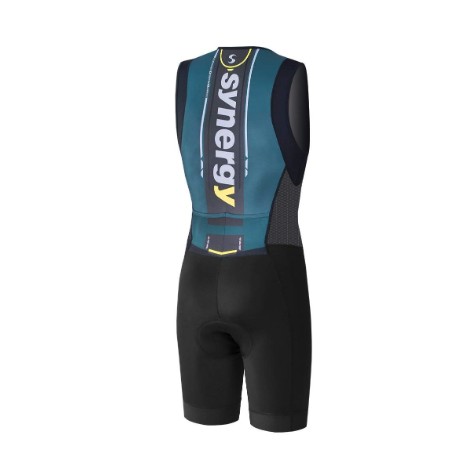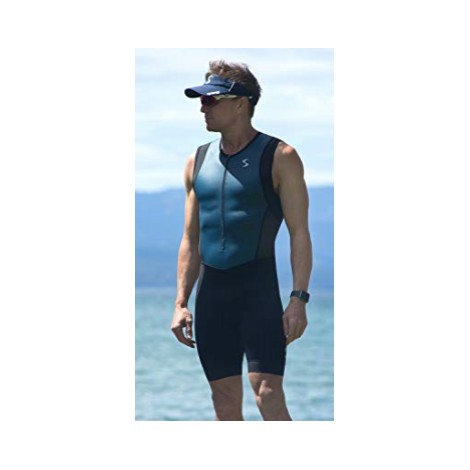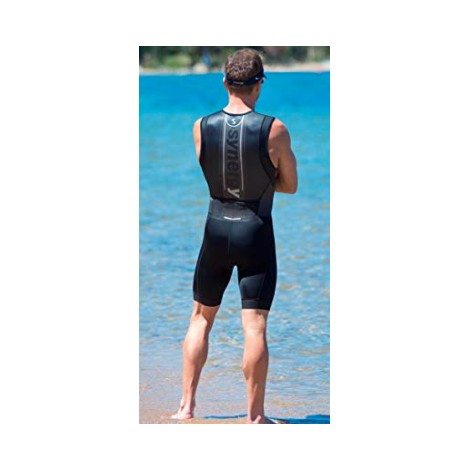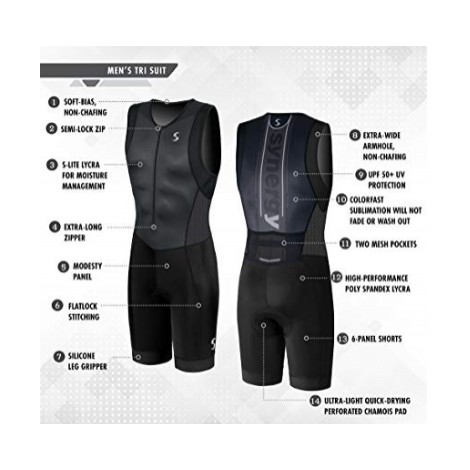 The Synergy Triathlon Tri Suit is one of the best on the market when it comes to getting your full get up for your next triathlon. You can wear this suit in each leg of your race (including the swimming portion), and it is expertly designed to keep you as fresh and as comfortable as possible while you square up against your competition.
Specialized Features
The Synergy Triathlon Tri Suit delivers some incredible features that you will be so grateful for during your next race.
First of all, this suit is durably made with high-performance spandex that is reinforced with flatlock stitching and a sturdy zipper. That means you won't have to worry about the suit breaking down during your intense race. The spandex and the long zipper make this product easier to get into as well.
The suit works as a semi-compressor, so it helps with blood flow for optimal performance. It also features a modesty panel so that you can feel comfortable without showing off the goods if you choose to race without shorts.
And to top it off, there is a chamois pad that is quick-drying as well so you can be nice and supported during the cycling portion of the race.
For these features, we award points for Features, Durability, and Materials.
Cuts Down on Chafing
Synergy knows what its athletes are up against and they deliver a suit that works for them instead of against them.
The armholes on this product are extra wide to cut down on the potential of chafing during the swimming and running legs of the race. The neck and arms are also lined with softer non-chafing material so you can stay comfortable here too.
And because the suit comes down to just above the knee, you won't have to worry about thigh chafing here. You also won't have to wear another pair of shorts if you don't want to, though there are silicone grippers on the legs to hold your shorts in place if you choose.
We award points for Features, Comfort, and Materials here.
Cost and Value
The Synergy Triathlon Tri Suit rings up at the top of this lists price range but it is competitively priced with other suits on the market. We love this Value because you only need to buy this one suit and you are set for the entire race, and you won't have to change clothes.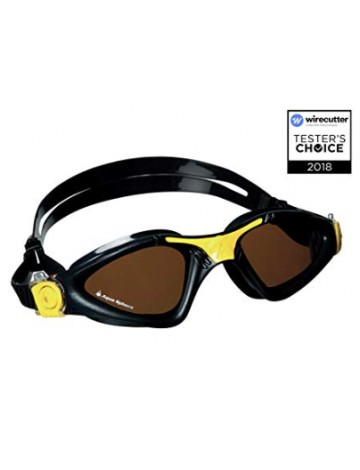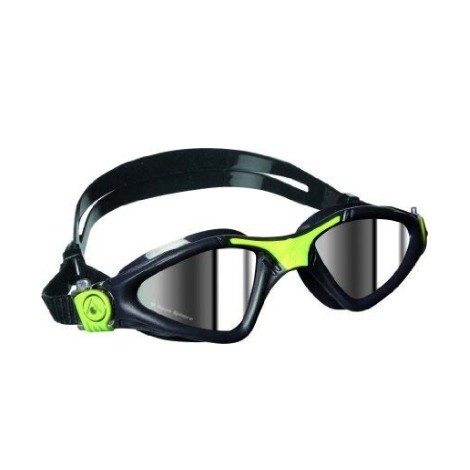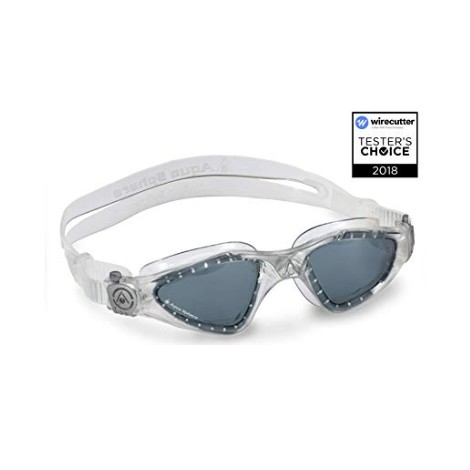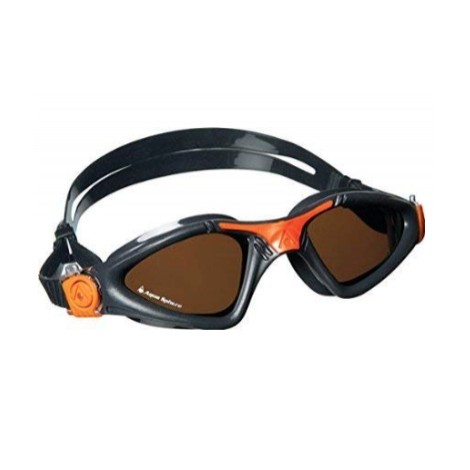 In addition to the above gear, you're going to want a waterproof watch and a pair of high tech goggles to propel you through the wet portion of the triathlon. The Kayenne goggles from Aqua Sphere feature advanced lenses that make seeing underwater a breeze, and they are also super comfy to wear.
High Tech Lenses
The Aqua Sphere Kayennes feature clear lenses made of Plexisol. The lenses are curved which works to deliver you a clear field of view of 180 degrees--more than most others on the market. It also makes these more hydrodynamic as well.
The lenses are treated to deliver 100% UV and UVB protection, and they are also guaranteed not to fog up or get scuffed and scratched when you transport them in your bag, making them way more functional and durable than others out there.
And what's more, these lenses are also polarized which means they can cut down the sun's glare that will likely be reflecting off of the water so that you can stay focused and zoned in--a must for outdoor swimming. This will improve your color perception through the goggles as well. So we score this product well in the Features, Materials, and Durability categories.
Comfortable Fit
The Aqua Sphere Kayenne fit better than most other pairs on the market as well thanks to their "Advanced Fit Technology." With a fancy nose bridge that will stabilize the goggles on your face, as well as a silicone band that is soft against the head for comfort, you'll be able to place these goggles and then forget about them.
And we love that they have a "Quick Fit Buckle" which makes getting the appropriate sizing for your face a lot easier. So we award points for Features and Comfort here.
Cost and Value
These ring up on the higher end of the price range for goggles, but they are worth the extra bucks because you will truly be able to see with that much more clarity. Plus, we love that they resist scratches so they won't be ruined with some jostling around in your bag. We award Value points here for this purchase.

6

. Fizik R5 Road Cycling Shoe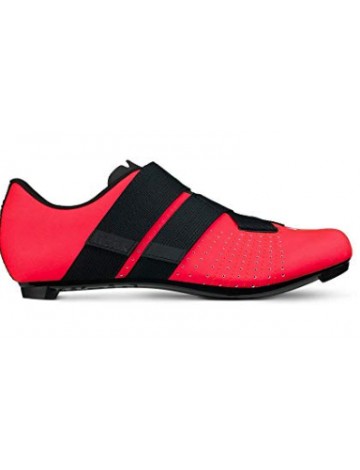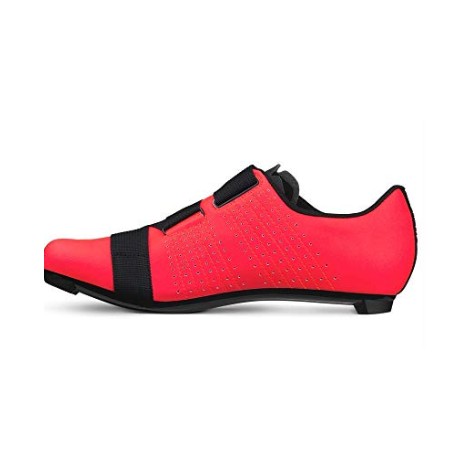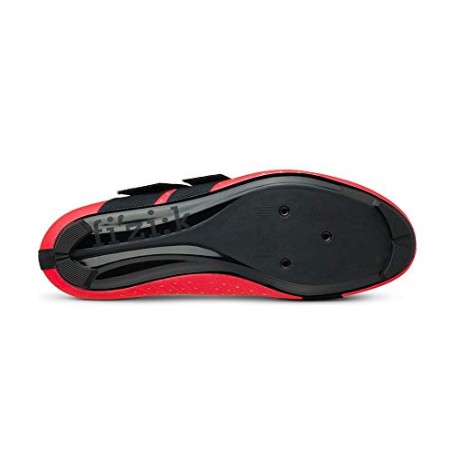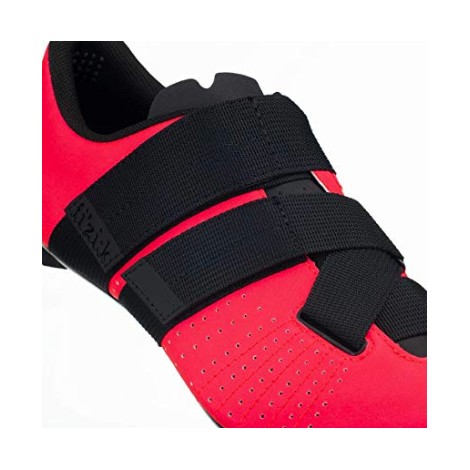 The Fizik R5 Road Cycling Shoe is the perfect marriage of secure comfort and hardcore functionality. Every part of the shoe is engineered for road racing and will help to increase your speed and take your game to the next level. And to top it off, there are some pretty snazzy styles to choose from as well.
Designed for Efficient Peddling
The Fizik R5 was designed to increase your peddling efficiency so that you can keep going for longer.
The nylon outsoles are reinforced with carbon to make them grippier and more efficient while still being comfortable. And the upper is made from a sturdy yet flexible Microtex that is at the same time comfy and durable, so we award points for Comfort, Materials, and Durability here. But that's not all we love.
Power Straps for Security
These come with two hook and loop straps that surround the shoe almost entirely. Not only does this deliver tons of secure stability, but it also works to distribute pressure more evenly so that you can peddle for longer. We award points for Features and Comfort here.
Cost and Value
The Fizik R5 rings up on the higher end of our price range, but cycling shoes are not something you want to skimp on--especially for a race. These are meant to last and will deliver all of the comfort and speed that you're looking for, so we say they are worth the extra change.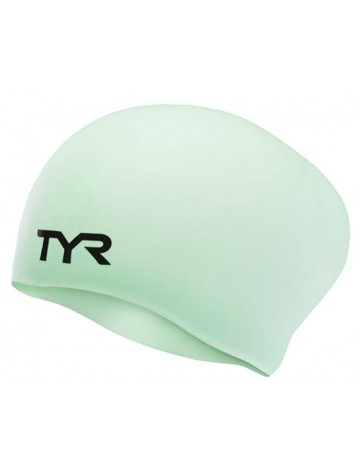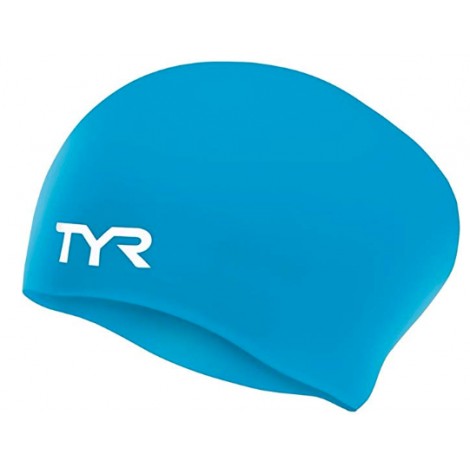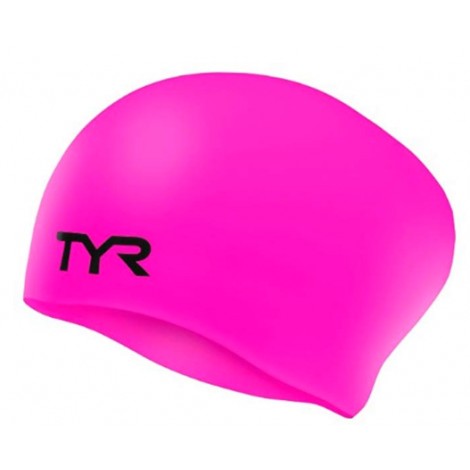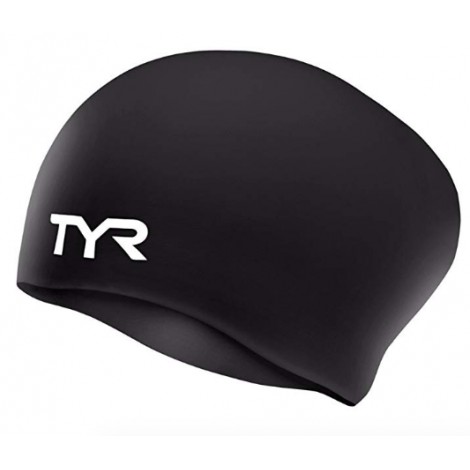 For the swimming leg of the race, you're going to want to make sure you have great swim cap to make this leg more comfortable and to reduce the amount of friction between you and the water. The TYR Sport Swim Cap is great for this and is especially ideal for swimmers with long hair.
Asymmetrical Shape
The TYR Swim Cap is designed with a unique shape to make wearing it a whole heck of a lot more comfortable--especially for those with long hair.
The asymmetrical design of the hat relieves a lot of pressure from the head and allows for more space at the back for longer ponytails to be stored. Plus, the redesigned cut out around the ears makes for a more comfortable fit as well. We award points for Comfort and Features here.
Quality Materials
This swim cap is made using the best quality silicone, and this cap is 100% silicone as well. There are no seams and this material was tested to ensure that you get an edge over your competition by dialing down the friction as much as possible. We award points for Materials and Features here.
Plus, you'll get to choose between several vibrant color options so that you can stand out among the pack.
Cost and Value
The TYR Sport Silicone Swim Cap rings up on the low end of the spectrum and some users report having issues with the quality as a result. They love the cap while it works, but experienced tears in the cap after a few months. That being said, it should more than satisfy your requirements for your race, though you may have to toss it out afterward.

8

. Amphipod AirFlow Microstretch Belt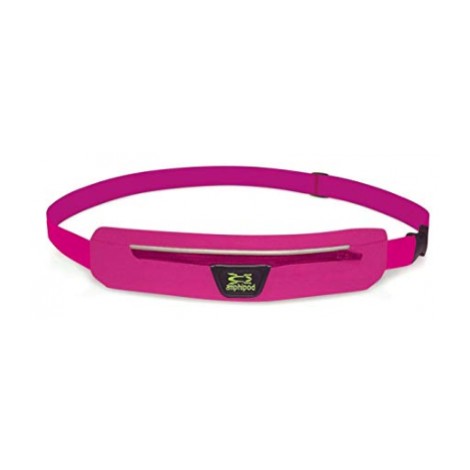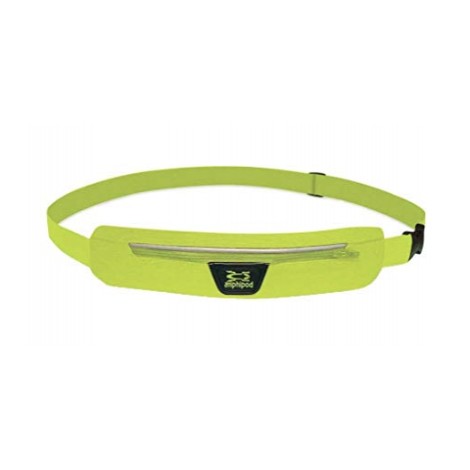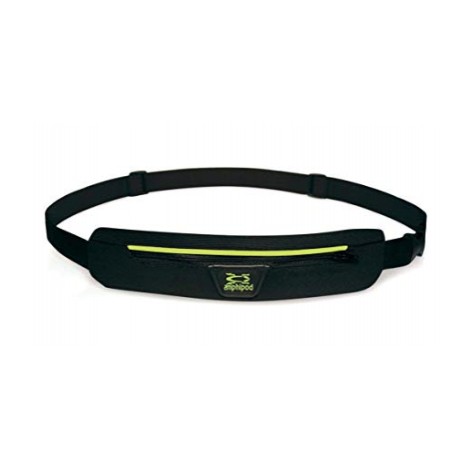 While most like to keep it as minimal as possible, some triathletes feel more comfortable carrying a few essentials with them during the race. The Amphipod AirFlow Microstretch Belt is perfect for that because it has a super minimalist design and is ideal for actual races, but definitely for training. And it comes in tons of fun colors too.
Stretches 4 Times its Size
The Amphipod AirFlow Microstretch is the perfect way to securely carry essential items with you as you workout. The storage pouch is stretchy, so it stretches to fit the items inside which means they won't be jostling around (potentially getting damaged). There is also a divider in the pouch that can be taken out if you require more space.
While the pouch starts out super small, it can actually stretch to 4 times its size to hold larger items that you don't want to leave behind. We award points for Features and Materials here.
Highly Adjustable
The belt can be adjusted to fit a wide array of waist measurements--from 28 to 50 inches in diameter. We award points for Features here.
This product clips closed so you don't have to shimmy in and out of it, and it is lined with mesh at the back so it remains breathable so we award points for Features and Materials here.
Cost and Value
The Amphipod AirFlow Microstretch Belt rings up on the lower end of our price range and we like its value because it's a great training and race day tool that helps you to bring along essentials without weighing you down.

9

. TYR Big Mesh Mummy Pack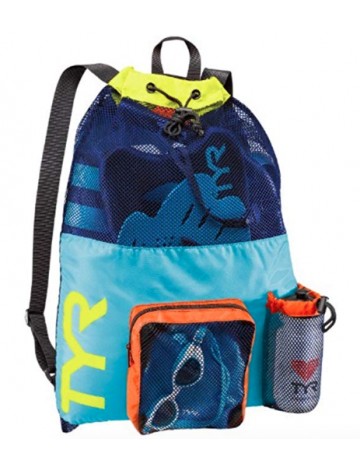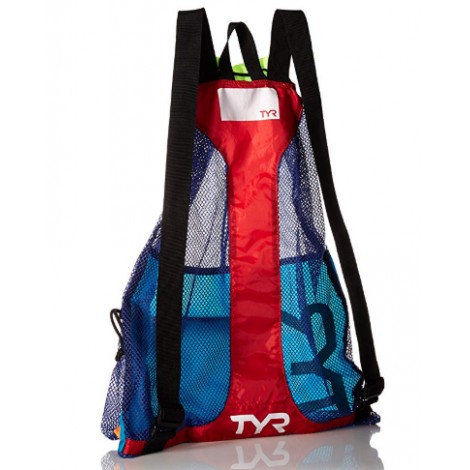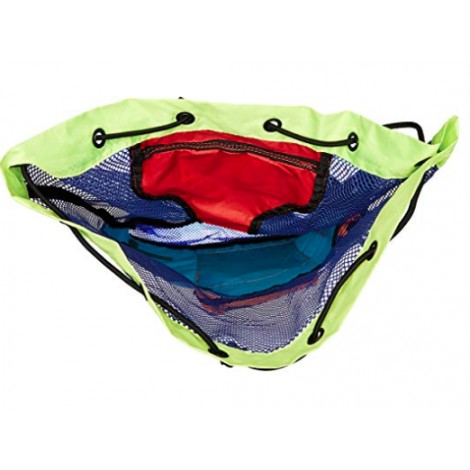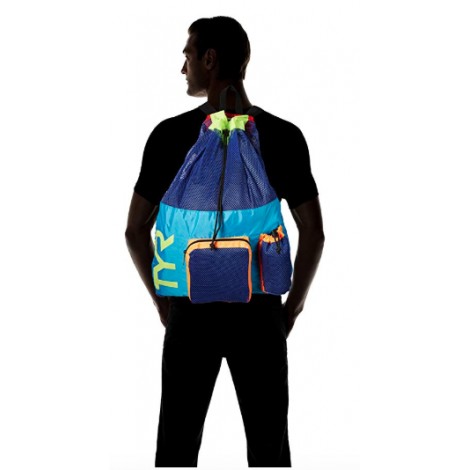 The TYR Big Mesh Mummy Pack is a great option for all of you triathletes out there, especially during training time. This bag will help you to transport all of your wet swimming gear and it will help that gear to drain and dry out more quickly as well. Plus, we love all the fun designs and the major storage space.
Tons of Storage
The TYR Big Mesh Mummy Pack is back and 20% bigger than before. With a huge main compartment that is super easy to access through the barrel drawstring closure, you won't have any trouble storing or finding items in this bag.
Plus, there is an additional small outside zipper pocket and a water bottle holder that can be adjusted with a drawstring so you can always have all of your essentials close at hand.
We award points for Features and Comfort here.
Quick Drying time
The pack is made almost entirely of mesh which makes it a super light companion and it means that the wet gear that you store inside can dry more quickly.
We like these shoulder straps because they aren't simply drawstring ropes that can be super uncomfortable. These are real straps and they're actually adjustable so we like that as well. We award points for Materials and Features here.
Cost and Value
The TYR Big Mesh Mummy Pack rings up on the lower end of our price range and we like its value because it is a spacious and fashionable way for you to store your wet belongings. That being said, users report this not being the most durable bag on the market so we dock points for Durability here.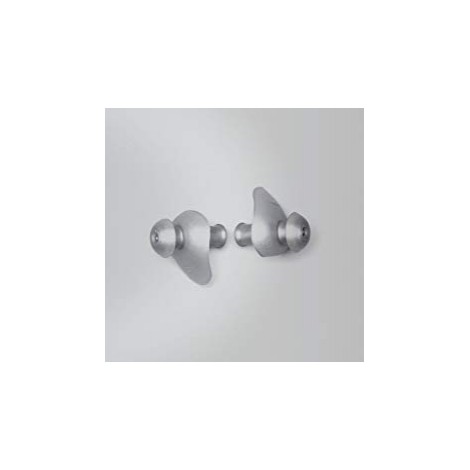 Every triathlete needs a solid pair of swimming earplugs to ensure their comfort during the swimming portion of their race and during training as well. To close out our list, we bring to you the Speedo Ear Plugs. They are super inexpensive and are contoured to help you get a snug fit.
Contoured Design
The Speedo Ear Plugs are great for most ears. They measure .8 inches high and 2.3 inches wide. This will more than cover the area of your ear. And on top of that, they are super comfortable and soft which makes them easy to get it and take out.
They have a special contoured design which helps to get a better fit in the ear in order to lock out all water from entering the ear canal. We award points for Comfort and Materials here.
Comes with Storage Box
We also like that these come with their own case. These things are so small that you'll need a safe place to store them and we're happy that Speedo delivers on that need. We award points for Features here.
Cost and Value
The Speedo Ear Plugs rings up at the very bottom of our price range and we love their effectiveness for their price point. You might even want to go ahead and order a couple while you're at it.

Subscribe to our Newsletter