Best Running Socks Reviewed & Rated for Quality
In a Hurry? Editors choice: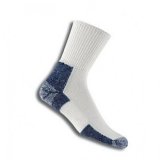 Test Winner: Thorlo Thick Padded Crew

Running gear is incredibly important to every runner. Arguably, what may be just as important if not more important than a
runner's shoes
is their running socks. Having the ability to be comfortable during your run has never been more important. With all of the running gear that is available on the market today, socks come in as one of the top-rated pieces of gear that are widely searched for by runners. Having a good set of running socks will help on many levels. Sure, you can run in any old socks, but if you want to enhance your performance and comfort, then choosing a pair that is specifically designed for running is your best bet. Lucky for you, picking out a good pair of running socks has never been easier. Get shopping, get comfortable, buy a pair of running socks, today!
Standout Picks
Criteria Used for Evaluation
Protection
Running is a high impact sport that causes a lot of stress on your legs and your feet. You should always be on the lookout for running socks that help protect your feet from the stress running puts on them. High quality running socks will help protect your heels, toes, arches, and your ankles while you are running. If the socks protect your feet properly, then you will most likely feel faster recovery times and are less likely to experience injuries from running. Running socks that protect your feet properly will also make running more enjoyable.
When you are picking out running socks, you should take a look at the cushion or padding located at the heels and toes. These areas of your feet are going to sustain the highest level of impact from running. Failing to protect your heels and toes properly while running can lead to minor injuries such as sore feet or major injuries such as bone spurs. Although running shoes are the main protector of your toes and heels, you should also purchase running socks that work with your running shoes to provide your heels and toes with additional protection.
You will also want to check out any arch protection that the socks have to offer. Many brands of running socks offer arch support or compression zones. Such socks will help stabilize and support your foot arches while you are running. This can help reduce injuries or pain that is related to collapsing arches on your feet. You will find that you are able to perform and run better when your arches are feeling great and are not injured. When you wear a pair of running socks that support or compression your arches, your run, jog, or walk will be much more enjoyable than what it would be otherwise.
Another area to consider is your ankle. Your ankles are a critical area of your body when you are running. When you fail to support your ankles properly, you can end up with injuries such as sprains or even worse injuries. You should always take care to find running shoes and running socks that provide you with proper support and protection for your ankles. Many running socks have compression zones in the ankle area. The compression helps to promote blood flow and also support your ankle. This helps reduce injuries that you may experience from running and it will also promote recovery times after your run. Properly supporting your ankle is a great way to make sure that your run is safe and enjoyable.
The running socks should also protect your skin while you are running. You should make sure that the socks do not slip or slide around while you are running. When socks slide around on your skin, you can end up with rashes, chafing, or even blisters. None of these conditions feel great or are comfortable. The socks should be made out of a material that fits snugly on your feet and is smooth and soft for your skin. This is the best way to make sure you do not get a skin condition when running.
Comfort
When your running socks are uncomfortable, they are distracting and irritating. You should always make sure that the socks that you wear for running are comfortable. The best kind of socks are socks that you do not even notice while you are running which will help you run distraction free. The converse is also true as well. When your socks are hot, slip around, scratch, itch, or chafe your skin, then you will have trouble focusing mentally on your run and will feel distracted. This is why comfort is one of the most important concerns when picking out running socks.
Socks that are designed specifically for running tend to provide better running comfort than socks that are not meant for running. For example, many regular socks are made out of cotton. Cotton is a great fabric for socks that you are wearing to the store or to the office. It is not ideal for running because cotton traps heat which can cause your feet to feel hot. Running socks, on the other hands, are normally made out of materials such as polyester, nylon, or spandex. These synthetic fibers breathe well which allows heat to escape from your feet. Cooler feet will feel more comfortable than hot feet, which is why you should prefer running socks that are made out of synthetic fibers rather than regular socks that are made out of natural fibers.
You will also want to make sure that your socks do not slip around either. Running socks are designed to stay where they are supposed to stay on your feet while you are running. The fabrics in the socks are meant to remain tight even while you are running. Running tends to send shocks and vibrations throughout your feet and legs. Your shoes will also rub against your socks as well. If your socks are not designed for the stresses of running, then there is a very good chance that your socks will stretch out and start to fall down into your shoe while you are running. Socks that are continuously falling down can be extremely distracting and nobody wants to have to continually pause while they are running to readjust their socks. You should always look for running socks that are non-slip and will stay where you expect them to stay. Socks that stay put are much more comfortable than socks that slide around and fall down.
The socks should also feel comfortable on your skin. You should expect that the socks will not retain heat or moisture nor should they scratch or itch when they are in contact with your skin. Since running socks are made out of synthetic fibers, they will provide your feet with much better climate control than socks that are made out of natural fibers.
Water Resistance
Your body will produce sweat while you are running as a way to cool your body and maintain proper body temperature. Sweating is a good thing because it helps you run at your maximum performance, but it is important that your sweat can evaporate away from your skin. The process of evaporation is what cools your body and if sweat cannot evaporate, then the water will actually trap heat rather than cool your body. You should always look for athletic clothing that is moisture-wicking so that sweat can be removed quickly from your skin and your body can stay cool. This also includes your choice of waterproof socks.
Your feet are particularly vulnerable to sweat. Unlike other areas of our bodies, our feet are trapped inside of our shoes which is dark and doesn't allow for much air movement. This is why feet tend to smell the worst after running. As your feet sweat, you are providing both heat and moisture for bacteria and fungus to grow. Both types of organisms can produce odors that smell bad but they can also cause even worse conditions. For example, the fungus can grow between your toes and result in athlete's foot, which is a skin condition that causes burning, itching, and rashes. Bacteria are normally behind odors but if you cut open your skin somehow and bacteria enter your bloodstream, you could potentially develop an infection. Both types of organisms can be harmful to your body and make it hard to run.
Style
You will want to consider the style of the socks when you are picking out a pair of running socks. The style is important because it can affect how well the socks cool and support your feet while you are running. Different styles of socks are better for different situations so it is usually helpful to be familiar with the different styles of running socks prior to purchasing running socks. The main types of running socks are no-show socks, crew socks, and knee-high socks. You may also see toe socks in all three lengths as well as anatomical fit socks.
No-show socks tend to be the most popular kind of running socks. These socks are cut short so that they do not appear above your shoes. They are great for summertime running because they help your feet stay cool and you are less likely to develop tan lines from running. The no-show socks are not recommended for trail running since they will not stop dirt or gravel from falling into your shoes.
Crew socks are cut longer than no-show socks. They tend to end slightly above your ankle bone and are ideal for trail running. The added height keeps sands, pebbles, and dirt from falling into your shoes, which helps protect your ankles and your feet. The additional length can also protect your ankles from getting scratched by brush and undergrowth that you may see on the trail.
The longest socks are knee-high socks. Most knee high socks are also compression socks, which help support the muscles in your legs, ankles, and your feet. Compression therapy can increase blood and oxygen flow to your muscles which will help boost your performance while running. The also can help reduce injuries or relieve pain from conditions such as shin splints.
In addition to the length of the socks, there are also two different kinds of socks. One kind of sock is a style that has individual toes. They basically look like gloves for your feet. The other kind of socks is the anatomical shaped socks, which are socks that are shaped for right and left feet. Anatomically shaped socks are beneficial because they develop a tight and snug fit around your feet.
10 Best Running Socks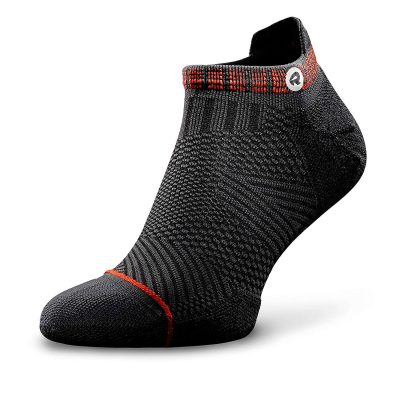 At the pinnacle of the market, there are only a few select brands competing for the throne - and one of them is the Rockay Running Socks. These specific items were constructed by runners, for runners. The company understood what many of sock makers were missing and that is why so many people are flocking to this brand.
100% Quality
Many companies out there have stuck to only making their products from synthetic materials, as it can prove to be cheaper in production. This company sought to only using the very best materials. Here, each sock is made from 100% Organic Merino Wool, and are incredibly comfortable, to say the least.
Ventilation
We all know that running causes someone to sweat. However, the last thing you want when running is sweaty feet. This manufacturer carefully constructed these socks to include some of the best ventilation in the most important areas. Say goodbye to sweat and hello moisture-wicking!
Cost and Value
While these socks may be considered a more expensive good, they are actually worth every single penny. The amount of value that the manufacturer spent putting into this product is quite unbelievable. With numerous different color options, high-quality materials, and even performance-enhancement features - can it get any better?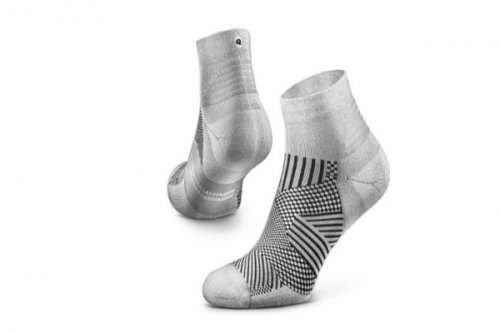 Constructed to be the perfect versatile sock, the Rockay Flare Quarter comes in at our number 2 for the best running sock. Its crew cut aesthetic makes them ideal for wearing with hiking boots, and long walks that require some rubbing to happen behind the foot. Featuring high-density knit wool, these socks are extremely durable from heel to toe, so much so that you have an even level of comfort throughout the foot.
Extra Comfortable
Comfort is one of the main features these socks possess. Showcasing superior comfortable padding throughout the entire foot from the heel to toe, these socks feel almost like clouds when you are running. Every runner knows finding a comfortable sock is key especially when you are running uphill. This one allows you to have an excellent amount of comfortable paired with excellent arch support.
Helps with Sweating
Finally, a brand that truly listens to us, Rockay has constructed the Quarter Flare sock to help with sweating. There is nothing quite like wanting to run for an extended period only to feel uncomfortable midway. That is where chafing and discomfort will come into play. Having open mesh zones integrated into the socks enables you to have constant ventilation, helping evaporate sweat from the foot constantly.
Cost and Value
With so many benefits, the Quarter Flare is one of a kind with its unique construction and performance benefits. We believe it's more than worth the cost.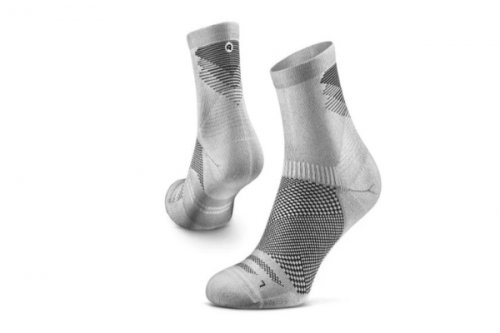 Bringing forth a brand-new option on the market the Rockay Razer Trail is bringing a runner's dream in one sock. Featuring a balance between performance and compressive support these socks are the perfect addition to any runner's daily routine. Made to be the ultimate addition to any running trip, these feature an equal balance of breathability, and odor eliminating properties. Having these properties will ensure your feet are not only happy but comfortable.
Eco-Friendly
You have to support a company that appreciates Mother Nature. The Razer Trail socks are made from 100% recycled materials, making them an option that's both supportive on the trails and supportive of the environment. Furthermore, the materials work together for a carefree item that gets the job done comfortably.
Arch Support
These bad boys have added arch support that offers many benefits to the feet and the run. You'll never feel aching arches again with the Razer on your side. Additionally, stability is key with the added arch support, assisting in the prevention of constant foot pain.
Cost and Value
With so many benefits in the Razer Trail, the price is affordable and delightful. Having stability and support while wicking moisture has never been as easy as it is now. Added performance cushioning strategically placed throughout provides the right amount of comfort. All of your fears are beat with the Razer Trail.

4

. Darn Tough No-Show Light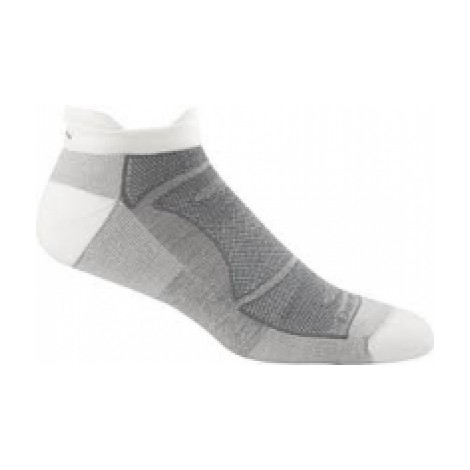 The Darn Tough Merino Wool No-Show Light Cushion Athletic Socks are a thin gauge material of merino wool. Wool has many added benefits that are both moisture wicking and anti-microbial. Keeping moisture and smell out of your socks, the Darn Tough Merino Wool No-Show Light Cushion Athletic Socks are also cushioned and durable. The added cushion will assist in pain reduction and friction that is caused by thin materials. You can't go wrong with all of the added benefits of this running sock.
Seamless Construction
The Darn Tough Merino Wool No-Show Light Cushion Athletic Socks are seamless and prevent those bulky annoying seams at the toes. As a seamless sock, you will not feel the pain that is caused by the pressure points and it assists in keeping corns and calluses away for good.
Merino Wool
The Darn Tough Merino Wool No-Show Light Cushion Athletic Socks are made with a very fine gauge, merino wool. Merino wool as plenty of benefits. The merino wool is a natural anti-microbial, which prevents odors and disease. Merino wool is also known to make moisture turn into vapor and leave the enclosed area, fresh and dry.
Cost and Value
With everything that the Darn Tough Merino Wool No-Show Light Cushion Athletic Socks have to offer you and your feet, you'd be silly not to put them on. The merino wool keeps feet healthy and disease free, while the padded sole adds cushion to the pressure points while running. With added materials, blisters are prevented on the heel and make for a successful run, every time.

5

. Thorlo Thick Padded Crew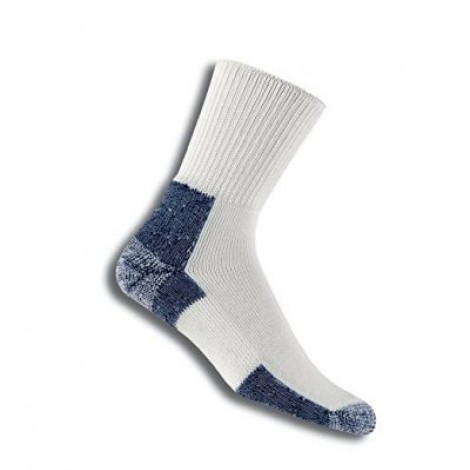 The Thorlo Thick Padded Running Crew Sock provides maximum protection against friction and pressure points using a padded sole. This helps prevent blisters and corns that will be a constant annoyance during running. The Thorlo Thick Padded Running Crew Sock is also a seamless sock that removes the bulky feeling and gives a constant comfort as well. Clinically proven to shield and protect against painful rubbing, the Thorlo Thick Padded Running Crew Sock is one of the most comfortable socks on the market!
Seamless
The Thorlo Thick Padded Running Crew Sock prevents rubbing and irritation on the toes and the foot by using a seamless sock. Say goodbye to the bulky feeling of seams by using the Thorlo Thick Padded Running Crew Sock.
Comfort
The Thorlo Thick Padded Running Crew Sock has many comfort features to make this the most comfortable sock, ever. Made with optimal arch support, these socks not only support the arch but protect the toes with padded comfort. Padded soles also prevent friction and come together to create one of the most top-rated socks, available today.
Cost and Value
The comfort benefits that come with the Thorlo Thick Padded Running Crew Socks is by far amazing. Having such great comfort for your feet when you are rough on them, makes running a lot easier. Added cushion to the soles stops the friction pain while the seamless toe prevents the bulky irritation. With so much comfort in the Thorlo Thick Padded Running Crew Sock, your feet will be begging for more.

6

. Running Socks Thirty 48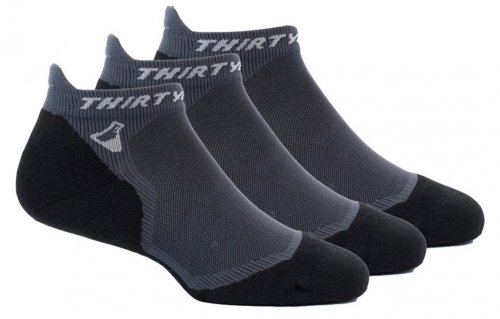 The Running Socks Thirty 48 have a lot to offer your feet. Cooling properties are put into place to help protect your feet from sweating and being damp during the longest of days. Extra layers of padding contour to your feet, adding comfort and pressure relief in the most painful areas. With a variety of colors, the Running Socks Thirty 48 are the socks for you!
CoolMax
The Running Socks Thirty 48 have a CoolMax fabric in place that works wonders by moving moisture and sweat away from the feet. With moisture protection, this helps prevent disease and bad odors from affecting your feet. Keep your feet dry with the Running Socks Thirty 48.
Several Cushions
Running Socks Thirty 48 has several different areas of padding to help prevent pain and friction. The main padding is located in the Achilles and the heel. This will help prevent blisters, bruising, and other issues caused by friction while running. A pain-free run is right around the corner with the Running Socks Thirty 48.
Cost and Value
The Running Socks Thirty 48 has plenty of benefits to help your feet while you are out and about or on a run. Added protection fights unwanted friction while the CoolMax technology wicks away moisture. Keeping your feet cool, dry, and pain-free, the Running Socks Thirty 48 will carry your feet for miles in comfort and style. With several colors available, these socks are versatile for anything.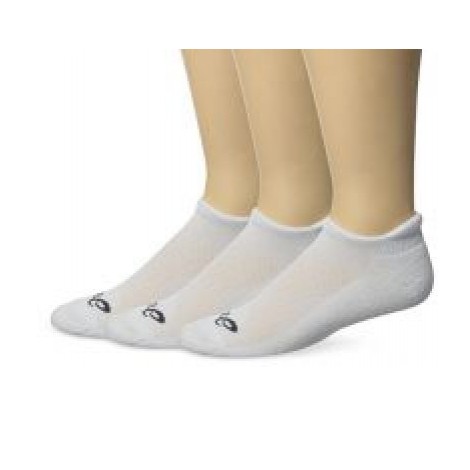 The ASICS Cushion Low Cut offers many features for the runner. Engineered with a mesh upper, this sock offers constant breathability and moisture management. With these great features, you know that your feet will stay dry and be scent free. Added cushion supports the foot while a tabbed heel prevents blisters and friction at the back of the foot. Being so beneficial to runners, the ASICS Cushion Low Cut has made the top rated for many reasons.
Engineered Mesh Upper
The ASICS Cushion Low Cut has an incredible engineered, mesh upper, that allows for constant breathability while on the go. With the added breathability, your feet will always have a fresh feeling, knowing that moisture has a way out and air has a way in, with constant circulation.
Moisture and Odor Management
Odor and moisture are a constant issue within the shoe while running or doing everyday activities. Each sock is specially designed with a technology that keeps odors and moisture away, making for one healthy pair of socks. Moisture and sweat cause bacteria and diseases will grow, prevent this with the ASICS Cushion Low Cut.
Cost and Value
At an affordable price, the ASICS Cushion Low Cut offer a clean and healthy atmosphere. Ventilation and moisture management help maintain dry and healthy feet, while added padding assists in comfort and a friction-free run. Keep your feet comfortable with the seamless, ASICS Cushion Low Cut.

8

. Nike Dri-Fit Cushion Crew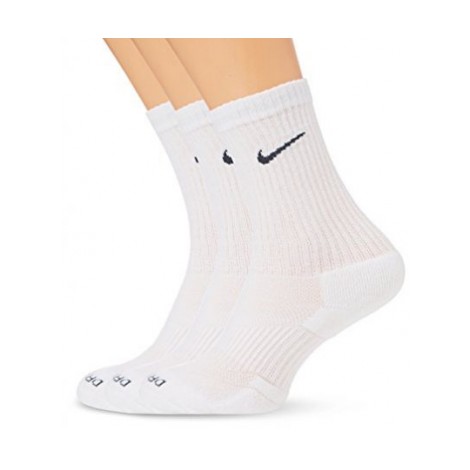 Jump into comfort and style with the Nike 3 Pack Dri-Fit Cushion Crew Sock. Nike offers technology to assist in moisture wicking which helps maintain dry feet and comfort through the life of your run. Friction-free, the Nike 3 Pack Dri-Fit Cushion Crew Sock helps ease the pain with added comfort and friction protection. Added benefits include arch support, reinforced toe and heel support, and a versatile style, all at a great price.
Dri-Fit Technology
The Nike 3 Pack Dri-Fit Cushion Crew Sock has Dry-Fit technology that allows the moisture to be taken from the sock and put into the outside of the cushion, allowing for a quick and fast drying fabric. Drying incredibly fast, the Nike 3 Pack Dri-Fit Cushion Crew Sock will add to comfort.
Reinforced Heel and Toe
For your protection, the Nike 3 Pack Dri-Fit Cushion Crew Sock offers an added protection in the heel and toe. This reinforcement in the Nike 3 Pack Dri-Fit Cushion Crew Sock will help maintain durability as the heel and toe suffer from the most friction while running. Durability is key with this running sock.
Cost and Value
Having a sock that offers so much to the feet has never been better. The Nike 3 Pack Dri-Fit Cushion Crew Sock wicks away moisture and keeps feet dry at all times. This helps prevent odors and diseases caused by constant moisture within the sock. Reinforced heel and toe support contribute to durability and help maintain friction that will cause pain. At an affordable price, the Nike 3 Pack Dri-Fit Cushion Crew Sock is the perfect sock for running.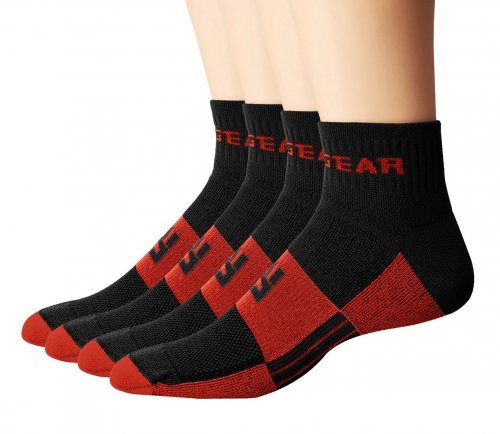 The MudGear Trail Running Socks are an incredibly durable pair of running socks that will guarantee comfort. Mesh uppers will allow a constant flow of air throughout the sock, assisting in removing moisture. Added technology assists in keeping out the dirt and debris, preventing any pain that comes from dirt and stones. Being that the MudGear Trail Running Socks have an added cushioned comfort, these socks are top rated for the best reasons.
Medium Ankle Compression
The MudGear Trail Running Socks offers a medium ankle compression that is not too tight, but just right, to keep out all dirt and debris. Dirt and debris can be a nuisance when trying to run. Not only does the MudGear Trail Running Socks keep out the dirt and debris, but the medium ankle compression also prevents the sock from slipping.
Padded Sole
The MudGear Trail Running Socks put painful friction sores in the past by having extra layers of padding on the sole. The extra cushion not only contours to the foot but also prevents any pressure point pain that you may have while running. Put pain in the past with this extra padding.
Cost and Value
The MudGear Trail Running Socks are ideal for running due to the features that they offer for your feet. Having a set of socks that wicks moisture, prevents friction, and stays secure, all while delivering comfort and will make you feel as if you are walking on cloud nine. The MudGear Trail Running Socks are both affordable and comfortable, don't pass these up!

10

. Thorlos Experia Thin Padded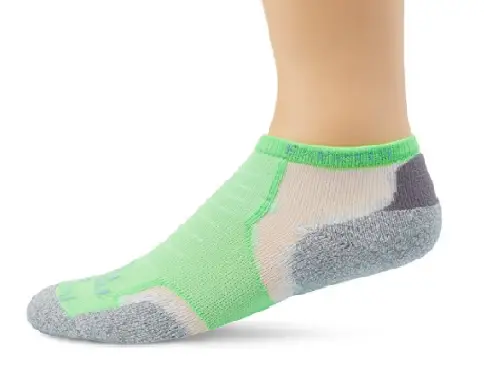 The Thorlos Experia Thin Padded Running Ankle Sock is an amazing sock that creates supreme comfort in the feel and ball areas. The added cushion allows full comfort and padding in the most important areas on the foot. Thin material around the rest of the foot assists in air ventilation and breathability. The added padding and air ventilation make the Thorlos Experia Thin Padded Running Ankle Sock one of the best.
Padded Heel and Ball
Comfort comes first with the Thorlos Experia Thin Padded Running Ankle Sock. The extra padding that is in the areas of the heel and toe assist with cushion and comfort. Each step you take collects friction and shock and absorbs the waves from hitting your feet.
Thin Upper
The Thorlos Experia Thin Padded Running Ankle Sock offers a thin upper that helps assist in breathability. With the padded areas being thicker, the thin areas allow the moisture to rise out of the sock and prevent any absorbing of sweat. This system allows the Thorlos Experia Thin Padded Running Ankle Sock to dry out a lot faster than other socks on the market.
Cost and Value
The Thorlos Experia Thin Padded Running Ankle Sock is one of the best socks to absorb shock and keep your feet comfortable and protected for long runs on the beach or long days in the office. The added cushion contours to the foot, reducing pressure point pain and assisting in keeping feet healthy. Affordable and comfortable, the Thorlos Experia Thin Padded Running Ankle Sock is the sock for you.

Subscribe to our Newsletter