10 Best Swimming Earplugs
In a Hurry? Editors choice: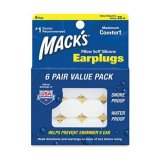 Test Winner: Mack's Pillow Soft Silicone

So, you like to swim, huh?
Maybe it's hot outside and you just need to cool down, or you are
swimming
indoors for exercise. Whatever the reason, you want the best swimming experience. I mean who likes water in their ears? So, if you like to swim and don't want to deal with
water
in the ears, then you will probably want to invest in some earplugs.
And that is why we have put together a list of our top swimming
earplugs
on the market. We want to make sure you have all the information to make the right choice for your swimming experience.
Standout Picks
Criteria Used for Evaluation
Comfort
We can all agree that wearing earplugs is not always the most desirable choice we need to make. However, if you are a frequent swimmer or love to visit the ocean throughout the summer, a pair of high-quality earplugs could come in handy. With that being said, we already know about the discomfort of having to wear earplugs and we wanted to highlight companies that made it easy for an individual to wear them.
In fact, our initial goal at the start of this article was to pick out products that felt as if they became one with the individual. In other words, while you swam, you would not even notice them in your ears. Now, to gauge this, we always looked at how the manufacturer approached comfortability. For example, did they make their products moldable for each consumer or is the product molded for one type of ear? Better yet, how soft and comfortable is the material in an individual's ear? As always, we never let the manufacturer's claims be our end judgment - we always look at the previous customer review to verify any and all information.
Materials
Aside from comfort, one of the most important aspects of picking out a pair of earplugs for swimming is the quality of the materials used to make the product. In fact, the type of material that a manufacturer uses could also influence the comfortability, functionality, and even the cost and value. It's that big of a deal! With that being said, when we considered each product for swimming, we wanted to make sure that the manufacturer chooses the best types of materials, whether that meant silicone rubber or latex.
Typically, in conjunction with what we learned, companies are starting to use silicone rubber rather than latex due to the increase of allergic awareness. Now, there still are companies that are using cheaper materials. So, be sure that you scan the product description and learn exactly what's in the earplug before you put it in your ear.
Effectiveness
An additional facet that we took into consideration when evaluating different products for this guide was the functionality behind the earplug. Now, we knew that these products were solely for swimming; however, earplugs are earplugs. With this logic, we wanted to make sure that, when an individual was purchasing a product from a new manufacturer, they could use it for all different parts of their life. Whether that means swimming in the local park pool, heading to the streams and rivers for some boating, or dipping your toes in the ocean blue. Whatever the use may be, we wanted consumers to see and notice the opportunities that reside in the product.
Value
When it comes to evaluating products, one of the most effective means to do so is through something known as the cost and value ratio. Now, typically, consumers avoid using this because it can be time-consuming, which is where we come into the picture. So, here is how this works. What we did is look at the entire market of earplugs for swimming and tracked the overall prices and brands, in accordance with what previous customers have deemed the best products today. From there, we carefully noted what products were the most expensive, what were the cheapest, and what products seemed to be priced in relative terms. Moving on, we started to look at each product that matched our above criteria as far as value.
We wanted to know how much value the product offered consumers. In answering this question, we were able to figure out whether an earplug product was worth a swimmers attention or not.
10 Best Swimming Earplugs
1

. Mack's Pillow Soft Silicone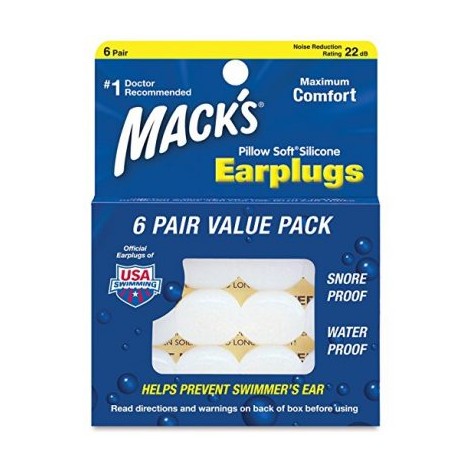 When it comes to loud noises, many individuals are extremely sensitive to them. More so, individuals are also really sensitive to water getting in their ears and it can become extremely uncomfortable. However, in 1962, a small piece of innovation made it possible for people to swim comfortably without the worry of water getting in their ear, and the ability to drown out noise that may be uncomfortable.
We are eager and excited to talk about one of the best swimming earplugs available today. Let's talk about the Mack's Pillow Soft Silicone Earplugs and why it should be on everyone's list if they suffer from ear discomfort for loud noises or wanting a quality swimming ear plug.
Maximum Comfort
Of course, if an individual is going to placing something in such an important area of the body, such as the ears, it needs to be comfortable. Well, still true to the original formula design, these earplugs are the most comfortable for all individuals. They are made with a silicone putty mold that allows for perfect contouring to a person's ear shape. With that, an individual can be comfortable that their earplugs will be able to mold easily, no matter the ear size. This also allows for a better fit that allows for individuals to wear them all year round.
Multi-Purpose
These earplugs are not only for swimming. In fact, these earplugs are designed for multipurpose use. They are great for swimming because the puddy design allows for them to stay put inside of the ear, no matter the water temperature or pressure. Now, the multi-purpose use comes in handy because people can also use them during travel such as a plane or a train. Also, if your partner snores a lot, individuals can use them for a better night of sleep. This can be seen as an all-in-one tool to a better day!
Cost And Value
When we talk about cost and value, people can expect to pay a relatively low price for something as simple as earplugs. However, it is the value of these particular earplugs and the design of them that makes them one of the best today. More so, when people invest in this manufacturer, they are investing in years of experience and trust that they have created with their audience. For such a low price, maximum comfort is only one click away!

2

. Putty Buddies 3-Pair Pack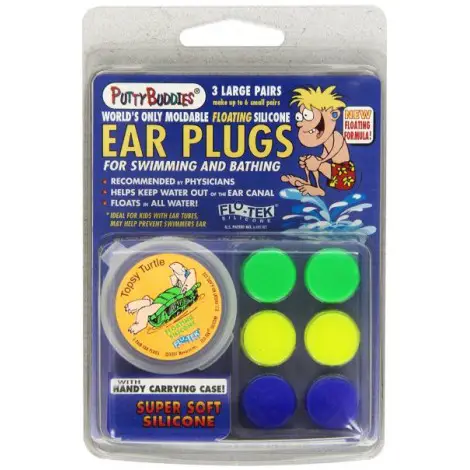 Another really great company with years of experience has introduced a more playful type of earplug. In fact, the earplugs for this manufacturer are different colored, which is perfect for kids that may be fearful of using earplugs. For maximum protection, while swimming or bathing, these earplugs are designed to fit into the ear and stay in the ear and mold to the ear shape. Let's talk about Putty Buddies Floating Earplugs and why parents will love this particular manufacturer of earplugs.
Soft and Moldable
There are different types of earplugs out there. Some are moldable, some are in the shape of the ear. These are moldable, which allow for an individual to easily shape them and mold them to the shape of the ear. This s done purposely because the brand understands that ears range in size. More so, these plugs are particularly designed for little kids that may suffer from ear pain while swimming or bathing. Thanks to the Flo-Tek silicone formula, parents can rest assured that they are letting their child wear a safe piece of equipment.
Prevents Swimmer's Ear
When it comes to the ears, they are one of the most sensitive areas of the human body. Therefore, this manufacturer focused on silicone earplugs that would prevent swimmer's ear and another different type of discomforts associated with swimming or getting water in your ear. With that in mind, if you suffer from otitis media, otitis externa, or have had a myringotomy, these earplugs are really safe to use and aid in the discomfort of all of these symptoms.
Cost And Value
When it comes to the cost and value of this item, it is safe to say that this is one of the most well-built and well built ear plugs in the industry. Primarily because individuals that suffer from ear pain will thoroughly feel ease by using these. Now, the primary importance of these ear plugs is that they were designed for little kids. Therefore, parents can feel ease of mind. Now, the price is a bit more than the first one on this list. However, considering that they are moldable, come in different colors, and an individual receives a set of three, we think it is a great cost.

3

. Docs Medical Grade Pro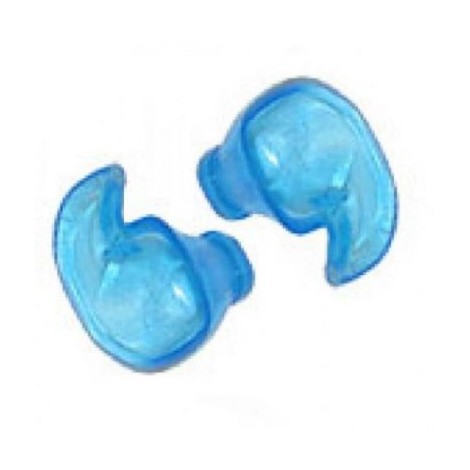 Now that we are coming to the middle of this list, we want to share with individuals a different type of earplug design. This earplug manufacturer is known to provide medical grade style ear plugs that are created for individuals that suffer from swimmer's ear. Now, for those of you that forget to stay on the surface of the water and want to dive deep, we are eager to dive deep into one of the best earplugs of today. Let's talk about the Medical Grade Doc's Pro Ear Plugs. Here are two important points worth taking into consideration.
Hypo-Allergenic Material
This is going to be a crowd favorite as far as materials go. For individuals that suffer from different allergies, one of the biggest benefits of these earplugs is that they are created from a hypo-allergenic material known as Kraton. Kraton is also extremely useful because it adds a watertight seal design to ensure that individuals do not get water into their ear while swimming. Lastly, the material helps individuals not feel much discomfort, if any, and not have any allergic reactions, like individuals may have to silicone or other earplug materials that different brands use.
Designed To Be Non-Invasive
When individuals read the words "non-invasive" they may be a bit confused as to what it means. For particular earplugs, this terminology is used to describe that they do not feel uncomfortable and in fact, an individual may forget they are wearing them at all. The lightweight design is meant to feel like a part of the ear, instead of something that is on the ear. This type of design allows for individuals to focus more on the task at hand than the discomfort of improperly-made ear plugs.
Cost And Value
When we take cost and value into consideration, it is important to recognize how valuable an item such as this is to individuals that have to swim daily. Made for Olympic swimmers, these medical all-day earplugs are designed for all-day swimming. Now, what makes them even better is that they are recommended by ENT physicians, which only shows more faith and trust into the brand. As far as cost, they are like the last one, with only one set. However, the difference is that the earplugs will range in cost depending on size.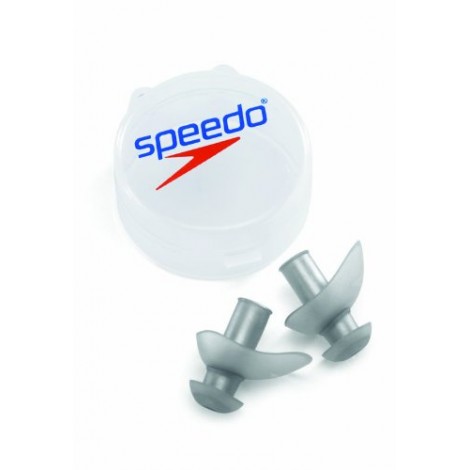 This particular manufacturer has extended their production of swimming gear and items to include some of the most unique and important swimming items in the industry. We want to share with you the Speedo Ergo Ear Plug and what makes it one of the most unique in the industry. What is really beneficial of this brand is that they specialize in swimming gear and have been known to test and produce some of the best swimwear products out there. Let's look at two important points worth notating.
Contoured Shape
Unlike the putty or the moldable design of other earplugs, these earplugs actually have a contoured shape to them that fits most ears. What is really great about this design is that they have a 'perfect fit' type of style that can be adjusted to most ears. Now, this design element allows for individuals to take them out of the box and begin using them right away instead of trying to mold them themselves. Many users can see this as somewhat of a drawback because they want it to be able to mold. However, this brand and these earplugs have been known to be one of the best.
Lightweight and Comfortable
When it comes to the ears, many individuals worry about putting something like earplugs in their ear because the ear is a sensitive area of the human body. Now, this brand took this into serious consideration and created earplugs that are really comfortable and lightweight. This allows for individuals to feel at ease when they wear the earplugs and not feel the discomfort of hours of wearing them. With that in mind, the lightweight design allows for people to not feel a heavyweight in their ear.
Cost And Value
When taking the cost and value into consideration for these earplugs an individual must take into account how they are made and the purpose. These, in particular, are primarily for swimmers. The reason being is that the design is specifically made to prevent any potential leakage into the ear. With that said, in comparison to other earplugs, these are only one set, therefore an individual only gets one earplug per ear and they are about the same price as other earplugs that come with multiple sets. Now, the value for these is great considering that it is made from a trusted brand with plenty of years' experience.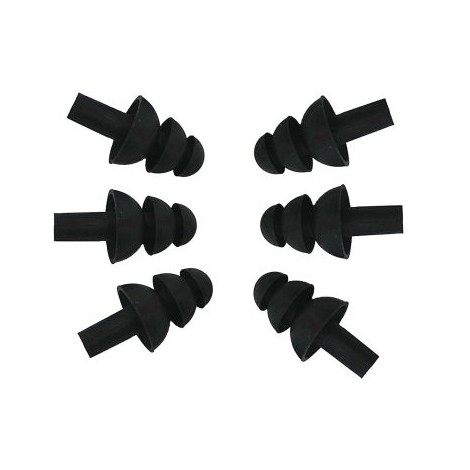 It is time to switch it up a bit by introducing a unique earplug design that resembles more of the traditional earplugs. This next brand is known as one of the best when it comes to earplugs. Now, individuals should take into consideration that these are meant for swimming and sleeping, but they are not medical grade like the last design. Let's talk about the Natuworld Silicone Earplugs for swimmers and what two great benefits of them are.
The Design
The design of these earplugs is very simple to use. Simply insert and remove from the ear. Now, this is both a positive and a negative. A positive is that they do not need to be molded to the ear because it is considered a one size fits all. However, for people that want a more secure fit, the one size fits all can be looked as a downfall. Now, this should not worry people because the reviews are really positive with individuals touting how they work really great during light swimming.
The Colors
Another really great benefit of these earplugs is that they come in different colors. Essentially, individuals can pick the ideal color that they want. The colors are black, blue, green, orange, pink, and yellow. These color choices allow for individuals to pick one that they like and can also be easily distinguished if you happen to have different earplugs around your home.
Cost And Value
As far as cost and value, these earplugs are really great and many users have mentioned the great benefit of using them and having them. With that in mind, these earplugs are known to have some of the best build quality but the true value is in how many come in a pack. In fact, in one pack an individual will receive five different pairs of earplugs for a total of ten different pieces. Now, the colors are all the same for all five sets but an individual can now rest assured that if they misplace one set, there are five more. For the low cost, we think it is a steal.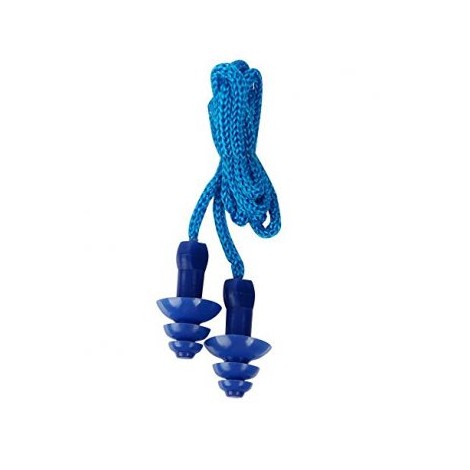 Holy moly is this a good deal! These next earplugs we are about to share with you are designed to be one of the best in the industry. More so, this brand does not skip out when they talk about "value pack". These earplugs are considered one of the best in the industry and an individual will receive 12 pairs of earplugs. Let's talk about the Luiswell Reusable Ear Plugs and why they are considered one of the best for individuals that swim often or need earplugs for hearing safety purposes. Here are two important benefits.
Designed To Fit The Majority
Now, these earplugs are made with the 'one-size-fits-all' idea in mind. However, individuals have touted how these earplugs feel really comfortable even after wearing them all day. If you are an individual that wants a quality earplug that you can rest assured will feel comfortable and lightweight, these are it. What we can say, is that certain individuals will have to get used to them at first, but after a while, it will become second nature to wear them.
Soft Silicone
Considering that the ear is a really important area of the human body, it is important to take into consideration the design material of earplugs. These in, particular, are made from a really soft silicone material that individuals will highly appreciate. The material molds to the ear and does not add pressure to the ear so individuals do not get that funky uncomfortable feeling that happens in the ear after many hours of using earplugs.
Cost And Value
When we take cost and value into consideration, it is important to note that these earplugs come in a value pack. More so, the earplugs are designed with maximum comfort in mind. For individuals that swim a lot, these are plugs are a life saver. Now, for the price, these earplugs are practically a steal, considering an individual will be receiving a 12 pack of them.

7

. Start Smart Soft Silicone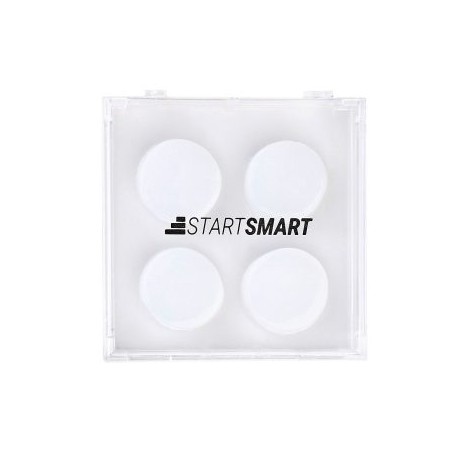 For stress-free swimming, individuals of all different ages and ear sizes will appreciate these earplugs. This particular manufacturer focused on creating earplugs that would fit all different ear sizes. In fact, these earplugs have been touted as one of the best, and the brand is known to produce really great quality products. Let's talk about the Start Smart Soft Silicone Moldable Ear Plugs and what makes them one of the best earplugs that individuals can buy. Here are two really great design elements users will appreciate.
Ergonomic Fit
One of the most important points users takes into consideration when purchasing earplugs is that they have a comfortable fit. More so, the fit has to be secure enough to keep water out of the ear. We are happy to say that this brand created these with an ergonomic fit design that molds to individual's ears to ensure that no water gets inside of the ear. These earplugs will stay in place and secure the ear canal from any potential entry of water.
Protective Case
Have you ever bought an item and were disappointed or worried at the potentiality that you might lose it? Well, this brand has included an easy to carry and store protective case. The case is a bonus and will help keep the earplugs clean. With that, in an individual can rest assured that their earplugs will not get dirty and begin to create bacteria. The carrying case can keep both sets and can easily be stored, just pack and go!
Cost And Value
As we take cost and value into account for these ear plugs, we can say that these earplugs are one of the best designed in the industry. One of the biggest benefits is that they are moldable, so individuals can rest assured that the ear plugs will fit the ears, which is a bit harder to do with non-moldable ear plugs. What we can say is that this brand is known for producing quality ear plugs and these ear plugs are only an example of that. We highly recommend them as one of the best and for a low price, individuals get two sets of ear plugs.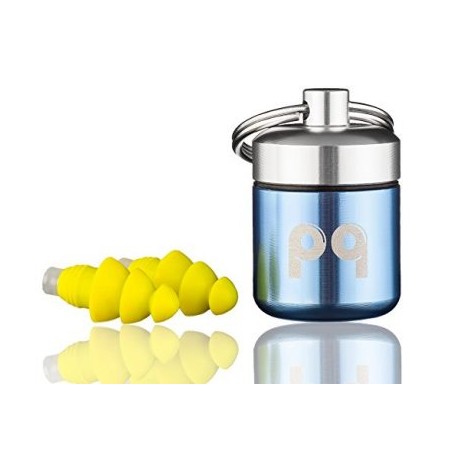 Let's talk about another pair of earplugs that are designed for daily use. This next brand focused on reliability and quality alongside comfort and design. We are eager to share with our viewers two really great benefits of the PQ Earplugs for swimming and what individuals can expect when buying these. Now, there is one added benefits and bonus to these earplugs that we will talk about further into the pros. With that said, let's begin with two important points to take into consideration.
Made To Protect
This brand acknowledges the importance of ear protection. Therefore, their earplugs are designed for maximum protection of the ear and ear canal. In fact, the design is intended to keep water and dirt out of the ear thanks to the three-undulating barrier design. Users will appreciate this design element, not only because it helps secure a tight fit and prevents water from entering the ear, it also helps to minimize outside noise and it is easy to clean. Made to protect and we agree!
For Most Ear Sizes
One of the best benefits of these earplugs is that this brand excelled at developing earplugs that fit most sizes. Thanks to the three undulating barriers, individuals will receive a comfortable fit that is somewhat mailable because of the design quality and materials. Now, for maximum comfort, individuals should expect a period of getting to feel comfortable with the earplugs and allowing the earplugs to set to the contours of the ear after a while of use. The only small downfall is that these earplugs are primarily intended for teenagers and adults.
Cost And Value
As we take cost and value into consideration for these particular earplugs, what we can say is that this company is highly touted and reviews as one of the best. The cost is a bit high when compared to other brands that included multiple sets, but this should only be a sign of proof of quality and value. These earplugs, in particular, are priced at a certain price because the brand has included a carrying case that you can attach to your keychain.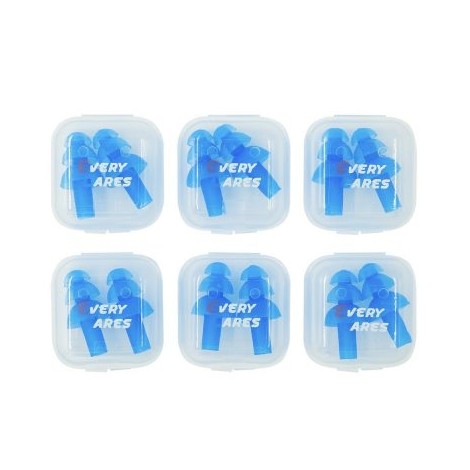 For swimming lovers that are looking for a high-quality set of earplugs that can help prevent ear infections during swimming, we are eager to share this particular brand with you. With three undulating barriers, much like other one-size-fits-all earplugs, these are extra comfortable thanks to the materials and design that went into creating them. We are eager and excited to share the Every Cares Silicone Swimming Earplugs. Let's talk about to important points if you are considering these earplugs.
Comfort For All Ears
Now, this brand has created some of the best earplugs, and this is no different. These ear plugs are very comfortable, users have touted, and they are considered maximum comfort thanks to the small design which is perfect for small ears and individuals with sensitive ear canals. Most importantly, these earplugs are easy to use and easy to remove. Lastly, the specialized tree design minimizes leakage and protects the ear from any water insertion or potential dirt, which can prevent ear infections and more.
Medical Grade
Now, one of our favorite earplugs on this list was the Medical Grade one. We are happy to share other earplugs that are designed for medical grade silicone. This type of silicone is odor free and is also very pliable, so individuals can comfortably mold them inside the ear. Lastly, the design is flexible and also BPA free, so individuals can rest assured that the earplugs they are buying are made from some of the best quality materials in the industry.
Cost And Value
As we take cost and value into consideration, it is important to consider the quality material that these earplugs are made out of. More so, these earplugs are designed for maximum comfort and to prevent leaking of water inside the ear. The last worry a swimmer wants is that while they are swimming, the earplugs they are wearing will fall out or leak. We can say that for the value, the cost is worth it. In fact, these are priced relatively low and includes six different sets of earplugs, and six different carrying cases.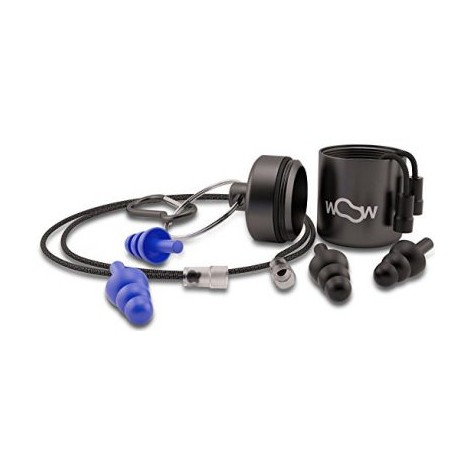 As the last manufacturer of earplugs on this list, we are eager to share this urban brand with plenty of experience designing unique items such as this. We are excited to share the two bonuses that individuals receive with this brand, plus the two important points of using these particular earplugs. Let's talk about the Woowexx Earplugs and what users can expect if they opt into buying these particular earplugs.
Flexible Design
When creating these earplugs, this brand took into consideration the importance of creating a flexible design that would be moldable to any ear shape. Most importantly, these earplugs, in particular, are perfect for individuals of all ages and ear ranges. What we can say, is that they are also one of the most comfortable thanks to the ergonomic fit design. With a really soft material build, individuals will feel no discomfort when wearing these earplugs.
Two Cool Bonuses
Now, as the last product on this list, of course, we had to give our viewers two bonuses with this brand. In fact, these earplugs are much like many others, comfortable, easy to use, molds to the ear, and great reviews. However, it is the two bonuses that make them worth taking into consideration. With these earplugs, individuals will receive an anti-list keychain carabiner to store the earplugs and lock them to their keychains. More so, individuals can attach any of the two cords to the earplugs for a safe wearable design. With the cord, an individual can easily remove them by simply tugging on them gently without hurting the ear.
Cost And Value
When taking cost and value into consideration, one of the most important aspects of earplugs is the design. Although these are not a putty or moldable material, they are high quality and will fit almost any ear. With that in mind, individuals will receive two different colored earplugs, black and blue, and a carrying case, and two cords. For the price as many other earplugs, we can say, this one is one of the best available today.

Subscribe to our Newsletter