Best Smart Bulbs Reviewed & Rated for Quality
In a Hurry? Editors choice: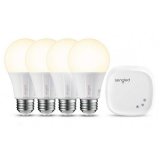 Test Winner: Sengled

The internet is evolving,
changing our homes
and our way of life by literally taking over everything. As we inch closer to 100% technological advancement, a smart home is a catchphrase you will continuously hear, and you might be tempted to replace your old appliances with internet-enabled ones as a fashion statement and for the sake of convenience. Smart lighting is one of the ways that will ensure you are not left behind and smart bulbs are not your regular bulbs. They are internet enabled LED bulbs that can be turned on and off anywhere in the world from a smart device such as a phone or tablet. If you are looking for a smart bulb that will allow you to customize your lighting, then, this is the place to be since this guide attempts to make your shopping experience much easier.
Standout Picks
Criteria Used for Evaluation
Effectiveness
The era of candescent bulbs is behind us now, and with the internet revolution, everything around us is quickly adapting and smart lighting system is one of them. Very soon all homes will install smart lighting devices, and you don't want to be left behind. As you storm the market searching for such bulbs, most likely the question on your mind would be if the one you chose will meet your expectation. These bulbs are also known as LEDs dimmable lights since you can easily adjust the intensity of the light or color depending on your need to create different scenes and moods around your home. A smart one allows easier connectivity to your mobile devices by use of WIFI connection. For it to be effective, the connection must be flawless with no interruptions. How will you tell if the bulb will respond to your devices impeccably?
While researching on the reasons why most clients prefer certain bulbs as opposed to others, we found out that, the best bulbs had an inbuilt feature that connects seamlessly to either Android, iOS or WIFI connection. As you shop for your bulb, ensure you have a reliable internet connection and have the compatible devices. Read the users instructions before purchasing and if there are some extra features such as remote and voice control, ensure your bulb is compatible. Compatibility means, your device will perform efficiently, and you will achieve the perfect lighting system depending on your need.
Advanced Features
One unique thing about these lights is the advanced features and with technology continually advancing, the best is yet to come. For a start, they are smart in every sense; you use your smart devices to control the lighting and set schedules. Secondly, they come loaded with other features such as the voice control feature. The voice feature is currently the most popular since you can instruct your lighting system by just speaking. You can achieve this by purchasing other devices such as the Google Assistant or the Amazon Alexa and customize each bulb or scenes or dimness to your preferences. They also come with a group feature that allows you to switch on or off different bulbs simultaneously which saves on time.
Value
The main advantage of LED bulbs is that they are energy efficient, unlike the old traditional bulbs. For a smart light for home use, it will cut your power bills by 80 %, and this will free up your money for savings or other purposes. For this reason, it is essential to change your lighting system and benefit from power costs cuts. The cost of the bulb is dependent on its quality and other features. A standard bulb will cost less; however, if you need additional features such as voice control or group control, then you will spend more. The reason is that the Amazon Alexa for voice control is purchased separately and this will add to your budget. To sum up, the best bulb is one that will lead to energy efficiency, reduced power bills and give you value for money.
Versatility
Before purchasing a bulb, the first question would be, how do you intend to use it? The main advantage of these bulbs is their versatility and have limitless of usage around your home. You can use them in your bedroom, dinner table, closet, stairwell, garage and much more. With these bulbs, you can use your mobile devices to set different moods and scenes around your home. They allow you to set up the feel of your room any time from cozy to vibrant warm colors by just tapping on your smartphone. You also have an option of choosing a million colors to light the bulb and customize depending on your preference. The lamps also let you schedule to turn on or turn off at a particular time via the app even when away from home.
Ease of Use
These type of bulbs use technology since they are internet enabled and requires a user to download an app on their phones and connect seamlessly with the bulb. The set up should be easy to ensure it functions properly. Usually, you will find a set of instructions on how to set up, alternatively, when downloading the app, you can follow the sequence on how to set up. Should you have any difficulty setting up, you can consult the customer service of the bulb's supplier. After setup, the process of setting schedules, adjusting color or light and saving the voice commands should be easy and straightforward.
10 Best Smart Bulbs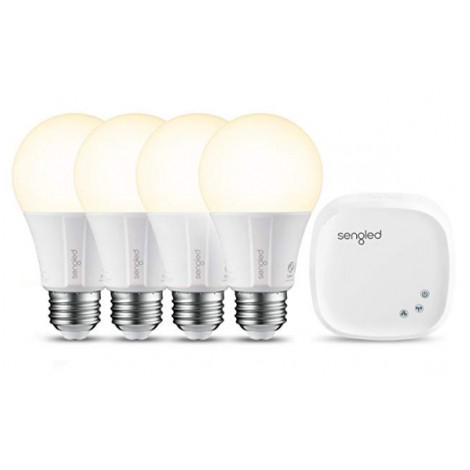 If you are looking for an automation device to pair up with your smart devices fast and efficiently the Sengled bulb is a good choice. Each package consists of the element hub and two LED smart bulbs; you can seamlessly fit them in lamps and other fixtures in the house. To have a complete set, you can buy an extra element classic, element touch bulbs, and element plus which are sold separately.
Efficiency
The Sengled is super responsive and switches on and off with super connectivity. It is brighter and will give your home a warm, beautiful and inviting mood. It dims to your preferred level and programs using the Sengled Home app which is compatible with both iOS and Android devices. You can control your lights while away, therefore, no need to worry if you forget to switch your lights when away from home and you can also switch them on before you get home in the evening.
Advanced features
This bulb turns your home into a digital hub since it has a voice control feature known as the element hub that allows you to connect the element bulbs to Google assistance or amazon Alexa. It provides a lot of conveniences since you can control your lights by use of voice commands to switch on or off and adjust brightness or dimness.
Cost and value
For the price, I would highly recommend it since it is a great product worth the money. The Sengled is also an energy efficient bulb and energy star certified; it saves up to 80% of energy as compared to the normal bulbs, and this translates to lower power bills. It is a good deal which will give value for money.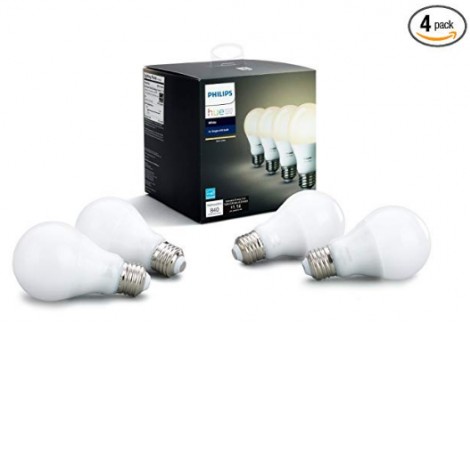 The Starter kit contains four dimmable Philip Hue White bulbs for expanding your smart lighting network and providing a cozy and warm atmosphere at home. The Philip Hue app allows you to unlock all the controls and features and lets you schedule your light routines even when you are away. The smart lights turn on at your desired levels and at your selected times. You can also schedule them to turn on before or after and this mimics your presence at home. It is easy to install, and the instructions are clear, all you need is to screw the bulbs to your desired location, download the Philip Hue app in your smart gadget and pair the bridge which is sold separately.
Voice control feature
The Philip Hue white kit is compatible with Alexa for voice control that lets you give commands to your lighting system with your voice. You can also connect to the Hue Bridge to pair your lights with Google assistant and Apple home kit. All you need is to speak magical words, and this automatically sets a beautiful light scene in your home.
Unlimited options
You can take control of your lighting system by dimming to preferred level and set the desired schedules as long as you have a reliable internet connection. It seamlessly connects to your iOS and Android gadget and provides a whole range of limitless opportunities. You need to purchase the Philips Hue hub for a whole experience and can also sync your bulbs with the sunset or sunrise to ensure you get optimal lights during the day. It is quite versatile; you can use the Philips Hue app to pair smart lamps and overhead lights.
Cost and value
The Philip Hue smart lighting system turns your home into a smart hub and gives you the flexibility of turning on or off your lights away from home. As compared to the Sengled, it is fairly priced. However, there are some items such as the hue bridge that may be purchased separately depending on your specific needs. It is a good buy if you are keen on experiencing a whole new way of lighting your home digitally. The fact that you can control the brightness means you save on your electricity bills.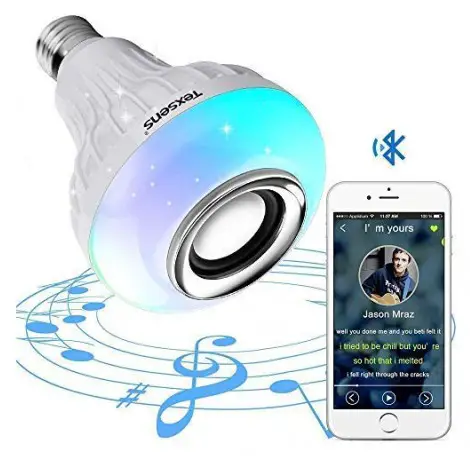 The idea of a smart bulb with an integrated speaker sounds good. Texsens livens up your home with music from a high-quality stereo creating an amazing heavy bass atmosphere. The package includes one Bluetooth speaker, one user manual and a remote controller with batteries. It is available in multiple colors, with Bluetooth control and music functions
Versatility
If you are looking for a smart lighting system that sets a romantic atmosphere within your home, then Texsens is the perfect selection. You can set it up in your bedroom, cabinet, workshop, garage, basement, stairwell or closet and another place. You can set your preferred music beats, smooth jazz or heavy metal; this bulb will deliver a powerful and deep music experience right into your home. You can share the experience with family, friends or neighbors.
Advanced features
The Texsens bulb has an inbuilt feature that creates a beautiful colored scene that dances with every music bear. The Bluetooth connectivity feature allows you to connect to your smart devices and play your favorite music or sound. Therefore, you can control the lighting and music experience without the need for an app. It has a remote control that allows you to adjust the intensity of the light color. It is quite flexible since you can select the RGB mode that lets you light random beats.
Cost and value
The Texsens has adorable features and is really cool for parties and barbeques. You will not believe it once you catch a glimpse of the price which is unbelievably low. The color, brightness and the flexibility of controlling the lighting and amplifying the sound using a remote make it worth the price. This is definitely, money well spent.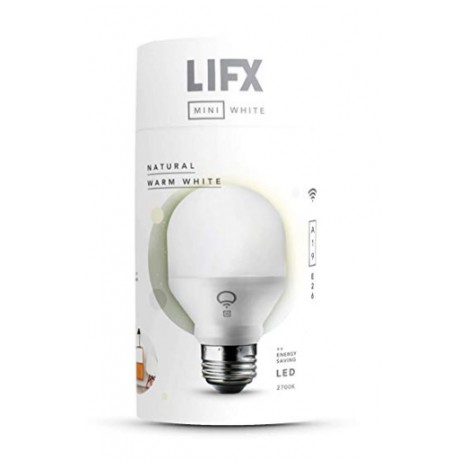 LIFX presents to you a smart lighting device that allows you to have full control by synching with your smart gadgets. It connects lighting for your home, schedules for the time of the day and sets the mood by allowing you to adjust the level of brightness thus bringing some comfort and coziness in your home.
Smart features
This digital bulb has a voice control feature that works well with Alexa which is sold separately and also pairs with Google Assistant and Apple HomeKit for voice control. Also, it has an intuitive control feature that allows you to control times as a group or separately by just a touch of a button.
Easy installation
If you have been setting up your bulbs, then installing this digital bulb will be a walk in the park. It is incredibly easy to connect just like any other traditional bulb. After screwing to your favorite location, you can download the app and connect to the internet. You do not need a hub for this installation; you only need a reliable internet connection. It has an in-built Wi-Fi and LIFX cloud system that allows you to seamlessly connect to LIFX iOS, Windows 10 apps, and Android devices. It allows you to have full access to your lights bulbs anywhere while on the go.
Cost and value
The LIFX smart device not only brightens your home but also efficiently manages your energy use. It is a certified energy star, and this consequently will lead to lower energy bills. It might cost you more when you purchase with the Alexa. However, it is made to last due to high quality and will give you value for money.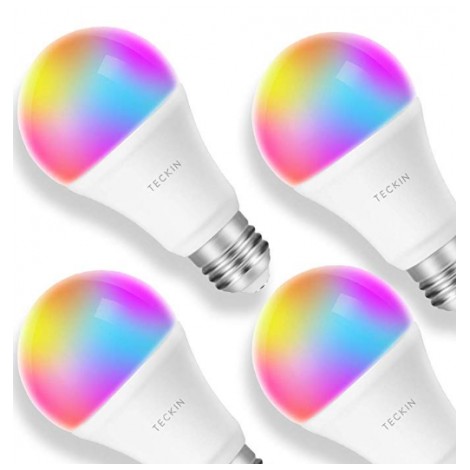 You can customize your home scenery by using the Teckin bulbs and chose your desired options by creating different types of ambiance and moods in your home remotely by use of a smart gadget. You can download the Smart Life app to pair your bulbs with your Android or iOS devices seamlessly and there are dozens of colors to customize depending on different themes such as leisure, parties, reading amongst others.
Voice control command
The Teckin has a voice control command that you can use to turn on or off your lights from wherever you are. You will need to buy the Amazon Alexa separately, or you can use the Google voice assistant. It also has a group control feature that allows you to turn on or off various bulbs simultaneously. The remote control feature allows you to control your light bulbs from anywhere comfortably.
Allows you to set a light schedule
The Teckin is a versatile lighting bulb that can use the smart life app to program different levels of brightness, set up timers and create different sceneries around your home. You can conveniently turn on your lights before you get home and share the smart life app with your family members and allow them to join in the fun.
Cost and Value
The Teckin bulb is an energy saving bulb since when you compare with ordinary bulbs you only need one 7.5W bulb. It is meant to last, meaning no more replacements and a reduction in power consumption translates to more dollars in your wallet. It is pretty affordable, however, you will spend more by buying the Alexa from Amazon which is sold separately. Overall, it is a good buy.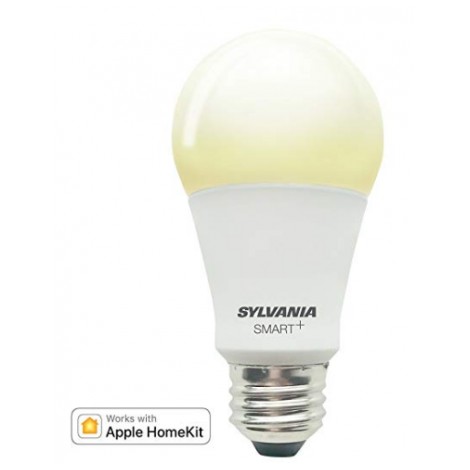 You don't need a hub to set up the Sylvania bulb. It automatically lets you control your lighting pretty fast by use of blue tooth on your Apple iOS device upon installing the Apple Home app. I would recommend this bulb since it pairs flawlessly with your Apple HomeKit and the Home Hub set has more features such as away from home, scheduling on or off settings and other automation. This bulb can support dimming levels of up to 2799k, and you no need the Osram Lightify access to pair with your Apple HomeKit.
Voice control feature
The Sylvania has a voice control feature with Siri assistant. You only need to ask Siri to increase or decrease the brightness level, set an ambiance or scene and turn the light on or off. It displays full light, and the dimmer control feature in the kit has six color options to choose from which are simply stunning.
Effective
Setting up the Sylvania is quite easy, all you need is screw it into your desired location, install the app on your Apple iPhone, and within no time, you are ready to rock. It dims and brightens well with no funny sounds or twinkles and the Bluetooth range is quite wide and reliable, you can actually switch it on or off from the adjacent room. You don't have to worry if there are power issues in your room as the bulb does not reset to factory settings.
Cost and value
Unmistakably, the Sylvania bulb uses less energy and its long lasting at 10 W LED as compared to a normal 60 Watt bulb. It is quite inexpensive and worth the price, you will not regret the purchase. It will last a zillion years, and this is an added advantage since it reduces your cost of replacements.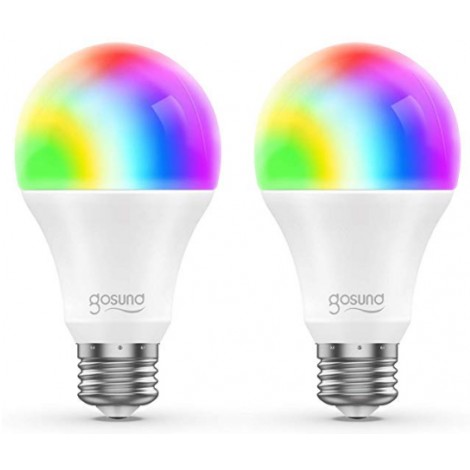 If you are thinking about transforming your home to be a digital or smart home, you must be thinking of buying a bulb that you can easily control using your handheld devices. Have you ever thought of a bulb that you can instruct by your voice? Well, the Gosund is a smart device that will take instructions, and the good news is that you can assign a different name to each bub in the house. It is easy to set up and requires you to download the smart life app on your smart device.
Advanced features
The Gosund has an inbuilt Wi-Fi; thus you do not need a hub to connect. It, however, supports the 2.4 GHz network and is not compatible with the 5GHZ frequency band. It has a remote control and voice control features. Therefore all you need is to download the smart life App and has a group control features that allow you to turn on or off different bulbs simultaneously. You can use the Amazon Alexa or Google voice assistance whenever you want to issue a voice command.
Customize your room lighting
The Gosund has 16 million colors with a temperature of 2700-3000k thus you can choose your most desired ambiance and can also adjust your preferred brightness level. It is quite versatile since you can set eight scenes, these are party sleep, meeting or read and select the other four depending on your preference. You can repeat the schedules, daily or weekly.
Cost and value
The Gosund bulb is 8w with an E26 base which is equivalent to a 75W regular incandescent bulb that allows you to save 80 % of your energy consumption. It lasts long up to 20000 working hours, and this is a budget deal.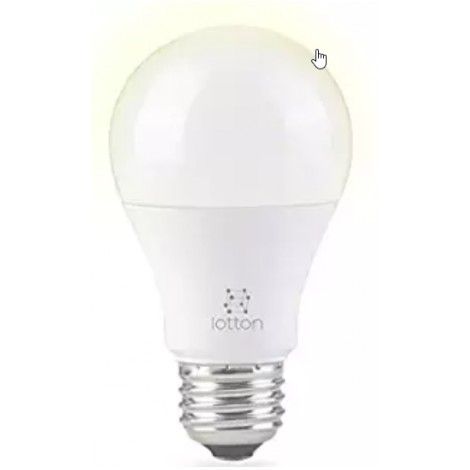 The Lotton is a dimmable LED bulb that allows you to choose between warm white and cool white and remotely adjust the degree of color intensity and temperature in your home. The phone app allows you to connect to the internet by use of WIFI and is compatible with Android and IOS phones.
Easy to install
I would recommend the Lotton due to the installation procedure which is quite easy even for a new user. All you need to download the app by scanning the QR code, screw the bulb to your preferred location and connect seamlessly. The advantage is that you do not need a hub to set up.
Advanced Features
The Lotton bulb comes loaded with advanced features such as the group control features that allow you to control the lighting of individual bulbs or different bulbs simultaneously thus saving you on time. It has a voice control feature that is compatible with Amazon Alexa and Google assistant.
Cost and value
The Lotton uses energy efficiently and leads to power bill savings by up to 80%. It is also a cheap product when bought separately; however, if you want to use the Alexa device, it may cost you a bit more. Overall, it is a fair deal worth every penny.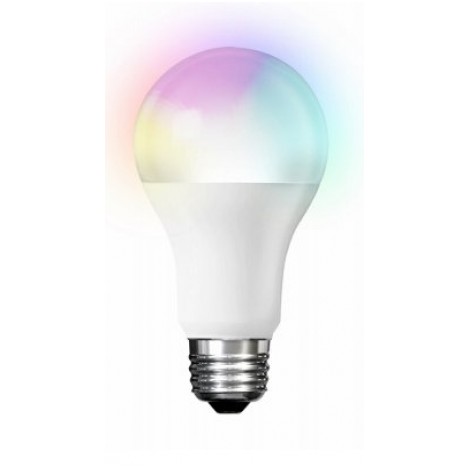 The Feit is easy to set up and easy to use bulb that runs on the Wi-Fi network without the need for a home hub. It requires you to download the app on your phone and connect to your home internet at any location. The package comes with an instructional booklet that makes it easier for a first user and installing is a pure breeze.
Efficiency
The Feit bulb lighting system allows you to turn or off your lights, dim and schedules. You can also adjust the intensity of the light color and regulate the temperature from warm white to cool white giving you the flexibility of customizing your home lighting system to suit your needs.
Smart features
It has a voice and mobile app control feature that works with Amazon Alexa and Google assistance which are normally sold separately. Once you have set up the bulb, you can name it and set different white choices and colors. The dimming feature allows you to choose your preferred color.
Cost and value
The Feit is an energy efficient bulb that consequently leads to low power bills. Other than saving on power consumption, it is also relatively cheap. However, additional features may cost you more. It is a good buy more so if you are transitioning your home to a smart hub.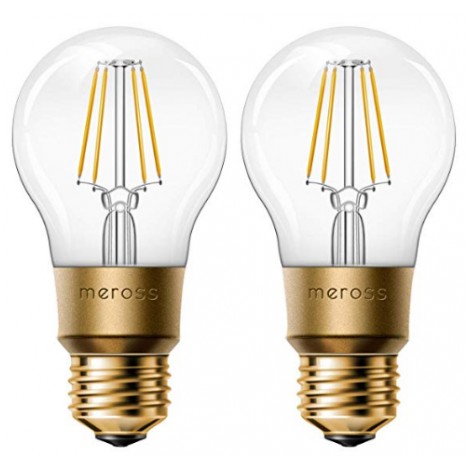 Imagine walking into a fully lit home; you can achieve this by purchasing the Meross bulb which is a technologically advanced bulb with a schedules function that lets you create programs for dimmable light such that you can switch on or off your lights from any location.
Allows for remote control of your lighting system
The Meross is a digitally enhanced bulb with a remote and voice control feature that allows you to control your lights from anywhere by use of the Meross app. The voice control feature is compatible with Google assistant, IFTTT, Echo dot, and Alexa Echo. These devices are usually purchased differently.
Versatility
The Meross dimmable lights are super bright and provide natural and vivid light to your home. They are ideal in different situations, such as reading, dinner and the glow is not strong to the eyes to cause a flicker. They allow you to set different mood and scenes in your home remotely from anywhere. You can also use it as a desk lamp or any other light system at home.
Cost and value
The Meross can be compared to a 60W normal incandescent bulb. Therefore it is energy efficient and saves up to 81.7% of your energy without affecting their performance. It is also reasonably affordable and is a 100% money back guarantee.

Subscribe to our Newsletter