Best AA Flashlights & Search Lights Reviewed for Quality
last updated:
Oct 29, 2019
In a world with ever-changing technology, one product that maintains its versatility and popularity is the AA flashlight. There are many everyday circumstances that call for having flashlights on hand, in your bag or in your car. The best thing about AA flashlights is that they are portable and still powerful. Not only do AA flashlights help you to see better in the dark, but they can also help you to feel safer and more secure because you are less vulnerable to what may be lurking in the shadows.
In a Hurry? The test winner after 11 hrs of research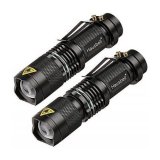 Hausbell 7W Ultra Bright Mini
Why is it better?
Easy Twist Off Battery Compartment Cap
Textured for a No-Slip Grip
Resistant to Wear & Tear
Solid Aluminum Construction
Very Affordable
In a
Hurry? Editors choice: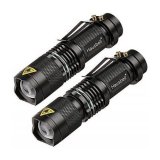 Test Winner: Hausbell 7W Ultra Bright Mini

20
Researched Sources
45
Reviews Considered
11
Hours Researching
70
Products Evaluated
Ease of Use
Durability
Battery Life
Size
By Default
10 Best AA Flashlights
1

. Hausbell 7W Ultra Bright Mini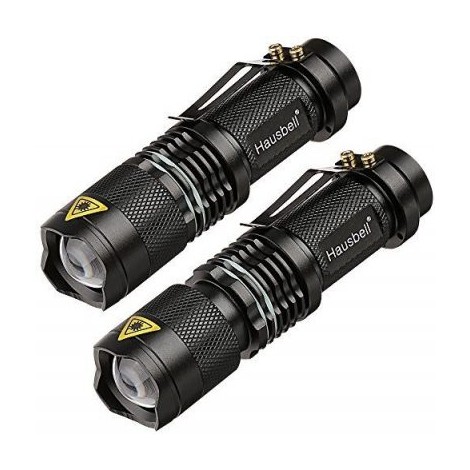 Easy Twist Off Battery Compartment Cap
Textured for a No-Slip Grip
Resistant to Wear & Tear
Solid Aluminum Construction
Very Affordable
Mode changes when you turn it on and off
Not as bright as some other flashlights
This rugged, black, and compact flashlight comes in a pack of 2--a great deal! Its small size packs a powerful punch of bright light where you need it. It can be used indoors, in your car, or outdoors as you see fit. Suitable for everyday use as well as biking, camping, and many other adventures, you'll see better in the dark so you can enjoy your favorite activities longer.
This Hausbell flashlight has three adjustable beam settings: bright, dim, and SOS. You can use it for general visibility, to see a specific area or in-climate weather, or signal for assistance if you've run into a problem.
The last thing you need in dark, wet conditions is your flashlight to go out, but with this mini black flashlight, you won't have to. It's completely waterproof, as well as skid-proof.
For roughly the same price as a take-out lunch, you get 2 compact mini flashlights that are built to last. It offers up to 300 lumens at its brightest setting and only requires one AA battery. Like a camera lens sun shield, it has a lotus-shaped head to keep dust and dirt off. From taking your dog outside to camping and everything in between, this flashlight has you covered.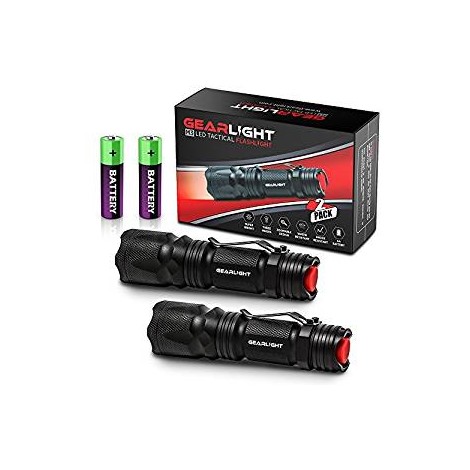 3 Operating Modes
Easy Grip and Setting Adjustment Ring
Roll Resistant
Long Battery Life
Fast Shipping
Button Can Get Weaker Over Time
Another set of 2, the GearLight M3 flashlight(s) feature a bright red on/off button for a pop of color. It also has a built-in belt clip for hands-free transporting. Weather-resistant technology makes it a great choice for snow, thunderstorms, or emergency situations. You can focus the beam on objects up to 100 feet away. The 2 AA batteries you need come with this set.
Requiring only one AA battery, this flashlight provides 300 lumens of brightness, along with three lighting modes including bright, dim, and strobe. The energy efficiency of this design means your flashlight will last longer than many other flashlights.
At 4.25 inches long and 1 inch in diameter, the small and practical design allows the flashlight to fit anywhere, from a tool belt to a handbag, backpack, or suitcase. You can keep the spare unit in your car give it to a friend.
With 2 units per box and features such as a built-in clip, you're getting a great value for a low price. You can easily twist the end of the flashlight to cycle through each mode, and the manufacturer offers an extended return policy if needed for any reason.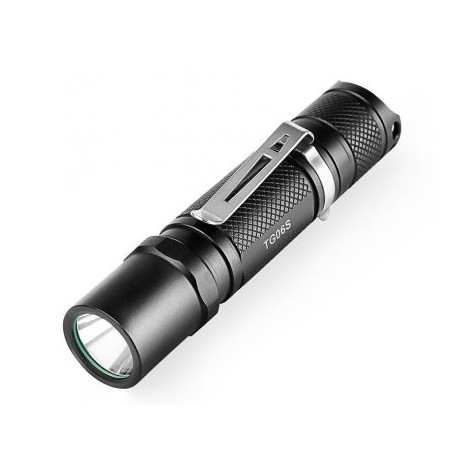 Comes with Spare O-rings
Glow in the Dark Ring Makes It Easy to See
Has a Moonlight Mode
One of the Brightest AA Flashlights (500 Lumens)
Safety Feature Prevents Overheating
Several Clicks Needed to Switch through Multiple Modes
Strobe Feature can be Hard to Use
With up to 500 lumens and 5 different modes, the ThorFire Mini is a fierce competitor among the best AA flashlights. The clip is removable and reversible, making this handy light able to fit wherever you need it. The manufacturer offers and 18-month warranty. Slip this in your car, backpack, or purse and you'll have an impressive bright light always at your fingertips.
While most flashlights this small range from 100-300 lumens, the ThorFire Mini packs 500 lumens into a small unit. This flashlight is perfect for when you need to see where you're going, even in the most remote, dark areas.
This flashlight comes with 2 spare o-rings should you need them, and a detailed owner's manual. You'll be able to get a full lifespan out of this flashlight and learn how to use every single feature.
Slightly more expensive than the lowest priced flashlights on this list, but still very affordable, the clip can be removed and it can attach to a hat for hands-free use. Requiring only a single battery, this 3.7 inch long unit is energy efficient and convenient.
4

. Maglite Mini LED 2-Cell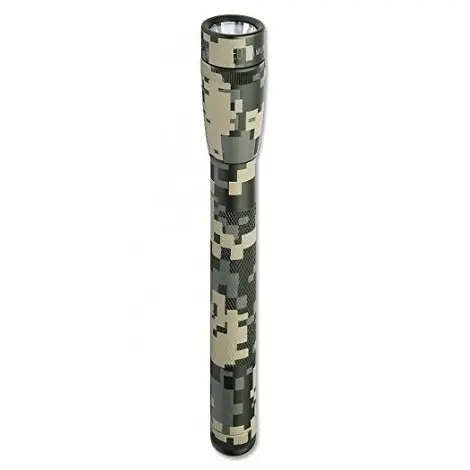 Diamond Knurl Texture
Corrosion Resistance
Great in Snow Emergencies
Easy to Transport
Durable without Added Bulk
Battery Cover Comes Off Easily
Turns Off When Bumped
With an attractive camouflage pattern and four modes, this AA flashlight from Maglite stands out from others on the market. It has a seal that is resistant to weather and is anodized to minimize corrosion. The design incorporates the latest in LED technology, and this product is proudly made in the USA. This flashlight makes a gift that can be used on a regular basis.
While most flashlights of this size offer 3 switch modes, the Maglite Mini LED 2-Cell offers 4--High Power, Low Power, Blink, and SOS mode. The switch is electronic rather than manual.
This sleek flashlight works well in any weather or temperature conditions. It's durable enough for use while walking your dog, camping, hiking, completing car repairs, fishing, or task around the house.
At a price only slightly higher than the least expensive items on this list, you receive a longer, textured handle, the most up to date LED technology, and a weather-resistant seal. Its unique color story is an added bonus, and the overall quality of this flashlight is tough to beat.
5

. Coast G19 LED Inspection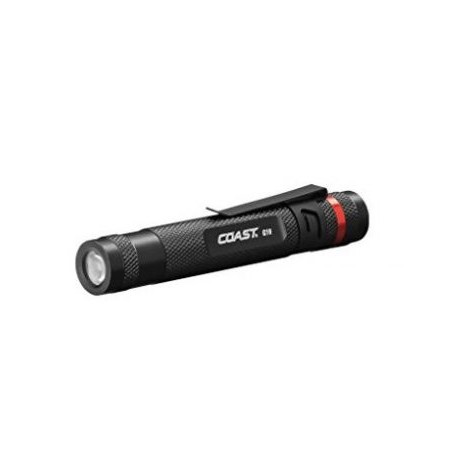 Difficult to Break
Runs for 2 ½ Hours without Recharge
Focused Beam
Fits in your Shirt Pocket
On/Off Button Sticks
Contacts Require Cleaning
This 54 Lumen AA flashlight from Coast is one of the best flashlights for impact resistance. It's sleek black and red design features a pocket clip, ensuring this little light will fit anywhere. The beam is low glare, which makes this a great choice for close up work such as drawing, woodworking, or other projects that require attention to detail. This brand also offers a lifetime warranty on this and many of their other products.
The optics technology in this AA flashlight creates a perfectly round beam, offering the ability to pinpoint specific areas at a close distance. Many people choose this for there toolbox or to use in the garage.
This compact flashlight is made from materials that make it almost impossible to break. If you drop it or bang it against things, not worry; it can handle the wear and tear.
With tough construction, a textured grip, and a compact size, you get an excellent everyday flashlight that is bright without the glare. The red mode switch makes it easy to see in the dark, and this model is very water resistant.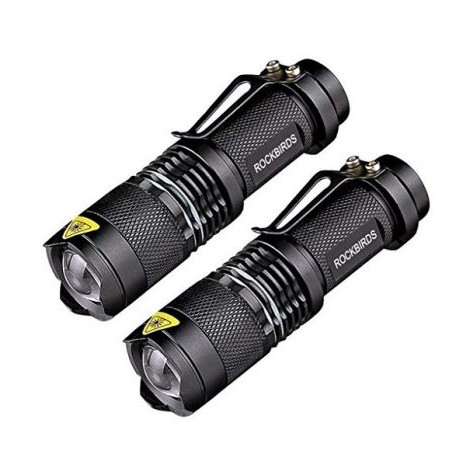 Easy to See in Bag or Compartment
Quick to Turn On and Off
Great to Use While Making Repairs
Only Requires 1 Battery Per Flashlight
Sturdy Clip
Battery Compartment Cap Difficult to Remove
No Return Policy from Manufacturer
With improved hooks from their earlier models, the RockBirds LED Flashlight (Set of 2) is easier than ever to hang on your belt or bag. It features 2 fluorescent rings for added visibility. It also has a waterproof plug to prevent damage in the event that it gets dropped in a puddle. This compact flashlight is often chosen by campers and hikers.
This AA flashlight is one of the few that feature 2 fluorescent rings, which glow green in dim lighting. This feature is designed to make the flashlight easier to find in your bag or if you drop in on the ground, and also assists you in switching light modes more quickly.
The convex lens, also known as a "frog eye" lens, allows the beam to shine further and be directed more specifically. This lens can be removed and replaced with a standard lens for even more lighting options.
This set of RockBirds LED AA flashlights offer more features than most at a similar price. It is skid and water resistant. It has an easy to zoom in and out, and the design is very durable; therefore you will get a lot of use out of this product for an affordable cost.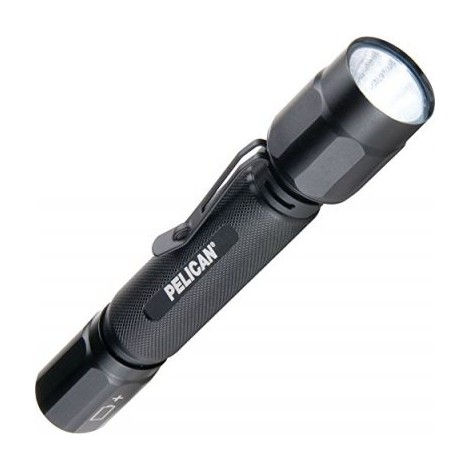 Stays Bright in Any Temperature
Removable Clip to Attach or Detach Easily
Beam Blends Spot and Flood
Excellent Brand Customer Service
Solid Construction
End Cap Requires a lot of Pressure
Flat Finish
This sleek black flashlight from Pelican emits 95 lumens and takes 2 AA batteries. The aluminum is aerospace grade, offering the most durability for the lightest weight. It easily attaches to your pocket or hat brim. It also comes with a lifetime warranty.
Designed for Work Sites
Specifically designed for work sites, the Pelican 2360 is the flashlight of choice for electricians, plumbers, construction workers, and more. It has a beam distance of 139 meters, allowing you to see many objects and areas from far away.
Non-Slip Design
The rough and tough texture throughout the flashlight body makes it easier to grip and decreases dropping and rolling. This feature is important when you need to work quickly and efficiently.
Cost and Value
While this flashlight is pricier than some, you are getting quality that is well worth it. It's easy to use push button on/off switch and longer, 9-inch size makes it suitable for a toolbox. It runs for 2 hours at a time and stands up well to damp or cold conditions.
8

. Dorcy 150-Lumen Floating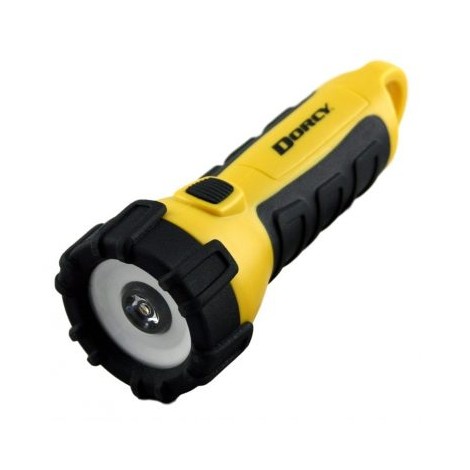 Bright Yellow Color is Easy to See
100% Waterproof
67 Meter Beam
Enough Light to Signal for Assistance
Wide Beam
Clumsier Grip
Not Good in Extremely Hot Temperatures
The bright yellow color of this Dorcy AA flashlight is a refreshing change of pace from the standard black unit. Easy to spot in your bag or on the ground, you won't have to worry about losing it. It's also completely waterproof and has a large, durable rubber grip. It takes 3 batteries, which increases its run time dramatically.
Not only is this flashlight waterproof it is also able to float in water. This makes it the perfect choice for fishing, boating, swimming, or any activity where you'll be close to bodies of water.
This flashlight runs for up to 17 hours before the batteries need to be changed or recharged. The Dorcy 150-Lumen is great for traveling or other instances when you don't have time to change the batteries often.
The low price combined with the size, run time, and unique features make this flashlight an incredible deal. It weighs only 4-ounces and features a shock absorbing grip. For those that need an inexpensive, larger flashlight for work or play, you can't go wrong here.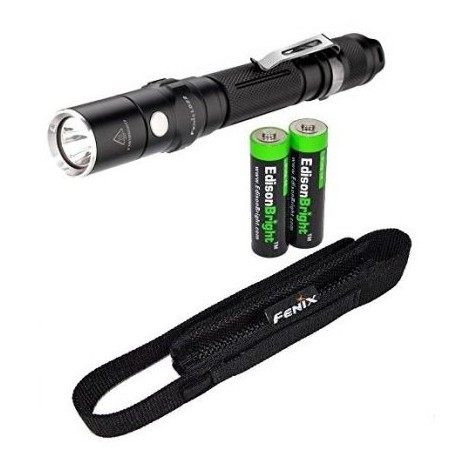 Comes with Accessories
Resistant to Abrasions
Lifespan of up to 50,000 Hours
Tough Lens
Performs Well in Any Weather Conditions
Hard to Cycle to Strobe Effect
Lens Can Crack on High Impact
This long and narrow black flashlight from Fenix comes with a carrying case featuring a sturdy strap. The 2 required AA batteries are included. There are 2 main modes and 9 combined settings for optimal lighting in any environment. The lens also features an anti-glare coating.
Within Outdoor Mode, there are 6 setting variations: turbo, high, mid, low, strobe, and SOS, ranging from 5 to 300 lumens. Then in Tactical Mode, you can choose turbo, mid, or strobe settings with a range of 30-300 lumens.
In addition to the 2 batteries included, this flashlight also comes with a canvas holster with a strap loop and a lanyard. These accessories make this Fenix flashlight easy to carry while protecting it from the elements.
A model, this flashlight is great for someone looking for advanced features and accessories. It has a memory feature, which automatically puts the flashlight in the last mode it was in before the unit was turned off. It also features a stainless steel switch, which is suitable for the outdoor mode.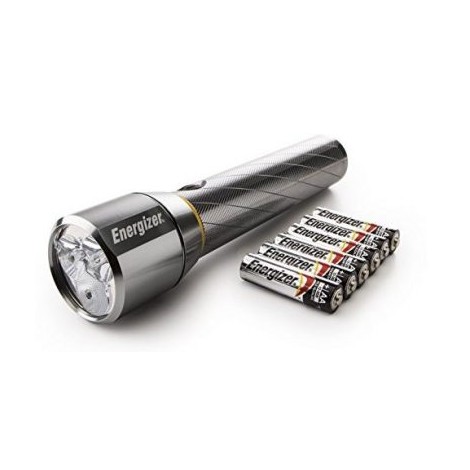 Unique Color & Finish
Beam is Easy on the Eyes
Body is Aircraft-Grade Aluminum
Has 2 Other Sizes Available
Universal for Work or Recreational Activities
End Cap Sometimes Loosens
Tight Fit for Battery Compartment
Finished in a dazzling silver, this LED flashlight with AA batteries from Energizer features a zoom, a digital focusing feature, and technology that mimics natural daylight. The water-resistant body can withstand splashes and dripping water. You can choose from a spot or flood beam, or adjust in somewhere in between.
You won't have to worry if you'll be able to see what you need, as this Energizer flashlight emits up to 1300 lumens. It takes 6 AA batteries. There are high, low, and strobe modes which are easy to switch between as needed.
Unique to this flashlight (at least on this list) is MAXVIZ technology, a feature that matches the color and density of the beam to natural sunlight. When used in the pitch dark or shadowy, narrow places, you'll feel as though you have a miniature sun in the palm of your hand.
With the many features, lumen range, and unique technologies within this flashlight, the value far outweighs the affordable price. The bright, silver finish makes it attractive and easy to find, and when used in low mode, you'll get up to 19 hours of use from a single set of batteries.
Criteria Used for Evaluation

Use
Light in an instant is a commodity that we are all guilty of taking for granted, we know that when we can't see properly we can have instant brightness. The electricity we all plug into every day was an ingenious way to transform our lives, we use it without thinking and spend little time recognizing the luxury that it really is. There are blips, of course, power cuts, electrical faults, fuses blowing and bulbs popping..but we take comfort from the knowledge that it is always fixable and normal service resumes rapidly.
Flashlights are always handy to have around the house and in the garage for those times when our electricity source is either reduced, limited or failing. The use of the flashlight allows us to explore our loft space, the basement, and any dark corners in the house. For these reasons, it's better to have a good quality flashlight that can be your eyes in the dark, you need a reliable source of instant light. It's not beneficial, either financially or from a safety point of view to buy a substandard model that can let you down when you need it most.

Size
Another important point to consider is the size of the flashlight you need, as with most things- size is not necessarily an indicator of overall power. The flashlight is designed in many different forms and its size and weight can be vital - especially if you are totally reliant on your kit in your backpack. There are plenty of small, compact flashlights available and they are light, convenient to carry and can offer a precise light source. They can, however not be practical if you are relying on it as your only light source - they can be easy to lose or misplace, and they may not give enough peripheral light to serve the purpose you need it for.
Larger flashlights are, by design usually heavier than their smaller counterparts, they may use more batteries for instance and be made of heavier material. They vary in light projection and again, it is better than you know just how 'dark' it will be when you need it the most. Different flashlights of any size offer different levels of light and you should take this into consideration as well before you make your purchase. Larger flashlights may also offer durability and allow you to alter the light projection which can be an added bonus when your requirements alter according to your situation.
Effectiveness
Flashlight outputs are measured in lumens, simply put; this is a measure of the brightness a flashlight can produce and you should take this into consideration when you're shopping. It's no use getting a low lumen output for night time use, as is a higher lumen output if you just want to read a book. Ranges in regular off the shelf flashlights can vary from 20 lumens, up to a 3500-lumen option. As you would expect the lumens are always at their peak with new batteries, and on some models (as previously noted), have settings so you can change the lumen density to what is more practical for you.

Value
We've all been guilty of popping into the nearest store and checking out the best bargain, whilst this may be appropriate for low use when you really rely on the flashlight; t can be better to shop around. The most expensive flashlight, on the other hand, does not always mean the better the flashlight. First and foremost you need to know what the primary use of the flashlight will be, how important it's reliability is, the brightness you require is just a few pointers to bear in mind when you go shopping.
Different flashlights will always offer different qualities and you need to have a good idea of its capabilities before you set off. For low use you may opt for a standard flashlight, likewise for being in the thick of wood in the middle of the night - you will need a substantial light that not only performs well in terms of light projection but also has the power to last for longer periods of time. The last thing you want is to be far out from your base camp, and your flashlight to either fade or give up completely.
Expert Interviews & Opinions
Most Important Criteria
(According to our experts opinion)
Experts Opinion
Editors Opinion
Users Opinion
By Default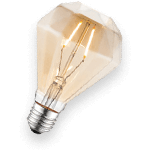 Extremely practical
AA flashlights are some of the most practical and versatile portable lighting options around. Whether you're looking for waterproof features, a unique, easy-to-see design, optimal brightness, or affordability, there are products here that will meet your needs. It's important for safety and avoiding eye strain to carry a flashlight with you in your bag or car as you never know when one might come in handy. You can quickly and easily replace the batteries on this type of flashlight to get many years of use out of the unit.
Take it Outside
The ultimate experiences outdoors are the best times you will benefit from a good flashlight. It's great being in the outdoors and being 'off the grid', but you need to make sure you can have instant access to light for a variety of reasons. When twilight falls and the natural light is fading, the flashlight quickly becomes your best friend and your guiding light. If you are camping, trekking, walking or preparing to do any activity outdoors the flashlight can be either the making or the breaking of any dark pursuit.
Other Factors to Consider

Features
How far a light beam can travel can also affect your night-time expeditions, and you should pay attention to the flashlight specifications to ensure your light will provide adequate coverage for you to travel with the right kit. As it's not much use for you to have a diminishing light that doesn't get you through the woods in the dark; the same can be said in the reverse - if you just want the flashlight for in your tent there's not much point having a long-distance beam.
There is a choice of three general types of beam available for you to choose from, a fixed singular beam is ideal for night walks and camping that doesn't require too much precision. On the other hand, a spot beam is focused and works as a portable spotlight. This type is ideal for seeing further when you are traveling and is suitable for condensed light if you are fast traveling in the dark.

Model
Of course, you want to know how long you can expect your flashlight to work at optimum performance, you don't want to be halfway to your destination only to either lose your light or have it reduced to a candle flame. Preparation is key, so it's a good idea to check the individual flashlight spec to see if it provides a guide to power consumption. This can be invaluable when on your field trip because you can work out roughly how long you will need your flashlight for and roughly how long your batteries will last. This way, you can be prepared and take sufficient battery replacements to last you your entire trip.
When you know for sure where you're going, how long you are going to need your flashlight for, you will undoubtedly want to make sure you get enough suitable battery power. AAA and AA are most common, and different brands will offer different longevity, and if you have a large flashlight it may use D batteries which are heavy-duty in both name and weight. Disposable batteries are readily available but you do need to carry the new and dead batteries - that's worth considering. You may choose rechargeable lithium-ion batteries which do reduce cost and the extra weight of new batteries, but you do need to consider charging points, they can be recharged through a USB point, an AC or DC outlet or even a solar panel. Ultimately it's personal preference balanced with your destination limitations and gear space.
Frequently Asked Questions
q:

 Is an LED flashlight better than a bulb flashlight?

a:

Depending on your uses, this can be a matter of personal choice. However, an LED light (Light Emitting Diode), doesn't use a filament within a bulb so it is far less fragile and can last a lot longer than a bulb light. Cost is also a positive factor for the LED, they last longer than bulbs due to the durability of the production, meaning your torch will last longer.
q:

Are flashlights waterproof?

a:

 No, if you want a waterproof model it is best to consult the individual product information before you purchase to make sure.
q:

Will a lantern work as well as a flashlight?

a:

 It does depend on where you are using it and what you are using it for. Generally, a lantern is better for stationary use as they tend to cast a lower light over a larger area. For full portability and optimum brightness - a flashlight will probably serve you better.
q:

 Is it safe to keep the batteries in my flashlight when I'm not using it?

a:

Generally yes, it may be better if you turn your flashlight on and off occasionally when it's not in use. And if you aren't using it for a longer period of time, it may be just as beneficial to either remove the batteries or replace them to stop them leaking into your flashlight.
q:

Can I store my flashlight anywhere?

a:

Within reason yes, the only suggestions are places that are in direct sunlight and or near water.
q:

My flashlight bulb has shot, can I get a replacement?

a:

Yes, most bulb flashlights will allow you to change the bulb, this can be a good idea before an important use even if it's not shot - it will possibly lengthen it's life and probably serve you better out in the field.
Subscribe to our Newsletter