Best Ski Bags Reviewed & Rated for Quality
In a Hurry? Editors choice:
Test Winner: High Sierra

Every avid skier knows how important and comfortable it is to use your own personal equipment. The biggest challenge with taking this approach is having to carry the equipment particularly for skiers who love traveling. Even though you can rent out the gear at the camp where you will be skiing, it won't be the quality you are accustomed to and some of your gear won't fit comfortably.

You can put an end to all your skiing gear problems by purchasing a product that will make it easier for you to ferry your gear whether you're traveling by air or road. It will also keep your gear safe while in transit so you have nothing to worry about. Considering how dear your gear is to you, buying this storage unit should be a well-researched and carefully thought out process. Lucky for you, you're at the right place.
Standout Picks
Criteria Used for Evaluation
Materials
The most important factor to consider is the material the product is made from. You need a material that is strong, durable and above all water resistant. On your travels, your skis are going to go through a lot. They will have to go through cargo handling, security checks, and multiple hands.
A good material will ensure that the skis survive through some of the most turbulent times like rain and water. A good and high-quality material also makes the money you spend more valuable because it serves you longer.
Durability
It is never a fun experience when you have to replace an item you recently purchased. You have to go through the screening process and the time of looking through the different options all over again. By opting for a durable product, you can save yourself the trouble of going back to the market sooner than expected. For durability, there are a few factors you want to look for. The most important is the materials and type of zipper. For the material, anything above 600D is good while you should check for the self-healing zipper.
Size
The size can be a limiting factor so you have to be sure you're getting the right size. Most of the products on our list have an adjustable size. However, they all don't measure the same. You have to be certain you're getting an option that will accommodate your skis and a few other items. The first thing you have to do is measure the size of your skis. Once you have the size, you can start perusing the market. Remember, you're not only looking at size in this case. It should also be able to carry your gloves, helmet and goggles.
Portability
Even with a carefully chosen case, your skis and skiing gear are still chunky to carry around. It would help if it would make it easier to move around when you're going to the train station or the airport. Luckily, most come with such features. The most common feature used to improve portability are the straps. They are used in most budget-friendly products and they do a great job. If you want even more convenience when moving the skis, there are options with wheels that you can drag around like you would a suitcase.
Style
This is another essential aspect that you should be very careful when choosing. Other than the exterior finishing, different products come in different styles. There are those that don't have padding which means your skis are more prone to damage. These are usually cheaper. There are also options that have partial and others have full padding. The former have the padding in high impact areas and the latter have padding throughout. The more advanced options have a hard case. They offer the best protection for your skis but you have to be prepared to match the price for such items.
10 Best Ski Bags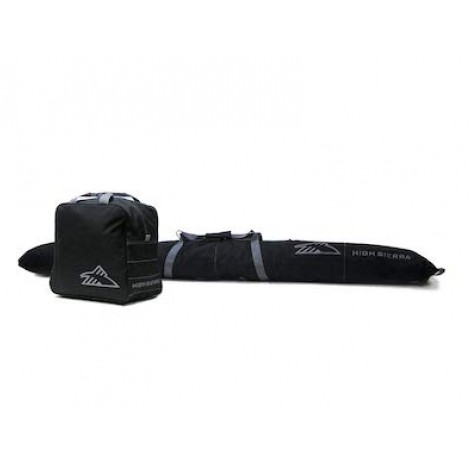 First in our list is the High Sierra that also comes with extra storage for your footwear. This product is good if you're only taking a pair of skis. It is affordable, good quality and packs enough features to make your transit easy for you and safe for your gear. With plenty of features and simple to clean material, the is ideal for most applications and guarantees ease of use.
Material
It's made from a water-resistant PVC coating that not only incredibly strong and durable but also water resistant. You don't have to worry if you go through a little rain. The item will keep your ski safe.
Easy to Maintain
Between traveling and taking on the most daring mountain courses and slopes, you don't have much time left to keep it clean. At the same time, you don't want it to be sore to the eye so it needs to be cleaned. The High Sierra only needs to be wiped with a damp cloth and it is ready to go.
Cost and Value
This is the perfect option if you're shopping on a budget and you're looking for a product that will give you the most value for your money. It is affordable with a well thought out list of features that will keep your equipment safe even in unforgiving weather. It's commendable that you also get storage for your shoes.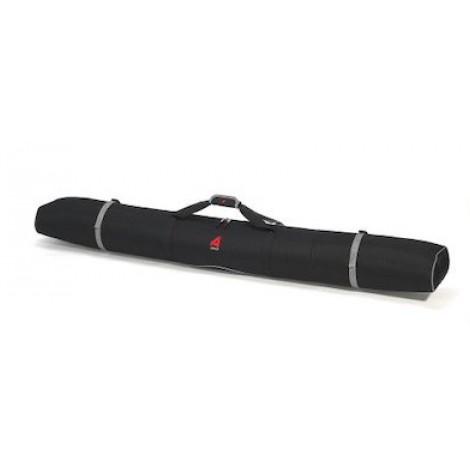 The Athalon Single is another favorable option to consider when you're looking for functionality without anything fancy. It's budget friendly with enough features to protect your gear when in transit so you never have to worry about leaving your equipment behind.
Fully Padded
It's important to offer as much protection to your gear as possible. It will be handled by many hands, passed through metal detectors. The product you choose should offer enough support and shock absorption to protect all of your gear from damage. In this case, the product has full padding end to end to provide support and prevent damage.
Handles
Other than providing the gear with safe transit, it also needs to be easy to carry. The Athalon Single has top handles complete with a padded grip to make it easier for you to carry.
Cost and Value
This is another budget-friendly option that offers a fine blend between functionality and affordability. It might not have all the bells and whistles but, it has enough features to keep your gear safe while you travel especially considering the material is waterproof.

3

. Athletico Padded Two-Piece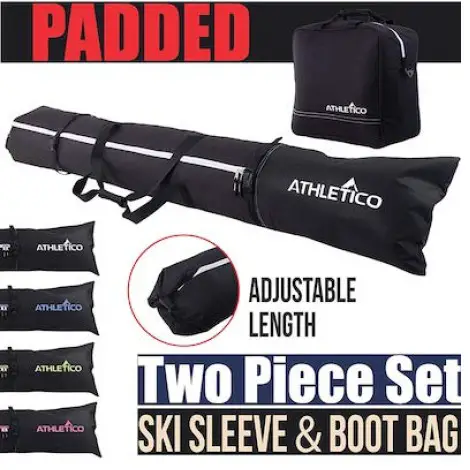 Traveling with your gear can be a harrowing experience especially when there are an airplane and train rides. Having a duffle that easily fits your skiing equipment easily and safely can make your trips much easier and less stressful. That is what the Athletico has to offer. It comes complete with storage for your footwear as well.
Size
Skis are not the only equipment you need to protect when you're traveling. Most don't factor in the space required to store your goggles, pants, cap, and gloves. With this, you have enough space to store skis that are up to 200 CM long and you still get enough space for your other equipment. For your footwear, you get a separate storage option.
Material
All your skiing gear is protected by a 600D water-resistant material on the inside of this product. In addition to the high-quality material, the equipment has additional security from a 5mm dense foam padding throughout the product.
Cost and value
You will have to pay a little more to land this product, but, it's for a good cause. It is sturdy, effective and easy to work with. It is able to store all your equipment to ensure the best possible experience. Everything in this kit is backed by a 100% satisfaction guarantee.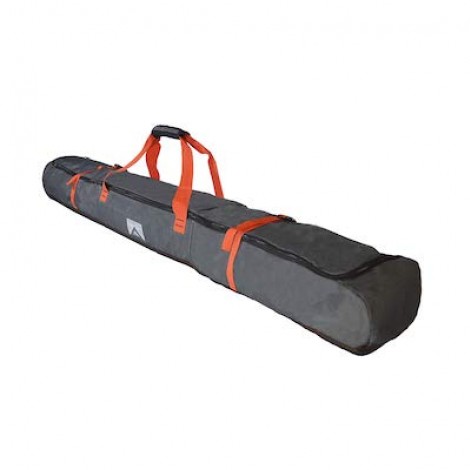 The High Sierra can hold a single pair of skis of up to 185cm. The unique design of the product allows the skis to be held at the center for better protection and safety of the skis. It also offers plenty of features that make it easier to use and move around with. What's more, the price is reasonable and definitely offers value for your money.
Compression Straps
To keep your gear firmly in place, this product has compression straps on each the end. By reducing the movement of the skis, it's easier to keep them from being damaged while being transported. The compression straps are easy to operate and have quick release features to save you time while unpacking your skis.
Extra Large Handle
Even though this product is not wheeled, it does have a few features that make it easy to handle. The first is the large handles that are padded to make it easier to carry. They are also slightly longer so you can also use them as shoulder straps to make it even easier to carry when you have to carry it over long distances.
Cost and Value
This High Sierra product is not really a budget option but it's definitely one that is worth the stretch. It has a unique design that makes it safer for your gear and has plenty of options for improved portability and ease of use. For the price, you get a high quality, functional and easy to use product.

5

. AmazonBasics Double Padded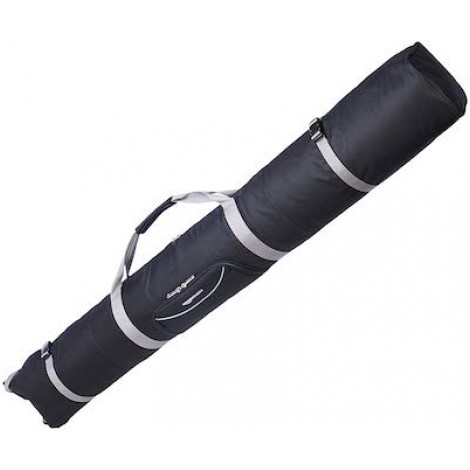 For skiers that love to brave the adversities of the weather and nature and want a product that will put hold up to their daring nature, this one is a great fit. It is made from an incredible strong variety of polyester and has features that infuse convenience and ease of use into the product. Some of these include an external side pocket so you can easily access some of your accessories like gloves and even your phone.
Fully Padded
Being made from a strong material is just not enough to guarantee the best safety for your equipment. So this product has an extra layer of safety through full padding inside the much-needed the much-needed shock absorption to make the rough rides easier and comfortable for your equipment.
Material
While most similar options are made from 600D polyester, this one is made from 1680D dual weave polyester. It is hardy and provides the toughness that is required to bring your gear with you to the most adverse weather and terrain. The material is also waterproof so you don't have to worry if you have to go through rain and some rivers to get to your destination.
Cost and Value
You should be prepared to break the bank to land this one of a kind product but to your surprise, you won't have to. Accompanied with a one year warranty from Amazon Basics, this option is actually quite affordable and won't set you back much but, it's not exactly the option to go for if you're on a tight budget. It's slightly out of that range.

6

. Athletico Diamond Trail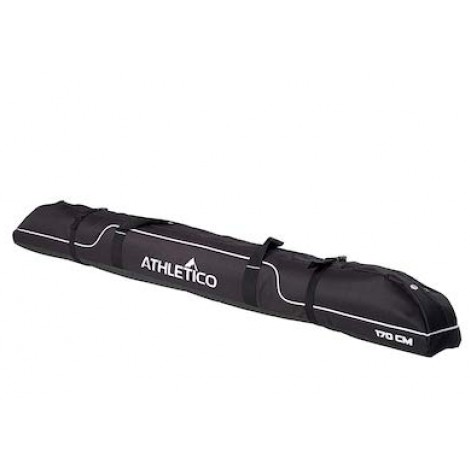 If you're looking to pull all the stops for the sake of your skis, this product will be a great option. It comes with a wide range of features and top-notch quality that will ensure you can safely move your skis around while minimizing the risk of damage. It is made from 600D water-resistant polyester to keep the skis safe from the elements of weather. But, this is not the only quality feature this product has.
Easy Loading
Loading your skis in must be a tussle. You have to maneuver the skis safely into their storage which can sometimes take valuable minutes you don't have. With this product, loading your skis is even easier. It has a wraparound zipper that allows you to easily slide the skis and other gear in without a fight. It saves you time and frustration.
High Quality
The product is not only built to be functional but durable as well. It's made from 600 Denier polyester which is also water resistant. The durability not only means it serves you and the skis for longer but also that you get to keep your skis safe and away from the harsh elements of weather.
Cost and Value
Be prepared to dig a little deeper into your pockets to land this one of a kind product. If it's any help, it's for a good cause. You will get value for money seeing all the benefits that the product has to offer and your skis will have a great place to call home when you're on the road, rail or air.

7

. Element Equipment Deluxe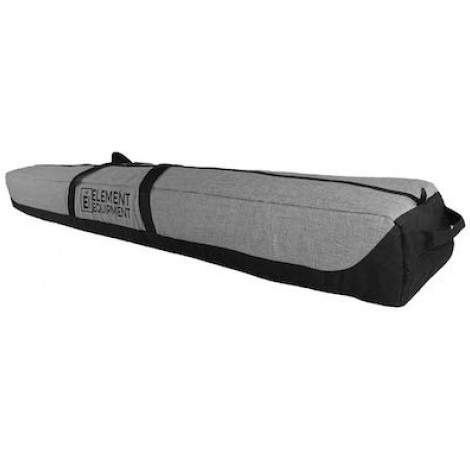 The Element Equipment is perfect for the skier who doesn't want to hold back. The kind who like going all out for the safety of their equipment. It is particularly suited for skiers who ride and prefer to have some extra room where they can pack a few clothes. It's the perfect option for an adventurer who's always on the road.
Size
This product comes in two sizes to make sure you don't have to worry about sizing. Because you will have two different options you don't have to worry about carrying a sloppy unit that is bigger than your skis around. Even with the convenient sizing, this product still leaves enough room for your clothes, hat, gloves and goggles among others. It is very convenient.
Fully Padded
This option has all round 360 degrees padding to make sure you don't have to worry about the impact that your gear have to go through as you try to get to your spot. The additional padding ensures your equipment is safe from the man-handling that comes with traveling. In addition to the waterproof liner, your equipment will always be safe and dry.
Cost and Value
This product is a premium option so you shouldn't expect it to have a budget-friendly price. You will have to stretch your budget to get this one but if you have to go through the trouble, rest assured that it will be for a good reason. This product is made from high-quality materials and offers premium features that not only protect your gear but also makes it easier for you to carry it around.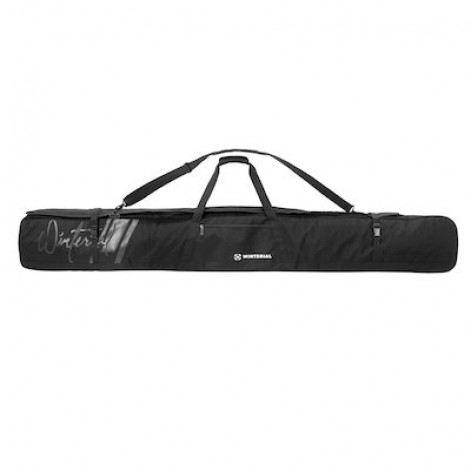 Choosing the right product for travelers can be difficult. There are so many factors to consider and sometimes, it can be overwhelming. This particular one has been designed by travelers for travelers which means you're assured that the challenges of traveling with your gear is well taken care of.
Shoulder Strap
You might have to go for long walks and sometimes, you need to keep your hands free before you get to your skiing location. With the shoulder strap, you can conveniently move the weight between your hands and shoulders and keep your hands free when the need arises. The shoulder strap is double stitched to guarantee quality and durability.
Wheels
To make it even easier to bring your skis with you, this product comes with wheels which come in handy when you're at the terminals. They might not come in handy when you're at the mountains but they're critical when the surface is smooth.
Cost and Value
With all the features that this option has to offer, it's only fair that it comes at a premium price. It is designed for people with an incredibly flexible budget and those that are looking to spend extra for the sake of convenience and mobility.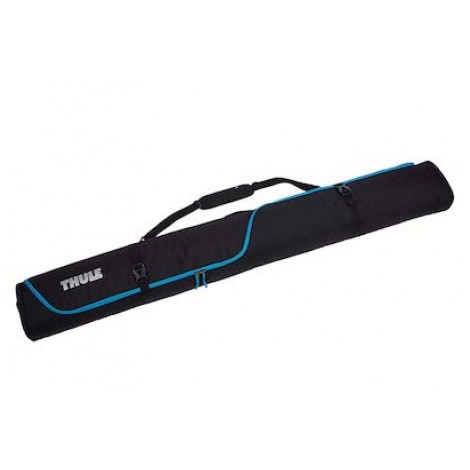 Most of the options on our list don't appreciate the value of poles. Most of them focus more on the skis and just leave enough space for the poles. This one is different. In addition to offering great protection for the skis, it also has dedicated compartments for the poles and protection to make sure all your equipment is safe.
Mobility
This product is easy to move around. Even though it doesn't have wheels, it does have convenient grab handles which are also backed up with a padded shoulder strap that make it easier for you to carry no matter how challenging the terrain is.
Compression Straps and Compartments
When you're traveling it is easy for the equipment to smack into each other. To prevent this, the interior of this product is compartmentalized and has compression straps that ensure your equipment has the best possible protection during transit. This goes for the poles as well so you have nothing to worry about.
Cost and Value
This has to be the priciest option that we have featured on the list of reviews. However, it is completely worth it. You might want to consider a few other options if budget is a concern. But, if you have free range and want to give your equipment the premium treatment this will help you achieve exactly that.

10

. Element Equipment w/ Strap


One of the best ways to save money on your carrying equipment is to pick one that focuses on the bare minimums that can safely allow you to carry your gear without risk and with ease. With the minimalist approach that this has, you can save money and still get a functional option that will easily carry your gear around. Don't be fooled, this product is not short-handed it has plenty of features to make your experience unique and smooth.
Simple and Elegant Design
Sometimes less is better and this is all the proof you need. It has a simple but elegant design that easily stands out on its own. The color scheme is to die for and the contrast stitching helps it keep a low but easily noticeable profile. If you're not big on looks and only want an option built for performance, this will be a good pick.
Built to Last
Everything about this product from the material to the stitching screaming quality and durability. It is made from a high-quality material made out of 600D PVC coated polyester and to add the bow to the package, it has double stitching to keep it together even in the most demanding of situations.
Cost and Value
When you don't want to spend a fortune, but want to enjoy functionality while giving up a few perks like looks, this will work just fine. It is budget-friendly and offers all the features you will need to keep your skis and other equipment safe while you're traveling.

Subscribe to our Newsletter