Best Cross Country Skis Reviewed & Rated for Quality
In a
Hurry? Editors choice: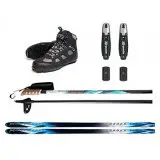 Test Winner: Whitewoods

As the temperatures drop, we can't help but get excited for all the end of the year activities. Pumpkin picking, cuddling by the fireplace, warm
home
-cooked meals, and the long-awaited family and friends gathering headed to the mountains to experience activities in the snow. Whether you're a sports enthusiast or a lover of all outdoor activities the snow tends to bring out the fun in everyone. However, there is a little bit more excitement for sports enthusiasts due to finally having the opportunity to embrace snow-related sports such as
snowboarding
and
skiing
. Whether you are a beginner to cross-country skiing or have been doing this for years, we have researched the ten best options on the market today. This guide will help you find the perfect gift for your loved ones (or for yourself) this new holiday season.
Standout Picks
Criteria Used for Evaluation
Model
Depending on the type of cross-country skiing you are partaking in, you may want to purchase the best one, especially if the terrains are different. There are touring skis, which are the most popular and prevalent ski choice for most skiers, as touring skis are done on a groomed terrain and are very long and narrow. Usually, touring skis are meant for long descents. Local skiing areas will often have groomed or man-made trails that are able to be rented and enjoyed by beginners alike.
Metal Edged Touring Skis are usually a bit wider than regular touring skis and sport a steel or metal edge, which makes them ideal for better grip in harsh, tough snow conditions. These would be on intermediate level touring skis or for intermediate level cross-country skiers. Because these provide a better grip, they are able to be used on rougher, off-trail conditions or off of groomed trails. These are usually for steeper and harsher terrains, where the sidecut can provide better maneuvering skills and balance. This type of ski is ideal for the skier who likes to go off the groomed trail and further expand their skills.
Race Skis are similar to touring skis in that they are very high-performance, but sport a few key differences in upgrades that make these geared toward intermediate or advanced level skiers. These can be performed in groomed tracks, but because they are designed to be stiffer in style, are best used in off-groomed, rugged terrain, offering better performance and skill.
Features
Just as you would buy a pair of pants according to your size, you would want to purchase a pair of skis according to your height and weight. The taller or heavier you are, the longer you would want your ski length to be. If the ski length does not correspond to your height, it can cause poor performance and terrible balance, causing you to fall unnecessarily. For cross-country skiers, you need to research the ideal length for your specific weight so you are performing at your best ability. Beginner skiers can benefit from a shorter length, but it should still align with your height and weight. Advanced skiers opt for a longer length that provides greater speed in certain terrains. To determine what length you should go for, add 25 centimeters to your height in centimeters- you should purchase that length or as close to that length as possible.
Skis are known to be very narrow in width, but the perfect width for you can still vary based on what you are using the skis for. If you are skiing within groomed tracks, you want to opt for skis that are within 70 mm, as most touring ski tracks are groomed at 70 mm or less. For terrains with deeper snow, a wider width can provide better balance and floatation- it is easy to sink into deep snow with a narrower width.
Advanced Features
Some of the cross country skis on this list had a wax base or textured base. This depends on the terrain you are using the cross country skis for. Grip is important for gliding, especially at the beginning of the ride when skiers are kicking off. The grip is achieved by using a combination of wax bases or some type of textured base, which can help propel you with the right momentum. Waxable XC Skis, as listed in some of the items above, are made with a special type of wax mixture in the bottom middle of the ski base.
To wax the ski perfectly, this requires a special type of knowledge because you need to be able to match the temperature of the wax to the snow, to make sure they are in harmony with each other for fluidity. These are for more professional skiers and are not common amongst the average cross-country skier. Waxless XC Skis, also on the list above, require little to no maintenance because of the textured material that is under the base of the ski. Because this textured base is already premade and applied, it should already be designed to grip the snow and should perform well on most snow conditions.
Adjustability
You might have seen the terms "NNN," "Salomon," and "SNS Pilot" sprinkled within the title of some of the items listed. We'll explain what they mean here. "NNN" refers to the "New Nordic Norm" binding, which is operated by one steel bar that clips into the toe of the compatibly sized boot. You need to make sure that both the ski and boot are "NNN" compatible to make sure they clip correctly. "Salomon Pilot" operates in a similar way, except there is only one ridge along the edge of the bindings version the two of the NNN. "SNS Pilot" uses a double clip bar to attach to the boot, which provides better stability and higher performance for the skier. The boots you purchase should be compatible to the ski (either NNN or SNS), and should always be a comfortable, snug fit (just as you would for any other pair of boots).
Materials
Poles should always be used when considering cross-country skiing to provide better balance and movement. To determine your length, stand and measure the pole- it should reach to about your armpit to be an appropriate fit.
Best Cross Country Skis Reviewed & Rated for Quality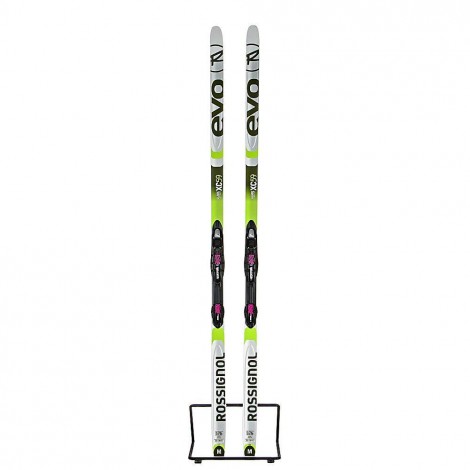 Rossignol, or Skis Rossignol, is a French manufacturer of alpine and snowboarding equipment, so it's no surprise that these pair of equipment are considered a classic. Rossignol was also one of the first companies to produce plastic ones. This pair has a sleek design, maneuverable length, and stone finish bases which both men and women can enjoy.
This pair has a shorter than traditional length, which in turn increases maneuverability. These are perfect for the beginner to learn how to do it cross-country or for the seasoned professional who wants to move quickly up and down the slopes.
There are large air channels embedded within these pair of wood ones that provide a lightweight, durable speed and performance, which is customers state is important for when you want to have a good grip going uphill and a fast speed going downhill.
When you're investing in or purchasing high-quality sporting equipment, you expect that the prices won't be cheap. Even when I go on my yearly mountain trips and rent snowboarding or skiing equipment, I'm always spending a considerable amount to rent gear and clothes. Naturally, any quality pair won't be cheap, but considering the quality and brand of this pair, these are quite affordable.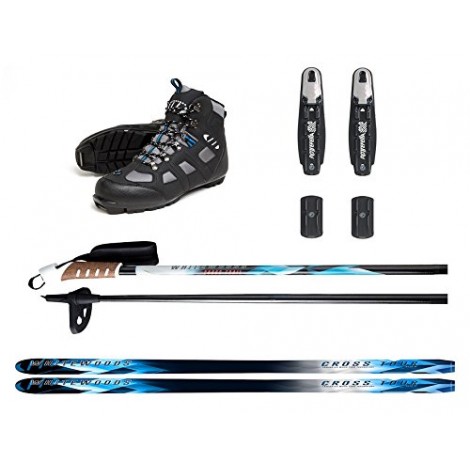 For the complete beginner or for the person who doesn't want to search for items individually, this package comes with all the fixings you would need. It allows you to get rid of the hassle of researching which items you need for doing it at your maximum potential while giving you quality pieces that come together to create the perfect bundle.
This comes complete with matching ones, boots, bindings, and poles. If you were to purchase everything separately, you would have to research the appropriate bindings, the height of the pole, size of boots, and even try to color coordinate or match them with your skis. This package gets rid of all that hassle so you're ready to go.
One of the key points in this package is the cross-country boots that they come with. These are designed to keep your feet warm and dry in the snow with its Thinsulate lining. The Thinsulate lining is breathable and has a waterproof upper with improved metal lace guides with great ergonomic pressure, and even a toe protector.
There's no doubt about it that this is going to be the best value you can get for your buck- each of these products alone can equate to the price of one, but you're basically getting a four for one deal, at a huge fraction of the cost. Not to say that these are cheap in quality either- this is a great bargain. Customers also rave about their customer service.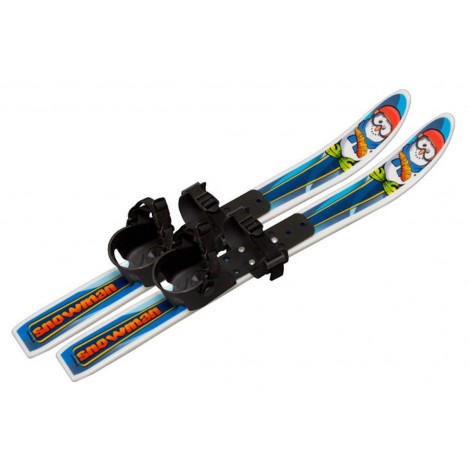 If you want to get your child started extremely early, these are the perfect pair for children ages 2-4! With an extremely safe and child-friendly design, this set (complete with poles) is designed to provide balance and the learning foundation they need to know to become expert by the time they're 5.
These come with an already mounted binding that fits on most boot sizes (size 70 cm) and can be adjusted as your child grows. Customers who have purchased this state that the bindings are also compatible on winter boots and are lightweight and don't strain on the legs.
These also come with adjustable poles that help the child learn how to balance. These can be used for training in your backyard or mountains and are also safely made to limit injury.
These come at a very affordable price point, considering they come with poles and adjustable bindings. Although they claim this should be used from ages 2-4, this will depend on the child's size, and can even be used up to age 5.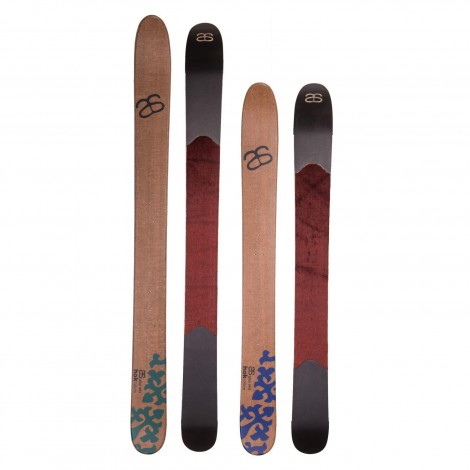 Let's take it down a notch and go back to the beginnings. This Altai Hok Cross Country pair is perfect for beginners- it's designed as an easy to use them for the backcountry, where slopes should be flat and easy. It is described as excellent for breaking trail in crisp, new and fresh snow.
These come with an integrated skin insert which combines ease of grip and glide on soft terrain, This is a 100% nylon "fur" texture that combines with its unique structure alignment that gives this pair maximum durability and a new and improved glide. There are also full steel edges along the sides of these that skin inserts that increase the grip on the snow.
The unique design of this pair serves as a hybrid between cross-country and the snowshoe according to some customers- due to forwarding mount position. The Hok is comparable to the ease of use found in snowshoes because of its easy maneuverability in gliding forward instead of lifting and stepping.
For those that have zero cross-country skiing experience, you might find this product worth your money. Comparable to other cross-country equipment on the market, this can be the stepping stone you need to get the confidence and skills you need to feel comfortable on the slopes.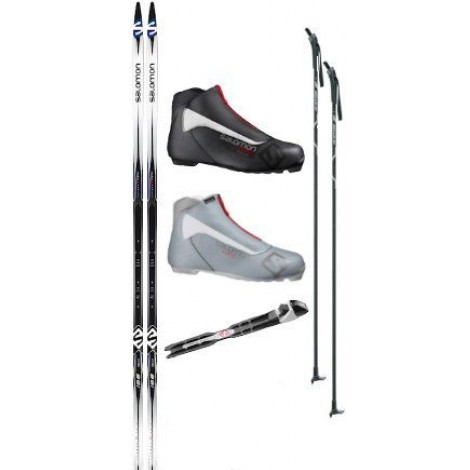 This is another complete package that comes with skis, boots, and poles at a very reasonable price point. Featuring a unique, sleek design of boots, stylish skis and poles, these include everything you would need for cross-country skiing. For the ultimate customized experience, the seller asks consumers to describe their size in order to create the perfect fitting set of skis that are tailored specifically to them.
One look at these boots and you know they are made for comfort. This unique design comes in black for men or grey for women and has the Salomon Touring Fit. The Salomon Touring Fit has a warm, comfortable cover with central zip and mono-material exterior, making these the most comfortable and popular skiing boots out there.
The binding on this pair is automatically installed with an auto step-in binding that is compatible with most boots (NNN and ProLink Boots). The binding was constructed to provide a custom fit for the perfect sizing without taking away from the design.
This comes with three different pieces of equipment, all of each on their own would cost about the same as a pair of skis. Considering the number of equipment in this package, the high quality, and unique style this is a great bargain that's too good to pass up.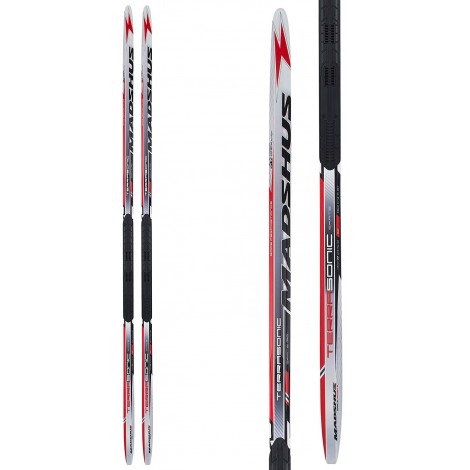 This pair has such a classic look to them. They combine their traditional P190 Nano base with a medium camber and lightweight PolyCell construction to create a ski that is meant for the experienced fast racer.
The Torsion Cap Construction on this model solidifies the core of the skate ones with a cap already embedded, This allows for a very durable and lightweight construction. The last thing you want in skis are clunky, heavy material that hinders your performance, which is why this construction will come in handy.
The innovative P190 Base on this was designed to completely race ready and are ready to go in a variety of conditions. Additionally, the unique 3D shape allows reliable, flexible consistency making it easier to maneuver up and down the slopes.
Customers state that this product improves climb performance with its very flexible tail, and is considered to be highly polyvalent and fast on most surfaces. Considering this aids in the success of your ride, this pair of skis come at a very affordable price point.

7

. Alpina Sports Discovery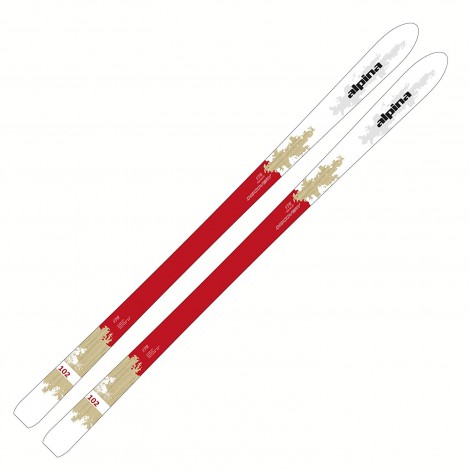 With a slim 64 mm waist 38 mm sidecut, the Alpina Sports Discovery 102 Back Off Nordic Touring Skis allow you slope the backcountry with ease and precision. Sporting a raised tip, Edge Wood Core, and integrated side cap construction, this provides utmost control and precision on the icy surfaces.
Wood cores in the equipment of this kind allow for maximum agility and smooth movement- with Alpina's Lite Edge Wood Core, you get the responsiveness and intuitiveness of a wood ski. They also provide increased strength and durability, so you can ride for many years to come.
The No-Wax Patterned Base provides a strong grip for long climbs, and the P-Tex Base makes it extremely easy to glide downhill for fast descents, making for one exciting ride.
The cost of these pair of skis compares to most on the market, if not a bit more affordable. These are a pair of skis that are meant to last with its highly durable material, steel edges, and flat ski tops to limit damage and destruction and keep you safe.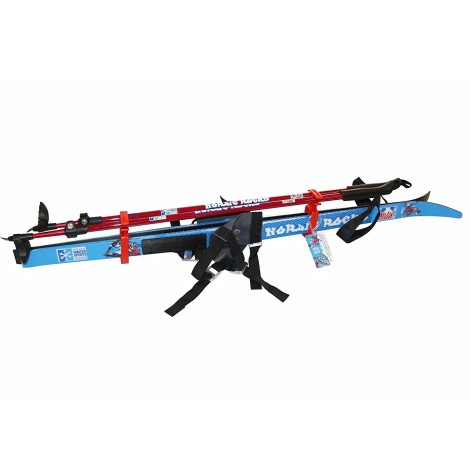 We can't forget about the children! Skiing and snowboarding is often a family activity, in fact, it's a lot easier to learn sporting activities during the younger years when we're a lot more flexible and agile. These are perfect for the beginning skiing child, or for the intermediate and advanced. These are constructed specifically for children 6-13 years old and are designed for in-track, out-of-track, rolling hills and trail breaking.
Because these are designed for beginners, and intermediate children the step-in binding system makes it easy for them to step into and buckle themselves, letting them learn how to learn for themselves. The spring buckles also clasp into place easily, and bindings fit any size boot.
You can buy this for your child at six years old, and he/she can use them until they're thirteen years old! Because of the adjustable poles, they can adjust to the child's height, making this a great purchase for years to come.
Given that the boot bindings are universal and can fit any boot, and the poles are adjustable, you are guaranteed that you will get several years out of this skiing package if you purchase at an early age. Also, you can't put a price on learning and fun! This package is also very reasonable, considering the attachments it comes with.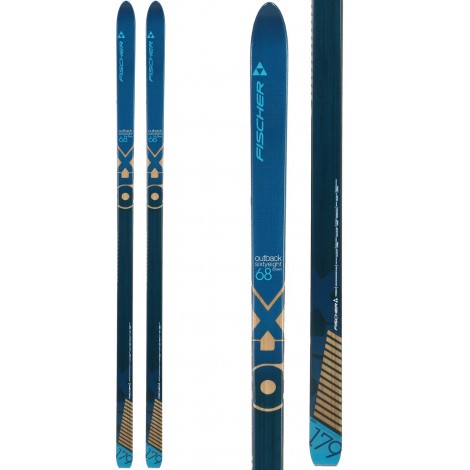 Fischer is a Nordic company that specializes in Nordic skiing, alpine skiing, and hockey equipment. It is one of the largest and leading manufacturers in the world for skiing equipment- in fact, professional skiers have used Fischer as their choice of sporting and skiing equipment for the last three World Championships as well as the Olympic Games. If you want to feel like a world champion and do it in style, this pair will give you the push you need.
These are probably not for the beginner in cross-country skiing in that the opened tips (Nordic Rocker Camber as they call it) allow for gliding in unprepared and rugged terrain. The speed grinding make this perfect for speed racing (hence why these are commonly used in the championship games)
The quality steel edges along them provide utmost stability throughout the most rugged terrains, and this specific model provides the quality you need to perform at your very best in an unprepared territory.
Given that Fischer is one of the leading skiing manufacturers in the world and have even been used in the World Championships and the Olympic Games, you know they're going to be quality and come at a slightly steeper price point. These might be one that a seasoned skier wants to invest in after they have been doing this for a while.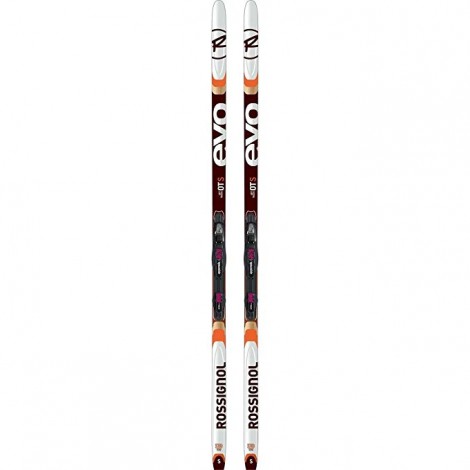 For our last item, we'll come full circle with another classic Rossignol. Although this is a 2016 model, it has been very popular because of it's simple but powerful design. This is a versatile, do-it-all eqipment that serves well for both rugged terrains and in-track skiing.
This has a thinner core, which makes this more lightweight and delivers a softer flex at the tip and tail, making it easy to maneuver on both ungroomed and in-track training. This also allows for easier uphills and safer downhills.
This waxless Positrack Base provides a strong grip that allows you to glide up and down in unpredictable ground, making this the perfect companion when you want to go off track and explore
The price point of these are comparable to most cross-country ones out on the market today. Customers like to use this for off-track purposes, and the high-quality finish on this design make it meant to last in the toughest of conditions.

Subscribe to our Newsletter