Best Tactical Gun Cases Reviewed & Rated for Quality
last updated:
Oct 12, 2019
Well, the time has come for your annual deer hunting trip down South. You've got everything you need, your boots, your camo, your rifle, and then you realize that this rifle, your rifle is going on a plane and it's going to be handled by people who have no idea how much food you expect this gun to put on your table. And then you look at the flimsy canvas zippered number that your granddad handed down to you back in the day and you realize that there's no way you're about to put your gun on that plane in anything that's collapsible and unlockable. You're now in the market for a tactical gun case. Well, don't worry we're here to make things easy on you with our collection of cases that will make sure your weapon of choice arrives on-site safe and sound.
In a Hurry? The test winner after 14 hrs of research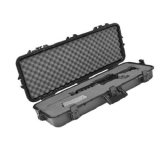 Plano All Weather
Why is it better?
Plenty of interior room
Drawdown latches hold up over the years
This gun gas offers the absolute best protection
The maker of this product is one of the most well-known brands in the world
In a
Hurry? Editors choice: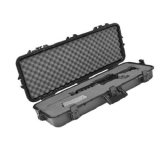 Test Winner: Plano All Weather

15
Researched Sources
12500
Reviews Considered
14
Hours Researching
15
Products Evaluated
Durability
Materials
Portability
Protection
Value
By Default
BEST TACTICAL GUN CASES REVIEWED & RATED FOR QUALITY
Plenty of interior room
Drawdown latches hold up over the years
This gun gas offers the absolute best protection
The maker of this product is one of the most well-known brands in the world
Customizable foam inserts could be better
Tops on the list are Plano, and of course, it is a hard case. This is the absolute best you can get in the industry when you want to protect your weaponry.
Toughest Protection Available
With a watertight seal and high tech pressure relief valve, nothing will get into the case when you're transporting it. Weapons and accessories will be protected from outside elements as long as they're locked in the case.
Sizes
Plano has made this available to purchase in several different size options. You can find this in 36, 42, or 52 inches.
Cost and Value
As the top tactical gun case on the list, having an average price really speaks to its value. Plano did a wonderful job of making this the best in the industry. Even fans of other brands have to acknowledge how rugged and useful this tactical case is. There are not a lot of other all-weather cases that can do a better job of protection.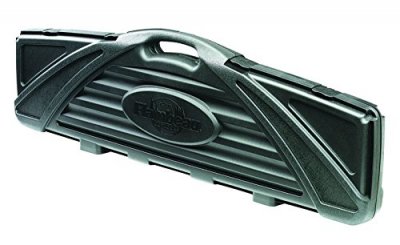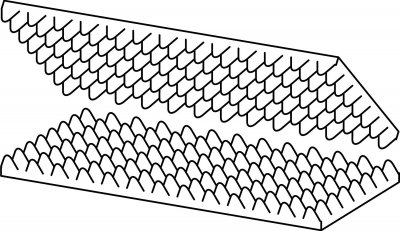 Holds Two Guns
Convoluted Foam
Strong Hinges
Lightweight
Flambeau makes a great product and when we saw the outdoors model we were hooked. This elegant strong model looks like it should be holding a space laser not just a rifle, but lucky for you this case is built to take a beating and get your gun to you safe and sound. It has room for two guns and has metal hinges that ensure that nobody but you is going to get into this case.
Snug Construction
The convoluted foam is tough but also plenty comfortable so your gun will stay firmly in place and won't bounce around but in a good way. The foam wraps up your gun safe and sound and makes sure that no matter what happens to it in transit it will arrive with you safe and sound.
Plenty of Room
This case has plenty of room for two guns which is a nice addition because a lot of the cases on our list only have room for one gun and a few accessories but this case is made with plenty of room to spare for not only two guns but all the stuff that goes along with them.
Cost and Value
This is a really well-priced case even though it has a lot of the features on some of the more expensive cases you'll see on this list plus it has room for two guns and all the accessories so there's a lot to recommend this case despite its low market price.
3

. UTG Covert Homeland Security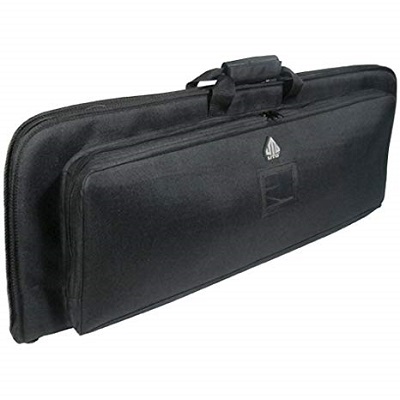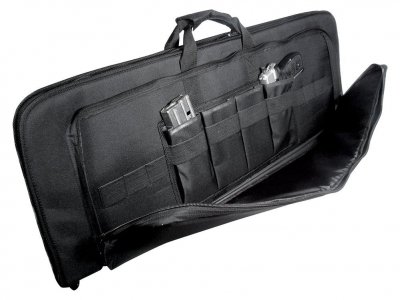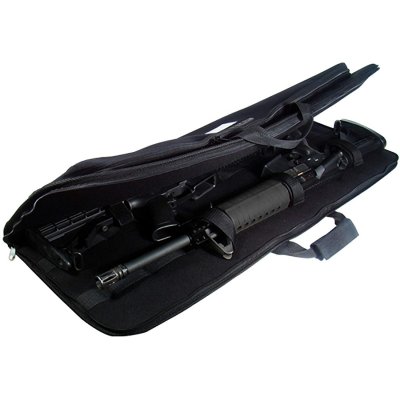 Very organized inside and out
Hook and loop straps are strong
This product comes at a great price tag
This case comes in a wide range of sizes
The zipper can be annoying
UTG is a familiar name, and more importantly, their tactical gun case is one of the best on the list. Some buyers would even call this one the best, as its features are high end.
The Most Sizes
Other options on the list limit their sizes, but UTG isn't shy about their offerings at all. Available sizes are 32, 34, 25, 38 and 42 inches.
Security
UTG has your firearms security in mind with this case. Inside you will find strategically placed straps to hold the weapon in place. As for accessories, you will find that there are straps in place for those as well.
Cost and Value
The price is low for this product and almost ranks as one of the lowest on the list. UTG is anything but a bargain company, so this value is quite astounding. Even buyers that aren't concerned about price will find this to be a great deal. There are plenty of customization and storage options.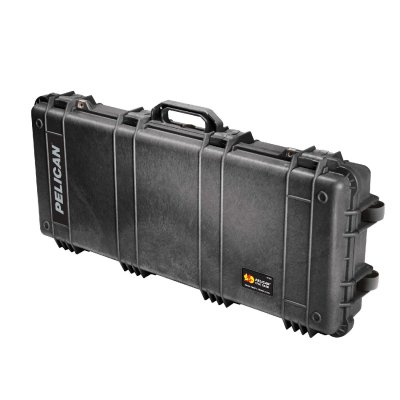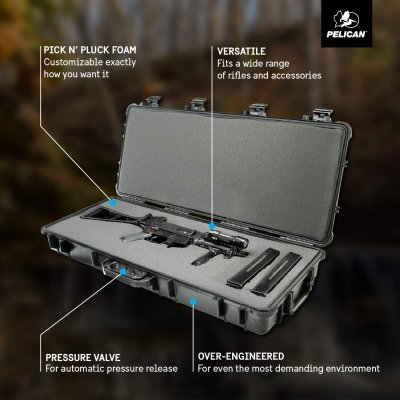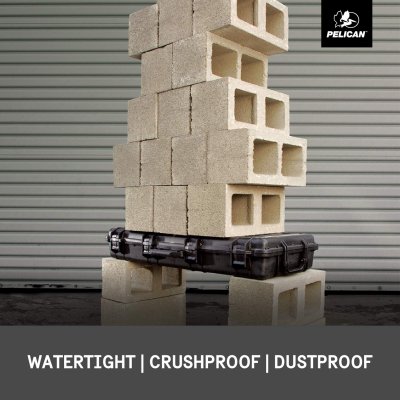 Watertight
Padlock Protectors
Firm Padding
Crushproof
Latches Improperly Installed
Pelican is a well-known brand that means quality. Everyone from hunters to photographers to video artists have been counting on Pelican cases for years to make sure their sensitive and fragile equipment stays in one piece when you have to put them on an airplane or in a car. Pelican cases are big, they're bulky but they offer unparalleled protection for your stuff.
Watertight
This is one of those things that you don't need until you need it. And when in case of flood or hurricane than throwing your gun in one of these cases will offer you a serious sense of security if you have to leave it behind or just toss it in the trunk of your car.
Padlock Protectors
Beyond keeping your guns safe you also want to make sure that only you can have access to them. That's why these reinforced padlock protectors are so valuable and useful for a gun owner. If you have to leave your gun behind at the airport you can at least rest easy knowing that it's not only safe but safe from anyone else's prying eyes or hands.
Cost and Value
This one comes in at a really great price. A bit less than most of the others on our list but Pelican makes a great product.
5

. Voodoo Tactical Padded Case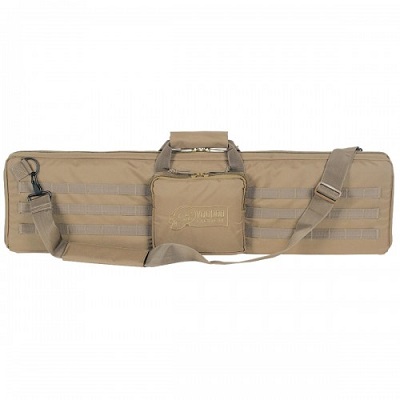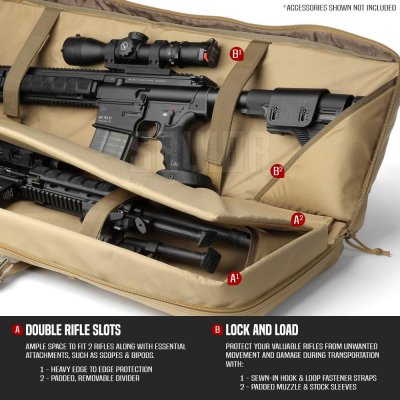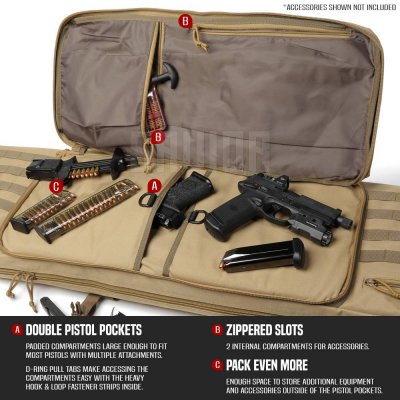 Nine different colors
Detachable padding
There are a wide variety of sizes to pick from
This comes with numerous compartments for storage
No padding on the bottom of the bag
Voodoo Tactical has been around for a while, offering some of the best choices in the industry. Their gun cases are one of a kind, with this model being one of the better choices.
Lots Of Storage Room
The bag can hold up to six 30 rounds from a rifle mag along with eight from pistol mags. That is enough ammunition for a lot of users, and others more than they'll ever need.
Locking
Yes, this is a soft case but that doesn't mean there is no security involved. The design allows you to place locks on the zippers to prevent the case from being opened.
Cost and Value
All three sizes other than the smallest are high priced. With the many options for sizes and colors, buyers will get plenty of chances to maximize the value. These don't always have to be hard, with this VooDoo Tactical case proving that firmly. This is a heavy-duty case with a lot of storage to carry around your rifles and accessories.
6

. Condor Single Rifle Case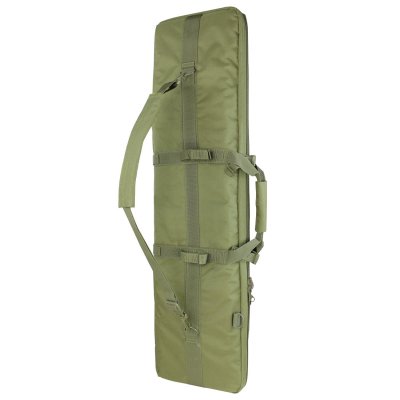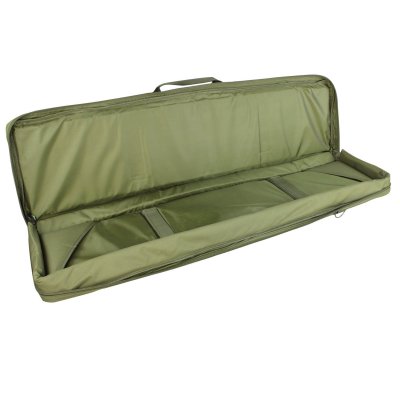 Tough elastic materials
Holds a lot of accessories
This comes in two different sizes for consumers
Consumers have the option to pick from numerous different colors
The larger option is pricey
Points for professional looks are going to Condor for their single rifle case. Not only does it look great on the outside, but the inside also has a lot of great things going for it.
Different Color Options
Available colors are black, tan and olive drab. There is enough difference in the colors that users will be able to match it up with the rest of their gear.
Storage Space
Aside from the initial pocket for your firearms, this has room for those additional items you need for the hunt. On the front of the case, you will find three additional pockets for all of your storage needs.
Cost and Value
The regular size is low priced, while the larger 42×12 model is high priced. They are both valuable choices, even if you decide to go for the high-end version. With Condor sneaking onto the list, things are really interesting for potential buyers. They are a solid company that has a good grasp of what customers want.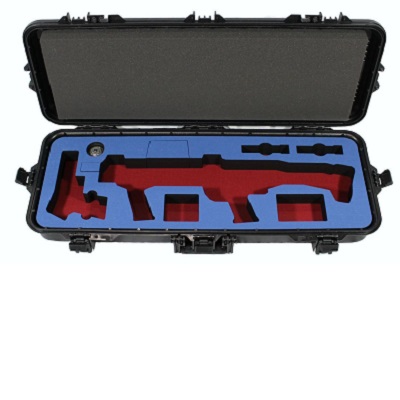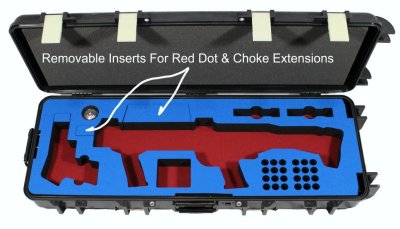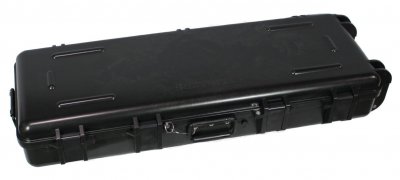 Latches are secure and will hold tight
Foam inserts are customizable
This brand is clearly the industry leader
This product was designed for whatever environment
The inner foam is poorly perforated
When you're heading into harsh conditions, this is the case you want on your side. It provides great protection and keeps your gun from bouncing around.
Made For Extreme Conditions
A powerful locking mechanism with great seals is what separates this from the rest of the pack. There is also the benefit of it having a consistent balance with its overall weight.
Waterproof
Water can and will cause damage to firearms. You may not notice the effects water has until further down the road but trust me it will happen. This has a watertight seal to prevent any moisture from reaching the inside.
Cost and Value
Buyers will get a really good value on this tactical gun case. Consider this a go-to purchase for an all-weather case.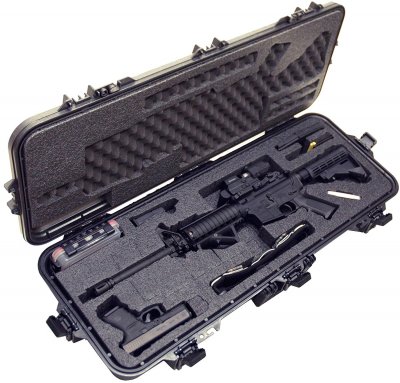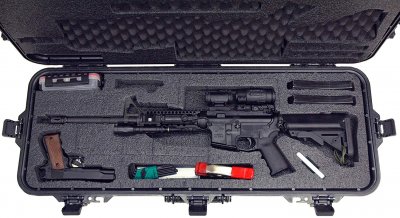 Gun fitting Foam
Waterproof
Plenty of Room
Airline Approved
This case is made exclusively for AR-15's and other big damage guns, so don't expect there to be room for a long barrel rifle. This is meant specifically for AR-15's so keep that in mind as you look at it. It's a really well-built case though and if AR's are your thing it doesn't get much better than this.
Room for more
Not only will this case hold your AR-15 but it has room for the stock and for the strap and for extra ammunition magazines as well as pistol optics and a few other pockets just for anything else you might need.
Foam Insert
This insert is designed specifically for AR's so you can rest easy knowing that your gun will rest easy in a perch made exclusively for your AR. It's also high-grade bubble foam and guaranteed to keep your gun safe.
Cost and Value
Really cheap. That being said it's not a general use case, it's made only for folks who have AR's. But if these guns are your thing then this might be the case for you.
9

. Plano Pro-Max Single Scope Contoured
Thick interior construction
Comfortable carrying handle
This product comes at a great price
Interlocking foam is high-quality
The great thing about Plano is that they provide options for all customers, and this case is a good example. Low priced and with some really good features, customers will find it hard to say no to this little guy.
Core Features Are Intact
Despite the price difference, all of the major features of their higher-priced products are included in this iteration. And most importantly, it is ranked a little higher than the other models.
Room for One
For those looking for an option that accommodates only one rifle, this is it. Carrying one firearm per case reduces the chances for damage caused by transport.
Cost and Value
This is one of the lowest-priced on the list, and you won't find many much lower. There is plenty to love about the value of this Plano product that even goes beyond the price. The price is right, and this case has all of the important features you need to protect weaponry. If this is your final choice, your rifle will be protected for years to come.
10

. Plano Double Scoped Rifle Case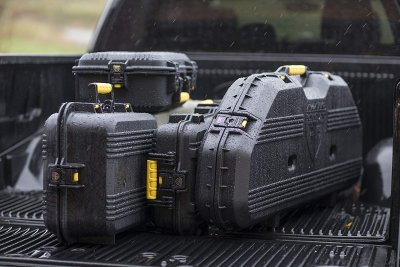 Holds two shotguns or scoped rifles
Great against bad weather
Built with Plano pluck foam
Very easy to transport
Multiple latches are a pain to open and close
Protection is one of the things customers look, and that is one of the reasons this Plano model is a good option. They did a good job of creating a simple product that does what it is supposed to, right out of the box.
Easy To Transport
Using easy-glide wheels, buyers will be able to take their most treasured weapons anywhere without breaking their backs. The wheels are also helped with the inclusion of a swivel handle during transportation.
Customizable Foam
Plano knows that not all guns are built the same, so neither should be the foam in your case. With customizable foam, you have the ability to adapt the foam to the needs of your firearm. Providing more security for safe transit or storage.
Cost and Value
The price is average and overall pretty good. This one will take real good care of your weapons once they are locked in. With all of the great choices on the list, this one doesn't really stand out as much. Yet it is a valuable addition that offers top-grade protection.
Criteria Used for Evaluation


Durability
Let's talk about gun case durability! As with many of our products that are designed for special use, the overall durability of this item was vital when it came to us including it on this list. The reason being is that the durability will be able to tell a lot about the quality craftsmanship of the product and the specific care of the brand itself. Now, as far as durability we discovered that many of the brands on the list dedicate their products to being #1. With many different available gun case choices to choose from, durability is vital towards the overall success of the product and so brands take into consideration the importance of having the best quality build and materials, which we will talk about next.
As far as durability, areas that we look for to ensure maximum durability and quality build is the hinges of the gun case, the overall interior lining, the exterior material, if it is waterproof or at least, water-resistant, and more. For example, one vital aspect of durability is the method in which the gun cases closes and opens and if it has any specialized locking design to ensure maximum safety. All of this together because of the durability factor and the quality build of the product. Up next, is the interior material!


Materials
As we discussed the criteria to take into consideration, the interior design and materials were very important for the overall safety and quality of the gun case. Reason being is that the interior material really is what will keep the gun safe from scratches, harm, and getting ruined. With that in mind, the interior material of a gun case really alternates depending on if the case is a hard case or a soft case. With that said, hard case materials would include a quality soft foam or other shock-proof material to keep the gun case secure.
Other important interior factors of the gun include a belt or pockets to properly secure the gun and store other gun equipment or important items. With soft cases, they included more of a nylon or fabric design material to keep the inside and outside safe. This criterion was one of the two most important. Up next is the exterior material and the coating of the gun case.


Portability
This is the next aspect that we knew was vital to the success of the product and a defining factor as to whether we would include it on the list. The design of the case is very important because it affects its portability. Whether you need to get through the woods or an airport, you want your case to be easy to carry.
With all of this in mind, we took the design into consideration because many users are wanting one or either. With the design of gun cases that look more like luggage, users can expect a somewhat hard outside material with little to no indication that it is a gun case. With other gun cases, primarily soft cases, the tactical design includes a green material design shaped like a weapon. Although this is more up to the user and what they desire, we realized that the design was going to be an important criterion.


Protection
We knew that exterior material and coating were vital to the success and quality of the gun case. The reason being is that the right exterior material is what will hold the whole case together. No individual wants a bad quality case that cannot withstand the elements or at least a bit of travel. With that in mind, the exterior material of many of the cases ranges from a hard-shell plastic to a piece of fabric like polyester/nylon material that is extremely durable. Some brands even include a customized synthetic hard-shell material.
Other than that, the exterior material of the product is the baseline for which the product quality will succeed. Meaning, if the exterior material is not durable enough, and even inconspicuous, no individual will want that product. Therefore, we really took into consideration a wide range of cases and included the best. One of the best, for example, includes a hard outer shell with a locking mechanism that was also designed to be water-resistant. A quality material such as that is hard to beat!


Value
Cost and value happen to be the one factor in many of our articles that never gets old. The reason being is that cost and value is detrimentally important in picking out the right product. Some individuals want a wide variety when it comes to finding the best quality gun case and so we try to balance the scales of cost and value.
As far as cost, readers will be able to tell that there is a wide selection of gun cases, from rifle cases to other weapons. With that, we also wanted to widen the value that users would expect, especially if they wanted more of a carrying case for items and gear or if they wanted more of a single carry type of case.
With that said, all of the products that we have included offer endless amounts of value at different costs and users should expect that it can run them a bit pricey considering the build quality that it takes to design a gun case.
Expert Interviews & Opinions
Most Important Criteria
(According to our experts opinion)
Experts Opinion
Editors Opinion
Users Opinion
By Default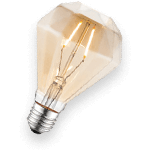 Soft Shell Or Hard Shell?
The choices between hard and soft cases on the list will trump some users that are new to the industry. Soft cases are lower priced and have more storage, while hard cases are better protected and better built. There are distinct advantages to each, and some users decide to buy one of each for flexibility. Remember, the low price of soft cases make them a perfect backup if you have a primary hard case.
Keep Them Maintained
It's important that you keep your tactical gun case clean at all times to ensure that your gun also remains clean. Softshell and hardshell cases will have different methods of cleaning depending on the material. Read what types of cleaning solution the manufacturer recommends to ensure that you don't damage your new bag!
Other Factors to Consider


Features
This was another important factor that we took into consideration as a last-minute choice. Many different tactical gun case manufacturers offer different design elements that make them unique. For example, some have specialized hinges or closing mechanisms, while other tactical gun cases have padded pockets and gusseted exterior elements. With that said, this criterion is what made certain brands stand out above the rest.


Color
As far as the next criteria on the list, this one was crucial when it came to including the right product. Obviously, not every product will be designed with multiple options to choose from but we asked our self, 'what if a user wants it in a different color?' This question defined much of our research because we wanted to ensure that we included brands that offered different varieties of gun cases as well as styles and colors. What we discovered is that many brands will include a wide variety of gun cases while some do not.
Take the VooDoo brand into consideration. They have over five different color choices to choose from for individuals that want a quality gun case. However, they are considered soft shell cases that are made from a fabric material instead of the more inconspicuous hard-shell design. With that said, we wanted to share a bit of variety when it came to picking out the cases so users did not feel tied to just one style or look. Which brings us now to one of the most important criteria, the most famous one of all, the cost and value!


Bottom Line
When it comes to figuring out the quality of every item, we do so in many different ways. Whether it is testing the product, reading the reviews, or studying every aspect of the product, the quality of the gun case is the defining factor if we include it or not. Now, we do this because we look at different pillars when it comes to the product. We like to engage a dance between durability, materials, appeal, and other factors, factors that we will touch upon in this article. As we take all of these factors into consideration, we then decide if the overall quality can withstand the test of time and lots of ware and tare.
What we found when it comes to tactical gun cases is much of what we found when it comes to any tactical equipment. First, tactical equipment is designed in a specialized way to ensure maximum durability and endurance. With that, users can expect that they are extremely strong. Aside from this, when a user expects to buy a tactical piece of equipment such as a gun case, they expect it to be quality due to the nature of the item. As we researched, we knew that the tactical field offered some of the best materials in the industry.
Frequently Asked Questions
q:

Is this case lockable?

a:

This happened to be one of the most asked questions by individuals and to our surprise, certain cases were not lockable. They had more of a Velcro strap zipper design. With that in mind, the specific lockable cases happened to be more of the hard outer shell cases that have a foam padding on the inside. Of course, as one would expect, cases such as this will cost a bit more because they are designed with specific elements that make them more durable. The best thing is to read the description or ask the manufacturer. However, most zipper-like cases do not have a lockable design.
q:

Is the case waterproof?

a:

This happened to be another one of the most frequently asked questions. When an individual plans on taking their case outside or traveling with it, they may encounter moisture or water. With that said, some of the cases do have a waterproof seal design or at least a water-resistant coating that wicks away water. With that, the hard shell cases have a seal and the soft shell cases, depending on the material are designed to wick away moisture.
q:

What can the case hold?

a:

This was another aspect of the case that users took into consideration. Now, as one will see some of the cases are primarily designed to hold rifles. However, some cases can hold a weapon and also hold equipment. With that said, it is best for users to become clear about what they require in a case and then read the description and pick appropriately as some are designed for different sized rifles and weapons.
q:

Can I fly with this case?

a:

As the last frequently asked question, many users ask the question because their goal may be to fly with the case. With that said, it is best to know what flying restrictions are. However, it is best to pick a gun case with a lockable design if a user plans to fly with it.
q:

What is the advantage of a soft shell case?

a:

A softshell gun case is practical for basic transport and weighs a lot less than a hardshell case. They are often better for the average shooter because they are more flexible and can be easily stored or angled to fit into your car. They are great for both tactical rifles or hunting rifles. If you are heading to a location that is easy to get to by car, then this type of case is a great option. Lastly, they typically cost less than hardshell cases and offer plenty of room for ammo, magazines and other accessories, too.
q:

What are the advantages of a hard shell case?

a:

If you are going on a more extensive trip and are flying, then a hardshell case is a must. Softshell cases leave your weapon subject to dings and damage, whereas a hardshell case keeps it enclosed and secure. If you are wielding a tactical or military-grade firearm, you need a hard shell case.
Subscribe to our Newsletter