Best Pressure Cookers Reviewed & Rated for Quality
Who doesn't like fast! Fast cars and fast food (not the drive-thru kind). And that's where the pressure cooker comes in. These versatile cookers are going to cut down on the cooking time of nearly anything you're working with. They can be little miracles for working families, and people out in the wild. Thanks to their versatility, the electric pressure cooking options have evolved a significant amount. Cooking can take quite a while, especially when preparing something for a large family or friends.
It is also useful for when you are about to take a camping trip and want to cook food. This is where pressure cookers come in really handy they can cook everything from chicken & risotto to simple things like yogurt & brown rice. There is not much a pressure cooker can't do and they've been around since the 19th century. The electric ones have been around since 1991 and have improved significantly in recent years. We've discussed the differences and similarities between the two types of cookers below.
Our Top 3 Picks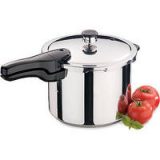 Presto 6 Quart

Our rating
great quality
Price:

See Here

T-fal Stainless

Our rating
for high pressure
Price:

See Here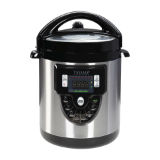 Tayama TMC-60XL 6 Quart

Our rating
safety features
Price:

See Here

Stove Top Pressure Cookers Vs Electric Pressure Cookers
As mentioned earlier there are 2 main types of pressure cookers, the traditional stove top, and the ever-improving electric pressure cookers. Before you think an electric can never be as good as a stovetop think again there are many features especially safety-related where an electric can exceeds a stovetop model. The stovetops also resemble their initial incarnations a lot and much of the idea and tech is the same with spring-loaded valves employed instead of the weighted valves. One can also get confused between a rice cooker and an electric cooker at times but believe us, electric pressure models can handle a lot more. Here are some of the highlights of what's on offer when choosing between the two types.
Stovetop pressure cookers are kind of self-explanatory, they need an electric or gas stove to function. They do not offer any pre-sets or major customization options. They also tend to cook much faster than their electric counterparts. Another added benefit is that they come in a range of sizes; you can buy smaller ones if it's just yourself or very large models when cooking for the whole family. Stove tops are a bit noisier and constantly throw out a lot of steam through the pressure valves. This keeps the pressure regulated within the cooking chamber. They do need constant attention so that you don't overcook your food & for safety reasons too. Stove tops excel as they have superior searing qualities. Many of these also double up as canners too!
Electric pressure cookers have been getting better year on year. They don't quite make as much noise but are comparatively much harder to clean. Since stove tops can be soaked completely the contents can be scrubbed very easily. An advantage is that they are quite versatile and have pre-sets for all kinds of meat, rice, and vegetables. Another advantage is that they are silent. Many cookers like the Instant Pot have a number of customization options and require much less attention as a result. Electric options can take longer to reach desired pressures so cooking can take longer. They can also keep food warm for a very long time.
We've analyzed & tested many different electric and stove top models and came up with the following list of 10 best pressure cookers that are available in the market today. We've also listed a number of factors that are important when selecting these cookers. Without further ado let's jump in!
10 Best Pressure Cookers
1. Presto 6 Quart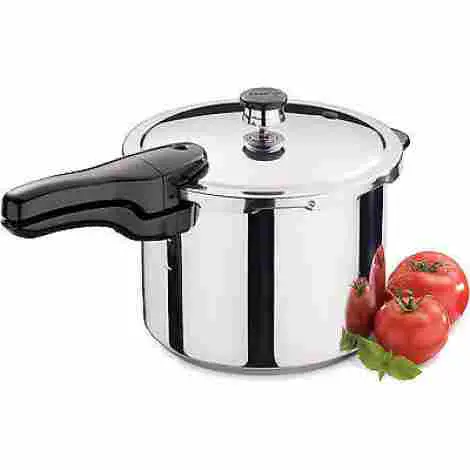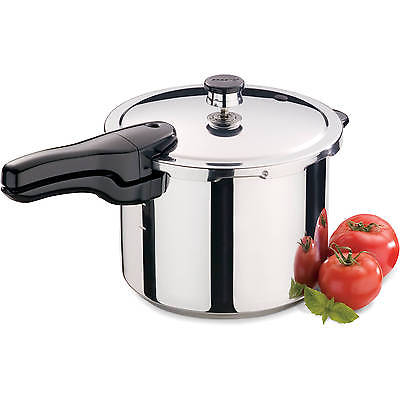 First up, it's the Presto 6-quart stainless steel variant. It doesn't get much simpler than this as it almost resembles a generation 1 cooker which uses a weight-based valve that rises and falls to let the steam out.
Expand to see more
Key Features

Sizes: 4 & 8 qt
Dimensions: 19" x 9.9" x 9.8"
Weight: 7.2 pounds

The cooking quality is quite something with the flavor being quite rich and whole chickens can be cooked in anything between 25 to 30 mins. It's also much quicker than microwaves when handling simpler items too. All the parts are machine washable as well which makes it very handy indeed.

The downside is that, like many users reported, the handle comes loose very easily. Since the handle is held together by a single screw instead of two it does tend to be more susceptible to the movement caused by the cooking process. Another issue faced by many users is that the screws can rust. Replacement parts can be obtained easily enough though and this also comes with an extended but limited 12-year warranty.

Price/Value

In terms of value, it doesn't get better than the Presto. You almost get what you pay for with this cooker and if Presto manages to improve the build quality of the screws this one becomes a no-brainer.


Cooking quality, especially when dealing with chicken is excellent
Economical
Does the job quickly
Handle tends to come loose rather easily
Screws tend to rust
2. T-fal Stainless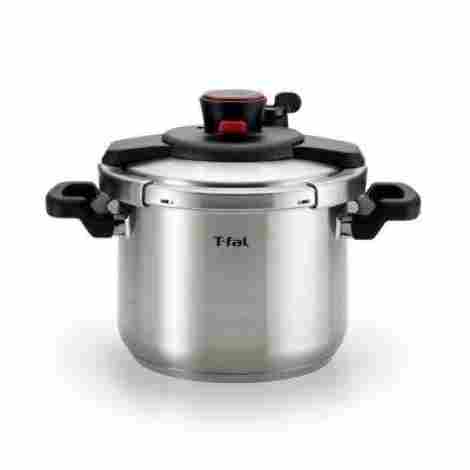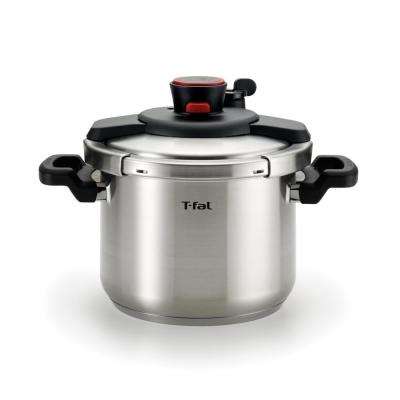 Another one of our favorites, at least with respect to stovetop models, is the T-Fal P25107. A simplistic overall design but it employs adjustable pressure settings as well as enhanced safety.
Expand to see more
Key Features

Cooks at 10 or 15 PSI
Size: 6 quart
Dimensions: 18.1" x 11.5" x 10.5"
Weight: 9.24 pounds

Ergonomically the T-Fal gets one over some of the other models as it has a handle on the opposite side as well. This may seem like a simple thing but it helps greatly when moving the piping hot cooker from place to place. The build quality is something we were impressed by with not many rusty screws among other positives.


Performance wise the flavor and taste at the end was quite good. The speed was marginally slower than the Presto but excellent nonetheless. The downsides are more related to the replacement parts as the gasket size is not standard so you cant swap the existing one with any generic model. Hence you have to buy T-Fal. The pressure mechanisms when cooking different items like chicken, fish or vegetables is not the easiest to master as we found that many users too had trouble getting to grips quickly. Not a major downside though.

Price/Value

The T-Fal is slightly more expensive when compared to the 2 Prestos on the list but you certainly get better quality to match the price tag. T-fal's replacement parts can be expensive so this will drive up the cost in the long run.


Safety features are great
Build quality is top notch
Ergonomically sound
Replacement gaskets are expensive
Pressure mechanism can take time to master
3. Tayama TMC- 60XL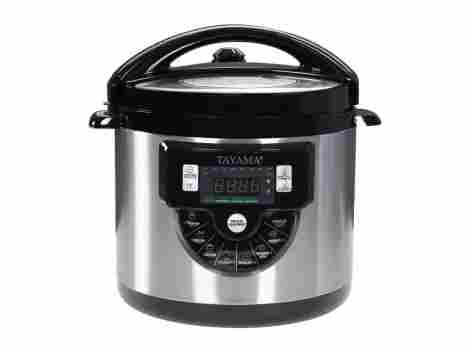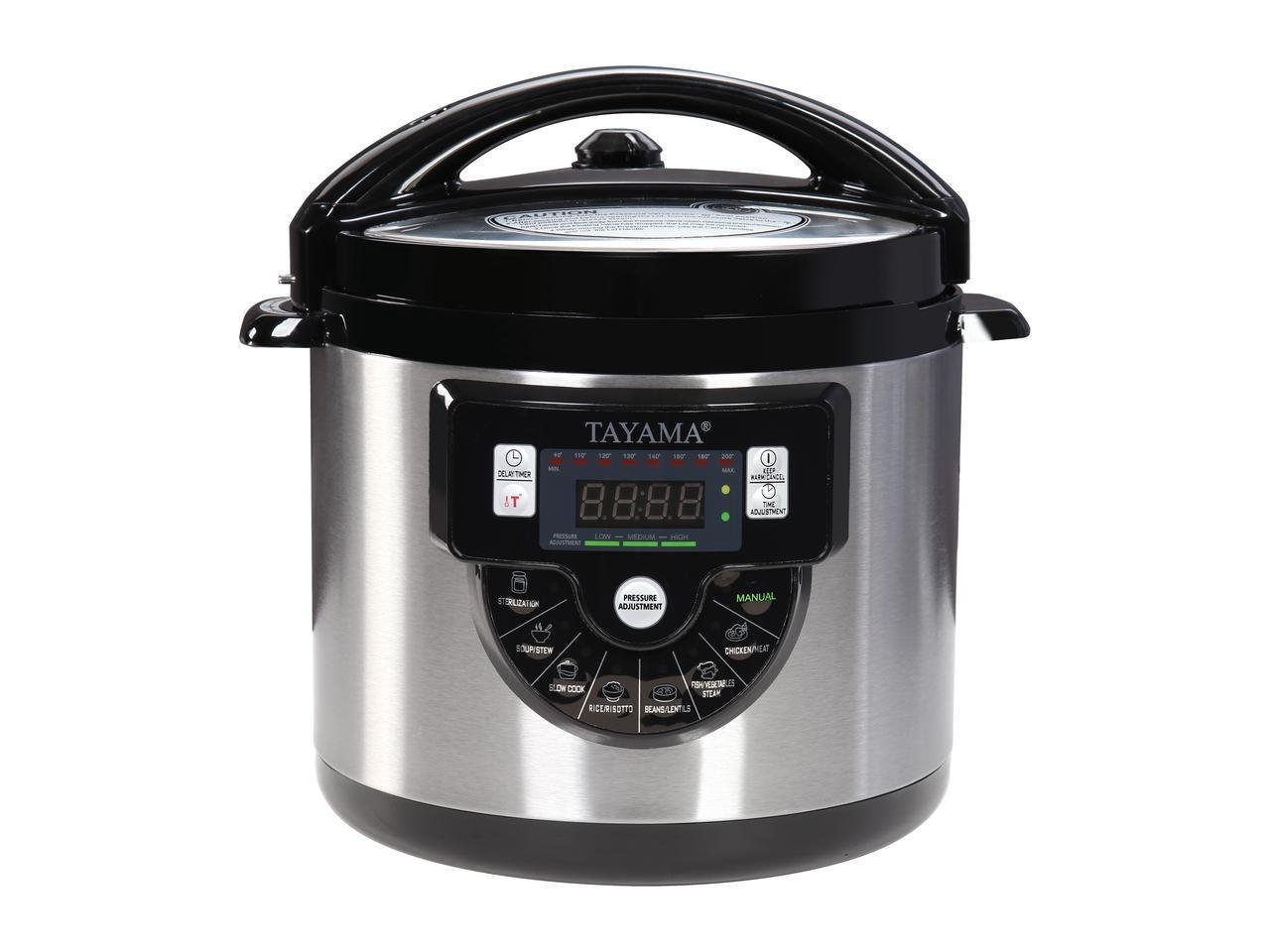 Now let's just say that when it comes to anything dealing with pressure, cheaper isn't necessarily better. But in this case we're pretty confident that despite it's low price point The Tayama is a tremendous deal for not much cash. It's got most everything you're looking for in more expensive models. Digital display and 8 in 1 features that allow it do everthing from simple warmups, to ricing, canning and steaming. A huge bang for the buck. Take a close look at this one.
Expand to see more
Flavor Infusion Technology
A really complicated way of saying that the pressure forces flavors inside your food, which is the whole idea still, it works, and so does this cooker.

Safety Features
This is another model that employs extensive safety features and has a safe-lock mechanism that prevents you from accidentally opening the cooker while it is being used.

Price/Value

The Tayama is cheap, straight up cheap. It's so cheap we feel like we're missing something, but after some fairly extensive research we're comfortable recommending it in our best value category.

Great for Searing
Quiet and easy to use
Quality materials
4. Kuhn Rikon Duromatic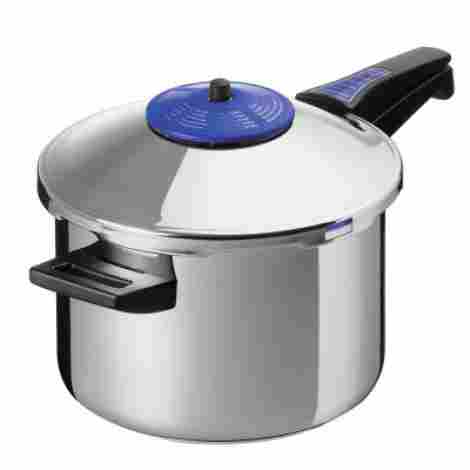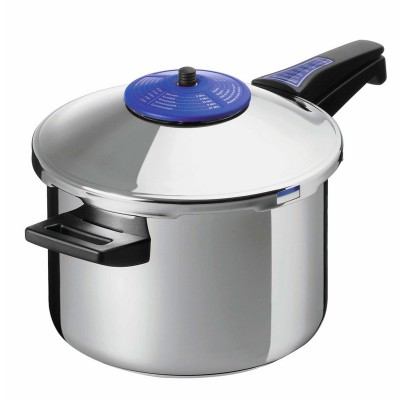 The Kuhn Rikon is one pressure cooker that performs as elegant as it looks.
Expand to see more
Key Features

Size: 3.5, 5, 7 quarts
Dimensions: 14" x 9" x 8"
Weight: 6.61 pounds

One of the higher end options which is the polar opposite of the Presto you will see next, the Kuhn Rikon is one of the most serious pressure cookers. Everything from the browning of meat to delicious pasta sauces can be created using this stovetop model. The spring loaded valve and excellent build quality ensure that the operation is very quiet. The safety features of this model also stand out.

This device has 5 safety releases so the chances that it can accidentally release during operation is practically zero if you know what you are doing. This was a great positive for us. Ergonomically it satisfied most things we were after in terms of the large cooking base area, dual handles & more. The flavors and colors of the food are indeed rich which makes it one of the great pressure cookers out there

Price/Value

Price wise the Kuhn Rikon is certainly expensive but you also get a lot of benefits. The build quality is top notch which is no surprise since it is made in Switzerland. The 7.4 qt is most definitely worth the buy as you can cook more food conveniently.
10-year warranty
Multiple safety mechanisms
Super build quality
Very quiet & efficient
5. Presto 6 Quart Aluminum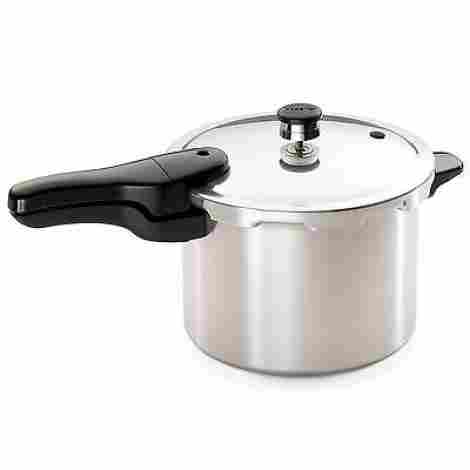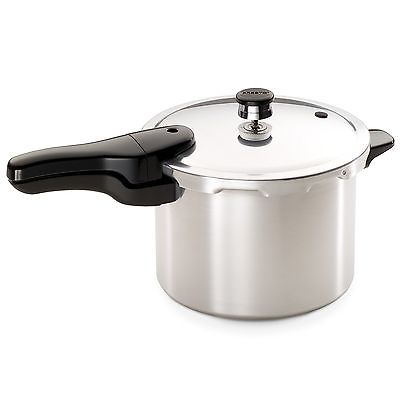 The 2nd Presto on our list is as handy as they come.
Expand to see more
Key Features

Size: Available in 4, 6 & 8 quarts
Dimensions: 10.1" x 19.2" x 9.5"
Weight: 5 pounds
12 year limited warranty

It's the Aluminium brother of the model we touched on earlier. Aluminium is a superb heat conductor hence performance wise these cookers are very fast. The material is also light so if you are looking for a cooker that is not so hard on the wrist to list then this is certainly the one for you. The quality & softness of the meat is what really caught our attention. Not many cookers can produce soups, sauces, meat, rice and other things at such high quality.

The appearance of the cooker can diminish over time when compared to stainless steel. It can appear black & be a hassle to clean. Durability wise, stainless steel models are slowly beginning to take over. This cooker is not ideal for tossing in the dishwasher too. The quality of the connecting mechanism on the handle is similar to the faults the stainless steel presto has. Redesigning this can greatly increase the effectiveness of this model. Overall, a nice spare cooker to have around to supplement your tasks.

Price/Value

For the most inexpensive on our list, the performance is quite stunning. If you can look past the downsides that aluminium has on the long run, you can very easily go all out with this and replace it in a few years' time. For the price, it's certainly worth buying in our opinion.
Inexpensive
Searing is very good
Lightweight & good build
Aluminium's appearance can diminish
Does not last as long as the stainless steel models
6. Instant Pot DUO60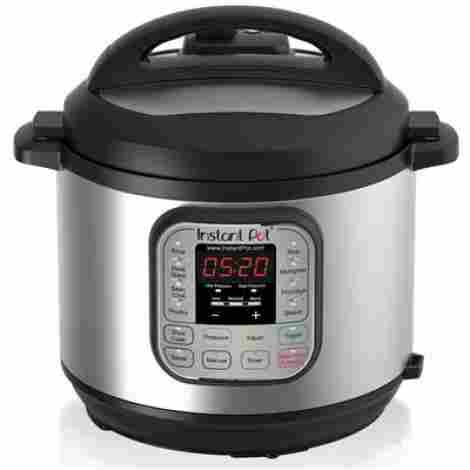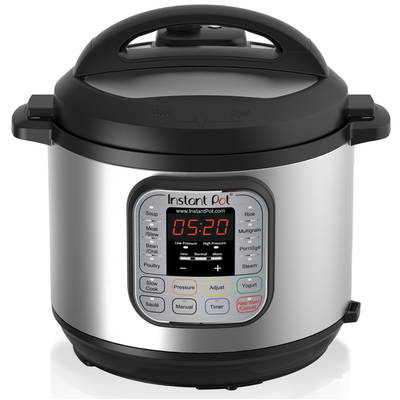 The Instant Pot is a great multi-functional cooker that can be used for families of 4-6 members.
Expand to see more
Key Features

Sizes: 5, 6, 8 quarts
Dimensions: 13" x 12.5" x 12.2"
Weight: 14.6 pounds

With this cooker, you simply can't go wrong. The pros list could frankly be a page long but the main points for us were the versatility and the output each time. The build quality is top notch especially the stainless steel pot on the inside, as a result, the pressure is consistently giving you the best results. The front button type dash comes with a whole suite of functions for making everything from bean & chili to yogurt.

The safety features again are pretty handy. All electrics on our list make sure you can cook with a piece of mind. All you have to do is simply set the timer and be on your way. Ideal for those who like demanding lifestyles where they can simply toss everything into the instant pot and go on with other tasks. A minor downside was that some users did report durability issues related to the pressure maintenance cropping up after several months use. You do have a normal & quick release options for the pressure so you never over-do anything.

Price/Value

The DUO60 is reasonably priced when compared to the Cuisinart, Power Pressure & other brands we will look at. It offers the best bang for your buck at least on the electric side of things. Overall, the Instant Pot DUO60 is certainly a solid choice when opting for an electric pressure cooker.
Multi-cooking options – Slow, pressure, steamer, rice, Sauté & more.
Very easy to clean
Excellent safety features
Performance results in delicious output
Great build quality
Rare durability issues after months of regular use
7. Cuisinart CPC-600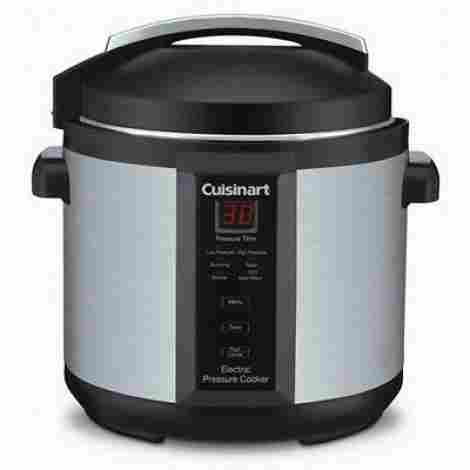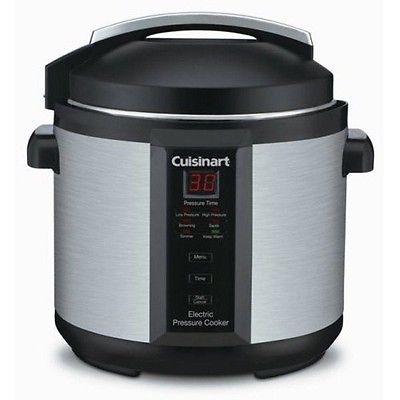 Next up, is the Cuisinart CPC-600 which is no slouch either. For the occasional and avid cook, this cooker can really handle most things you can throw at it.
Expand to see more
Key Features

Size: 6 quart
Dimensions: 12.2" x 12.2" x 13.19"
Weight: 14 pounds

Granted the performance may not be as good as the Instant Pot or the Breville which we will touch on in a bit, it's nonetheless a force to reckon with. You have settings for browning, Sautéing, simmer and a setting to maintain the warmth of the food for long after the completion of the cooking process.

The major downside which most users have tended to agree with is that the non-stickiness of the cooking pot is not very good. Food does tend to stick to the surface which means you have to soak the inner pot in hot water which can be followed by a long scrubbing process to get the pot ready for the next session. The Cuisinart does get the job done however at times the pressure maintenance is not as good as the Instant Pot in our opinion.

Price/Value

Its main selling point as you can probably tell by now is its price. If you are looking for a basic electric cooker that can do most things really well, then the Cuisinart is the one for you.
Very economical for an electric
Basic customizability
Great quality overall
The non-stick quality of the cooking pot is not great
Has some issues getting up to desired pressures
8. Instant Pot Multi Use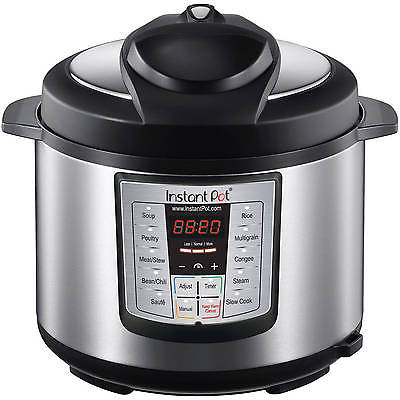 The 2nd Instant Pot on our list is one we could not ignore because of the features and performance it offers.
Expand to see more
Key Features

Size: 5, 6 quart
Dimensions: 10.2" x 12.56" x 11.8"
Weight: 14.6 lbs

You get some fewer functions on the Lux60 when compared to the DUO which we touched on but for those who are not making things like yogurt the 6 quart – V3 is quite a sweet deal. Things like eggs, potatoes, soups, and meat come out really well. You can pressure cook for 4 hours straight with this model too, something which is a commonality amongst many affordable options.

The only limitation is that the pressure doesn't quite get up to the ideal 15 PSI mark although this is quite common on many mid-ranged options. Durability wise too many users found the Instant Pot to be on the iffy side in the long run. The instant Pot Lux 60, we feel, is an ideal choice for those who are willing to sacrifice some of the added functionality that comes with the Duo60 for the more affordable but good performing Lux60.

Price/Value

The v3 that features the new microprocessor is a very affordable pressure cooking solution. The V2 can be much more expensive however since the company would like you to make the shift to the more advanced V3.
Multitude of functions are available for one to use
3rd gen microprocessor for greater efficiency
Sturdy
Pressure not as high as some of the other models
Many users reported durability issues after about a year
9. Breville Fast Slow Pro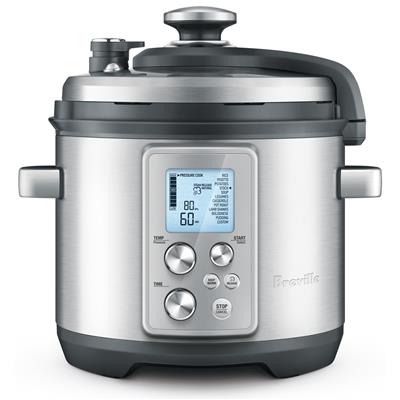 The Fast Slow Pro by Breville is another fantastic cooking option.
Expand to see more
Key Features

Size: 6 quart
Weight: 14 lbs
Dimensions: 13.5" x 12.5" x 14"

The first thing that appealed to use was its build quality and you are not just paying for a fancy LCD display. The pressure functions work like a treat. It's fairly easy to clean and control interface is a breeze to handle. There are about 11 inbuilt pressure cooking settings and a custom option too for you to cook items to your own preferences. This is quite handy to have especially if you know exactly what you want. We liked the fact that the slow cooking option is no slouch either. It really works well and you can cook on two different settings from two to 12 hours.

A downside is that the Breville doesn't sear so well. This is the direct result of using the non-stick pot instead of the stainless steel. The latter can reach higher temperatures and is known to be more durable. The non-stickiness is very good which is a testament to the build quality on offer by Breville. For those who want to opt out and buy a stainless steel option, well this is not possible at the moment.

Price/Value

The Breville certainly won't be easy on the wallet. One of the higher end models available, this pressure cooker can really save you space on the counter as you will not have to go out and buy a separate pressure cooking solution.


Advanced LCD display
Good safety features
Quality materials
Expensive
Doesn't sear so well
10. Power Pressure XL 8 Quart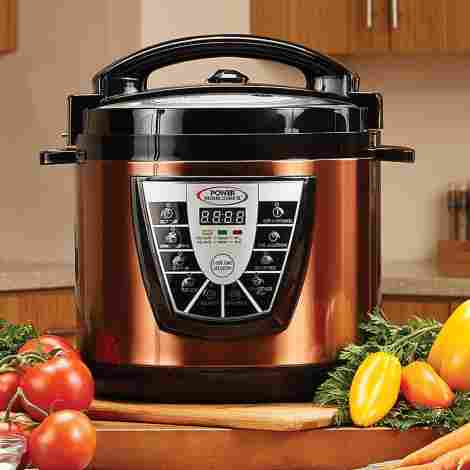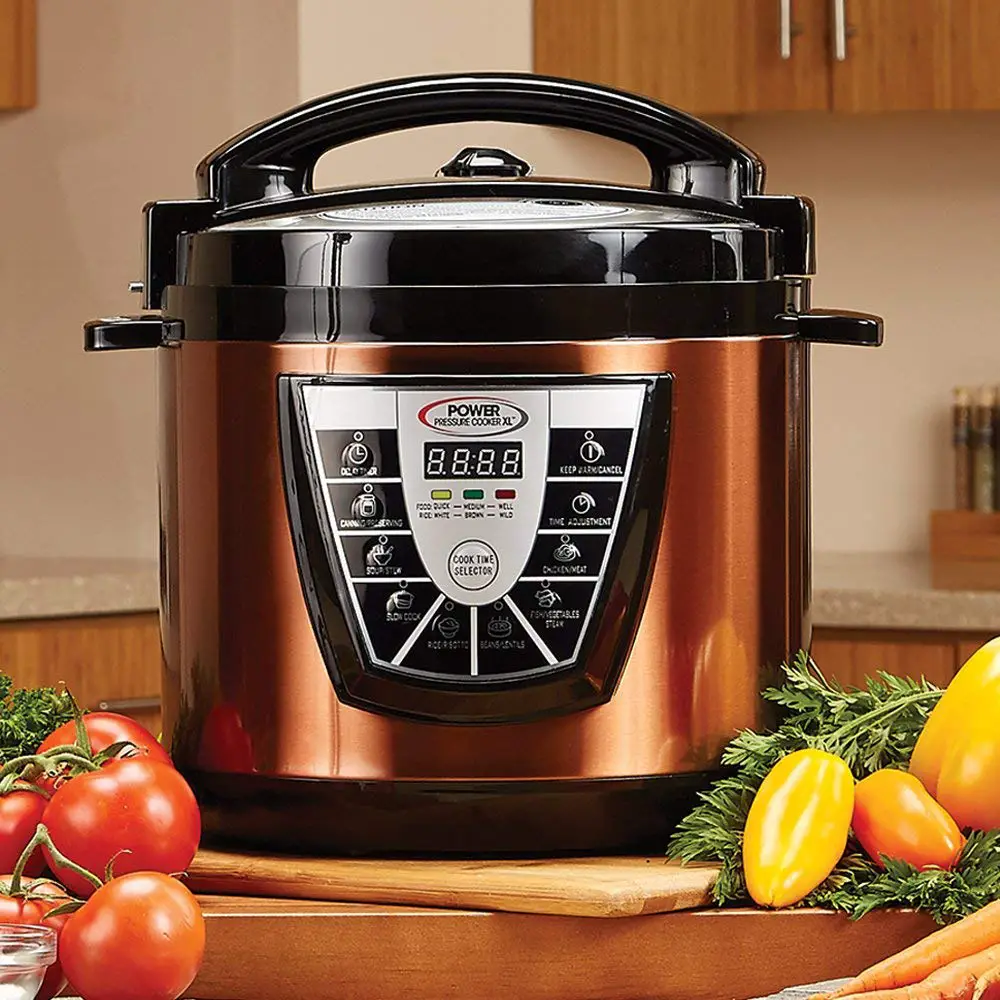 The Power pressure cooker is another solid buy in our opinion.
Expand to see more
Key Features

Size: 6 & 8 quart
Weight: 17 pounds
Dimensions: 14" x 12" x 14.5"

There are many advantages with respect to its size and ability to be easily cleaned. The instructions are quite simplistic which mirrors the overall design. Cooking wise, anything like pork roast, pasta, rice and even exotic dishes really come out well. When a cooker is this easy to clean, it's simple to lose the oven all together. That's why the Power Pressure is one for making all sorts of meals.

The downsides were again related to the non-stick pot as it doesn't perform quite as well as the higher end Breville. The Power Pressure takes much longer to cook food which is probably the result of its inability to maintain pressure for sustained periods after regular use. This offset is the main reason why this model does not feature higher up on our list. Other users also did report that the PSI didn't reach the 15 mark.

Price/Value

The Power Pressure XL is priced very similarly to that of the Instant Pot Duo6 but the overall performance is not the same. It is definitely a good alternative to have in mind considering it's an ergonomically sound and safe option.
Parts are dishwasher safe
Ideal size for cooking for the whole family
Great price value
The non-stick coating is certainly not a hit among users
Takes a bit longer to cook
Criteria for Evaluation

Selecting the best pressure cooker, as you can tell isn't easy. Which is why to make things easier for you we looked at most 6 to 8-quart cookers. These are mid-sized and ideal for family meals. Even if you are a bachelor it's probably better to have something that's larger where you can cook smaller quantities instead of the opposite.
We've combed through a number of pressure cookers in the market and took into consideration the following criteria whilst making our guide.
Build Quality
Safety
Ease of Use
Maintenance
With pressure cookers, every one of these criteria is vitally important and all influence its core performance. A fantastic pressure cooker must have the ability to sear, produce sumptuous dishes, be easy to handle, safe and very easy to clean. Hence, we've made sure we selected ones that don't disappoint you nevermind what your preferences are.
Build Quality

This is primarily related to the quality and type of parts used. The golden combo is usually a stainless steel pressure cooker with an Aluminium base. The durability & usability of the former is coupled with the heat conductivity of the latter. Another common pot type is a non-stick and this is primarily found in electric options. We do however feel that steel is still much superior to that of a non-stick pot even in an electric option.
The parts in a stove top and an electric variant do tend to vary and we took into account the build quality of the things like screws, what the handle is made of and how well it's fastened.
The most common problem that plagues most stove tops is the loosening of the handle. Models that have good screw fastening capabilities and rust resistance is something we were on the lookout for and you must too. Things like curved and straight surfaces were also monitored and cooking options with straight sides were preferred. All of what we have mentioned so far factors into durability which in turn ties in well with our maintenance criteria.
Safety

If there is a criticism of pressure cookers that have lasted decades then it has to do with the safety element. When pressurized chambers are created it requires a lot of safety features to ensure the pressure is not released all at ones which can result in injuries or if you are lucky enough not to be around then a ceiling full of rice. Electricity consumption wise most cookers are between 1000W and 1200W; the quality of the cables also have a part to play in how comfortably your new cooker sits on the kitchen counter.
Safety-wise pressure cookers, especially electric options, have come a long way. Models like the Instant Pot regularly feature 3 to 5 safety mechanisms to ensure that you have a failsafe option. These cookers also needed to have passed relevant safety tests to make it onto our list. Features that allow you to vary the level of steam released between natural and quick also aid in the cooking process when making things like poached eggs.
Ease of Use

Ease of use is where the electric pressure cookers have come a long way. Whilst, stovetops have remained standard with the most you can do is to add additional handles for convenient gripping, electric have taken advantage of LCD and LED screens. Models like the Breville have such an intuitive and easy to use interface which makes selecting a pre-set and cooking an absolute pleasure.
The instant Pot is not too far behind in this aspect with easy to use one-touch functions available. These we felt are more than adequate. Standard features like the ability to keep the food warm, the ability for it to start at a particular time are greatly valued. The auto off features when the pressure or temperature rises to unsafe levels has grown to be common too. Visual pressure indicators are present on some variants too which we liked.
Another important ease of use element is related to its functionality. If the electric cookers can double up for a number of things and do it well like the Cuisinart for instance, then it can save you the trouble of buying other items and keep your kitchen counter clutter free.
Maintenance

Maintaining an electric and a stove top is very much different. Typically stove tops are much easier to clean and unless they are aluminium they do tend to retain their appearance well. Most stove tops are also dishwasher safe making them a breeze to clean. Electric options can be harder to clean so models that have more dishwasher safe parts or a solid non-stick profile were highly regarded. Cookers that retained an odor even after cleaning was not something we favored even if the odor does disappear quickly.
Another trait that is greatly desired is the availability of spare parts for a specific model. If general replacement parts can be purchased without shelling a premium fairly frequently then it's a very big positive. Brands like T-Fal which have a very specific type of gasket will need more monetary input to maintain in the long term. Ideally, you wouldn't want to spend half of the price of the cooker on just buying a spare gasket.
Pressure cookers are generally frequent use products so they will wear out; we've looked at the durability element of the cables in the case of electric options and even the ability to wipe off excess steam off the surface. Customer service is another thing that is vitally important for us considering it's a frequent use product. The ability to offers solutions quickly and replace defective products swiftly without causing much hassle for the consumer is what we looked for.
FAQs
Frequently Asked Questions

Q: Very briefly, how does a pressure cooker work?
A: How a pressure cooker works is also what makes it very efficient and effective. In a nutshell, the pressure is created inside the cooker by boiling broth or water, the steam is then trapped which in turn raises the temperature inside which can cook food very quickly. The pressure is then released at the end following which the device can be opened.
Q: I still see a lot of cookers around that use weighted valves and not spring loaded ones. Which ones are better?
A: Spring loaded valves are usually better as the mechanism ensures that no steam escapes; this will help you cook your food much faster. Weighted valved cookers have steam constantly escaping so the cooker always has to work to maintain the pressure. Weights also have to be made of good quality to ensure they stay on. Also, these tend to collect a lot of grime and dirt quickly and can be a pain to clean. Another advantage with a properly executed spring option is that you have the ability to adjust pressure settings manually. Typically with a dial.
Q: If my cooker has a quick release option then what benefits does the natural pressure release have?
A: While some foods come out just right when the pressure is quickly released most are still being cooked even when the stove is turned off or the power stops. Food like soup or pasta usually foams and even rise to an extent so you wouldn't want this foam shooting out of the valve.
The quick release comes in handy in foods you want just right and in scenarios where you would really like to avoid the risk of overcooking them, so things like vegetables, potatoes, and eggs even tend to fall in this category. In electric pressure cookers, the device switches to the Keep Warm mode most of the time so that you never have to have a cold meal even if you are delayed.
When you do decide to release the pressure quickly make sure your hands and eyes are away from the valve as it can mean a trip to the ER if you fail to do so.
Q: How long does the natural pressure release process typically take?
A: About 5 to 30 mins depending on the size and what it is you are cooking.
Q: Since the pressure is important, what characteristics design wise do I look for?
A: The bottom of the cooker is quite important. Look for a model that has a thick bottom made of steel & aluminium. These cookers are the best because they take advantage of the conductive properties that aluminium has without it reacting with the food. These cookers can also keep the pressure steady which means you can cook better faster. Look for a cooker that's wider and not taller. Another characteristic is that you don't want bulging sides as straight sides are better at keeping the pressure steady getting you the best results.
Q: Countertop or Stovetop: which cooks better?
A: We touched on the differences earlier but the countertop or electric options tend to do a better job of cooking things evenly. The energy efficiency means that no heat energy is wasted and the juices and flavor are better retained instead of escaping with the outgoing steam. It's easy to scorch things, especially when making things like risotto or grainy mixtures. These scorched items can be very hard to remove. Stove tops cook them faster and are better for searing.
Q: Why do Aluminium cookers & surfaces darken & is it bad for my food?
A: Aluminium tends to turn grey or black when you boil water and cook low acid foods. Alkaline foods will darken them and acidic foods do the opposite. Which is why manufacturers will advise you not to chuck them in the dishwasher if you wish to keep their appearance. The acidic food can sometimes have a metallic taste too.
As for the safety question. Yes, it is safe. Even if some Aluminium mixes with the food it is most certainly harmless and you can ingest more from other sources anyway. This is not great for all folks though especially if you have kidney issues.
Q: When I look for pressure cookers I also come across things that are called pressure canners, what are they for?
A: Pressure cookers & canners are similar. They both can be used to pressure cook foods well with the canner having the ability to handle more types of foods better. Pressure canners are larger and do a great job of holding the pressure well. Canners are great at safely cooking foods that need extra care. Like high acid foods require the pressure to remain constant and be monitored for safe cooking and canners typically have a pressure valve on top of them to ensure this takes place.
Sources
InstaPot, Benefits of Pressure Cooking
Wikipedia, Pressure Cooking