Best Pressure Cookers Reviewed & Rated for Quality
In a Hurry? Editors choice: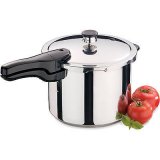 Test Winner: Presto 6 Quart

The pressure cooker is one of those pieces of cooking equipment that seem intimidating until you really use one. The whole idea of pressure when working with really hot water, and hot oil and hot things, in general, leads to images that involve the explosion of ultra-hot liquids all over your house. And nobody wants that to happen so we can understand your reticence to dive into the joys of pressure cooking. But we're here to tell you that you need not be afraid. Because these things are going to take the idea of retaining moisture and slow cooking to an entirely new level of deliciousness. So go ahead don't be afraid dive in and pick one of the great selections on our list here and get to cooking. You will not regret it.
Standout Picks
Criteria Used for Evaluation
10 Best Pressure Cookers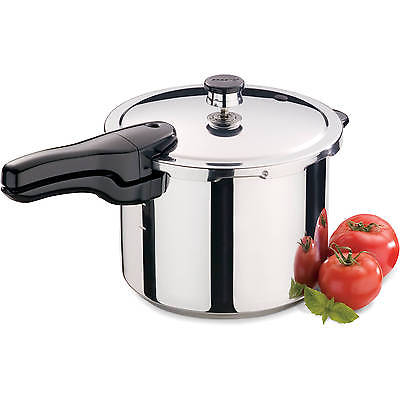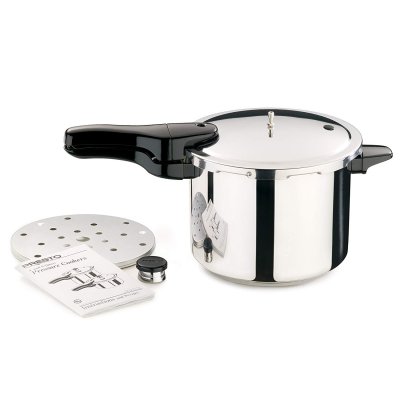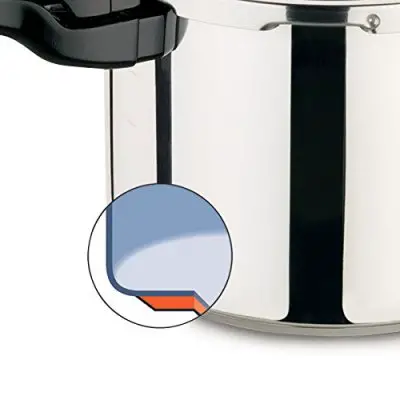 Next up, it's the Presto 6-quart stainless steel variant. It doesn't get much simpler than this as it almost resembles a generation 1 cooker which uses a weight-based valve that rises and falls to let the steam out.
Fabulous flavors
The cooking quality is quite something with the flavor being quite rich and whole chickens can be cooked in anything between 25 to 30 mins. It's also much quicker than microwaves when handling simpler items too. All the parts are machine washable as well which makes it very handy indeed.
Other users opinions
The downside is that, as many users reported, the handle comes loose very easily. Since the handle is held together by a single screw instead of two it does tend to be more susceptible to the movement caused by the cooking process. Another issue faced by many users is that the screws can rust. Replacement parts can be obtained easily enough though and this also comes with an extended but limited 12-year warranty.
Cost and Value
In terms of value, it doesn't get better than Presto. You almost get what you pay for with this cooker and if Presto manages to improve the build quality of the screws this one becomes a no-brainer.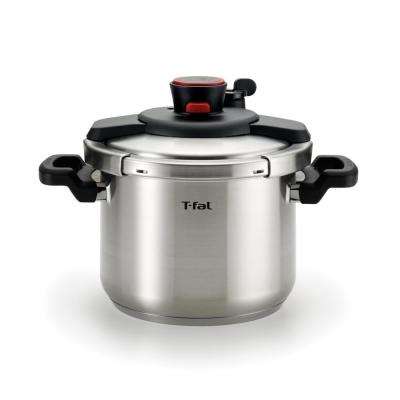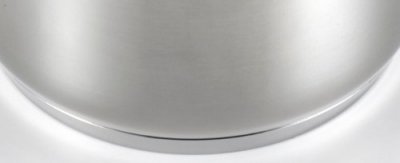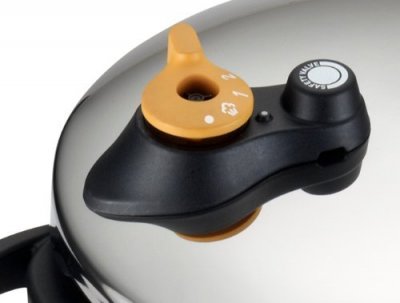 Another one of our favorites, at least with respect to stovetop models, is the T-Fal P25107. A simplistic overall design but it employs adjustable pressure settings as well as enhanced safety.
Handle design
Ergonomically the T-Fal gets one over some of the other models as it has a handle on the opposite side as well. This may seem like a simple thing but it helps greatly when moving the piping hot cooker from place to place. The build quality is something we were impressed by with not many rusty screws among other positives.
What you are getting
Performance-wise the flavor and taste at the end were quite good. The speed was marginally slower than the Presto but excellent nonetheless. The downsides are more related to the replacement parts as the gasket size is not standard so you cant swap the existing one with any generic model. Hence you have to buy a T-Fal. The pressure mechanisms when cooking different items like chicken, fish or vegetables is not the easiest to master as we found that many users too had trouble getting to grips quickly. Not a major downside though.
Cost and Value
The T-Fal is slightly more expensive when compared to the 2 Prestos on the list but you certainly get better quality to match the price tag. T-fal's replacement parts can be expensive so this will drive up the cost in the long run.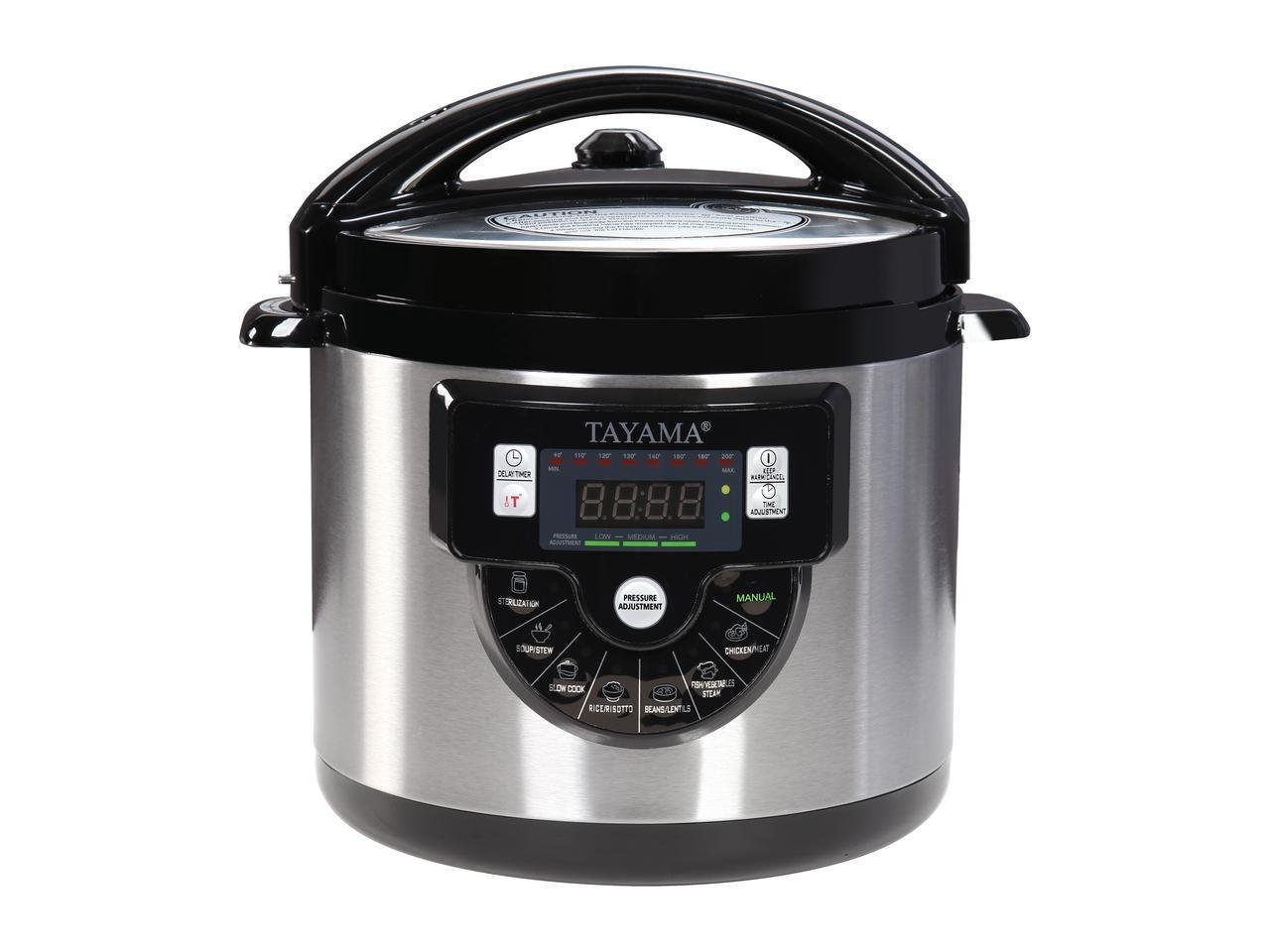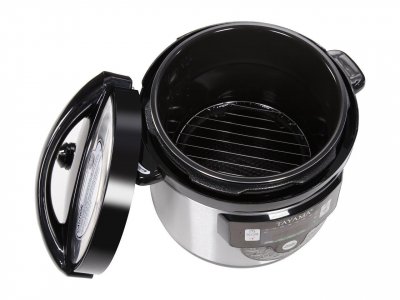 Now let's just say that when it comes to anything dealing with pressure, cheaper isn't necessarily better. But in this case, we're pretty confident that despite its low price point The Tayama is a tremendous deal for not much cash. It's got most everything you're looking for in more expensive models. Digital display and 8 in 1 feature that allows it does everything from simple warmups to ricing, canning and steaming. A huge bang for the buck. Take a close look at this one.
Flavor Infusion Technology
A really complicated way of saying that the pressure forces flavors inside your food, which is the whole idea still, it works, and so does this cooker.
Safety Features
This is another model that employs extensive safety features and has a safe-lock mechanism that prevents you from accidentally opening the cooker while it is being used.
Cost and Value
The Tayama is cheap, straight up cheap. It's so cheap we feel like we're missing something, but after some fairly extensive research, we're comfortable recommending it in our best value category.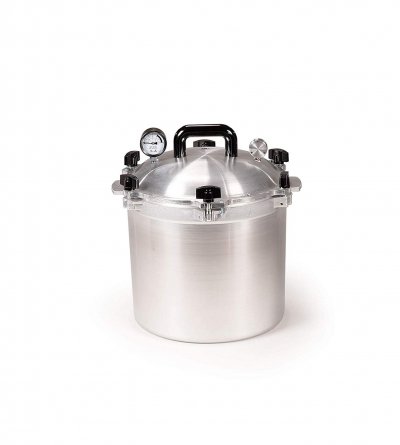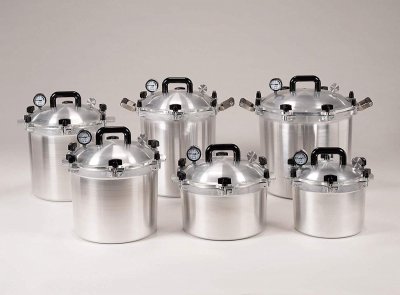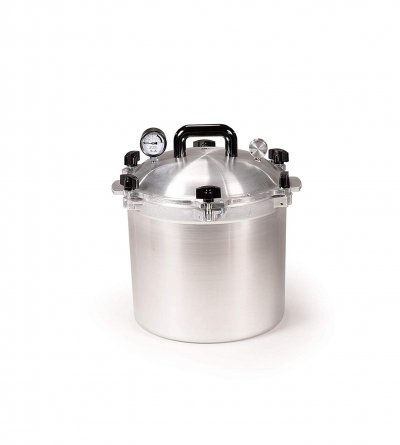 Now, this is a unit like they used to make them. A solid stainless steel cooker with valves and the screw handles just like in the old days. And it works like a charm. And while it's primarily meant for canning we think it's just about perfect for anything you want to do.
Metal-to-Metal Sealing System
This ensures a tight seal and also ensure there are any gaskets that can wear out over time. This is simply put metal to metal tightening cooker. It'll take a bit of muscle to get it open and closed but it's worth it.
Automatic Pressure Release
The easy to use display allows you to release pressure as needed and allows you to keep a close eye on exactly what's going on with your cooker.
Cost and Value
This is a pricey option no doubt about it. But if you're looking for a cooker that can serve double duty as a canner than this is the one for you.

5

. Presto 6 Quart Aluminum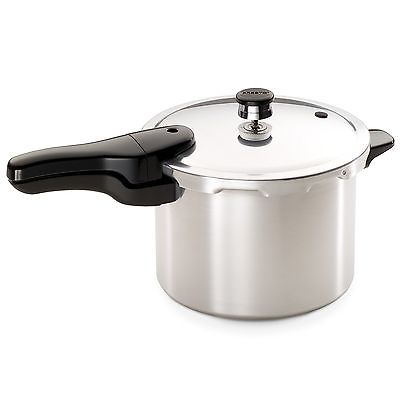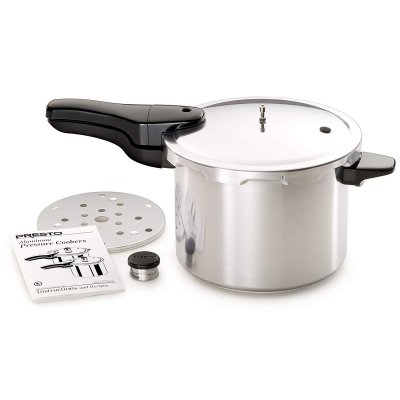 It's the Aluminium brother of the model we touched on earlier. Aluminum is a superb heat conductor hence performance-wise these cookers are very fast.
Materials
The material is also light so if you are looking for a cooker that is not so hard on the wrist to list then this is certainly the one for you. The quality & softness of the meat is what really caught our attention. Not many cookers can produce soups, sauces, meat, rice and other things at such high quality.
Users opinions
The appearance of the cooker can diminish over time when compared to stainless steel. It can appear black & be a hassle to clean. Durability wise, stainless steel models are slowly beginning to take over. This cooker is not ideal for tossing in the dishwasher too. The quality of the connecting mechanism on the handle is similar to the faults the stainless steel presto has. Redesigning this can greatly increase the effectiveness of this model. Overall, a nice spare cooker to have around to supplement your tasks.
Cost and Value
For the most inexpensive on our list, the performance is quite stunning. If you can look past the downsides that aluminum has in the long run, you can very easily go all out with this and replace it in a few years' time. For the price, it's certainly worth buying in our opinion.



Farberware has a great reputation and it's easy to see why. Not only does this cooker seal in moisture, and brown your food and a lot of other things, it has a safety seal and a pressure release valve just in case you get nervous about all that pressure that's just sitting in your kitchen. The 9 different settings and built-in time add to the ease of use factor.
6 Quart Capacity
This is a mighty big cooker which means you can get whole chickens in this baby and not worry about having to stuff it in like a sardine. And trust us when we say there are few things better than a chicken cooked in one of these. With plenty of room, it's easy to see why this is a poster child for people who love to use them.
Dishwasher Safe
This makes all the difference in the world as these things can get messy after a day of slow pressure cooking. So, when all is done and dinner is over just rinse it out a bit and throw it in the washing machine and it's good for the next round of cooking.
Cost and Value
The Farberware comes in at a great price for everything that it gives you. Nine Presets, pressure lock, and safety valve, it's plenty big and can do everything from making stews to brown a chicken. We're big fans of pressure cookers in general but have a particular soft spot for Farberware.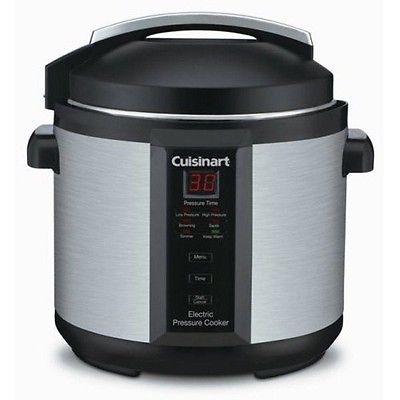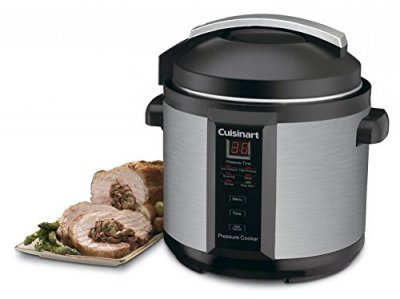 Next up, is the Cuisinart CPC-600 which is no slouch either. For the occasional and avid cook, this cooker can really handle most things you can throw at it.
Functions
Granted the performance may not be as good as the Instant Pot or the Breville which we will touch on in a bit, it's nonetheless a force to reckon with. You have settings for browning, Sautéing, simmer, and a setting to maintain the warmth of the food for long after the completion of the cooking process.
Consumer thoughts
The major downside which most users have tended to agree with is that the non-stickiness of the cooking pot is not very good. Food does tend to stick to the surface which means you have to soak the inner pot in hot water which can be followed by a long scrubbing process to get the pot ready for the next session. The Cuisinart does get the job done however at times the pressure maintenance is not as good as the Instant Pot in our opinion.
Cost and Value
Its main selling point as you can probably tell by now is its price. If you are looking for a basic electric cooker that can do most things really well, then the Cuisinart is the one for you.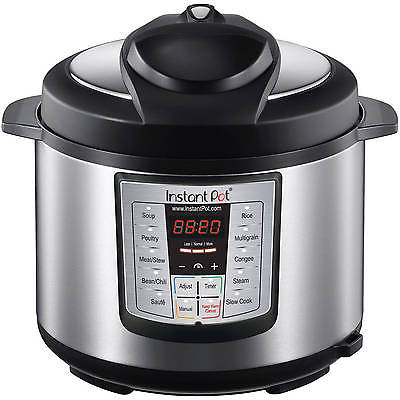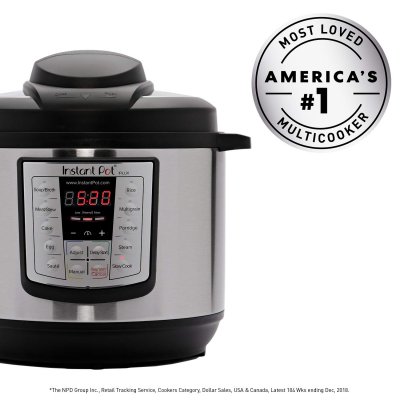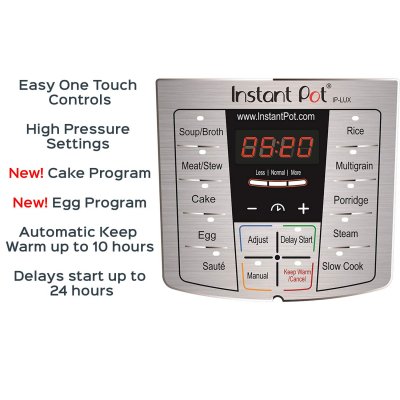 The instant Pot Lux 60, we feel, is an ideal choice for those who are willing to sacrifice some of the added functionality that comes with the Duo60 for the more affordable but good performing Lux60.
Great Features
You get some fewer functions on the Lux60 when compared to the DUO which we touched on but for those who are not making things like yogurt the 6 quart – V3 is quite a sweet deal. Things like eggs, potatoes, soups, and meat come out really well. You can pressure cook for 4 hours straight with this model too, something which is a commonality amongst many affordable options.
Quality
The only limitation is that the pressure doesn't quite get up to the ideal 15 PSI mark although this is quite common on many mid-range options. Durability wise too many users found the Instant Pot to be on the iffy side in the long run.
Cost and Value
The v3 that features the new microprocessor is a very affordable pressure cooking solution. The V2 can be much more expensive however since the company would like you to make the shift to the more advanced V3.

9

. Breville Fast Slow Pro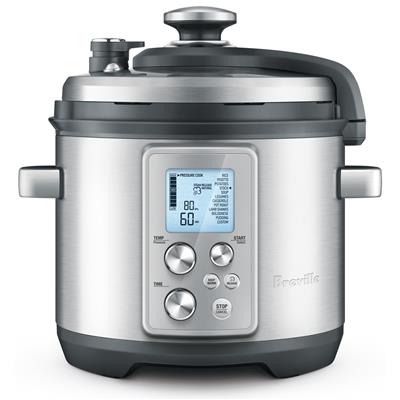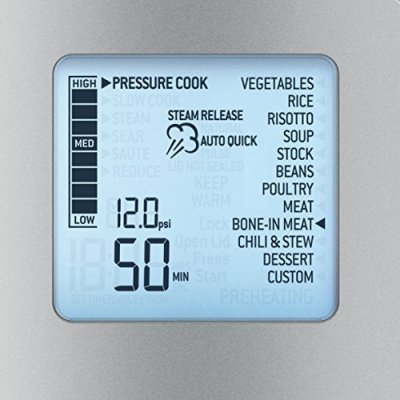 The Fast Slow Pro by Breville is another fantastic cooking option. The first thing that appealed to use was its build quality and you are not just paying for a fancy LCD display. The pressure functions work like a treat.
Easy to use
It's fairly easy to clean and control interface is a breeze to handle. There are about 11 inbuilt pressure cooking settings and a custom option too for you to cook items to your own preferences. This is quite handy to have especially if you know exactly what you want. We liked the fact that the slow cooking option is no slouch either. It really works well and you can cook on two different settings from two to 12 hours.
The good with the bad
A downside is that the Breville doesn't sear so well. This is the direct result of using the non-stick pot instead of stainless steel. The latter can reach higher temperatures and is known to be more durable. The non-stickiness is very good which is a testament to the build quality on offer by Breville. For those who want to opt-out and buy a stainless steel option, well this is not possible at the moment.
Cost and Value
The Breville certainly won't be easy on the wallet. One of the higher-end models available, this can really save you space on the counter as you will not have to go out and buy a separate pressure cooking solution.

10

. Fagor LUX Multi-Cooker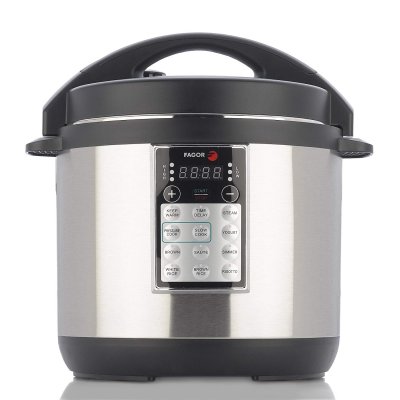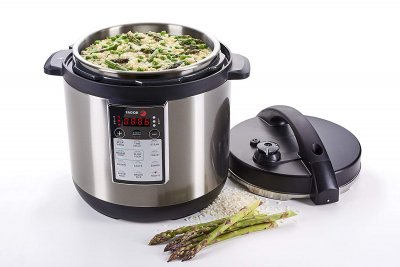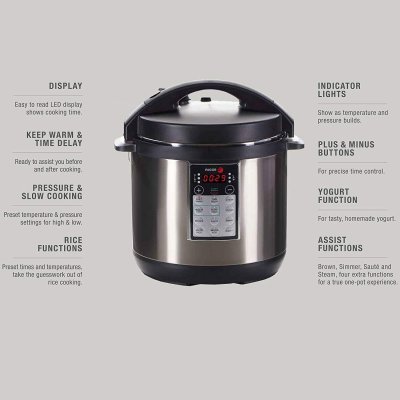 The Fagor will allow you to set it and forget it for up to a 10-hour time limit, so leave something in the cooker in the morning and come home to dinner and a house that smells heavenly. That's hard to beat. The stainless steel is dishwasher safe and it comes with a user manual to make sure everything is working as it should.
Delay Function
This is incredibly helpful in case you're morning is as chaotic as ours. Set it up the night before and set a delay so in the morning you don't even have to think about the cooker, just leave and come home to dinner. It's almost like delivery on your kitchen counter.
Warm Function
Just in case you can't make it home in time this can be programmed to automatically switch to warm mode to keep your food warm but not overcooked. This is a nice little lifesaver for anyone whose life is a bit hectic, which is all of us really.
Cost and Value
A little bit pricier than some of the others on our list but we're partial to Fagor and they come with all kinds of little features that take the guesswork out of pressure cooking and we appreciate that.

Subscribe to our Newsletter