Best Backpacking Stoves Reviewed and Tested
last updated:
Oct 12, 2019
It's not a requirement but having a backpacking stove sure can make life in the wild a lot more comfortable and a lot more comforting. After a day hiking, there's really nothing better than being able to cook out of doors especially if you want to have some control over the heat distribution and want to make sure that even if you can't find firewood you always have access to a fire. It's really as simple as that and if you have all your other camping gear taken care of, tents, and backpacks, and boots, then think about adding a small portable stove to your list of essentials when you're planning a trip into the outback. With that in mind here are a few of our favorite stoves. Some of them are made for car camping some for backpacking but all of them work great.
In a Hurry? The test winner after 14 hrs of research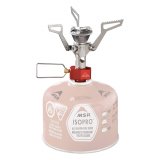 MSR PocketRocket
Why is it better?
Adjustable Flame
Portable
Easy to Start
Comes with Travel Case
In a
Hurry? Editors choice: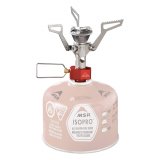 Test Winner: MSR PocketRocket

18
Researched Sources
10250
Reviews Considered
14
Hours Researching
18
Products Evaluated
Weight
Portability
Weather Resistance
Durability
Value
By Default
10 Best Backpacking Stoves Reviewed and Tested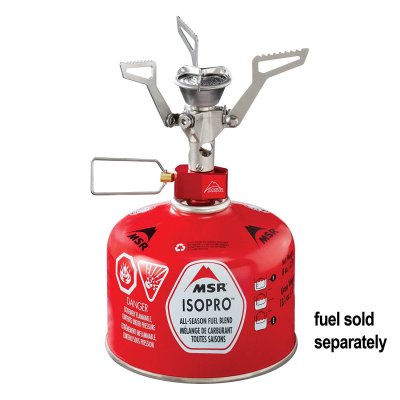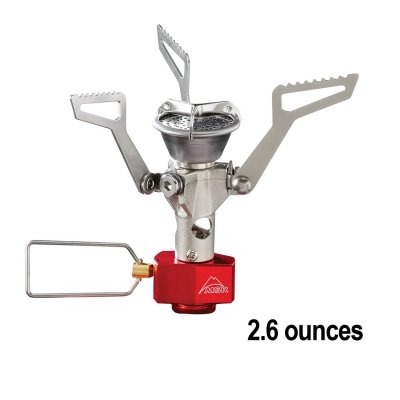 Adjustable Flame
Portable
Easy to Start
Comes with Travel Case
Now, this is a great little stove ultralight, compact and the perfect companion for your week in the woods. It can boil a liter of water in minutes, it comes with an adjustable flame, and lights up quickly without any priming or pumping. This is just a great stove and it will keep you in hot food for days.
Compact and Portable
This comes with its own carrying case and the stove itself folds up easily so the biggest part of this stove is going to be the canister which really isn't that big and will fit easily into a backpack. This only weighs about 2 ounces and folds into a 2X2X3 inch easily stowable package.
Adjustable Flame
At full bore, this stove can boil a liter of water in about three minutes and when you're ready for your morning coffee that wait can seem interminable. But it can also burn a little slower and cooler in case you need a bit more finesse in the things you're cooking. Being able to put your meal on simmer can sometimes save your meal.
Cost and Value
This little canister can come in at a very reasonable price. If you're looking for a small, incredibly portable stove that's going to fit into your backpack easily, or pop into the trunk with no problem at all then this is the stove for you. Cheap, portable and powerful, it doesn't get much better than that when it comes to cooking stoves.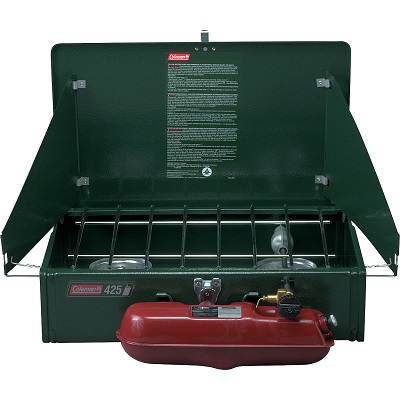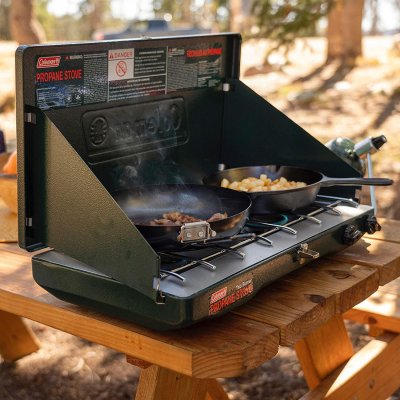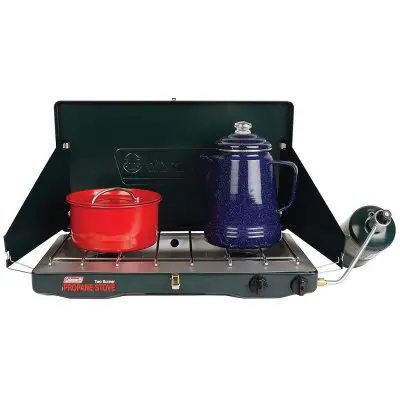 Built-in wind block panels
Cooking power is 20,000 BTU
Coleman is one of the big brands for outdoor equipment, and comes in solidly at the #2 spot. They really nailed it when it came to making a stove that was ready to go out of the box. More than enough people are familiar with the excellence that is Coleman, and this stove is a viable portable option. With some great outdoor features built into it, there are few others that can compare.
Easy To Clean
With a removable chrome-plated grate, not only is it resistant to minor damage but it's easy to clean. This is one product where the quality doesn't need to be questioned.
Ease Of Use
There are a lot more advanced features to take advantage of with this unit than others, but the learning curve is low. Coleman does a good job of keeping things accessible to all levels of users.
Price and Value
The price is low, although nowhere near as low as the top product on the list. With everything that comes with the stove, it is still a good deal.
3

. Iwatani Corporation ZA-3HP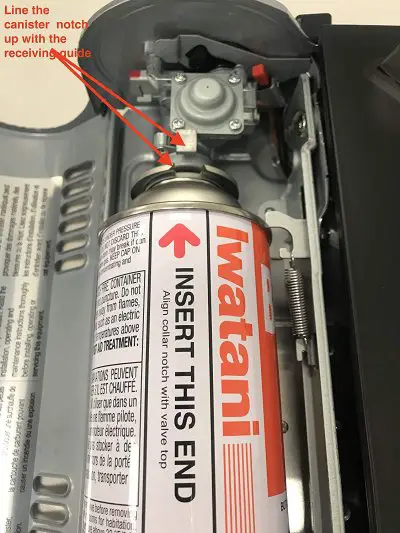 Comes in three different sizes
Great fuel efficiency
Iwatani Corporation of America specializes in cooking products, on both the residential and industrial sides. Their presence in the industry is small, yet they have managed to grab the attention of multiple outdoor magazines.
Different Sizes
When you're unsure of the right size to get, then having a manufacturer like this one makes a big difference. The ZA-3HP comes in a variety of sizes that will make the most out of your current needs.
Easy To Use
The operation of this product couldn't be any easier, and it is very beginner-friendly. The small uptick in price is worth it if you want one but don't want the hassle of more complicated stoves.
Cost and Value
Depending on the size you get, the price goes in the order of low, average and high. Their largest model is one of the few high priced on the list.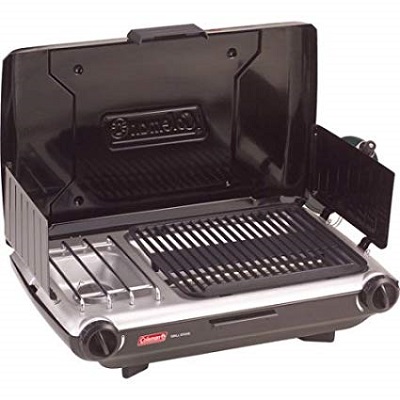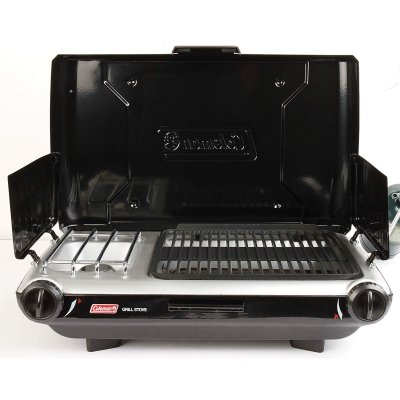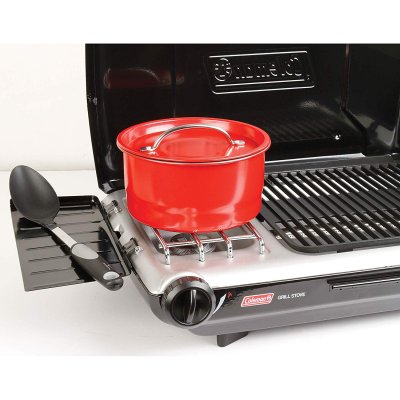 The grill and stove can be used at the same time
20,000 BTUs
A lid would have put this higher on the list
Coleman is on the list again, this time for their perfect flow grill stove. As one of the best models to come from their outdoor lineup, this still ranks high years after being released.
Comprehensive Instruction Manuals
These can be dangerous if not used properly so it's important that you know what you are doing. All products from Coleman come with comprehensive instruction manuals. You'll never be lost on what is needed to get your stove going.
Block Panels
Unfortunately, we can't control the weather, but we still need to eat. Coleman includes block panels to help keep the flame going and protect from high winds.
Cost and Value
The price hovers close to average but is still lower than the bulk of the products in the industry. As a Coleman product, you'll be getting the best quality possible.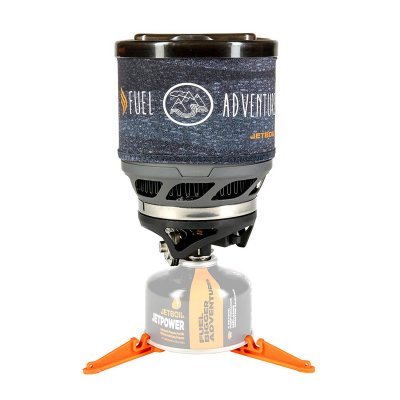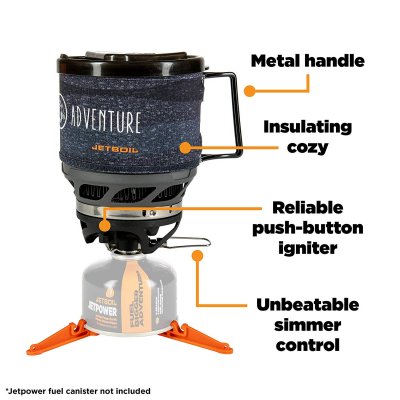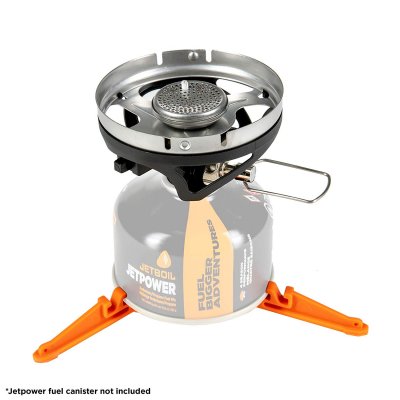 Flux Right Technology
Pushbutton Igniter
Handled Bug
Optimized for Low Spoon Angle
We're wowed by this stove because of all the great thinking that went into its production. It's incredibly self-contained and travels easily, but when you're ready to cook it assembles into a powerful easy to use little stove with a removable pot with a handle and all other kinds of great accessories like an optimized spoon handle and a plastic plate that comes with the stove.
FluxRing Technology
What FluxRing technology means to you is that this stove will bring a liter of water to a boil in about two minutes, and it uses less fuel to do it than a lot of other stoves. This not only gets your food, or your coffee to you faster but it also means you'll have more days in the outback with the possibility of warm stove cooked meals.
Pushbutton Igniter
Another stove that comes with a simple set it and forget it starter. There's no need to prime this stove, no need to pump it or pressurize it just put it together and hit the start button and you're cooking with gas, literally.
Cost and Value
The MiniMo is a lot more expensive than some of the other options on our list but with all the features and all the thought that went into this stove it's easy to understand why it costs more than some of the others. This is a stove that's designed to give you a full kitchen experience not just start a fire.
6

. BRS Only 25g BRS-3000T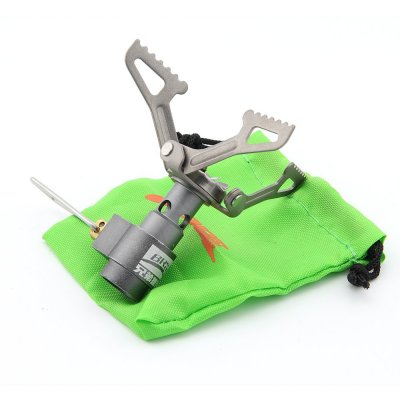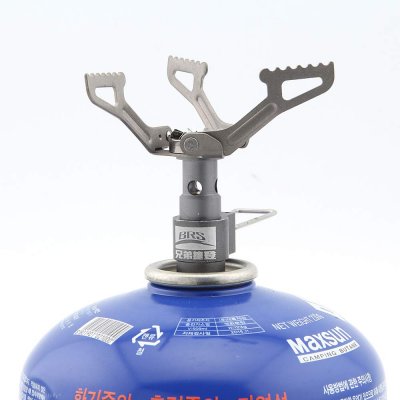 Made from titanium-alloy
Very light
One-piece structure
Great price
Seals can get heat damaged
Questionable durability
The BRS Only 25g BRS-3000T Ultra-light Titanium Alloy Camping Stove is built for the serious outdoorsman in mind. The makers took into consideration how much stuff you'll need to pack with you on a trip, and in turn, produced a very lightweight stove that won't take up much room at all. On top of that, they wanted their stove to be able to hold together well time after time despite its stature, so they used super-strong materials to build it.
Ultralight
By design, camp stoves aren't going to be very big, though there are exceptions. If you're buying one in this style, however, weight is important to you, and the BRS Only 25g BRS-3000T Ultra-light Titanium Alloy Camping Stove is ahead of the pack in that regard.
Titanium
This camp stove is constructed in part with titanium alloy materials, making it super rigid and resilient for those extra grueling long hikes in the woods. Knowing that at the end of the day you're going to be able to have a hot meal is a good feeling.
Cost and Value
This camp stove brings a bit of luxury onto a camp out by providing a hot meal after a tiresome day on the trails. For that comfort alone, the low price it takes to buy this stove is more than worth it.
7

. Bisgear Camping Cookware Stove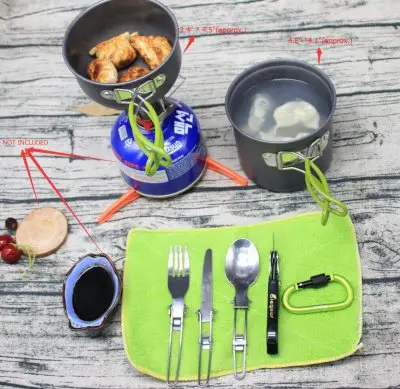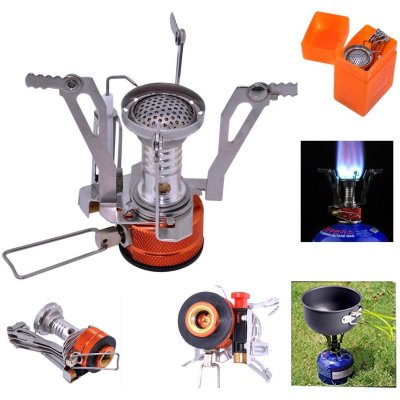 Lightweight
Comes with its own pot sizes and styles
Efficient burning does not waste fuel
Really durable
Unpredictable Delivery
Scratches Easily
We've included the Bisgear here because it's a whole thing. Literally a whole thing, a stove and a matching set of utensils pots and pans designed to fit the Bisgear. We haven't seen that very often and we think it's pretty cool, a whole all-inclusive set-up like those picnic set backpacks you can buy but add-in the ability to cook your food on site. Bonus!
Versatile
For a product that is even smaller than its originally minuscule predecessor, the Bisgear comes with its own pots and pans which makes it easy to find products it can work with.
Efficiency at its best
The fuel used to power this stove is Isobutane, which is a very high-efficiency LPG, allowing for it to work in lower temperatures than normal. It also has a lower environmental impact than most other gases, which in this day and age is never a bad thing.
Cost and Value
As small as it, the Bisgear actually comes in towards the high end but it's not a bank buster. In that price range though you're getting quite a bit. and you've got some top quality construction and enough power to boil water in about four minutes, so you are getting good value.
8

. Primus Classic Trail Stove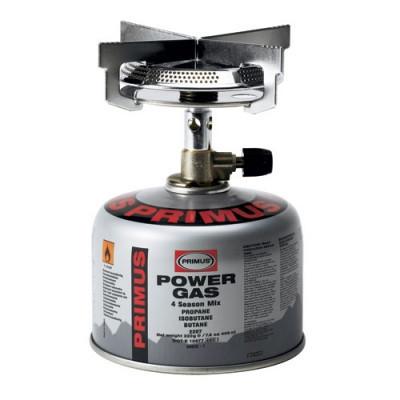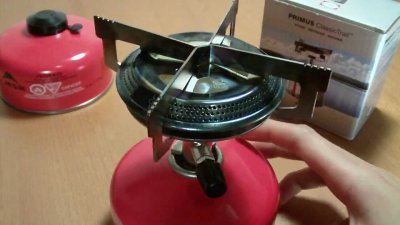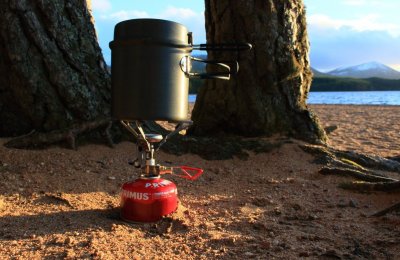 Built-in windshield
Large diameter burner
Solid construction
Holds a flame really well
Larger than a traditional fold-up stove
Leaks when the fuel tank is attached or removed
This is a very simple, classic-looking camping stove, almost a throwback to decades past. That just goes to show that Primus has pretty much perfected their craft, and have no need to add any unnecessary bells and whistles to this well-made stove. It`s light, powerful, sturdy and robust, which really, is everything you could want for your outdoor cooking needs.
So much cooking space
Unlike most other portable backpack stoves on the market, Primus built theirs with a much larger diameter burner. Dwarfing the approximate one inch found on the others with a 3.25-inch diameter lets the food cook much faster and more evenly.
Back off wind!
The built-in windshield on the Primus Classic Trail Stove removes the hassle of having to hunch over your stove to block out the wind and allows the food to get done that much faster.
Cost and Value
With classic look comes a classic price. You are going to get exactly what you'd expect with a portable stove, and you`re going to be spending all that much for it. As far as reliability goes, this is a great value.
9

. Flash Personal Cooking System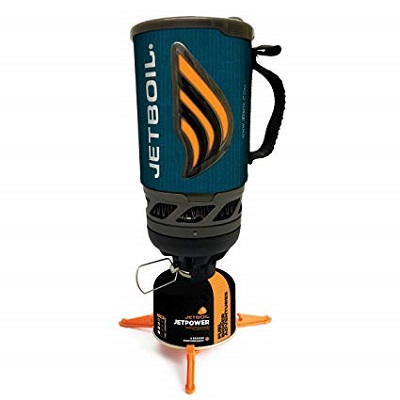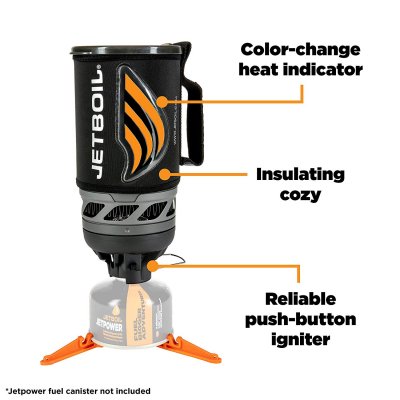 Built-in temperature indicator
Jetboil Fluxring maximizes efficiency
Compact footprint
Boils water in two minutes
Automatic ignitor can be finicky
Cozy is not very heat resistant
Given my penchant for variety as well as unorthodox choices, I had to throw this one on the list. It comes complete with a one-liter capacity cooking cup and a stabilizing tripod, making it unique looking, at the very least. This one is more for single-day outings than a prolonged overnight trip. Nonetheless, it is very efficient, able to boil two cups of water in under two minutes, which is especially handy on those cold autumn or winter morning hikes.
It's ready!
This model is an update of a previous version, and it's added an external temperature indicator by way of a color-changing window. It's a small upgrade, but one that is infinitely useful and well thought out.
Built in cup!
The cooking vessel used here is a one-liter cup that attaches directly to the burner, resulting in very little heat loss. The cup itself has an insulating cozy and sip through the lid, preventing burns and spills.
Cost and Value
For such a small and specialized stove, this thing is expensive. Keep in mind though, that because of its niche use, it's a very efficient, high functioning piece of equipment, and will always bump the price tag up. For what it does, it does very well.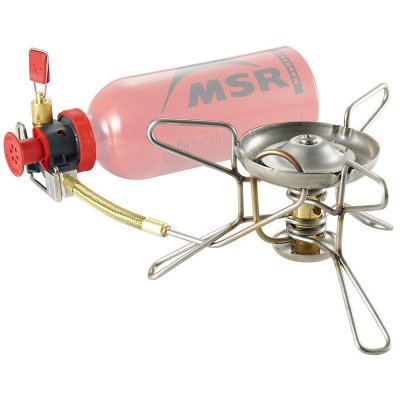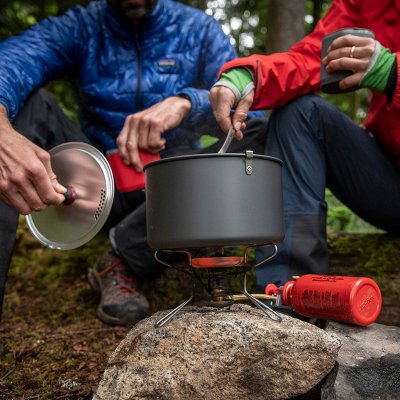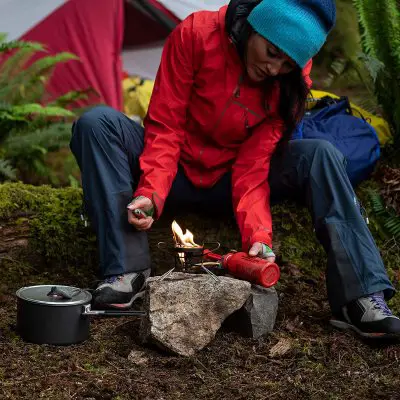 ShakerJet Technology
Steel and Bronze Construction
Easy Cleaning
Uses White Gas of all varieties
The MSR Whisperlite is a tiny little stove that packs a real punch. As with a lot of our other models, the largest thing about this stove is the canister. The actual stove folds up and takes up almost no space at all. The canister isn't that large either so it will fit easily into your backpack.
Shaker Jet Technology
What this means for you is that this stove is easy cleaning is a breeze and this stove won't' ever clog if you use it correctly.
Sturdy Construction
Made of a combination of stainless steel and brass this stove is sure to last for years if you take care of it.
Cost and Value
The price on this stove comes in squarely on the mid-range. But the combination of portability, high power, and easy cleaning, make it a good choice. Plus we like the MSR brand, so we think this is a great stove for the price.
Criteria Used for Evaluation

Weight
Weight is a very important factor to consider because like its name states, it goes in your backpack. So do a lot of other essential items, so space is going to be at a premium. Now, there isn't a lot that can be done to drastically change the weight of a stove, but there are a few options.
First off is the type of stove that you choose. They do come in many different styles, from small folding models to bigger single burner styles, all the way up to mini BBQ Hibachi types. Which one you pick all depends on what your needs are. If you hike with friends or family and like to make an occasion of it, maybe choose one of the larger ones. These are going to add weight to your pack, but usually no more than a couple of pounds. Now, if you like to go solo, or even with just one other companion, all you`re likely to need is a compact folding stove. This is pretty much just a stand and a burner, so of course, it won`t weigh much, about three ounces or so.
The bottom line seems to be that it's not about how much the stove itself weighs because it's not going to be very much. It's more about the fuel you choose. The bigger the stove, the more fuel you`ll need, and the bigger and heavier the canister are going to be.

Portability
These stoves will need to be portable, that's just the nature of its design. Unlike weight, however, there are several different measures that can be taken to reduce the footprint of the stove, making it even smaller and less intrusive. At that already tiny size and limited room for improvement, it is a bit of a give and takes that needs to be considered.
The foldable stove is going to be the smallest option, bar none. As I've said before, it's just a burner on a tripod and uses a pretty small fuel canister. These are great stoves, ideal for shorter trips where full meals aren't needed. I say this because they are small, so a using full-sized pot is not going to make a lot of sense in this case, limiting the user to a smaller, more specialized vessel.
The next size up is a wood-burning stove that is only slightly larger and is shaped a lot like a tin can. These ones don't fold up, but their size is not significant at all, and the fuel source can usually be found lying close at hand. They do offer less cooking power and even less control since you need to rely on a lightly contained open flame, but they will do the job, and provide more of a sense of "roughing" it.
Now we come to the big boys of the camping stove scene. That's a relative statement, because they aren't big at all, taking up no more room than is needed to house either two small burners or a modestly sized grill top. These are the ones you're most likely to find with small groups of campers out for a few days. These aren't as common, however, since once more power and surface area is required, people start to turn to the much larger and more efficient hibachi-style grills, or will even just haul along a full-sized charcoal BBQ.
One potential downside to increasing the portability is the reduction in cooking surface, cooking power, and fuel capacity. This isn't too much of a sacrifice, and manufacturers are always coming up with ways to make this a non-issue. In fact, there are a couple of foldable stoves on this list that actually boasts some of the highest BTU`s out there, and at least one with triple the burner size, so really, it's up to you to decide how much cooking you`ll want to do.

Weather Resistance
A big annoyance when it comes to outdoor cooking is the weather. Sure, you will find your diehard chefs that will cook in any conditions and happily struggle to keep their fire lit, but for the more sane and practical camper, many are built with at least some protection from the elements. The most common protection acts against two factors: wind and water.
For wind, there is really only one solution other than cooking in your tent (never do this!), and that is a windscreen. Many stoves already come with one built around the flame source, but these have to be small in order to not get in the way and aren't very useful. There are, however, larger windscreens available on the market that surround the entire portable stove, blocking out the wind from all angles while leaving you plenty of room to cook. Also, and this is very important, they are made from durable fireproof materials, usually aluminum. The nice thing about these windscreens is to fold up flat, meaning they really won't take up any space in your pack.
The next sneaky villain trying to ruin your cooking experience is water. Now, it's much more difficult to keep the rain away from the flames, even after you've taken the wind out of the equation. The best way to manage this is to use a canister stove, since the LPG used as fuel is unlikely to go out due to water, and the flame itself is pretty well protected.
In summary, it was fairly difficult to come up with a proper list of criteria to use for selecting the optimal stove, since they are all very similar in design and function. It all boils down to need, and to a smaller extent, how much money you're willing to invest in this piece of equipment. Do you want classic, simple performance, or are you looking for high tech efficiency to get you hot food fast?

Durability
Whether you're just going camping with the kids or hiking up a mountain, there are bound to be some bumps along the road. It's important that your stove can handle these bumps otherwise you'll get to your spot and find a broken stove in your pack. A good way to ensure that you have a durable item is to read what reviewers have said about it. They have used the item in real-world situations and can't tell you how it held up.
One good way to keep your item safe is to buy keeping it in a protective case while traveling. However, not all of the stoves on the list come with a protective carrying case. Now the debate is strongly in favor of having the case since it also doubles as a wind guard. Wind guards that come as separate pieces are less durable than using the strong case as one.
For users that tend to pack light, a protective case usually means unnecessary bulk that isn't needed. The smallest stove on the list can fit in a small pouch and is a far cry from the heavy and bulky models that come with a carrying case. When packing light is the only option, there is no room to lug around a carrying case with a stove in it.
And for many buyers, they tend to avoid these bigger models at all costs. Factor in whether size means anything to you and you'll get a clear answer on just how important the protective case is to your buying decision. A once great feature may turn into something that you're better off without.

Value
As far as the small stoves go, the prices won't vary all that much because there's not a lot that you can change from stove to stove. This is due to two things. The first is that portable folding stoves have pretty much been perfected after decades of innovation, and no more tweaking is needed.
The second thing is that its design is necessitated by the need to be fireproof in the face of the open design. Thankfully, the materials that have been chosen for their fire resistance also happens to be very cheap and efficient to produce. As such, since production costs are low and can't really be improved upon, you are not going to need to consider price all that much when choosing your new mini stove.
Now, as a contrast to the folding stoves, the higher end, and larger camp stoves can and will vary quite a bit in price, since their designs aren't as strictly dictated. Whether you're looking for higher capacity, more heat, or just flash, these stoves have plenty of bells and whistles that can rapidly jack up the price. Are they worth it though? They can be.
Some of them use proprietary systems for attaching the cooking vessel to the burner to increase efficiency. Some are designed to heat up food super rapidly or bring it to an extreme temperature. Others forgo the burner and incorporate a grill top to emulate an at home BBQ, or just have a really large cooking surface. In these cases, the increased price is more reasonable and even justifiable. It's when you get into the add-ons that are strictly cosmetic or take away from the experience that the price goes up but the value doesn't match up.
Most of the products on the list are low priced right out of the box. A small few are average to high priced, but they are worth the extra dollars when you look at the full feature list. Deciding to splurge a bit is a good idea depending on what you want to do with it. Some single stove sets let you combine them to make a two or even three stove set. There are even stoves that come with different options like wind guards and protective suitcases.
Find out the feature that attracts you the most and go from there, making it a priority to find out at least two things you can't live without. There is no point in getting one that doesn't use the fuel you want it to. And there is also no point in getting a stove that isn't as portable as you need it to be. Plenty of options are available with each type of stove, so the price should only be a factor if your wallet doesn't allow it.
Expert Interviews & Opinions
Most Important Criteria
(According to our experts opinion)
Experts Opinion
Editors Opinion
Users Opinion
By Default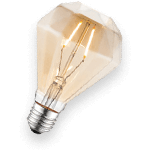 What's The Best Fuel?
Fuel-based units use either propane or butane. There are some key differences between the two that may swing your favor over the other. And in some cases, they can use either one so you don't have to settle. Propane is the popular fuel while butane tends to be used a bit less in outdoor gear. It's still an important alternative fuel source when propane is not an option.
Use With Caution!
The only dangers are through misuse, which is a common theme when users get frustrated with the instruction. Make no mistake they are a very powerful tool for cooking food. Besides the obvious precautions, manufacturers include a lot of detailed instructions about the use of their products. So if there ever comes a time where you need to call in the warranty, there will be a lot of questions related to the use of the product.
Always Keep It Clean!
Bacteria is a very dangerous thing, and the last thing you would want is for mold to grow in the same places where you make your food. The same care you provide to your dishes, utensils, and pots is exactly what your stove needs. There is also the issue of making sure that the area that you cook on doesn't have anything that could react badly with the surface. When using a fuel-powered stove, leftover oil could react badly and cause the flames to be unpredictable while cooking. With normal care, these can last for years without any issues.
Other Factors to Consider

Style
So your basic stoves come in three basic varieties: liquid, canister, and alternative-fuel are the three main types of backpacking units. Canister stoves are the cheapest and most recognizable and can be stored in small spaces. Liquid fuel stoves are reusable and connect to refillable fuel bottles, with options for using fuel that is accepted internationally. There is a lot of universal appeal with this type of stove since it has longer run-time than a canister.
Alternative-fuel stoves are a mixed bag, and useful for more experienced outdoor users. They use everything from wood, fuel pellets and other cheaper fuel with varying degrees of success. Some buyers even carry around two different types of stoves depending on the environment they will be cooking in. It's all about choice and knowing what will work as the best tool for the current situation.
Effectiveness
A higher BTU doesn't necessarily mean you'll cook food better. It will no doubt cook the food faster and at higher temperatures, but BTU is one of many factors that determine how good your food turns out. BTU is an acronym for British thermal unit, which is the amount of heat that is needed to raise the temperature of water.
Without getting too specific with the mathematics of it all, higher BTU is what you'll want if you are planning on doing elaborate cooking setups. Buyers that want to warm up leftovers or cook beans don't need to worry about BTUs since a low BTU can do the job just fine. Spacing, heat coverage and other extras are just as important. Combined with a good BTU it makes for a perfect cooking experience outdoors.
Frequently Asked Questions
q:

What is an integrated canister system?

a:

Whenever you see the reusable tall profile of this system, it is usually when they're boiling water. But an integrated canister system is much more than that, and some even allow you to cook and simmer your food.

They have long since evolved from being nothing more than water boilers, although there are still plenty of people that favor this approach over others. With the built-in windscreen, it is a value that is hard to beat for the time you save. When you're in low temperatures, there are few options that can achieve such a favorable temperature in a short amount of time like an integrated canister system.
q:

What are remote canister stoves?

a:

The more involved option is the remote canister model. With only a little bit more bulk added to the entire package over the standard canister system, you'll gain the benefits of extra room for larger pots and of course the use of its very own base. You can also swap out canisters a lot easier than other models, making the entire changeover process nothing more than a couple of minutes. The selection of remote canister stoves are a little less than what people are used to with other options, but they're still worth looking at if you want the power of choice.
q:

Are alternative fuel stoves useful?

a:

This is a mixed bag since it has some inferior specs when compared to the liquid and canister stoves. A good thing to point out with alternative-fuel stoves is that the industry is growing around it, so they are becoming more common than you think. Features that weren't available in them for years are now the standard and has really opened up the conversation on the usefulness of these compared to propane-powered options. So far, alternative-fuel stoves have maintained its ease of use over the other options while also being the lightest choice available if you want to bring a stove along for a trip.
q:

Can you cook in an enclosed space?

a:

This is something that is mentioned in every manual, and in case it isn't, the answer is always no. There is a serious fire hazard if you cook in an enclosed space like a tent or other area. Users also risk carbon monoxide poisoning, which can sneak up on you when you least expect it. Always choose an open area with fresh air when operating a stove. Even if it is for something as simple as boiling water, you'll avoid a lot of problems by staying in an open area.
q:

How can you keep canisters warm In cold weather?

a:

When the temperature drops and you want to make the most of your canister stove, a good way to keep it warm is by insulating it in something like your pocket or a sleeping bag. It's all about efficiency, which is something that can be maintained by keeping the materials warm before making use of them in the harsh weather. The last thing you want to do is try to warm up the canister after it has already dropped in temperature. Not only will you have a harder time getting it up and running, but there is also a slight chance it won't burn at all.
q:

Where can you recycle fuel canisters?

a:

Not everyone takes used fuel canisters, and it is location-specific. Some places still consider it hazardous waste, so be aware of the region you're in before getting rid of them. A great way to find out who accepts the canisters in your area is by looking up places that take mixed medals. If the local recycling program doesn't have a place by name, sometimes the manufacturer's website will offer information regarding the recycling of their product.
q:

Can you use old white gas?

a:

Some fuel has a harsher expiration date than the others, and white gas, in particular, can be a headache if it has been aged past its prime. You can technically use it, but you're risking damaging your stove by doing so. There are techniques that allow you to clean aged white gas and the best way to identify when it is getting old. Once you see the color change, it would be a good idea to consider swapping it out.
q:

Can You Use Full Pots And Pans?

a:

Spacing issues are going to be a concern for any model you purchase. Some models support full-size pots and pans while others are more limited in their spacing. In reality, it isn't really a spacing issue that you need to be concerned with, but the distribution of heat. A stove that doesn't heat properly will overcook, undercook and even scorch some of the things you want to eat.

There are pots and pans that are backpack stove friendly, and it is generally advised not to take the same ones you use in your kitchen. A little trial and error will play into this entire situation, as users get used to how their new stove operates with their accessories. A little bit of patience will go a long way, and in all cases, aluminum foil will be something that you can't live without. To get the most out of it, always use the aluminum foil sheets.
q:

Can The Stoves Accommodate Large Groups?

a:

This is where combining single units into one large unit comes into play. Although the stoves on the list that have double burners are great, when it comes to a truly large camping group, the possibilities of combining single units is endless. It allows you to cook big meals all at once, and gives you a lot more control over the temperatures of each stove.

This is especially useful when you want to use a stockpot, a large pot that is incompatible with double burners due to spacing. Multiple single burners can take care of multiple stockpots, giving you complete control over portions when handling large groups. Buyers that want to be as efficient as possible with fuel consumption can really take advantage of this arrangement, getting the most out of their burners.
Subscribe to our Newsletter