Best Universal Gun Cleaning Kits Reviewed
In a Hurry? Editors choice: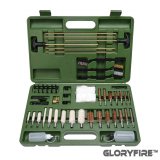 Test Winner: Gloryfire Universal Gun Cleaning Kit

If you keep guns in your home, proper firearm education is imperative for both yourself and your family members. The more a person knows about guns, the less likely they are to become a victim of an accident. Safe and proper gun ownership covers everything from
safe storage
to marksmanship practice to proper gun cleaning know how. Good rifles and handguns are precision instruments that are built to perform. Cleaning them regularly is part of proper maintenance and having the best gun cleaning kit makes it simpler to keep your firearms in top condition.
Standout Picks
Criteria Used for Evaluation
Model
The best gun cleaning kits largely depend on what type of gun you are cleaning. For example, if you prefer rifles or shotguns, then you don't want a kit designed for cleaning handguns. For those who like to use both types of firearms, there are products available to suit your cleaning needs. Some kits will come with added extras, such as specialized brushes, for more custom cleaning.
Size
Make sure to consider the physical size of the kit as well. The cleaning kits can be organized in two ways: home cleaning kit and field cleaning kit. If you're a hunter who may need to clean and service his weapons while hunting, there are plenty of small, compact kits which have the basic tools you need on-the-go. Smaller kits can be less comprehensive than their larger counterparts, but many are compact enough to be kept in a hiking backpack. You'll also need to make sure that the accessories fit the caliber of the gun that you'll be cleaning.
Advanced Features
While many kits contain the pieces for cleaning handguns, others are specifically designed for rifles and shotguns. Here are some things to look for:
*The cleaning kit should be of simple use and design
*It needs a good brush which can be made of stainless steel loops, plastic bristles or bronze bristles
*It should have a good supply of patches and the attachment for them
*Be sure the solvent is of good quality before purchasing the kit.
Safety Hazards
One of the things about gun cleaning kits is that they're not just a good idea they're necessary to keep your gun in good working order. So the better the clean the safer the gun. So, we're making sure that the kits we recommend are going to provide your gun a great clean and a safe clean.
Portability
If you're heading out into the wilderness for an extended hunting trip you might need to bring your gun cleaning kit along with you. Weather and hard use are going to necessitate you keeping your gun ready to go, clean and safe and well oiled to avoid any kind of rust and make sure everything is working properly.
10 Best Universal Gun Cleaning Kits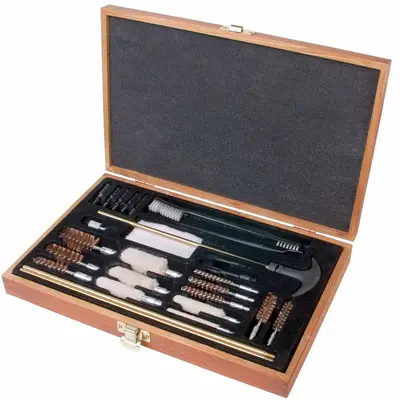 This Outers kit is a reliable and efficient one for cleaning out your gun. It is imperative to keep your favorite firearms in top condition. This kit is versatile and includes 28 pieces to help keep your firearms in top shape. Everything is packed into a beautiful heavy-duty wooden box for safekeeping and stunning presentation. This makes for a smart addition to your hunting tactical arsenal.
Appealing wood box
The wooden box that holds all 28 pieces is very appealing. It is a lovely keepsake as it is a great storage container.
Efficient tools
The cleaning tools in this kit are efficient and offer a no-fuss, no-mess cleaning experience. They are precisely crafted for different caliber weapons, gauges and types of guns so that cleaning and maintenance is a breeze.
Cost and Value
The value of this kit is great. It offers high-quality cleaning tools and accessories that are efficient and multi-purpose. It is a must-have piece of tactical gear in your seasoned hunting arsenal.

2

. Gloryfire Universal Gun Cleaning Kit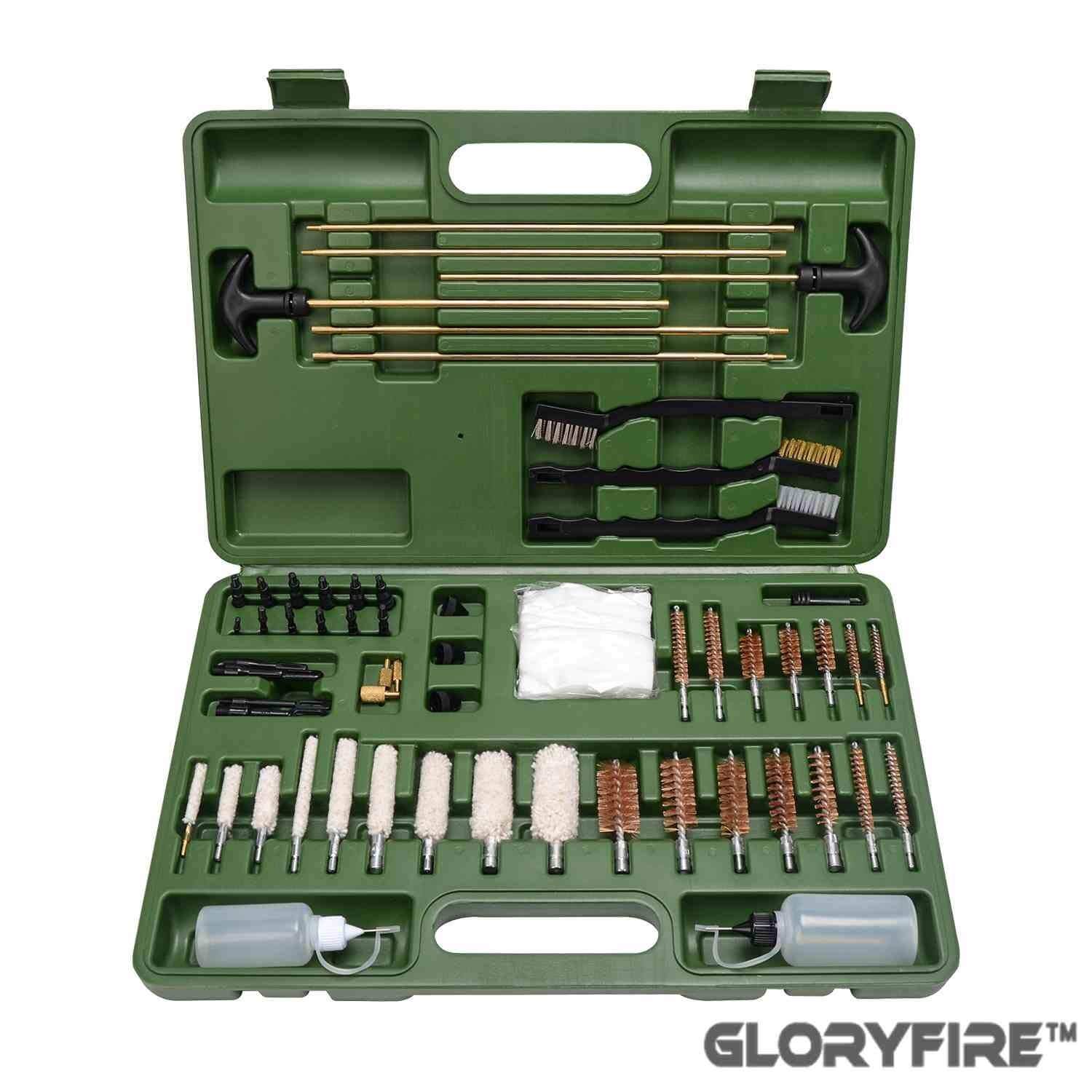 This is a great semi-portable gun cleaning kit that has just about everything you need to keep your guns in tip top shape and good working order. The carrying case is well put together, everything has its place and it has features galore. Solvent and all kinds of brushes that will fit any gun you can imagine or buy.
Tough Construction
No plastic here, all the parts are made of brass and high-quality nylon. No chance any of the cleaning tips or rods will ever break in the middle of a good cleaning. The solvent holders are also made of supple easily squeezable plastic that will ensure an easy, even flow of cleaning solvent.
Well organized
This gun kit has as well as a place for everything. The case is well designed and allows for clean separation of all the parts, and it's easy to get the pieces out and put them back in as well. The way it's put together ensures that this kit will remain portable and can travel with you wherever you go.
Cost and Value
You really can't beat the cost of this set. There's so much going on here and there's really nothing you need that you won't find in this kit. It's well constructed, the metal and nylon construction makes it tough and the case is well designed to go wherever you go.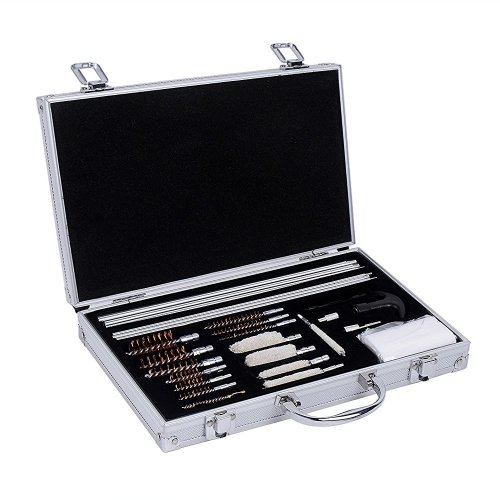 The very best thing about the Ohuhu 28-Piece Universal Gun Cleaning Kit that catches the eye right away is its heavy-duty aluminum case. This box keeps everything efficiently packed away and looking like you mean business. Inside, all of the tools and accessories remain in top condition.
Beautiful case
The aluminum case that holds these cleaning accessories and tools is supremely eye-catching. Aside from its sheen, it features an easy-to-carry handle and double latches to make sure it keeps shut. The inner foam padding keeps all of the content perfectly safe and secure and it is compartmentalized for an easy organization as well.
Fully equipped
This kit comes with everything that you need. It includes a fine assortment of easy cleaning brushes, cotton brushes, rods, and more.
Cost and Value
This cleaning assortment compares to the last one with a mid-range price point that is definitely affordable and valuable, especially with everything it includes. Not to mention, the case will make you feel secure and cool.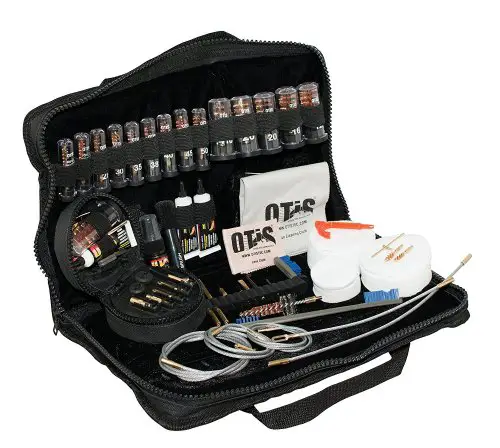 Say goodbye to your gun maintenance woes. The very versatile and well-sorted Otis Elite Gun Cleaning Kit is precisely crafted with the outdoor lifestyle in mind and designed to meet the needs of most demanding hunters of today. The more robust and efficient range of gun cleaning system in the Otis line of innovative technology, this gun cleaning kit is built to perfection.
Perfect for all levels
Whether you're a seasoned hunter looking for his next big game, a competitive shooter honing his skills in the range, or a proud gun collector, the Otis Elite makes a fine investment for your prized possessions.
Everything that you need to clean
The cleaning kits have everything from precision cleaning tools and accessories to cleaning solvents and cleaning brushes to keep your precious firearms in best shape and condition. Additionally, the kits have specialized tools for obstruction removal that come in quite handy when the guns get jammed during the action.
Cost and Value
This kit is definitely one of the more pricey on this list. However, it is equipped with a ton more than others. That said, it is highly valuable and will definitely make cleaning your firearms a positive experience, overall enhancing your shooting.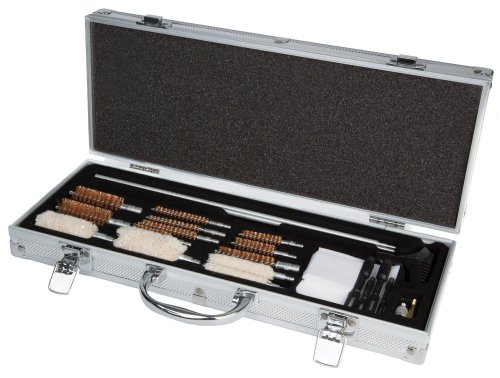 Keep your firearms in top condition with the very versatile and efficient Hoppe's Universal Gun Cleaning Accessory Kit. This easy carry gun cleaning kit packs effortlessly in a lightweight and durable aluminum casing that is further completed with foam padding inside to keep the contents safe and secure.
Perfect for all types of firearms
Beautifully designed for all kinds of rifles, shotguns, and pistols, the Hoppe's built to perfection for those serious outdoorsmen who live for action.
Fully clean
The quick clean brushes effectively clean gun residue that's hidden deep inside the barrel without damaging the gun. It's a perfect travel companion for the seasoned hunters on-the-go.
Cost and Value
Completely affordable and convenient to carry along with you, this kit is of value. You will love having this along with you. For such a low price, it will clean out the unwanted grime for sure.

6

. Falko Universal Gun Cleaning Kit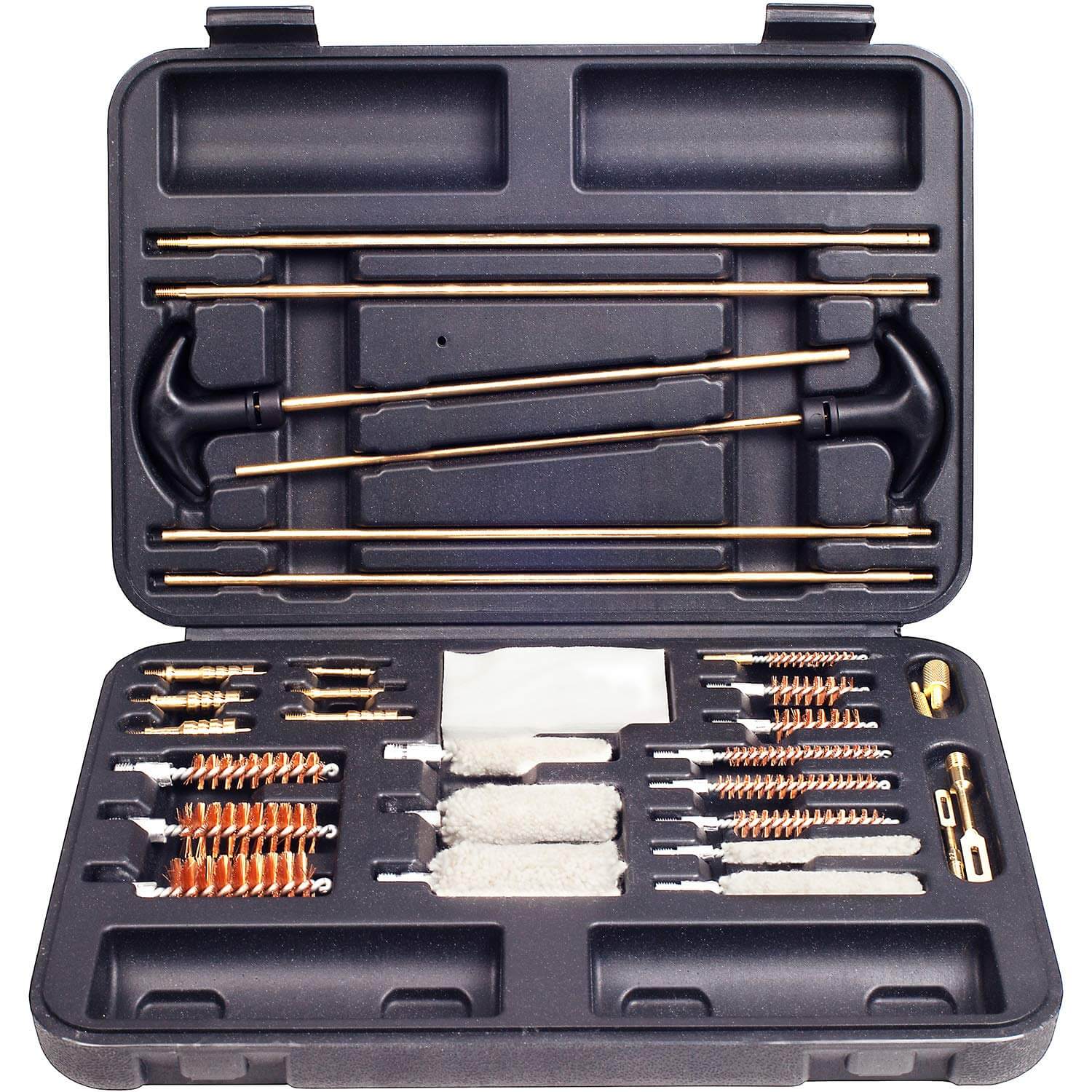 There really isn't more that you could ever want from a gun cleaning kit. Everything you need from rifle to handgun to whatever else you could imagine is included in here. The solvent, all the tools and all the brushes you'll ever need to keep your guns clean. Plus this case keeps everything well organized and portable.
Tough Construction
No plastic here, all the parts are made of brass and high-quality nylon. No chance any of the cleaning tips or rods will ever break in the middle of a good cleaning. The solvent holders are also made of supple easily squeezable plastic that will ensure an easy, even flow of cleaning solvent.
Every Caliber Taken Care of
This kit services all of the most popular calibers of guns. No matter if you've got a rifle or a handgun you'll most likely find the tools you need to keep your gunfire ready no matter how odd the caliber. .17mm, .20mm all the way up to 410 and 20 gauge shotguns you'll find what you need to keep your firearms clean here.
Cost and Value
This is an incredibly cheap set of cleaning tools and with its solid construction, the metal rods, the well-organized holding kit and it's portability you'll easily find everything you need to keep your guns safe and sound and ready to fire.

7

. Science Purchase 78GUNKIT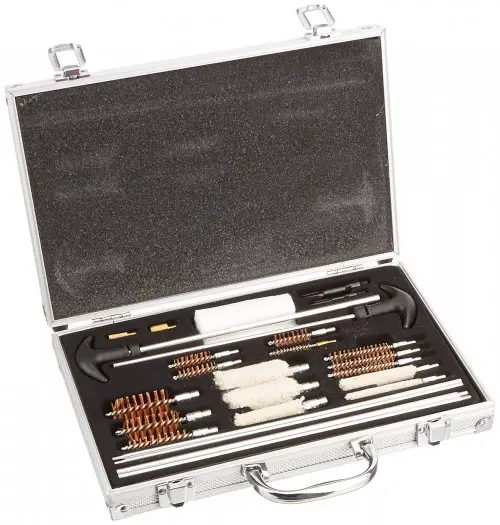 Keep your prized firearms in the best shape and condition with this universal gun cleaning kit that comes beautifully stuffed inside a lightweight yet heavy-duty aluminum casing with super soft foam padding, specially designed for a whole armory.
Top condition
The Science Purchase 24pc gun cleaning kit packs everything to keep your inventory in top condition for superior performance in the field or in the range.
Easy transporting
The aluminum case is fairly lightweight and it is durable, so everything inside keeps protected. This is great for toting the cleaning accessories and tools with you wherever you may need them.
Cost and Value
Great for both heavy caliber rifles and easy carry handguns, this works like a wonder in the field and at this pocket-friendly price, it's a smart investment worth every penny. Plus, the quality workmanship reflects in the high-quality accessories and tools.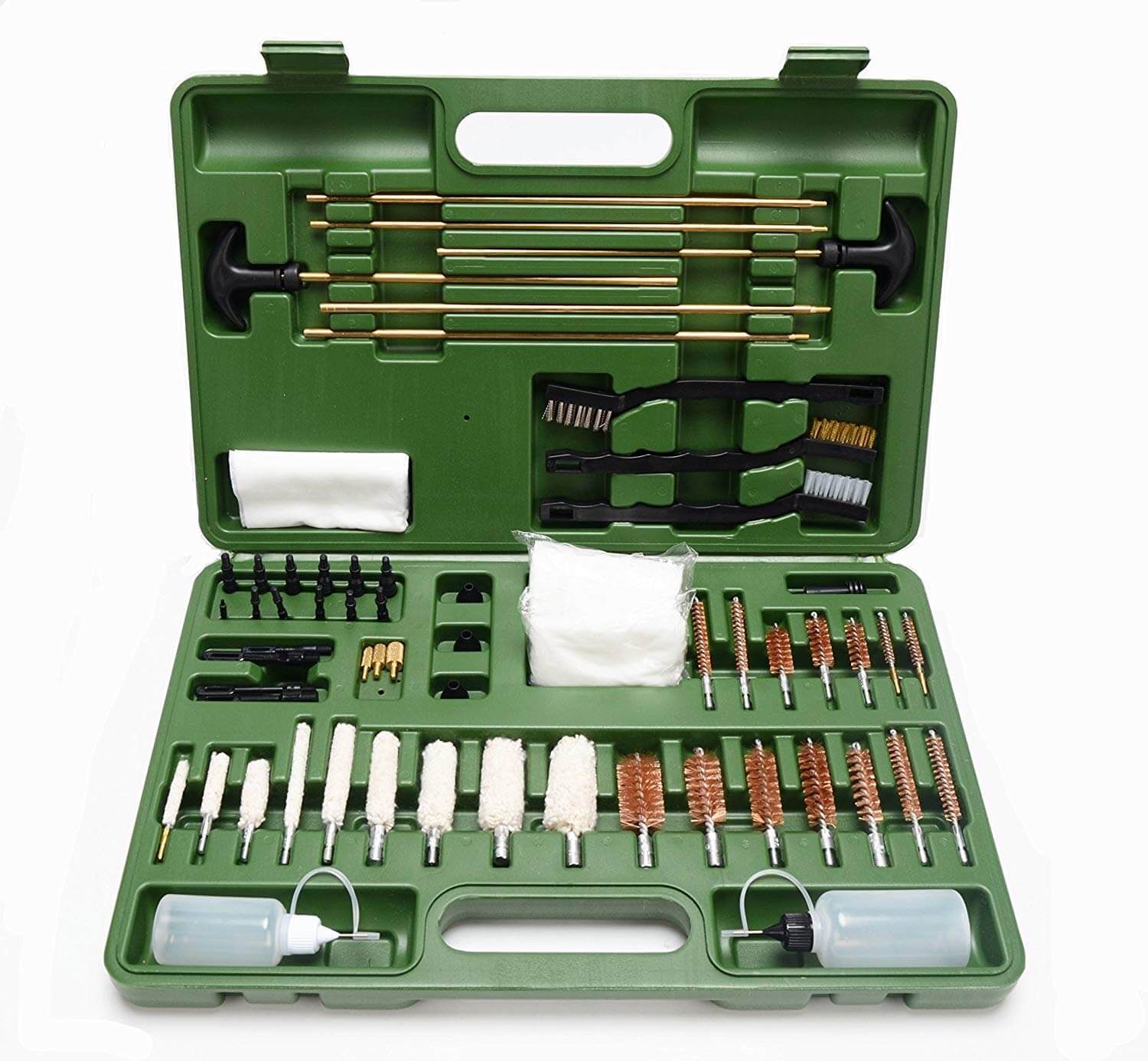 This is a great kit similar to a few others on our list but we included it because the price point is different and the company is different. That being said the components are similar but we're all about giving you choices and this kit is just so good and so full of stuff we have to include it. The brass and nylon brushes, the brass tubing make this a solid strong piece of equipment and definitely a good buy for the money so consider the Firegear even though it's lower down on our list.
Well organized
This gun kit has is really well organized and comes with well-constructed tight fit (but not too tight) places for everything. The case is well designed and allows for clean separation of all the parts, and it's easy to get the pieces out and put them back in as well.
Carrying Case Design
When everything is put together in its place this case is easily portable and will go wherever you go. It will fit nicely in a backpack or travel nicely in a suitcase if you're planning on doing some overseas hunting.
Cost and Value
This comes at a great price, it's one of the lowest price points on our list for all these kinds of features. If you're looking for a great universal cleaning kit, this one will do everything you need for little or no money.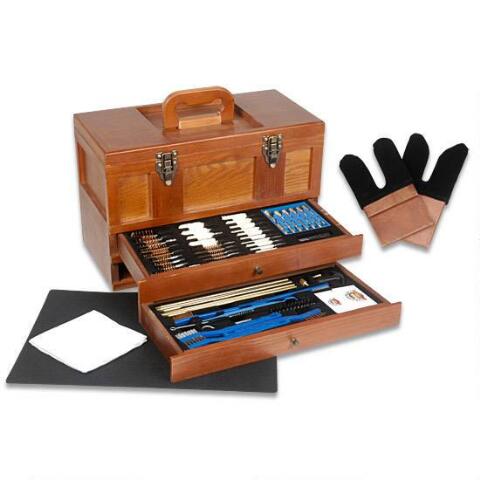 This is inspired by the original Gunmaster Wooden Toolbox but with slight modifications and more robust features including a storage space for additional storage. An easy-carry gun cleaning kit always comes in handy in dire situations because you cannot afford to have faulty equipment ruining your perfect shot in the field. Out there, each shot counts and to make sure you don't miss out on your target, you need the right tool and equipment and the Gunmaster delivers.
Easy to use
This universal gun cleaning kit makes your gun cleaning and maintenance a breeze.
Solid and spacious case
The durable handle makes it a convenient carrier for transport, plus there's ample space inside the main compartment for storing additional tools and essentials.
Cost and Value
This is a pricier kit on our list, too. But, then again, it does come with a lot of tools, accessories and a beautifully crafted wooden case.

10

. DAC Winchester Super Deluxe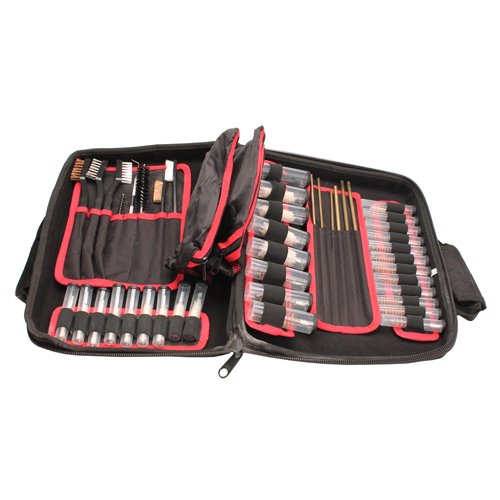 Keep your go-to arsenal in the top condition to do wonders in the range with this very reliable gun cleaning and maintenance kit. It easily packs up and packs everything you need to keep your firearms in top notch condition.
High-quality
High-quality aluminum rods keep your firearms fire-ready and the cleaning brushes effectively remove any gun residue from the barrel without damaging your guns.
Fully Protected
The contents of the kit are well-protected in a soft case rather than a solid one like others on this list.
Cost and Value
This durable go-to gun cleaning kit is imperative to any shooter's tactical gear and makes a great fit for heavy-duty shotguns and handguns alike. If you're looking for a versatile gun cleaning kit for your shooting gear at a pocket-friendly price, the HFS won't disappoint.

Subscribe to our Newsletter