Best Universal Gun Cleaning Kits Reviewed
Owning a firearm is common today, but it should also be seen as a privilege that comes with immense responsibility. If you keep guns in your home, proper firearm education is imperative for both yourself and your family members. The more a person knows about guns, the less likely they are to become a victim of an accident. Safe and proper gun ownership covers everything from safe storage to marksmanship practice to proper gun cleaning knows how. Good rifles and handguns are precision instruments that are built to perform. Cleaning them regularly is part of proper maintenance and having the best gun cleaning kit makes it simpler to keep your firearms in top condition.
Featured Recommendations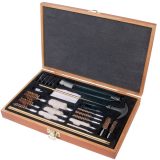 Outers 28pc Universal Cleaning Box

Our rating
50 Cleaning Patches
Price:

See Here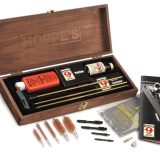 Hoppe's No. 9 Deluxe Gun Cleaning Kit

Our rating
Versatile Kit
Price:

See Here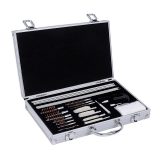 Ohuhu 28pcs Universal Gun Cleaning Kit

Our rating
Durable
Price:

See Here

10 Best Universal Gun Cleaning Kits
1. Outers 70103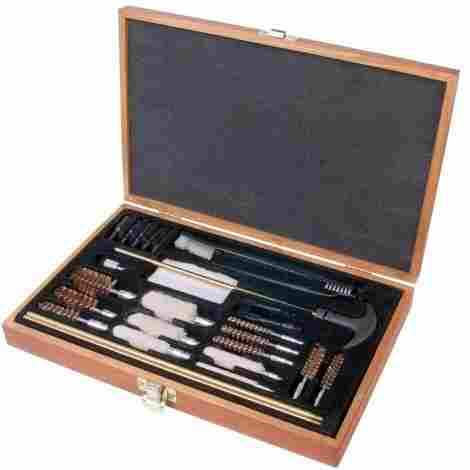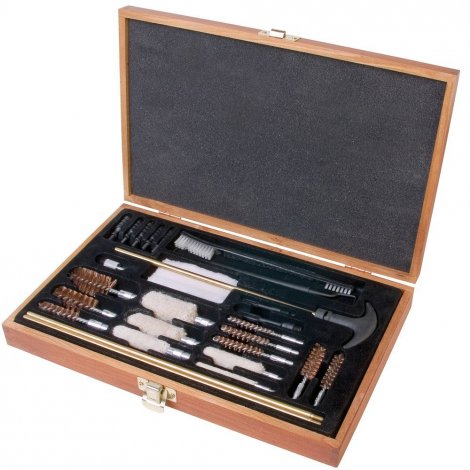 This Outers kit is a reliable and efficient one for cleaning out your gun. It is imperative to keeping your favorite firearms in top condition. This kit is versatile and includes 28 pieces to help keep your firearms in top shape. Everything is packed into a beautiful heavy-duty wooden box for safekeeping and stunning presentation. This makes for a smart addition to your hunting tactical arsenal.
Expand to see more

Appealing wood box


The wooden box that holds all 28 pieces is very appealing. It is a lovely keepsake as it is a great storage container.



Efficient tools


The cleaning tools in this kit are efficient and offer a no-fuss, no-mess cleaning experience. They are precisely crafted for different caliber weapons, gauges and types of guns so that cleaning and maintenance is a breeze.



Cost and Value


The value of this kit is great. It offers high-quality cleaning tools and accessories that are efficient and multi-purpose. It is a must-have piece of tactical gear in your seasoned hunting arsenal.

Appealing aged-oak wood finish for classic storage option
High-quality precision tools and materials for effective cleaning
Solid brass rods with high-quality tips, mops and brushes
Compartmentalized storage solution for quick and convenient access
Top notch cleaning solvents and liquids
Great for both high and low caliber weapons
Custom tailored for all gun types
Ideal for all calibers and gauges
2. Hoppe's No. 9 BUOX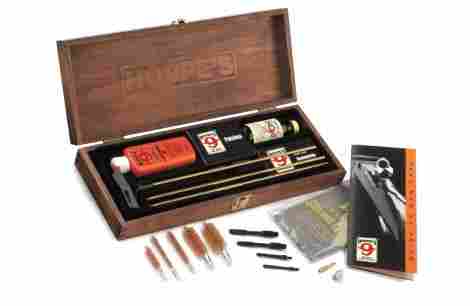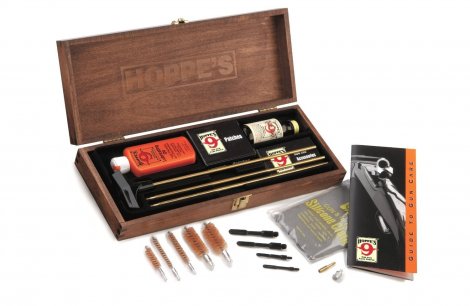 Your most prized firearms will be ready for action in no time with this very reliable and versatile gun cleaning kit from the house of Hoppe's. One of the best things about this kit is that it doesn't matter what kind of firearm that you have in your possession; whether it is a rifle, shotgun or pistol, this efficient kit can clean them all. It works wonders to provide a great shooting experience in the field.
Expand to see more

Solid presentation


This kit is contained in a heavy-duty and stylish presentation box. All of the included accessories and necessary tools are effortless packed into the box. Keeping these pieces safe and in top shape helps keep you firearm in top condition.



Necessary tools


This kit includes all of the tools that you need to completely clean your weapon. It contains brass rods, cleaning cloths, cleaning brushes, cleaning liquids and more. They keep perfectly organized for easy and quick access in the box and make cleaning your firearm a breeze.



Cost and Value


This kit is a little pricier than the last one, however it is still a great deal. You get all of the necessary tools and accessories that you need to almost effortlessly clean your firearms and everything comes in a beautiful box, too.

Ideal for all kinds of pistols, rifles and shotguns
Heavy duty wooden box for a classic look
Precision tools and cleaning liquids for effective cleaning and maintenance
Well organized storage space
Hoppe's "Guide to Gun Care" included
3. Ohuhu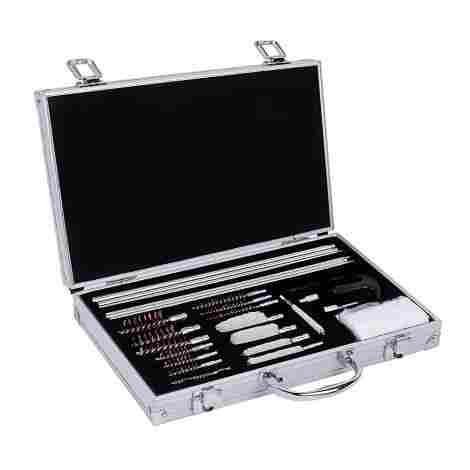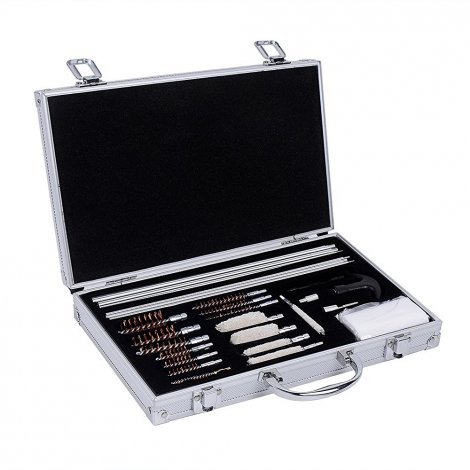 The very best thing about the Ohuhu 28-piece Universal Gun Cleaning Kit that catches the eye right away is its heavy-duty aluminum case. This box keeps everything efficiently packed away and looking like you mean business. Inside, all of the tools and accessories remain in top condition.
Expand to see more

Beautiful case


The aluminum case that holds these cleaning accessories and tools is supremely eye-catching. Aside from its sheen, it features an easy-to-carry handle and double latches to make sure it keep shut. The inner foam padding keeps all of the content perfectly safe and secure and it is compartmentalized for easy organization as well.



Fully equipped


This kit comes with everything that you need. It includes a fine assortment of easy cleaning brushes, cotton brushes, rods, and more.



Cost and Value


This cleaning assortment compares to the last one with a mid-range price point that is definitely affordable and valuable, especially with everything it includes. Not to mention, the case will make you feel secure and cool.

Easy cleaning brushes and extension rods make cleaning a breeze
Precision tools and accessories for all sorts of firearms
All size brass cleaning brushes
Cotton brushed for effective cleaning
Heavy-duty, lightweight aluminum casing for efficient storage
Ideal for seasoned hunters and beginners alike
Well organized compartmentalization for quick and easy access
All length mops and extension rods for effective cleaning
The patch holders are plastic
Not so durable
4. Otis FG-1000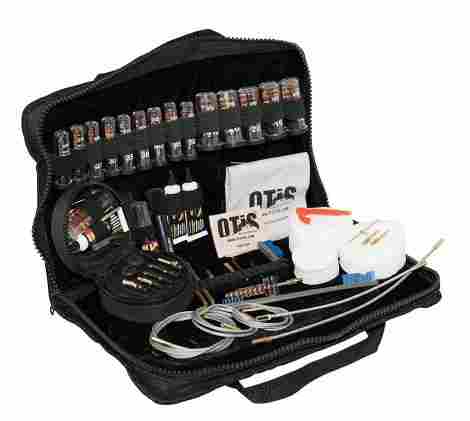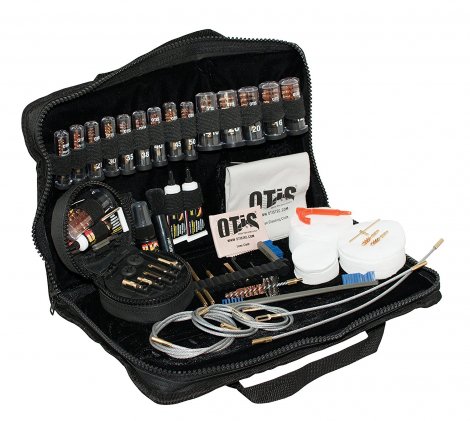 Say goodbye to your gun maintenance woes. The very versatile and well-sorted Otis Elite Gun Cleaning Kit is precisely crafted with the outdoor lifestyle in mind and designed to meet the needs of most demanding hunters of today. The more robust and efficient range of gun cleaning system in the Otis line of innovative technology, this gun cleaning kit is built to perfection.
Expand to see more

Perfect for all levels


Whether you're a seasoned hunter looking for his next big game, a competitive shooter honing his skills in the range, or a proud gun collector, the Otis Elite makes a fine investment for your prized possessions.



Everything that you need to clean


The cleaning kits have everything from precision cleaning tools and accessories to cleaning solvents and cleaning brushes to keep your precious firearms in best shape and condition. Additionally, the kits have specialized tools for obstruction removal that come in quite handy when the guns get jammed during the action.



Cost and Value>


This kit is definitely one of the more pricey on this list. However, it is equipped with a ton more than others. That said, it is highly valuable and will definitely make cleaning your firearms a positive experience, overall enhancing your shooting.

Precision tools and accessories for effective cleaning and maintenance
Efficient Memory-Flex Cables for more effective cleaning
Specialized obstruction removal tools for jammed cases
High-quality tools for fine cleaning
Optics cleaning gear for care and maintenance of scopes, rangefinders and more
Tactical Cleaning System for easy carrying
Extra pockets for additional storage
The nylon kit-bag might be difficult to use
5. Hoppe's UAC76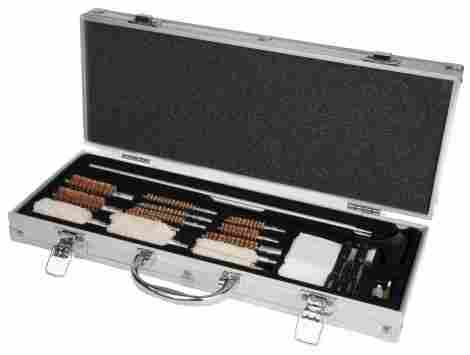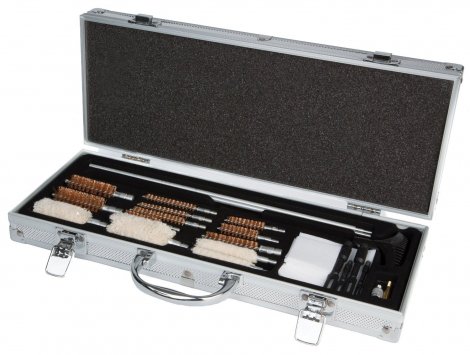 Keep your firearms in top condition with the very versatile and efficient Hoppe's Universal Gun Cleaning Accessory Kit. This easy carry gun cleaning kit packs effortlessly in a lightweight and durable aluminum casing that is further completed with foam padding inside to keep the contents safe and secure.
Expand to see more

Perfect for all types of firearms


Beautifully designed for all kinds of rifles, shotguns, and pistols, the Hoppe's built to perfection for those serious outdoorsmen who live for action.



Fully clean


The quick clean brushes effectively clean gun residue that's hidden deep inside the barrel without damaging the gun. It's a perfect travel companion for the seasoned hunters on-the-go.



Cost and Value


Completely affordable and convenient to carry along with you, this kit is of total value. You will love having this along with you. For such a low price, it will clean out the unwanted grime for sure.

Easy to use tools and accessories
Efficient brass cleaning rod
Ideal for shotguns and pistols cleanup
Swabs for high and low caliber weapons
Adaptor brass rifle to shotgun
Cleaning brushes for no-stress cleaning and maintenance
Overtime, compartments could cave in. Make sure to note which is the top and bottom so that you do not open the case and let everything fall out.
6. Allen Ultimate 70540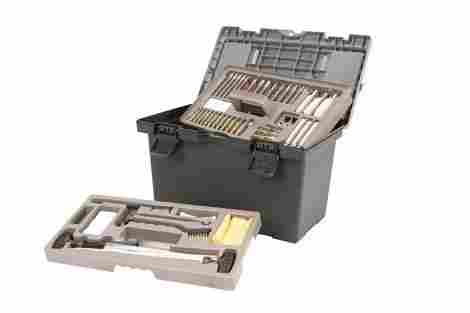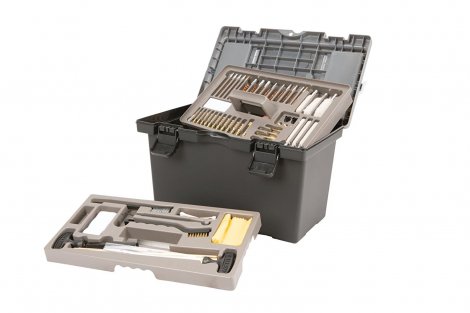 High-quality components and precisely crafted tools make this easy carry gun cleaning kit a real lifesaver in the field. Seasoned hunter and veteran shooters alike will appreciate this heavy-duty, efficient universal gun cleaning that's designed to perfection. Each tool and accessory have its dedicated space that is efficiently organized for easy sorting and safekeeping.
Expand to see more

Cleans all types


It has all the necessary tools and accessories fit for all kinds of rifles both standard and high caliber, plus shotguns and handguns.



Organization


Labeled compartment makes organization a breeze for ease of use all while keeping the clutter down so that you don't miss out on your perfect shot in the field. Additionally, the kit has cleaning liquids and solvents, and patches for cleaning and maintenance.



Cost and Value


This kit is definitely larger in size, but that doesn't mean that it costs an arm and a leg. In fact, it is pretty reasonably priced for everything that you get as well as the heavy-duty and protective case everything comes in. However, depending on your budget, it could be pricey.

Industry standard gun cleaning and maintenance kit
Heavy-duty 65pc gun cleaning kit
Dedicated accessory compartments for easy storage
Labelled space for easy sorting and safekeeping
Dual tray inserts for additional stirage
Lockable dual latching lid
Plenty of storage space for cleaning essentials
Designed for all common firearm calibers
Heavy-duty carry handle
7. Science Purchase 78GUNKIT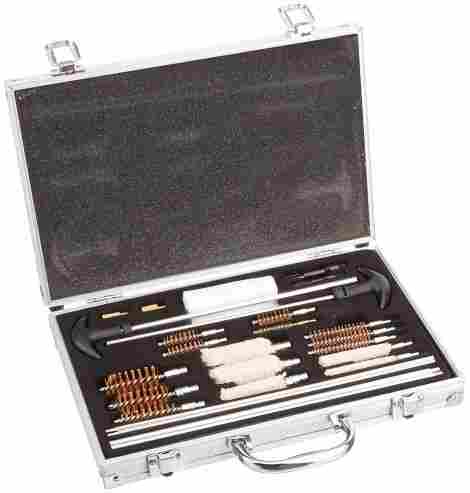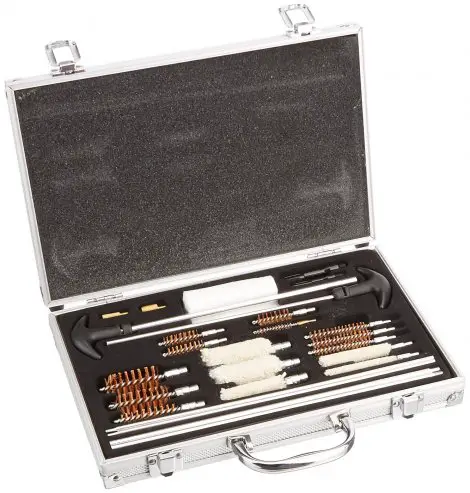 Keep your prized firearms in the best shape and condition with this universal gun cleaning kit that comes beautifully stuffed inside a lightweight yet heavy-duty aluminum casing with super soft foam padding, specially designed for a whole armory.
Expand to see more

Top condition


The Science Purchase 24pc gun cleaning kit packs everything to keep your inventory in top condition for superior performance in the field or in the range.



Easy transporting


The aluminum case is fairly lightweight and it is durable, so everything inside keeps protected. This is great for toting the cleaning accessories and tools with you wherever you may need them.




Cost and Value


Great for both heavy caliber rifles and easy carry handguns, this works like a wonder in the field and at this pocket-friendly price, it's a smart investment worth every penny. Plus, the quality workmanship reflects in the high-quality accessories and tools.


24-piece gun cleaning and maintenance kit
Lightweight yet heavy-duty aluminum casing
Cleaning rods for easy cleaning
Ideal for rifles, shotguns, and handguns
Patches for easy and effective cleaning
Shotgun and pistol handle included
Questionable brush quality
8. Grip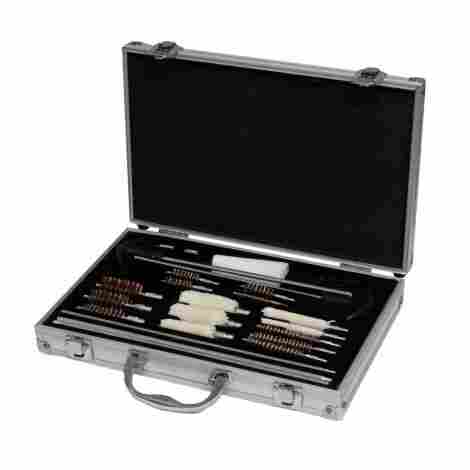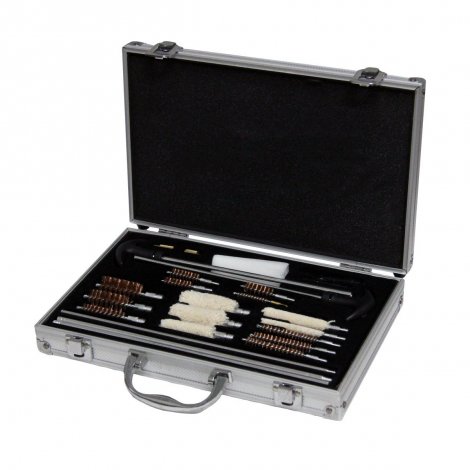 With precision-engineered tools and equipment custom tailored for all kinds of firearms from long-range rifles to shotguns and handguns, you cannot go wrong about the very versatile and efficient 78-piece gun cleaning kit from Grip. This easy carry kit keeps your most precious firearms in the best shape so that you don't miss out on your target in the field or in the shooting range. A good hunting rifle is imperative to a hunter's shooting efficiency and on-the-field performance which makes it all the more important to keep the rifles in good shape and condition for maximum efficiency and accuracy. A nice gun cleaning kit makes cleaning and maintenance of your firearms a little less painful so that you never miss out on that perfect shot.
Expand to see more

All types


This kit will aid you in cleaning all types of firearms, which is great to have all in one kit rather than spread throughout multiples. The brushes and rods will help you keep your prized pistols, rifles, shotguns, etc. in tip-top shape.



Aluminum case


The aluminum case looks great and performs great, too. It keeps everything together and organized in cradled compartments. This way, you never have to worry about opening up the case to a jumbled mess.



Cost and Value


This set is completely affordable and begs to be added to your maintenance team. Keep it on-hand for all of your hunting or range shooting trips. You won't regret keeping your best firearms their cleanest.

Great for all types of pistols, rifles, and shotguns
Aluminum case for heavy-duty storage solution
Effective cleaning with both rods and brushes
Wool swaps won't damage the barrel
Brass brushed makes cleaning a breeze
Cleaning cloths for easy cleaning
9. Gunmaster TBX96-W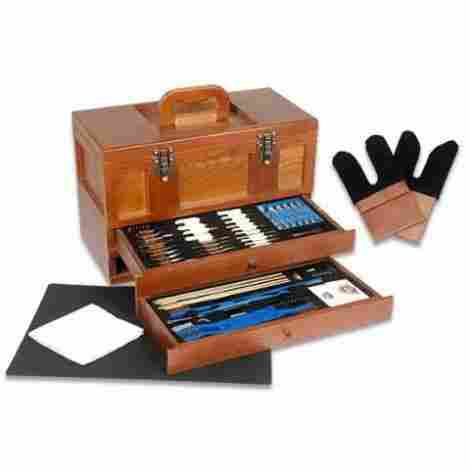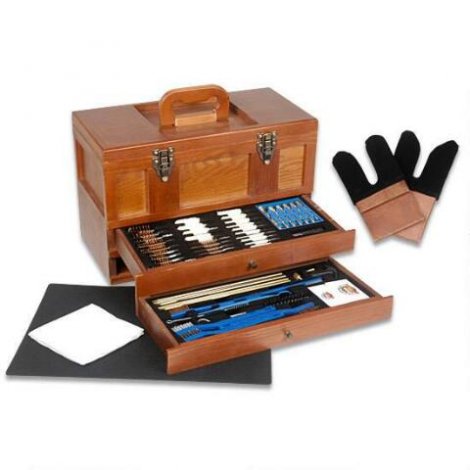 This is inspired by the original Gunmaster Wooden Toolbox but with slight modifications and more robust features including a storage space for additional storage. An easy-carry gun cleaning kit always comes in handy in dire situations because you cannot afford to have faulty equipment ruining your perfect shot in the field. Out there, each shot counts and to make sure you don't miss out on your target, you need the right tool and equipment and the Gunmaster delivers.
Expand to see more

Easy to use


This universal gun cleaning kit makes your gun cleaning and maintenance a breeze.



Solid and spacious case


The durable handle makes it a convenient carrier for transport, plus there's ample space inside the main compartment for storing additional tools and essentials.



Cost and Value


This is a pricier kit on our list, too. But, then again, it does come with a lot of tools, accessories and a beautifully crafted wooden case.
Heavy-duty 63pc universal cleaning kit for rifles and handguns
Effective gun cleaning and maintenance
Keeps your firearms in best condition
Ideal for high caliber rifles
Great for handgun users
Brushes and mops for effective cleanup
Cleaning patches for pistols and revolvers
Utility brushes makes cleaning a breeze
The box drawers might not sit evenly
10. DAC Winchester Super Deluxe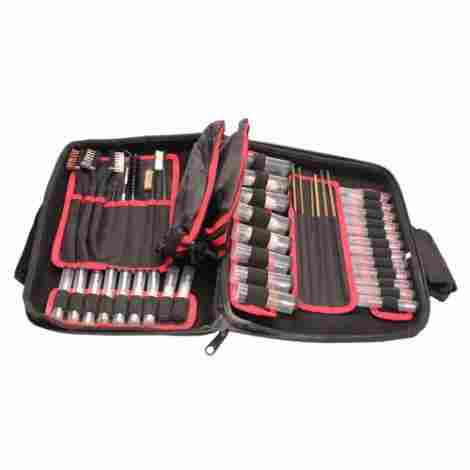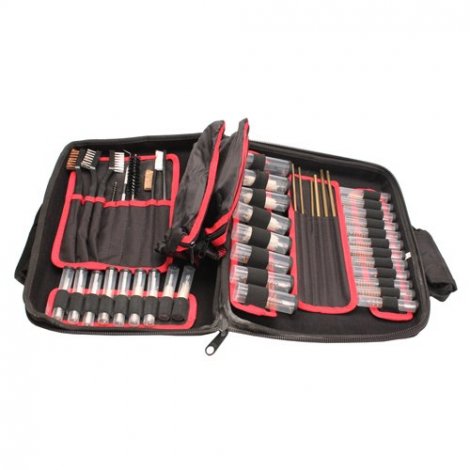 Keep your go-to arsenal in the top condition to do wonders in the range with this very reliable gun cleaning and maintenance kit. The contents of the kit are well-protected in a soft case rather than a solid one like others on this list. It easily packs up and packs everything you need to keep your firearms in top notch condition. This durable go-to gun cleaning kit is imperative to any shooter's tactical gear and makes a great fit for heavy-duty shotguns and handguns alike.
Expand to see more
High-quality aluminum rods keep your firearms fire-ready and the cleaning brushes effectively remove any gun residue from the barrel without damaging your guns. If you're looking for a versatile gun cleaning kit for your shooting gear at a pocket-friendly price, the HFS won't disappoint.
Custom fitted EVA soft case
Removable handoilers and accessory pouches
Solid machined aluminum handle for easy carrying
Super deluxe versatile kit
Rods could be stronger
Plastic pieces can break with too much pressure
Decision Time
Well, that being said, a reliable, high-quality gun cleaning kit is imperative to a hunter's shooting endeavors. A good cleaning kit not only keeps your prized firearms in best shape and condition but also makes them ready for action in no time. In the field, each shot counts and the last thing you'd want is faulty equipment ruining your perfect shot. Noting feels better than having a nice hunting rifle and a versatile gun cleaning kit in your possession and sky is the limit. Regular cleaning and maintenance is important to keep your guns functional at all times so that you never miss out on your target in the field. The right tools make all the difference in the field and a gun cleaning kit is no exception. Happy Hunting!
Criteria Used in Choosing the Best Universal Gun Cleaning Kits
Why Gun Cleaning Is Essential
Every time a gun is discharged, powder ignites, sending the bullet down the barrel. Spin is imparted to the bullet by groves in the barrel called rifling and this increases the bullet's accuracy. However, the residue left behind by gunpowder can build up over time, impairing proper firearm function and reducing the accuracy of your aim as well. The more often you use your gun, the more often you need to clean it. If the gun isn't periodically cleaned, it begins to lose proper function. The rifling can become plugged, resulting in an improper spin. If it gets bad enough, the passage of the bullet might get blocked, resulting in backfire or a breech explosion.
It isn't just the powder residue that is a problem; dust, dirt, and debris can take their toll. Even if a handgun is stored in an air-tight gun safe, it is prone to collecting dust and dirt during use or even when the gun safe is opened. It means even if you don't use your firearm often, you should clean it periodically. Doing so prolongs the life of the gun and keeps it in top working condition while keeping the accuracy intact. Humidity and moisture are also a big issue, so in order to prevent your gun's internal parts from rusting, proper cleaning will help you to air out and thoroughly dry all of the gun's individual parts.
How Guns Are Cleaned
Make sure to do some thorough reading or else consult with a firearm expert before you begin to work with any weapon. Improper cleaning can impair proper firearm function just as much as too little cleaning. This is important to do even if you think you have enough knowledge about the firearm at hand. That being said, the process of cleaning a gun starts with proper checking to make sure the weapon is not loaded. Remove the clip or magazine, cycle the action at least once, and check the weapon from the chamber, not the barrel.
Always clean your gun from the breech toward the muzzle. If you try to clean it in the other direction, you might push dirt and built up residue down into the chamber, rather than pushing it out of the barrel. The idea is to open the breach as much as possible. Do not scratch the inside of the barrel with a metal rod; there are specific cleaning cloths for that purpose. Only a proper cleaning cloth should touch the weapon cleaning surface, lest its rifling or its mechanical components may get damaged.
The gun is then ready to put back together. The whole cleaning process may sound complicated and time-consuming, but it isn't as complicated as it sounds. You should have your gun cleaning supplies ready to use before you start the process. Cleaning a gun is a task that you should handle with utmost seriousness. After all, a clean gun is a gun that will not only fire perfectly but also give you an excellent firing experience every time you pull the trigger.
How to Choose the Best Universal Gun Cleaning Kits

The best gun cleaning kits largely depend on what type of gun you are cleaning. For example, if you only shoot long arms like rifles or shotguns, then you don't need a kit designed for cleaning handguns. If, however, like most gun owners, you shoot rifles and pistols, then there are plenty of gun cleaning kits available that will suit your needs just fine. Or if you use a sports rifle extensively, the chances are that a good amount of copper and lead debris will make its way into the barrel. For that, you might want to consider a kit that features long rope-like strips of cloth that can be pulled all the way through the barrel, removing the unwanted debris along the way.
Make sure to consider the physical size of the kit as well. The cleaning kits can be organized in two ways: home cleaning kit and field cleaning kit. If you're a hunter who may need to clean and service his weapons in the field, there are plenty of small, compact kits that have the basic tools you need on-the-go. Smaller kits can be less comprehensive than their larger counterparts, but many are compact enough to be kept in a hiking backpack. You'll also need to make sure that the accessories fit the caliber of the gun that you'll be cleaning.
While many kits contain the pieces for cleaning handguns, others are specifically designed for rifles and shotguns. There are still some things to consider and to look for when buying a gun cleaning kit, regardless of what gun it is for.
The cleaning kit must be easy to use and assemble
It needs to have a quality brush which can be made of stainless steel loops, plastic bristles or bronze bristles
It needs to have an attachment for patches
It needs to have a fine supply of patches
It needs to have the best gun cleaning solvent
FAQ
Frequently Asked Questions
Q: Do I need to clean my gun?
A: Yes, if you want it to perform well and last for longer it is always best to keep on top of the cleaning. This will benefit both you and your finances in the long run.
Q: Do I need a specific cleaning kit?
A: It is advisable to choose a kit that is best suited to the gun you have, for example, a rifle cleaning kit will have different items in than a kit for handguns. It's best to check your individual gun specifications to make sure you are buying a kit that won't damage your kit.
Q: Are all kits the same?
A: Once you've bought the correct kit for your needs, the next thing to consider is the size. You can purchase compact travel cleaning kits that are more suitable to take on your trips with you. And for the big clean you can buy the larger kits that will enable you to do a thorough all over clean. Both kits are useful of course, but it can be handy to have both sizes so you can maintain your gun when you are out in the field and for when you have more time to do a proper job at home.
Q: Do I need a rod guide?
A: This is always a good idea, as the guide will ensure a clean drive down the bore and reduce the risk of scratching.
Q: Is a coated rod better than an un-coated rod?
A: It is considered beneficial to use a coated rod, because if by chance the rod does come into contact with a barrel – there is less chance it will be damaged.
Q: Is there a best bore cleaner?
A: All the good branded cleaners should be perfectly adequate for your needs, as long as you have researched your gun/ammo etc and purchased the correct kit – there should be no problems.
Q: Can a nylon bore brush really be effective?
A: Yes indeed, the brush is designed to be soft, it is the harshness of the chemicals you use that actually do the cleaning.
Sources
Cleaning Maintenance FAQs | Top Rated Supplier of Firearm Reloading Equipment, Supplies, and Tools – Colt