Best BBQ Smokers Reviewed & Rated for Quality
last updated:
Sep 16, 2019
For the initiated, there is a world of difference between one who grills and one who smokes.  To those who align themselves with the latter, grilling is an assembly line process, the rudimentary cooking of meat using direct heat.  It is quick, efficient, and perhaps more than a bit soulless.  Smoking is an art form.  It is a process that must be tended to, lovingly, sometimes for up to 20 hours or longer.  One must be in tune with their smoker, as a variety of factors determine the results. In order to create a list of the top 10 BBQ smokers, we considered all aspects of this ancient art form, from the Kamado-style smoking process of Japan to the more traditionally American barrel smokers of the American South.  Enjoy the results.
In a Hurry? The test winner after 11 hrs of research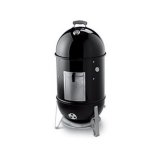 Weber 14 Inch
Why is it better?
Tough, porcelain enameled body
Built-in thermometer
Rust-resistant door
Lightweight and portable
Weber Warranty
In a
Hurry? Editors choice: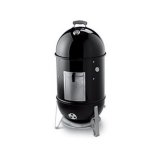 Test Winner: Weber 14 Inch

15
Researched Sources
15k
Reviews Considered
11
Hours Researching
10
Products Evaluated
Effectiveness
Model
Accessories
Durability
Features
By Default
10 Best BBQ Smokers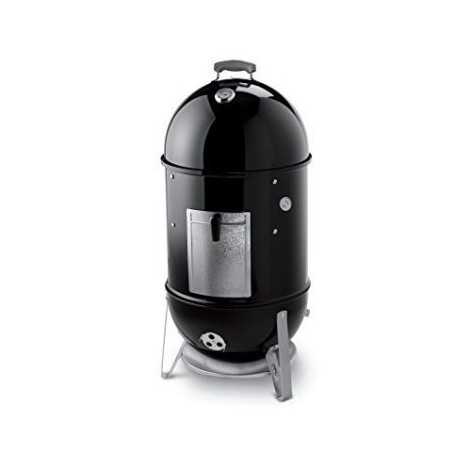 Tough, porcelain enameled body
Built-in thermometer
Rust-resistant door
Lightweight and portable
Weber Warranty
Runs on Charcoal only
The aluminum door may wear out before the rest of the smoker
It comes as no surprise that Weber is heading up our list. One of the top names in the business, Weber products are synonymous with quality materials and a warranty to back it up. This smoker is no different, with its porcelain enameled chamber and built-in lid thermometer for optimum temperature control.
Portability
At 14 inches, this is the ideal smoker for taking on the road. Compared to many similar products, its lightweight and small enough to be stored in the back of any car or camper. Additionally, with smaller size comes more fuel efficiency.
Materials
As with other Weber products, the body of this smoker is built to last. The thick, porcelain reinforced walls are ready to cook for years. Other products may feature thinner metal walls or cheap paint that can warp or peel. No such issue here.
Cost and Value
Given the nature of Weber engineering and brand name recognition, the price point is above other smokers of this size. That said, the 14 inch Weber cooker offers an ideal balance between quality and cost-effectiveness.
2

. Char-Broil The Big Easy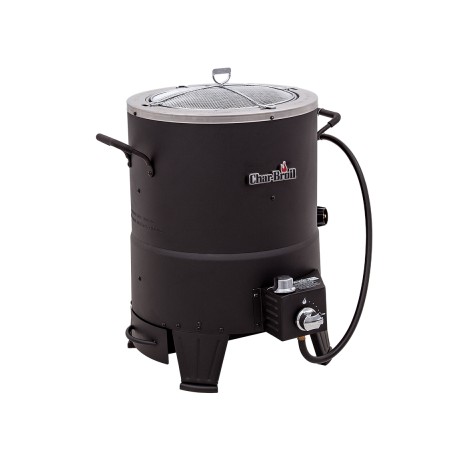 Smokes, roasts, and grills
Easy to assemble
Can be fueled by either propane or wood pellets
The infrared cooking system avoids flare-ups.
Cooking basket fits up to 25 pounds
Does not smoke as well as a 'true' low and a slow bbq smoker
Heavier and less portable than other products 
Want to get the best of both worlds? Look no further than the Char-Broil Big Easy, which smokes meats perfectly while also acting as a grill. Barbecue fans will love the optional propane-based cooking functionality of this smoker. Furthermore, the infrared cooking system provides precise temperature control and ease of clean-up
Versatility
Few items on this list do as many things as The Big Easy. Though we're focusing on smoking, this cooker is ideal for users who want to capitalize on their equipment as much as possible. High and low-temperature cooking are both possible on The Big Easy, as well as cooking from different fuel sources.
Assembly
The Big Easy Smoker Roaster and Grill has an ultra-quick assembly without the head-scratching manuals and parts that plague users of other products. Putting it together is a snap and will have you cooking in no time.
Cost and Value
The cost is lower than other 'serious' smokers on this list. Given the range of uses for The Big Easy, it's a terrific value. With so many uses, it's like paying for three devices for the cost of one.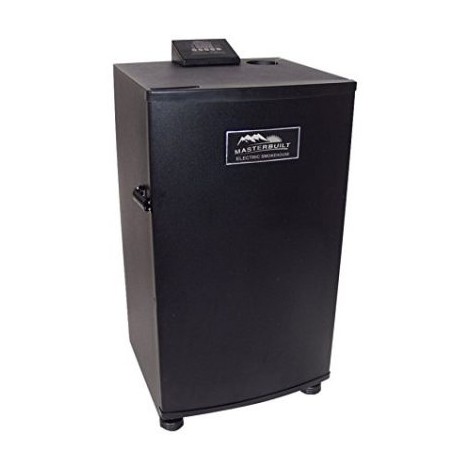 Can double as a slow cooker
Easy to assemble
Simple digital controls for temperature and time settings
Fuel chips load from the side
Cost-effective
Does not provide a wide array of temperature settings
Water pan can be difficult to clean
Are you a nervous beginner looking for an "idiot-proof" smoker? Look no further. Masterbuilt's digital smoker does the hard work for you. Chips are added from the side, so you don't even need to open the door to the smoker. Set the temperature and the time, and this digital smoker does the rest of the work. The clearest definition of "Set it and forget it".
Fuel loading
Smokers that run on wood chips can be a pain to load and operate. This is one area in which Masterbuilt's product stands out. Chips are loaded from a patented side portal that prevents users from needing to access the central chamber. This is a must because needing to load fuel during a smoking session can let out hot air and lower the temperature.
Ease of Use
The digital console on this smoker makes it one of the easiest to use of the bunch. Once you've provided the necessary settings for your meat, the smoker takes care of the rest. For smoking over a few hours, all you'll need to do is refill fuel chips, which is easy given the above-mentioned side loader.
Cost and Value
This is yet another reasonably priced smoker for the novice cook. It lacks some of the fancier materials and craftsmanship of 'designer models, but it more than gets the job done for beginners looking to get into the smoking meat.
4

. Smokintex 1100 Pro Series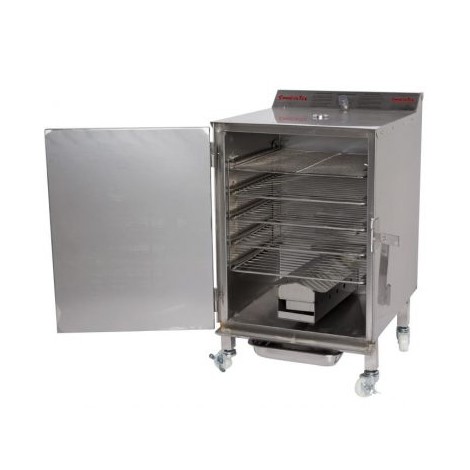 Solid stainless steel design
Can use any variety of wood chip fuel
Large interior smoking space
The stainless steel drip pan is easy to clean
Casters included so that smoker can be easily moved
Too heavy for tabletop use
Costlier than other options
For the higher-end consumer, we have this solid offering from Smokintex. Built from durable stainless steel, the Pro Series Electric smoker's defining characteristic is its double-walled design. This is one smoker that won't cave or break after repeated use. It will use any kind of wood chip fuel as well, giving users the opportunity to explore a variety of flavors and styles.
Construction
As stated above, this smoker is defined by its sturdiness and reliability. It's built with materials that will ensure long shelf life. While others may provide great results in the short term, the Pro Series is built to last.
Control
This is another smoker that comes with a built-in thermostat, so users have absolute control over temperature throughout the process. This ensures that a sudden spike or dip in temperature doesn't impact the smoking process.
Cost and Value
Given its construction, the Pro Series Smoker is significantly more expensive than some of the other items on the list. That said, its durability as well as the additional space provided by the smoker more than make-up for the price. It is still a solid buy.
5

. Chargriller Akorn Kamado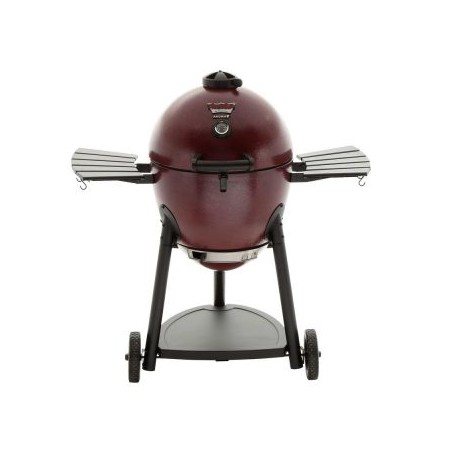 Fuel-efficient design
Tough, steel-encased walls
Over 300 square inches of cooking space
2 Folding shelves for storage
Wheels for ease of transport
Less cooking space than other smokers
Wheels can be flimsy
The Akorn is the only Kamado-style smoker on the list. Kamado is a style of cooking that originated in ancient Japan. The 'urns' that made up the grill in ancient times have been replaced by modern-day contraptions like the Akorn: Egg-shaped cast iron grills that insulate and circulate heat, making them far more fuel efficient and effective than other grills and smokers.
Insulation
The egg-shaped construction and insulated steel walls of this smoker ensure that meat is sealed tightly within. The construction also ensures that there is less airflow which maximizes the effectiveness of charcoal. A little goes a long way when it comes to the Akorn.
Cooking options
The Akorn has terrific temperature control thanks to its sturdy construction. This gives users the option of either keeping things 'low and slow' to smoke meats or turn up the heat with more charcoal to use it as a standard grill.
Cost and Value
While other Kamado-style grills carry a high price tag, the Akorn is a far more cost-effective way to experience this ancient Japanese style of cooking. It is literally hundreds and hundreds of dollars cheaper than some of the higher-end Kamado grills on the market.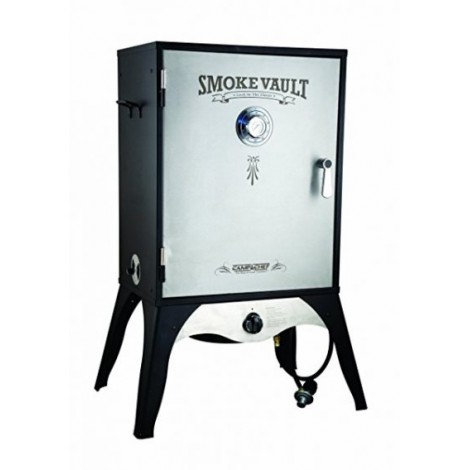 Sturdy, vault-style design
Multiple racks for smoking
Easy to clean removable base
Heavy-gauge steel chip pan
Recipes and suggestions sent with unit
Bulky and unwieldy
Heat can escape when used in inclement weather
This outdoor smoker from Camp Chef comes complete with three levels of cooking space including a rack for making jerky. The chip tray is stainless steel for durability and ease of cleaning. The porcelain base can be removed easily as well, which makes cleaning this smoker even more of a cinch. Temperature control is solid making this another great 'set it and forget it' smoker.
Space
This one is perfect for small gatherings. It's built like a safe, with sturdy layers within for multiple cuts of meat. Aspiring smokers can attempt different cuts at once, and even go so far as to try their hand at making jerky!
Ideas
The Camp Chef Smoke Vault is user-friendly for beginning smokers. That extends beyond the easy-to-use design. It comes with a whole list of recipes, and tips/tricks of the trade, which can be a great help to the new and nervous.
Cost and Value
This is a nice low to a mid-range item. For the sheer size and heft of the thing, the price point is a bargain. It is worth an extra look for the extra racks of space alone. Consider it if you see yourself as more of a 'high volume' smoker.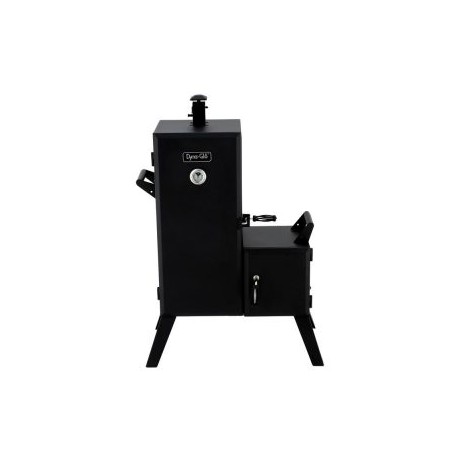 4 Adjustable cooking grates
Side-door access for filling the charcoal
Heavy-duty steel design
Smoker Box is large and can accommodate large fuel pieces
Incredibly large cooking space
The roof can be flimsy
Construction can cause some loss of smoke between cracks in the door
Here we have another mammoth smoker for those looking to dive into the hobby full force. The Dyna-Glo Vertical smoker has four cooking racks for a total of nearly 800 square inches of cooking space. The steel body of the smoker weighs in at nearly 60 pounds, so durability takes precedence over portability on this one. All in all, it gets the job done for a surprisingly low price.
Cooking space
Want to smoke multiple full-sized turkeys? 40 pounds of pork butt? No problem. Size is the defining trait of this charcoal smoker. The four levels of the grating are solidly built and easy to clean, so wrapping up a smoking session doesn't have to be a pain.
Ease of Use
Adding fuel can be a pain with some smokers, as it necessitates accessing the main body of the device to refill. This can cause a sudden drop in temperature which impacts your results. The Day-Glo smoker has a side door for ease of access for adding charcoal, eliminating this problem.
Cost and Value
While higher-end products exist on the market for the 'professional' smoker, this one is ideal for those with a large family but not a large pocketbook. It is surprisingly affordable given the amount of food one can prepare within it.
8

. Bradley Digital 6 Rack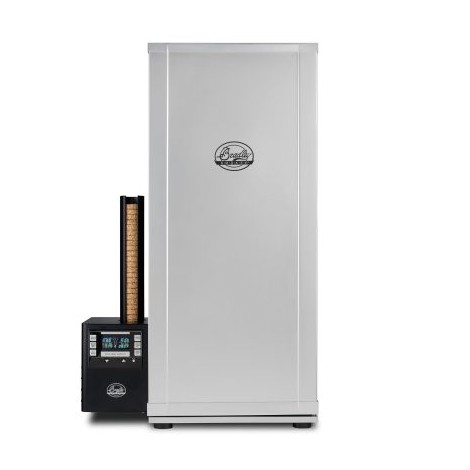 Extra large 5 rack design
Easy to clean
Fuel reloader makes filling the smoker easily
Self-control for temp. and time
Sturdy stainless steel design
Smoke can escape from the door
Only powered by the manufacturer's fuel chips
Far and away the largest item on the list, the Bradley Digital Smoker fits six cooking racks. The system is entirely digital, so the smoker settings can be customized to time, temperature, and fuel control. It even has its own built-in feeder so the wood pucks that power the Bradley reload themselves. The ash pan is easy to remove and clean as well.
Set and Forget
The main benefit of a digital system is the luxury of not having to tend to it. With the Bradley Digital, nearly every aspect of the smoking process is automated, right down to loading and re-loading the chips, making this a great unit for those who want to smoke but are short on hours in the day to do so.
Volume
As stated above, the volume here is terrific for those looking to cook for an extremely large group of people, or a hunter looking to smoke large portions of a carcass. with 6 separate racks, there is more than enough space for any avid smoker's needs
Cost and Value
This smoker is more towards the upper end of the cost spectrum. While still far from the most expensive on the market, the digital controls and self-filling fuel options are extra bells and whistles that buyers can expect to pay a bit more for.
9

. Cookshack Smokette Elite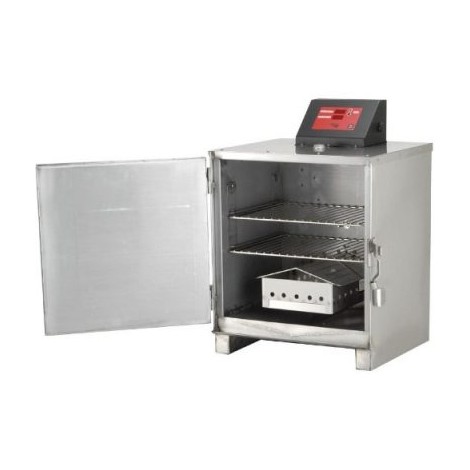 Heavy-duty steel construction
Accurate meat probe included
Purchase supports USA manufacturing
Fuel-efficient
Holds temperature beautifully
Extremely expensive
Smokes a smaller volume of meat compared to some cheaper smokers
High end, high quality, and high cost. Cookshack's Smokette is a precision-crafted, American made, BBQ smoker for someone who considers themselves a bit more than a hobbyist when it comes to smoking meat. Surprisingly portable, this wheeled model comes complete with a handy meat probe for assessing the temperature inside as well as outside your meat to ensure a perfect finish. Durable double-walled steel holds the heat in and digital controls take away the guesswork.
Accuracy
The stand-out here is the accuracy of the smoking experience. While other products may come out swinging with their size or their value, the Smokette has banged on temperature controls, and the included probe goes a long way towards guaranteeing perfection with every single smoking session.
Construction
As stated above, the materials cut no corners here. The steel walls of the smoker are built to last, holding in heat beautifully and creating the most fuel efficiency possible. A smoker to make even the experts proud.
Cost and Value
The main downside of this product is the cost. As one of the most expensive items on the list, this is one purchase that shouldn't be taken lightly. For a novice smoker or one with a lighter pocketbook, it may be necessary to explore more cost-effective options.
10

. Oklahoma Joe's Longhorn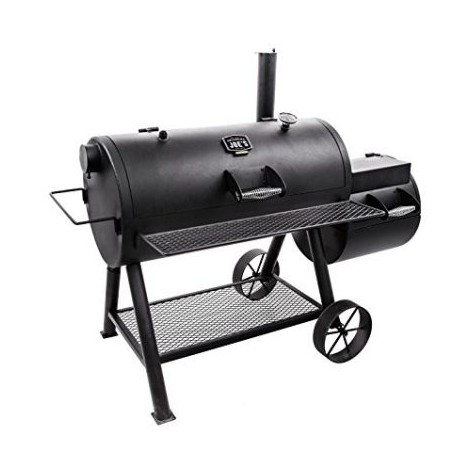 Reverse flow technology creates some of the best-smoked meats out there
Durable and sturdy
Porcelain-coated grates are easy to clean
4 racks worth of space
Cost-effective 
Extremely heavy and difficult to move
Necessitates a labor-intensive smoking process
This reverse flow smoker from Oklahoma Joe's is more traditional than some of the other, fancier options on the list. Its old school in the extreme and, at nearly 200 pounds, is intended as a permanent fixture on someone's deck. Users should expect a smoking process that is a bit more labor intensive. Reverse flow smokers, while more low tech, are hugely popular with professionals. Cooking on the Longhorn is a labor of love.
Reverse Flow Design
This is one of the only 'traditional' reverse flow smokers on the list. When we think of a classic, old-fashioned smoker this is what we're talking about. Fuel sits in a separate enclosure, and the design directs smoke to the far end of the main chamber, ensuring the best circulation and flavor. This one is great for purists.
Built like a Tank
This is not one to take on your camping trip. The Longhorn Smoker is made of heavy-gauge steel all around, with porcelain-coated cooking grates for ease of cleaning. No one would ever mistake this product for films.
Cost and Value
If you are willing to take the time to learn to use it, the Longhorn is a terrific value compared to some other reverse flow smokers. It is especially cost-effective given its sheer size and heft along with the quality of the materials used in its construction.
Criteria Used for Evaluation
Effectiveness
Arguably one of the most important aspects of your smoker is the BTU (British Thermal Unit) level that it is capable of achieving. This unit of measurement is essentially how much heat is required to increase the temperature of one pound of water by one degree Fahrenheit. Additionally, this number will help you to estimate how much fuel your smoker will consume. While the higher BTU smokers aren't necessarily better they are capable of reaching and maintaining higher temperatures. Each of the smokers on this list has enough BTU to get you through a nice low and slow smoke.
Your smoker needs to be capable of reaching, maintaining, and regulating the heat inside in order to give you consistent performance through your use. Each of these smokers is able to maintain and regulate their temperature but how they do so is vastly different. Some of the smokers on this list have an LED panel that is press and forget. You can rest easy knowing these smokers are sure to regulate the heat. With other smokers, you will need to moderate the amount of fuel you use, adjust your dampeners, and slowly make small adjustments during your cook to manually control your temperature.
A critical component of ensuring good performance is finding a smoker that has a good temperature range. After smoking a piece of meat more often than not you will want to sear that meat in order to get a nice crispy exterior. With some of these smokers, unfortunately, you will need to use some other outside method of searing while others are dual purposed and capable of adding that finishing touch to your cook. In order to provide a diverse selection, we included smokers that were and were not capable of searing. These smokers have a temperature range between 50 degrees Fahrenheit and 700 degrees Fahrenheit.

Model
When choosing the smoker that's right for you an import characteristic to consider is the source of fuel you choose to consume. The first and easier to use option is an electric smoker. These smokers generally come with a digital screen and will allow you to maintain the temperature of your smoker with the push of a button. While this is very convenient many people believe that electric smokers can't match other types of smokers when it comes down to the rich taste.
Alternatively, many smokers use propane which can provide a very rich smoky flavor and will maintain the heat after making some of your own adjustments. Keeping with the diverse selection options we included both electric and propane smokers on this list.I've found that without a temperature gauge on your smokers it can be, well, difficult to maintain temperature. While the general consensus is to never trust the gauge on your smoker and to instead use an electric gauge many of these smokers have a very accurate built-in gauge. The electric smokers use the digital LED display that regulates the temperature through automatically. Other more traditional smokers will require you to add fuel to increase the temperature or allow the smoker to rest and lower to your desired range. Any smokers that included a built-in temperature gauge were given a higher value than those that did not possess this important feature.
When cooking more than one cut of meat or other ingestible goodness you will find that the different sizing and density of each piece of food will require different cooking times. While it is easy enough to stagger your placement this would require you to plan out your entire cook and should you have a lot of food to cook this will be challenging. Using warming racks is a great way to add all your food at once and as they finish place them onto the warming racks that will keep them hot but safe from burning and out of direct heat.

Accessories
Smoking meat is a time-sensitive process and there are a vast number of tools associated that will make or break your cook. You'll need a spatula, tongs, or perhaps knives to cut the meat and unless you can grow an extra pair of hands or juggle you'll likely appreciate a way to store your utensils or a place to set your plate when your cook is done.
Those smokers that went the extra mile to provide you with side tables or even a front table in one instance have a bit of extra value. Likely the most important part of using a smoker is the smoke you use when cooking. The pellets, wood, or charcoal you use during a smoke will drastically change the flavor of your food and isn't a decision to be made lightly. Whether you know what you want or are just starting out, trying a vast array and different methods is the best way to find a flavor you enjoy and works well with your cook. While these smokers have different capabilities most are able to use any of the major smoking methods to provide you with that delicious result you're after.

Durability
Part of getting the best smoke flavor possible is having a fully sealed ( with exception to your dampeners this is very important and it is dangerous to close all openings on a grill during use ) smoking area. Ensuring your smoke and the only exit from a single upper dampener will allow your smoke to fill with that lovely tasty smoke and encompass all of your food. A sealed and locking lid will go a long way in working to keep that delectable goodness inside your smoker. Many of the smokers featured in this list use top lifting doors and they are sealed around the edges making an airtight seal.
The materials used in the production of these smokers is one of the best ways to determine whether or not your smoker will be the high-quality product you're after. The most common exterior of these smokers is durable stainless steel that is generally coated and capable of withstanding the heat that is produced. Additionally, inside the smokers, the best grates are made using cast iron which is renowned for its ability to evenly spread heat, apply grill marks, and self-released after the meat has reached the right point. Furthermore, the insulation that is used or not used will determine how easy it is for you to maintain your temperature for the duration of your smoke. We organized this list with many different aspects however this trait weighed heavily when it came down to placement.

Features
Often times it's the smallest additions and inclusions when we buy something that provides the full and satisfying feeling you get from finally buying the product of your dreams and smokers are no different. The addition of a grill cover for your smoker is a wonderful way for the manufacturer to provide you with additional support and protection for your smoker. These covers will keep the elements off your prized smoker ensuring they can provide long-lasting comfort. Some of the smokers we selected included grill covers while others had the option to add them for an additional charge.
Part of selecting the best smoker is finding one that is adaptable and while smoking is the primary focus of the list, any smoker that had more functionality inheritance has a higher value. While it was not a specific requirement when we made this list, the ability to use your smoker as a grill or roasting oven adds a bit of value and allows you more cooking options. This combination is particularly useful for meats in which you want to use a reverse searing method or should you want a roast with a more smoky flavor.
Luckily we live in a modern era and with that comes the perks of technology. One of my favorite parts of smoking is watching that succulent piece of meat slowly cook down into a tender blob of heavenly flavor. To make this a more enjoyable experience we selected smokers that had an interior light that will glisten off the running juices. Furthermore, many of the electric smokers are Bluetooth accessible and can be controlled with the use of your phone and an app that is synced to your smoker.
Expert Interviews & Opinions
Most Important Criteria
(According to our experts opinion)
Experts Opinion
Editors Opinion
Users Opinion
By Default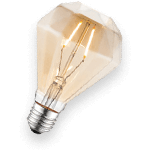 Commit to Smoking
No, not that way, but if you're going to dive into the world of smoking, then you better be ready to commit to it otherwise before you know it you'll have a smoker that will be sitting around in your backyard slowly becoming junk. Don't get us wrong here, smoking is a commitment. If your days aren't open, then you're not going to have the time necessary to do this right. But here's the thing, it's like golf if you want to be good at it, (or anything for that matter) you have to put the time in, and the results will follow.
Frequently Asked Questions
q:

Do any of these smokers include a weatherproof cover?

a:

As one of the biggest threats to your smoker, a weatherproof cover is a very important addition to properly maintain it. Many of the smokers we selected did include covers however not all of them did. It recommends checking each one as some did have the option to add a cover in addition to the smoker at an increased cost.
q:

What is the temperature range of these smokers?

a:

While the most commonly recommended temperature range is between 200 and 250 degrees Fahrenheit these smokers are able to be adjusted between 50 and 700 degrees Fahrenheit.
q:

Is there any advantage to having a windowed smoker?

a:

Aside from providing you a front-row seat to watch your meat cook the windows provide no advantage while smoking. In fact, they are actually detrimental and will release excess heat making your smoker work harder to maintain the temperature.
q:

Should I season my grill or grates?

a:

While this is generally a preferential question the common consensus is that over time your smoker will season itself through your cooks. I personally highly recommend allowing this process to take place as it seems to enhance the flavor.
q:

Are these grills difficult to clean?

a:

Most of these smokers use removable cooking surfaces that are easy to wash after allowing them time to cool down.
q:

How portable are these smokers?

a:

As a focal point in our research, these smokers have varying degrees of portability. No matter your needs you can find easily portable, wheeled and stationary smokers.
q:

How accurate are the temperature gauges?

a:

Many of the built-in lids placed temperature gauges will work briefly and then give up. This is because of the prolonged exposure and use of materials that aren't capable of withstanding a maintained heat source. Your best bet is to find an alternative temperature gauge.
q:

Do any of these smokers come assembled?

a:

Many of the smaller smokers are shipped fully assembled while the larger ones will require you to do the assembly.
Subscribe to our Newsletter