Best Camping Chairs Reviewed & Tested for Quality and Value
In a Hurry? Editors choice: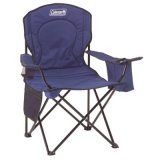 Test Winner: Coleman Portable Camping Quad Chair

Chairs are one of those things that you might not think about if you're not a parent or a dedicated day hiker. The fact is the first time we really got in touch with our inner camping chair was at Little League, or at Soccer, or Lacrosse or Rugby. As we stood watching our tiny progeny kick, hit or run (or not) across a field learning to be athletes, we noticed those parents sitting in chairs just seemed to have it all together. They had their chair, their coffee, their hats the whole deal. While we had leg cramps. Having one or a set solves all kinds of problems, need an extra chair on an outdoor dinner party, run to the garage. Need a place to sit and tend the fire on an overnight, check the trunk. Get one and quickly enough they'll become indispensable.
Standout Picks
Criteria Used for Evaluation
Style
Styling and color choices were the first criteria that we evaluated. All of the selections on the list were set in their ways when it came to styles, so optional colors was important for getting points with these criteria. Only a few on the list allowed the customer to choose a different color over the default.
It is a minor convenience, but one that's appreciated if a buyer has a favorite color. Even the brands that offered good customization options were limited in their colors available. In the end, only a few models on the list received significant points that made a difference. With color out of the way, the most important criterion was decided next - durability.
Durability
These are primarily used outside. They travel a lot, going to different places, hitting a lot of bumps along the way. All of that traveling can lead to wear and tear on a product that is meant to last at least a year. Chairs that showed they had longevity with higher quality materials were pushed to the top of the list.
Features
The extra features criteria were all about finding which manufacturers went out of their way to try something new. Features like adjustable height, dual cup holders, and a reinforced carrying bag were considered above and beyond what a typical chair would provide.
We noted which models offered these extras, and how well they worked with the design. In many cases, they worked as good in real life as they did on paper, and this is where the winners were found. With proper execution, these were the standouts on the list, long before we got to the rest of the criteria.
Weather Resistance
Although weather resistance is tied to durability, we felt the need to separate this criterion. A lot of the durable products on the list lacked weather resistance, and likewise, there were plenty of weather-resistant products that had below-average durability.
This criterion was meant to balance out some of the lists from when we reordered them for durability, and it rated their effectiveness in withstanding the conditions. Rather than penalize for not having weather resistance, we merely gave points to the models that included it. Some minor changes were made to the top ten because of this, although no changes from the top three.
Value
Price is something that only affected one or two of the items on the list. Most of them were close in price, with some of them being a few dollars apart in price. This is a great industry for a consumer that wants to buy multiple chairs, and the competition is fierce.
Any that deviated away from the average price of the options on the list took a considerable drop. Our reasoning for this drop was related to the number of chairs with similar features for a lower price. Other than some specific branding/marketing, there wasn't anything majorly different about the high priced chairs.
10 Best Camping Chairs
1

. ALPS Mountaineering King Kong Chair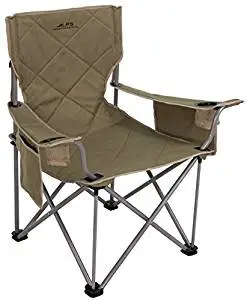 When it comes to lifespan and sturdiness, the ALP Mountaineering King Kong is a beast. It will provide seating for countless camping adventures. The chair is simple to set-up. It is a durable chair that offers excellent, premium campsite lounging.
Amenities
Alps Mountaineering has a reputation for making quality backpacking and camping products. Besides storage pockets on the sides, there is a mesh storage pocket on the back of the chair that is perfect for a book, magazines, or a tablet.
Ruggedness
The chair can hold as much as 800 pounds. This chair is among the sturdiest available. The unmatched stability is due to the combination of a steel frame and 600D polyester fabric. This is not a disposable chair available at your local chain store. It carries a lifetime guarantee against manufacturer defects. The frame is powder-coated which is significantly better for rust proofing than paint. Somehow without increases in the weight of the chair, the steel frame offers more weight capacity than any other chair.
Cost and Value
It is worth the investment if you want a comfortable camping chair that will last for years. The chair is no more expensive than any of its competitors offering a decent chair. This chair with excellent back support and its fantastic weight capacity is available at a great price.

2

. Coleman Portable Camping Quad Chair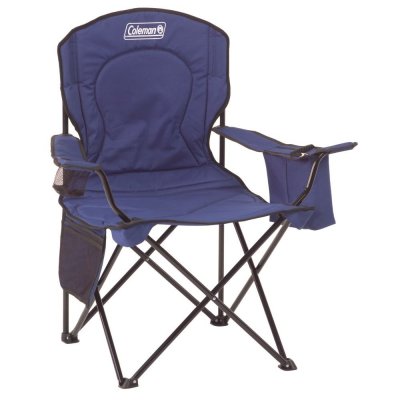 This Coleman Quad chair is just about all that you need. You've got a cupholder, you've got a cooler pouch, you've got another pouch hanging off the bottom, plus this is just one comfy chair. We are big fans of Coleman in general but this chair is really a high-quality relaxing utensil!
Built In Cooler Pouch
This is just a tiny bit of genius that Coleman thought of that we are highly supportive of. This pouch is insulated to keep cold things cold and hot things hot. And whether it's a coffee on soccer morning or an adult beverage after a long hiking day this is the perfect day to keep your stuff at the temperature at which it's supposed to be enjoyed.
Fully Cushioned Seat
We appreciate the thought behind a mildly cushioned seat and when you sit down in one of these you actually feel the padding. It works, and once in a while, it's nice to lean back and feel padding instead of just a slice of canvas padding. Coleman put padding in the seat and back and you can actually feel it.
Cost and Value
Not bad at all when it comes to price. If you want a family of chairs it might get a bit pricey but you can get a nice pair of camp chairs and not have it take too big of a bite out of your bank account. Plus we love the Coleman game.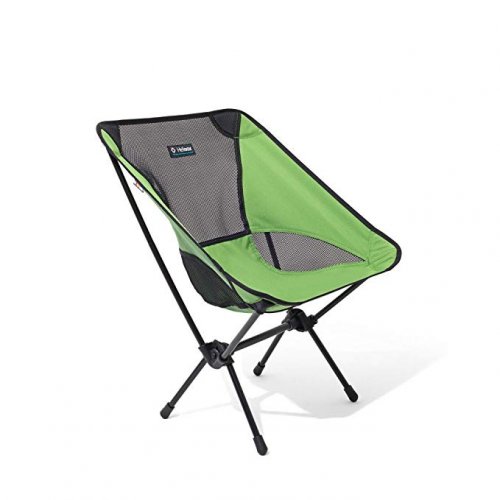 You may want to consider the Big Agnes Helinox Chair One for your next backpacking or camping adventure. The unique design of the chair allows folding it into a compact carry bag. The two-pound chair measures 17'" x 45" x 4.5" when folded.
Easy to Transport
It is amazing something that compact can be unfolded and support 350 pounds. The 1000D oxford cloth and mesh combination make the chair comfortable when sitting in the hot weather for long periods of time. The chair is ideal for backpacking and camping. The nylon carry bag is perfect for a picnic, fishing, tailgating, or as a beach chair. This is the chair for those looking for a chair that is light to carry but still offers comfort. The chair nearly puts itself together when you shake the legs.
Ventilation
For a compact model, it is among the most comfortable, stable, and durable. It does an outstanding job of providing a balance of comfort and easy to transport. The well-ventilated mesh backing offers superb lower back support. You are kept cool and dry due to the perspiration evaporation that is fostered by the mesh backing. The aluminum frame is durable and strong. It folds and unfolds quickly. There are wide rubber caps on the leg bottoms that prevent sinking into mud or sand.
Cost and Value
While the chair is on the high end of the price spectrum, those who have purchased the chair say it is worth the price. One of the people who provided a review on Amazon said the chair had been put through the paces over the last year.

4

. GCI Outdoor Freestyle Rocker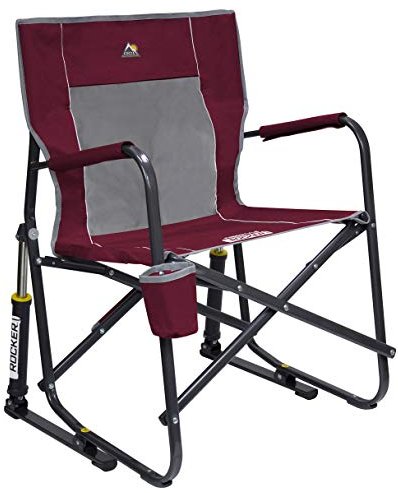 This chair is constructed with powder-coated steel which makes it strong and makes it last. If you've ever owned or built a rocker you know that all that rhythmic moving can be hard on a chair and if they aren't built well then they're going to fall apart. But this is built to last and the steel construction helps ensure that you'll be rocking the night away.
Easy Folding
Unlike some other chairs on this list, this rocker folds up as easily as the best-designed camp chairs. It folds flat in no time so it's not taking up the entire trunk in transit to a campsite or a ball game.
Spring Action Rocking Technology
It really is a nice rocking chair, the spring action is smooth, not clunky and it doesn't bang to a stop like some other chairs tend to do. It's a really well-constructed piece of chair and if your day just isn't full without a few minutes just taking it easy then this might just be a must.
Cost and Value
It is a rocker so it's a bit more expensive than some of the other options on this page. But you get what you pay for and having a rocking chair really is quite fun. So if you want to add a bit of spring to your camp chair this is the way to go.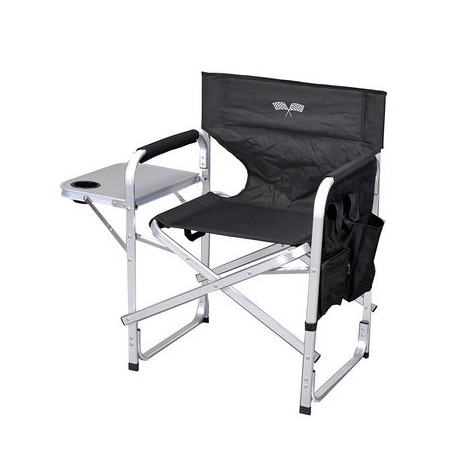 Buyers can count this chair as a sturdy option with the side table as a plus. Don't let the aluminum frame fool you since this chair can really handle a lot of weight.
Great Color Options
Stylish Camping offers this model in Black, Blue, Brown, Burgundy, and Green. Someone's favorite color is bound to be on that list, so it makes a great gift.
Features
This one allows you to decide whether or not to use the table. As it can be folded out or out down. A handy storage pocket is on the opposing side of the table. Allowing you to keep snacks or other supplies on hand.
Cost and Value
This is the first mid-priced chair on the list, and considering the amount of weight it can hold, it is easily worth it. Wide and sturdy, you can depend on this chair for years for all types of activities.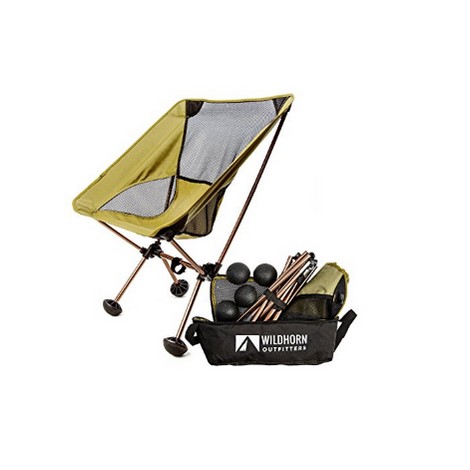 Specialized portable chairs for the beach or heavy outdoor tend to be expensive and use different materials. Terralite squeezed a ton of those specialized features into a very economical format, and it really looks good.
Made For Camping Or Beach Use
Using their special Terragrip feet, the chair won't sink in sand or mud. And just in case something happens to the feet, they have also made the feet interchangeable.
Upkeep
You won't have to worry about this chair looking stained or dingy. The seat cover can be removed and washed in your washing machine. Keeping it brand new looking time and time again.
Cost and value
Just barely staying below the high price point, this Terralite model will do the trick for a lot of users. The price fits what you are getting, and there is no better chair on the market that specializes in both a heavy beach and outdoor use.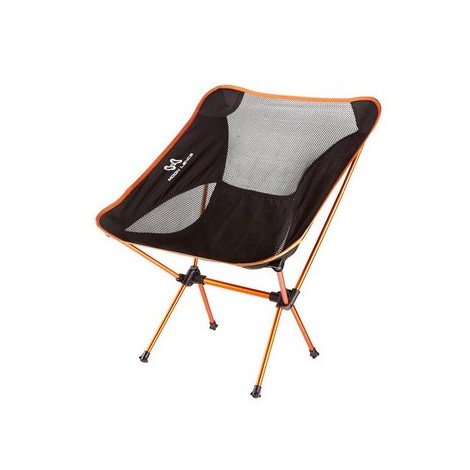 There is nothing like a good portable chair to sit on when you're in the middle of nowhere. There is nothing too revolutionary about this Moon Lence chair, yet it does exactly what it is supposed to do for the customer.
No Hassle Setup
Just like a tent, having a chair that can be set up in seconds is a must. And it must be done without sacrificing portability, or durability. Moon Lence did a good job of making this as painless as possible.
Light and Fashionable
The frame on this one is made from materials that are both durable and light in weight. Making carrying this chair relatively easy. Available in multiple color options, you can find one that suits your sense of style.
Cost and value
You're not going to spend a lot of money on this since it is in the low price range. For a portable chair that can be carried with your other materials, the value is good.

8

. Therm-a-Rest UNO Chair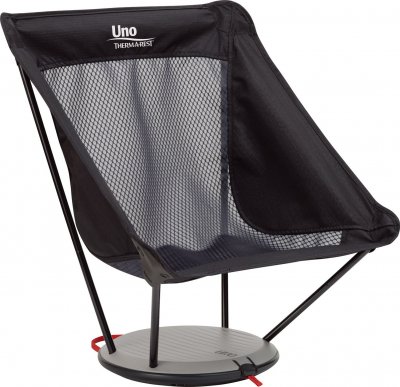 These sack-like chairs are a bit difficult to get in and out of but once you're in that may not be a problem since they're so darn comfortable. The base is solid so you don't feel unsteady when you're sitting in them (even if you're a big guy/gal), plus it carries easily.
Converts Into a Side Table
This is one of those things that doesn't seem to make sense until you try it If you don't need the chair then simply flip it onto its base and it becomes a little end table. It's really a fantastic little chair.
Moves Easily
The whole assembly folds easily into the base so it takes up hardly any space at all. This is a really unique design and we like the way it travels so easily.
Cost and Value
A bit pricey for our taste but it is a unique design and a pretty cool little chair/table combo so if you're looking for convenience and to kill two birds with one stone this chair just might be what you're looking for.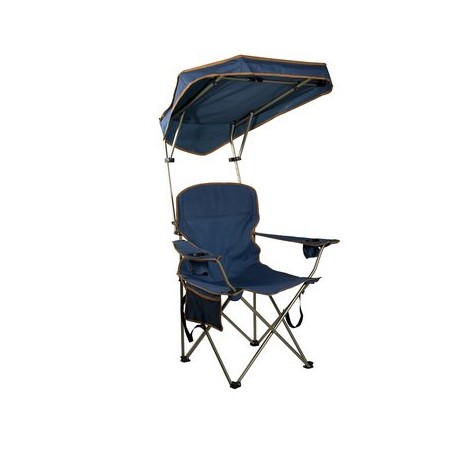 Quik Shade made some changes to their design to give customers what they have been asking for. This is one of the more universally customer-friendly designs available on the list.
Protected From The Sun
Of course, what makes this an easy sell is that it comes with a canopy to keep the sun off of you. Because of the darker color used with Navy, it does a good job of blocking out UV rays.
Sturdy Design
The framing on this is constructed to hold up to a decent amount of weight. Which relieves worry for those that have a hard time finding this type of chair. The fabric used is made to hold up to the sun providing even more durability.
Cost and Value
A good portion of the value goes towards getting a chair with a canopy. Since this is one of the lowest-priced options on the list, that alone should make most buyers happy.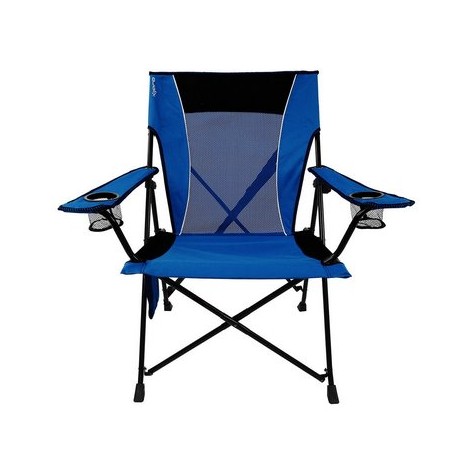 Kijaro is high up on the list for many reasons, with their locking technology being a difference-maker in the industry. You can count on their chair on any trip you plan since they only use high-end materials.
Dual Lock Technology
The push-button lock keeps the chair closed and open so there are no issues with stability. It's a very painless experience that doesn't cause issues with the overall use of the chair and improves it.
Comfort
When it comes to comfort there is more than one way to achieve it. In this case, they used a material that will allow breathing room. Eliminating that sweaty feeling we get from summer days spent at the campsite in a chair.
Cost and Value
Buying this chair for the dual lock technology by itself makes it worth the value. It is low-mid priced and has a lot of color options to choose from.

Subscribe to our Newsletter