Best Camping Chairs Reviewed
Portable chairs don't use the same flimsy designs from when they first came out. Now they are strong and use top grade materials, with many of them having construction similar to high end camping equipment. Even with all the advancement in camping chair technology, the prices have been kind to the customers.
Best Brands
Coleman and Terralite have really changed how customers look at the features of camping chairs. Portable chairs are much more than simple seats with mesh and have turned into items of convenience for campers and beachgoers worldwide. So when you get beyond the colors and construction, these two companies have done a lot for the industry when it comes to introducing new features.
Maintenance and Cleaning Tips
Some chairs have removable fabric, some don't. If the material is removable, then chances are it can be washed and cleaned. The big thing about cleaning these chairs comes down to keeping sticky stuff off, so it is more spot cleaning you have to do. Attack a soda spill the moment it happens and it won't become a problem later on.
Our Top 3 Picks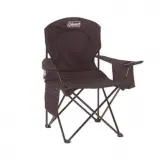 Coleman Oversized Chair

Our rating
Wide seats
Price: See Here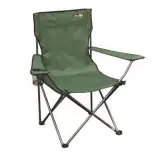 Quad Camp Chair

Our rating
Lightweight
Price: See Here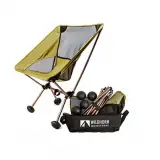 Terralite Portable Chair

Our rating
Rustproof materials
Price: See Here
Best Camping Chairs Reviewed
Browse through our selection for the best camping chairs available today. We reviewed each in detail and highlighted the good things as well as customers' complaints if there were any.
10. Moon Lence Ultralight Portable Folding Camping Backpacking Chairs
There is nothing like a good portable chair to sit on when you're in the middle of nowhere. There is nothing too revolutionary about this Moon Lence chair, yet it does exactly what it is supposed to do for the customer.


Expand to see more
No Hassle Setup

Just like a tent, having a camping chair that can be set up in seconds is a must. And it must be done without sacrificing portability, or durability. Moon Lence did a good job of making this as painless as possible.

Features and Specifications

1000D Oxford cloth
Holds up to 242 pounds
Aluminum alloy frame
Available in Dark blue, Light blue, Red and Orange


Price/Value

You're not going to spend a lot of money for this since it is in the low price range. For a portable chair that can be carried with your other materials, the value is good.

Decision Time

You won't have any complaints when sitting in this chair, or with setting it up. Both result in a painless experience for the customer that just wants something simple.
Painless setup and teardown
Comfortable cloth for long periods of sitting
Both mesh and holders can be folded
Small enough to fit in a backpack
Not as durable as some of the others on the list
9. Coleman Aluminum Deck Chair
Even beyond camping this chair has gained some popularity, mostly among sports buffs that tailgate. It has a great height and some good support, with a lot to offer in its price range.


Expand to see more
Snack Table Makes The Difference

Coleman implemented a drink holder/snack table on the side that makes it great for more than just camping. This can double as a tailgating chair, or even a chair for when you go to festivals or fairs.

Features and Specifications

Padded arm rests
Supports up to 225 pounds
1 year limited warranty
Carry handles for transporting


Price/Value

Even with the luxury additions they are still charging a low price for the entire setup. Buyers will be pleased to know that they can get a lot for very little with this deal.

Decision Time

If the snack tray was able to pull around to the front then this would have been a top 3 item. Even in its current position, there is still tons of value.
Folds flat so is good for backpacking
Padded arm rests are a good luxury addition
Snack table is convenient and fun
Fully assembled out of the box
8. Quik Shade MAX Shade Camp Chair
Quik Shade made some changes to their design to give customers what they have been asking for. This is one of the more universally customer friendly designs available on the list.


Expand to see more
Protected From The Sun

Of course what makes this an easy sell is that it comes with a canopy to keep the sun off of you. Because of the darker color used with Navy, it does a good job of blocking out UV rays.

Features and Specifications

Max shade canopy
2 Cup holders
Supports up to 225 pounds
300x600D polyester fabric


Price/Value

A good portion of the value goes towards getting a chair with a canopy. Since this is one of the lowest priced options on the list, that alone should make most buyers happy.

Decision Time

Yes, the canopy really does make the difference! Buyers that live in an area where the sun is problematic will find this is a buy that will save their skin.
Cup holders are spacious and deep
Canopy blocks out the strongest rays
Polyester fabric is firm but comfortable against the skin
Stain resistant fabric
7. Stylish Camping Full Back Folding Director's Chair
Buyers can count this chair as a sturdy option with the side table as a plus. Don't let the aluminum frame fool you, since this chair can really handle a lot of weight.


Expand to see more
Great Color Options

Stylish Camping offers this model in Black, Blue, Brown, Burgundy and Green. Someone's favorite color is bound to be in that list, so it makes a great gift.

Features and Specifications

Retractable Side table
Accessory pockets are on side of chair
Supports up to 350 pounds
5 different color choices


Price/Value

This is the first mid-priced chair on the list, and considering the amount of weight it can hold, it is easily worth it. Wide and sturdy, you can depend on this chair for years for all types of activities.

Decision Time

It's always nice when a chair doesn't squish your hips and gives you room to move around a bit. Stylish Camping offered that and more with this model, with a great eye for color choices.
Lightweight aluminum frame
Durable and supports a lot of weight
Roomy accessory pockets opposite cup holder side
Wide chair
Tray can't hold a lot of weight
6. Quik Chair Heavy Duty Folding Camp Chair
A champion when it comes to stability, the Quick Chair is indeed heavy duty. It may very well be the strongest chair on the list, or at the very least the best supported.


Expand to see more
It Can Handle Any Weight

With support for up to 500 pounds, there really isn't anyone that will find this chair uncomfortable. The frame has also been widened, so there is room to move around and get comfortable if you have to sit for long periods.

Features and Specifications

600x300D Polyester fabric
Water and stain resistant
Supports up to 500 pounds
Bag with shoulder strap included


Price/Value

This is another low priced chair with a value that skyrockets when you factor in what weight it can handle. Buyers will be hard pressed to find another chair with these specs at this price.

Decision Time

Heavy duty chairs are important for the industry not just for people above 200, but because they usually make them more comfortable period. Customers that want a little room to move around in will get good use out of his model.
Only weighs 9 pounds
One of the best when it comes to handling a lot of weight
2 all fabric cup holders
Comfortable and easy to set up
Rubber on the arms are a bit thin
5. KingCamp Moon Leisure Lightweight Portable Stable Folding Chair
Good padding and balanced weight make for a great chair, and that's why KingCamp made the #5 spot. They focused on making their chair comfortable, portable and ultimately user friendly.


Expand to see more
Good Padded Zone

The now popular design that KingCamp used is suitable for all sizes and provides great padding. It also gets rid of issues with uncomfortable arms rests in portable chairs.

Features and Specifications

Large pocket on the back of the chair
Steel frame construction
Supports up to 260 pounds
Includes storage bag with shoulder strap


Price/Value

Buyers can expect to spend a bit more than normal, up to the mid-tier in pricing. The moon design is well worth it and offers a great way to relax anywhere you can set the chair down.

Decision Time

Capable of handling a good amount of weight and with a focus on comfort, KingCamp offers a competitive alternative to the normal portable chair. This lightweight option will come in handy several times a year no matter where you take it.
Comfortable polyester fabric
Only weighs 10 pounds when packed
Sturdy, balanced and strong
Provides more room than normal portable chairs
4. Kijaro Dual Lock Folding Chair
Kijaro is high up on the list for many reasons, with their locking technology being a difference maker in the industry. You can count on their chair on any trip you plan, since they only use high end materials.


Expand to see more
Dual Lock Technology

The push button lock keeps the chair closed and open so there are no issues with stability. It's a very painless experience that doesn't cause issues with the overall use of the chair, and improves it.

Features and Specifications

Breathable mesh back seat
Supports up to 300 pounds
Patented dual lock technology
2 cup holders and organizer


Price/Value

Buying this chair for the dual lock technology by itself makes it worth the value. It is low-mid priced, and has a lot of color options to choose from.

Decision Time

A good chair that is stable with lots of room will always be highly recommended. Kijaro has made this model a must have, and solidified their name in the industry.
Lots of room to add things to the chair
Locking technology makes this the most stable on the list
Comes in 11 different colors
Comes with a carrying bag
One of the heavier chairs on the list
3. Terralite Portable Camp / Beach Chair
Specialized portable chairs for beach or heavy outdoor tend to be expensive and use different materials. Terralite squeezed a ton of those specialized features into a very economical format, and it really looks good.


Expand to see more
Made For Camping Or Beach Use

Using their special Terragrip feet, the chair won't sink in sand or mud. And just in case something happens to the feet, they have also made the feet interchangeable.

Features and Specifications

Available in Olive, Blue, Dark Blue, Neon Green and Red
Weighs only 2 pounds
Built in Velcro straps
Aircraft grade 7075 aluminum with support for up to 350 pounds


Price/Value

Just barely staying below the high price point, this Terralite model will do the trick for a lot of users. The price fits what you are getting, and there is no better chair on the market that specializes in both heavy beach and outdoor use.

Decision Time

Buyers that need a chair with high performance in sand and mud won't find a better option than this model. Terralite made a great chair with some nifty feet that can handle a lot of weight.
Mesh storage bag is high quality
Terragrip feet make all the difference in the world when camping
Rustproof materials
Seat cover is removable and can be machine washed
Seats can be a bit tight for larger sizes
2. Quik Chair Folding Quad Camp Chair
When Quik Shade released another quad camp chair, the market was already full of them. The difference is the Quik Chair had the everyday user in mind that wanted to set up in a matter of seconds rather than fighting with the chair.


Expand to see more
Ease Of Use

Being able to set up and take down this chair in a matter of seconds is how it got the name Quik Chair. Quads can be notoriously difficult in some cases, yet this model is about the easiest you will run across in your life.

Features and Specifications

Available in Green, Blue and Red
Easy pop up assembly
300D polyester fabric
Water and stain resistant


Price/Value

This is the lowest priced chair on the list, so buyers that want to bulk buy for a trip can get a really good deal. And these aren't cheaply made models, so you're essentially getting a quality chair for peanuts.

Decision Time

The price is a big attraction if you need something quick or in bulk. And if you like a no hassle set up and tear down, then the value continues to skyrocket.
Lightweight
Easy to put up and take down
Wide mesh cup holder
Good quality carrying bag
Chair isn't that spacious
1. Coleman Oversized Quad Chair with Cooler
Of course Coleman comes in at #1 by including a must have cooler accessory with their chair. What may seem like a small addition turns out to be an important feature for any drinker that likes convenience.


Expand to see more
The Best Chair Accessory In History

The built in arm rest cooler makes this an easy top pick, and can hold up to 4 cans while allowing a fifth drink in the cup holder. Convenience is the key word here, so imagine having 3-4 of these in a campsite.

Features and Specifications

Storage pocket
Supports up to 300 pounds
Arm rest cooler holds four cans
Adjustable arm rest


Price/Value

Coleman was able to keep the price low by not using heavy duty materials, with a slight hit to durability. There is still a massive amount of potential in the design, with the built in cooler turning into some next level innovation.

Decision Time

Building an important accessory into a portable chair is an instant win for many reasons, and the cooler really makes this a special buy. Coleman found its target market and nailed it perfectly, making an incredible chair.
Good weight support
Wide seats
Can hold a ton of beverages and snacks
Lightweight carrying bag
No heavy duty materials in the construction
How To Make The Best Decision When Choosing A Camping Chair
The big thing with these types of portable chairs is getting the sizing right. There are wide chairs and normal sized chairs. Knowing which one is more comfortable for your body type makes all the difference in the world, so be aware of your own physical needs. If you purchase a chair that is uncomfortable, then it completely defeats the purpose of the buy.
FAQ
Is Bigger Always Better?
Customers might opt to get a wide chair so they don't have to worry about getting a chair too small. But you don't want to sink into the chair or get lost in it, there needs to be room to move, but not too much. Once again, know your body type.
Should I Purchase A High End Chair?
There are portable chairs that sell for hundreds of dollars, yet have very little difference in construction compared to these chairs. All of the camping chairs on this list meet the industries quality standards aren't cheaply made.
Can I Use My Own Custom Carrying Bag?
Yes, and it won't damage the chair. Some of the chairs on the list even have Velcro straps so you can forgo using a bag altogether and strap it to your backpack.
Will These Hold Up Over The Years?
Portable chairs can handle a surprising amount of wait, some even in excess of 500 pounds. As long as you don't exceed the recommended weight then they will last for years with minor care.
Subscribe to our Newsletter