Best Camping Cookers Reviewed & Rated for Quality
In a Hurry? Editors choice: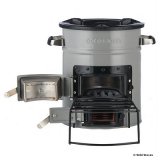 Test Winner: EcoZoom Versa

It would be hard to have a good time
camping
if you didn't have anything to eat. Eating is not only a source of nourishment, but it is also a pleasure which is why you will want to make sure you have the
ability to cook
a good meal. This is why you will most likely want to have some
cooking gear
with you while you are camping so that you can cook up some steak or breakfast sausages. While there are many different ways to cook your food while you are spending time outdoors, many people prefer ovens or camping grills since they give you the chance to cook your food like you are at home.
Standout Picks
Criteria Used for Evaluation
Durability
You will always want to take the time to check out the quality of the item that you are buying in order to make sure that it is a good item. Not only is poor quality equipment hard to cook with, but it can also turn into a safety hazard. You will be much better off if you spend a little extra time to make sure that you are getting a well designed and a well-made product. Keep in mind that a quality product doesn't necessarily mean that it is expensive. There are plenty of poorly made items that are expensive that are sold every day. You are looking for an item that cooks your food well and is safe to use. It should also be durable.
When you are looking for a camping cooker, you should take a look at the materials that are used to make it. You will need to make sure that everything that is used is able to handle being exposed to heat. That means it should not rely too much on plastic and certainly not in any critical areas on the cooker. Instead, you should look for materials such as steel and iron and they should be thick enough to resist warping and melting from the heat.
All of your cookers should have strong and sturdy support so that they do not tip over. This matters because a cooker that falls over can start a fire. If the cooker has legs or a stand, then it should be strong enough to support the unit. It also should avoid using materials that are prone to corrosion or rusting since this can contaminate the food on the cooker. The better the cooker, the better your meal will be so this is important.
Portability
Campsites are not meant to be permanent which means that your gear needs to be portable as well. The best cooking gear will be lightweight so that it is easy for you to carry to and from your campsite. It also needs to be small so that you can store it in your packs without too much of a hassle. Finally, the cooking gear needs to be powerful enough to cook your food properly. Your best cooking gear is gear that will meet all three of these needs.
Many campers have to carry their gear to their campsite. This means bringing stuff out of your vehicle to your campsite or it can mean longer trips such as when you are backpacking. If this is the case, then you need your gear to be lightweight. You do not want to have gear that is too heavy for you to carry in a comfortable fashion. While you are considering the size of the gear, you will also want to consider the source of fuel it uses. For example, you may have a lightweight grill but if you have to carry a large bag of charcoal with it, then it is going to be harder to bring it to camp.
The size is closely related to weight. Naturally, smaller items tend to weigh less and they will pack in your gear more easily as well. However, you need to keep in mind that you do not want to have undersized gear either. If you need two burners, then you should look for a two burner stove. Otherwise, your gear will not meet the final concern of being able to cook your food.
Power Source
Your cooker will need a source of energy in order to produce enough heat to warm and cook your food. As you may imagine, the heat source will have a noticeable impact on how the food tastes once it has been cooked. You will also need to consider the fuel source when you are packing because some sources of energy do not pack as well as other sources. The common sources are gas, wood, coal, and electricity.
Also worth reading best tasting freeze dried food
Gas is one of the most commonly used sources because it produces a lot of heat and it is easy to light. If you need a lightweight source of cooking gas then you can use butane otherwise propane is a more popular option. Gas burns evenly and cleanly without producing a lot of smoke. You can also easily control your cooking temperature when using gas. Charcoal is another popular alternative to gas but it does produce smoke which many people love for the flavor. Charcoal can be harder to get started and it is heavier and harder to carry than gas.
Wood is popular because it produces a flavor that is similar to charcoal. Another advantage of wood is that it is often accessible outdoors which means that you can gather it easily to start cooking rather than having to carry your fuel with you. Like charcoal, wood can be hard to light and it is also harder to control your cooking temperatures with it. Electricity is the final source of energy. It won't burn out in the wind and you can easily control your temperatures with it. However, it isn't always accessible so you normally need to camp where there is power or near your vehicle to use it.
Safety Hazards
Since you are working with equipment that produces heat, you will always want to think about safety when you make your purchase. Safety matters because you do not want to have yourself or others get burned by your equipment. Some equipment is also poorly designed and can result in an unexpected fire or explosion. You will also want to think about how you are using the equipment so that the risk of a fire is minimized. Nobody wants to have a good camping trip end with a trip to the emergency room or create a large forest fire.
Out of all of the fuel sources, gas may be one of the most dangerous ones because it is stored under pressure. If you are using a gas powered cooker, you need to make sure that all of the equipment has been secured tightly and it is in good working order. Cooking gas is invisible and may start fires where you do not expect them to be. Furthermore, the canisters are stored under pressure and can explode if they are exposed to too much heat. When you are picking out a gas powered cooker, make sure that the hoses are in good shape and the pressure regulator works. The canister on the cooker should be located away from the heat source as well for additional safety.
You will also want to look for other features. For example, an automatic shutoff is a great thing to have in case the cooker gets tipped over. You may also want to have a push button lighter so that you do not need to use a match or a lighter to light the burner.
Style
When you are looking for a way to cook your food outside, you will want to start thinking about the kind of cooker you are looking for. Each kind of cooker is better suited to cooking different kinds of foods so you will want to look for the right kind of cooker. The main categories are stoves, ovens, grills, and boilers. The stove is a cooker where you have a burner for a pan or a small pot. It produces heat underneath your dish and will bring the food up to temperatures. This is by far the most common kind of cooker.
A grill has grates that you lay the food on top of and allows grease to fall down below into the grease trap. Many people love grills because they allow the fat the drip away from the food and the flare-ups will sear the food and lock the flavor into it. An oven is used to bake your food and produces an even and consistent heat all around your food so that it is brought up to temperature. Finally, the boiler is used to heat a large pot of water or oil which lets you do boils or deep fry your food.
Since each kind of cooker is different, you will have to expect that each cooker is used to cook a different kind of food. For example, you will not be able to cook soup on the grill. Likewise, you can't do a crawfish boil with an oven. You will need to choose the proper product for the job that you need to be done. When it comes to cooking your food outside, it's all a matter of taste.
BEST CAMPING COOKERS REVIEWED & RATED FOR QUALITY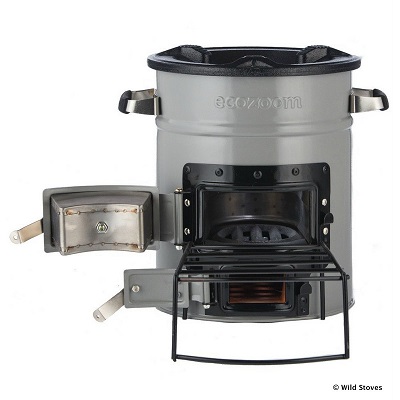 It's not always practical to carry gas or electricity with you to power your outdoor stove. However, wood is in an almost infinite supply when you are outside which is why EcoZoom makes this wood powered cooking stove. It's easy enough to use since you only need to get a wood fire going in the bottom of the stove and then cook your food over the heat.
Fire Powered
You do not need to use gas or electricity to power this stove. Instead, you can use wood, charcoal, or any other flammable biomass that you can get your hands on.
Efficient
The combustion chamber has been optimized to preserve heat and keep the flame going while only burning as much fuel as necessary. This help to reduce the amount of fuel that you need to gather.
Cost and Value
You will see this product sold at a price that is slightly higher than the average price. The higher price is due to the additional materials used to make it which increased the cost.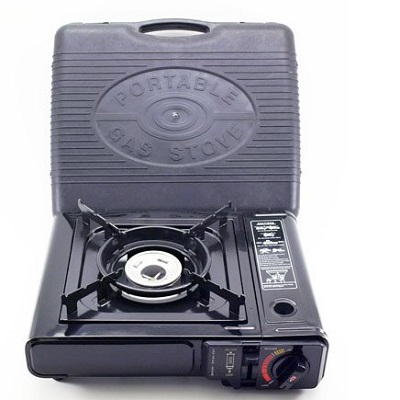 Here is a great item that you can use for backpacking or when you just need a single burner for cooking for yourself. It is butane powered, so it's great to have along if you are using other butane items such as a hand warmer or a zippo. You can screw the gas cartridge into the stove and turn it on to start cooking.
Ultra Small
The unit is extremely small so you can very easily pack it into your backpacking gear. The canisters that power it are also small making the unit highly portable and easy to travel with.
Windsheild
There is a windshield around the burner that will keep the wind from blowing out the flames. This will help you focus on cooking rather than keeping the burner lit.
Cost and Value
You will find this portable stove sold at a low price. The low price is because it is a small unit that does not require a lot of materials to make.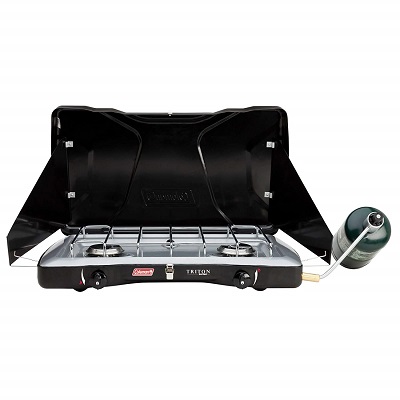 Coleman is a brand that has been trusted for years to provide you with the best outdoor equipment. The Triton is a two burner stove that you can easily carry with you while you are spending time outside. It is small and portable and throws off up to 22,000 BTUs of heat energy so that you can get to cooking your meal.
Independent burners
This stove has two burners that are controlled independently of each other allowing you to cook food at different temperatures if you need to do so. This makes it easy to cook a meal.
PerfectHeat Technology
The stove has been made with perfect heat technology, which allows you to heat your food evenly. HAving a uniform heat distribution is essential to cooking a great tasting meal when you are away from home.
Cost and Value
You will see this item sold at a price that is much higher than the average price due to the fact that it is made of solid steel construction that is long lasting.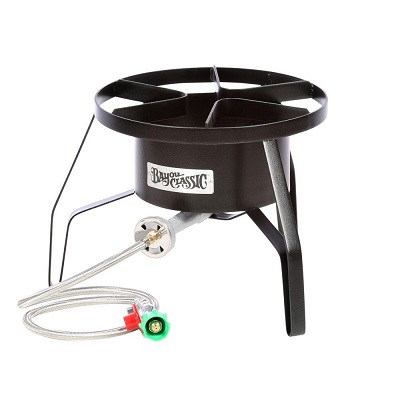 You can use this propane cooker to boil a large quantity of water or heat large vats of cooking oil. This makes it into an ideal solution for when you are planning on doing a fish or a seafood boil after a great day of fishing. The burners produce a high amount of heat and burn efficiently so that you do not run out of gas.
Adjustable Burner
The burner is adjustable which allows you to create the properly sized flame for your needs and control the cooking temperature. This is great for when you need to control your heat.
Low Center of Gravity
The unit has a low center of gravity which means that you can put large pots on it without having to worry if it will tip over when you are cooking.
Cost and Value
The Bayou Classic is sold at a price that is below the average price. The lower price is due to the fact that it is a single burner unit which keeps the cost down.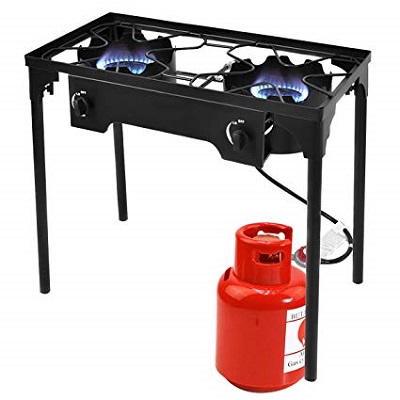 The Giantex 2 Burner is a lightweight and highly portable outdoor cooking stove. The unit is small enough that you will have no trouble carrying it with you when you need to set up camp. It has a push button lighting system that will make it safe and easy for you to light without having to use matches or lighters.
Adjustable Burners
There is a pair of burners on the stove that is fully adjustable so that you can control your heat and temperature as needed. This will help you cook your food properly.
Protective Shields
The stove has rain guards and a wind deflector around the burners. The guard will keep the wind and the rain from causing the burners to go out while you're cooking.
Cost and Value
The stove is listed at a price that is slightly higher than the average price. This makes it into a great value even though you have to pay a little more for it.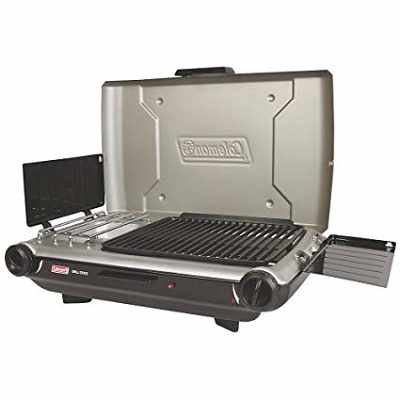 The Perfect Flow by Coleman is a great option for when you are looking for a portable grill that you can take with you. You can also use the burner on the side of the grill which lets you cook a side dish along with the food that you are grilling. The unit is small and lightweight so it is easy to pack with you.
2-in-1
The unit is a grill and a stove at the same time. There is a burner on the side of the grill so that you can use the stove and the grill if you want.
Wind Block
There are panels that surround the side of the unit which will block the wind and keep it from blowing out the grill or the burners allow you to cook with ease.
Cost and Value
The Perfect Flow is sold at an average price when compared to other similar items. This makes it into an excellent value since you won't have to overpay to use it.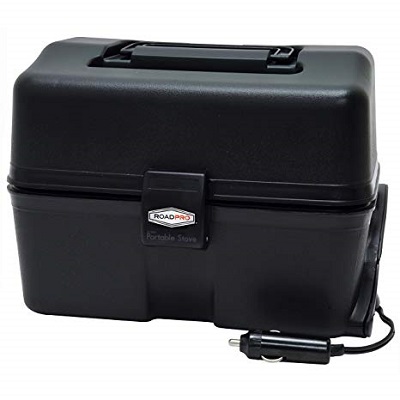 Sometimes it is more practical to cook with electricity rather than gas or wood. Electricity has the benefit that you will not need to worry about it going out when there is wind or rain and it turns on and off instantly. This is a portable stove that can be powered by your vehicles power outlet so it's great for when you are near your vehicle or another power source.
Electric
The stove is powered by electricity rather than charcoal or gas. This means that you won't need to worry about the burners going out while you are cooking your food.
12V
It is powered using a twelve-volt electric socket like the one that is found in your vehicle. This makes it easy for you to keep in your car when you are away from home.
Cost and Value
You will find this item sold at a price that is much lower than the average price which turns it into a bargain buy since you get a great stove without spending a lot on it.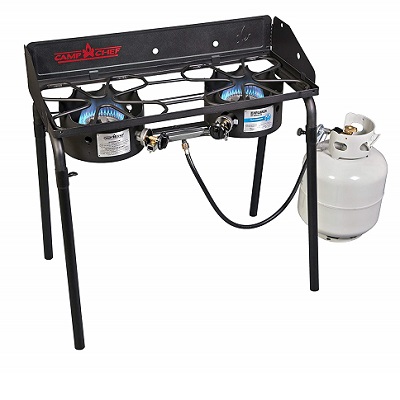 The Explorer by Camp Chef is a great cooking solution because it is lightweight and portable. This gas powered stove works with a large variety of different accessories which makes it great to use when you need to cook outside. You will love the consistent and even heat that is produced by this two burner stove and it is a breeze to put away when finished.
Customize
A great part of the Camp Chef Explorer is that you can customize it with additional separately sold accessories so you can use it as a dutch oven, roaster, grill, or even for making pizza.
High Energy
The stove is equipped with a pair of burners that are capable of producing up to 30,0000 BTUs of energy. This will provide you with plenty of heat to cook your food.
Cost and Value
You will see this item sold at a price that is slightly higher than the average price for an outdoor stove. The higher price is due to the high quality of the materials used to make it.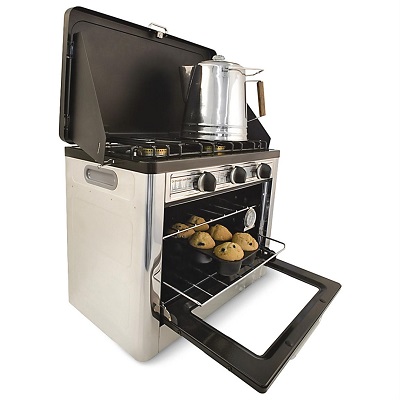 Here is a unique solution for cooking your food outside. This is an outdoor oven that is made by Camp Chef that also has a two burner stove on the top. The oven allows you to bake some of your food just as if you were at your house which makes it an extremely useful product to take with you to your camp.
Two Rack Oven
The bottom portion of the unit is a two rack oven that will heat up to 400 degrees. This will allow you to bake your food should you choose to do so.
Long Cook Time
A single can of propane will allow the oven to cook for up to five hours at a time. This will let you cook just about any food that you want.
Cost and Value
You should plan on seeing this product listed at a price that is well above the average price because it is a stove and an oven which adds to the value.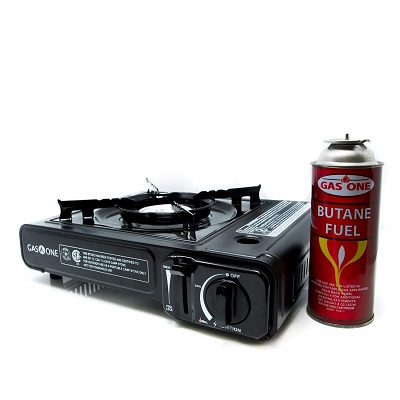 This is a butane powered cooking stove that has a single burner. It is a great choice for people who are backpacking and require something that is small and lightweight. You will be able to perform tasks such as boiling water or even cooking a small meal with this stove which makes it great for when you need to cook outside.
Butane Powered
The stove is powered by a single small butane container. This makes the stove a great companion to have when you use other butane powered tools such as hand warmers or lighters.
Electric Start
The burners are lit by an electric starter which makes it easy for you to light the stove and also improves your safety because you won't have to use matches or lighters.
Cost and Value
You will see this item sold at a price that is well below the average price. The low price is thanks to the fact that it is small and portable.

Subscribe to our Newsletter