10 Best Dog Pens
In a
Hurry? Editors choice:
Test Winner: MidWest Foldable

We all love our dogs, no matter the chaos they sometimes create in our homes when we are out or distracted. We are probably against placing our new arrivals into a pen for the first time, isn't it wrong to restrict such a lively animal into a confined space? Well, for most, the choice is a matter of personal preference, but if you do decide to purchase a dog pen you need to make sure it's the right one for you, your space and your dog.

You wouldn't put a grown child into a new-born crib for instance, as you probably would think twice about putting a new-born baby to sleep on a double divan placed on a hardwood floor. It is similar in principle to choosing the right pen for your dog, get it wrong and you could potentially be doing more harm than good.
Standout Picks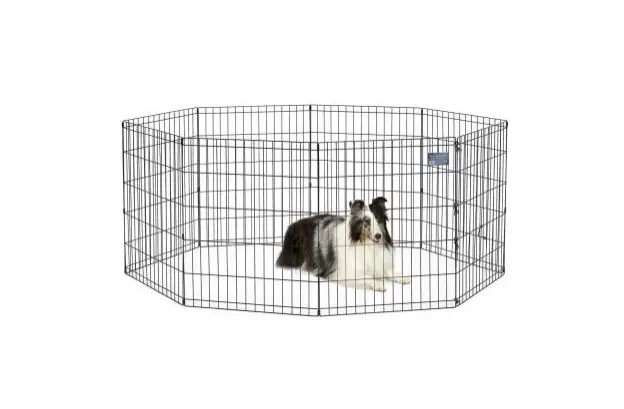 The MidWest foldable metal exercise pen is suitable for dogs with weights in between 26 – 40 lbs, and it is available in a choice of styles and colors. There is a black option with or without a door, and a gold/zinc with a door. The overall internal space offered is sixteen feet square so provides more than adequate space for a comfortable place to play in safety. The panel sizes are 24 inches width by 24, 30, 36, 42 or 48 inches high, as a boost – the entire pen folds flat when it isn't in use.

Criteria Used for Evaluation
Durability
Criteria Used in Choosing the Best Dog Pens
There should hopefully be a pen suitable for your dog, no matter its size or age, and I hope the guide and following reviews will make your task a little easier when you've decided to buy a pen.
Is a pen the answer for you?
You may have preconceived ideas about the pros and cons of placing a puppy or a dog into a playpen, but if you are teetering on the fence and can't decide if it's fair or just to contain your dog – may be an overview will assist in your decision. Puppies, as you know are full of boundless and seemingly limitless energy that never appears to lessen. They are naturally inquisitive and get their noses into everything – just as children do, puppies learn from the environment they are in and from levels of discipline they learn to expect and adhere to. Putting your dog into a correctly sized and placed pen for limited periods is not harmful.
They are ideal for creating a safe place for your pet, so they know they have their own space where they are allowed to learn independence and have some peace of their own. It is important to set boundaries for your dog, so they know their place and yours too, and more often than not, when you aren't around to give undivided attention, the pen is a great way to keep your dog safe and out of harm's way. New pet/human relationships are often marred by a lack of understanding of needs and even adjustments that are required to help a happy relationship build.
Dogs are inquisitive, puppies are like children, everything is exciting and waiting to be explored with little or no sense of danger. When you are out or have chores to do, it may be beneficial for your furry friend to be in the safety of the pen so they cannot harm themselves or completely wreck your lovely home. It doesn't make you a cruel human if you use one, as long as your dog has fresh water, toys and a nice place to sleep, and isn't left in there for unreasonable lengths of time – there is no harm in it.
Types of Pen
When you are deciding on the best pen for your dog there are a few pointers you need to consider whilst you make the choice. First and important is to choose according to your dog size and check the pens' individual product specification to see if it the ideal size for you. If your dog is mischievous or prone to constant chewing and nibbling, you may be better off choosing a heavy-duty pen, these are tougher than a standard pen and should keep your pet safe when it's within it. One more thing to consider is where the pen will be placed, some are only for specific indoor or outdoor use, you may also find portable pens that you can move around as you go about your daily activities.
One type of pen is designed with separate panels that vary in size so you can choose the correct diameter for your dog to be comfortable. They can vary in height as well which is a bonus because if you have a taller breed, you can opt for the larger paneled version. Some are equipped with doors so that you can enter as well without having to leap over the top to gain access to your pup.
You can buy standard metal mesh pens that are suitable for many breeds, but again – there is another metal type that is heavy duty for the tough and headstrong dog. Fabric and plastic pens are also available, although these tend to be aimed at smaller dogs or for portable confinement. You should always cater to your own dog's individual needs and requirements before buying your pen, after all – you know your dog best and that makes you the best judge of the ideal pen.
Materials
There are a variety of different materials used in the manufacture of pens, and as ever – your suitable pen material should match your dog for size and individual needs. Heavy-duty plastic is used as an alternative to metal, it is lighter and still quite robust for the safety of your dog. They come folded with joints, or in panel form which you may be able to add to as your dog grows. Wood could be an option if you have a well-mannered dog who has grown out of chewing and nibbling, these are more eco-friendly and can be maintained at home with a bit of DIY and patience. However, wood can splinter and needs to be checked for splits because they can do harm to soft paws and gums.
Metal pens are often made with panels in nice designs, and some have a tough coating on them so you may be able to use it indoors and outdoors. Solid panel pens are probably not as dog-friendly as they may seem because your dog may feel too confined, trapped and isolated. As an observation, solid panels are probably best kept for traveling crates. Tougher heavy-duty metal pens are ideal for tough spritely dogs as they are strong enough to take a doggy hammering but still remain safe. The softer pens are sometimes a mixture of fabric mesh and plastic or metal frames, these are particularly useful for taking traveling with you, or for occasional use but are ideal for smaller dogs.
There are options to buy pens with a roof for those dogs who are determined not to stay put when you most need them too, these should be made with the same pet friendly materials as above and you should always make sure the top and sides are properly secure and safe to ensure no harm can come to your dog when it is unsupervised.
10 Best Dog Pens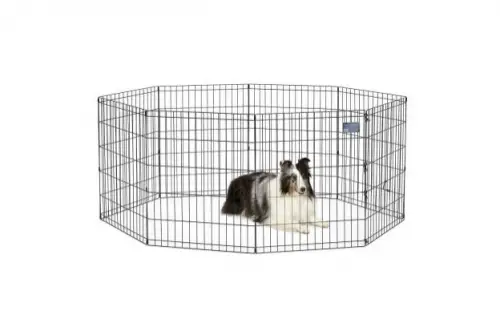 The MidWest foldable metal exercise pen is suitable for dogs with weights in between 26 – 40 lbs, and it is available in a choice of styles and colors. There is a black option with or without a door, and a gold/zinc with a door. The overall internal space offered is sixteen feet square so provides more than adequate space for a comfortable place to play in safety. The panel sizes are 24 inches width by 24, 30, 36, 42 or 48 inches high, as a boost – the entire pen folds flat when it isn't in use.
Practical
Included in the whole package, are eight practical ground anchors when used outdoors, and four thumb snaps for extra convenience. The pen is easy to set up and requires no special tools or equipment so it's almost ready to go as soon as it arrives.
Versatile
The metal pen has a tough, hardwearing and safe e-coat finish that will protect it from rust if it is used outdoors. Another great benefit is the ability to configure the panels in any number of positions, so any available space can be used for maximum ground cover for the pen.
Cost and Value
The overall value of this MidWest foldable metal pen is excellent when combined with the versatility it offers, the anchor points and the protective coating. The cost is easily justified in this practical and functional dog pen.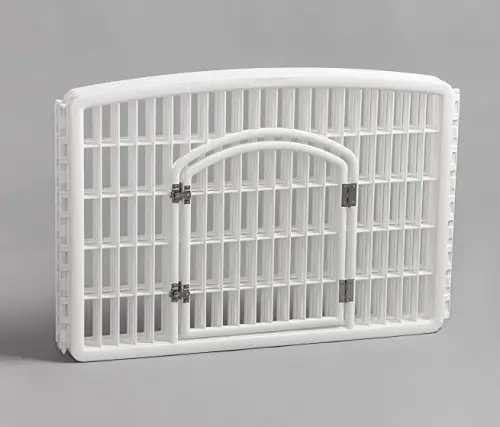 The Iris dog playpen is available in eight striking colors that are guaranteed to match most living areas. It has an optional mesh roof so safety can be assured when the dog is left unattended for any length of time. It offers eight square feet of safe play area, measures 35.25-inch length, 35.25-inch wide by 24 inches high and it also has a handy door for easier and quicker access and exiting. The Iris playpen is fully portable so it can be moved from place to place, indoors to outdoors for convenience when the need arises.
Versatile
The playpen size can be added to with handy extra panels that simply interlock into the existing ones, this versatility is combined with durable, heavy-duty plastic that ensures it will last for many hours of play. For extra safety, it has locking latches to keep the door soundly closed at all times.
Functional
This pen includes non-skid rubber feet that help it to stay put and protect floors from unsightly grazes and scratches, and the interlocking system rods are full length so making them more robust and long-lasting. It is an ideal size for most small to medium dogs.
Cost and Value
The true balance of both cost and value is adequately matched and ensures the Iris pet playpen is excellent value for money. The features that include the locking system and floor protection provides a safe and sound play area for a beloved pet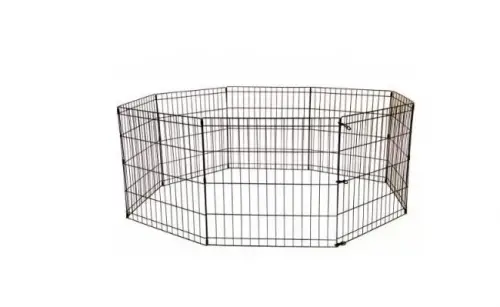 The BestPet metal wire playpen benefits from a durable rust preventing coating that is designed to protect the pen for use both indoors and outdoors. The panel sizes measure a tidy 24 inches by 30 inches in height and provide ample space for a safe play. The playpen is readily extendable to accommodate plenty of toys and a sleeping area, there are options to purchase extra panels that fit together simply with the included fittings.
Practical
The pen is practical because it allows growth from puppy to dog with ease, the pen is easily and quickly transferred from indoors to outdoors and the tough coating will stop it from rusting. Available in three color choices, there is no doubt it is suitable for most interiors.
Robust
The pen will last for as long as needed, and the adaptability of the size and placement, increase its overall versatility. The attachments are strong enough to withstand much of what a puppy can throw at it whilst it is being trained.
Cost and Value
The functionality and durability this BestPet metal wire playpen offers means it is very well balanced when considering both cost and value. The tough coating and versatility of the playpen make any money spent on this, money well spent.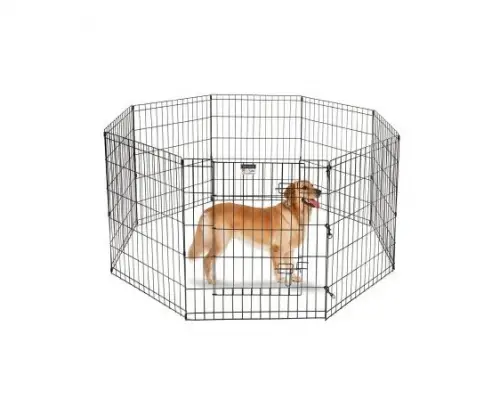 This easy to set up and fold away Pet Trex playpen has the benefit of having a door with a double latch for peace of mind. It is available in two handy sizes, 24 inches by 30 inches and 24 inches by 24 inches – each size having eight separate panels. It offers enough space for pets weighing up to 40 lbs, giving plenty of room for toys, a drink, and a comfy bed. It is light enough to be carried with ease from one place to another so is more than ideal if there are jobs to be done indoors and out.
Coated
The metal is covered with a satin black electro-coat finish which gives lengthy protection not only from the elements but from normal day to day use. The versatility it offers allows a variety of forms to be created which makes it easier to tailor to an individual space.
Functional
The Pet Trex playpen includes ground anchors so it can be properly secured when put outside, this useful addition ensures the safety of the pet because it will stay where it's been put. When it's put up inside the house it also has useful corner stabilizers for increased balance.
Cost and Value
This playpen is above the baseline when it comes to cost, but the value it offers with the size, portability, convenience, and durability means it is well justified. The toughness of the coating giving it a longer life adds to the overall value for the cost.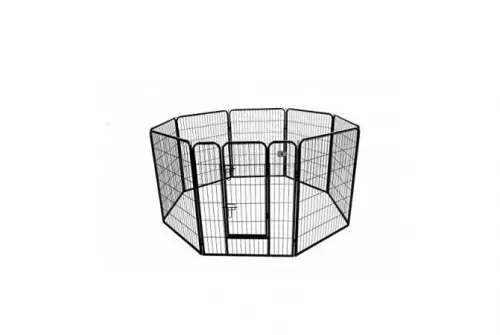 This BestPet heavy duty pet playpen is ideal for more bouncy and active dogs, each panel provides 40 inches in height and is 31 inches wide. It is available in black and silver and has the benefit of a door for easy and quick accessibility. The playpen comes flat and is easy to erect with no tools or hassle, giving immediate safe play space for most dog sizes. It is hardy and tough so is suitable for medium dogs and has an optional addition of ground stakes for when it is set up in the outdoors.
Versatile
The size of the playpen is adaptable and can be enlarged with the additional connection of further panels, this makes it ideal for creating larger safe areas and also benefits from being functional enough to shape into most sized areas that are available.
Tough
The BestPet heavy duty pet playpen is made using ½ inch durable tubing, and the door has an easy to use a latch to ensure safety and peace of mind if left unattended for short periods. It is practical because it can be used both indoors and outdoors.
Cost and Value
The cost of the BestPet heavy duty playpen is reflected well in the manufacture and quality of the product. The features including the higher than average panel sizes, shape and size variational options ensure this product is good value for money.

6

. EliteField 2-Door Soft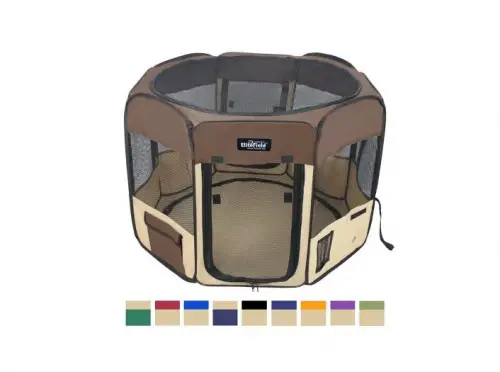 This soft playpen is available in nine contrasting color designs, and benefits from being available in four different sizes; [30" x 30" x 20"], [36" x 36" x 24"], [42" x 42" x 24"] and [48" x 48" x 32"]. It comes complete with its own useful carry bag, with four free ground stakes and the pen has two handy doors that are secured with locking zippers. It is lightweight and fully portable so is ideal for traveling or for transporting from one place to another.
Functional
This pen has many practical and functional features that include two exterior accessory pockets and an additional water bottle holder. It is easy and quick to set up and put down and is ideal for both indoor and outdoor use which makes it ideal if requirements alter frequently.
Practical
The playpen has a fully removable zip-off washable floor mat and ventilated cover – ideal for when those puppy mishaps occur and aids keeping the whole unit last longer. The optional use of the cover gives that added peace of mind when the unit is left unattended.
Cost and Value
This tidy and lightweight playpen has lots of great features including the carry case and ground stakes, it offers both functionality and versatility and is also covered by a 100% money back guarantee. Overall – this playpen is great value for money.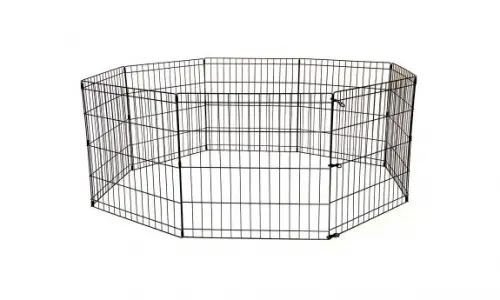 The versatile playpen can be used as a crate, fence, kennel or simply just a playpen. Each panel size is 24 inches in height and 24 inches in length, it boasts being easy to set up and fold down and is available in black. It is suitable for most sized play areas and can be made into various shapes to fit spaces that are available. The tidy mesh design allows plenty of comfort through sight, for both human and pet giving that extra peace of mind.
Tough
The Tall dog playpen is fully covered in an ultra-durable epoxy coating that helps to prolong its life and allow scope for it to be used both indoors and outdoors without fear of rusting from moisture build-up, mildew, and rust.
Versatile
A bonus with the Tall Dog playpen is the possibility to add further panels (sold separately), to create a larger tailor-made safe play area for most dogs. This provides more than adequate space for play with room for toys and a suitable resting bed.
Cost and Value
The robust coating and functionality of this playpen, combined with the overall versatility to make larger pens, and the multiuse option, ensures that money spent on this product is money well spent and it should last well with the correct use.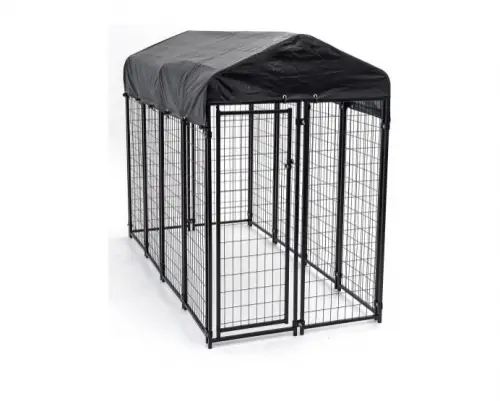 This useful wire kennel is appropriate for creating the ideal safe place for any dog, it is readily available in three different sizes; [6'H X 4'W X 8'L], [6'H X 4'W X 4'L] and [4'4"H X 4'W X 4'W]. It is produced using heavy-duty welded steel and has a substantial sized door that is straight-forward to secure giving peace of mind. The manufacturing process includes welding before the tough outer coating is added, which reduces the possibility of sharp edges that can potentially cause harm to a dog's teeth and gums.
Durable
The kennel comes with its own steel framed waterproof cover, that will offer protection from most weather conditions and is also treated against sun exposure so reducing long-term cracking and splitting from inclement and changeable weather.
Practical
The cover is shaped to encourage run-off so helps to prevent damaging build ups of moisture and snow. It also benefits from having 1.5" high raised legs which helps to keep the bottom clean, increasing cleanliness and preventing dirt and bacteria build up.
Cost and Value
This kennel is in the higher bracket of the market, and the cost does reflect this. But this is easily justified because it is designed and produced to be fixed outdoors. The combined quality and durability gives confidence that it is excellent value.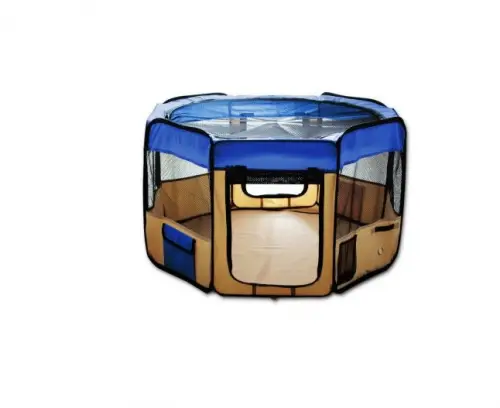 The ESK Collection pet playpen is available in three color variations and is easy to put up and take down, it also boasts being lightweight and is very easy to store when not in use. It has panoramic mesh all the way around so won't leave any pet feeling trapped or isolated. The zippered door is convenient because it gives extra peace of mind when left unattended for short periods. It has useful pockets on the outside that are really useful for the favorite toy or emergency drink when traveling.
Tough
The material used to produce this pen is waterproof 600D Oxford nylon that is breathable so allows a proper flow of air to circulate even when the temperature rises. It benefits from being washable so no fears for dirt and bacteria build up from accidents.
Convenient
The playpen has a removable top and bottom, which are secured using zippers for quick release and reduce the likelihood of a dog chewing Velcro strapping – therefore giving extra peace of mind that there is less chance of a dog escaping and potentially harming itself.
Cost and Value
This isn't the cheapest playpen on the market, but when taken into consideration the practical features like the ease of use, the easy maintenance, and the useful exterior pockets – overall it is very good value for money.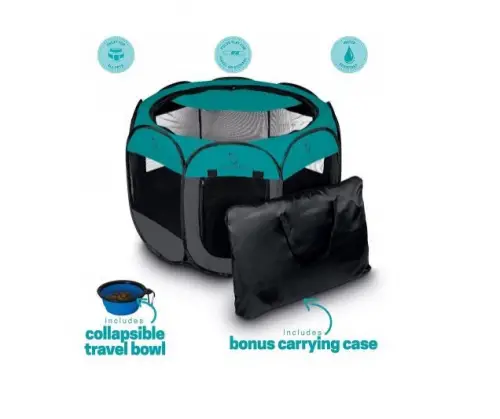 The Unleashed pet's portable playpen benefits from having its own carry case included with it, it boasts being reinforced with an extra attached floor mat for more comfort. The large interior is more than adequate for toys and a bed as well. It consists of eight panels which are offered in two size options; large - [36" x 36" x 23"] and medium-sized – [29" x 36" x 23"]. It is produced using high strength 600D Nylon for pet security and also has suitably reinforced corners for added durability.
Functional
The Unleashed portable playpen is fully transportable and lightweight, and it benefits from a zippered top that is removable, so this improves its capabilities for outdoor use because it provides shade and a level of water resistance.
Practical
This play pen has a handy door for easy and quick access for the dog, the closure on the door is zippered so there is less chance of chewing through or forcing simple Velcro strapping. It boasts being quick to put up and set down for convenience.
Cost and Value
When taken into consideration the great features this dog pen offers, such as the removable lid and washable material, combine that with the ease of use this pen offers and the carry case – it is justified to call this great value for money.

Subscribe to our Newsletter