Best Mess Kits Reviewed & Rated for Quality
In a Hurry? Editors choice: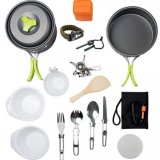 Test Winner: MalloMe

We all know how the story goes. You make a list of everything you need to go
camping
. You check it twice, just like Santa Claus. You are absolutely sure that you have it all. And then you find yourself smack dab in the middle of nowhere without one of your essential supplies and it looks like you're going to be eating raw fish with the scales on it if you want to survive.
But this doesn't have to be you! We've made a list of the best
camping
and
backpacking
mess kits so you'll never find yourself stranded without a cooking essential again. After all, how are you going to fight those bears off if you're hungry?
Standout Picks
Criteria Used for Evaluation
Features
When compiling our list of the best 10 mess kits for camping, hiking, backpacking, and beyond, we looked most importantly at the features of each set. This means we looked at what the set came with and what the set could do.
Some of the common features across most of our sets are plates, cups, eating utensils, cooking utensils, pots, and pans. Of course, some sets have more and less of these items than other sets depending on the number of pieces in each set.
Some sets also include featured items like tea kettles, pocket knives, and even small portable stoves (propane not included). We even have a few sets that come with cookbooks so you can make sure you're getting all of the nutrition you need to power through your big adventures.
We made sure to clearly outline all of the items in each set and to provide the best photos of each set so that you, the consumer, can be exactly sure of what you're getting. After all, the whole point of purchasing a mess kit is so that you have everything you need.
Ease of Use
We wanted to make sure each of the kits on our list is easy to use as well, so we listed in each product description the intended user. Some products were intended for campers, backpackers, and hikers alike, while others were meant more for picnics or for solo intense hikers.
We also looked at how easy each set was to cook with. Did the stove stand upright and balance the pots? Were the handles easy to lock in place and grab out of the fire? Did the utensils fold up or were they sturdy enough to eat with? Was it easy to stack all items back together and get them into the bag? Were the pans easy to clean? These are just a few of the questions we considered before making our list. Products that had favorable responses to these questions made our list, but we made sure to mention negative reviews in our CONS list so you won't be surprised when you use your set out in the wild.
Size
This was a huge factor we considered when making our list. Because these supplies are meant for backpackers, hikers, and campers, and because every little bit of extra weight counts when planning for your adventure, we made sure to include the weight of each of the sets on our list.
Almost all of our sets are under 3 pounds, but most are more lightweight than that. This also means, however, that many of the cooking sets (pots and pans) are quite small and made of lightweight aluminum. Stainless steel is, of course, a bit heavier.
Size factors heavily into who each set is intended for, and we tried to make this clear in our description as well.
Materials
This was a super consideration when we made our list. You are eating with these supplies, so they need to be safe.
Almost all of the products on our list are officially approved by the FDA to be anodized aluminum. While some aluminum cookware has been related to health issues, anodized aluminum has been determined to be safe to cook with. It comes with the additional advantage of being lightweight and easily portable so we were happy to include many sets that featured anodized aluminum pots and pans.
Additionally, almost all of the plastics of items on our list are also approved by the FDA to be BPA-Free. This is especially important because BPA seeps out when temperatures are very high and very low. You are likely to encounter a variety of temperatures in your outdoor adventures so it is important that these items maintain their integrity and safety.
Apart from safety, we considered the coatings of the pans because that directly affects how easy a pan is to cook with and how easy it is to clean later. You didn't go camping to spend an hour scrubbing egg off of your skillet. We also wanted to make sure that coatings weren't chipping--another health concern.
Value
Finally, we considered value. The whole point of a mess kit is to get all of your essentials without having to purchase each item in the set individually. It is far cheaper to purchase a set than try to purchase each item alone (trust us, we looked into this).
All of our mess kits ring up at under $40, and most are complete sets that don't need additional items purchased. We loved sets that had multiple different size options so that you could get just the set you need. We also love sets that included more items but were lighter in weight. And most of all, we loved sets that had little bonuses that won't weigh you down in the end.
It's important to keep in mind that you aren't purchasing cookware for your house, and so these pieces won't hold up to standard daily cooking, but they will stand up to use during camping trips.
Additionally, many items on our list come with lifetime or limited warranties, so you are sure to be satisfied with your purchase.
10 Best Mess Kits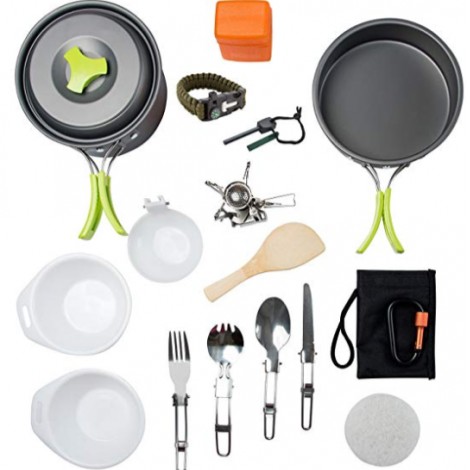 To kick off our list, we feature a mess kit that has more utensils in it than your average college student's kitchen. It literally covers all of your camp cooking needs--and then some. Its compact design makes it a great companion for all types of camping and hiking or really anything outdoorsy that you might have planned.
18 Piece Set has Everything You'll Need to Cook Outdoors
This 18 piece set literally has everything you'll ever need for cooking outdoors. The set includes an aluminum pot that is anodized (certified by the FDA) and non-sticking, 2 bowls that are free of BPA, a stainless steel spork that folds as well as stainless steel knife, spoon and fork, a spoon for soup that is also BPA free, a wooden spatula spoon, a carabiner, a miniature Piezo stove (you will obviously need to bring a propane tank in order to use this stove), a sponge, a travel bag made of nylon with a drawstring, a bracelet made of paracord and complete with compass, and finally a guide for cooking and access to an Ebook with recipes. All of this at only 1.7 pounds!
Made from FDA Approved Materials
When purchasing any type of cooking supplies, you want to make sure that there are no nasty chemicals or by-products in the items you are purchasing because over time those chemicals seep into your food and can make you sick. That's why we love this mess kit so much. All of the items in this mess kit are made from FDA approved materials. The aluminum pot is made from FDA approved anodized aluminum and the plastics are made from BPA free materials. These products are truly safe to use.
Cost and Value
This product is relatively inexpensive considering all of the pieces it includes, but it still rests at the top of our price range. However, this company warns against cheaper knockoffs because their products are made with FDA approved materials and the knockoff products won't provide that same guarantee. Additionally, MalloMe guarantees the best customer service and will work with customers until every customer is satisfied with a 5-star review. That's customer service and value that you can feel good about.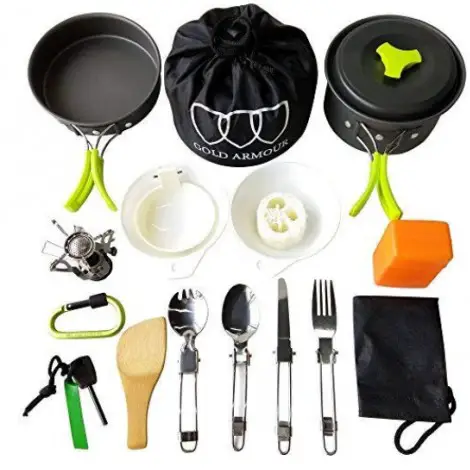 Again, this Gold Armour set comes fully loaded with everything you could possibly need while camping and eating on the go. This product is compact and great for backpacking, camping, and hiking alike.
17 Piece Set has You Fully Covered
This 17 piece set will make sure that you have all of your essentials at hand in the wilderness. It comes with a spork, spoon, fork, and knife all made of stainless steel and all folding in to be more compact, a frying pan and pot that are non-stick and made from aluminum that has been anodized, a cover for the pans, 2 bowls and a spoon that are made from BPA-Free plastics, a ladle for rice, a sponge, a carabiner, a storage bag made from nylon, and a fire starter. Basically, the only extra things you will need to bring are a stove and gas, and food. It also comes in 5 different color options: black, blue, green, purple, and orange.
10 Year Warranty
This product is made from materials approved by the FDA, so the anodized aluminum and BPA-Free plastics are guaranteed safe to use. Customer satisfaction is guaranteed as well and this product comes with a 10-Year Warranty. This particular warranty is easy to cash in as well because Gold Armor is based in the United States.
Cost and Value
This 17-piece set rings up in the middle of our price range. We love it because it comes with virtually everything you'll need to cook on the go. It also comes with a 100% customer satisfaction guarantee and a 10-year warranty that's easy to cash in. You also know you're getting products that are safe for you, the consumer. So this product gets a golden sticker for value.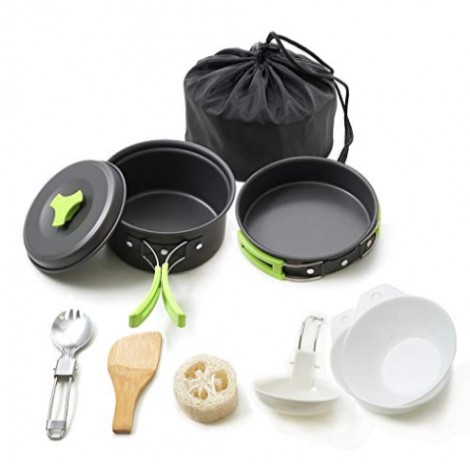 The Honest Portable is made for the camper or hiker who doesn't need many frills or who already has a pretty stocked camping kit. This kit has fewer items and is, therefore, lighter weight and easy to carry around during any type of outdoor adventure.
10 Piece Set and Lightweight
This more abbreviated set comes with 10 pieces for your cooking needs. It includes 1 non-stick pot that can hold about a liter of liquid, a non-stick pan and a cover for the pan, a spoon for soup, a spoon made of bamboo (environmentally conscious), a sponge for cleaning, a travel sack made from nylon, 2 bowls free of BPA, and 1 spork made from stainless steel and engineered to fold up into a more compact size. This set has fewer items and so is lighter in weight scaling up at 1.11 pounds. Additionally, this set comes in 2 color options--green and red.
Reliable Quality that Heats Up Quickly
This set is also made from materials approved by the FDA. The metals are made of anodized aluminum and the plastics are BPA-free. The pot and pan are small, but they heat up quickly so you can warm your food in a hurry.
Cost and Value
This set rings up in the middle of our price range but still has just about everything you need for simple cooking in the wild. The Honest Company wants you to be satisfied, so it guarantees your satisfaction and will even refund your money and let you keep the product if you aren't happy with your purchase.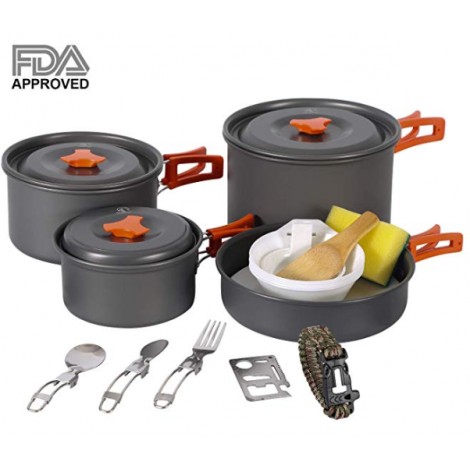 This company makes several mess kits--with 9, 12, 13, 18, and 23 piece sets available. We're going to talk about the 23 piece set so you can get the full scope of what the company provides. This set in all of its array of options is great for backpacking, camping, hiking, and even casual picnicking weighing in at .57 pounds for the 9-Piece set and 3.3 pounds for the full 23-Piece set.
An Array of Options for Number of Pieces
The full 23-piece camping cookware mess kit comes is 1 pan for frying that is non-stick, 3 aluminum anodized pots that are non-stick, 3 covers for those pots, 2 plates, 5 bowls, 1 bowl for soup, 2 spoons made of stainless steel and designed to fold in and 1 fork, 1 bracelet made from parachute string, 1 compact card with hand pocket knife tools inside, a ladle, a sponge, and a travel bag made from nylon. If this seems like too much, check out their other sets that come with 9, 12, 13, and 18 pieces.
360-Day Manufacturers Warranty
This set features pots and pans that are made from anodized aluminum approved by the FDA. Each set is easy to use and easy to clean, plus, if any piece is broken the company will work with you to make sure that you are completely satisfied. With a 360-Day manufacturers warranty, make sure you inspect your items when you get this to ensure your product is up to your standards.
Cost and Value
We love that this product comes in so many different size options. The 9-piece set comes at the lower end of our price range and the 23-piece set comes at the higher end of our price range, so there is literally a set to fulfill almost any outdoor cooking need.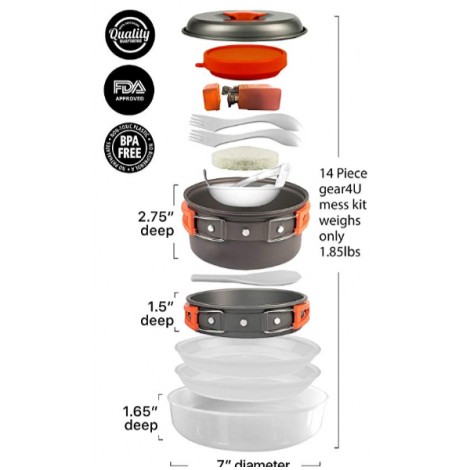 This high-quality kit comes in 3 different size options so that you can get just the kit for you. Whether you're looking to purchase a set for beach and summer activities, or for longer hiking excursions, this kit is lightweight and compact so it can travel with you with ease.
3 Set Options to Give You Just What You Need
We are going to focus on the 14-piece set so you can see how much the complete set has to offer, but keep in mind that this brand sells a 10-piece and 13-piece set as well. The 14-piece set includes an anodized non-stick aluminum pot that comes with a matching lid, an anodized non-stick aluminum frying pan, 1 deep dish, 2 plates, 1 ladle for soup, and 1 spatula that are all free from BPA, a piezo mini stove with ignition and case for carrying, 1 collapsable cup made from silicone with a lid, a sponge for cleaning and a travel bag made from nylon to keep stacked items compact and together in your backpack, or to hang from your backpack with ease. The entire full set weighs only 1.85 pounds so you get a lot without loading yourself down.
Meant for Use by 2 Campers
While some sets are meant for only one user, this set was design to supply the needs of two campers. Plus all of the materials that this company uses are approved by the FDA whether it be their anodized aluminum or BPA-free plastics and silicone.
Cost and Value
The full 14-piece set is the most expensive set on our list so far, but this product is a cut above the rest. The 10-piece set comes in the middle of our price range. This product is backed by a 100% satisfaction guarantee so you know you'll be happy with your purchase.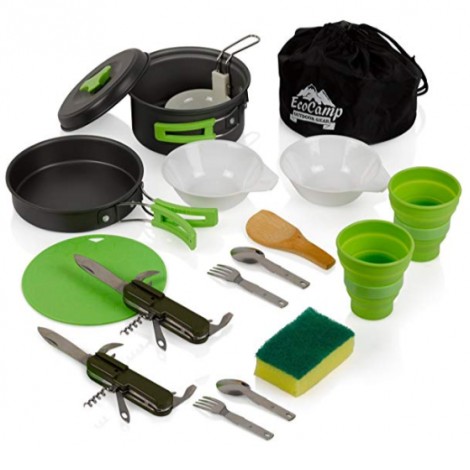 This lightweight (weighing in at only 1.8 pounds) and eco-conscious mess kit is the perfect size at a perfect price. Plus, it comes with a lifetime customer satisfaction guarantee, so you know it's quality you can rely on.
Comes with Handy Knife Tool
This 14-piece set comes with an aluminum alloy pot and lid that has been anodized, a spoon for soup, 2 bowls (free of BPA), a spatula made from wood, 2 cups made of silicone that can collapse nicely, a cutting board that can roll up, 2 spoons and 2 forks, a knife tool with wine and bottle opener, and a nice drawstring bag made from nylon to store all of these supplies in.
Bonus Cooking Guide
This set also includes an added bonus of 2 cooking guides available as ebooks. One of these books includes recipes that are healthy and easy to make while camping, and the other is a bit more sophisticated and meant to help you do some Michelin Star cooking while out in the wild.
Cost and Value
This set comes in the middle of our price range. Because this set comes with some nice bonuses and because it comes with a 100% lifetime customer satisfaction guarantee, we think this product has a great value.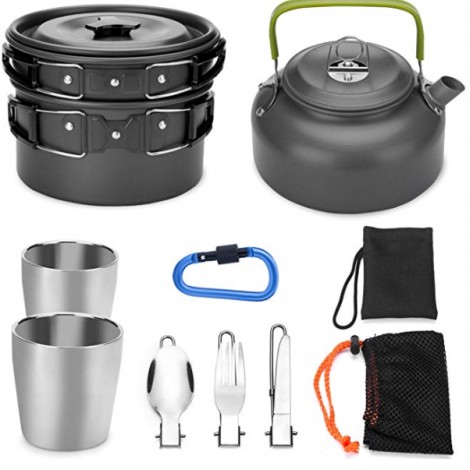 This 10-piece kit is one of the most unique and thoughtful on our list so far. It's for the serious outdoor folk who know what they need to get the cooking job done on the go.
Comes With Tea Kettle
This set comes with a pot and pan that are both coated in Teflon so that they are easy to cook with and clean, 1 tea kettle for boiling water quickly, 2 cups made from stainless steel that can hold about 4 ounces of liquid each, 1 spoon for serving, 1 knife, 1 fork, a carabiner, and a bag to store all of these supplies in.
New Handle Design
The new handle design on this set is made from plastic that resists heat so that you won't burn your finger while cooking. The handles are also endowed with an anti-slip grip so you can feel confident you won't drop your beans over the fire.
Cost and Value
Though this set has only 10 pieces, it rings up in the mid-high range of our price range. However, this kit has some cool extra features that are definitely worth shelling out for.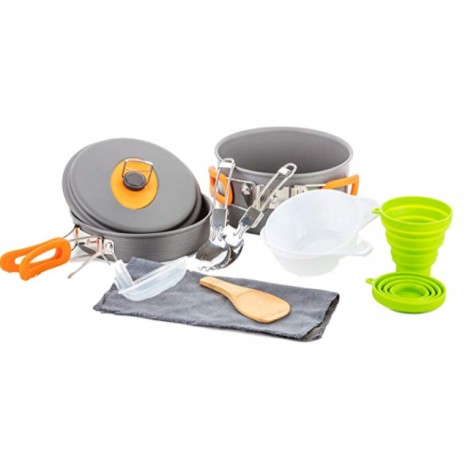 This set designed to be used by 2 people comes with all you'll need to make sure you get the nutrition you need to power your adventures.
A Great Set for 2 People
This 13-piece set includes a frying pan and pot that are both super durable and non-sticking, a top for the pot, a ladle, a spoon made of wood, a washcloth, 2 bowls, 2 cups made from silicone that are collapsible, 2 sporks, and a bag with a drawstring for you to compactly store all of your supplies. What's great is this set is meant for 2 people so it can really do more.
Pans that are Super Non-Stick
The pots and pans in this set have been specially treated to make them super resistant to scrapes and rusting--a definite bonus when it comes to outdoor camping. Because let's face it, you got out to enjoy nature, not spend the whole time cleaning caked on food messes off of your cookware.
Cost and Value
This 14-piece set rings up in the mid-high range of our price range, but it's important to remember that this set is intended for use by 2 people so it's actually a great value.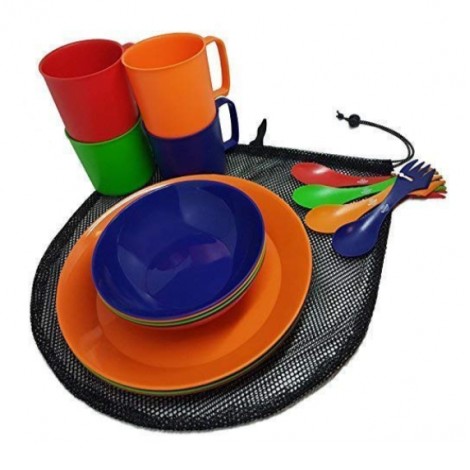 This service set is great for families and young girl and boy scouts. It doesn't include pots or pans, but it is all you'll need for serving those tasty meals you whip up out in the wild.
Complete Full Serving Set
This multi-colored set (orange, green, red, and blue) comes with 4 cups with handles, 4 sporks, 4 plates, and 4 bowls. This set weighs in at 2 pounds, so it's not the lightest weight option, and meant for those who are perhaps planning on staying a bit more stationary.
Dishwasher Safe
Not that you're likely to encounter a dishwasher on your next big outdoor adventure, but if you want to clean the dust of the road off of your set once you return home, you have the option to place your set in the dishwasher for a complete clean. The set is made from plastic that is free from BPA so you don't have to worry about any scary chemicals leeching out.
Cost and Value
This set is in the mid-high range of our list. It's the only set that provides 4 of each item, but because it doesn't include pots and pans, you will need to get those in addition if you don't already have them which is an added cost to consider.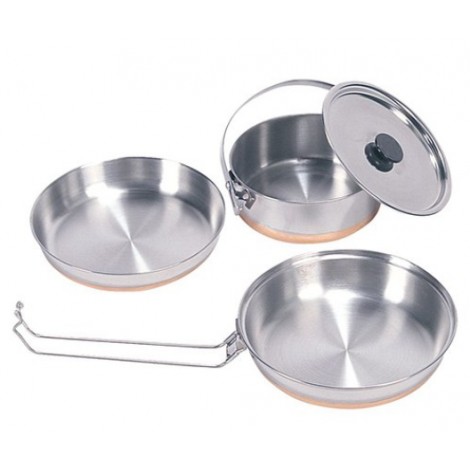 If you liked the previous product on our list and are still looking for a pots and pans set, then look no further. This stainless steel mess kit rounds off our list by sporting the best quality pots and pans for camping out there.
Made from Stainless Steel
The Stansport 360 comes with a pot, pan, handle, and plate. The pot can hold about 3 cups of liquid and also comes with a lid for faster boiling plus a handle for easy handling around the fire. The frying pan measures about 6.25 inches and comes with a stainless steel handle that locks and won't melt as other plastic handles out there do. The pot and pan are made from stainless steel of the highest quality making them easy to clean and incredibly durable. Plus, the pot and pan are coated with copper on the bottoms to ensure that food heats evenly.
Set Fully Nests and Handle Serves as a Locking Mechanism for Kit
The set fully nests inside of itself so that it is compact and easy to carry. It does come with a mesh bag for carrying or hanging from the outside of your pack, but the bag isn't necessary to keep your items packed together. The handle acts as a mechanism to keep the set locked in place.
Cost and Value
This product rings up in the mid-range of our price range. We know it doesn't come with utensils and cups and some of the other frills of other sets, but these pots and pans are truly the most well-made items on our list as well as the largest.

Subscribe to our Newsletter