Best Cookware Sets Reviewed & Rated for Quality
last updated:
Feb 27, 2019
Cookware, like many kitchen supplies, has as much of a variety as it does people swearing by one brand or another. Some won't cook on anything but cast iron. Some think that name brand chefs release the best cookware, and will only choose what Guy Fieri endorses. Regardless of the category you're in, it's time to upgrade.
The sets compiled here are the pinnacle of kitchen comfort, and will likely elevate your cooking from dive status to at least a drive-in, if not a diner. Featuring qualities like heat-proof handles, Teflon coating, and even some easy drainage holes, these sets have everything a home cook needs to feel like a professional chef. Break out the burger patties, frost those tips, and put on a flame-covered shirt; it's time to head to Flavortown.
In a Hurry? The test winner after 199 hrs of research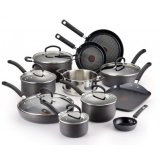 T-Fal Hard Anodized
Why is it better?
Thermo-Spot
Scratch proof non-stick
Premium Quality
Lots of extras (griddle, strainer, egg pan)
Huge variety in the set
In a
Hurry? Editors choice: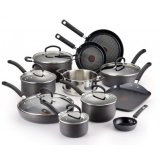 Test Winner: T-Fal Hard Anodized

11
Researched Sources
11k
Reviews Considered
199
Hours Researching
10
Products Evaluated
Use
Capacity
Durability
Value
By Default
10 Best Cookware Sets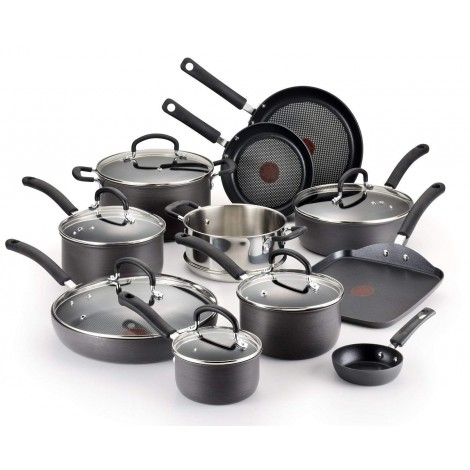 Thermo-Spot
Scratch proof non-stick
Premium Quality
Lots of extras (griddle, strainer, egg pan)
Huge variety in the set
Some reports of warping, even with warp-free technology
Some Reports of questionable packaging
Kicking off our list is every Mom's favorite kitchen company, T-Fal. This brand has the quality and reputation that many people know and trust, and for good reason. The manufacturing their pots and pans goes through makes them easy to trust, as the materials and attention to detail are all spot on. This set in particular has been put together to include everything you could need. It's a perfect starter set, and even works as an upgrade from whatever set you're currently using. All in all, this is a great buy.
The Thermo-Spot
T-Fal has really hit our thermo-spot with this unique and innovative pan technology. There are many tricks out there for figuring out how to tell when a pan is heated up: flicking water droplets and watching them sizzle, adding a slab of butter, or just holding their hand carefully above the pan. Take the guesswork (and potential burns) out of the equation with the thermo-spot. Every pan includes a little indicator in the centre that becomes solid red when the pan is perfectly pre-heated.
Metal Worthy
We would give this set the gold if we could, but for now we'll have to settle with this glowing review. Metal utensils are something most of us have, but few of us recognize the dangers of. You're at risk of scratching most non-stick coatings if you use metal on the teflon or other non-stick coats. Luckily for all us lazy fork flippers, the coating on these pans are scratch resistant and durable.
Cost and Value
Considering the fact that this set has all the newest cookware technologies, comes with the standard frying pan and pot sizes, and provides a few extra things (like a strainer, egg pan, and griddle) we think that you're getting more than what you pay for. The scratch-proof non-stick coating is just the cherry on top, as every first-time pan owner can now rest assured that they don't need to be too careful about what they do with their pans.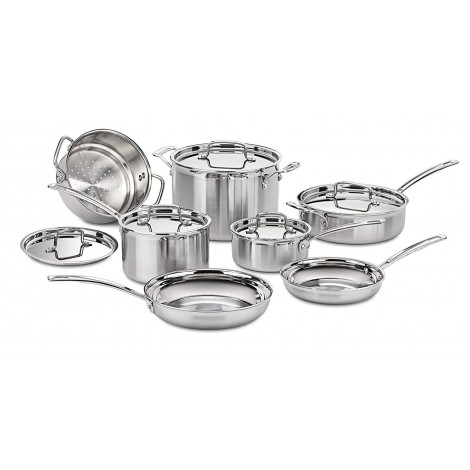 Looks great
Tight lids
Heatproof grips
Premium Quality
Tapered edges
Buzzes on induction cooktops
Customer service difficult to get ahold of
Cuisinart is a name anyone who spends time at Williams Sonoma (or even The Bay) will recognize. Cuisinart is a high quality brand known for their cool gadgets and kitchen technology. It seems that they're branching out into the pots and pans sets now too, as this 12-piece cookware set was one of the first on many best seller lists. The variety and quality are both good on this set, and the look is one that can't be beat. All in all this is a great product.
A tight lid
It might be the last thing on people's minds, but trust us when we say that a tight lid is really important. If your lids are loose then steaming is going to be much harder, as all the heat and steam are going to escape! Luckily for us Cuisinart has ensured that these lids fit snug as a bug inside of their pots and pans.
Tapered edges
A feature that we've overlooked in our sets is the pourability of the pans. Unless you're scooping out your food from the frying pan every time, it's likely you're going to need some assistance when it comes to pouring. The tapered edges on all of the pots and pans makes pouring extra sauce, grease, and melted cheese a breeze; and without any annoying drips down the side!
Cost and Value
At a price that's slightly higher than the first set we looked at, we believe that this set is indeed worth the value. It's got a little bit less on offer than the T-fal ground, but the quality and features are good enough that we're sure anyone would be satisfied with this set. Not to mention the fact that it looks oh so good!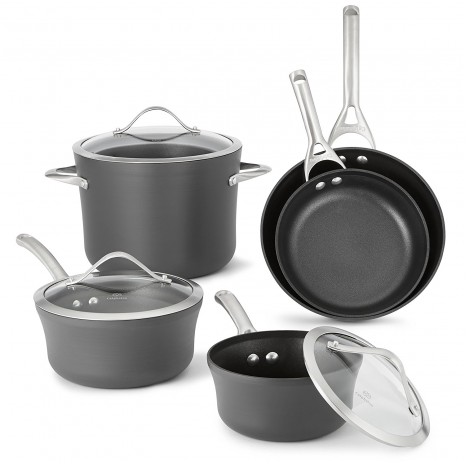 See-through lids
Totally oven safe
Lifetime warranty
Good Quality Metal
Three nonstick layers
Reviews question the durability/quality coming from certain sellers
Fewer items in the set
A brand that we're not personally familiar with, but one that might just be our go-to for cookware. Calphalon seems to understand what people want and need in a set of pots and pans, and they've given it to their customers in spades. Nonstick, aluminum cookware means these are going to be easy to use even for the beginner cooks out there.
Lifetime Warranty
Here's something that few of us ever take advantage of: a lifetime warranty. Lifetime warranties are awesome, because they never really expire. Even passing them on to your kids when they move out of the house can still keep that lifetime warranty in place (even if you have to be the one to call about a defect). Calphalon truly cares about their customers' well-being and happiness thanks to this feature!
Oven-safe (even the lids)
Many recipes in the fancier cookbooks will tell us to finish something off in the oven. This can be a little awkward if our pots and pans aren't oven safe. Luckily for us, this cookware set is fully oven safe, right down to the see-through glass lids. It's a great feature, and one that makes following any recipe a breeze.
Cost and Value
On the more expensive end of our budget range, this set gives you less than what many of the other options are offering. However, the quality seems to be much higher than what some other brands have. Considering the fact that we also get a lifetime warranty included in the price, we have to say that this cookware set is worth it.
4

. Vremi 8 Piece Ceramic Nonstick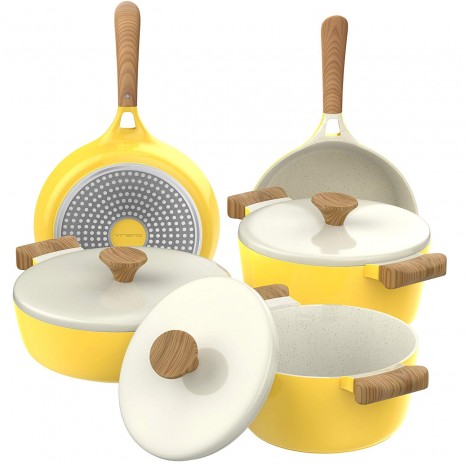 Looks great; servable set
Ceramic coating
Extremely Durable
Almost Budget Price
Heavy and good heat conduction
No care instructions
Gas flames can change the color of the bottom
Induction stoves are becoming more and more popular, but they might not be as easy an investment as we thought. Many induction stoves require specific pans in order to not rattle or vibrate, as some metals can react with the induction design. This is a set of pans that gives you a lot to work with, and doesn't discriminate between stoves. Induction, gas, regular old burners; you name it, and Vremi can cook on it.
Premium flipping
Don't flip out, but this is probably the coolest feature we've seen yet. Remember how fancy chefs always seem to be able to flip and catch food without using a spatula or anything, just a flick of the wrist? Now you can too, since the frying pans in this set are built with a slight curve. This design makes it easier to flip whatever you're cooking up. From pancakes to omelettes, we're sure that they'll be perfect every time.
What's cookin', good lookin?
Now it's not just the chef that looks good. It's the food, too! These pots and pans were built with the idea of serving in mind. Great for a family gathering or even just having friends over for a casual fondue night, the style of these pots and pans are rustic, adorable, and durable. The ceramic gives them a clean look on the inside, while the wood accents provide a hint of home.
Cost and Value
An average price for an above-average set, there are some flaws to be aware of. Bigger hands might have difficulty grabbing the heat-protected parts of the handles, while weaker arms might struggle with the weight of the pans. All in all the quality is high, though be careful when taking care of them. There are some reports of missing care instructions, which means you might have to go online.
5

. GreenLife Soft Grip 16pc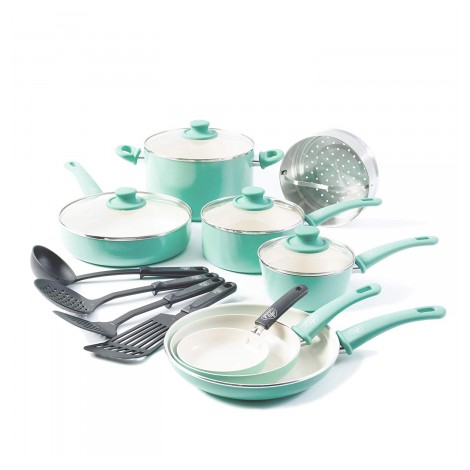 Ceramic coating
Great colors
Starter Price
Comes with utensils
Toxin free
Pans may burn at high heat
Handles not durable
It may come as a surprise to some that this is one of the biggest sets on offer (at least when it comes to the list we're putting together). The GreenLife brand is one that we aren't super familiar with, but all the research is pointing towards a great quality company. We're big fans of the ceramic non-stick sets too, as they tend to be more durable than some of the others.
Reinforced Body
Like wearing shapewear under a bodycon dress, this set of pots and pans includes a reinforced body. This means that there's aluminum that's helping to keep the pans evenly heated and warp-free, while also adding durability to the design. It's a strong move, and one that makes this set even more top of the line than others.
Utensils
How annoying is it when a company sends cookware with a tag that says "do not use metal utensils"? If you're anything like us, it's very annoying. If we're buying a set of pots and pans, we don't want to buy more utensils to go with them! Luckily for us this cookware set includes a handful of the most popular utensils. It's like getting pan care included in the box!
Cost and Value
This entire set will run us less than all the other 8 and 12 piece sets we've looked at so far, which is a fantastic deal. The bright colors mean it's perfect for any college student or young adult who's looking to purchase a set of pans for the first time. You get everything you need to start cooking up a storm, making this a great value for the cost (especially for any first-time home cooks out there).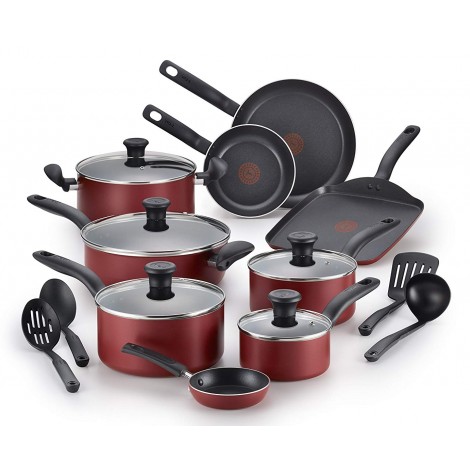 Even heating
Comfortable grips
Ceramic nonstick
Starter Price
Big set (includes utensils)
Some reports of warping and lid bursting
Lids lose their fit quality over time
As we shift into the latter half of our list, let's go back to an old favorite: T-fal. While some reviews question whether or not these are coming from the brand itself, we want to remind everyone to pay attention to which seller you're purchasing from. We love the T-fal pans, and know that they always have our back (even in sticky, crispy, and onion-coated situations).
Comfort grip
While many beginner cooks won't necessarily spend a lot of time standing over the stove, as you start to cook your way through all those lovely cookbooks you have you might start to regret getting uncomfortable pan grips. T-fal solves that problem with their ergonomic handles, which provide a firm and comfortable grip no matter how long you have to spend stirring those onions.
Even heat
One of our biggest pet peeves with the pans we have right now is the fact that they don't heat up evenly. The pots and pans that we own tend to get hotter in the centre, and don't conduct heat all the way out to the edges. Luckily for us, this cookware set is ready to save the day! The bottoms are made to have an even heating outside, which makes it simple to slap your meat down and cook it properly.
Cost and Value
As this is one of the cheapest (and biggest) options on our list, we wanted to be careful when looking at the quality. The reviews were pretty mixed, but those that took proper care of their pots and pans found that the quality was good and lasted them a long time. If you're someone who tends to cook with high heat, look for a different set. If you're "simmer the soup and slow-cook some salmon" you're probably going to be okay with this set.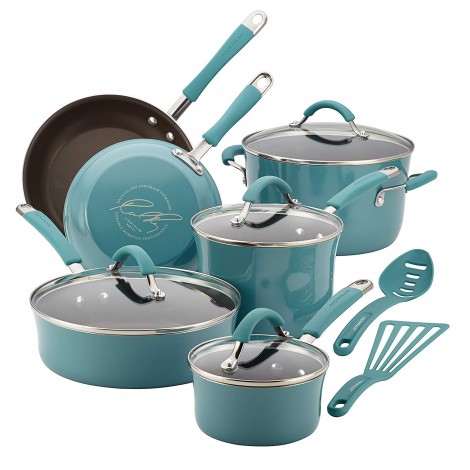 Colorful and attractive
Enamel/porcelain build
Nonstick
Comes with everything we need
Rachael Ray brand
Some reports of melting, shattering
Durability is low
We all remember Rachael Ray, right? 30 Minute Meals was definitely a favorite cookbook in our house growing up. With parents who worked and busy after school activities making scheduling a nightmare, Rachael Ray saved us many nights of the week. Now she's saving us again thanks to her release of this awesome cookware set!
Material Magic
While there are some reports of damage over time, those that have taken proper care of their cookware report that these are some excellent materials to cook on. The enamel makes for a strong and sturdy base, while the porcelain outside heats evenly and thoroughly. The nonstick inside is also said to be PFOA-free, making it safe as well as convenient.
Serving Set
In a similar move to one of the other sets we've looked at, Rachael Ray seems to have focused a lot on the family sharing aspect of cookware. These pots and pans aren't just for keeping in the kitchen; the color and attractive handles, as well as the see-through lids, encourage us to bring the food out and share it around a table.
Cost and Value
The reviews are in, and they're not as glowing as we'd expect them to be. There have been reports of peeling color and faulty manufacturing. Luckily for us, the lifetime warranty seems to be reasonable, and customer service is easily reached. When these pots and pans are not on sale we have to say that they might not be worth the full price. With the discount, the value and cost are a little more equal. All in all, we wouldn't necessarily recommend it from a material value perspective.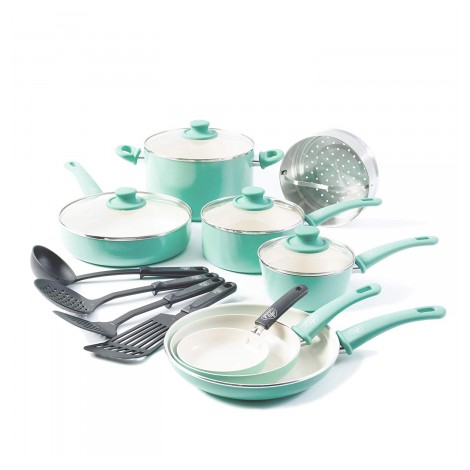 Good Quality
Budget Price
Nonstick and toxin free
Comfortable handles
Dishwasher safe
Some reports of scratching
Be careful of which seller you buy from
A variation on the GreenLife theme, but one that we're still excited about, this set is crafted in a similar fashion to the 16 piece turquoise set we looked at earlier on our list. However, there are some key differences (and some big bonuses we didn't get to talk about before). Sometimes purchasing different sets from the same company has a disparity of quality. Luckily GreenLife has a standard quality that anyone should be proud to own.
Hangable Handle
With pans this good we want to be able to show them off. The colors and quality on the GreenLife sets are nice enough that we'll want to keep them out in the open. For some people this means stacking the sets up, but for others with limited space the only option is to hang them. The handles on this set have a hole in the ends so you can hang them (or stack them) to your heart's content.
Dishwasher Safe
So many of these cookware sets mention the fact that they can't be put through the dishwasher. Others mention how they are dishwasher safe, but it might cause the non-stick to wear down more quickly over time. While we don't have the privilege of a dishwasher, we know many people do. Those people will be pleased to know that these pans are not only dishwasher safe, but they don't lose any longevity by getting run through once in a while.
Cost and Value
This set is a little cheaper than the turquoise 16 piece set we looked at, which is part of the reason we might opt for this one over the other cookware set. The benefits are all still here, right down to the hanging hole in the handle. For someone looking to gift a new cook their first set of pans, this is a great option. Be aware that the burgundy color scheme might not work with everyone's kitchen, though!
9

. Bourgeat 13 Piece Copper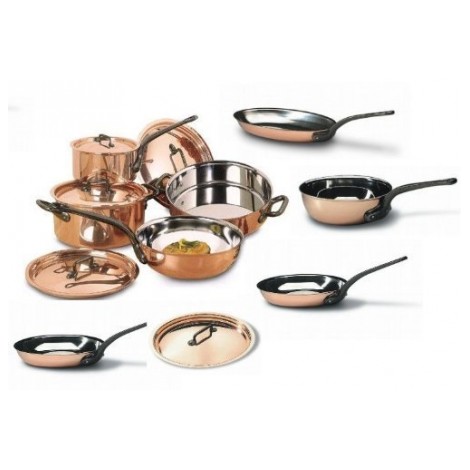 Copper (durable)
Incredible quality
Nonstick thanks to a polished interior
Tight-fitting lids
Counter balanced handles
Handles might be short if hanging on wall
Very, very expensive
The second to last set on our list is looking like it's going to become a cult classic. The reviews, while few in number, are absolutely glowing, and the details in the set are incredible. Bourgeat is a high quality brand, and copper is a metal that certainly stands up to a lot. The price might be high, but these are a splurge that are worth it.
Copper
The benefits of copper are huge. Unlike ceramic or porcelain, copper isn't going to chip or break after a year or two of use and one too many dings. The outside looks as good smooth as it does with the normal wear and tear that pots get. Copper is a good heat conductor too, and can match with pretty much any color scheme in a kitchen.
Bourgeat
We didn't know much about this company before we looked up their website. WOW, what a group! Their experience in cookware design is extensive, and we can truly say that this is a brand that cares about what their consumers are getting. While the price isn't for the faint of heart, the lifetime of care that went into these cookware sets makes it worth it.
Cost and Value
We're going to call these an "investment piece", as you'll likely never need another set of pans in your life. It's not just the metal and the design that makes us such big fans of this cookware set as well. Bourgeat as a whole is a company to be trusted. Those that have the money will find that this is worth the cost, but let's be real: most of us don't want to spend this much on something we're just going to be making Kraft Dinner in.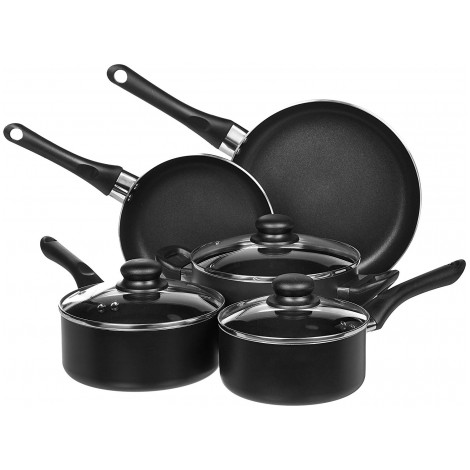 Nonstick
Basic set
Heat proof handles
Spiral, even heating bottoms
Budget Price
Won't last a long time
Can't dishwasher them
The last piece on our list comes from none other than Amazon themself. This is an 8 piece set that covers the basics, as the AmazonBasics name would lead us to believe. The cookware set is one that's a must for anyone looking for a quick and easy cohesive set, and will aid beginner cooks in their journey towards Flavortown.
Vents
Sometimes we don't want to steam our veggies! When condensation builds up and drips back into the pan it can waterdown food, sauces, and brown butters that we're sauteeing in. This condensation happens when there's no way for the steam to escape, as it just builds and builds instead. These lids all have vents in them, making it possible for the steam to dissipate without even being by the stove.
Starter Set
We all need to start somewhere, and AmazonBasics knows that. This set won't last forever, as the longevity of them seems to be about a year or two. For those that are moving in with a partner and don't want to invest too much in your initial home, or for those that are just looking for a cheap college solution, these are a fantastic purchase. They're cheap and they get that sautee done.
Cost and Value
At the lowest price on our list, we wish, we could say that the value is higher than the cost. Unfortunately with these pots and pans you really do get what you pay for. The nonstick coating will last provided you don't scratch them up, but the general lifespan of this cookware set seems to be a year or two. That's awesome for anyone who's not necessarily in a forever home, but isn't the long-term investment piece that most families will be looking for.
Criteria Used for Evaluation

Use
There are many ways to look at the use and use cases of things like cooking products, and that list gets exponentially more difficult to judge when you judge entire cookware sets. In our specific guide here, we took the meaning of use to include the vast range at which you will be able to cook thanks to your new cookware set. So in terms of this particular criteria, we judged these ten cookware sets (and the hundreds of others we looked at) based on the range of included pieces.
The beauty of cookware sets as a whole come in the fact that they, often, include plenty of pieces to the cooking puzzle. These are, but not simply, things like multiple different sized pots for sauces, and more, frying pans, and so many other pieces.
In order to obtain a high score on our guide, the sets we listed must have included -- at the very least -- the bare minimum in cooking essentials. These include a sauce pot, a frying pan, and a noodle/soup pot. But more importantly, on a list of bests, the cookware set should bring far more than that to the table, however, some of those extras might find themselves inside the realm of other criterias.
If you're heading into the market of cookware sets, it's a great practice to expect, neigh, demand, more from these companies in the realm of what it is they include.

Capacity
In very much the same vein as the use case criteria, the capacity of your cookware set works a bit in the opposite direction. It's all about the variety in capacity. What's the least you can cook with one piece, versus the most you can work with in your largest piece. That in combination with all of the volume measurements hit in between, is how we judge capacity.
Some of the fabulous cookware sets on our list, and on the market as a whole, don't include a whole lot of variety when it comes to the volumetric working area of their cooking wares, and that can be a downside, especially if you've got good options on the small end of the scale and the big end of the scale, abandoning you in the middle.
For our list, we wanted to specifically judge the range of the cookware sets based on both the full range of capacity within it (must include a small and large end product) as well as how well they have flushed out the middle of the size ranges.
It's crucial that the cookware sets you vet, and eventually pick up include a wide range. Much like the Use criteria, these sets are designed to fill out your entire cooking needs. To replace, or suspend anything you may already have. So there's no point in picking up a cookware set that does a poor job of reaching across the spectrum of cookware sizes and capacities.
Get something that has variety in size, capacity, and use.

Value
The value of all things is key in the consumer market. No matter what you are attempting to option out or purchase. The universe of cookwares and the sets that are offered with them included do not stray from this pattern.
Taking into consideration all of the things in our criteria section, it should be pretty easy to understand how we laid out our judgement upon our chosen cookware sets when it comes to value. Match those factors against the price, and there's a pretty clear image appearing.
One must, and we mean must, look at the variety in the offerings within the set, the capacity at which those offerings can cook, how and what they can cook, and all of the things that make up the materials and quality of their build. If you're paying premium price, every single one of those sliders should near the top end of the list. Where as for those sets that won't break the bank, you might have to juggle some of the sliders and decide which ones are more important in your specific needs.

Durability
It may surprise you (though it shouldn't) that the durability of your cooking wares is a crucial component, and voice for the quality of the products you're getting. As a young adult myself, there are far too many of my peers that don't put much weight behind the idea of purchasing high quality and durable cookware. This starts to show early in the life-span of your cookware, but most importantly, it can make a huge difference in the way things cook while using those things.
The durability of a piece of cookware is usually boiled (cooking pun, and I nailed it) down to the simple factors of materials used, coatings, and build quality. These three things can make or break the overall durability of a pan or pot, and aiming for something higher up the chain of cost will result in you having some amazing pieces for a long time. Expensive cookware sets are the types of products that can last multiple generations. However, if you cheap out and get something more budget friendly, you should prepare to replace the entire set, or pieces (as you see fit) over the course of the next few years.
Plenty of amazing cookware sets are designed and manufactured out of materials like hard-cased aluminium, giving them a bit of durability, but focusing more on the conduction of heat. While expensive, and high-quality cookware pieces will and should be made out of things like copper, or ceramic. These are materials that will not degrade over time if kept well, and washed properly.
So, heading out into the work of kitchen tools, ensure that you focus a lot of time and effort into vetting the materials of your cookwares, because this could be the most important factor in their build.
Expert Interviews & Opinions
Most Important Criteria
(According to our experts opinion)
Experts Opinion
Editors Opinion
Users Opinion
By Default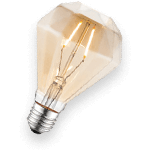 Taking Care of Your Cookware
There are plenty of things you can be doing to your kitchenware to ensure longevitiy of your investments. Avoid using metal utensils as this can scratch the coating on your cookware, leaving unsightly marks and blemishes. Try not to stack your coated pans on top of each other in order to avoid scratches on their surface. This can be fixed by hanging your pots instead of stacking them in your cupboard. Another technique to extend the lifespan of your cookware is to make sure you're cooking at the proper temperature. Immediately turning your burner to high heat to cook something like a sauce may lead to burned on food residue on your pan that can be difficult to get off, often resulting in removal of the metal as well.
Cleanliness is a Virtue
On the whole these cookware sets are easy to clean, but only if they're kept in the same great condition they started out in. The nonstick coatings can be prone to scratching and aren't immune to burned-on food sticking to them. If the pan has taken some damage or the nonstick has been weakened by the dishwasher, it's safe to say that these cookware sets will become harder to clean. However, many of the sets that rely on polished metal, ceramic, or other eco-safe materials to act as a non-stick are much easier to clean, and can get tough bits off with a little bit of soaking.
Other Factors to Consider

Accessories
This is a pretty vague criteria, but there are a few good places to look in order to properly judge a cookware set based on its accessories. Some sets will come with extras. These are things that aren't cookware pieces. Maybe they come with some utensils. But mainly, when we judge a set on their accessories, we're leaning more towards the idea that all cookware sets should include all sorts of lids, holders, and handles. Any set that doesn't include at least lids for all pans and pots, should be tossed out the door and ignored.
Frequently Asked Questions
q:

Will these work on all types of stoves?

a:

The answer to this question depends on the type of stove you have. Induction stoves can be finicky when it comes to metal pans, as they often result in a buzzing or rattling (especially on high heat). Some flat top stoves might also get scratches on them, depending on how rough you are with the pans on the flat top. On the whole these cookware sets should be appropriate for most average stoves, with no damage to the stove or the pans. For unique stoves, like induction, be sure to double check the product descriptions and reviews to ensure that they're appropriate/safe to use.
q:

What exactly does a "cookware set" include?

a:

We were a little vague with that, weren't we? Rest assured, fateful reader, that the cookware sets we're working with here are actually ones that have similar pieces. While the sets vary between 8 pieces and 18 pieces, generally you're going to find a frying pan or two, a sauce pot, a large pot, and a medium pot. Other features that are included in specific sets include strainers, griddles, egg pots, dutch ovens, and casserole dishes. The idea of a cookware set is just to have a cohesive set of pots and pans that bring a kind of unity to your kitchen. Many people use them as functional decorations, which means they like to hang them or display them openly. A few sets will even include utensils, just to tie everything together. Please check the specific set you're interested in in order to determine what is included.
Subscribe to our Newsletter