Best Ka-Bar Knife Reviewed & Rated for Quality
In a Hurry? Editors choice: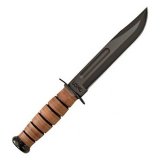 Test Winner: Full Size US Marine

If you've made it to this list the chances are good that you are in the market for a new
knife
. No matter your reasoning, whether you are looking for a collectible, a combat knife, self-defense tool, or simply a tool to take camping with you, you are in the right place. There are lots of
different brands of knives
out there so let us first discuss why you need a Ka-Bar knife in your life. It involves four different product tests including CATRA testing, Rockwall testing, Goniometer testing, and Field testing. Once all of those tests are passed, you can purchase the knife! Which, after reading through the process of producing one, I'm sure you are ready to do! Next step: decide which one you want to purchase. Let's
dive
into that now with some of their very best and most popular options.
Standout Picks
Criteria Used for Evaluation
Materials
The very first thing that you need to consider when making a fancy knife purchase is what type of blade material you want. All of the blades on our list are made of some type of steel. The two options being Stainless Steel and 1095 Cro-Van Steel. Stainless steel is an incredibly popular product and is in everything from your knives to your fridge to your washer and dryer and all things in between. It looks good, and perhaps the biggest reason it is so popular is that it is largely rust resistant; thus the name "stainless". You will have to give less attention to a stainless steel blade and will get away without cleaning it or maintaining it as often. However; it will not hold an edge as well meaning that you'll need to sharpen it more often and it will dull quicker. The 1095 Cro-Van Steel that Ka-Bar makes includes Chromium and Vanadium in the Steel, which makes it not truly 1095 steel in that sense.
However; it is a very strong and capable metal that will serve you well. It is easy to sharpen and will hold an edge very well and through a lot of abuse. However; it WILL rust if not properly maintained. It is not hard to do so and is a necessary step if you want the knife to last you as long as it is capable of doing. Just a little bit of oil should do the trick. If you have a leather sheath, it usually works out to be good for that as well. One thing to also keep in mind is that all Ka-Bar blades are coated with a thick coat. This makes the blade thicker and helps to minimize some of the issues noted above.
Model
You've got a couple of options to handle wisely when you are looking to get yourself a Ka-Bar knife. The first and classic option is leather. The most popular and well known Ka-Bar knives have leather handles and often sheaths. This is a classic look and style that has been used for a very long time. The look is iconic and very becoming, almost something you would expect from a decent blade. It is comfortable to hold and feels good in your hand. It should be noted here that most of the leather Ka-Bar uses is made in Mexico, but that is not a bad thing because they work beautiful leather and the quality is on point.
The other popular handle option is that of Kraton. It is a hard, synthetic material that is nearly indestructible. It holds up to almost anything you can throw at it. It is weather resistant so you don't need to worry about taking it out in the rain, snow, or sleet. There is also no concern for it getting wet like there is with leather. Because it is a synthetic material it is a little easier to hold and doesn't get as slippery as leather either. However; it doesn't have the look and prestige of leather. Ultimately there are pros and cons to both options and you'll have to weigh what works best for you and your situation.
Style
Ka-Bar knives come in several different styles and sizes. Perhaps the most popular is the classic United States Marine Corps model. It features a 7-inch blade and is just under 12 inches in total length. Many of the knives they offer are different variations of this base. There are serrated, partially serrated, and simply straight models. This base of a knife is also available with a leather handle or a Kraton handle and comes in a slew of different sheaths. Ka-Bar also has a TDI line which makes knives specially formulated for Tactical Defense. These are knives that are made for law enforcement officers by officers. They also have variations within that specific style. The ones listed here are smaller than the standard USMC knife and clock in at 2 15/16 inches blade and just under 6 inches total. They also come in a larger variety if you prefer the drop point style of the blade offered here but don't want a smaller blade. These are largely black and meant to be discreet. They usually offer a Kraton handle and stainless steel blade.
They also have other specialty blades. The Becker line is a good example of this. It is built more for campers and hunting enthusiasts rather than for combat reasons. All knives in this line are thick, solid, full tang, and are good for any sort of camping, hunting, or basic knife needs you have. Another example listed here is the black tanto. It as more of an Asian flare but offers all the awesomeness that you can find in a Ka-Bar.
10 Best Kabar Knives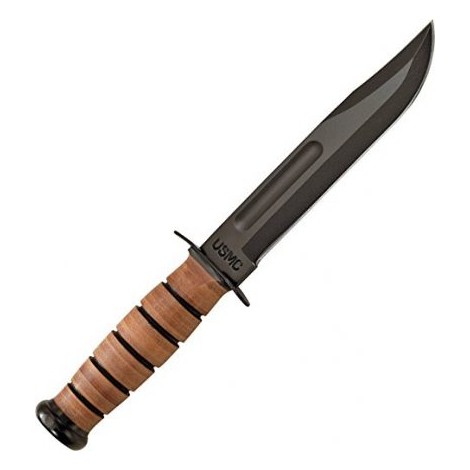 This Ka-Bar knife is perhaps the most popular one they manufacture and is arguably the gold standard for this particular knife pattern. It has been used for many years in the United States Marine Corps and is a favorite of all knife enthusiasts. As the most famous fixed knife blade around, it features 1095 Cro-van steel and a fixed 7" blade.
Protective Leather Sheath
A knife is only good as long as you can keep it in good condition. A large part of that is how you store it. This Ka-Bar knife comes with a protective leather sheath that will keep your knife safe and sharp. Not only that, but it feels and looks good to boot.
Most Famous Ka-bar knife
This particular knife design was a standard issue for all United States Marine Corps during the Second World War. Its popularity has continued and its reach extends beyond the USMC at this point. Because if it's solid structure and quality construction it is loved and used by many.
Cost and Value
This is not a cheap knife. It is built of quality material and comes with a quality protective sheath. You would expect something that is used in some of the toughest conditions out there to be solid and perform well. That kind of quality doesn't come cheap. You will be spending a decent amount of money here, but you will be buying a knife that has been proven hundreds of thousands of times over that people keep coming back for. You can't go wrong with that kind of reputation, even if it does cost more than you'd expect.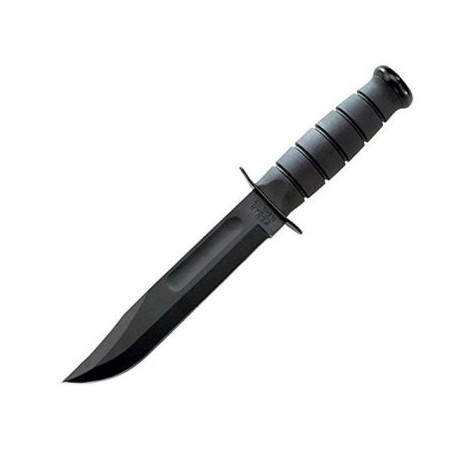 This knife encompasses everything you know and love about other Ka-Bar knives. The blade is 7 inches long, of solid construction, and, with the proper care, will last you for many years. It has the build and design of the original USMC knife that is so popular but offers technological advancements in the material on the handle and sheath that improve upon the longevity of the knife. It will withstand the elements and surpass all of your expectations.
Kraton Handle
This particular Ka-Bar knife has a Kraton Handle. While initially you might be disappointed that it isn't leather, you shouldn't be. Kraton has the advantage of being less slippery when wet. This results in a better grip, no matter your situation.
Kydex Sheath
This knife comes with a Kydex sheath. It will securely lock your knife into place and has a strap to further secure it. It releases easily with a quick pull. The Kydex sheath is virtuously impervious to weather and salt water, which results in greater longevity.
Cost and Value
As with all Ka-bar knives, you'll pay to own one of these. Also with all Ka-bar knives, the quality far surpasses the price. This knife - blade, handle, and sheath - will last you a long time and live up to the price that you pay for it.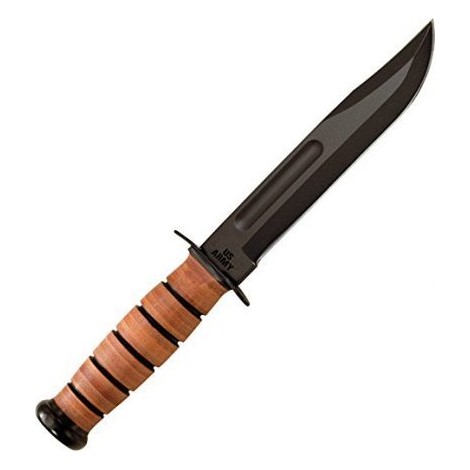 This knife is the US Army version of the USMC blade also discussed on this list. All attributes are the same except for the markings. It has a 1095 Chrome Vanadium 7" straight edge blade and a leather handle.
Multipurpose
This knife will serve whatever purpose you have for it. It is built for Army purposes so you know it can handle a lot. As such it will also work well for all your outdoor needs that call for a shorter blade. No collection is complete without a Ka-bar knife and this one is an excellent addition if you are a collector.
Holds an Edge
Because this knife is made of 1095 Chrome Vanadium it keeps an edge very well. For those who know how it is very easy to sharpen to your liking and will hold it well. Because of this, it will rust if you let it dry out, but that is easily countered. This type of steel will be the shaper and cut better than stainless but does rust.
Cost and Value
This Ka-Bar knife is made of quality steel and leather. The knife is full tang, meaning the blade goes all the way through - further enhancing the quality and construction. Because of this, you will pay a pretty penny for this knife but no more than you would for most others on this list. It is pricey, but worth the money you spend. It will serve you well and long.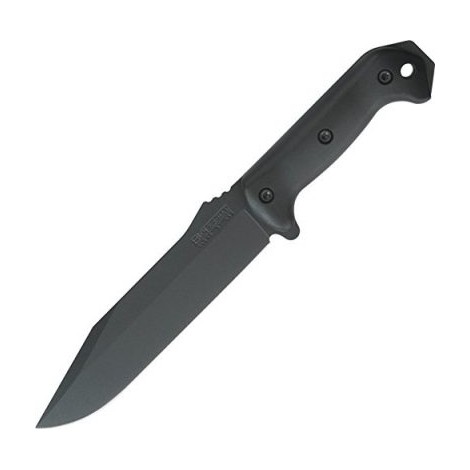 This Combat Utility Ka-Bar knife is designed by Ethan Becker and produced by Kabar. All knives that come out of this partnership are extensively tested and are designed to be industrial strength tactical and survival knives.
Carbon Steel Blade
This Ka-Bar knife features a carbon steel blade. It sharpens well and holds its edge. It is sharp enough to shave and cuts through nearly anything. The coating is just the right thickness and will hold up to a lot of abuse. The combination of the two makes this blade easy to sharpen and maintain.
Grivory Handle
The handle is Swiss-made. It is glass-fiber-filled nylon that gives it an added measure of strength. It is also very smooth. If it's to smooth it is easily remedied by roughing it up. That allows you to have the feel you like without compromising the quality.
Cost and Value
The price of this Ka-Bar knife is marginally higher than the others on this list. As it is a specialty knife made from a partnership with both a quality designer and quality producer you can expect to pay a little bit more. However; you will be so impressed with the knife that you'll be surprised you didn't have to pay a lot more for it.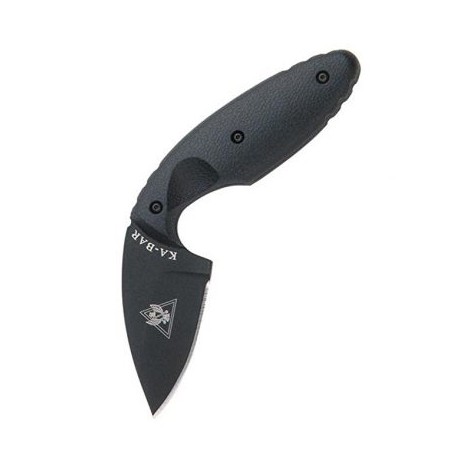 This Ka-Bar knife features a stainless steel blade with a drop point edge. The length of the entire knife is 5 ⅝" and the length of the blade itself is 2 5/16". It has a black handle and black sheath. It is easily concealed and a perfect tool to have if you need to defend yourself in close quarters - as Law Enforcement Officers often do, thus the name.
Deployment
Deployment on this Ka-Bar knife is quick and easy. You can have it out fast and the moment you need it without any sort of delay. It can be worn on either side successfully. It reclips in just as easily and clicks into place so that you know it is secure.
Discreet
This knife is smaller than a lot of others on the list and because of that is a lot more discreet. It is easily hidden on whichever side you choose to wear it on which makes it the perfect knife for self-defense purposes. It is small enough to be reasonably comfortable and does not dig in at all.
Cost and Value
This knife costs about half as much as its longer, armed forces counterparts. This doesn't speak to the quality at all though, as this knife lives up to all the Ka-bar hype. The reason for its much lower price is directly related to its smaller size. Less material equals fewer production costs which in turn equals smaller price for the consumer. If you are looking for an awesome knife that can be used in self-defense situations or to carry just in case, this one is great quality for a great price and you will be happy you made this purchase.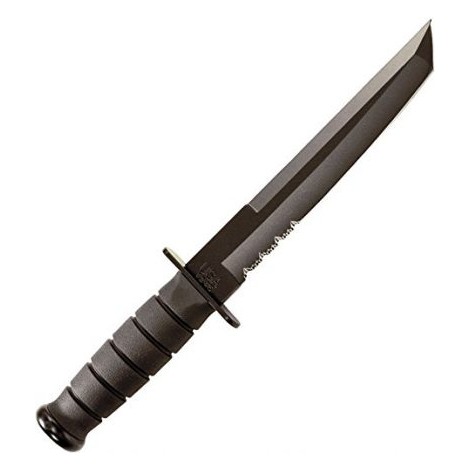 This Ka-Bar knife is unlike any other on this list. The BRK Tanto is Asian influenced to the blade looks and feels different but still manages to maintain the Ka-Bar quality we all know and love. It is 8 inches long and that extra inch looks and feels very different. It is also partially serrated, adding another element for cutting if needed.
Thick Pointed Blade
The thick pointed blade on the Tanto is well suited, perhaps even ideal, for penetration. As this knife is built for self-defense or combat, that is critical and a very helpful element. You will feel safe and ready to defend yourself or fight if needed at any point as long as you have this knife with you.
1095 Cro-Van Steel
The blade on this Ka-Bar knife is made of 1095 Cro-Van Steel. This high quality, hard steel is easy to sharpen and maintains its edge well. With the appropriate care, it will last for a long time and hold it's an edge for a long time.
Cost and Value
It is hard the beat the value you get and the price you pay for any Ka-Bar knife and this one is no exception. It is a stellar 8" long knife that will fulfill many purposes from combat to collecting and anything in between at a decent price. It is a little higher of a price point than others on this list, but it is also longer and more knife so the added price is logical. Overall, you get a great deal with this knife.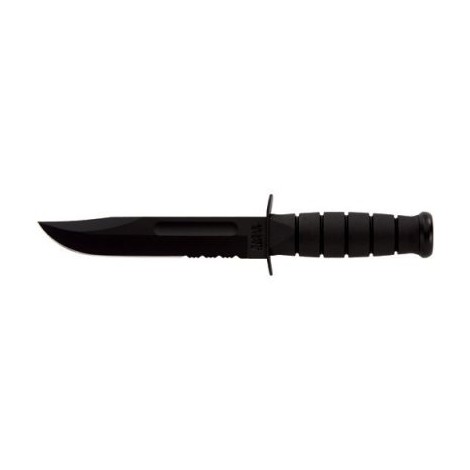 This Ka-Bar USA Fighting Knife features a 7-inch long blade and overall is 11.875 inches long. Its overall length is slightly shorter than that of its 7-inch blade counterparts but that is due to the material in the grip and the overall balance of the blade. It is easy to sharpen and holds an edge well. It also features a partially serrated edge and a Kraton handle making it very weather resistant.
Partially Serrated
While mostly straight, this knife does feature a section toward the hilt that has serrations. This allows for more diversity in what you can use it for. The serrations make cutting looped and synthetic materials a breeze. It's also helpful when crafting leather furls. The serrations are rounded so it minimizes the chance of snagging, which is also helpful.
Kraton Handle
The Kraton Handle is a hard, water repellent and weather resistant sheath. It is 100% synthetic and will hold up for many, many years. It requires minimal maintenance and is able to withstand the worst of weather circumstances without rusting, breaking, or falling apart. As an added bonus, it doesn't get slippery the way leather does and offers a more secure grip.
Cost and Value
This knife is right on par with most of the others on this list. The quality and value ratio to cost with any Ka-Bar knife is excellent and this one fall under that umbrella. You'll get a great knife at a great price that you will use for years to come.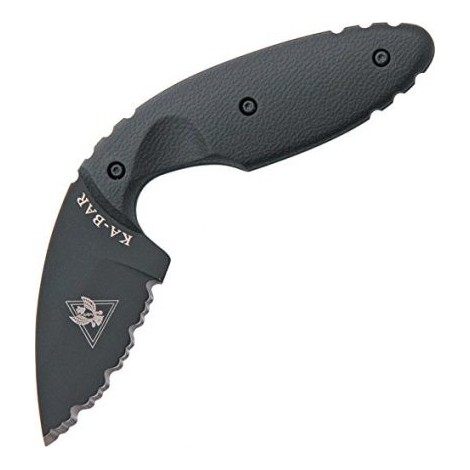 This is another slightly different style of Ka-Bar knife. It is made specifically for Police Officers and as such, takes their unique circumstances into account. It is smaller than most Ka-Bar knives and conceals very easily. It is all black to help it blend in better. The angle and design are such to give you maximum protection and the ability to defend yourself when you need it most.
Designed for Officers, by Officers
These special TDI Law Enforcement knives by Ka-bar are designed for officers by an officer so their specific needs are really taken into account. It is meant to be worn on the off-hand like a pistol would be and is drawn the same way. This will help keep you safe when your circumstances are not so.
Easily Concealed
This unit comes with a friction sheath that is designed to give you the best ability to conceal it. When worm on the belt, it is easily concealed behind all the gear that you typically wear and because it is black it blends in well.
Cost and Value
Much like the other TDI knife we feature on this list, the price of this Ka-bar knife is roughly half that of most of the others. It is also roughly half the knife, which makes that price drop logical. For the value and protection carrying this knife around with you adds, it is absolutely worth the small price that you will pay for it. Both your mind and your wallet will rest easy.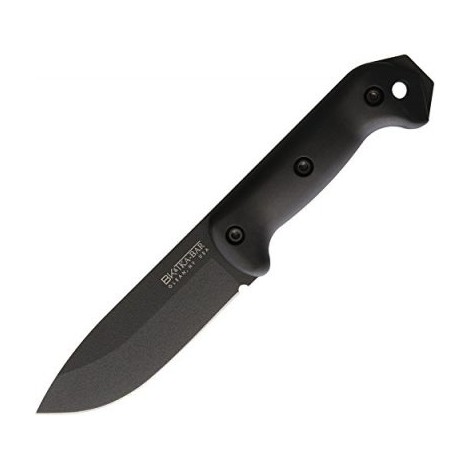 This is a sleek, functional blade made of 1095 Cro-van steel. The blade itself is 5 and a half inches long and the whole knife rings in at 10 and a half inches. That is a little smaller than the standard Ka-Bar knives, but this knife is not designed to fulfill the same needs as other Ka-Bar knives.
Built for Camping
This is a Ka-Bar knife whose only purpose is to make your life easy while you are out camping. It is the perfect knife for splitting apart kindling, chopping veggies for your campout dinner, as well as skinning and working its way around the joints of whatever game you bring in.
Withstands a lot of Abuse
This blade is surprisingly thick and is worth the money all on its own - not even taking into account the handle or sheath. Because it is made of Cro-van steel it sharpens easily and will maintain its edge. It can remove the bark from a tree or cut open your latest hunting prize and will still be good to go for the next task you have for it.
Cost and Value
This Ka-Bar knife is right about the same price as most others, maybe a little more expensive. Considering the fact that it will work great for a number of your camping needs and in so doing eliminates the need to purchase multiple sharp tools, this knife is worth the money you pay for it. It is well built and comes at a great price, all things considered.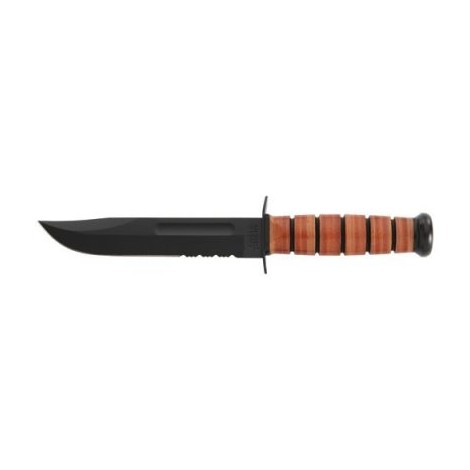 This knife is very similar to the well known and loved standard the United States Marine Corps standard issue Ka-bar Knife. The difference is that this knife features a partially serrated edge. It is the same cro-van steel, 7-inch full tang blade, and overall length of 11.875-inch knife.
Leather Sheath
Much like the original Ka-bar knife, this one also comes with a beautiful leather sheath to keep it safe and protected. It is USMC stamped and fits right onto your belt keeping your knife right where you need it to be for easy access.
Serrated Edge
Adding a partially serrated edge adds more functionality for many who prefer a serrated edge. It cuts better through synthetic and loop materials, which are relatively common things to need cutting. It is a big bonus having that part of your go-to knife that you always carry with you.
Cost and Value
This knife costs just as expected. It isn't cheap, but it is worth every penny. Ka-Bar makes a quality knife and this one is right near the top of the list. It is a slight variation on the most popular knife they make - the one used by the United States Marine Corps - and that alone should guarantee your quality. To be able to get a knife of that caliber at a reasonable price is a shocking and wonderful thing.

Subscribe to our Newsletter