Best Lifing Belts Reviewed & Rated for Quality
In a Hurry? Editors choice: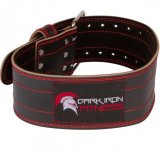 Test Winner: Dark Iron Fitness Leather

If you plan on getting serious about your weightlifting, then it might be time to start looking into buying yourself a belt. Lifting belts can be the thing that pushes your work in the gym to the next level. There are many on the market, though, and knowing which one is right for you can be difficult. Collected here are a few options for all kinds of lifting, from CrossFit to powerlifting. Any of the belts on this list will do a good job of letting you kill it at the gym. Come on down and find the one that looks best on you.
Standout Picks
Criteria Used for Evaluation
Compression
When wearing a lifting belt, there should be a squeezing feeling in your abdomen and back. Lifting belts work because of the pressure they put on your core as you lift. This is done through filling yourself up with air and holding it there while completing the lift. This gives something for your abs to push against and also something for your spine to be stabilized against. This means that when looking for a lifting belt, you should look for something that won't give into being strained against by your workout. The materials need to be tough and firm enough that you can feel that squeeze when going down on a max capacity lift. This is mostly going to be caused by the firmness of whatever clasp there is that is keeping the lifting belt together. The other important element of a lifting belt is the material that you are straining against. It should have minimal give so that it is most effective in supporting you.
Durability
There is a lot of strain being pushed against your lifting belt when going down on a squat or deadlift, It is important to find a lifting belt that you can feel confident in pushing everything you have into the materials that make it up. The feeling of the clasp, velcro, or buckle giving out when you are in the middle of an important lift can throw you off balance, and can honestly be quite dangerous. Because this is the case, it is important to look out for a belt with long-lasting durability. There are a few issues to look out for when purchasing a lifting belt for yourself. The most obvious issue that comes up with lifting belts is that sometimes the clasps of them will release without warning. Look for clasp systems that are made of strong materials like steel that can hold tough against your body's strain. Clasps that lock into place should have multiple rivets keeping them in place and should have a somewhat complex locking system. With buckle systems, look for either strong materials, or multiple prongs. With a velcro strap, make sure that it feels firm before going up on your lift. The other issue with many lifting belts is that the materials that they are made of can stretch over time. Many of the belts on this list come with some kind of warranty so it shouldn't be something too worry about too much, but it is important to look for materials that will hold firm over long periods of time, like mylon, or high quality leather.
Comfort
Feeling any sort of discomfort when you are working out is always a red flag. Due to this, it is always better to try to find a lifting belt that prioritizes comfort in at least some way. There are different kinds of lifting belts and the ways that they will keep you comfortable are different. Because of this, there are things to look for in each specific scenario. With the heavy-duty lifting belts that are usually made of some kind of leather, some of the things to look for are how the clasp system works, and also what the inside of the belt is lined with. The buckling system of many belts are made of metal. The more of it that is found on the inside of the belt, the more likely it is that it will dig into your sides as you are going up. This is not always the case, but it is something to be aware of. See what reviewers have said about the buckle in a buckling system. Clasp systems are much more comfortable, generally, but they sometimes don't feel as reliable. The best buckling system belts are on this list, and they are low-profile enough that they won't dig into your sides. The more comfortable of these belts will have some kind of lining, usually some suede, or at least be made of a supple leather that won't be rough against your body. With the more lightweight belts, look for ones that have some sort of cushioning so they won't rough up your sides. Tricot is a good choice of fabric because it fits tight, but also softly. Some of the more lightweight belts also aim to be breathable, which can be nice after wearing a tight belt for such a long time.
Fit
A lifting belt is meant to cover your abdomen and your back. This can be a tricky business because there isn't as much space between the bottom of your ribs and your hip bones as you would think. The general rule for that space is about four inches, but it may be different for you. Having a four inch wide belt should be more than enough to fit you and do a good job of creating something for your body to stabilize against. There are five and six inch belts on this list as well. These belts might be a little too wide for people who are a bit shorter, but they will often give you even more surface area to brace yourself against. This is a good thing to have when increasing your lift load. If you are worried that that is too wide, then try getting one of the belts that are contoured. A contoured belt will do a good job of holding your abs and your back firm while avoiding rubbing uncomfortably against your bones.
Stability
Besides having something for your abs to work against to give your lifts that extra oomph, the other major important thing you want to get out of your lifting belt is the proper amount of stabilization for your back. There is always a matter of safety when performing the complex lifts that a lifting belt is built for. The muscles of your back flex are there to keep your spine straight and firm, but the larger the weight, the more the likelihood of injury to the spine will increase. The big selling point is that extra strength you can get out of using a lifting belt, but they can also make your lifts safer. Your back muscles will also have something to brace against, which improves their ability to stabilize your spine, and prevent unnecessary flexion. The belts on this list will make sure that you never have to worry about being in danger.
10 Best Lifting Belts
1

. Dark Iron Fitness Leather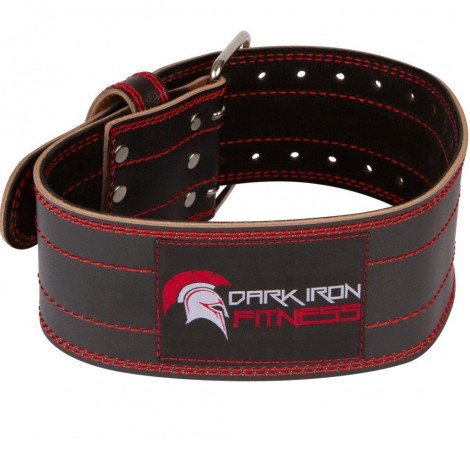 The Dark Iron Fitness belt is a strong and comfortable belt that will keep you safe and protected. This lifting belt uses an old-school buckling system that keeps a strong grip on your abdomen.
Durable
This lifting belt is made of tough leather that will keep its shape even when put up against the heaviest of weights. It is kept together with strong metal buckles that will keep the belt latched to the size that you want. You will always feel supported by the Dark Iron Fitness belt.
Comfortable & Strong
The Dark Iron Fitness belt always rests comfortably on your hips and won't dig into your ribs or abdomen. This belt is made with buffalo leather that is soft, while retaining its strong support of your abdomen. Using the Dark Iron belt can increase your lifts by up to ten percent.
Cost and Value
The Dark Iron lifting belt is surprisingly cheap for the high quality materials and comfortable fit that it provides. It also comes with a lifetime warranty so that you can replace the belt if it fails. Don't worry though, it never will.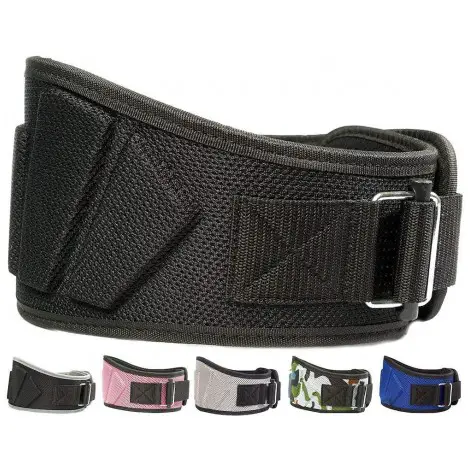 The Fire Team Fit belt maximizes adjustability and comfort to better promote stability and safety for any of your heavy lifting exercises.
Adjustable Fit
This lifting belt uses a loop that you pull the material through. This means that you can find the exact perfect fit for your body in comparison to the notches of a leather belt. A better fit will promote better stability in your back as it allows the belt to do a better job keeping its grip on you.
Contoured Fit
The Fire Team Fit lifting belt is also unique in its usage of shaping withing the belt. The front and back portions of the belt are extra wide so that it can better support you through your lifts. I contrast, the sides of the belt are a little bit thinner so that it can better rest on your hips without being uncomfortable.
Cost and Value
This lifting belt is also very cheap for the large amount of value you will get out of it. This belt also comes with a lifetime warranty, which should give you a good idea of the confidence these people have in their product. This is a good belt if your primary reason for buying your belt is that you want something comfortable and stabilizing so that you can feel safe through your more complex lifts.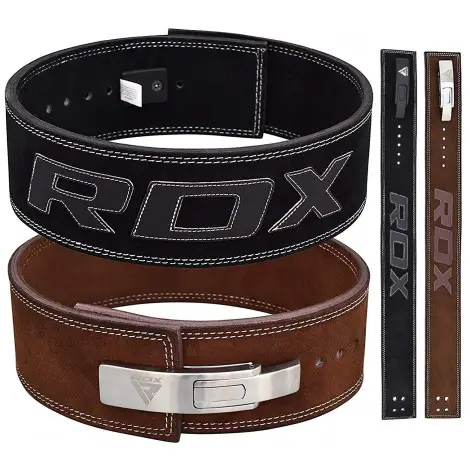 The RDX belt uses the simplicity of its strong leather and a effective clasp system to aid you through your big lifts.
Durable Materials
The inside of the RDX is completely smooth, which mean that nothing will uncomfortably dig into your side or distract you when you are in the middle of an important squat or deadlift. The RDX is made of oiled nubuck leather, which is strong and stable, and will make a solid wall for you to push against as you workout.
High Quality Design
The RDX uses a hand stitched technique to ensure its quality. It also uses a clasp that fits on the outside of the belt. This allows for maximum comfort as there is no protrusion on the outside as the entire latching system is on the outside of the belt. The final touch is the suede that has been stitched into the inside of the belt. This increases the comfort even more and means you will have a little bit of padding on your way up on your lift.
Cost and Value
The RDX is a little more expensive, but makes up for it with the high quality materials and build that it sports. It comes with a money back guarantee if anything goes wrong when you are trying to use it. This is a great belt for those who want old school style supported by strong durability.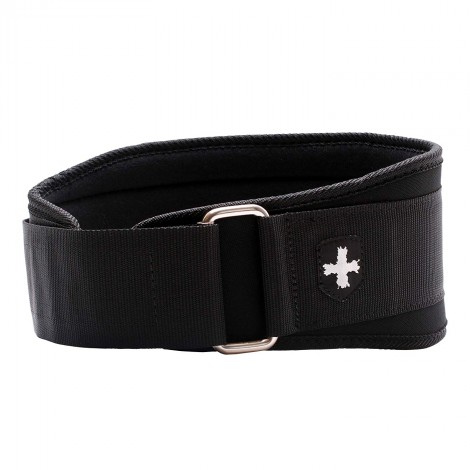 The Harbinger lifting belt is made of thicker and more dense materials to keep you safer and stronger. It also is unique in its wider design that covers more surface area.
Dense Materials
This lifting belt is designed to keep you secure and your muscles relaxed. The belt is made of a lightweight foam that is extra flexible to give you some extra maneuverability while you lift. This foam material will also hold some warmth which can help your muscles limber up when you lift so those big weights don't come as a surprise.
Extra Wide
The Harbinger is also five inches wide, which is different from most lifting belts, which are four inches wide. This covers more area around your back and abdomen. This allows for extra support when you are lifting. This will keep you extra safe during your workouts.
Cost and Value
The Harbinger lifting belt is much cheaper than the preceding belts on this list. It does a good job helping with your support. The warming foam is also good for helping your muscles limber up before a workout.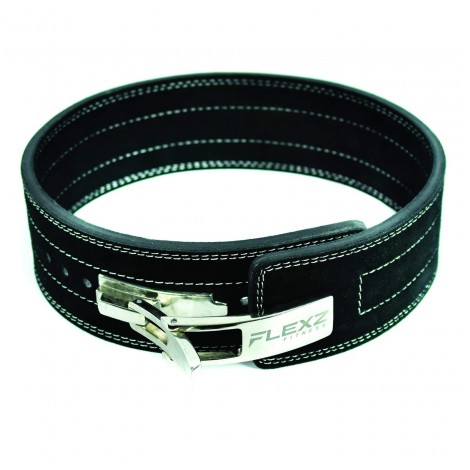 The Flexz is another heavy-duty belt that uses a clasp to keep a good grip on your hips. This belt is built for heavy lifts in a competitive setting.
Materials
The Flexz belt uses strong materials so that you can have a belt that you can rely on. The belts material is made up of artificial leather that is made for non-flexible durability. The clasp is made of hard steel that won't let go no matter what the strain. Finally, this belt uses stitching on the inside and the outside that will help keep a grip against your body without causing a disturbance.
Fit
This belt is designed to fit any size of person, whether man or women. Just make sure to size yourself to the correct size. The Flexz is adjustable enough that you will always find yourself in a good grip with it. This is a good belt for lifting heavy weight.
Cost and Value
This belt is a little more expensive than the other ones on this list. It is a strong belt that is built to be used by people who want to get serious work done in the gym. This is also another belt that comes with a lifetime warranty.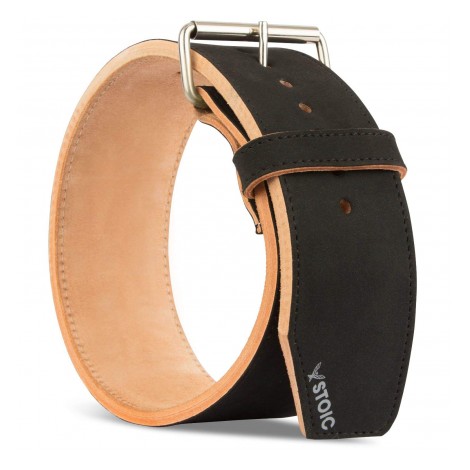 Stoic's belt is another entry for serious lifters. This belt is made of tested and reliable materials. It is a no-frills belt that is made for those who want to get the most out of their lifts.
Supportive Materials
This belt is made of high quality materials that are built to last. The belt is made of untanned leather that is durable and not too flexible. The stitching is made of thick nylon that won't give out. It uses a single prong on its buckle system that is made of a durable metal.
Comfortable
This belt's materials make it so it remains comfortable, even while being strong and tough. It has suede on the inside that helps keep the belt comfortable. Many belts that use a suede interior make it so thick that it is a padding, while the Stoic only uses a millimetre of suede in its ten millimetres thickness. This keeps the focus on the support it brings to your back, but it is still more than comfortable enough.
Cost and Value
This is another choice that is a little more on the high end list. It makes up for that with its quality materials and devotion to giving you a great lift. Stoic is also fully committed to making sure you have the belt that you want, so don't worry about getting an inferior product.

7

. Iron Bull Powerlifting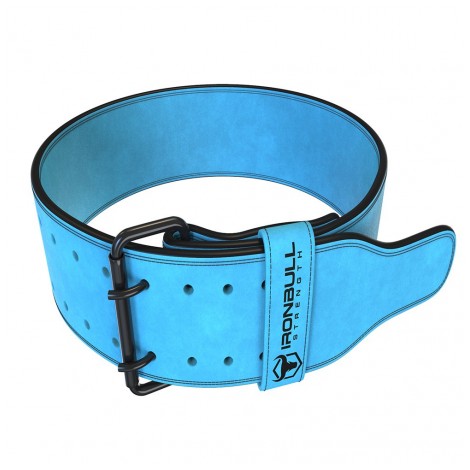 The Iron Bull is a belt made to lift heavy weight. It has been designed for powerlifting. It is made of good quality materials, and is built simply, and effectively.
Quality Materials
The Iron Bull is built of high quality material. The belt itself is made of a single layer of suede leather. Having the entire belt be made of a single material aids it in durability, as there are fewer parts that can break. It is made in the traditional belt buckle style. The buckle is made of zinc coated steel.
Durable Build
The Iron Bull uses those quality materials and puts them together in a way that will help you on the road toward productive lifting. The leather is ten millimetres thick and is held together with a double prong construction for an extra snug fit.
Cost and Value
The good construction and materials that go into making the Iron Bull mean that is a little more expensive than the competition, but this is a belt that is built to last. This belt is a good choice for those who are moving towards serious powerlifting that is all about those max weight reps.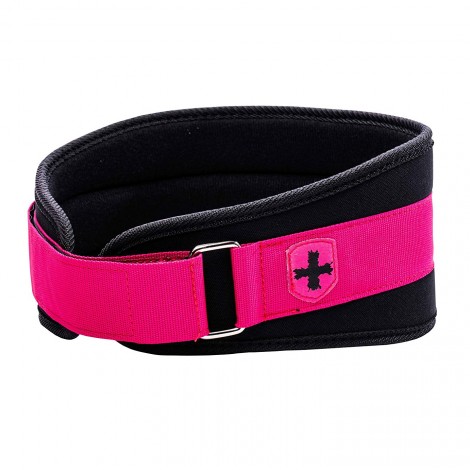 Harbinger has another entry on this list, but this time it is built specifically for women. Because men and women have different frames, sometimes it can be useful to try and get one that is designed just for you.
Different Build
The Harbinger is made a little differently than other lifting belts. This one extra wide at five inches for some extra coverage. This provides some extra support and stability for when you are lifting. The other big difference is that is a bit cushier, using a breathable, more flexible lining to make for a comofrtable ride.
Materials
However, this lifting belt is still durable. It is made of durable nylon that has no chance to break, even if it will bend and flex to your movement. It uses a heavy-gauge steel buckle to keep the belt tight, so you won't have to worry about there being any chance of the belt buckle giving way.
Cost and Value
This belt is much cheaper than the other belts on this list. It is not designed for ultra-heavy weight, and more for general strength training use. This is a good belt if you are just getting into lifting, and are having trouble finding a belt that fits properly.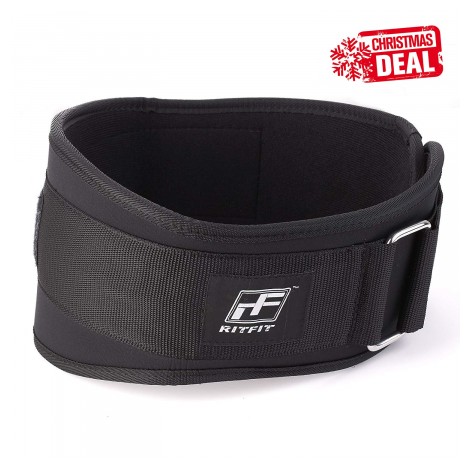 The RitFit is a support belt designed to give you some extra lumbar support during your lifts.
Velcro Closure
Velcro lifting belts won't be as tight a fit as one that uses a buckle, but if you are planning on lifting moderate weight, and just want that extra support and safety for those moderate lifts, than a velcro closure is a great idea. It comes off and on quickly, and can give you a custom fit.
Comfortable
The RitFit has been designed to extra comfortable, using a tricot lining that is waterproof, and rounded edges that won't dig into your hips. It has a six-inch width which will cover more surface area. This improves the support of this lifting belt even further so you will have no worries.
Cost and Value
This is a comfortable and soft lifting belt for those who want to do moderate strength training. It does a good job of giving you the fit you would like, without being uncomfortable. All of these features also come at a very cheap price.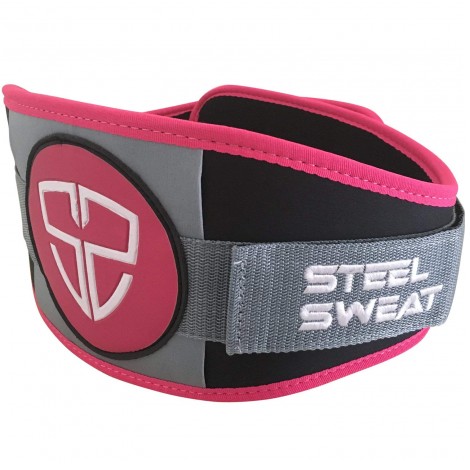 This unisex lifting belt values comfort and support so that you will feel comfortable with the support being given to your back while in the gym.
Comfortable
This belt is designed to keep a comfortable grip on your hips that will keep your back supported through all of your strength training. It is contoured so it better covers the front and back while staying comfortable on the hips and ribs.
Velcro Strap
This belt uses a velcro strap that makes it easy to take the belt on and off. This makes it easy to go through the parts of your circuit that don't need the extra support provided by a lifting belt. The Velcro is strong enough that you won't have to worry about losing the belt through any of your lifts either.
Cost and Value
The Steel Sweat does a great job of keeping your back supported through any of your strenuous trips to the gym. It is designed to be ultra comfortable without sacrificing its grip on your core and back. You will remain confident through all of your lifts when using the Steel Sweat.

Subscribe to our Newsletter