Best Hunting Shirts for Men Reviewed
last updated
Feb 14, 2019
Our experience in the field has led us to the conclusion that we'd most like to put our cash into a quality pack, a sound pair of boots and quality optics before we'd spend it on the newest and fanciest camo design. With that said, we like to be meticulous in our approach, and that means overlooking no part of our gear. Which shirt you elect to wear may not be the top of the priority list but it also doesn't mean it should be relegated to the bottom either. The following article and list are meant to save you the time of digging through bins at Walmart or Cabelas, to make sure that you're properly suited up, and most important of all have some cash left over for some of the true essentials.
In a Hurry? The test winner after 12 hrs of research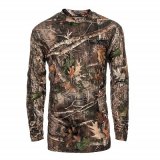 Insect Xtreme Repelling Shirt
Why is it better?
insect repellant
moisture wicking technology
True Timber Camouflage Pattern
In a
Hurry? Editors choice: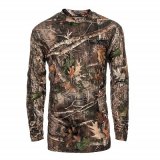 Test Winner: Insect Xtreme Repelling Shirt

14
Researched Sources
11250
Reviews Considered
12
Hours Researching
15
Products Evaluated
Durability
Fit
Style
Value
Materials
By Default
In Depth Review Top 10
Insect Xtreme Repelling Shirt
Legendary Whitetails Non-Typical Series
Walls Long Sleeve Camo
Under Armour ColdGear
Legendary Whitetails Cotton Thermal
TrailCrest Signature Cotton
Huntworth Lightweight
Under Armour Camo
King's Camo
Russell Outdoors
Table of contents
Criteria Used for Evaluation
Other Factors to Consider
Frequently Asked Questions
Sources
10 Best Hunting Shirts
1

. Insect Xtreme Repelling Shirt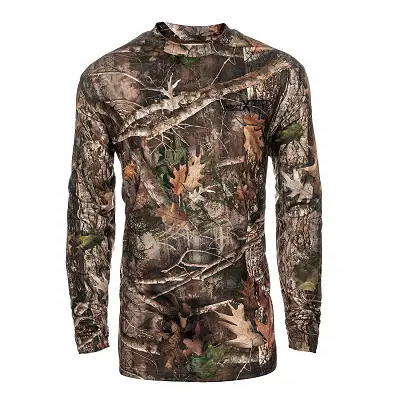 insect repellant
moisture wicking technology
True Timber Camouflage Pattern
Stupid Lyme disease, what began as a weird outlying problem primarily up in New England is slowly getting to be a bigger and bigger problem. While most cases are still up in the Northeast, its showing up all the way down in Florida and all the way over to California and Washington. And don't even get us started on mosquitos, global warming is slowly creating an environment where mosquitos that carry all kinds of nasty disease are now thriving in places that didn't know them a decade ago. That's why we like this shirt. Getting outside isn't just something we do, it's a lifestyle, and getting really out is what we like the most. And this shirt promises to keep you reasonably safe from a lot of the nasty insects that you'll be sharing space with, and the nasty things that hitch a ride on these blood suckers.
Read more
Skintex Technology
Skintex MRIII is an insecticide technology based on the use of Permethrin which is a chrysanthemum based insecticide. It's a stable product that can be built into blankets and clothing and has what the website calls a 'knockdead/knockdown" effect on insects. It's a good environmental choice as well and has all the safety stamps of approval from all the agencies that monitor the use of pesticides. We like that.
Moisture Wicking
The second best part of this shirt is the moisture wicking technology. It keeps them moisture away from your skin and makes it incredibly breathable and cool in warm weather. Moisture wicking and repellenct. That's a two-fer that will earns this shirt it's high marks.
Cost and Value
This falls into the mid range of hunting shirts. But you're getting some one really important extra with this shirt that make this a bargain in our book. Anything that can keep you from getting eaten alive through long hours in a hot summer blind is worth a million dollars in our book.
2

. Legendary Whitetails Non-Typical Series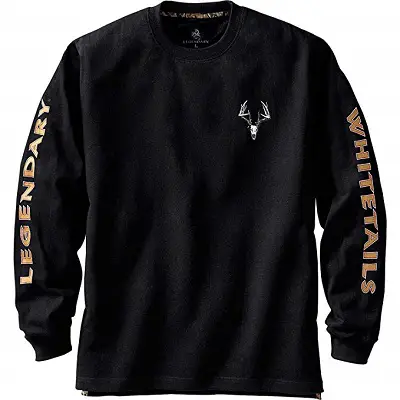 Double stitched
Extended tail
Very sturdy construction
Sleeves are more than long enough
Shirt will shrink a bit
Size runs small
This is the my favorite offering from Legendary Whitetails. I had to include this one because I wanted to highlight the wide range of looks you can get from the company. This one may seem like just a t-shirt, which is a weak showing to end off with, but true to the company's form, this is so much more than just a t-shirt.
Read more
Double stitched strength
In order to be seen as a well made hunting shirt, the product needs to be able to perform its task time after time, holding up throughout the seasons. The double stitching found here is a good way to do it.
Cover up
For me, finding a properly fitting shirt is as much about length as anything else. If it isn't long enough in the tail, the shirt runs the risk of riding up, exposing things to the elements that you'd rather keep covered. Not this time.
Cost and Value
This shirt is part of Legendary Whitetails' Non-typical line, and the moniker fits well as far as price is concerned. The enormous value you're getting at such a low cost is anything but typical for shirts these days.
3

. Walls Long Sleeve Camo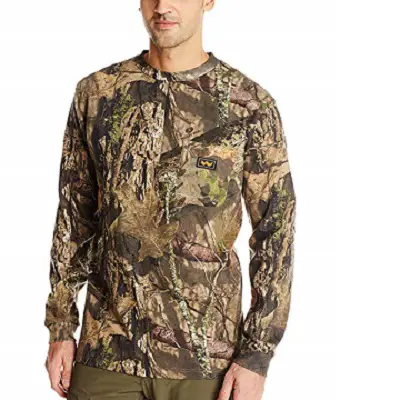 Soft and quiet
Full, longer cut
Clean, simple design
Hardy material
Run large
Shrinks quite a bit
I'd never heard of this brand before I started working on this buying guide, but now that I have, it's clear to me that I've stumbled onto a company that wants to be remembered for their high standards and expectations when it comes to quality clothing. They take classic styling to new levels with their own innovations, and leave the consumer with a great shirt, simple as that.
Read more
Silent through the bush
Great hunting gear needs a few features. A camouflage pattern is nice, and scent control is gaining popularity. One thing I haven't seen until now, is the company hand selecting their fabrics to make silent clothing to keep you quiet in the bush.
Classic styling
If you buy your hunting clothing with style innovations in mind, then you should pass this one by. Walls decided to go with a look that has stood the test of time, and focussed more on its performance than fashion.
Cost and Value
Walls, as a brand, comes off as being trustworthy, and it's very important to be able to trust a clothing manufacturer when you buy their products, and having such a low price point on top of well-built clothing helps that cause out.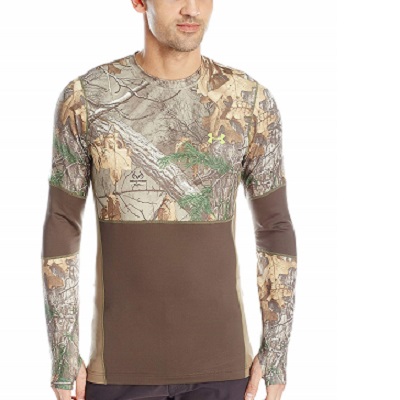 Fit true
Plenty of length
Keeps the body warm
Doesn't restrict range of motion
Quite expensive
Arms tend to bunch
Scent protection and comfort, all in an attractive, affordable package. THat seems to be what Under Armour has come to be known for, and they went above and beyond when designing this shirt, which is versatile enough to be ideal for hunting. They make their clothes for more than looks, making sure each piece has a purpose. In this case, it's keeping you warm and dry throughout your hunt.
Read more
Move around
One thing that I really look for in clothing is the ability to still move the same way I could before I put them on. Being an athletic wear manufacturer, Under Armour feels the same way, and retains that movement perfectly.
You will get what you pay for
While I am going to vent a bit about the cost later on, you do et what you pay for with this shirt, and not ust in terms of the brand. Under Armour is very well known, and that's because they do deliver high quality products that can be counted on.
Cost and Value
To be fair, this is a very nice shirt, that will do the job of keeping you warm in colder weather quite nicely. Unfortunately, this shirt is expensive for what it does, which gives the impression that you are paying more for the name than anything else.
5

. Legendary Whitetails Cotton Thermal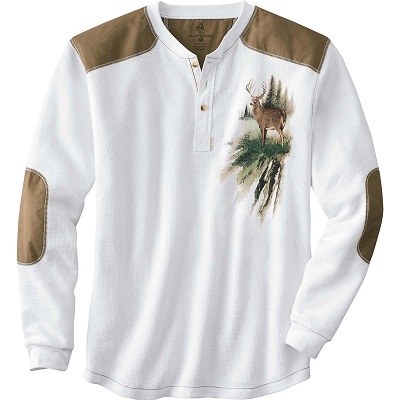 Preshrunk cotton holds its shape nicely
Tagless label eliminates itchiness
Fits true to size
Elbow patches add protection and class
Short sleeve length
Pretty thin
You`ll see Legendary Whitetails clothing a few times on this list, and that is because they offer high quality products for true hunters. While it is true that most of the items on the list are of good quality, otherwise it wouldn't be here, the difference with Legendary Whitetails' shirts is that they have a wide variety of styles to choose from.
Read more
Very smart look
The addition of the elbow and shoulder patches give so much to this shirt. First, there's the obvious strength provided on key areas that can be susceptible to wear, but then you've got the sophisticated styling they also bring.
Fits like it says
If the Legendary Whitetails Men's Long Sleeve Cotton Thermal Commando Henley says that it's a large, then you can rest assured that it going to fit exactly like a large. It's not often that an item of clothing fits like it's supposed to, so this is a welcome bonus.
Cost and Value
This is a shirt that you can rely on in the bush, and then throw it on as outerwear for a casual day out. The best part about that is that it won't cost as much as typical outerwear, but has the versatility to outperform them.
6

. TrailCrest Signature Cotton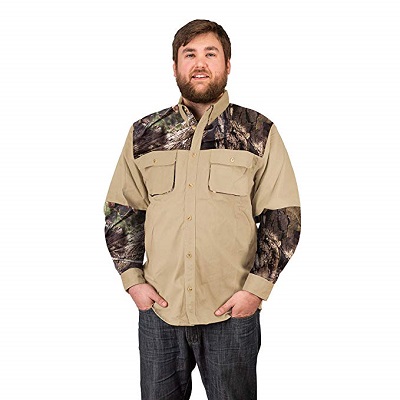 No questions asked warranty
Ventilated mesh opening on the upper back
Heavy weight fabric for warmth and comfort
Looser fit for greater motion
Another button down shirt? Yes, in the name of giving the consumer the most choice possible, I've included this shirt in here to appeal to all styles. It doesn't hurt then, that this shirt is also a very good choice for your hunting apparel needs, keeping you cool and dry in warm weather, and toasty warm on those cold days in the bush.
Read more
Breath easy
Where most products are content to rely on the fabric of the clothing to give breathability, Trail Crest took things a bit farther by inserting a good amount of venting on their shirt, so having good airflow isn't a question at all.
Heavy comfort
Trail Crest made this shirt just a little bit thicker to make sure you can last out in the cold longer, but not so thick that you break into a sweat everytime the sun comes out.
Cost and Value
Compared to most of the shirts on this list, this one offers something different in aesthetic and performance, and for some hunters, that's exactly what they are looking for. However, this unique appeal does come at a bit of a higher price, but this is made up for in the obvious quality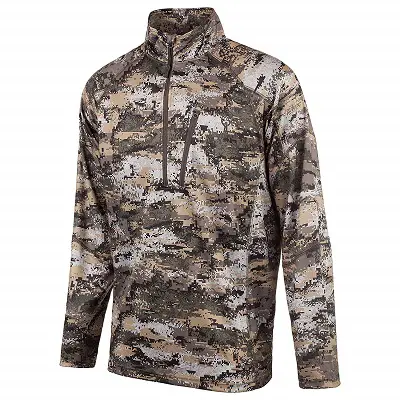 Mesh shell for maximum breathability
Ideal for early season hunting
Treated for for scent reduction
Holds its shape after washing
High collar can be restricting
Fits a bit large
Take a look at the Huntworth for a minute, and it should be obvious why I chose it to anchor this buying guide. In the case of performance and versatility, this one stands out, giving the option of wearing it as part of a layering system in the winter, or as outerwear on cool days, eliminating the need to carry too much stuff. In terms of price, it speaks for itself.
Read more
Year round functionality
Forget about dragging along an entire wardrobe with you on your hunt. FOr those cooler fall days, all you need is the Huntworth Men's Lightweight 1/4 Zip Shirt, which will will gladly act as your jacket, and its mesh shell will keep you dry.
No smells
There are so many choices for good hunting shirts, that each needs to stand out in some way. This one does that by not standing out at all in the bush, where it all matters.
Cost and Value
This is more than just a shirt. It can easily be used as a fall jacket in colder weather, and it's this kind of versatility that makes it such an outstanding value, especially since it's priced so low.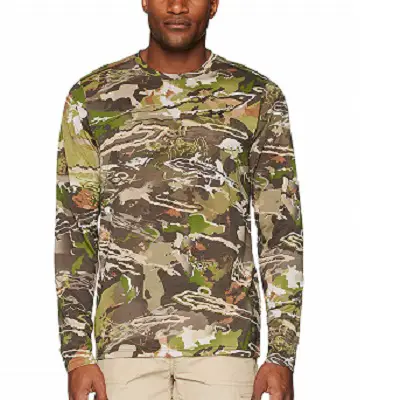 Comfortable
Loose
Moisture transport system prevents sweat accumulation
Most people know what they're getting themselves into with Under Armour. The Camo Fill Shirt is going to be light, breezy, provide a bit of support and wick sweat away from your skin. It comes in quite a few different colors, which can help you blend in or stick up depending on what you need and/or want. Reasonably priced and highly durable these shirts do great in the summertime (also in humid climates).
Read more
Specs
Material: Each Camo Fill shirt is comprised of 57% Cotton, 38% Polyester, and 5% Elastane.
Sizing: Available in small all the way up to 3X- large, so there are plenty of options if you're a big guy -- sizes run an estimated 85% true.
Imported: Yes
Special features
4-way stretch fabrication allow for free mobility
Classic UA logo with, you guessed it Camo fill
Moisture Transport System fights the accumulation of sweat
Charged cotton dries faster than average and is a bit tougher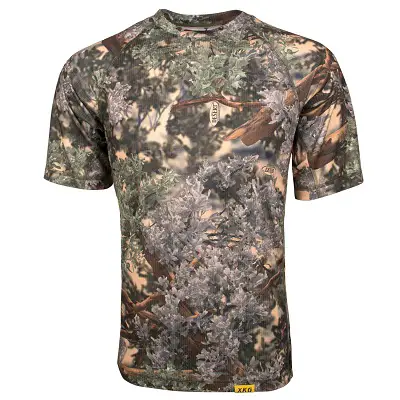 Economical camo shirt
Performs very good in heat
It comes in mountain shadow and desert shadow
Fit might be smaller than expected
The King's Camo tee shirt is a relatively economical camo shirt, and a solid value in our opinion. It comes in mountain shadow and desert shadow, and performs pretty well in the heat. In terms of the camo pattern itself, this can definitely be considered on the lighter end of terrain patterns. Some the its key comfort features are the follow: a handy chest pocket and a rib knit collar. Not too difficult to find on sale, this is a good value -- none the least of which is because King's Camo is a quality brand with a long track record of success.
Read more
Material: Constructed from a mixture of cotton poly 60% and 40% blend jersey.
Sizing: Comes in sizes ranging from medium to 3x-large, know to run a bit small, perhaps 65% true, if you're worried about being fully covered, size up.
Imported: Made in the USA
Special features
Tagless label, won't scratch or irritate your neck
Left chest pocket easy for stowing
Rib-knit collar smooth and comfortable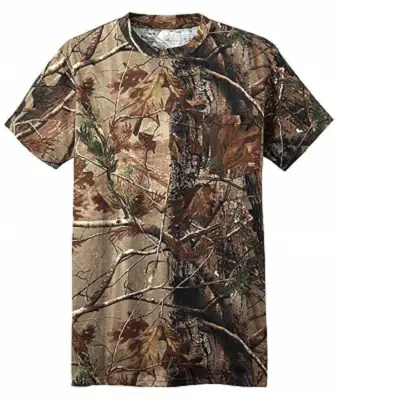 A camo printed t-shirt
Affordable and durable
High quality materials
Sizes: only medium and large
Although this is a camo printed t-shirt it is a pretty humble one, and by humble we mean a good one. You've got three options for terrain design here: mossy oak, realtree and a mixed version or "broken up". The lightweight cotton and minimal but sturdy construction of this shirt is why it's landed on our list. Turn to Russell outdoors for cheap and dependable tops, great for a out in the field or close to home.
Read more
Material: Made from 100-percent-cotton (refined)
Sizing: Medium and large. The initial size is very true (at least 90%), but wash and dry with caution, a comfortable fit can become a skintight one due to this shirt's cotton makeup.
Imported: Yes
Special features
Lightweight construction and sturdy seams
Left breast located pocket
Standard short sleeve t shirt
100% Cotton Jersey -- great for higher temps
Criteria Used for Evaluation


Durability
As we do not have an unlimited supply of money, we look for durable clothes when we decide on the best we feature. Even though we believe that your hunting shirt should be fashionable, we do not think that it should be changed every season like you do with your regular clothes.
But how do we tell that the shirt we are looking at is durable? We look at the material from which it is made. Even though we do not have a particular preference for a particular brand of material, we believe that it should be soft, lightweight, and of course silent. The material should also preferably be cotton free so that it does not fade or shrink.


Fit
When hunting, you certainly want to mix comfort with looking great. Of course, it is not easy to determine how comfortable a shirt is before you buy it but we can always look at the material from which the hunting shirts are made. A great way to find out how a shirt fits and if the sizing is right, is to check out what other reviewers have said about the product's fit. Since not all companies use the same size chart, try it on if possible.


Style
There are a wide variety of different styles to choose from when it comes to hunting shirts. In order to find one that best meets hunting needs. For example, if you hunt during the fall in the woods, then you'll need something that matches the foliage in order to blend in and not be noticed. Some shirts are even fashionable enough that they can also be worn as casual wear. If you spend a lot of time outdoors and don't have time to change every time you need to run an errand, then something more versatile would be ideal for you.


Value
We all operate within a given budget; at least most of us do. This is the reason why we are careful when looking at hunting shirts for men, to ensure that we get shirts from different price categories. If we just looked at the most expensive only, we would get the best in the market but the list would not cater for those working within a budget.
We always advise buyers to shop while they still have sufficient time so that they can compare prices well. If you do not do your research, it is easy to buy when you are under pressure and miss bargains. For this list, we looked at hunting shirts and the features they offer and where we felt that a particular shirt offered more features than the others within the same price class, it made it into our list.


Materials
Shirts that make it into our top list are those that are made from the right materials. For us, the best material for hunting should mix utility with comfort, and durability. The right material for your clothes will depend on the weather where you are going to be hunting. We don't like materials that make a noise when brushing against other stuff or itself. If it makes noise, the animals will hear you before you act. Look for something that breathes well to keep you cool during the hot weather and dry during the cool weathers.
Expert Interviews & Opinions
Most Important Criteria
(According to our experts opinion)
Experts Opinion
Editors Opinion
Users Opinion
By Default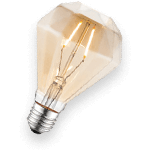 What Should We Look For?
Apart from the reviews written by others, we also look at other factors related to clothes such as how well they fit. Just because something is designed to be used for hunting does not mean that it should not be fashionable. We have already indicated that we believe that money should be used wisely, so we always look at the value that a particular type of gear gives to the buyer. We also look at how the gear withstands the elements and how durable it is.
Storing Your Shirt After Washing!
After the shirts have dried, you don't want to keep the shirts with others that you have washed with scented detergents. The best method for keeping your hunting shirts separate from others is to keep them in a sealed plastic bag. This is done not only to prevent ambient odors from other clothes from attaching onto your hunting clothes, but also for odors from the car or other areas of your home. A sealable tub would also be great if you want to keep many shirts.
Other Factors to Consider


Versatility
Hunting is unique in that it puts people in a enormous range of different situations and environments. For our money this is one of the most appealing things about it, it keeps you on your toes. It does present a challenge in that sense however, when it comes to how outfit yourself properly to meet these variable conditions? Whether you are going into the back country in the winter or the range in the summer we hope this informational guide on best hunting shirts has provided a few good options for you. Be it for hot weather, cold weather or simply for added technical capacity. We would however recommend being aware about our original point. Which is, you need not break the bank on shirts when there are so many other items where money can be better utilized. Happy Hunting.
Frequently Asked Questions
q:

Should I always wear camouflage when hunting?

a:

Hunters who do not have camouflage clothing kill animals every day. This could show that it is not a prerequisite for hunting. Well, let's put this in another way, do you need bright clothes to walk along a busy road at night? Thousands of people may walk with dark colors and not be killed but it is dangerous.
We can apply the same logic above to this question, camouflage can help in particular types of hunting. It is important to select the colors of your hunting shirt by first deciding what type of animal you will be hunting. The way animals see colors, is actually not the same as that of a human.

Whatever the case, you will always need to hunt in colors that blend with the environment in which you are hunting. This is one of those rare times when you don't want to be outstanding.
q:

Why is it important to select hunting clothes with care?

a:

In actual fact, all clothes, not just hunting clothes should be selected with care. However, since we are discussing hunting shirts here, let's confine ourselves to the topic. When these clothes are designed, they are made to ensure that you are comfortable while at the same time also being safe.

You will need to take care when selecting yours because we all operate in different situations. If you do not approach the task with care, you will end up with the wrong shirt for the type of hunting and environment you are going to be hunting in.
q:

What factors should I look at when selecting a hunting shirt?

a:

The first thing you need to know is the region where you are going to be hunting. As we all know, different regions have different climatic conditions, terrains and the type of game that can be hunted. However, these factors are not static, they change with time. So, you will need to know the area well. What this means is that you should actually have different options for the same region.

Determine the season in which you are going to be hunting. If you are going to be hunting in cold weather, you will need the kind of shirt that can keep you warm without necessarily being bulky or you having to wear too many layers of clothes under it. While you will need to dress warmly in cold weather, you will also still need to remain flexible.

Chose hunting performance fabrics. They will help you to remain warm while also at the same time flexible to hunt successfully. They are designed to breathe easy while providing warmth and comfort.
q:

Do I need to make my shirt scent free?

a:

As a hunter, you know that animals have survived for millions of years due to their sharp sense of smell. This is the reason why we think that it could be a great idea to ensure that your hunting clothes are scent free.

Many hunters will advise you to ensure that the shirt does not get too dirty so that all you need when you want to wash it is just cold water and baking soda. There are specialty detergents in the market that you can us.
q:

Speaking of scent will animals be able to smell any shirts with built in insect repellent, or repellent I apply?

a:

The answer is a firm maybe. But keep in mind they can only smell you only if they are downwind. So if you're a good hunter, hopefully this won't be an issue unless you're stuck in a blind, slave to the winds. What we have come to understand is that when it comes to animals in the wild, they're generally going to have better vision as well as better noses than us humans. So what's going to make the biggest difference for you is the ability to stay still, and that is next to impossible if you're getting eaten alive. So whether you pick up some insect repellent camo like we've recommended or douse yourself in DEET, the goal is to keep still, because if you're constantly slapping at skeeters, and brushing off ticks there ain't an animal in the world that's going to come within sniper distance.
q:

Why are hunters always advised to keep away from cotton fabrics?

a:

There are a number of disadvantages with using cotton in hunting shirts. Cotton is not a great fabric for wicking away moisture from your skin. When it is exposed to humid conditions, it can get wet.

When cotton is wet, it gets quite cold and loses its capacity to insulate. Wet, cotton can drain heat away from your body. This makes cotton a dangerous material when it comes to making clothes such as hunting gear.

However, the issues with cotton do not necessarily equate it to poison. If you live in an area that is hot and sunny, cotton can offer protection from ultraviolet radiation.
q:

Should I buy a shirt with buttons or a t-shirt for hunting?

a:

Ask anyone this question and you will soon see that it all depends on your preferences. Initially, we thought that t-shirts make you look more casual that button down shirts but we see lots of people who think it doesn't. We also had the view that a t-shirt would be easier to make and ultimately cheaper to buy but we have seen a lot of button down shirts that are cheaper than t-shirts.

Whatever you end up selecting, ensure that it fits well and made for the type of hunting you are going to do. Also look at how durable it is and ensure it is the right color for your needs.
q:

What are some common mistakes made when people buy hunting shirts?

a:

We think that the most common mistake anyone can make is to buy a hunting shirt based just on the fact that it looks great without considering what they will use it for. It doesn't matter how much you love the shirt, if it is not right for your purpose, it is as good as useless.

We also think that basing your selection on nothing else but the price is a mistake. Many people think that if it is expensive then it's the best while others believe that it is right just because it is the cheapest.

Buying your hunting shirt without knowing where you are going to use it and the game you will be hunting while wearing it is another common mistake. Of course, we are cognizant of the fact that you will be hunting in different environments. This is the reason why we will advise any serious hunter to have different shirts they will use in different environments. Just ensure that you know the conditions of the area where you are going to be doing your hunting.