Best Kids Board Games Reviewed & Rated for Quality
last updated:
Apr 08, 2020
There was an era when new games could not be bought with a click from an app. During this time, gaming was not a pursuit from lone children with illuminated brows, poor posture, and tired thumbs. In fact, families from different backgrounds, of all ages would gather together and play board games at the dinner table in some kind of strange 'bonding' act.
As it turns out, that time has returned again; back with a collaborative and modern vengeance! There has been a huge resurgence in board games during recent years. Now is the right time for children to get involved in some real face-to-face fun!
Children learn about rules, strategy, and sportsmanship from playing board games. There are plenty of amusing board games to help keep them entertained while indoors. We list the top board games that take the boredom out of child's play, for every age.
In a Hurry? The test winner after 8 hrs of research

Hasbro Monopoly Junior
Why is it better?
Simple for children
Top Hat token
Fun tokens
Kid-friendly locations
Great family game
In a
Hurry? Editors choice:

Test Winner: Hasbro Monopoly Junior

30
Researched Sources
1600
Reviews Considered
8
Hours Researching
10
Products Evaluated
Bottom Line
Ease of Use
Capacity
Versatility
Value
By Default
10 Best Kids Board Games
1

. Hasbro Monopoly Junior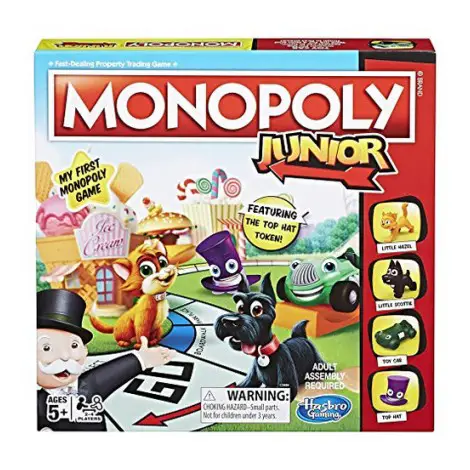 Simple for children
Top Hat token
Fun tokens
Kid-friendly locations
Great family game
Long-winded game
Does not give kids opportunity to make decisions
The original Monopoly is one of the most successful and the longest playing board games in history ever. It made its way into being the most popular game globally.
The Monopoly Junior board game by Hasbro allows your child to earn money the fun way. The game is similar to the standard Monopoly game, but it's simple, fast, and accessible for younger children. Participants will have the opportunity to own property, or they will wind up in jail. Product dimensions are 1.6 x 10.5 x 10.5 inches, and weighs 1 pound.
Object Of Monopoly
The object of the game is to rent, buy, sell, and negotiate property. With a luck from the dice, the goal is to be the wealthiest player among your opponents. It's a fun holiday or birthday gift for your child, and is an ideal board game for family time. Monopoly Junior is recommended for children ages 5 and up.
Contents Of Monopoly
The Monopoly board game consists of the board, 12 hotels, 2 dice, 8 Monopoly tokens, 32 houses, both Community Chest and Chance cards, deed and property cards, Monopoly play money, and the monopoly instructions and rules booklet. Other Monopoly tokens include Little Hazel, Toy Car, Little Scottie, along with the Mr. Monopoly top hat. Your child can move around the board with properties such as a game arcade, a movie theater, and a zoo.
Cost and Value
All of the playing pieces and the board elements are trademarked by Hasbro for its game equipment. This is an excellent board game for children that is worth the value for the price. For returns or exchanges, customers can contact the seller regarding their rules and regulations.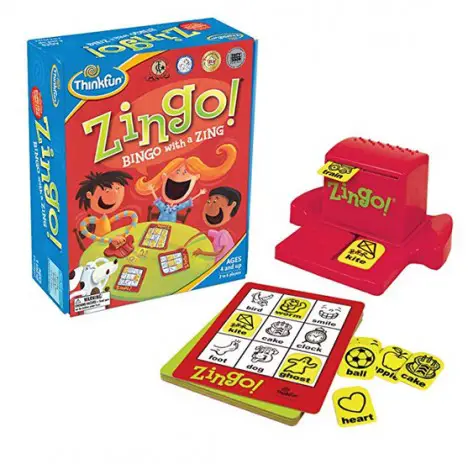 Clear instructions
Newest edition of the game
Develops critical skills
Award winning
Extra Zingo card included
Tiles get stuck
Colors and symbols are hard to distinguish
Zingo Bingo by ThinkFun's is one of the most popular and best selling board games. It is the winner of the Oppenheim Gold Award and the Parents' Choice Gold Award, along with others. This pre-reading game is recommended for children ages 4 and over, and makes a great gift to buy for children. Product dimensions are 8.2 x 3.5 x 10.2 inches, with a weight of 1.55 pounds.
You Will Receive the Newest Edition
Zingo comes in the newest edition and is one of ThinkFun's popular games for children. An extra Zingo card is included so that up to 7 people can participate. The board game also comes with a unique Zinger device that delights players regardless of age. It includes clear instructions so that children can start playing immediately. The Zinger device dispenses tiles as each child race to be the first one with a full card and yells, 'Zingo!'
An Award Winner Board Game
Zingo Bingo has won numerous awards, which include the ASTRA Best Toys for Kids Award, and has won the Toy of the Year Nominee. Along with winning additional awards, the Zingo Bingo game makes a great gift for girls and boys.
Cost and Value
Players will be able to play the Zingo game within minutes. Like all of ThinkFun's board games, this game is designed to develop a child's critical thinking skills. Playing will enhance language skills while having fun with it. For returns or exchanges, customers can contact the seller regarding their rules and regulations.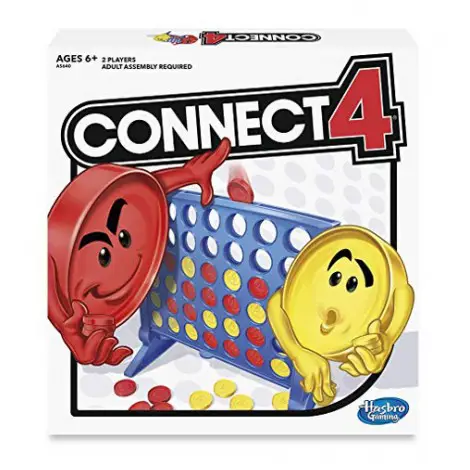 A strategy game
Pick your favorite way to win
For 2 players
Clear instructions
Fun and exciting
Not sturdy
Sliding bar break easily
If you are looking for a simple strategic game for children or that can be played with anyone, Connect Four can be a great choice. Connect Four, by Hasbro, is an easy game that is similar to Tic-Tac-Toe. Instead of only getting three in a row, you must connect four in a row in order to win. Product dimensions are 2.1 x 10.5 x 10.5 inches, and weighs 1.05 pounds
Go For 4
Do you go to the side, diagonally, or up? Start at the edge, or in the middle? It's up to you in the Connect 4 Grid. You can line your 4 discs side by side, stack them up vertically, or arrange them diagonally. As long as you can get 4 in a row, you are the winner. Stay ahead of your opposing player and stop them from getting their 4-in-a-row first.
Connect 4 Game Components
The Connect 4 board game's capacity is for 2 players. This exciting game comes with instructions. You will get 1 grid, a slider bar, 2 legs, 21 yellow discs, and 21 red discs. Your child will have hours of skillful fun with the Connect 4.
Cost and Value
Connect Four is a hands-on game for younger children that only takes only minutes to complete. It is not recommended for children 3 years old and under. For returns or exchanges, customers can contact the seller regarding their rules and regulations.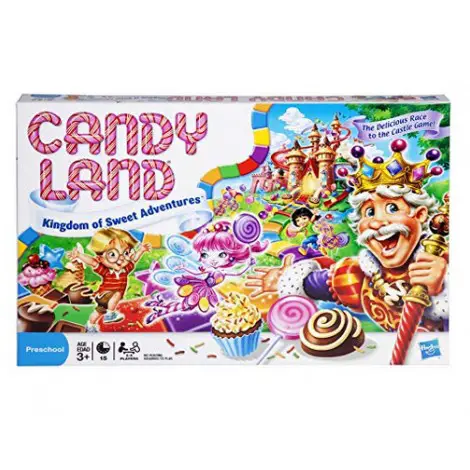 Classic beginner game
No reading required to play
Fun game for children
All components included
44 colorful cards
Not the classic version
Spaces too small for game pieces
Candy Land is a kid's board game by Hasbro Gaming designed to help your child learn through recognition of many colors. Play proceeds as each player draws colored cards, then move over to the next square that matches that color. Each player must face adventures such as the licorice squares and the peppermint rain forest. Product dimensions are 1.2 x 15.8 x 10.6 inches, and weigh 1.12 pounds.
Game Rules
The story begins of a kidnapped king. Eager to help with finding him, each player moves their gingerbread pawns down a rainbow path through a land of characters who are subjects of King Kandy's kingdom. Each player choose their own cards, and let their imaginations soar as they move their pawns. The first one who makes their way to the castle wins! Game capacity is 2 to 4 players.
Game Components
The Candy Land board game includes the game board, 44 cards, 4 gingerbread character pawns, and the official Candy Land game instructions and rules. Keep in mind that the official Candy Land instructions and rules could be different depending on the game version you have.
Cost and Value
Candy Land is the perfect game for young children who want to play a board game, but cannot read. It is a colorful board game that appeals to young children. This game does not require any reading for play. For returns or exchanges, customers can contact the seller regarding their rules and regulations.
5

. Hasbro Chutes and Ladders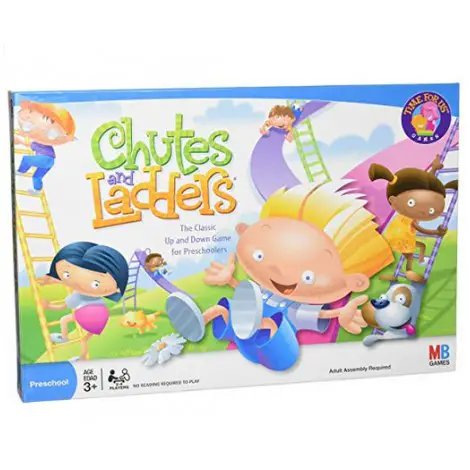 Great game for beginners
No reading required to play
Kids practices number skills
A fun game
Comes with all game components
Poor board graphics
Poor quality of the components
Chutes & Ladders is an easy game that allows your child to have fun playing because no reading is needed to participate. This board game has pictures that will help your child understand the good and not so good. The game is also made to help your child learn basic counting skills. Product dimensions are 1.2 x 15.8 x 10.6 inches, and weigh 1 pound.
Object Of The Game
The participants of Chutes and Ladders spins the spinner to decide how many squares to go. If their spot stops at the bottom of a ladder, they have to go up it. If it stops at the top of a chute they have to go down. To race ahead of the other players, you have to land at the base of a ladder. This is a very fun game for a younger child.
Components Included
Inside the game box, you will get the game board, 4 pawns with plastic stands, a spinner with a plastic arrow, and the official Chutes and Ladder instructions and rules.
Cost and Value
Chutes and Ladders as a great follow-up to Candy Land, and is recommended for a younger child who is just beginning to identify numbers. It is also an introduction to higher numbers, as players can climb up to 100 on the board. For returns or exchanges, customers can contact the seller regarding their rules and regulations.
6

. Milton Bradley Operation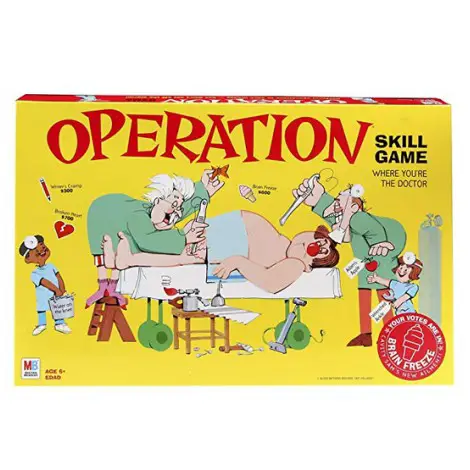 Challenging and fun
Increases coordination
Electronic game
Include doctor and specialist cards
Unpredictable game play
Not the classic version
Not good quality
The Operation game is about a rare patient that has a lot of problems. Your child will have to figure out what they need to do to help the patient in this fun game. The patient comes with health conditions such as water in the knee, a broken heart, and butterflies inside the stomach. Your child will need his coordination and skills to remove the patient's conditions with doctor tweezers. Product dimensions are 2 x 10.6 x 15.8 inches, and weighs 1.35 pounds.
Rules Of The Game
Make sure not to touch the side of the patient or the buzzer will sound, making the patient's nose light up red. When this happens, your child will have to call in the specialist to help fix the problem. To win, your child must collect the most money by conducting successful "operations".
Operation's Game Components
This unpredictable and fun game comes with a flashing nose and a surprising buzzer. "Cavity Sam" patient is included. Also includes 12 fun anatomy parts, 26 cards, rubber band, play money, and Operations instructions and rules. Large openings and easy-grab ailment pieces makes game play fun and challenging.
Cost and Value
The game requires AA batteries and can be played by one or more players. Instructions and rules could be different depending on the version of the game purchased. For returns or exchanges, customers can contact the seller regarding their rules and regulations.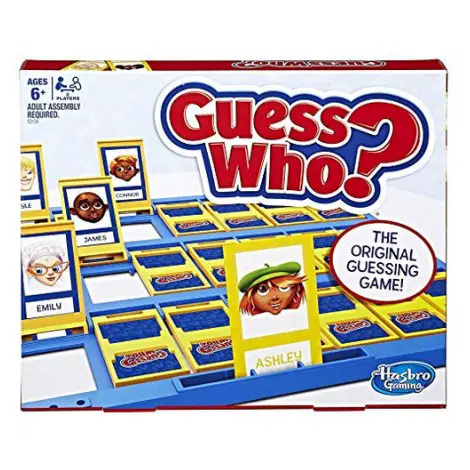 Contains game pieces and game boards
Ages 6 and up
Great guessing game
Fun and entertaining
A classic memorable game
The faces slide out
Plastic is cheaply made
Guess Who by Hasbro is a two player game where participants try to guess which character their opponent has picked. There are 24 possibilities to choose from. Questions like "Are you wearing glasses?" helps to narrow down the choices. But each player must choose their questions wisely and do not let the other player name their character first! Product dimensions are 1.6 x 12 x 10 inches, and weighs 1 pound.
Boosts Creative Skills
Guess who is fun for most younger children. The length of play time does not extend over 10 minutes. The game presents characters like Ashley who is wearing the green hat, David, the man with the red beard, or Chris, the one with the glasses! When a player is certain about their opponent's character, he can make a guess. If he guess right, he wins the game!
The Game's Contents
The Guess Who board game will include 2 game board trays, 48 face cards and face frames, 24 mystery cards, two score keepers, along with the game instructions and rules. Game capacity is for 2 players. The game contains small parts and is not ideal for children ages 3 yrs and under.
Cost and Value
While continuing to design some of the most memorable board games in the history of family entertainment, Hasbro Gaming stays innovative and current, and often partners with some of the biggest names. For returns or exchanges, customers can contact the seller regarding their rules and regulations.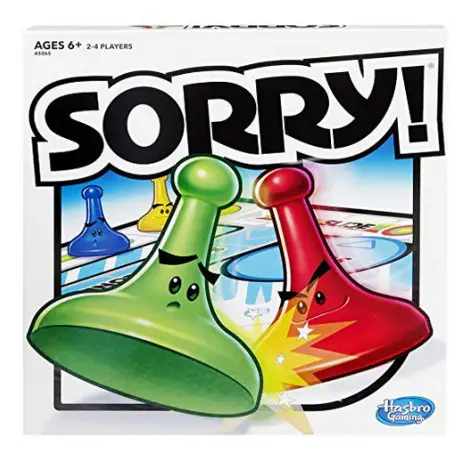 Family fun game
Includes all parts
Game for all age groups
Up to 4 players
Good for special events
Not the classic version
Missing pieces
"Sorry" is the correct explanation for a board game. Sorry is a children's board game where participants draw cards and attempts to progress in the game in order to win. Within the deck of cards is the dreaded "Sorry" card that allows a child to send any opposing player they want to start over again. It is an exciting game. However it can get heated as participants keep sending their opponents back to the start of the game. Product dimension are 1.6 x 10.5 x 10.5 inches, and weighs 1 pound.
Game Play
Each child chooses a color. He then places his color matching pawns on their particular color "Start" area. They have to make sure the cards are shuffled before placing them on the game board that says "Place Pack Here." A player is chosen to start and move his pawn clockwise on the board. To win, you have to be the first player to move all 4 pawns from your "Start" area to your "Home" area by the exact count of the cards. Choosing a "Sorry" card allows your to take one of your "start" pawns and place it on any space occupied by any of your opponents. This bumps that person's pawn back to the "Start" position.
Game Pieces
The Sorry game board comes with the game board itself, four groups of 4 pawns with each having a different color, (16 in total) a deck of cards with no 6's or 9's, and the official game instructions and rules. Game capacity is 2 - 4 players.
Cost and Value
Hasbro produces board games that are not only perfect for children, they are perfect for adults of every age, and perfect for different events. Tabletop game play combined with interactive content results in an immersive gaming experience. For returns or exchanges, customers can contact the seller regarding their rules and regulations.
9

. PRESSMAN TOYS Let's Go Fishin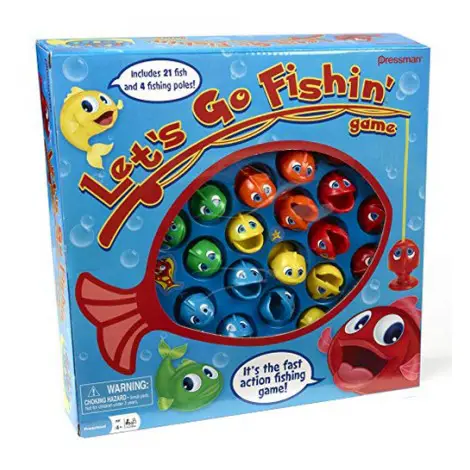 Original game
Spinning game board
Tested for safety
Requires a battery
Develops eye-hand confirmation
Unit stops working after a period
Easy to break
Watch your children jump with excitement when they began to play Let's Go Fishin. What child would not like to catch small, colorful fish that starts to bite once they rotate around the "play" ocean? Participants uses their fishing pole to capture as many fish as possible. Product dimensions are 10.5 x 10.5 x 2.2 inches, and weighs 12.3 ounces.
Requires Eye to Hand Coordination
Let's Go Fishin' by Pressman Toys, is a quick, fun game intended for younger children. Eye to hand coordination is needed in this game as the fishes open and close their mouths throughout the game. It is a fun game with simple rules. Choose Let's Go Fishin' as your child's board game today! Product dimensions are 10.5 x 10.5 x 2.2 inches, and weighs 12.3 ounces.
Game Rules
The challenge is to place 21 fish into the pond's compartments. Turn the pond "on" and the pond will spin. As the fishes open and close their mouths, your child will have to be quick in catching the most fish in order to win. Comes with 4 plastic fishing poles, 21 colorful fish, complete instructions and requires 1 C battery that is not included. Game capacity is 1 - 4 players.
Cost and Value
Let's Go Fishin' board game offers a fast-paced excitement that will lure your child into playing the game over and over again. It is a great value for your child. For returns or exchanges, customers can contact the seller regarding their rules and regulations.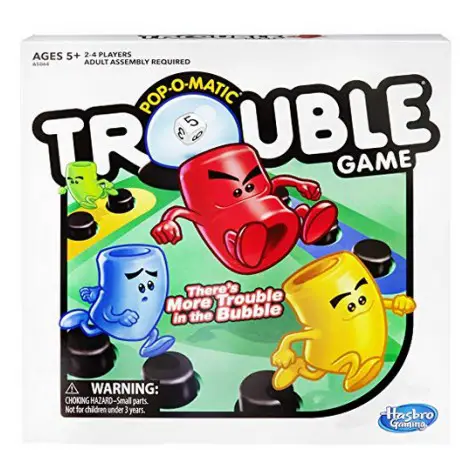 Manufactured in the US
Easy setup
Game for 2 - 4 players
Comes with a dice roller
Encourages mathematical skills
Non-laminated construction
Not the classic game version
Start off into the chasing game where every player is in Trouble! Set up the pegs and then rap the Pop-O-Matic roller dice. Depending the number rolled, each player moves their pegs to the "Start" area, move their pegs forward – or watch as the other players move! Each of the player's pegs has to go around the board until they reach the "Finish" area. Dimensions are 1.6 x 10.5 x 10.5 inches, with a weight of 10.4 ounces.
Fun Game
Trouble by Hasbro is a fun, simple game to learn. Are you able to get all 4 of your individual pieces around the board and avoid being bumped by the opposing player? Keep the game going and send your opposing players back to their starting area in this classic racing game.
Components That Come with The Game
The Trouble game comes with a plastic bubble for rolling the dice. The bubble keeps the dice from getting lost. The game is recommended for children ages 5 and up. Game capacity is good for up to 4 players. There are four pegs to each player. There are 4, blue, 4 green, 4 red, and 4 yellow. The game comes with a quick setup for children and family enjoyment.
Cost and Value
Hasbro's company mission is to bring joy into playing board games for all children along with their families. Everyone can enjoy this exciting children's game with loved ones for a relaxing day at home. For returns or exchanges, customers can contact the seller regarding their rules and regulations.
Criteria Used for Evaluation


Bottom Line
The very first criteria to consider is "What is the game about?" Zombies? Ghosts? Finding the fastest way out of a maze? A children's game should be family-friendly; focusing on non-violent and relatively pleasant things. For example, cartoons, cowboys, trains, food, history, animals, etc.
There is more to a game than it's subject matter. However, if a game is centered around a theme that your child may find to be distasteful or boring, how often will your child actually play it?
You can easily fall into judging a book by its cover assumption. However, it can be a start. If you hear positive recommendations about a game, you may be tempted to try it. But for the most part, it will be a struggle to play a game if the theme doesn't seem interesting. On the flip side, if the subject matter is centered around a theme that is exciting, then your child is going to enjoy it all the more.
What Type of Games do your Child Like?
This can be a great starting point in determining the kind of games you may wish to focus on. There are mainly three categories to choose from:
Someone who desires a fun or dramatic game.
Someone who look to games as a creative outlet.
Someone who problem solves or figures out the best strategy.
Another factor in this criteria is knowing if your child is highly interactive and prefers games that require other players, or do they prefer to be left alone to their own devices. This is really important, as the type of player your child is will directly affect their enjoyment. If you know your child likes to do their own thing, there would be no point in selecting board games with interactive mechanics.
When choosing games for very young children, then chances are, they will be unable to read fluently. This can limit the games you can choose from. Older children can play games that involves math and reading.


Ease of Use
Comprehensible and clear game rules is a factor for children. If you cannot understand how to play a game or you have to recheck the rulebook multiple times, it is not going to be enjoyable for your child. One factor you can use to see whether a game has organized rules is to look at the components.
Sometimes, components can add to certain games to make it more fun. Obviously, having more can often streamline the design of a game for an older child. But, for a simple board game designed for a younger child, it can be difficult to learn the rules, even for an adult.


Capacity
You may come across a board game for a child that looks like they will enjoy it, but it may require a lot of players. In this situation, consider whether you will be entertaining children on a consistent basis. If so, it is important to choose games that are specifically tailored to these group counts. There is no purpose of selecting a two-player game board if your child or children will be playing in a group every week. However, if your child like to play board games with just one other person, avoid game titles that requires three players.
It is common to games with required capacity counts, however this does not mean that the game plays are successful at those player counts. Board games with a higher player count tend to feel more open, but less interconnectivity at the lower spectrum, while being more competitive and crowded at the higher end of the spectrum. This criteria is important to factor in if your child have strong preferences for less or more interactivity.
Dig a little deeper in how a game plays out if it has a broader player count - as certain games that are designed for larger groups support less players better than others. If a game requires a 2 player alternative, chances are that the game will not be as fun at a lower player count.
There are games that works well if they are designed for it. They work well for two people as it is at four.


Versatility
At times, it is good to consider whether a board game can be versatile in the fact that they will not expire immediately and be replaced with another one. Some board games can include variety without having to sacrifice simplicity. Look for games you can expand on without requiring additional rules.


Value
Pricing is a factor when purchasing a board game. But it is not just about the number on a label. Factor in whether a game's price when compared to other games on the market. For example, a $25 game consists of playing cards will be of less value when compared to the same price for playing cards, plastic miniatures, a board, and tokens.
Expert Interviews & Opinions
Most Important Criteria
(According to our experts opinion)
Experts Opinion
Editors Opinion
Users Opinion
By Default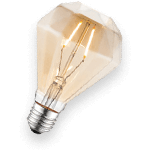 Board games encourages family quality time
What a child needs, is to be in the company of his or her parents with no other purpose than to spend quality time as a family. Nothing encourages self-esteem in a child than to pull out a board game and play it with him. They are an excellent way to spend enjoyable, unhurried time together. Doing this will help the parent-child bonding experience.
Board games enhances a child's thinking skills
Board games encourages learning capabilities in a child. They bring out a child's competitive urge while mastering new concepts and skills such as the following:
Shape and number recognition, counting and grouping
Reading and letter recognition
Color recognition and letter recognition
Manual dexterity and eye-hand coordination
Board games encourage life skills in children
Games are not restricted to academics in order to be educational. Just by playing them, board games encourages social skills, such as interaction with others, taking turns, sharing, waiting, and communicating verbally. They can help a child's ability to focus and expands their attention span by learning to complete an enjoyable game.
Children are taught about boundaries through board games
As we live in a complex society, children are taught to stay within certain boundaries. Board games help children to become socially adaptable, organized, and patient. Not intruding upon the other player's space and staying within boundaries, can transform a child into eventually leading a successful social life.
Choosing the right board game for a child's age
Child learn skills, values, ethics, and the importance of fair play. During your child's earlier years, he or she is taught self-confidence while enjoying a fun game with others. As your child get older, mature thinking skills begin to develop. Literacy-based games are ideal for this age bracket. The older they get, cognitive-based games which involve critical thinking, planning, and persistence are recommended.
Board games helps with physiotherapy for children
Board games requires motor skills like moving objects. Doctors use them as a physiotherapy for gaining functionality, improving nerve and muscle functions. and coordination. Regular practice helps to improve these conditions, which is important for children.
Other Factors to Consider


Features
When you consider everything else, the mechanics make up a board game. There are many mechanics out there that include dices, cards, moving devices, etc. If your child played a lot of games before, you can use their knowledge of these games to identify the types of mechanics they like or dislike.
For example, some children may like placement games and their strategies, while others may find these type of games too structured. Some children may prefer the randomness of a game and others may prefer to have control of the strategy.
For most children, games that come with cubes, cards, or moving devices are most popular. These features elevate the playing experience. Quality pieces such as plastic or wooden tokens can always enhance the enjoyment of it.


Brand
This criteria may seem a bit advanced, but for us, the designer and publisher is also important. Certain manufacturers have an excellent track record for designing games that provide an overall fun factor, and for their quality components. In addition, a game that is made from a known designer can be a plus in the quality criteria.
Since so many new publishers are breaking out into the market, looking up a designer or publisher's history is an added bonus for letting you know how good a game board is.


Effectiveness
Choosing a board game for children has to match their cognitive level. A game should be able to enhance their thinking ability along with encouraging their social skills. Checking different reviews from parents and consumers helps with addressing any questions or concerns about the game's effectiveness. It also is a factor when a brand's mission is tailored to encouraging developmental skills in children.


Style
As important as gameplay may be when choosing a criteria, it is the art style of a game that initially attracts the user; then it immerses them with a theme. No matter how exciting and fun a game is, the construction and style always make it more appealing to play.
Great style can place a higher level in a board game. Art style can have a poor design, but a great design cannot carry poor art. The style and design, along with a game that is fun to play, can make a difference on whether a game sells, and whether your child will play with it.
Frequently Asked Questions
q:

What was the first board game in America?

a:

Senet is known to be the oldest known board game. It originated in Ancient Egypt. Game boards have been located in First Dynasty and Predynastic burials dating far back as 3500 BCE.
q:

Is Twister a board game?

a:

This is a debate with many. This is due to the meaning of a board game being played on a board, which involve movement of pieces such as in checkers or chess.
q:

What are good board games for a 10 year old?

a:

7 fun games for 10-year olds

Pictionary.
Charades.
Qwirkle.
Uno Attack.
Apples to Apples, Jr.
Jenga.
Buzzword, Junior.
q:

Why should you play board games?

a:

Board games help to increase brain function. This activity is a great exercise for the brain. Playing stimulates areas that are responsible for memory and complex thinking for both adults and kids. It assists in practicing major cognitive skills, such as decision making and problem solving.
q:

What is the purpose of making board games?

a:

Board games bring people together through cooperative and competitive game play. A few of the most popular board games today are: Chess, Monopoly Checkers, Clue, Life, Mancala, Scrabble, and much more.
q:

How does playing board games increase happiness?

a:

Playing board games help to trigger the release of endorphins, which is the natural "feel-good" chemicals that are found in the body. These chemicals has the ability to improve unconscious and conscious mind functioning, leaving a person feeling compassionate, content. and cheerful.
Subscribe to our Newsletter