Best Pool Toys Reviewed & Rated for Fun
In a Hurry? Editors choice: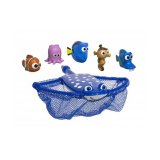 Test Winner: Swimways Finding Dory

Pools are one of the coolest things ever for a kid, which is certainly impressive for a glorified tub that you share with other people. This mostly comes from the size of it. When you're an adult, it isn't as impressive unless you have one of those luxury pools you could fit a car into, but when you're a small child, it's like being at the beach, in your backyard. And of course, there are also the pool toys.

Pool toys make an already fun pastime even more so. They add hours of enjoyment to a birthday pool party and help to make an already unforgettable summer afternoon permanently etched into your child's memory for the rest of their lives. Which is why, today, we're going to be counting down the top ten best of these pool toys. So, put on your swim trunks and get ready to hit the water, because we're counting down the best pool toys.
Standout Picks
Criteria Used for Evaluation
Durability
Even though you aren't paying all that much for these pool toys, we imagine you would still like to have them around for a while. This is where longevity comes in, and a lot of factors decide this. First is the durability of the product itself, which is one of the most important, for obvious reasons. One of the main enemies of longevity is a dog tearing your nice new float to shreds because he thought it was his new chew toy. The second is environmental resistance, since leaving a float out in the sun is one of the worst things you can do with a pool float. Generally speaking, UV rays make very quick work of products made out of rubber/nylon. Making sure that the product in question could survive the elements, as well as constant use by children hopped up on sugar for a very long time, was a big factor in determining each entry's place on the list.
Accessories
Easily the most important criteria for this list was how much fun they were to play with. Obviously, this wasn't something we could judge for ourselves without buying every single one of them and trying them individually. Rather than go to that trouble, we instead turned to customer reviews and testimonies from various people who bought each of these pool toys. We judged how much fun they reportedly had with these toys, how much fun their kids said they had since this list is really for them. After compiling that information, we then judged this scale of fun and used it to help measure how far up the list each entry then got to go as a result.
Safety Hazards
This refers to not only its durability against the elements but of course, against the human element. Here's the fact of the matter: kids are rough. They are wild, especially when swimming around, hopped up on candy and soda, and basically bouncing off the walls. So, a kid in that scenario is not going to know the meaning of the phrase "don't jump on this, it might break" and are going to do just that regardless of consequence. So, best to make sure that the pool toys we're showing off are actually able to take that kind of punishment when it inevitably comes. This is mostly done through the materials that the toy is made out of, which vary depending on what kind of pool toy you're talking about.
In the case of pool floats, the materials used for construction are a mix of plastic, rubber, and nylon. They're sturdy, water-resistant materials that dry off quickly, are very buoyant, and are just soft enough not to be actively harmful to kids who play around with them.
On the other hand, you have things like the Finding Dory Net Game, or the beer pong rafts, which are usually small enough to avoid the rougher housing of some children. These toys are usually made out of some special kind of plastic. For what they're trying to do, this works very well.
Ease of Use
More than a lot of other things we show on lists like these, design plays a huge role in evaluating entries for this list. Kids want their toys to be stylish above all else. Very little else matters to them besides their toys looking as cool as possible, and so the style of the designs of these entries was elevated to one of the most important criteria. We didn't really go for any one specific kind of style, we instead evaluated what kind of style each entry was going for, then evaluated how well they pulled it off. As you can imagine, this did a lot of damage to several otherwise promising entries chances
Value
Our final criterion was, of course, the price of the particular toy. But it wasn't so much the price itself since pool toys are so rarely anything expensive. Instead what we were looking for was how well each entry justified the prices they were asking for. If the product didn't ask for much, yet offered a lot of content, we deemed it to be a great deal. But if it was like our #10 spot, which was a basic, if competently made pool float, but put at a much higher price than other identical pool floats, then its chances of getting any higher were hurt.
Top 10 Picks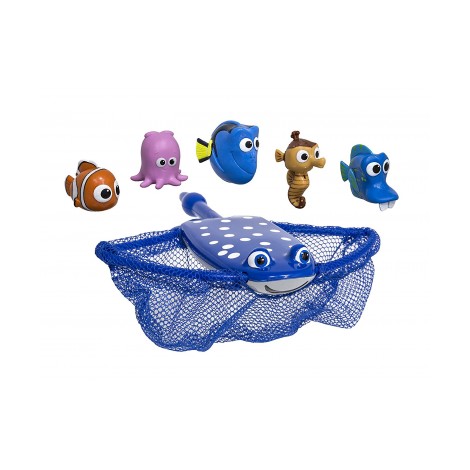 Finding Dory is one of the most successful IP's to come out of movie studio Pixar in a long time, and if you know even a single other movie that they've done in the past or recently, you know how big a deal that is. But why go to the movie theater to experience the fun of the ocean, when you can bring these lovable characters into the water with you? This is where our first entry comes into play, the Swimways Finding Dory Mr. Ray's Dive and Catch Game.
Different float effects
Your kids will have a blast collecting and playing with these floating toys, mostly because no two of them behave the same way. One floats, the other sinks, another bobs up and down, each one behaves differently once they've hit the water. You don't even need the net, just toss them into the water and have your kids make a game out of collecting them all.
Great for swim practice
As you can imagine from that previous set up, this makes this toy perfect for helping your kids learn how to swim. Kids learn things the best by doing, not by being told, so having them collect each of these toys and putting them in the net is a great way to teach them how to swim.
Cost and Value
The best part about this product, though, is the price. You'll get this excellent pool toy for a very modest fee, making it one of the best deals on the entire list.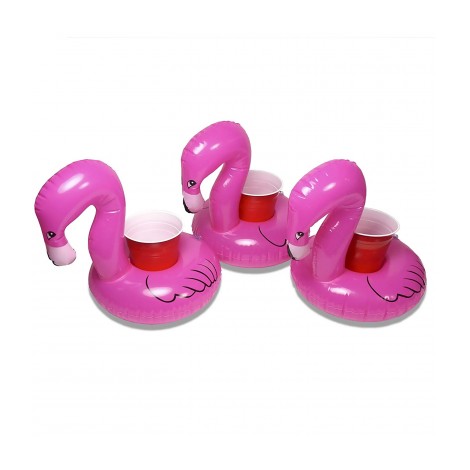 In second place, we have the GoFloats Floatmingo Drink Holder. This is technically something meant more for adults, but kids can use it too. It may not seem like a lot, but trust us, when you have your drink floating to you on your own floating coaster, you'll feel like the richest person in the world.
Versatile
Pretty much anywhere there's water, you can use this drink holder. Use it in the pool, in the hot tub while partying with friends, on the lake, you can even use it while at the beach and swimming in the ocean. Though for obvious reasons, we don't recommend that as much, since if it floats away then, it is gone.
Won't tip over
We know what you're thinking, though. You're probably afraid that these things will tip over and now you have beer/soda in your pool water. And right after you put in new chlorine, too. Well don't worry, the chances of that happening are very slim, as long as you blow it up to capacity.
Cost and Value
Of course, items this small wouldn't cost all that much, and for the reasonable price that this item will ask you, they'll actually give you three of these awesome drink holders.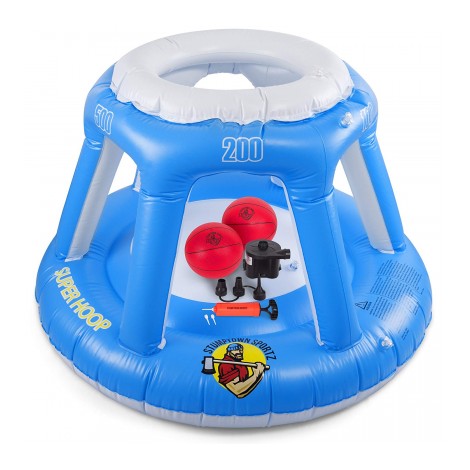 Finishing up our top 3 segment is the Stumptown Sportz Inflatable Basketball Hoop. Who doesn't want to have a good couple rounds of basketball in the pool? It's definitely one of those things you didn't know you wanted until you have it, and once you have it, you won't want anything less afterward.
Dual function pump
The fun factor is the best part of this toy, but for parents who have to actually blow this thing up for their kids, the best part is the dual function pump. This specially designed pump helps to drastically decrease the amount of time spent inflating and deflating the hoop. Meaning that your kids can get to their fun faster and clean up afterward is a breeze.
Durable
No more cheap inflatables, this one is built to last. Stumptown Sportz is known for making high quality, incredibly durable pool toys, and this is no exception, able to take even the most intense of roughhousing your kids can dish out.
Cost and Value
In stark contrast to the previous two entries, this one is a fair bit pricier, which only makes sense. It's a tad bit bigger than those entries, comes with a lot more accessories, and is more intricately designed. But with that said, it's easily the best deal on this list, so you get what you pay for.



Coming in at #4, we have the COOP Hydro Lacrosse set. When you think about it, lacrosse is a perfect sport to be transferred over into pool games. After all, the only limbs you need to be freed from the limiting effects of being submerged in water are your arms, and with that done, you're good to go. So, with that said, let's take a look.
Easy to play
Lacrosse is basically tennis, but with a lot more scooping, so it makes sense that it would be perfect for being converted into a pool game. And the best part is that it's incredibly user-friendly and easy, not to mention fun, to learn how to play. Meaning that any kid can get into it, no matter how little they actually know about the sport.
Durable and comfortable to use
Obviously, these lacrosse sticks wouldn't be anywhere near as durable as the real thing, but they're actually pretty close for what they are. On top of that, they're incredibly easy to use, able to handle pretty much any kind of roughhousing your kids may put them through, within reason of course. Keep them to the water, and they should last you a very long time.
Cost and Value
Thankfully the pricey trend of last entry is not continued here. This entry is incredibly affordable, especially since it's offering you three pairs of lacrosse rackets and three balls.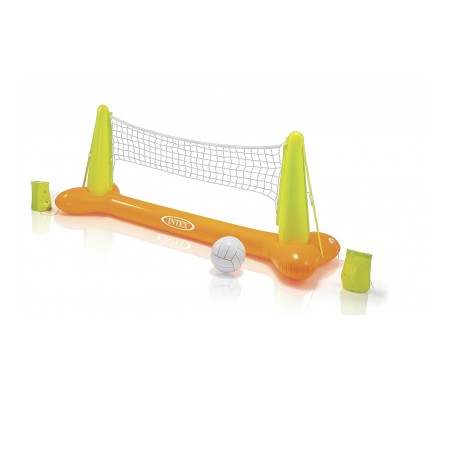 For the middle entry of this list, we have the Intex Pool Volleyball Set at #5. Volleyball is as synonymous with summer as a pool party is, so it only makes sense to combine the two into one single idea. This is nothing new, but we found the Intex Pool Volleyball idea to be the best one we could find.
Anchored weight
At first pool, volleyball may seem like an odd idea. After all, the point of volleyball is that the net stay in one place, isn't it? So, with that said, it stands to reason to ask, wouldn't a pool volleyball net be impossible to work with? Well in most cases you'd be right, but this isn't most cases. The volleyball net is grommeted to add more weight to the anchor points of the net, meaning that once you put it down somewhere, it ain't going anywhere.
Included repair kit
We like to think that this set can take whatever your family can dish out. But Intex didn't get this far by going on such assumptions, but by planning around those assumptions being wrong. Which is why this pool toy set comes with its own repair kit, so you can handle any accidents that may occur without having to return the whole thing.
Cost and Value
You would think that this toy set would cost more, but in fact, it's one of the most affordable deals on this entire list. Which is great, considering everything that it's giving you for such a bargain.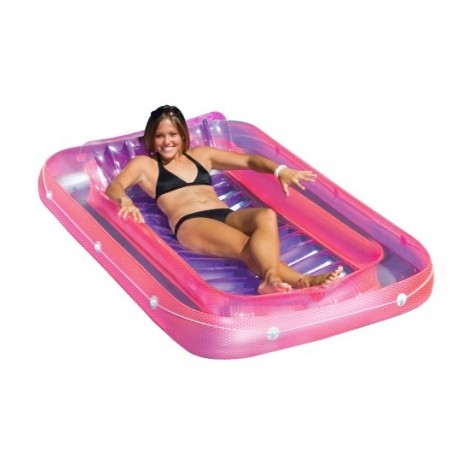 For our #6 spot, we're looking at the Swimline Suntan Tub. Who doesn't love suntanning? Well, we assume people who actually like getting up and doing things. But if you are not one such thing-doer, then this is the perfect float to use when you partake in the beloved tradition of laying under the radioactive ball of fire in the sky and letting it cook your flesh until you're a delicious golden brown.
Ultimate comfort
Suntanning requires you to lay under the sun for a rather long period of time, and when you're doing this, you need to be as comfortable as possible. Otherwise you're going to be squirming around too much for the tanning actually to take effect. Which is why this float is made of some of the most comfortable vinyl out there. Able to provide you with maximum comfort while you're sunbathing.
Great for all ages
Whether you're a parent relaxing while your kids play, or a kid who's tired but not ready to head back inside yet, this float is big enough to hold people of all ages, yet small enough to not intrude upon the merrymaking of the other participants. And if sunbathing isn't your style, and you don't like a hot pool float, you can even fill this thing with water for that added coolness.
Cost and Value
The big problem with this float is its price. While not utterly unreasonable in its pricing, it is still pretty expensive. Though we must stress that you will get your money's worth out of it, that doesn't change the fact that it is incredibly expensive for a pool float.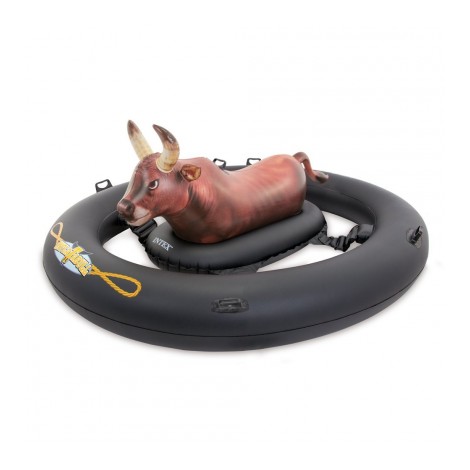 For our #7 pick, we have the Intex Inflat-a-Bull. Have you ever wondered what it would be like riding a bucking bronco while submerged in water? Well now you're odd, odd wish can come true, with this unique novelty floating toy. So, what is it about this that makes it so special? Let's find out.
Brilliant bucking action
The first hurdle to cross with this toy is obvious; how do you make it realistically buck like an actual bull? Simple, you separate it from the rest of the float, connected only by some tough but thin straps. These straps keep it attached, but do not keep it in place, so the choppier the water, the more the float bucks you around.
Photorealistic printing
But what's a bull ride without being as convincing as one possibly can be under the circumstances that you're riding a real bucking bull? Which is why this bull ride has photorealistic printing technology make the float you ride on look as much like the real thing as it can. It's not going to fool anyone with two working eyeballs, sure, but it adds that extra layer of realism that will be more than enough for any kid.
Cost and Value
Of course, something this big and intricately designed is not going to be a cheap product by a longshot. But all things considered, it could've been a lot pricier, given everything you're getting out of this.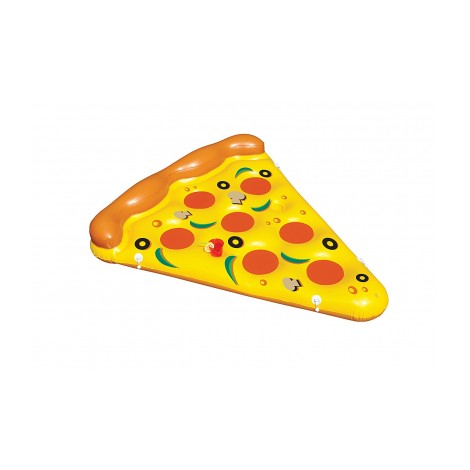 Kicking off our final 3 entries, we have the Swimline Inflatable Pizza Slice Pool Float. Now, finally, mankind can achieve its dream of riding on a giant slice of floating pizza while enjoying a cool drink on the pool. Truly we have reached the apex of our development as a society. Let's study this marvelous creation further.
Bungee connectors
One really cool thing that this float has is its ability to connect to other pizza floats until it becomes one giant whole pizza float. And the bungee connectors that give the float this ability are nice and tight, letting you enjoy your new, bigger float without having to worry about the pieces drifting off.
Easily inflated
Pool floats can be a pain to inflate, especially the kind that make you blow it up by blowing into it physically with your mouth. It's tedious and usually takes twice as long as you think it does. Which is why when a pool float is as easy to inflate as this one is, it's all the more impressive.
Cost and Value
The problem with this float is its price. Not that individually it's all that high, but that the fact that you're meant to buy a whole bunch of these and then fit them all together. So that price that isn't too expensive very quickly becomes such when you add all of those different pieces up.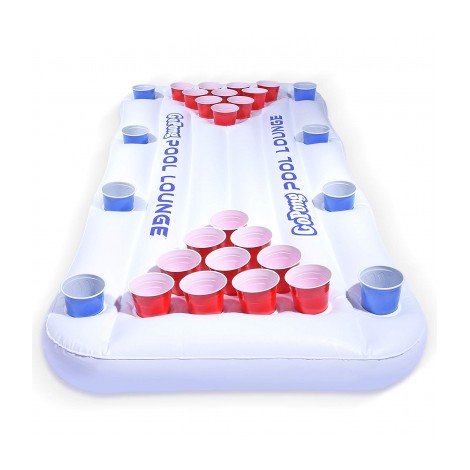 For our second to final entry, we look at the GoPong Pool Pong Set. Most would look at this and immediately think of beer pong, especially with the red solo cups that this toy comes equipped with. And while you can certainly use it for that purpose, it can be used for more family-friendly purposes as well.
Social floating
This set includes two rafts and two sets of cups. So, if you have a bunch of friends over, you don't need to worry about sharing the fun with everyone. Everyone has their own share of the game.
No chance of capsizing
This raft basically has no chance at all of capsizing by accident. Its high side walls and excellent buoyancy basically means that nothing is going to tip this thing over that isn't actively seeking to do so. So, you don't need to worry about the pool's occupants causing too much of a fuss and ruining the game.
Cost and Value
Alone, this thing would cost practically nothing, but the fact that there are two of these rafts being sold means it's double the price, especially when you add on the three balls it comes with. Still, though, it isn't too

10

. BigMouth Inc Sandwich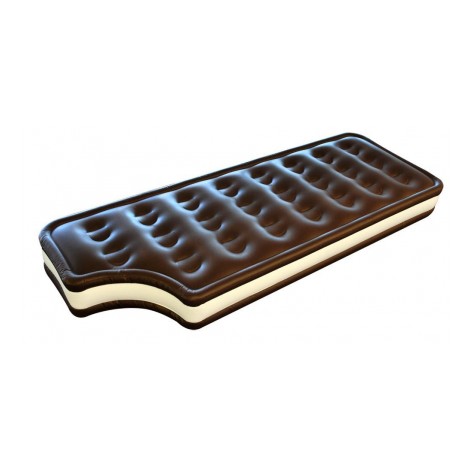 Why would you want to float on a pizza when you can float on an ice cream sandwich with a bite taken out of it already? Such is the mindset behind our final entry for this list, the Bigmouth Inc Ice Cream Sandwich Pool Float. A relatively simple pool float, but one that will last you a long time.
Durable
This may not be the most complex pool float, but it has something a lot of other pool floats don't: longevity. This pool float can be left out in the sun for days without wearing out, thanks to its durable vinyl design. So, you can jump on, roughhouse with, and generally do whatever you want to this float, and it will always come back for more.
6 Feet Long
One problem that plagues any kid that uses a pool float is that they're often too long or too short to use. They either make your feet dangle awkwardly over the side or are so long they become awkwardly cumbersome to use. Fortunately, 6 feet is more than enough space for a good pool float.
Cost and Value
If there is any problem with this simple pool float, it's the cost. Not to say that it's the most expensive entry on this list, it isn't even in the top 5 in that regard. But for a pool float this simplistic, it just doesn't offer much in return.

Subscribe to our Newsletter