Best Pool Toys Reviewed & Rated for Fun
last updated
Jul 03, 2019
Pools are one of the coolest things ever for a kid, which is certainly impressive for a glorified tub that you share with other people. This mostly comes from the size of it. When you're an adult, it isn't as impressive unless you have one of those luxury pools you could fit a car into, but when you're a small child, it's like being at the beach, in your backyard. And of course, there are also the pool toys.
Pool toys make an already fun pastime even more so. They add hours of enjoyment to a birthday pool party and help to make an already unforgettable summer afternoon permanently etched into your child's memory for the rest of their lives. Which is why, today, we're going to be counting down the top ten best of these pool toys. So, put on your swim trunks and get ready to hit the water, because we're counting down the best pool toys.
In a Hurry? The test winner after 4 hrs of research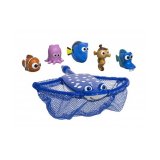 Swimways Finding Dory
Why is it better?
Different float effects
Great for swim practice
Cheap
In a
Hurry? Editors choice: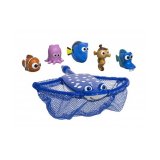 Test Winner: Swimways Finding Dory

Accessories
Durability
Ease of Use
Safety Hazards
Value
By Default
In Depth Review Top 10
Swimways Finding Dory
GoFloats Floatmingo
Stumptown Sportz Hoop
COOP Hydro Lacrosse
Intex Pool Volleyball
Swimline Suntan Tub
Intex Inflat-a-Bull
Swimline Pizza Slice
GoPong Pool Pong Set
BigMouth Inc Sandwich
Table of contents
Criteria Used for Evaluation
Expert Interviews & Opinions
Frequently Asked Questions
Sources
Criteria Used for Evaluation


Durability
Even though you aren't paying all that much for these pool toys, we imagine you would still like to have them around for a while. This is where longevity comes in, and a lot of factors decide this. First is the durability of the product itself, which is one of the most important, for obvious reasons. One of the main enemies of longevity is a dog tearing your nice new float to shreds because he thought it was his new chew toy. The second is environmental resistance, since leaving a float out in the sun is one of the worst things you can do with a pool float. Generally speaking, UV rays make very quick work of products made out of rubber/nylon. Making sure that the product in question could survive the elements, as well as constant use by children hopped up on sugar for a very long time, was a big factor in determining each entry's place on the list.


Accessories
Easily the most important criteria for this list was how much fun they were to play with. Obviously, this wasn't something we could judge for ourselves without buying every single one of them and trying them individually. Rather than go to that trouble, we instead turned to customer reviews and testimonies from various people who bought each of these pool toys. We judged how much fun they reportedly had with these toys, how much fun their kids said they had since this list is really for them. After compiling that information, we then judged this scale of fun and used it to help measure how far up the list each entry then got to go as a result.

Safety Hazards
This refers to not only its durability against the elements but of course, against the human element. Here's the fact of the matter: kids are rough. They are wild, especially when swimming around, hopped up on candy and soda, and basically bouncing off the walls. So, a kid in that scenario is not going to know the meaning of the phrase "don't jump on this, it might break" and are going to do just that regardless of consequence. So, best to make sure that the pool toys we're showing off are actually able to take that kind of punishment when it inevitably comes. This is mostly done through the materials that the toy is made out of, which vary depending on what kind of pool toy you're talking about.
In the case of pool floats, the materials used for construction are a mix of plastic, rubber, and nylon. They're sturdy, water-resistant materials that dry off quickly, are very buoyant, and are just soft enough not to be actively harmful to kids who play around with them.
On the other hand, you have things like the Finding Dory Net Game, or the beer pong rafts, which are usually small enough to avoid the rougher housing of some children. These toys are usually made out of some special kind of plastic. For what they're trying to do, this works very well.


Ease of Use
More than a lot of other things we show on lists like these, design plays a huge role in evaluating entries for this list. Kids want their toys to be stylish above all else. Very little else matters to them besides their toys looking as cool as possible, and so the style of the designs of these entries was elevated to one of the most important criteria. We didn't really go for any one specific kind of style, we instead evaluated what kind of style each entry was going for, then evaluated how well they pulled it off. As you can imagine, this did a lot of damage to several otherwise promising entries chances


Value
Our final criterion was, of course, the price of the particular toy. But it wasn't so much the price itself since pool toys are so rarely anything expensive. Instead what we were looking for was how well each entry justified the prices they were asking for. If the product didn't ask for much, yet offered a lot of content, we deemed it to be a great deal. But if it was like our #10 spot, which was a basic, if competently made pool float, but put at a much higher price than other identical pool floats, then its chances of getting any higher were hurt.
Expert Interviews & Opinions
Most Important Criteria
(According to our experts opinion)
Experts Opinion
Editors Opinion
Users Opinion
By Default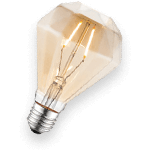 It's all fun and games until the pool toy pops
Keep that in mind. There are a whole host of incredibly pool toys out there on the market. And while we took durability into account on our list it's worth saying again, the best floating unicorn or basketball hoop is only as good as its ability to stay afloat and full of air. So make sure you check out what these are made of before you drop your money down, or make sure they come with a repair patch just in case things go south, as they tend to do in a pool.
Frequently Asked Questions
q:

Are pool toys absolutely mandatory to have fun in a pool?

a:

Absolutely not. The great thing about pools, especially if you're a kid, is that they're basically a hundred different toys in one. Really, think about it. It's basically a massive bathtub to a kid, except without the inevitable expectation of actually having to clean themselves. A pool toy is like a really good side of fries to go with a really great burger. You don't necessarily need it, but you are very glad it's there. So, don't buy a pool toy thinking that it will make a pool fun, buy it thinking that it will make a pool more fun.
q:

If these floats are made of nylon and rubber, shouldn't that make them incredibly tough and uncomfortable to lay on top of?

a:

If we're talking about the same kind of nylon and rubber used for clothes and tires, respectively, then it should, yes. Fortunately, that's not the kind of nylon or rubber used for pool floats. Although just as durable, the materials used to construct a pool float are much more comfortable to lay on and use than you typically expect. And even if they aren't, like if the manufacturer wants to ensure longevity by using more durable but more uncomfortable materials, then the part of the pool float you're actually meant to lay on top of will be covered in a softer, easier to deal with the material.
q:

What bodies of water can I take these pool toys out on? Does it make any difference whether it's a chlorine filled pool or a salt-filled ocean bay?

a:

Yes and no, it depends on what kind of pool toy you're dealing with. When a pool toy is built for more than one type of body of water, then it needs to be built with the different kinds of water thereof in mind. For instance, if not treated properly, the nylon that makes up most pool floats will be done no favors by the large amount of salt in ocean water. You should always check and make sure that the pool toy you're buying can withstand the differences between water types. If it can't, while you're in no danger, you may be back in the market for a new pool toy rather soon.
q:

I want to take my pool float out to the beach, but I'm worried about it drifting off and being lost forever, doomed to be eaten by a shark. Are there any ways I can prevent this?

a:

besides just being more responsible and keeping a better eye on your stuff? There are actually a few different ways you can go about keeping your pool float in arms reach. However, we want to focus on one here, which is to tie the float to a strap you wear around your wrist. This is one reason that a lot of pool floats come with tow points. Pretty much none of these should be towed behind a high-speed boat, but you can tie them to yourself to keep them from drifting off to davy jones' locker.
q:

Why do we still have to blow up pool floats and toys with our mouths?

a:

Because some things just don't need a high-pressure air compressor to blow them up. If you tried using the thing you use to put air in your tires to put air in your pool float, bits and pieces of that float are going to go all over the room. Which, while hilarious, is probably not what you want.