Best Table Top Games Reviewed & Rated
In a Hurry? Editors choice: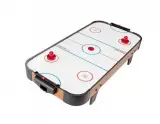 Test Winner: Playcraft Air Hockey

We all love
games
, that's a given. What kind of games can you easily have at a party or get together though, that isn't your usual card or
board game
, but can still be set up on a table? When going to be with family or friends most people will grab a card game or board game- like Phase 10 or R.I.S.K.- but you want to stand out this year and blow everyone away. Well, now you can do just that with many games that were either
outdoor only
or arcade games before. We at Gearhunt want to help you enjoy your free time with your favorite game, and we have created a top ten list just for you!
Standout Picks
Criteria Used for Evaluation
Durability
When looking for quality goods, the first question on anyone's mind is 'how long will this last?' and it's no different when we are making our top ten lists. Durability means the product you are purchasing won't have to be repurchased/replaced with another new product out of your wallet. What this means is if it has faulty parts, or if it is not built correctly that the company will help you with fixing or replacing whatever is needed. After all, you paid for it, they should be willing to help you is the fault is not your own.
Of course, some of us have rougher kids, family members, or friends than others, and unfortunately, this can at times fall under the aspect of 'not a quality issue' because it doesn't default in the product, but a misuse of it. For instance, sitting on a table that was not built for use as a chair and having it break is no fault of the table. That wasn't what it was designed for. So, our durability covers what it is meant to: proper use of the equipment was followed and it lasted.
Some products are more durable than others naturally or are built with the idea of roughhousing occurring, especially when it comes to games. So while some meet these criteria on our list, others exceeded beyond what normal durability limits were expected. If we tell you we think it can survive a three-year-old who hates to lose- or who thinks everything needs to be danced on- then we probably found proof that the product had indeed survived such a thing. Doesn't mean of course that we want you to use it in such a manner, but for some it did and we want to praise the product for the great effort that was made to make sure it will be difficult to break.
Ease of Use
Not all games are created equal. Some games are simply too difficult or too complicated to truly enjoy. While making this list we wanted to make sure every game, even if hard to win, was well worth it to buy and play. Some can be played over the time it takes to have a lunch break, while others may require more patience and dedication to get that high score. No matter which, we made sure that the instructions were simple to find and learn so that when you do play it, the game is enjoyable. In every case, the instructions could be located in the box or easily online so that no one has to doubt the game is being played right and fairly.
Value
No matter what our list, we always want to make sure you are getting the most for your money. We do not want you feeling as if you wasted a penny on something you did not get what you were expecting. Each game was looked at, researched and found that the majority of owners were more than a little satisfied with their purchase.
Those that weren't often had what appeared to be a rare if not single person issue rather than something bad overall. In other words, unless we could validate that the issue wasn't a fluke, we feel that the value of the product met or exceeded normal expectations and put it on our list. If the problem wasn't a fluke and we still have it on our list it is either minor and easily fixed, or we felt the quality of the item far outweighed the issue presented.
Portability
As mentioned at the beginning of this article, one of the hardest things to find when looking for a game of this sort is to locate a version that is small enough to travel, put away and be playable by kids. While all of these games meet each of the requirements, they are also playable by adults. Though bear in mind that the smaller the board, the more you have to strategically decide force and area of ability to play. So, even though they are playable, these mini-versions are going to take a bit more practice at points to play for larger people. That being said, they are still exceptionally fun and can be packed away for either travel or simple clean up with ease and therefore meet our 'easy to handle expectations.
Compatibility
If the game has a lot of rules, requires higher learned skills, or involves knowing information that younger kids may not have, this can also influence the age range. For these types of games, the age range is set to where the manufacturer believes the person meeting the criteria should be able to play without being held back. With tabletop games on this list, it can also apply to when hand-eye coordination and strength/understanding their own ability is good enough to play.
Also, when considering players who have health issues, muscle ability and mental disabilities are things to consider as well. If a lot of the players have wrist or arm injuries or issues the game may not be enjoyable. The same goes for the games that have built-in sizes or are tables themselves. If they aren't tall enough and several of the players have back or leg issues, you may want to consider a different game.
10 Best Table Top Games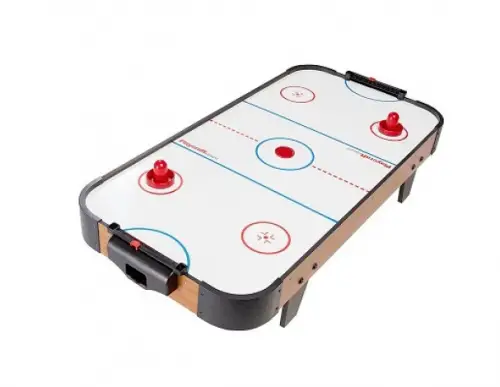 Well as so many of our lists revolve around the adults we wanted to add in a few for the kiddies. Playcraft seems to have accomplished that with the Playcraft Sport 40-inch Table Top Air Hockey Set. It seems like a nice game for even your most diehard air hockey players.
Low Air Supply
A lot of the time we see with things like this that very powerful air supply is great for the adults but the puck can get out of control and go flying off the table. That is not cool when it comes to younger players so the lower air supply on this table seems just about right.
Storage
Few things are as important to most people as less clutter. This table is small enough to easily slip under the bed or store on a closet shelf when not in use. Leaving your table or floor clutter-free and removing every parent's fear of the late-night stubbed a toe.
Cost and Value
We aren't sure exactly what you're looking for in your air hockey table but this one is gonna be hard to beat. For the cost, you get a nice sized game that works well for the younger folks without having to take up most of a room for set up. It is reasonably affordable with little to no real upkeep.

2

. ALL-IN-ONE Ping Pong Paddle Set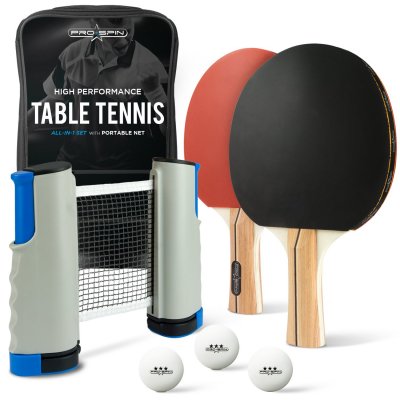 This is a simple carry with you Ping Pong table. Well, it's everything but the table. With this little inexpensive but high-quality set you get balls, a net, and a few ping pong paddles. The net is easy to set up and the paddles are high quality so in no time at all you'll be hitting the net and burning some ping pong calories at the kitchen table.
Works on almost any table
Unless it's more than 72 inches wide you should have no problem setting up the net that comes with this set. It's a really simple set up which minimizes the amount of time you'll be sitting around waiting for your game. The net comes wrapped up inside a bevel so it won't get tangled and it hooks onto the table and stays easily in place.
Money-Back Guarantee
The paddles and the ball meet all ping pong standards and the whole package has a 60-day money-back guarantee and a one-year warranty. We like that: If you have any problem at all get in touch and send it back.
Cost And Value
The price of this little number is highly affordable. For the amount of fun and time you're going to get out of it we think that it's quite the value.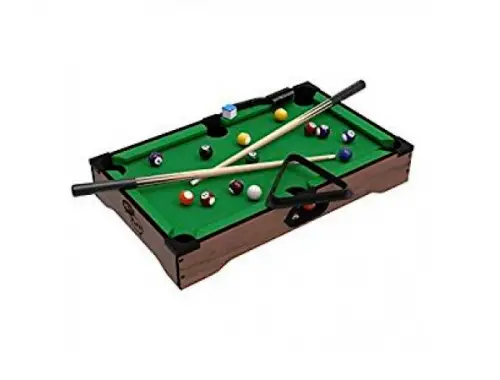 This Mini Tabletop Pool set comes with everything the professionals use at a beginner level. Sure it's small thus the name, but that also means it can go just about anywhere. After all who wants the time and expense of a full-sized pool table when you can relax with this version without breaking the bank.
Well Made
A lot of people don't want to buy smaller versions of things like this due to the fear of poor quality. That is not the case for this pool table. We have checked down to the last detail and found the balls and even the cue sticks to be of good quality. There is actual weight to the accessories making you feel more secure in your ability to play well.
Is Size an Issue
Well not for us. This little gem fits perfectly on any dining room table or desk. With the table being this size it makes for easy storage. You can leave it out as a showpiece to relax in your office, or tuck it into a closet on a shelf when using at home.
Cost and Value
At number 3 on our list, we find the Mini Tabletop Pool Set to be a charming addition to wherever you decide to add it in your life. At home or at work this is a great way to learn the basics or just to blow off some quiet steam. It had all the accessories you would expect from its bigger relatives and comes at a fraction of the price.

4

. Elite Sportz Junior 2 Games on 1 Board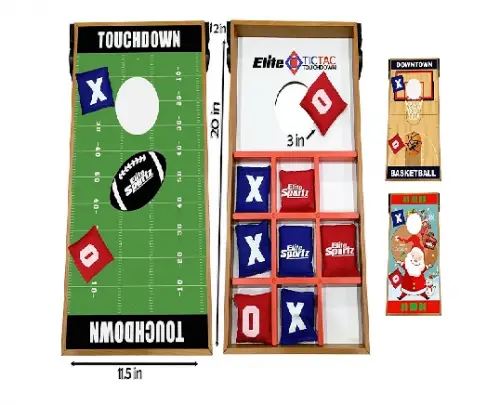 Just like the name states this game offers 2 games on 1 board. We know how restless children can become after playing the same game over and over again. Which is why we wanted to offer a few multi-functional tabletop games that are fun for the entire family. This particular game is all about competitive fun, whether its raining or sunny outside your children are sure to want to play.
Versatile
This game is constructed to feature two different styles but on one board in order to save you space. The front showcases a fun bean bag football toss and the back comes with the all-time classic tic tac toe.
Transportable
While this game is a tabletop game and will fit most rectangular tables this one is lightweight enough that you can take the fun outdoors. What better way to entertain your children on sunny days then to allow them to bring their indoor table fun outdoors.
Cost and Value
This game is priced very fairly. It's on the mid-range of what you would expect a 2 in 1 game to cost. Keep in mind; you're getting every piece you need so that you can set up in seconds after receiving it.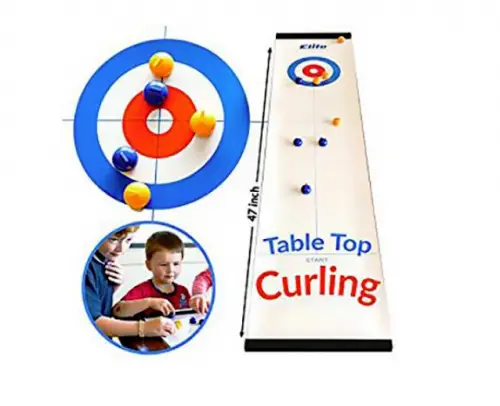 Whether you are a fan of the Olympics or just want to learn this is a cool way to get into curling without the icy temperatures. If you get this game you can see if you may have your very own Olympic Athlete hiding in the family. Potentially you can get loads of fun family time even if you play in rounds.
Easy Set up
The title says it all. Just roll out the Elite Sports Tabletop Curling mat and attach the magnetic weights to either end to stretch it out. You can use the colored stones to keep score and to know whose team is winning or whose stone to aim for.
Easy to Clean
A lot of games come with small complicated bits that make it hard to clean from time to time. That is not an issue with this game. A warm damp rag to wipe down the vinyl slide and then let it dry. That's it, you're done. The stones can get the same treatment and you're all set with a ready to play set.
Cost and Value
If you're looking for a unique way to spend some family time and are tired of the same old card/video games this is a great investment. It's not expensive and with a small amount of consideration on the way it's treated is sure to give you loads of fun time and again. It is almost identical to the Olympic version except for size, ice, and the need for brooms. A great way to bring some affordable sports into the home without having to move the furniture.

6

. Rally and Roar Foosball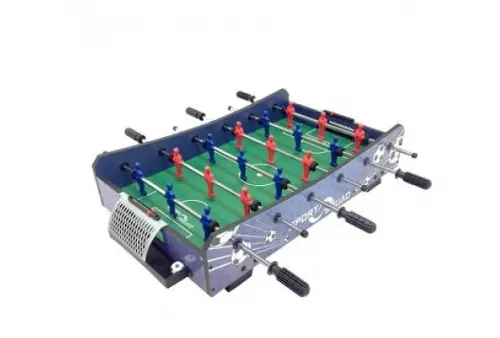 Okay, who doesn't like a good game of Foosball, and who wouldn't give up a fair amount of space for their own table. Well a lot of people to be honest, we get that. But for those who love the Foosball they'd be perfectly happy with a big old Foosball Table in the middle of the living room. But some of us aren't that lucky. But with this set all you need is a little room and a little table and it's game on!
Easy To Assemble
This not only looks like the real thing but it puts together and breaks down incredibly easily. You can load it up into the car for a picnic, or you put it away really simply at the end of the day. We really love the fact that this set looks complicated and hard to manage but is made to be simple to put together so it can go wherever you go.
Built Strong
When the game gets going well we all know how it goes when you start jerking that table around like it made you angry. With a more flimsily built table that might lead to the end of the game quite quickly. But with this tough customer short of taking a sledgehammer to it, it's certainly going to stand up to an emotionally charged Foosball World Championship game.
Cost And Value
A bit pricey but considering the tough construction and the ease with which the Foosball board goes where you go, we think is still a bit of a steal.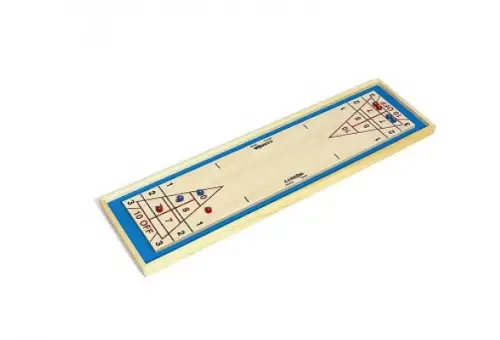 This is one of the largest game boards we are presenting but we feel its worth a look. Easy and fun to play shuffleboard is something that up until now has been for cruises and not much else. The great thing about this version is you can take it with you and play inside or outdoors on the picnic table when the weather is nice.
Quality Board
The board is made of good quality wood and screen-printed graphics that make it easy to see and keep score. The markings are for the longboard or court version so you're not stuck with one style. The graphics are also printed with lead-free ink which is a nice little perk when allowing younger players to get involved without fear.
No Chemicals
Most full-sized shuffleboards require a layer of powder or spray to help the biscuits to slide easier. While not bad themselves the over-spray can leave quite a mess and potentially be inhaled. This board removes the need to extra chemicals leaving you free to play and breath in peace.
Cost and Value
This is overall a great buy. There is just something about introducing people to a game that hasn't been well known except to an elite few. It requires a good amount of hand to eye coordination and an amount of muscle control that most kids and even some adults seem to have a hard time with. You can't just push it as hard as you can too with this game. The brain is better than brawn and in our opinion that can be a fun change of pace.

8

. Best Choice Products 4-in-1 Game Table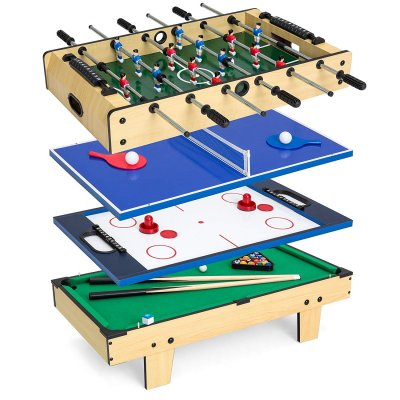 The perfect table for those unwilling to commit. Sure you like Ping Pong, but you also love Foosball and Pool. What's a non-committal sports love to do. Well, look no further because what you're going to do is get the Best Choice products 4-in-1 table. Not only can you play pool, but you can also play ping pong, foosball, and air hockey. It's the best of all worlds.
Easy Setup
All the different game boards store inside the pool table frame making this an easy table to lug around and makes gaming only just a few moments away at the best of times.
Accessories all Included
Everything you need for every game you want to play is included with this 4-in-1 set. Paddles, cues, balls, everything is right here so all you have to do is take it out of the box and go to town. Enjoy!
Cost and Value
For all that you're getting this is a pretty affordable setup. You get 4 games for the same price that you're paying for a single game on some of our other lists. Granted it's not quite as big as some of the other products but if you don't mind minimizing your game a bit you're getting a lot for your money.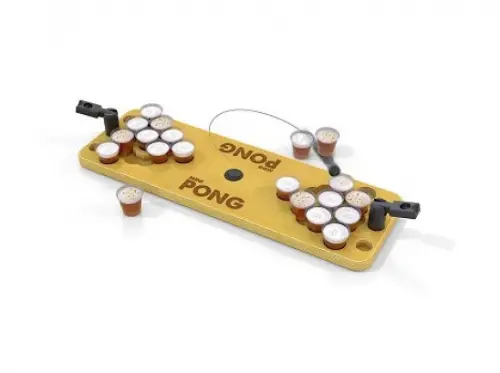 Yes, we realize that this isn't typically a family-friendly game. However, with a simple adjustment of say water, or juice, instead of the norm, this game can be fun and even funny for everyone on New Year's Eve or any day you like. That said if the kids are away at camp and it's just mom and dad, feel free to pick your poison.
Easy to Clean
Most of the time when playing the larger version of this game you have the issue of cleanup afterward. In this case, smaller is better. The board holds the cups for you and helps to avoid a mess all over your table. Just use a warm, damp, soapy cloth to wipe things down after and your all set for your next party.
Easy to Store
Another nice thing about this Mini Pong set is that the entire thing fits back into its original box. Just grab the board, pull the catapults, and stack the cups all of which will slide right back into the box on a nice safe high shelf. Also, the ball is tethered so there is no fear of losing it during play or when storing.
Cost and Value
Tried and true to the original Mini Pong is something that can be a great addition to any party or cookout your having. This time of year, with the warm weather, it's great to get some friends together and test your hand-eye coordination. Especially with a little liquid libation to help with your aim. We do want to point out that a simple switch of the liquid to say apple juice or tea would remove any potential side effect for the nondrinker or youngster in your group.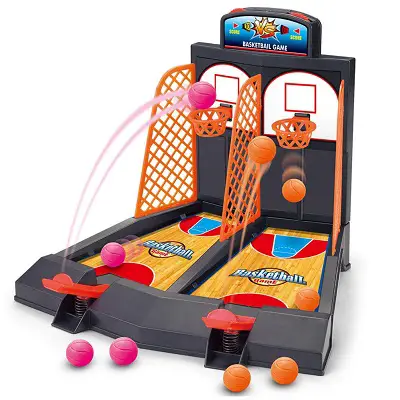 In the mood to play basketball but the weather doesn't permit it? Don't worry, you can feel all the excitement of getting your ball in the net in your own home. This arcade-style shooting game includes two courts and baskets so you can challenge your family and friends and a built-in scorekeeper to keep the fun going!
For Two Players
Stuck inside with nothing to do? This shooting game is designed for two players so you always have room for a friend. It comes with 6 balls, two baskets, and a scoreboard so you can keep track of your wins.
Easy Set Up
Nothing ruins the mood to play a game than spending a long time and frustrating time putting the game together. This is easy to assemble and travel with and doesn't need any power to work so you can set up and play within a few minutes.
Cost and Value
This product comes at a low price and is great for hours of fun. It is easy to carry and set-up, and designed for two players. This is great for kids and adults who just want to relax for a few minutes at the office.

Subscribe to our Newsletter