Best Poker Cards Reviewed & Rated for Quality
In a Hurry? Editors choice: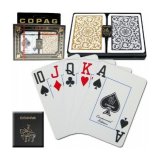 Test Winner: Copag

Whether you're
playing in a poker tournament
or gathered around the table on holidays with family and friends playing for fun, the type of poker cards you use is important. It is said that playing cards were invented by the Chinese before AD1000 and reached Europe around 1360. Since then, poker and any other form of card game that can be played around the kitchen table on Saturday night have become extremely popular and the perfect
way to while away the hours
. So whether you're playing hold-em, solitaire or Go Fish, we've got the cards you need to
make every game an adventure
.
Standout Picks
Criteria Used for Evaluation
Materials
It's important to note that there are two basic types, not saying there might not be more out there, of poker cards on the market today. These are paper cards that are coated in plastic and decks that are made of 100% plastic. You need to make a decision as to which type of cards you want basing on a few things.
Consider things, such as how much play the decks are going to get and whether it's possible for the decks to get sticky or accidents causing them to become wet. There are many waterproof versions of plastic decks on the market today as well, which should help you with your choice. The top-rated decks on our list come in plastic coated and 100% plastic as well.
Size
The choices of the size of the decks you choose are important as well. Many users choose to go with the standard index poker size, especially if you are possibly going to be playing professionally. There are other options available, however, one of the most popular being the jumbo or large index playing decks, which have larger numbers and suits on them. This makes it easier to see the decks, if you have failing eyesight or if the decks are going to be used in group games where they are spread across a table and everyone needs to see. The top-rated in our buying guide comes in either size, so the choice is yours.
Brand
There are so many different brands of playing cards on the market today, it's hard to name them all. Some are great quality and some are just decks that can be played with for a short time and then replaced. The top-rated on our list is pretty much top brands and will last you for quite a bit of time to come. They make great stocking stuffers, gifts to put in goody bags for parties, and anything else you might need a good deck to do.
Style
Although the decks on the list are either plastic or plastic-coated, standard or jumbo index and have different price points, there is still something to be said for the appeal and design of it all, especially if you are a collector of different types of decks.
Many of the top-rated on our list, come in the classic red and blue design, but there are some that have unique designs and colors to them. If you collect decks or love the uniqueness and prettiness of different sets, then these may be the ones you're looking for. Most of them would look great when added to a growing collection.
Value
Of course, as with anything else on the market today, these decks come with different price points. The top-rated on the list range from $13 for a set of twelve decks to $20 for one deck. The difference in the price points is usually the quality of the deck and how many are included.
Some of the top-rated are waterproof, washable with the swipe of cloth, and super durable against scuffing, bending, and breaking, so they are a little more expensive. Choose your price point based off of the quality you want and how often you want to replace the cards you are using and how often you will be playing with them as well.
10 Best Poker Cards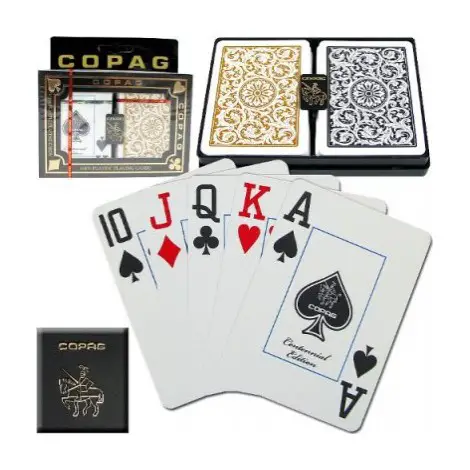 Many times when you settle down to play some games with family and friends, drinks and snacks are a part of that playtime. Oftentimes, it is inevitable in the fun of the game that dip gets smeared on the cards or a drink gets spilled, soaking the table and the deck at the same time. With Copag, that's something you don't have to worry about. The product is made of high-quality plastic, which makes wiping them down, after those little accidents, a breeze. Since they are made of 100% PVC plastic, they outlast paper cards easily and can be your go-to deck on game night for years to come. The jumbo size makes it easy to play these all night long and avoid the eye strain of gazing at a standard deck. The deck also comes with its own hard plastic case for storage.
Durable Plastic
Paper decks can end with you having to replace the deck after one sitting, but these durable plastic decks can withstand little accidents and normal wear and tear. This means that you have hours of playtime ahead of you, whether you use the deck for solitaire, Go-fish with the kids, or family poker night on a weekly basis.
Hand Washable
Accidents happen when games are being played. Whether it's the kid's sticky hands holding the cards or your poker buddies spilling their drinks on the table, a simple swish and wipe with a damp cloth will take care of cleaning this high-quality, sturdy deck for you.
Cost and Value
Just the fact that these durable, plastic cards can be cleaned with a damp cloth makes them worth the price that is being asked for them. If you think about it, you will save tons by not having to replace the cards every other week.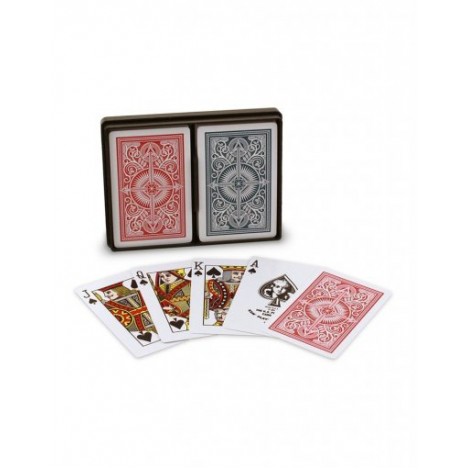 When searching for the perfect poker cards, sometimes just the right mix of plastic and paper is needed. The Kem Playing Cards feature 100% cellulose acetate plastic. This is a unique blend of plastic and paper, which makes the deck durable and flexible at the same time. The set comes with two decks, in your classic red and blue, one deck is red, the other is blue. What is great about these decks, is they are scuff and break resistant and come in their own hard traveling case.
Break and Scuff Resistant
These two decks are break and scuff resistant, meaning you don't have to worry about them breaking or showing scuff marks that basically mark the cards so it can be known what each one is. Even when you aren't playing professionally, you don't want to be accused of cheating because your cards are scuffed!
Standard Sized Index
Although there are many brands, sizes, and designs out there, sometimes the best deck to have is the standard sized index. These decks deliver on that promise with your classic blue and red decks, with four suits in the standard size.
Cost and Value
While these are a little on the more expensive side, the flexibility and durability of the cards make them worth the money spent. They are break-resistant, scuff resistant and nice to play with professionally or just for a friendly game on the weekend.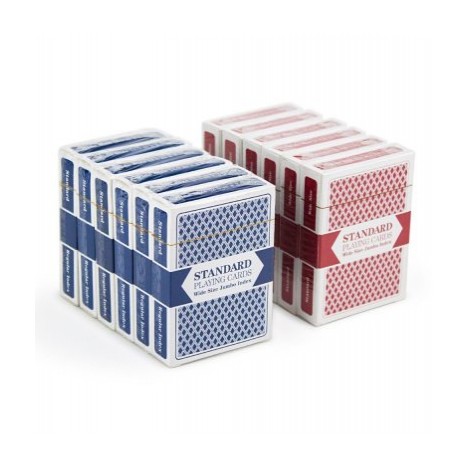 There are quite a few times when you might want to play one game with your friends, while the wife wants to play bridge with hers or the kids want to play Go Fish with theirs. In these cases, Brybelly can come to the rescue with their 12 decks of cards. This product is high-quality, durable, plastic-coated and sends you six red decks and six blue decks in the classic style. Each of the decks is poker size, wide with a big index and each deck contains 52 cards and two jokers.
Great for Group Games
These decks are great for group games, or even when everyone wants to play something different. The suits on the cards are large enough that the visually impaired can see them, which stops you and your friends from squinting to see your hand.
Perfect for Every Occasion
These 12 decks are perfect for any occasion you want to use them for, whether it's a poker tournament, a game around the table after dinner, to give to your son who is a collector of cards or even as stocking stuffers from Santa. In other words, you can't go wrong with these decks.
Cost and Value
Just the fact that you get 12 decks for such an inexpensive price is a plus in the cost and value department. The decks feature large numbers so they are easy to see, and the plastic coating makes them durable, flexible, and something that can bring your family joy for many years to come.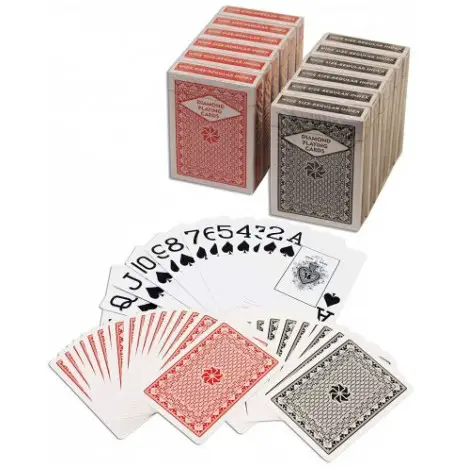 As we have stated before, decks come in different sizes, but the general consensus is that the poker-sized cards are the best. Diamond knows this and comes in at number four on our list with their 12 decks of paper playing cards with a plastic coating. The decks come in six red, six blue and are made using 300 GSM black core paper. These are large index cards, for easy seeing, whether you are in a group game or need a little help in the seeing department.
Large Numbers
No longer will you have to take off your glasses to see your friends, then put them back on to see the game in front of you. This product features large numbers, so playing your favorite games with your friends is as easy as pie.
Durable Plastic Coating
This product features a plastic coating that makes it less likely the decks will be bent, scuffed, or broken during hours of play. However, since you have 12 decks to spread around, you do have more to choose from to play, than just one deck.
Cost and Value
One of the more inexpensive sets of decks on our list, it's no wonder this set landed at number four. You get 12 decks, that are inexpensive, have large numbers for easy viewing, and are durable and flexible as well. This product is for sure worth checking out for your next game night.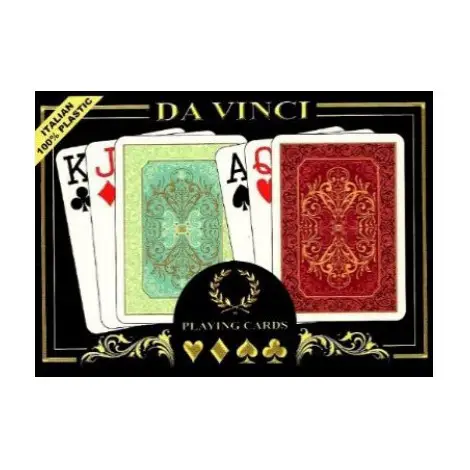 Many times, the feel of the decks is just as important as the play, so for this, we bring Da Vinci in at the number five spot on our list. These are the best feeling decks on our list and are made in Italy, out of 100 percent plastic. The deck is also washable, which adds to the feel and the durability of the product. These are standard poker decks and come with a hardshell case and even two cut cards to recommend them.
Choose Between Regular and Jumbo Index
With these decks, you have the option of choosing regular or jumbo (large) index decks. The regular will have smaller numbers, but if you have a hard time seeing smaller suits, or even if you are playing group games around a large table, the jumbo index deck might be your best option.
Comes with a Lifetime Warranty
These two decks of cards are guaranteed not to scratch, tear, or crease under normal playing conditions. That is why the decks come with a lifetime warranty. Read the card in the box for the details on the warranty information.
Cost and Value
These decks are worth the price that is being asked for them. The lifetime warranty is a major plus. The decks have a superior feel and the cut cards and hardshell case add to the worth of this product.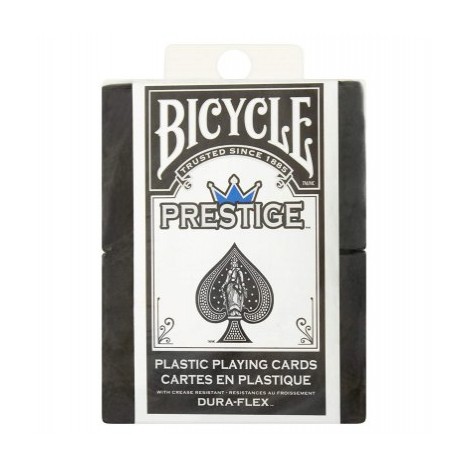 The next deck on our list should come as no surprise to anyone. Bicycle has been a top brand for many, many years now when it comes to playing cards. Whether it's blackjack, solitaire, or a rousing game of 5 card draw, these decks are some of the best on the market. Made out of DuraFlex 100 percent plastic, you get two decks, in the classic blue and red style. Each comes in its own plastic case for easy storage and carrying to game night at other people's houses. These decks are regular index as well.
Made of DuraFlex Plastic
These two decks are made of DuraFlex plastic, which means they won't bend, tear, or chip easily. The durable plastic makes it easy to wash the decks, so you can keep them in pristine shape. After all, you never know when dip or grease from chips is going to get transferred from someone's eager hands to your deck. This makes it easy to clean and get ready for the next big game.
Comes in Plastic Cases
Each deck comes with its only plastic case for ease of transport and ease of storage. No longer do you have to worry about the decks getting lost or falling out of your bag. These plastic cases make it easy for you, so all you have to worry about is winning the game.
Cost and Value
Since this is one of the top and most well-known brands on the market, it is already worth the money that is being asked. The easy to clean, durable plastic and the carrying cases are a welcome plus.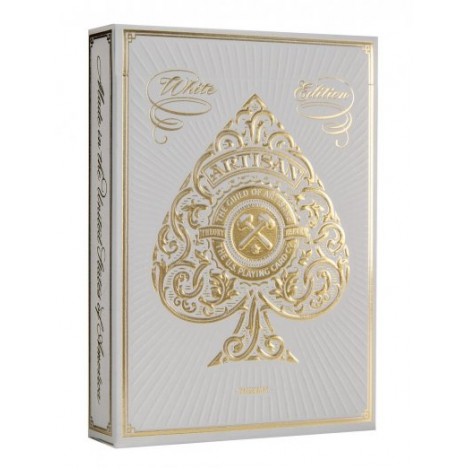 Sometimes, you want the deck you play with to be pretty, or maybe you are a collector of different types of playing cards. If you fit this description, then the Theory11 deck is the right choice for your playing needs. These are artisan decks that give great attention to the detail of each card included. Maybe with embossed white and gold foil, this deck could be the talk of your next game night. Luxury decks that are illustrated by hand in South Africa, these come in a striking white design, that has been recommended by none other than David Copperfield.
Striking White Design
The striking white design with white and gold foil will be the hit of the party at any game night you are attending. These decks are made in the USA and illustrated in South Africa, for a deck of playing cards that are not only easy to play with but gorgeous to look at as well.
High-Quality
Printed on casino Q1 quality paper, these are some of the highest quality decks on the market today. If you are searching for durability that makes a statement in the fashion department as well, this is the right deck for you.
Cost and Value
About the same price as other decks on the list, this deck comes in at number seven in our buying guide. The design makes the deck worth the cost of purchase and the high-quality, durability does the rest.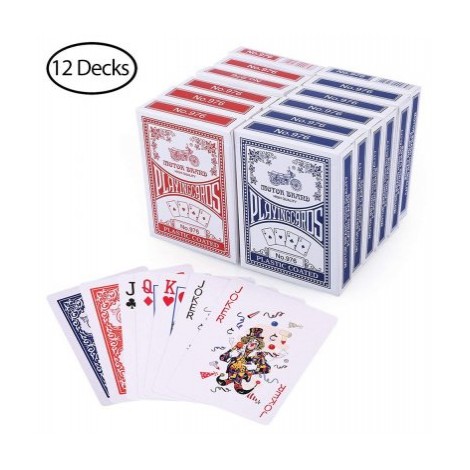 LotFancy is a value pack of 12 decks, that come in six decks of classic blue and six decks of classic red. The decks are plastic coated for maximum durability and a smooth feel when shuffling and playing. Each deck comes with 52 cards, 2 jokers, and are standard size indexed. If you are searching for a few decks to pass out to friends or for stocking stuffers, these are the best decks to go with.
12 Decks
Sometimes you want to give out some decks to friends and family. This product comes with enough playing cards to go around. Put them in as stocking stuffers, stock goody bags with them, or just let them lay around the house until you need them yourself.
Durable Plastic Coated
These 12 decks are plastic coated for durability but don't lose their flexibility and smoothness in the process.
Cost and Value
Hopping in at number eight on our top 10 list, these are value packs that are worth the money. You can use them for just about anything and the plastic coating keeps them safe and usable, time and time again.



Bullets Playing Cards are not only two decks of professional premium playing cards for Texas Holdem, but they are also waterproof as well, landing them the number nine spot on our top 10 list. These decks are made of 100 percent deluxe plastic and come with two pips to recommend them. They are jumbo index sized, so you don't have to constantly squint to see during the game. Designed for pros and beginners alike, you can't go wrong with these decks on game night.
Easy to Read
Thanks to the jumbo index, these community cards are easy to read, so you don't have to squint or look over your glasses to see them. This makes them perfect for game nights when there are quite a few friends around the table and perfect for just about any other night as well.
Extremely Durable
Since these decks are made of superior deluxe plastic, you don't have to worry about the cards bending and being marked, which can really affect the game. They are well-designed, durable, and certainly made to last.
Cost and Value
One of the best-priced decks on the list, the unique design and the fact that the decks are waterproof, goes a long way towards recommending them to add to your playing card collection. They are easy to read and extremely durable, which is an added bonus.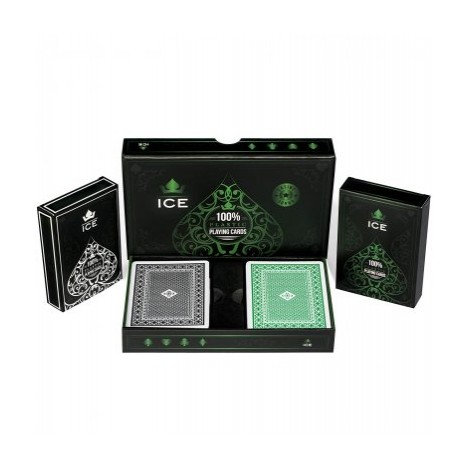 For a professional premium grade, you can't go wrong with the number 10 on our list. Ice Playing Cards are 100 percent plastic, premium poker sized, and come in a pack of two. Well designed, with a unique theme, these decks have a superior feel and the ability to be shuffled well manually or with an automatic shuffler as well. If you are searching for casino-style cards to use in your home games, then these are the decks for your playing needs.
Casino Grade
This professional-grade, 100 percent PVC plastic decks are similar to the ones used by the professionals in casinos everywhere. They are easy to use, easy to shuffle and feel great.
Texas Holdem Perfect
These decks are perfect for Texas Holdem, as well as any other games you might want to play on a Saturday night. Also, if you are a collector, the unique design makes these the perfect choice for any card collection out there.
Cost and Value
One of the high priced sets of decks on the list, these are still worth the money spent, just because they are casino grade and high-quality. If you are looking for decks that look great, shuffle well, and improve your game playing experience, these are the ones you want to collect.

Subscribe to our Newsletter