Best Rain Gauges Reviewed & Rated for Quality
Measuring rainfall can be both a fun activity and an educational experience. For this reason, most companies have invented rain gauges that are functional, easy to use and conveniently assembled. Therefore, when purchasing a rain gauge, one should look at the above features in order to get the best experience and value for money. Moreover, it is best to get a gadget that not only measures rainfall but is capable of predicting or measuring temperature changes, especially in a home to keep the family safe. Below are some of the best rain gauges and temperature measuring gadgets reviewed for quality.
Featured Recommendations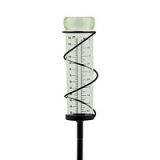 Luster Leaf 1646

Our rating
Design
Price:

See Here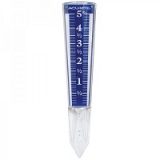 AcuRite 00850A2

Our rating
Precision
Price:

See Here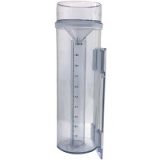 Stratus

Our rating
Strength and Durability
Price:

See Here

The best rain gauges should have clear markings to get accurate readings and should also be made of durable material because they are mostly used outdoors. However, digital rain gauges are being used more nowadays because of the precision in readings that they give, and these give them an advantage over contemporary ones. When these factors are considered, one is sure to get the most accurate readings in temperature and rain measurement.
10 Best Rain Gauges
1. Luster Leaf 1646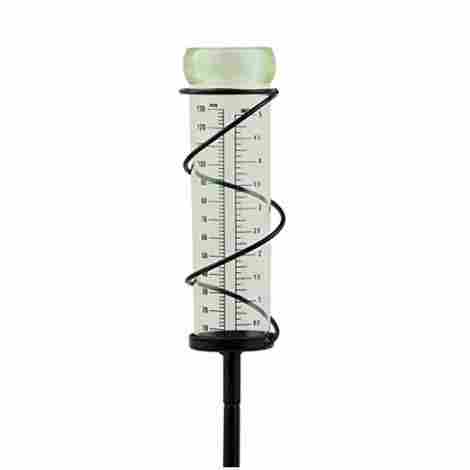 With the cylinder part made of polystyrene and a metal holder, this easy to fit and use rain gauge is made to withstand harsh weather conditions and serve as a garden decorative piece as well. It can be easily planted on the garden at various suitable heights of up to 36 inches and accurately records rainfall levels. Moreover, the cylinder is not permanently fixed and can be easily lifted to empty the mechanism when full.
Expand to see more
Design
The rain gauge has a spiral cylinder made of metal that makes it aesthetically appealing and serve as a decorative piece. Moreover, the polystyrene cylindrical cover is a perfect material to withstand
harsh climate conditions
without cracking.
Easy to Install and Clean
The mechanism for operating it is simple and can be taught to beginners on how to operate and maintain. It has a stand that can be staked on the ground to a height of up to 36 inches; therefore, allowing one to adjust it to their proffered height. Moreover, the cylinder can be easily lifted out of the stand to be cleaned or emptied for better accurate reading.
Cost and Value
The mechanism is both easy to install and use, made of a material that can withstand the harsh outside weather conditions. Moreover, the stand is made to double up as a decorative piece for the garden to improve aesthetics. With this in mind, the price is relatively affordable and is therefore recommended for both beginners and small-scale gardeners.
Easy to Use and read
Spiral stand improves garden aesthetic
Can be mounted up to 36 inches from the ground
Affordable
5 inch cylinder needs constant emptying for accurate reading
2. AcuRite 00850A2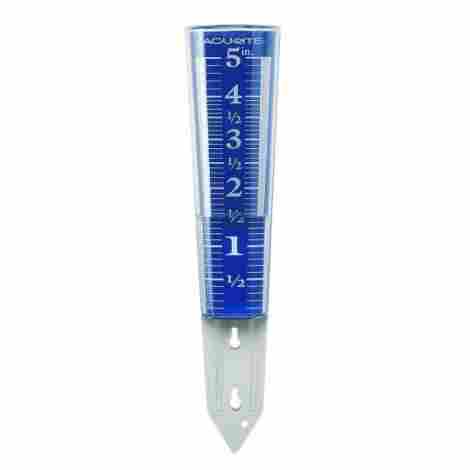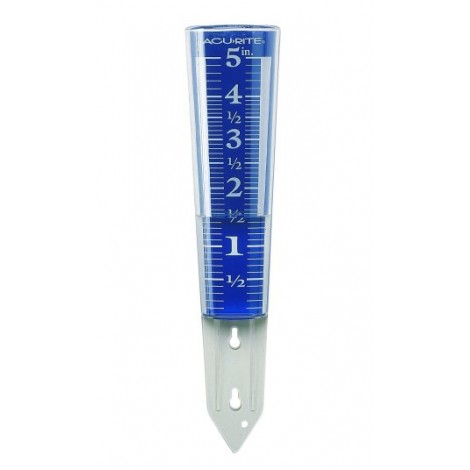 This highly-rated rain gauge is 12.5 inches in length and can be mounted or staked on the ground. The clear and easy-to-read measuring markings are capable of measuring up to 5 inches of the rainwater. It is made of acrylic, which makes it durable and weather resistant. The device is highly recommended for landscaping and small home garden use.
Expand to see more
Precision
It is specifically designed to measure rainwater (up to 5 inches) and its markings account for this. Moreover, it is light in weight and design only suits its function, which limits it from any other use.

Design
It is made of acrylic, which makes it stronger and water resistant, and this is suitable for outdoor use. Moreover, it has markings that are easy to read and clear. AcuRite comes with a hang hole and a stake that gives a user options of either mounting it or sticking it on the ground.

Cost and Value
This is a must-have for gardeners because it is not only easy to use and precise; it is also cheap and comes with an option of staking or mounting. It is also made of a strong material which makes it durable and resistant to rain.
Easy to Use
Affordable
Durable
Limited to 5 inches of rain measurement
Plastic may become cloudy, making the readings difficult to read
3. Stratus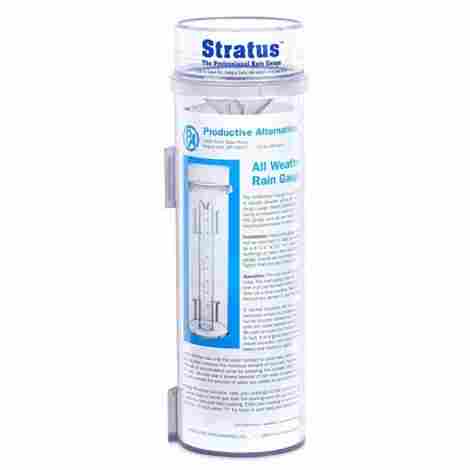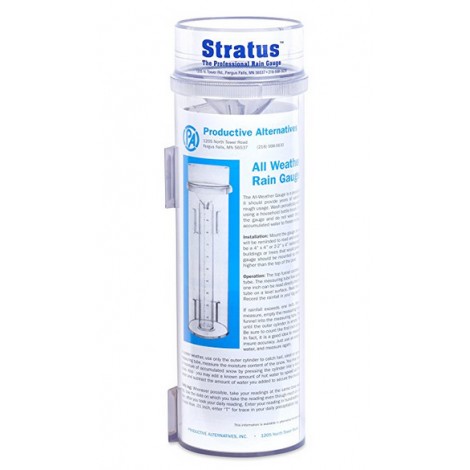 This rain gauge is user-friendly and a perfect tool to teach anyone, even kids how to measure rainfall. Made to last, with a UV tolerant polycarbonate material, it can virtually withstand harsh weather conditions and still maintain its quality. The mechanism has a funnel top that catches rain and leads it to a 1-inch tube with measurements. It can also accurately measure snow, sleet or even hail.
Expand to see more
Strength and Durability
Made of a strong polycarbonate that is UV resistant and weather tolerant. It is also made of non-metal material and this means that it is rust resistant. It can also withstand harsh sun rays and does not fade since it has a clear color.

Easy to Use
It is easy to set up the rain gauge on a post with a "quick connect" holder that can be removed easily. The funnel and measuring cylinder are then overlaid on top for measuring and can all be removed any time for cleaning or proper calibration.

Cost and Value
It is made of a tough material that is clear, rust free and easy to install. It is also multipurpose, meaning that it can be used to measure snow and hail as well. Therefore, with its affordable pricing range, it offers value for money since it is not only easy to use, but it is also made of a relatively strong material to withstand harsh weather conditions.
Water and heat resistant
Easy to assemble
Affordable
Must be suspended to work properly
Need Constant cleaning and emptying for more accurate result.
4. Taylor Jumbo Jr.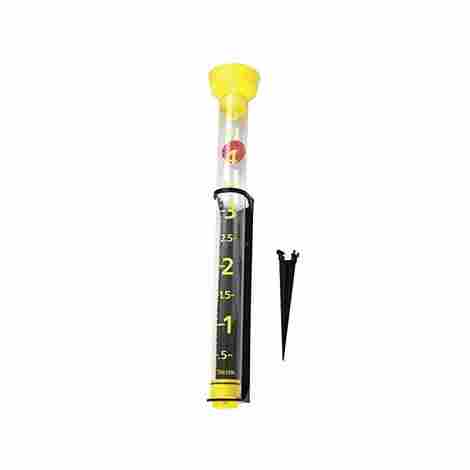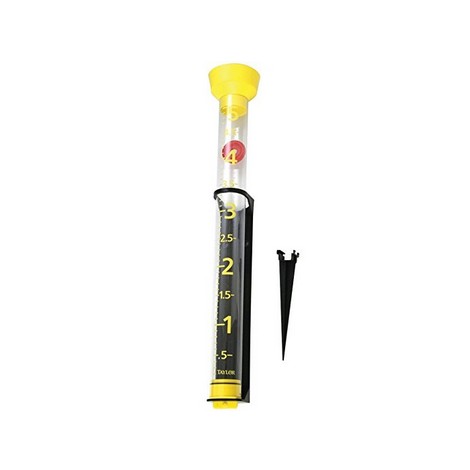 The best feature of this rain gauge is accuracy in measurement with a view diameter of 50 ft. It comes with a measuring cylinder capable of measuring up to 5 inches of rainfall and can be installed using the bracket that allows wall or fence fitting. The clear measurements coupled with its high-quality plastic finish makes the Jumbo Jr. one of the best rain gauges best suitable for outdoor rain measurement.
Expand to see more
Design
It has a plastic cylinder that holds the rainwater with easy-to-read measurements, which can be viewed from 50 ft away. Moreover, it is fitted with a lid, that is also a funnel to lead water in the cylinder, and this serves an additional purpose of minimizing debris that may interfere with the reading.

Easy Installation
With a conveniently fitted spike to hold the cylinder in place, the Jumbo Jr can be easily placed on the ground, mounted on the fence or wall to get accurate readings. The measuring cylinder can also easily slide off the holding rack to be cleaned or emptied for a more accurate reading.

Cost and Value
The rain gauge is easy to install and can be read from a distance of up to 50 ft away. The fact that it is made out of material that can withstand heat and a stand that can help it withstand heavy rainfall, it can be used for a long time without the need to find a replacement. This makes it valuable and helps one save on any cost that may be needed to improve the reading process. Also, it does not need other accessories because it comes with all parts complete ready to install and use.

Easy Set up
Can be mounted on wall or fence
Can be read from 50 ft away
Fairly costly
Requires constant emptying and cleaning for accurate reading
5. La Crosse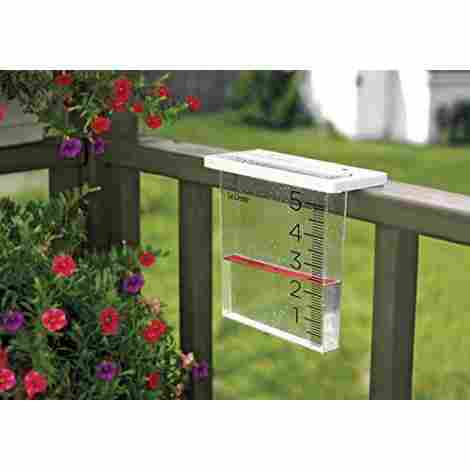 La Crosse combines functionality and design to give a rain gauge that complements the backyard garden. It has a mounting vessel and a rain-collection vessel that has markings with a red floating rain level indicator. It sets beautifully on the garden ledge with the water collection vessel sliding off to be cleaned and emptied easily.
Expand to see more
Design
It has screw holders that make it easily mountable on the ledge to give a stunning waterfall-like design. Moreover, the hard clear plastic with the red floating marker makes it easy to read and measure rainfall.

Large Markings
With the capability of measuring up to 6-inches of rainfall, the markings are designed large enough to make them easy to read. Moreover, the fact that it has a red floating marker improves the reading process.

Cost and Value
It has a hard tough plastic that makes it durable and easy to clean. Moreover, the outstanding design finish makes it a piece of art on the garden doubling up as a rain gauge. Therefore, it is worth the money since it measures accurate rain levels if installed properly.
Durable and able to withstand harsh weather
Large markings with a red level marker
Cascade waterfall design
Affordable
Limited to deck mounts
Despite large labeling, it also relies on the floating marker for accurate readings.
6. Outwest Trading Professional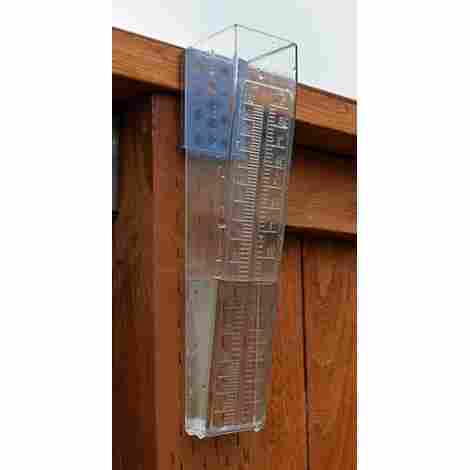 One of the best rain gauges in terms of durability and resistance, since it is virtually unbreakable with a tough material and clear markings to improve readability. With a height of 12 inches, it is wedge shaped to give accurate readings even on light rainy days. Moreover, it can be easily installed on posts or fences with a base plate that can be tightly screwed to secure the device in place.
Expand to see more
Durability
The base plate has a metal lining that helps in screwing it tightly in the place of choice to withstand wind or heavy rainfall. The material used to build it can resist the harsh UV sun rays and won't rust, improving the clarity of measurements to deliver accurate results.

Design and Functionality
Despite the fact that it does not come with the installation screws, the fittings can be easily found and all one needs to do is to mount it on a level surface. A rail post or a fence can act as the best surface to help mount the rain gauge in place.

Cost and Value
It may be slightly costly but it is one of the tougher rain gauges and would withstand UV sunrays, heavy rainfall and if installed well strong winds. The Outwest Trading Professional is easy to operate and markings are clear to help get reading easily. Therefore, it is worth every penny and once bought, can serve its purpose for a longer time.
Easy to Use and read
Dual scale in both mm and inches
Tough and durable
7. Toland 227200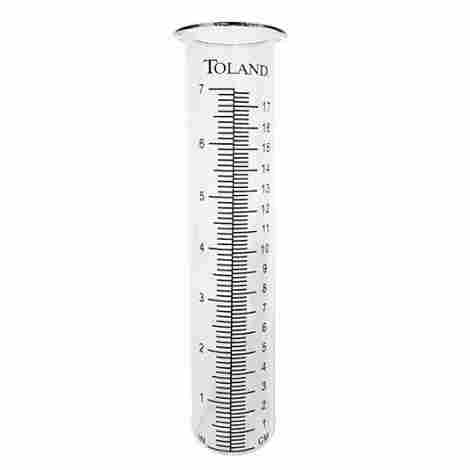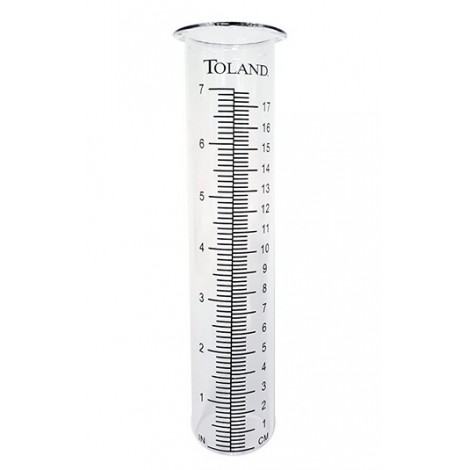 This replacement udometer is ideal to maintain both functionality and outlook of the Toland garden stand. The rain gauge collection tube may be fragile but a necessity to complete its function in measuring rainfall. They come in both amber and clear glass finish to give you a range of choices in design.
Expand to see more
Design
The udometers are of standard sizes and all perfectly fit the Toland Home system, unless you order the mini rain gauges. They also have clear, easy to read measurements that are designed not to fade.

Easy to Install
They are convenient and easy to install because all it takes is to slide one in the holder and you are good to go. This saves both time and energy.

Cost and Value
The replacement udometers come with a standard design that fits perfectly on the Toland Home rain gauge products and one cannot go wrong with it after purchase. Therefore money is not lost because you get exactly what you purchase without the stress of being shortchanged.
Easy to read measurements
Universal perfect fit size for Toland Home gauges. (Exception applies to Mini Rain Gauge)
This product is easy to install, making it a favorable option.
Costly
Fragile as it is made of glass making it expensive to maintain.
8. SPI Home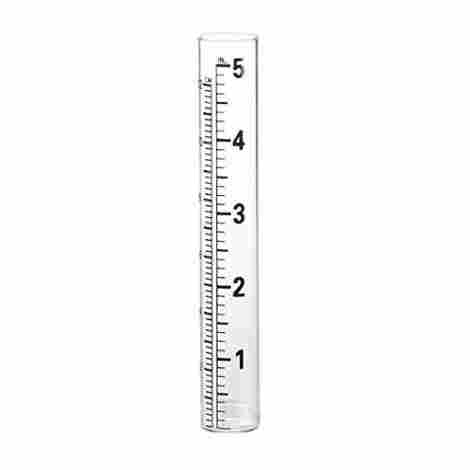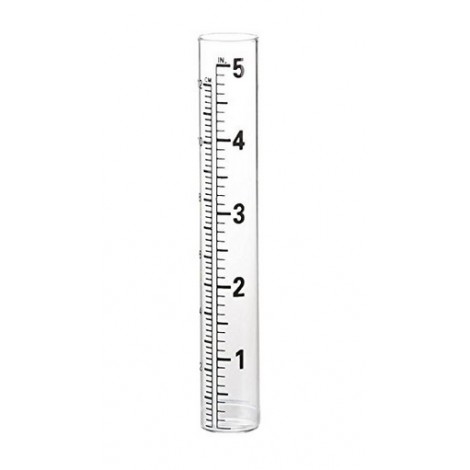 The rain gauge support replacements that are broken or worn out and has clear markings to help get the readings. Despite it being easy to clean and install, the glass finish makes it fragile, hence expensive.
Expand to see more
Easy to Install
Can be easily installed with ease since there is no additional part to be attached. It also fits perfectly and readily fitted in place to be used.

Design
It is made of a clear glass material that has permanent markings that make the reading easier to read.

Cost and Value
The material used to make it is fragile and despite its cheap price, this makes it costly in the long run. One also has to take caution when cleaning or emptying it because it may break if not taken care of.
Clear markings and easy to read
Easy to Clean
This product is easy to install.
Consumers favor the clear design.
Costly
Fragile as it is made of glass making it expensive to maintain.
9. Regal Art & Gift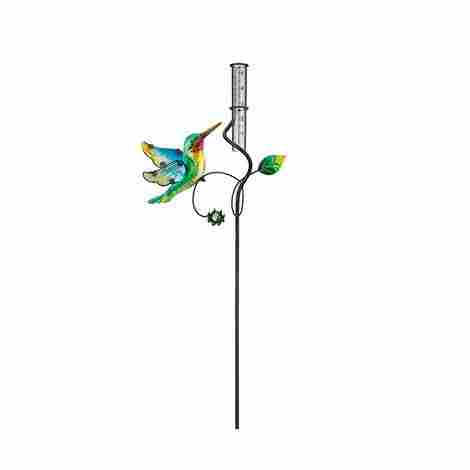 This rain gauge combines functionality and art and promises a beautiful setting for your garden. The steel sculpture and hand painted hummingbird holds the rain gauge in place, making this outdoor décor able to double up as a rain measuring equipment.
Expand to see more
Design
Handmade and crafted to blend outside, whether in the garden of a front lawn. It is not heavy and perfect weight to provide both stability and grip. The
bird
figure is hand painted to give it a beautiful finish that complements nature.
Replaceable Gauge
The gauge that actually measures rainfall can be replaced if lost or broken making the stand usable. This, in turn, saves on the cost of replacing the whole structure and can actually be used merely as an outdoor décor.
Cost and Value
Its double use makes it valuable and one gets the satisfaction needed since it is both a décor and a rain gauge. The lightweight metal finish is durable and preserves the paint to make it retain its quality.
Beautiful décor design
Gauge can be replaced
Affordable
Has only one design
The measurement markings must be viewed up close to get the reading.
10. Bits and Pieces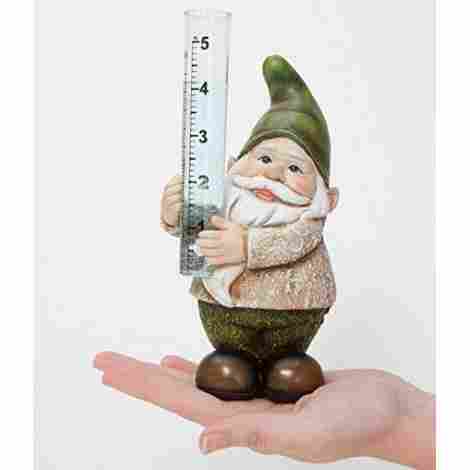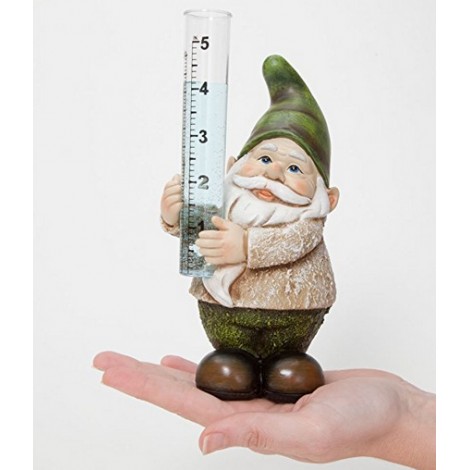 The hand-painted sculpted gnome provides that perfect accessory for garden or an outdoor décor on the front porch. Moreover, it has a plastic finish rain gauge that can measure up to 5 inches of rain.
Expand to see more
Design
The beautifully curved sculpture is weather resistant and can act as a perfect gift for gardeners since it blends well with nature. The material used in the structure of the whole sculpture is durable and can withstand harsh temperature changes.

Functionality
Apart from the sculpture being a beautiful garden piece, the plastic gauge can hold up to 5 inches of water. Its height 8 inches tall and about 4 inches wide provides perfect stability.

Cost and Value
This décor is definitely worth the money because it not only functions as a rain gauge but also a garden décor. The hard material used in sculpting makes it durable and definitely worth the money.
Affordable
Doubles up as a Decor
This rain gauge can hold up to 5 inches of water.
The design offers consumers perfect stability.
May have balancing problems if base not evenly finished
Criteria for Evaluating the Best Rain Gauges
Rain gauges are popular among weather enthusiasts, farmers, gardeners, learning institutions, and landscapers, just to mention a few. Due to the wide range of gauges available in various shapes and sizes, many people become overwhelmed when faced with the tough decision of choosing a rain gauge to serve their rain collection and measurement needs. It is important to take a moment to get familiar with the instrument and understand its capabilities before making the buy-decision and mounting it on a post in the garden. Just like other items, rain gauges offer different features and benefits that are meant to serve unique individual needs and objectives. Not everyone is simply looking for a rain gauge to measure rainfall; others also want a beautiful piece of art in their backyard to help improve their homes curb appeal and perhaps attract a higher price by increasing the home's resale value.
When looking for a rain gauge, there are certain critical aspects that should not be overlooked. The ideal rain gauge should contain features and specifications that can help it to perform its functions better. Today, there are many options to choose from, and many people can find this a daunting task especially if they do not know what they are looking for. Below are the most important aspects to consider (evaluation criteria to follow) when shopping for a rain gauge to place in an open field, such as in the backyard or in the middle of a small bush.
Size
While some people buy a rain gauge for the sole purpose of measuring rainfall, others look at other added benefits or features that will be able to meet their specific needs and requirements. In this regard, it is important to understand personal needs first before buying a rain gauge. The size matters a lot because one should consider the location where he or she is going to place the gadget. If the size of the instrument is to affect a purchase-decision, it is important to shop around for the perfect size to avoid any inconvenience because rain gauges come in several different shapes and sizes. Always check that it is suitable for the location or purpose you intend to use it for. Larger rain gauges have their own advantages and disadvantages, and this applies to smaller ones as well. If one is also looking for an art piece to place in the backyard or garden to enhance the aesthetic appeal of the home or garden, a large gauge may serve the purpose better.
Design
With the improvements in technology, manufacturers of rain gauges continue to design and produce gauges of different shapes and designs. The availability of different designs out there can be very overwhelming, and finding the right one can prove to be a very difficult task. With many confusing designs, many people become confused when faced with the difficult task of choosing what they want. Owing to the need to clean rain gauges properly, it is important to purchase designs considered easy to clean and handle.
The design is also important because some designs can handle multiple mounting mechanisms depending on the space the instrument is to be placed. The design is also of paramount importance because some gauges are designed for low rainfall areas while others are meant to measure higher amounts of rainfall in areas most frequented by rain. In this regard, some have markings to measure rainfall up to 5 inches while others may handle more or less amount of rainfall. It is also important to consider whether the gauge will be hanging on a post or placed on a flat surface off the ground. Note that some gauges are designed for mounting on other objects while others are better placed on a flat surface off the ground. If looking to mount on a post, consider instruments with mounting vessels in addition to the rain-collection vessels.
Minimalistic designs are best suited for smaller spaces, as they require a small amount of space to collect readings. Some designs with both water-collection and mounting vessels allow for the separation of the two vessels for easy cleaning. The person doing the cleaning simply slides off the mounting vessel for easy emptying and cleaning. In addition, some are designed with large markings to allow for easy reading of measurements. On the other hand, others feature outstanding finish and designs that make them ideal pieces of art that can be used to beautify the garden. Therefore, users can choose designs based on their visual needs.
Material
Some are made using materials like stainless steel, aluminum, and even polycarbonate. UV radiation is very important in rain gauges because the absence of which may cause water to evaporate when unable to obtain accurate readings. Others are made of acrylic material, which makes them strong, durable and water-resistant. Such gadgets are best suited for the outdoor environment. When it comes to choosing a rain gauge, strength and durability are very important properties. Materials like polycarbonate have high levels of UV tolerance. Such materials are able to withstand a range of harsh weather conditions without compromising their quality.
On the other hand, rain gauges made of non-metallic material are generally more resistant to rust than their metallic counterparts. For instance, gauges made of materials containing iron may be more susceptible to rust while polycarbonate material is rust resistant. Users should consider this factor before making their purchase decision because it generally affects the durability of the gadget. Gauges made of a strong material can also withstand harsh rays of the sun. The tough material may not fade easily, especially if it is of a clear color. Therefore, to easily view the contents of a rain gauge, it is perhaps advisable to go for transparent materials such as glass.
While glass may be cheap in most cases, it is also fragile and may turn out to be costly in the long run because of the constant replacement of broken gauges. Extreme care is also required when handling and cleaning glass gauges, as they may break due to carelessness. However, glass seems brittle and is more prone to breaking than other materials like polycarbonate. Under extremely tough weather conditions, the glass may not last beyond a year. If the gauge will be used to measure hail as well, then the issue of material becomes of paramount importance because durability is largely determined by the material used.
Mounting Height and Location
Rain gauges should be placed 1.5 meters above the ground. When looking to purchase a rain gauge, it is important to consider the mounting height and ensure that the mounting location is flat to enable the effective collection and measurement of rainfall. Location is important when thinking of installing a rain gauge.
Choosing a rain gauge should be pegged on a specific location. It should be free of any obstacles that may prevent precipitation from being collected in the gauge, but structured in a way that strong winds will not interfere with the gadget. For instance, if the ideal location for a gauge is on a flat surface, it should be in an open space, such as an open meadow in the middle of the forest. If the gauge is meant for the backyard, the ideal location should be some distance from trees and buildings. Therefore, the choice of a rain gauge should depend on where the user intends to mount the gadget. Purchasing a gauge with the mounting location in mind helps to choose the most ideal instrument for that prospective location, making it convenient for the user.
If the gauge is to be mounted on a post, it is perhaps recommended to consider a gauge with a mounting vessel. The post should also be 2-5 feet in height so that it is far off the ground to prevent bouncing water from splashing into the gauge. Note that the gauge should extend some few inches above the mounting post so that the gauge is higher than the post. A slanted, rounded or sharp pointed mounting post prevents rainwater from splashing back upwards towards the top of the gauge. A post with a flattened top can easily splash rainwater upwards and into the gauge, causing erroneous measurement and collection of data.
FAQ
Frequently Asked Questions
Q. What is a rain gauge?
A. This is a specially designed and calibrated instrument that provides accurate measurements regarding the amount of rain received in an area over a certain period of time.
Q. Why do I need a rain gauge?
A. While a rain gauge is not a basic requirement for every homeowner, having one means you do not need to rely on weather reports because you will have the opportunity to collect your own data and analyze it to make important decisions about garden shrubs, flowers, and plants. This simple yet powerful instrument can provide very useful information to help make key decisions about planting, gardening or any other farming-related decision.
Q. I am not well-conversant with rain gauges, can I still use one?
A. You do not require any special training to be able to use a rain gauge. The instrument is easy to install and use. Some gauges are so simple to use that even amateurs and volunteer networks can record readings accurately and with ease.
Q. What measurements are used to measure rainfall?
A. The amount of rainfall in a given area can be measured using millimeters or inches.
Q. Must every farmer have a rain gauge?
A. No. You do not have to own one. However, with the useful data and information provided by a rain gauge, you will be better equipped with critical information that can help make intelligent decisions regarding crops, flowers, and virtually any other farm operation. Important decisions include when to plant, yield or harvest projection, when to harvest, what plants would thrive in a given area, and more.
Q. I can get local weather reports, what do I need a rain gauge for?
A. Local weather reports are very useful in providing specific information about rainfall and other weather-related data. However, do not be fooled by a rain gauge's simplicity. This instrument can offer more reliable data on rainfall than any other source available elsewhere. The data obtained is very accurate because it is specific to the farm or area where the gauge was placed and measurements recorded. Note that weather reports are largely based on averages of data collected over a period of time and within a larger area. The data do not represent accurate weather conditions of a specific garden, plot, land or even village. This is why it is common to hear weather reports of rainfall in your area while in essence no rainfall was experienced. For accurate and reliable weather data, it is recommended to measure and record personal data for intelligent decisions regarding farming and gardening.
Q. How many types of rain gauges are available?
A. There are several different types of rain gauges. However, they can be broadly categorized into two: manual and automatic rain gauges. Beyond the simple manual and automatic classification, the other types of gauges include graduated cylinder, weighing gauges, optical gauges, and tipping bucket gauges. The graduated cylinder is the simplest of them all and is considered the most basic/ standard form of a gauge.
Q. What is the difference between manual and automatic rain gauge?
A. A manual rain gauge applies the direct measurement technique, where it funnels rainfall into a collector funnel before measurements are taken manually and recorded for further action. For automatic rain gauges, measurements are recorded automatically using sensors.
Q. How many parts does a rain gauge have?
A. There are two main components of a rain gauge, which include a collector funnel to channel rainwater for measurement and some kind of mechanism to receive the rainwater and measure it.
Q. Is splashing of water an issue when measuring the amount of rainfall?
A. To minimize splashing and wetting of a surface, the interior of the rain gauge funnel is coated with a special material. This coating prevents water from sticking to the surface of the funnel and affecting measurements. In addition, the funnel is deep enough to allow inflow of water without the risk of splashing.
Q. What if dirt drops inside the gauge, can I still get accurate readings?
A. To obtain accurate readings, nothing else besides rainwater should get inside the funnel. In fact, mesh filter ensures that only liquid gets inside the gauge. Leaves, silt, foreign material, bird droppings and other forms of debris are kept off the gauge to prevent possible clogging that could distort readings and measurements.
Q. Where do I place a rain gauge?
A. Rain collecting devices are designed differently to hang to surfaces or be placed on flat surfaces.
Q. How far off the ground should a rain gauge be placed?
A. To obtain accurate readings and prevent groundwater from bouncing off the ground and entering the funnel, place the gauge about 1.5 meters or 3 feet above the ground. At a safe distance off the ground, no water or object can splash from the ground into the gauge, thereby ensuring accurate readings.
Q. How do I install a rain gauge?
A. Rain gauge installation needs to follow certain guidelines in order to get the best results. Identify a safe location in an open place and erect a post on which you will mount your gauge. Ensure that the post is firm before attaching the instrument to it. The distance from a tall building/ tree to the post should be at least twice the height of that particular building/ tree.
Q. Are rain gauges manual or automatic?
A. While they were originally manual, technological advancement has enabled the innovation of automatic gauges to supplement the manual ones.
Q. Between a manual and automatic rain gauge, which one is more accurate?
A. Technological advancement has made it possible to collect and transmit accurate data from rain collecting devices. However, manual gauges have been ranked higher than automatic ones in terms of accuracy and reliability. Due to their ease of use, even amateurs and volunteers observers have no problem using manual gauges.
Sources