Best Kydex Holsters Reviewed
We know how important it is to have the right equipment every time you're enjoying your favorite outdoor activity. If one of these hobbies includes hunting, or any other sport that requires a weapon, then you understand the importance of having a holster. One advantage includes the ability to immediately reach your gun when needed. Moreover, you can rest assured knowing that your weapon can't be accidentally triggered.
Kydex is a line of thermoplastic acrylic-polyvinyl chloride materials. It has a wide variety of applications and is used for aircraft bulkheads, firearm holsters, and sheaths for knives. Kydex holsters have always been known for being safe, durable, and effective. It cost less than a leather holster but has many of the same benefits. What's more, kydex is mud, dirt, moisture and sweat resistant which makes it perfect for those outdoor adventures.
Featured Recommendations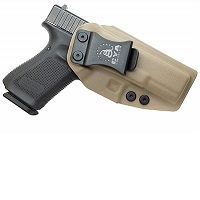 CYA Supply Co. IWB Holster

Our rating
Retention Lock System
Price:

See Here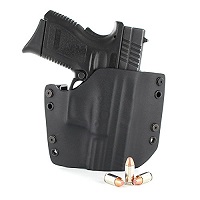 OWB Kydex Holster

Our rating
Adjustable Cant
Price:

See Here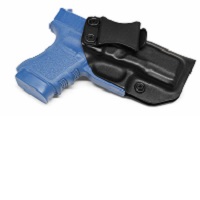 Concealment Express IWB Glock

Our rating
Custom Molded Fit
Price:

See Here

A holster not only allows you easy access to you firearm and more comfort, but it also protects and holds it in place while it's not being used. If you're looking for a new one, then look no further. We've compiled a list of the best holsters made of kydex and reviewed them so you can find one that best suits your needs!
10 Best Kydex Holsters
1. CYA Supply Co. IWB Holster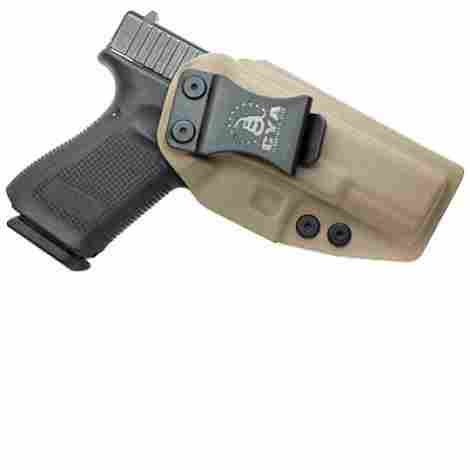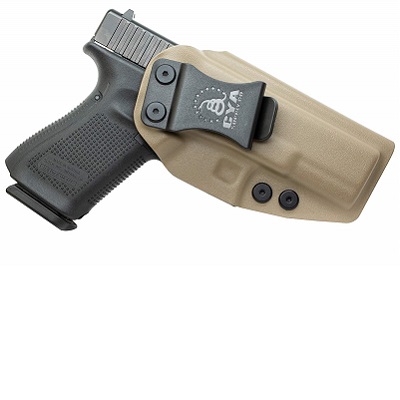 Our top choice is the CYA Supply Co. IWB Holster, and for very good reasons. This is one of the best reviewed kydex holsters on the market due to its great design and strong build. This holster is made of high quality material and is chemical and abrasive resistant. What's more, it has adjustable retention pressure and carry angle which improves its security and comfort. This is designed to hold Glock 19, Glock 19X, Glock 23 and Glock 32.
Expand to see more
Posi-Click

One of the main advantages of purchasing this accessory is that it has an audible retention lock system. It will let you know for sure whether your gun is locked in place or not and decreases the chances of dropping your weapon.

Thick Boltaron Material

CYA Supply Co. IWB Holster is constructed for long term, comfortable use. The boltaron material is thick enough to resist the roughest surfaces if accidentally dropped and covers the whole slide of your gun in order to fully protect it.

Cost and Value

This comes in the mid-price range and varies depending on the color you choose. The brand is so confident in their product that they offer a 100% satisfaction guarantee and a lifetime warranty.

Made from Boltaron
Belt clip is made of stainless steel
Has a retention lock system that you can hear
No questions asked return policy
Made for right handers
Does not support laser attachments
2. OWB Kydex Holster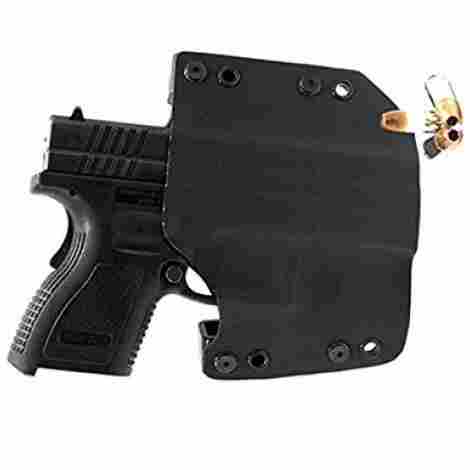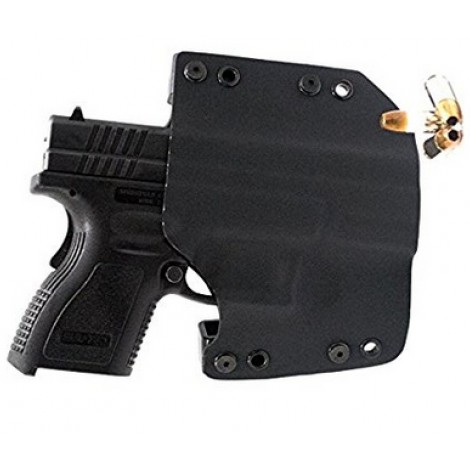 R&R Holsters has embraced Kydex as the material for this OWB holster. A 0.80" material thickness makes it both light and convenient to carry, barely providing any sensation while worn. The materials of this holster have been field tested and are guaranteed to be very resistant and durable under a lot of circumstances.

Expand to see more
Sweat-protected holster
If you're tired of sweat ruining or decreasing the efficiency of your gun and holster, this holster is for you. The holster is crafted with a specific material and surface to prevent sweat from adhering and moisturizing any part of the equipment.

Concealment carry
The OWB approach is engineered in a way that hugs your body and is contoured to deliver a comfortable fit along the hip. This design is idyllic for open and concealed transportation of smaller firearms when worn with a loose shirt.
One year replacement guarantee
Adjustable cant up to 15 degrees
Sweat protection
Handmade molding
Belt attachment rather than clip on
3. Concealment Express IWB Glock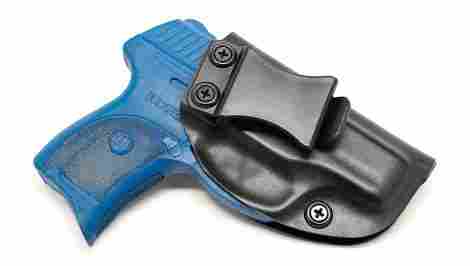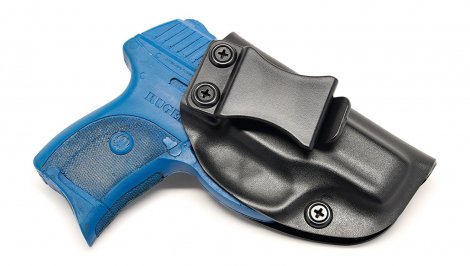 If you're looking for the most adaptable Kydex holster for your Glock,
Concealment
Express if your brand to go to. This holster is hand-made in the US to resemble the exact shape of every single Glock model it covers, ensuring both a snug fit and an optimal draw. The IWB design and size of this holster makes it ideal for concealing and carrying your Glock with you wherever you go.
Expand to see more
Ability to adapt
Concealment Express is all about giving you the option to carry your gun how you like it the most. Thanks to the changeable carrying angle (up to 15° inclination) and the adjustable screw pressure, you're able to customize the holster and adapt it to your very own preferences.

Quality components
At the end of the day, a holster's quality is directly proportional to the quality of its components. This is why all of the components of this holster are rust resistant, also counting with anti-scratching features and thread lock on all fasteners.
Suitable for appendix carry and small of back carry
Integrated sweat guard to keep a dry grip
Minimalist and compact design easy to hide
Hand molded
The clip connection is too thick and creates bulk
4. Fierce Defender IWB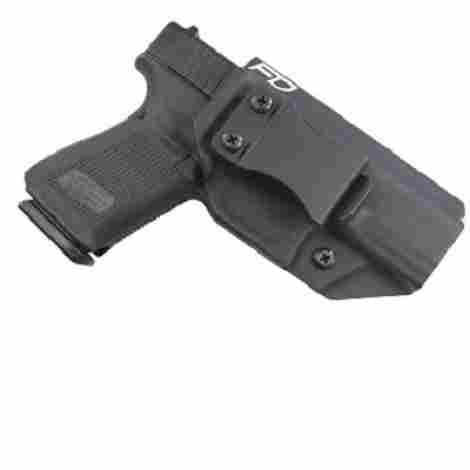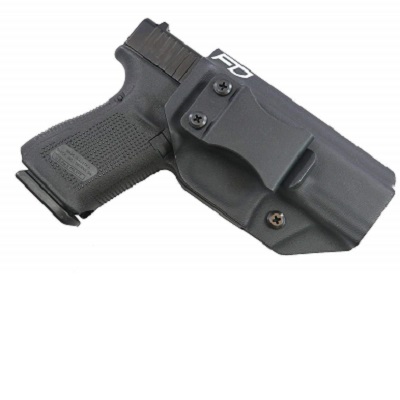 When it comes to choosing a good kydex holster, Fierce Defender IWB is definitely an option worth taking into consideration. This product has received rave reviews from users and for good reasons. Despite being thick, which provides great resistance, Fierce Defender IWB is comfortable. You can fix it on your appendix, hip, side or back. Also, it is available in 7 different shades so that you can select your favorite color.
Expand to see more
Sweat Protection

To remove any trace of concern, this holster completely covers the trigger and the backside of your gun. Moreover, the kydex is moisture resistant, so it provides protection from sweat. If the holster becomes dirty, you can easily clean it with a wipe.

Adjustable Retention

Unlike some holsters, which are made for a specific gun model and still doesn't fit right, Fierce Defender IWB offers a great solution to this common problem. Its design permits you to adjust the retention just enough to keep your weapon well-fixed.

Cost and Value

This item comes at a very reasonable price and is designed to do more than just hold your weapon. It protects your gun from moisture, dirt, and other elements than can damage it.

Made from thick material
Covers backside and trigger
Features adjustable retention
Cant can be adjust to 15 degrees
Only one belt attachment point
Needs buffer material to avoid scratches
5. Outlaw Holsters NT Hybrid IWB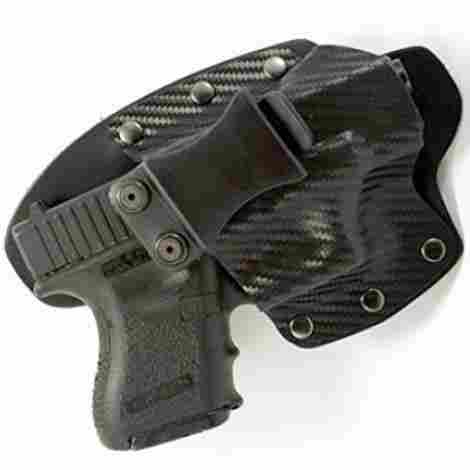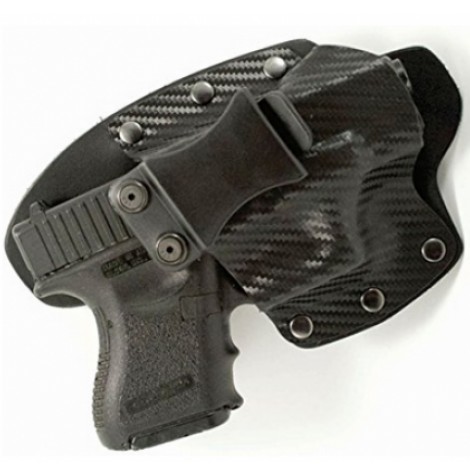 If you have a gun, chances are that the Outlaw Holsters' NT Hybrid has the right design for it. The hybrid holster is available for over 150 different guns, all specially designed to deliver the most optimal fit to each gun. The combination of Kydex and leather provides you with the support and lightness for carrying ease.

Expand to see more
Ultra-light construction
The .080" thickness of the Kydex is firm and resistant enough to protect and lock your gun, yet slim enough to be nearly weightless. Additionally, the leather and other materials of the IWB pouch are minimalist and comfortable.

Hand-made quality
Each hybrid holster is hand molded in the US to fit each gun individually, ensuring a smooth draw and fit. The IWB panel is expressly crafted to comfort the waist regardless of the dexterity.
Light and comfortable
Available for over 150 guns
Fits like a glove
Stays close to the body
6. CE Ruger LCP II IWB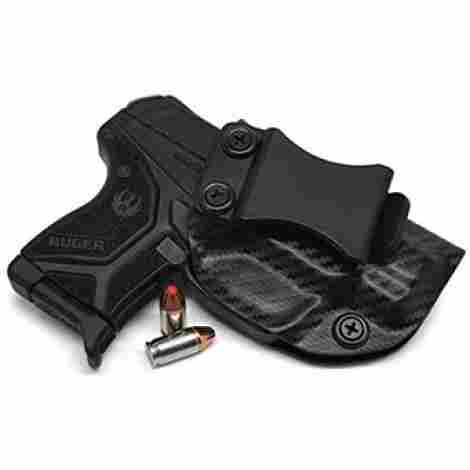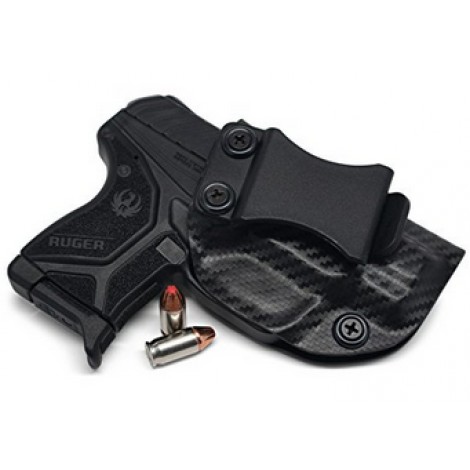 When it comes to the quality of Kydex holsters, Concealment Express is one of the most reliable companies. They're experts at designing concealed weapons, staying true to their name. The key features of their holsters are also included in the Ruger LCP II mold, built strategically into the specific shape of your gun. You can also customize your holster by changing the cant angle up to 15 degrees.

Expand to see more
Retention locking system
The intuitive lock from Concealment Express holsters let you know when your gun is securely positioned by making an audible clicking sound. The post-click technology also keeps your gun securely supported through a full day of use.

Protection against sweat
The support and positioning of the IWB holster are not affected by moisture or sweat. They're also designed to prevent friction and potentially irritating the skin. Your holster strays dry at all times.
Good concealment
Weighs just around 70g (2.5oz)
Quality guaranteed free returns
Reinforced hardware
Long shirts may get caught in it
7. Concealment Express S&W M&P Shield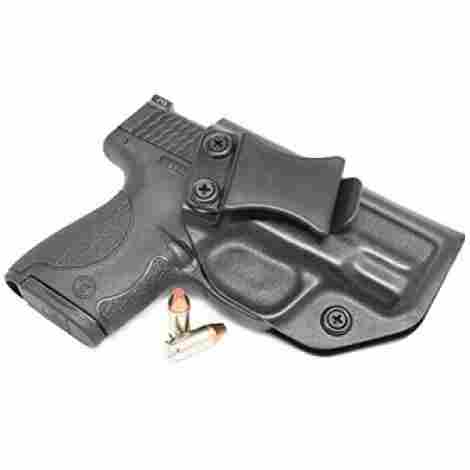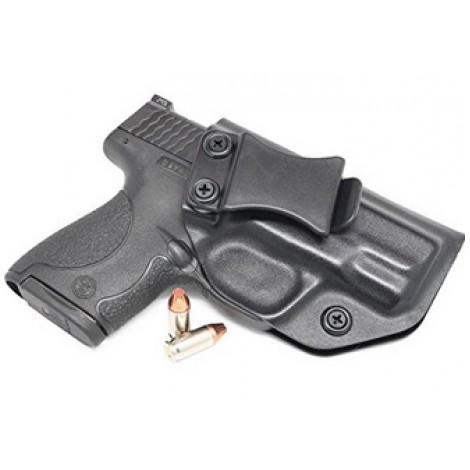 Concealment Express is unquestionably one of the most dedicated manufacturers of Kydex holsters. This company encompasses the largest variety of Kydex holsters, engineering and designing products to specifically fit the qualities of each gun separately. This particular product delivers
an optimized fit
for the Smith & Wesson M&P in calibers 9mm and .40, following their standard inside-the-waistband (IWB) design.
Expand to see more
Easily adjustable retention pressure
Manipulating your holster has never been so easy before – the S&W M&P holster counts with the ability to modify both the retention pressure and the carrying angle. Adjusting the holster doesn't require any special tools, but rather just a traditional cross-recess screwdriver which makes it extremely practical.

Posi 'Click' Audible Lock System
When carrying a firearm, safety is the number one priority. This is why this holster incorporates a clicking lock system that makes a very particular sound to let you know when your gun is being clicked in and unclicked.
Hard to see regardless of the clothes you're wearing
Black oxide hardware
Inclinable carrying angle
Adjustable retention pressure
Does not support incorporated flashlights or laser sights
8. Uncle Mike's Kydex Hip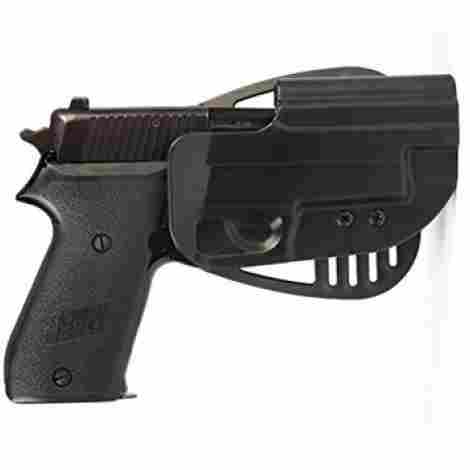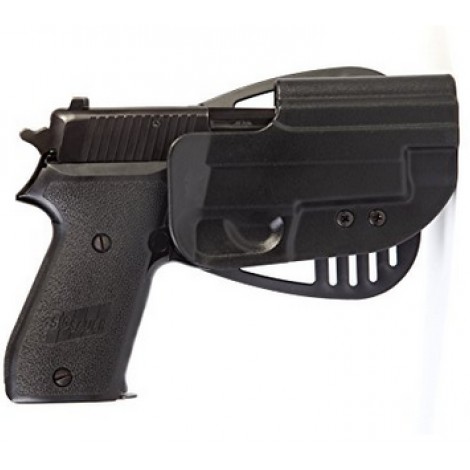 Wearing a holster hardly gets any more comfortable than Uncle Mike's Kydex Hip holster. The paddle holster is soft and flexible, also counting with incorporated ventilation spaces to achieve an easy and comfortable wear. A smartly designed body makes drawing and firing way simpler due to the cut lead edge. No matter what your gender or size is, Uncle Mike's holsters are very likely to fit you and your body type.
Expand to see more
Simple to adjust
This holster allows you to modify both rake and height, making it suitable for a much larger variety of torso heights and body types. A convenient structure allows it to be clipped at mid-level height with a vertical rake for ideal behind-the-hip transport. This holster also supports appendix carry.

Optimal fit
Uncle Mike's holsters are carefully engineered to ride close to your body steadily, allowing you to draw smoothly and quickly under any inclination. Furthermore, the paddle and belt loop accessories give you the option to personalize your hostler to the way you like it the most.
Lightweight, comfortable, and simple to carry
Soft, pliable, and breathable structure
Excellent fit – normally doesn't require any adjustment
Optimal drawing angle
Support teeth on the paddle clip may damage delicate pants
9. Tulster M&P SHIELD 9MM/.40 IWB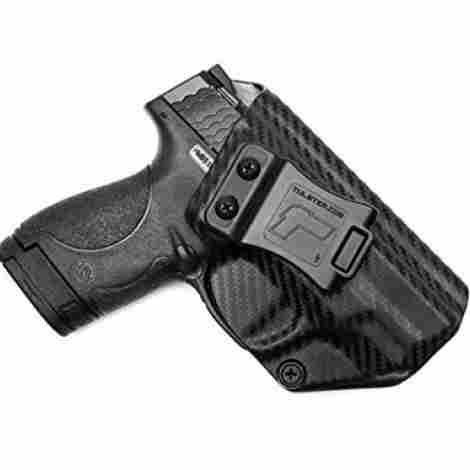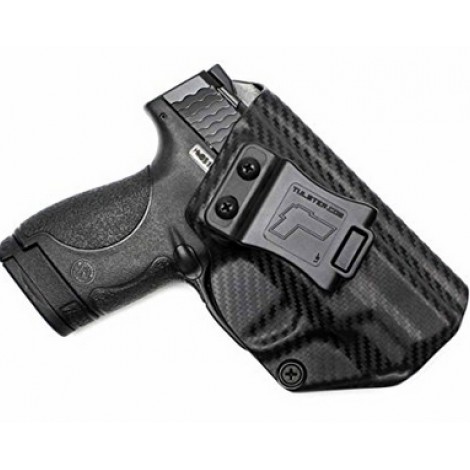 Compactness and adjustability are two of the most outstanding features of Tulster holsters, and their model for the Smith & Wesson MP SHIELD is not an exception. The holster is nearly weightless and very simple to carry with little no drag until retention point. A quick clip makes it much faster and smoother to put on and simplifies the process of taking out your weapon.

Expand to see more
Adjustable cant
A rectangular hole on the forward of the holster allows you to modify the carrying angle of your gun up to 15 degrees. The retention point is also adjustable and makes a distinctive sound when it's properly locked and unlocked.

Protection from moisture
A full protective shield prevents sweat and humidity from affecting your ability to draw and carry. The indexing point makes it much easier to holster your gun, also preventing your shirt from getting within the opening.

Cons
Uncomfortable for appendix carry.
Compatible with the newest M&P SHIELD (2.0)
Minimalist and easy to carry
Not affected by sweat, moisture or humidity
Snug fit for the gun
Uncomfortable for appendix carry
10. Comp-Tac MTAC Holster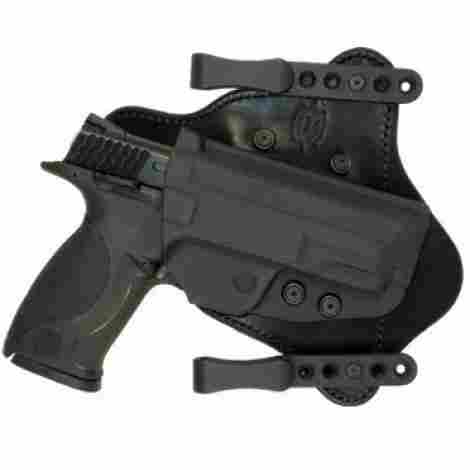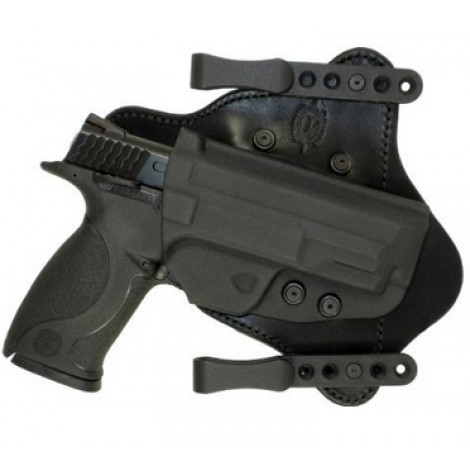 Comp-Tac's tactical hybrid holster is one of the best inside the waistband options for people who own multiple guns. There's a huge diversity of holster sizes and designs available for multiple firearms, all of which consist of a slim and light design that barely leaves any sensation while being worn. If you're looking for deep, tuckable concealment, the Minotaur MTAC is the right holster for your gun.
Expand to see more
Changeable ride depth and cant
Not everyone likes the same when it comes to carrying their guns. This is why the Minotaur MTAC allows users to adjust the carrying depth as well as the cant angle. Thanks to this, you can make the holster even more comfortable based on your personal preferences.

Efficient combination of materials
Comp-Tac's hybrid holster makes use of both Kydex and quality cowhide leather. The Kydex panel is attached to the leather backing which provides the comfortability only leather is able to. Kydex makes drawing easier and more consistent in general.
Interchangeable body for use with multiple handguns
Modifiable carrying depth and angle
Every holster is field tested
Easy to tuck and hard to spot
The fit doesn't get along with tight clothing
The main concept of holsters is to prevent any undesired movement of the gun. The last thing you want when carrying a gun is to have it swinging around your waist. In order to achieve an efficient and safer transportation, there are certain qualities and features that should always be present in a holster.
Not only are holsters the safe practice to follow, but they also increase your ability to carry and access your gun faster and comfortably. Whether it's a concealment pouch or an OWB design, the addition of Kydex improves the features of the holster in a very light manner.
Criteria Used to Evaluate the Best Kydex Holsters
Comfortability
Carrying a holster can be easy just as much as it can be hard. The comfortability of a holster is one of the most evaluated factors when it comes to purchases. Realistically speaking, nobody wants to wear an uncomfortable holster regardless of its quality and features. At the end of the day, the holsters need to make carrying a gun comfortable – a holster that lacks comfort is pretty much missing the purpose of holsters in general.
There are multiple sub-factors that determine how comfortable a holster is. The first one, as you can probably imagine, are the materials of the pouch and straps. Leathers are possibly the best materials to construct a holster for long lasting use as they're not only comfortable but also resistant and durable.
The shaping of the holster is another influencing factor. Generally, the most optimal fit is achieved by contouring the holster to the shape of your legs. This not only results more comfortable, but it also provides much more support and stability to your holster and gun. However, this requires the materials to feature a certain degree of flexibility.
When we're talking about Kydex holsters, certain components may interfere with the flexibility of the holster. However, the Kydex layer is usually applied in a manner that allows the rest of the frame to move freely. Once again, leather is a material that counts with the required features as it's a flexible material. While it may not be elastic or overly-stretchable, it should be flexible enough to contour your leg.
Comfortability is often underestimated by new holster users. Some end up sacrificing their comfort in order to obtain other features and more functionality. In reality, a good Kydex holster is both comfortable a functional at the same time; there should be no reason to select an uncomfortable holster. While it's not related to the direct functioning of the holster, comfortability is still one of the most important features to look for in a holster.
When walking around with an attachment like a holster, comfortability shouldn't be a luxury but rather a priority. The facts are pretty straightforward; you can't carry a gun properly if your holster is uncomfortable. The last thing you want as a gun carrier is a holster than pokes you around as you walk, not to mention any other motion in which your holster may interfere.
No matter how good a holster is, if it's not comfortable then it's no good. Usually, an uncomfortable holster doesn't even get a second evaluation – as soon as users find it uncomfortable they discard it as an option.
On the other hand, a holster that is utterly comfortable has greater chances of being selected even if the rest of its qualities aren't the best ones. While the other aspects of the holster are important too, comfort is the one that has the most physical impact on the user.
Adjustability
Not everyone likes the same things, which is why the best holster manufacturers allow users to adjust the configuration of their holster in order to achieve the fit that they find the most optimal. There are multiple ways in which a user can adjust their holster to make them both more comfortable and more functional under their personal user preference.
We gave priority to holsters that include the possibility of modifying the riding depth and similar qualities. People shoot differently in general whether it's because of their body shape, holster type or dexterity. Thus, certain users may require a deeper ride in order to access the gun more comfortable, as opposed to some other users that are more comfortable with a higher retention.
Generally, there's no standard as in which depth is better. As long as your gun stays within an ideal range for drawing, all that matters is that the gun is aligned and positioned to your drawing form and technique. Additionally, your clothing may occasionally become a factor that requires adjustment on the height of your holster.
Cant adjustment is a great advantage when it comes to Kydex holsters. Usually, the cant adjustment is limited to 0-15 degrees, but this may vary amongst manufacturers. For those of you unfamiliar with the term, the cant is the angle in which the gun (or rather the gun's grip) is positioned while carrying. The term comes from an engineering angle term, and it basically describes the angle of a surface (the grip in this case).
The cant can be positive, negative, or completely neutral. Depending on your dominant hand and type of holster you should opt for different cant angles. A positive cant is that in which the grip is inclined forward from its vertical point, meaning the barrel is in a lower position than the grip. A negative cant consists of the exact opposite, but it's not generally used for traditional carrying as it would require an odd drawing motion.
The FBI cant is the standard pistol positioning followed by most users. It consists of a positive inclination that goes from 15 to anywhere up to 20 degrees. The inclination allows you to access your gun quicker and much more comfortable as opposed to the fully vertical positioning (neutral). It's the recommended angle to carry your gun at. Supposedly, it's called the FBI cant because it's the standard used by federal agents when carrying guns.
The grip angle has a huge impact on how quickly and efficiently a person can draw. The FBI cant is the recommended carrying angle as it improves your hand positioning and speed while drawing. At the same time, the positive inclination positions the gun a manner in which aiming is easier as the gun is already pointing forward when drawn.
On a vertical grip, you would have to draw your gun in a totally vertical angle and wouldn't be able to straighten the sight until it's completely out. Additionally, the wrist positioning may be more forceful depending on the placement area of the holster. All of these factors ultimately lead to slower drawing and aiming.
Holster position
There are multiple ways in which you can carry a gun. The most commonly used positions are outside the waistband (OWB) and inside the waistband (IWB), the latter is also known as a concealed carriage. These two are by far the most optimal positions to carry your gun, but this may not be true under very specific circumstances where alternate carrying positions may be more effective.
Each carrying position achieves a different purpose. Although concealment carriage is the best practice for public gun transportation, you may occasionally a need different (or additional) holster approach. Both IWB and OWB holsters are usually worn between the 3 o'clock and 6 o'clock as it's the prime range for quick drawing and access to the gun in general.
IWB holsters tend to be the most minimalist, as the objective is to be as less noticeable as possible. IWB holster manufacturers make specific emphasis in achieving a non-printing frame. The term "printing" refers to the holster marking your clothes to the point where it's noticeable from the surface, which is the exact opposite of the IWB holsters' purpose.
OWB holsters can also work for concealment. Depending on the manufacturer (and as long as the holster is actually meant to be concealed), wearing certain clothes can help you to efficiently cover your firearm. Forcefully concealing an outside the waistband holster is not only uncomfortable but most likely it will still be noticeable too.
But, holsters are not limited to waist carriage. There's a huge variety of ways to carry a holstered gun – including pocket holsters. Some other popular holster positions include appendix carriage, lower-back holsters, ankle holsters and even jacket holsters.
The positioning of your holster should depend on multiple aspects; some of them involve functional aspects while some others really depend on just personal preference. Keep in mind that almost all types of holsters can work for concealment as long as they're designed for it. On the other hand, you can't expect to successfully (nor comfortably) conceal a holster that's designed specifically for open carriage.
Certain holsters can be adapted to multiple parts of the body. This is much more convenient due to the simple ability to access various positions for your gun with the same holster. But, being efficient for all positions also means it's not particularly efficient for each one individually. In simpler words, a holster designed for IWB carriage will be much more efficient than an adaptable holster adapted to IWB transportation.
When acquiring a specific type of holster, you want to consider multiple factors that determine the most convenient style for you. Your drawing hand and style should be the first parameter to take in consideration. If you're a cross-drawer, make sure to opt for a holster that allows you to invert the position of your gun; if you're right-handed drawing from your left, you'll be reaching for the gun in the opposite direction, and thus the grip should be facing your right hand.
Concealment is another thing to consider. We particularly recommend concealed carriage unless you have a specific purpose in which open carriage is more convenient or functional. The most effective way to conceal a gun is to use a vertical angle, but this results in the more uncomfortable carriage. The closer to the hip, the more hidden the gun will be, but the proximity to the hip may affect the comfort.
Materials
Thermoplastic materials such as Kydex are possibly the best type of material you can get your hands on for holsters. They offer the very same qualities (if not better) than any traditional material while being considerably lighter. Thermoplastic materials are polymers that become pliable when they reach a certain temperature. This means that they're very easy to mold after being treated with heat.
Because of this, Kydex is the perfect material for creating different molds that adjust to the shape and size of each weapon individually. As if that wasn't enough, these materials are derivate from plastic which makes them fairly affordable, as opposed to materials like carbon and other fibers that require a thorough synthesization process.
One of the main qualities of thermoplastic materials is their minimalism. A 0.8" layer of a material like Kydex is all you'll need to safely carry and protect your gun. Despite its lack of thickness, this kind of materials is greatly resistant to both normal usage and unexpected impact damage.
A thermoplastic gun pouch can endure thousands of draws and reholsters while still being pretty much as good as the day it was molded. If you're opting for a weightless holster, a Kydex gun holder is just about the right way to go. It's one of those materials that look like they're indestructible and most manufacturers have embraced it (or similar thermoplastic materials).
Keep in mind that the thermoplastic material is molded to the very shape of the gun it's meant for, and thus they most likely don't include enough space for any gun attachment. However, the ability of this material to be molded freely under heat allows it to create custom holsters that support the desired attachments too.
Unfortunately, a holster made out entirely of thermoplastic materials wouldn't be convenient. These supplies are normally used only for the mold of the gun rather than the whole structure, as they become extremely solid after being treated with heat. Thus, it'necessary to complement the holster with other more suitable materials.
Leather is the second best option, and it's been possibly the most used material for holsters since holsters exist. At the same time, leather is a much more complex material as its quality varies based on a large list of factors. The animal it comes from, the tanning quality and stitching are all things to take in consideration when getting a leather holster. We recommend either synthetic leather or full-grain leather, although other leathers are just fine.
The good thing about leather is that, as opposed to other materials, it gets better with time. Leathers gets a better character as it ages; it gets softer and starts to adapt to the activity it's used for. After wearing a leather holster for some time, you'll get the most comfortable wear you could possibly get, as the leather will stay just the way you like it as you use it repetitively.
Breaking into leather can be troublesome too, though. Don't get us wrong; this doesn't mean that leather holsters should be uncomfortable, only that they're in their prime after some usage time.
Nylon is commonly used for the creation of holsters as well. It's not as resistant as any of the other materials, but it's very versatile. Nylon is used in pretty much every type of holster, but always keep in mind that nylon has different levels of qualities, just like leather. When going for nylon (or any material for that matter), you want to make sure you're acquiring it from a reputable manufacturer.
Low-quality materials may not only be uncomfortable, but they also break faster. On top of that, a cheap material is likely to interfere with the functionality of the holster. Low-quality nylon holsters, for example, start to gradually close affecting the drawing and reholstering smoothness.
FAQs
Frequently Asked Questions
Q: How durable are Kydex holsters?
A: Kydex, in particular, is highly resistant and is one of the most durable materials out there. Although the durability of the holster as a whole depends on all the materials as a whole, the Kydex segment should endure a lifetime of active use – in fact, some holster manufacturers offer a lifetime guarantee.
Q: Which out of all holster types is the most comfortable?
A: There's no default holster that is the most comfortable, but rather multiple holsters that are the most comfortable option for their specific use. In general, though, non-concealed holsters are unquestionably the most comfortable as opposed to models that go inside the waistband.
Q: Should I own more than one holster?
A: If you own more than one gun, an additional holster may be necessary due to the specific molding of each holster. At the same time, you may use more than one holster for the same gun given that you require to carry it differently for specific occasions.
Q: I'm new to handguns, which holster should I purchase first?
A:If open carriage is permitted in your locality, we recommend an outside the waistband design for your first holster. Make sure you get your hands on something adjustable so you can experiment with different settings and find one configuration that suits you the most.
Q: Is it obligatory to have a holster?
A: You can own a gun without a holster, but transportation is very limited when you don't have one. If you plan to carry your gun with you anywhere, you are expected to transport it in its respective holster. Not only is it much more comfortable and easier to access, but it's also a safety measure – both for you and your environment.
Q: Could someone potentially draw my weapon from the holster?
A: One of the functions of holsters is to prevent your weapon from moving freely during transportation. The locking system and other safety aspects should make it very complex for another person to access your gun (given that it's properly locked in your holster).
Q: What is Kydex?
A: Kydex is a plastic-like compound treated with heat in order to be molded to the specific shape of each gun. This thermoplastic compound has great feats of resistance, durability, protection, and it is lightweight. Lastly, being a plastic derivate makes it much more accessible than traditional materials.
Q: Is Kydex good for concealment holsters?
A: Like explained previously, Kydex is a material ideal for uses that require functional features in a minimalist aspect. Kydex can deliver high levels of efficiency in a layer as thin as 0.8", ultimately weighing considerably less than pretty much any other traditional replacement. The lack of bulk makes it easy to conceal.
Q: How much do holsters normally weight?
A: It really depends on the type of holster, as well as the materials that are implemented in its construction. However, if we're talking about Kydex holsters, you can expect your holster weight just under 150 grams (5.30oz approx.).
Q: Can I carry two holsters at the same time?
A: You surely can. Depending on what you're looking forward to, two holsters may actually be more efficient than one. Generally, when owning two holsters you should opt for two different locations. For example, an IWB holster complemented by an ankle holster is an efficient concealment combo.