Best Skinning Knives Reviewed and Rated
last updated
Mar 16, 2019
Once the animal is down the hunter has their work cut out. The skinning game can make many people balk, but having the right equipment on hand makes the job that much easier. A good quality, sharp skinning knife puts the hunter in control and gets the job done neatly, quickly and most importantly effectively. A few old favorites still hold sway over the knife market. Names like Buck and Victorinox are well known and respected and offer top quality. Innovative products from Havalon have also made an impact on the market, as well as homegrown favorites like Bark River Knives.
In a Hurry? The test winner after 11 hrs of research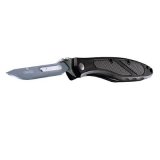 Havalon Piranta Z
Why is it better?
Multiple blades remove the need for sharpening
Sharp out of the box
Small size makes it great for fiddly work
In a
Hurry? Editors choice: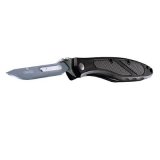 Test Winner: Havalon Piranta Z

32
Researched Sources
27
Reviews Considered
11
Hours Researching
50
Products Evaluated
Model
Weight
Advanced Features
Features
Size
By Default
10 Best Skinning Knives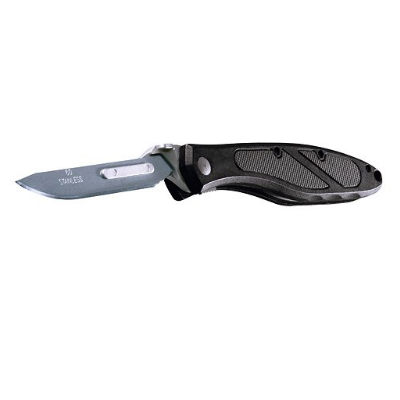 Multiple blades remove the need for sharpening
Sharp out of the box
Small size makes it great for fiddly work
Changing blades is potentially dangerous
Blades have been known to fall off during use
This is the baby brother of the Baracuta-Blaze and provides the smaller option for fine knife work and smaller game. Keeping a sharp knife is as easy as swapping blades with the Havalon Piranta Z. A no-fuss mechanism makes this easy. The Piranta Z comes with 12 replacement blades; keeping you in the game for longer.
Read more
Precise
Surgical performance is the intent of these knives. The short blades make the Piranta Z well suited to skinning smaller game; and fine work associated with camping out. Again, changing blades can pose some difficulty.
Features and Specifications
Folding 2 3/4" blade
Includes 12 replacement blades
Military grade polymer handle comes in either black or blaze orange
Nylon holster and removable pocket clip
Cost and Value
The Piranta Z costs a little less than its big brother, the Baracuta, and won't break the bank. Replacement blades can add up over time.
2

. € Skinner – Victorinox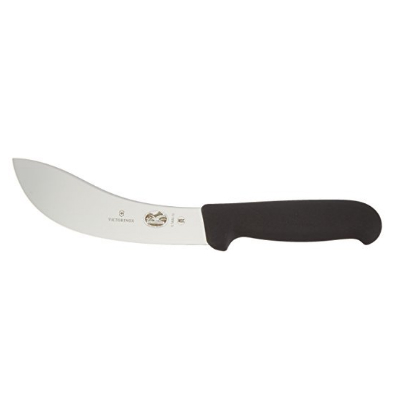 Made in Switzerland
Fantastic economy
Proven 'working' knife
Victorinox makes some of the highest quality knives available in terms of steel. This economic knife makes light work of big game skinning. The steel used in the construction of Victorinox knives sets them apart. If you're looking for a blade of ultimate reliability at the lowest cost of this list; then this is the choice.
Read more
Small and Mighty
The best value for money around. Having a 6" blade, this knife can be awkward for small game but performs well for large animals and species that require lots of knife-work to the skin – such as wild boar.
Features and Specifications
Fixed 6" blade
Fibrox handle
Cost and Value
This is the cheapest knife in the list, but don't let that fool you. These knives are cheap because they're targeted towards professionals like butchers that aren't looking for fancy items; simply top quality products.
3

. Havalon Baracuta-Blaze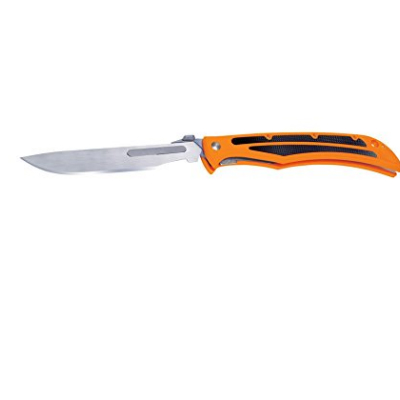 Multiple blades remove the need for sharpening
Highly visible handle won't get lost in the woods
Sharp out of the box
Changing blades is potentially dangerous
Fine gauge blades lose the edge
For anyone that has trouble keeping their knives sharp, Havalon produce skinning knives with replaceable blades. When one's dull, simply swap it for another! Keeping a sharp knife is as easy as swapping blades with the Havalon Baracuta. A no-fuss mechanism makes this easy, and the Baracuta is also compatible with serrated and filleting blades for a 3 in 1 knife.
Read more
The Blade
Sharp straight out of the box they perform well. Never hassle with sharpening your knife again. With this option, you simply change out the blade once it becomes dull.
Features and Specifications
Folding 4 3/8" blade
Includes 5 replacement blades
Military grade polymer handle in blaze orange
Nylon holster and removable pocket clip
Cost and Value
A mid-range knife in terms of cost, the Baracuta-Blaze won't burn a hole in your pocket. Replacement blades can add up over time.



Made in the USA
Buck's 'Forever Warranty'
Elegant, timeless style
Requires skill to sharpen
Plain looks
You can trust Buck to deliver quality and performance backed by a lifetime warranty. As a skinner, this knife offers the ultimate in simplicity and practicality. High-quality 420HC steel used in the blade of the Ranger Skinner is a time-proven performer. Easy to sharpen and tough enough to retain its sharpness, this blade won't let you down.
Read more
Good for the deer hunter
This is a great little knife for a variety of applications; and is best suited to skinning medium sized game such as deer.
Features and Specifications
Fixed 3 1/8" blade
American walnut handle
Leather sheath
Price/Value
This knife is very affordable. While not the cheapest on the market, it is a great value. Easy to sharpen so you are always at the ready.
5

. Outdoor Edge SwingBlade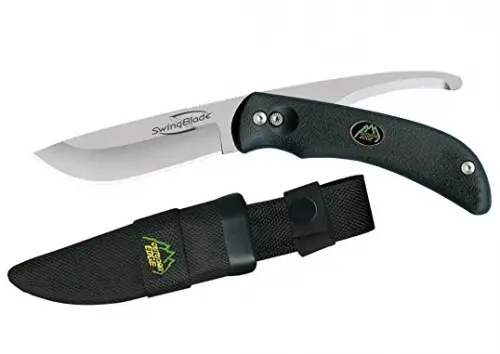 Two specialized blades
Unique design
Sturdy construction
Effectively a fixed-blade in terms of total length
A novel approach to multi-blade knife design; the SwingBlade offers a conventional skinning knife as well as a specialized gutting blade designed not to pierce internal organs when opening up an animal.
Read more
Functions well
The design of the SwingBlade is great for keeping one blade sharp for specific uses. The cutting blade has a rounded blunt tip to lessen the chances of bursting internal organs while gutting an animal. Saving this blade for the task frees up the other, conventional blade for skinning.
Features and Specifications
3.6" Skinner; 3.2" Gutting blade
Rubberized TRP handles for grip
Nylon sheath
Cost and Value
This knife is another mid-range option. Two blades become very handy in a range of situations, however, and greatly increase the value for money.A good choice for those who want the added safety of a specifically designed cutting blade. This blade design is a better choice than gut hooks as it's far easier to sharpen.
6

. Old Timer 152OT Sharpfinger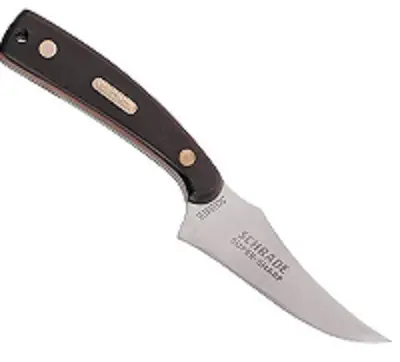 Inexpensive
Quality Steel
Excellent Shape
An affordable full tang and fixed blade knife. The straight handle allows for a good grip and better precision.
Read more
Effective Cutting
The Old Timer has an upswept blade that make it ideal for skinning. The shape of the blade provides a larger cutting surface making as effective as the other skinning knives in this category.
Features and Specifications
3.3-inch blade
7.1-inch total length
Weighs 3.1 ounces
Leather sheath
Blade made with High Carbon S.S.
Cost and Value
The Old Timer is another affordable knife with a durable handle that helps keep you in control. Comes with a brown leather sheath and is very sharp right out of the box. If you are looking for a skinning knife with a price tag under the twenty-dollar mark, the Old Timer might be what you are looking for.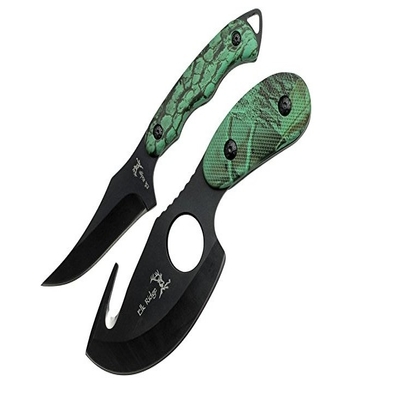 Two knives for the price of one
Affordable
Textured handles
Nylon Sheath
Designed specifically for hunting this Elk Ridge knife comes prepared to help you skin even the thickest of catch. Featuring a 7-inch straight edge hunting/skinning knife as well as a 6-1/2-inch gut hook knife this set is one that should be a part of your hunting kit.
Read more
Double the value
You are getting two high-quality knives for the price of one. Additionally, you are getting a sheath to keep your knives protected from the elements.
Features and Specifications
7-inch straight edge for hunting
6-1/2-inch for gutting
Black nylon dual carry sheath
Textured handle
Cost and Value
If you are looking for quality at an affordable price point this is an excellent option. Consider these the perfect addition to your skinning and hunting kit.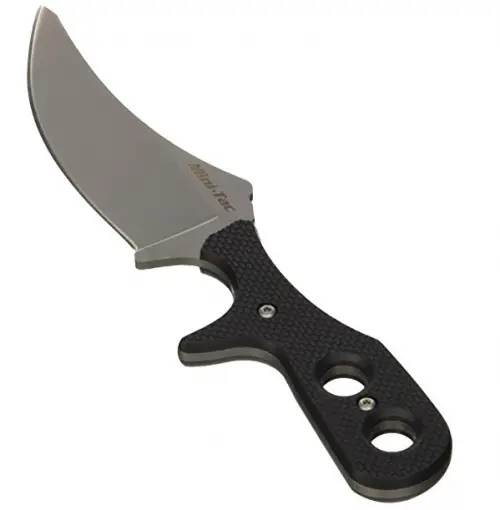 Trailing Point blade design
Thin blade easy to work
Snug-fitting sheath
Handle ergonomics compromised by shortness and narrowness
The Mini Tac Skinner offers a long cutting edge for the length of the blade, coupled with a secure handle design. The Trailing Point blade design of the Mini Tac gives a long cutting edge to the blade. This is great when lots of knife-work is needed during the skinning process.
Read more
Large cutting surface
The Mini Tac Skinner is a good option for anyone after increased cutting surface. This design is well suited to animals that require a lot of knife-work to remove the hide. It may not be the most ergonomic choice for extended work.
Features and Specifications
Fixed 3 3/8" blade
Neck sheath
Cost and Value
The Mini Tac Skinner is an economical option for those after a modern knife design and plenty of cutting surface length.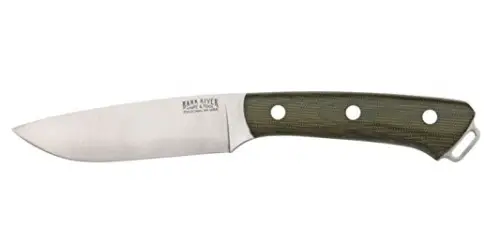 Versatile skinning knife design
High-quality craftsmanship
Made in the USA
Lifetime Warranty
The Fox River Hunter is an elegant knife that will perform to the highest degree under any circumstances. Several handle material options are available for the Fox River Hunter. Underlying the cosmetic appearance, though, is a well-crafted knife of top quality.
Read more
Good quality
This is a high-quality knife in terms of components, design and looks. The cost of the knife is prohibitive, but considering the product itself, it may be a worthwhile investment for anyone who really likes their knives.
Features and Specifications
Fixed 4 1/4" blade
Handle material options
Leather sheath
Cost and Value
The Fox River Hunter is the most expensive option on this list. It does, however, offer the peace of mind of being made in the USA, and comes with a lifetime warranty.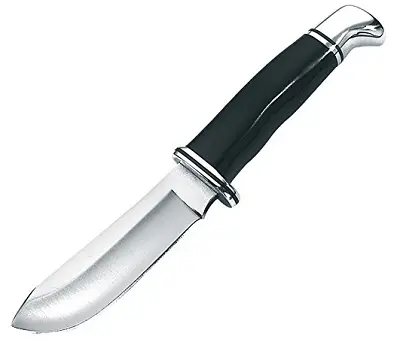 Made in the USA
Buck's 'Forever Warranty'
Rugged construction
Can take an effort to sharpen
This knife has long been a favorite of many sportsmen. Solid, simple construction makes for a reliable working knife well suited to the skinning game. A blade design allows for more cutting surface over the blade length, while controlling the point to reduce chances of puncturing a hide.
Read more
Hard working
This is a relatively heavy-duty knife. While it can take some practice to keep the blade razor sharp, it's well worth the effort. Hunters looking for a deer skinning knife need look no further.
Features and Specifications
Fixed 4" blade
Phenolic resin handle
Leather sheath
Cost and Value
The 0103 Skinner is another affordable knife. Buck's 'Forever Warranty' gives peace of mind when purchasing.
Criteria Used for Evaluation


Model
Blade design is the main distinguishing feature of a skinning knife. Traditional skinning knives are built on the 'trailing point' design; having an upward-curving blade with its point extending above the spine of the blade. This gives an increased cutting area along the curve of the blade; meaning fewer strokes are needed. While this is well suited to working on an animal that's already been 'opened up'; a traditional skinner can be awkward in the initial stages of skinning. 'Drop point' blades are well suited to performing the initial cuts when skinning and opening the animal up. These blades are also useful for fine knife-work associated with caping animals for mounts. Fixed blade knives are traditionally preferred for skinning. This is due mainly to personal preference as a folding knife offers reduced size and increased safety when not in use. A knife with a blade locking mechanism is the safest choice for folding knives.


Weight
When shopping for a skinning knife, you will want to consider one that is lightweight. Carrying one that is heavy can be unfavorable for most hunters. Since the knife weighs more it is naturally more difficult to hold. This extra weight has a tendency to weigh down the hand, leading to hand fatigue that can ultimately result in cuts. A heavy knife is also burdensome to carry while walking in the woods.


Advanced Features
One of the more important components of a skinning knife is an ergonomic handle. First, you will want one that has a non-slip, comfortable handle. A thicker handle is better when skinning, as a thin handle can result in your hand running up to the blade while striking on a hard surface, like a bone. In addition to good traction, you will also want one that is made out of durable materials, so it can endure prolonged usage and will not break. The handle should be ergonomic, non-slip, comfortable, weather-proof, and durable.


Features
Knives that included a sheath ranked highly. As a lot of work is undertaken in the field, a sheath is vital for containing the knife and keeping the owner safe when not using it. Belt sheaths are most practical in a range of situations, but require that the knife is held snugly or fastened in place by a lanyard or clip – so that there isn't a risk of losing the knife when pushing through obstacles or through bouncing out.


Size
Shorter blades are preferred for skinning knives. These are most practical as they are easy to use and are very maneuverable. They offer good control for fine workaround joints and when caping animals. Shorter blades also require less work in sharpening and honing. For skinning big game, longer blades become more useful as it isn't practical to make many small cuts with a short blade. The longest blade choices on the list are best suited to the big game. For a smaller game such as squirrels, rabbit, and beaver, a good size blade is 3 – 4 inches. This type of game is generally between 15 to 50 pounds in weight and have shorter hide. If using a longer blade, it would be extremely difficult to skin a rabbit.
Expert Interviews & Opinions
Most Important Criteria
(According to our experts opinion)
Experts Opinion
Editors Opinion
Users Opinion
By Default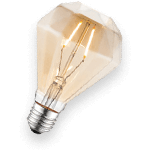 Use your knife as little as possible
The most important detail concerning skinning, that many overlooks, is to use the knife as little as possible. It's actually quite easy to skin a mid-sized game animal with approximately twelve strokes of the knife! After hanging the animal by its hind legs, a good skinning knife opens up the hide and frees it from the extremities of the legs; at which point the skinner pulls the hide away from the carcass and works it loosely with their fists.
The components that come with your knife are very important
Quality steel is the most important consideration for any knife. Poor quality steel may never attain great sharpness; may become dull quickly, or maybe so hard that sharpening is nigh impossible. Quality High Carbon Stainless steel is a good choice for most situations as it has fine sharpness and holds its edge well, and isn't prone to rust or blemishes.
Keep in mind the customer service of the product you prefer
Choosing a knife from a well-regarded manufacturer is a sensible purchase. Many fixed blade knives and well-constructed folding knives have little in the way of parts that can malfunction. Faults most often occur in handle materials and sheaths; or from heavy-duty work. Manufacturers like Buck and Victorinox are highly regarded for their product quality and reliable support. Buck Knives offers a lifetime warranty; along with such companies as Bark River Knives. Knives manufactured in countries like the USA and Switzerland are also supported by the quality inherent in the production process.
Other Factors to Consider


Bottom Line
Choosing a skinning knife comes down to the type of animals you'll be skinning and the amount you're prepared to pay. For anyone that simply wants a working knife, there are plenty of rugged options available. Knife connoisseurs also have the choice of skinners at the top of the market.
Frequently Asked Questions
q:

What knife brand is best?

a:

There are many well-regarded manufacturers that produce great knives. For quality and economy, companies like Victorinox provide a range of knives aimed at the professional market. Buck is a long-standing American manufacturer who retains production of most of its knives – but checks before purchase. Smaller scale production companies like Bark River offer a good, but expensive product.
q:

How do I keep my knife sharp?

a:

Apart from learning the techniques involved in sharpening and honing knives, there are a few simple steps that can be taken to ensure a sharp knife. Do all cutting on a wooden or plastic cutting board to protect the blade edge. When skinning an animal, insert the blade under the skin and cut outwards – cutting through hair quickly dulls a blade.
q:

What's the best skinning knife design?

a:

For most small to a mid-sized game, an all-rounder drop point blade with a fair amount of belly (blade depth) ensures adequate cutting surface on a relatively short knife. This design allows the user to complete fine knife-work as well as generalize skinning and slicing. For big game, a longer knife is required.
q:

What's the best knife-sharpening tool?

a:

Ask any professional and the answer will be a whetstone and quality steel. A whetstone is the best choice for sharpening a blade as it's lubricated by water. Oilstones do the same thing but require the user to have suitable oil on hand – which is an extra thing to forget. Different grades of whetstones are available. A good choice is a stone with two faces – one moderately coarse to quickly sharpen the edge; and a fine face to begin polishing the edge. The final part is the use of steel to polish the blade to a fine degree of sharpness. It's common to spend more on quality steel than the knife you sharpen with it. Many other sharpening tools exist on the market and offer varying success.
q:

What should I look for in a sheath?

a:

A good sheath keeps you and your knife protected. Generally, it should be snug fitting so that it takes a little effort to insert and remove the knife. When inserting the knife, it should slide 'home' with a positive grip – if it just drops in it's likely to fall out. Deep sheaths that only expose the end of the handle help keep the knife secure. A shallow sheath holding mainly the blade is fine if there is a wrap-around clip to secure the knife in place. A belt sheath is the most practical but can get in the way when sitting down.