Best Skinning Knives Reviewed and Rated
In a Hurry? Editors choice: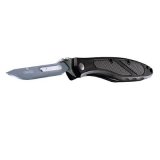 Test Winner: Havalon Piranta Z

Well if you're going to hunt your own food, or fish for your own food, the time comes when you're going to have to gather up the day's work and begin the process of prepping it for the dinner table. No matter
if you're a fisherman
, or a bird hunter or go for even bigger game, there's no doubt there is little joy to be had in scaling and gutting a fish or picking the shot out of your duck or pheasant, or skinning that deer you just bagged. No, fun, at, all! But it's gotta be done and so we're here to make it a bit easier by offering you the best skinning knives we've managed to find out there on the market. These babies will combine toughness with no-slip handles and hopefully to make this tough job just a bit easier.
Standout Picks
Criteria Used for Evaluation
Model
The blade design is the main distinguishing feature of a skinning knife. Traditional skinning knives are built on the 'trailing point' design; having an upward-curving blade with its point extending above the spine of the blade. This gives an increased cutting area along the curve of the blade; meaning fewer strokes are needed.
While this is well suited to working on an animal that's already been 'opened up'; a traditional skinner can be awkward in the initial stages of skinning. 'Drop point' blades are well suited to performing the initial cuts when skinning and opening the animal up. These blades are also useful for fine knife-work associated with caping animals for mounts. Fixed blade knives are traditionally preferred for skinning. This is due mainly to personal preference as a folding knife offers reduced size and increased safety when not in use. A knife with a blade locking mechanism is the safest choice for folding knives.
Weight
When shopping for a skinning knife, you will want to consider one that is lightweight. Carrying one that is heavy can be unfavorable for most hunters. Since the knife weighs more it is naturally more difficult to hold. This extra weight has a tendency to weigh down the hand, leading to hand fatigue that can ultimately result in cuts. A heavy knife is also burdensome to carry while walking in the woods.
Features
One of the more important components of a skinning knife is an ergonomic handle. First, you will want one that has a non-slip, comfortable handle. A thicker handle is better when skinning, as a thin handle can result in your hand running up to the blade while striking on a hard surface, like a bone. In addition to good traction, you will also want one that is made out of durable materials, so it can endure prolonged usage and will not break. The handle should be ergonomic, non-slip, comfortable, weather-proof, and durable.
Accessories
Knives that included a sheath ranked highly. As a lot of work is undertaken in the field, a sheath is vital for containing the knife and keeping the owner safe when not using it. Belt sheaths are most practical in a range of situations, but require that the knife is held snugly or fastened in place by a lanyard or clip – so that there isn't a risk of losing the knife when pushing through obstacles or through bouncing out.
Size
Shorter blades are preferred for skinning knives. These are most practical as they are easy to use and are very maneuverable. They offer good control for fine workaround joints and when caping animals. Shorter blades also require less work in sharpening and honing.
For skinning big game, longer blades become more useful as it isn't practical to make many small cuts with a short blade. The longest blade choices on the list are best suited to the big game. For a smaller game such as squirrels, rabbits, and beaver, a good size blade is 3 – 4 inches. This type of game is generally between 15 to 50 pounds in weight and has shorter hide. If using a longer blade, it would be extremely difficult to skin a rabbit.
10 Best Skinning Knives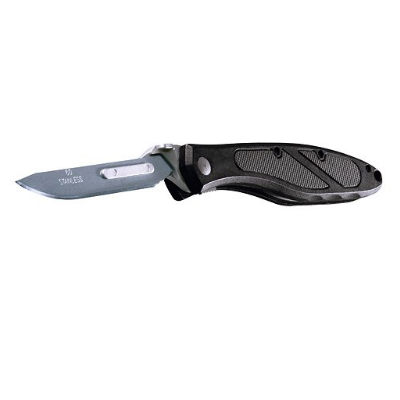 This is the baby brother of the Baracuta-Blaze and provides the smaller option for fine knife work and smaller game. Keeping a sharp knife is as easy as swapping blades with the Havalon Piranta Z. A no-fuss mechanism makes this easy. The Piranta Z comes with 12 replacement blades; keeping you in the game for longer.
Precise
Surgical performance is the intent of these knives. The short blades make the Piranta Z well suited to skinning smaller game and fine work associated with camping out. Again, changing blades can pose some difficulty.
Features and Specifications
This one has a tough handle that comes in two different color choices. You also recieve a nylon holster with a clip for your pocket. This clip can be removed if you perfer. Also included in your purchase are a remarkable 12 replacement blades.
Cost and Value
The Piranta Z costs a little less than its big brother, the Baracuta, and won't break the bank. Replacement blades can add up over time.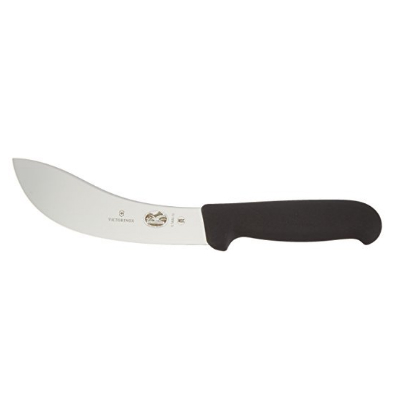 Victorinox makes some of the highest quality knives available in terms of steel. This economic knife makes light work of big game skinning. The steel used in the construction of Victorinox knives sets them apart. If you're looking for a blade of ultimate reliability at the lowest cost of this list; then this is the choice.
Small and Mighty
The best value for money around. Having a 6" blade, this knife can be awkward for small game but performs well for large animals and species that require lots of knife-work to the skin – such as wild boar.
Handle
The design of the handle is not only comfortable but it provides you with a pretty decent grip. Two things you need when maneuvering your knife in order to process your prize effectively.
Cost and Value
This is the cheapest knife in the list, but don't let that fool you. These knives are cheap because they're targeted towards professionals like butchers that aren't looking for fancy items; simply top quality products.

3

. Havalon Baracuta-Blaze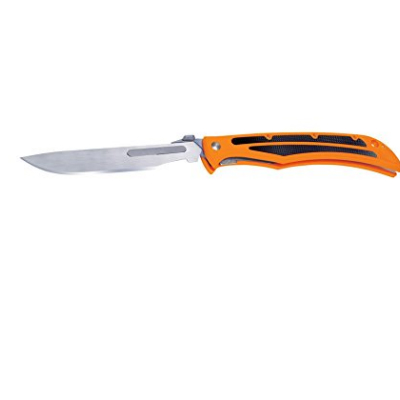 For anyone that has trouble keeping their knives sharp, Havalon produce skinning knives with replaceable blades. When one's dull, simply swap it for another! Keeping a sharp knife is as easy as swapping blades with the Havalon Baracuta. A no-fuss mechanism makes this easy, and the Baracuta is also compatible with serrated and filleting blades for a 3 in 1 knife.
The Blade
Sharp straight out of the box they perform well. Never hassle with sharpening your knife again. With this option, you simply change out the blade once it becomes dull.
Easy to travel with
Being able to bring your knife in the field is sometimes an advantage. For some, carrying a blade on their side just doesn't work. For those people, this little number will fold easily for carrying in your pocket.
Cost and Value
A mid-range knife in terms of cost, the Baracuta-Blaze won't burn a hole in your pocket. Replacement blades can add up over time.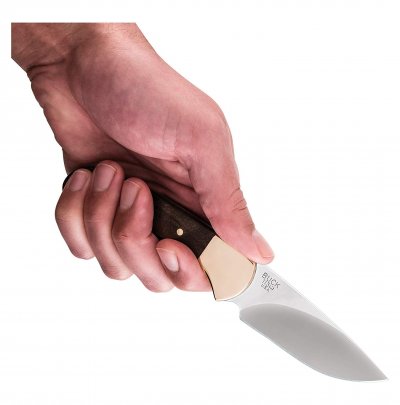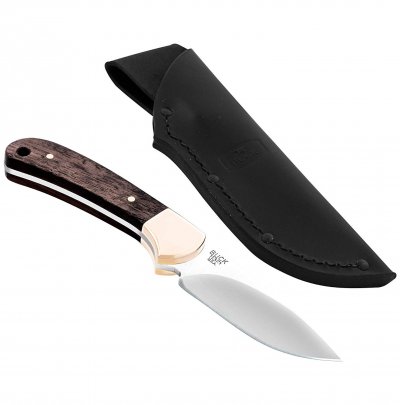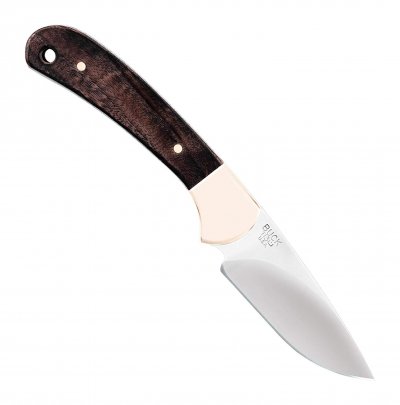 This is a powerful little blade that's going to hold an edge like a boss, it's corrosion-resistant so it's good for all the weather and it comes with a unique ergonomic design that'll keep it from slipping in your hand. And finally, and for some the best of all, it's made right here in the United States of America. So this is a blade for hunters and patriots.
Optimized for skinning
This blade is built to skin. It has a narrow tip and a broad curved blade that's built to give you a smooth skinning sweep that will cut through lots of layers or tough areas of gristle that might snag up a lesser knife. The point is also canted at a downward angle to lessen the chance that you'll accidentally cut through the hide.
Ergonomic Classical Design
The handle is built to fit securely and safely in your hand. The no-slip handle ensures that you won't damage yourself or the hide by losing your grip on a slippery handle. It's compact with a wide curving flange between the hilt and the blade to up the safety factor.
Cost and Value
A great knife at a great price. We like the look of this blade and we like its functionality as well. It holds its edge will last forever comes with a warranty and at the end of the day, it's going to help you get the least fun part of hunting behind you as quickly as possible.

5

. Outdoor Edge SwingBlade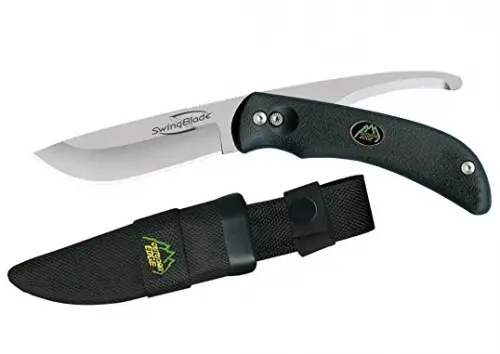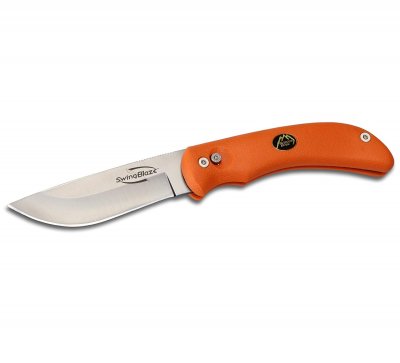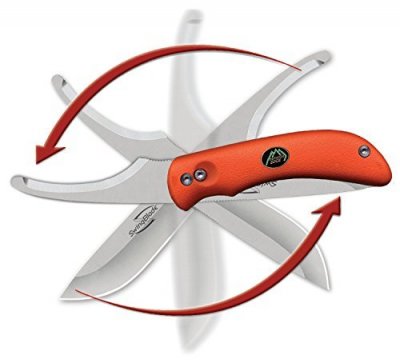 A novel approach to multi-blade knife design; the SwingBlade offers a conventional skinning knife as well as a specialized gutting blade designed not to pierce internal organs when opening up an animal.
Functions well
The design of the SwingBlade is great for keeping one blade sharp for specific uses. The cutting blade has a rounded blunt tip to lessen the chances of bursting internal organs while gutting an animal. Saving this blade for the task frees up the other, conventional blade for skinning.
Grip
The grip is one of the most important factors for determining what makes a good knife in general. The rubber used here ensures you can hold a firm grip in even the messiest of situations.
Cost and Value
This knife is another mid-range option. Two blades become very handy in a range of situations, however, and greatly increase the value for money. A good choice for those who want the added safety of a specifically designed cutting blade. This blade design is a better choice than gut hooks as it's far easier to sharpen.

6

. Mossberg Fixed Blade Knife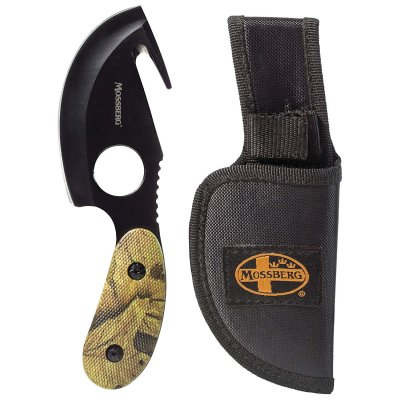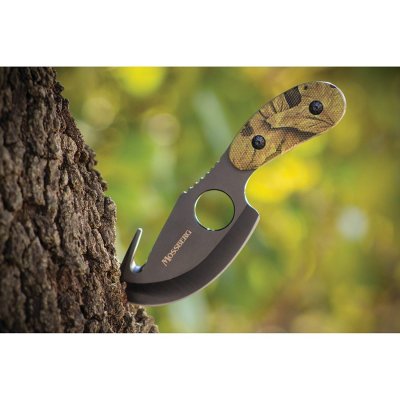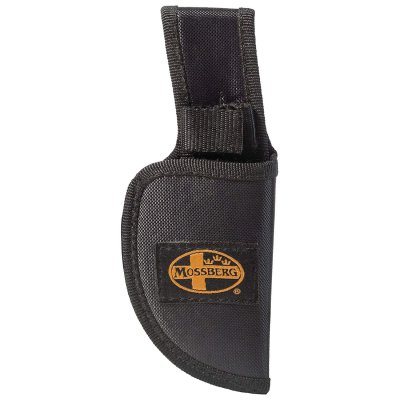 Now, this skinning blade really looks the part. There's just no way you're going to be able to mistake this for anything but a top-notch skinning blade. It has a huge curved blade designed to cut through layers of tissue cleanly and easily. It looks fantastic and that no-slip handle is going to ensure that you get the job done precisely and safely.
Forefinger Hole
You didn't think you needed one of these until you saw it on this knife and trust us once you use it there's no going back. This Forefinger hole ensures that you can put some muscle into your skinning and this knife is going to stay put in your hand and it also helps guarantee precision cutting. A great little addition to an already great knife.
Small But Plenty Big
This knife is unique in that it's going to work really well on small animals because it's just not that big a knife. At the same time, the large blade surface will get the job done on the biggest buck you've ever bagged with no problem at all. It just works.
Cost and Value
This knife comes at a great price. It looks cool, it's incredibly functional and it has a few extra features like the forefinger hole and carrying case that make it extra special.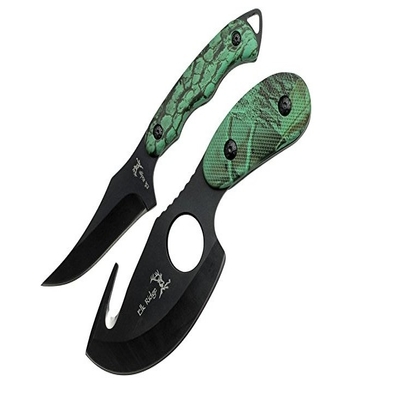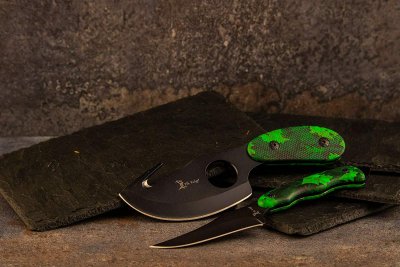 Designed specifically for hunting this Elk Ridge knife comes prepared to help you skin even the thickest of catch. Featuring a 7-inch straight edge hunting/skinning knife as well as a 6-1/2-inch gut hook knife this set is one that should be a part of your hunting kit.
Double the value
You are getting two high-quality knives for the price of one. Additionally, you are getting a sheath to keep your knives protected from the elements.
Holds an Edge
A dull knife is most definitely a useless one as well. You want your blade to hold its edge for as long as possible. After all, sharpening a knife while on the go can be troublesome, to say the least.
Cost and Value
If you are looking for quality at an affordable price point this is an excellent option. Consider these the perfect addition to your skinning and hunting kit.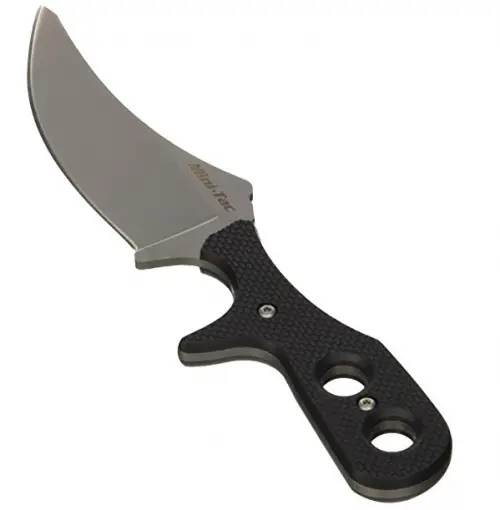 The Mini Tac Skinner offers a long cutting edge for the length of the blade, coupled with secure handle design. The Trailing Point blade design of the Mini Tac gives a long cutting edge to the blade. This is great when lots of knife-work is needed during the skinning process.
Large cutting surface
The Mini Tac Skinner is a good option for anyone after an increased cutting surface. This design is well suited to animals that require a lot of knife-work to remove the hide. It may not be the most ergonomic choice for extended work.
Sheath
The sheath for this one makes travel a little more practical. It comes with a small chain so that you can hook it through the zipper of your gear bag. Making it accessible when you need it the most.
Cost and Value
The Mini Tac Skinner is an economical option for those after a modern knife design and plenty of cutting surface length.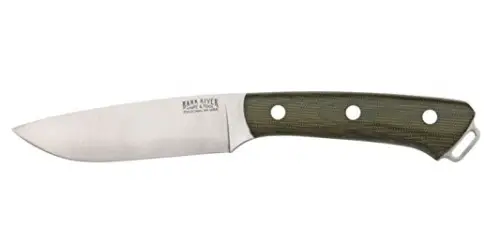 The Fox River Hunter is an elegant knife that will perform to the highest degree under any circumstances. Several handle material options are available for the Fox River Hunter. Underlying the cosmetic appearance, though, is a well-crafted knife of top quality.
Good quality
This is a high-quality knife in terms of components, design and looks. The cost of the knife is prohibitive, but considering the product itself, it may be a worthwhile investment for anyone who really likes their knives.
Size
With having a shorter blade this will be the perfect addition for all those small game hunters out there. We know it can be tricky to maneuver a longer blade to skin a smaller sized animal. That made the decision to add this one a definite no brainer.
Cost and Value
The Fox River Hunter is the most expensive option on this list. It does, however, offer the peace of mind of being made in the USA, and comes with a lifetime warranty.

10

. Benchmade Saddle Mountain Skinner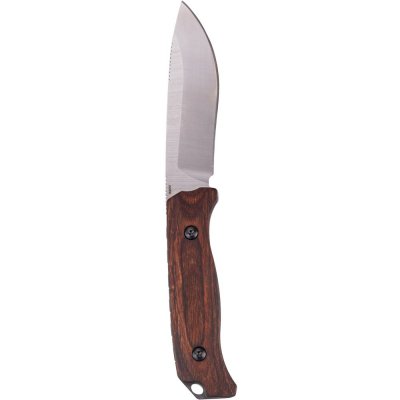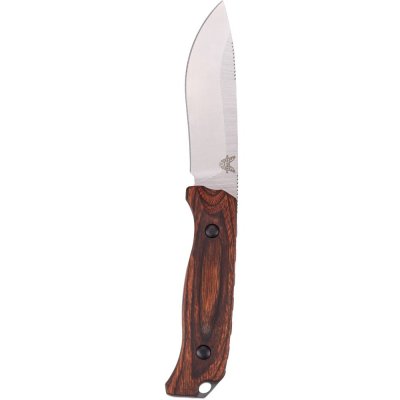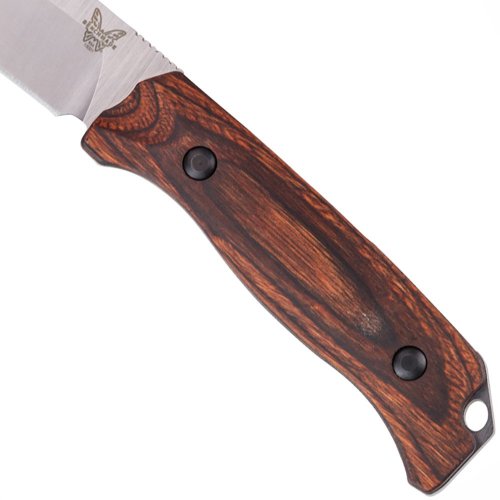 A simple but effective blade that holds it's edge and simply put is going to be an efficient and great way to get the job done. It's a classic blade with a serrated back edge and a solid wood handle. Just the tool you need at the end of the day.
Contoured Handle
Some knives have forefinger holes, some have grippy knobby handles but this contoured blade nestles securely in your palm so you won't lose your grip on it just when you need it most.
Leather Sheath Included
You don't think much about this until that crummy plastic sheath breaks right open. A nice leather sheath is going to make sure you're knife stays safe and sound until you need it.
Cost and Value
This is a fairly pricey knife but Benchmade makes a really great blade so we can count on its value and its edge and its thoughtful construction.

Subscribe to our Newsletter