Best Tactical Gloves Reviewed & Rated
In a Hurry? Editors choice: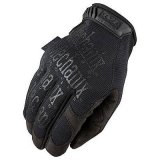 Test Winner: Mechanix MG-55-009

Tactical gloves aren't just for tactics anymore. They've become the go-to
glove for anyone
who has a lot of work to do in inclement weather that needs mobility. Not only are these gloves going to be strong enough and
warm enough to stand up
to a beating and all kinds of weather. In many cases, they're sensitive enough that you'll be able to use your cell phone even when you're wearing them. These tight-fitting gloves will not only keep you warm but they'll keep you working and keep you safe. You will need to do some precision work when sizing these gloves as they're meant to be tight-fitting but with a bit of work you can end up with a pair of gloves that are going to last for years. And for you hunters, they'll keep your hands full mobile in the field.
Standout Picks
Criteria Used for Evaluation
Durability
Durability was a big criterion and was based on resistance to water, rips, tears and loose threads. If you've been using them for a week and there are already loose threads appearing, then that may be a sign that they are not meant for the long haul. Toughness is the main ingredient of a good pair, and they are meant to keep up with the abuse that is thrown at them. We ranked gloves based on how well they took abuse, regardless of their intended purpose. That means gloves that specifically identified themselves as hobby or professional products needed to pass the same durability tests. Gloves meant for hunting had to be as tough as gloves that were marketed for mountain climbing.
Materials
The material was on our radar at this point but was not a criterion that ranked the 'best' material. With all modern designs being made up of multiple materials, we made it a point to have our focus zeroed in on how well those materials worked together. Gloves were judged on their inside, outside, knuckle and wrist materials. They all had to score highly in each of these four areas to remain in the top ten.
There is no best material since so many of them use multiple materials in one product. A nylon glove can be fitted with rubber knuckles, making the best use of both materials. The use of multiple materials is not limited to the outside of the glove. It isn't uncommon to see the inside of gloves prioritize comfort, leading to a different material being used. With all of these components working as one, naming a single best material is out of the question. Brands that make smart decisions with how they blend materials will always provide a preferable model.
Fit
Available sizes were the next criteria that cut out a lot of the list, and it covered sizes available along with size transparency. Running large or small isn't a problem, but not having clear sizes listed is a problem. Companies that were favored with these criteria were open about each size, listing them in inches. The more sizes they had available the higher they ranked on the list. We ran into problems with some companies that only offered lettered sizes, leading a lot of customers to make blind purchases in hopes that they would fit. Brands that at least offered sizes on their own websites were not penalized if the information was easy to find.
Value
Prices were wildly fluctuating yet the actual products remained the same. We removed overly expensive gloves from the list that didn't bring anything special to the table. Not a lot of big brand names were removed, and we instead got rid of a lot of the generic names that copied favorable features (but with low quality). This criterion cut the initial list in half and made it easier for us to move on to the other sections.
Two more factors we used to rate value was warranty coverage and customer service. These two are always hard to get right when dealing with products that are built for outdoor use. Some companies are easier to deal with than others, and this criterion reflects that. For the warranty, tactical gloves needed to meet at least minimum standards for the industry. So there was no favoritism shown for having an extra-long warranty since this criterion was more about passing a universal bar. Even still, several products failed in this respect and were removed from the list for having a subpar warranty, and in some cases no guarantees at all.
Customer service is a straightforward criterion that was easy to gauge. Based on wait time and how easy it was to contact the company, every product that made the top five was extraordinary. The bottom five wasn't too far off, and it allowed us to make some changes throughout the list. Brands that had live chat were especially pleasing to deal with and showed an urgency to get the customer to a representative. Email support was helpful and responded within 24 hours, even on the weekend.
Features
Extra features are a criterion that takes a good look at all the proprietary features or freebies a product includes in the package. Some of the extras that were important were wrist straps, a conductive material, impact nullification, anti-skid and sweat protection and no-melt/no-drip protection. Some products contained some of these features while others included all. Rather than reward products for the number of extras they included, we looked at the actual quality of these features to see if they clicked. Only a few products handled these extras well, so they were the only ones included in the list.
BEST TACTICAL GLOVES REVIEWED & RATED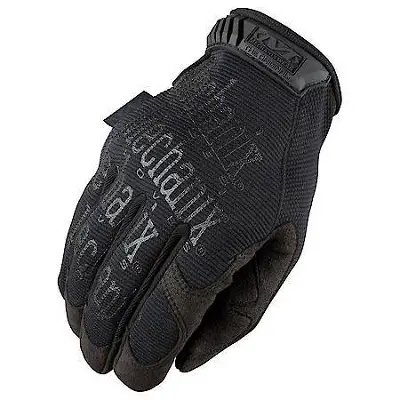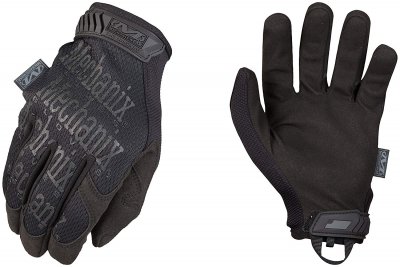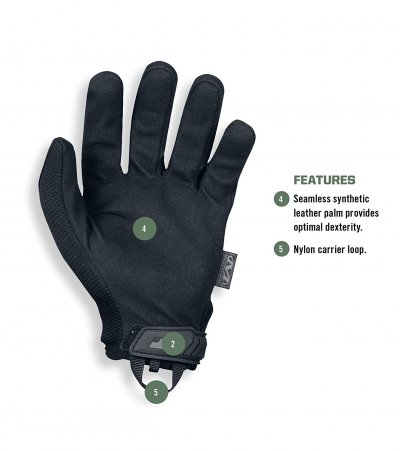 Almost the perfect pair of gloves, this is the pair you want if your aim is for comfort, toughness, and a great fit. With added touchscreen capability, no other on the market would be able to challenge this pair. This is the toughest pair on the list and a true testament to the quality of the company.
Fits Just Right
All five available sizes have the best possible fit thanks to form-fitting TrekDry technology. Users will remain comfortable using these gloves for extended periods, even in the heat.
Touchscreen Compatible
Having touchscreen-compatible gloves can save you a ton of hassle. You won't be ripping one glove off when you need to access your phone or any touch screen technology.
Cost and Value
A low price and thousands of reviews put this product in the clear. There won't be any complaints from customers once they break these in.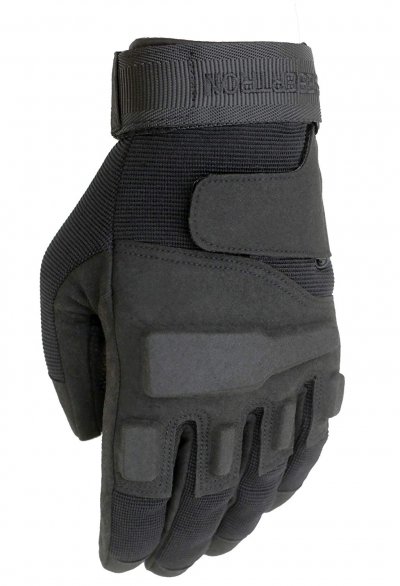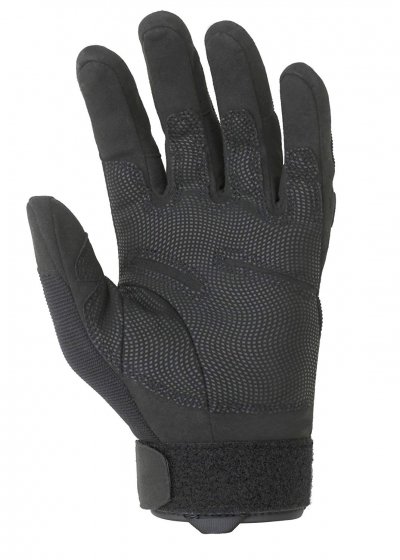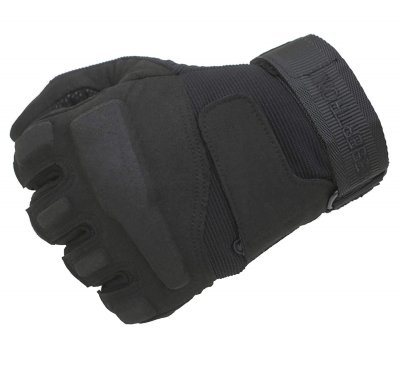 This is a great looking and well-built pair of gloves that are going to keep you warm and are packed with little features like knuckle pads and a tight Velcro strap that turns these gloves into a second skin. They're light, warm and strong and whether you're looking for a true set of tactical gloves or just a great looking pair of gloves to keep you warm the Seibertron fills the bill.
Great Grip and Wearability.
These gloves don't seem particularly thick and that's because they're not. These gloves are meant primarily to fit snugly around your hand an allow unrestricted safe range of motion that will keep your fingers nimble and give you a fair amount of feeling even though these gloves are built to keep your hands safe.
Machine Washable
These gloves pop right into the washer and if you wear these as often as we think you will this is going to be important. And no matter the amount of washing you give them they'll keep their shape and won't shrink thanks to the synthetic leather, polyester and Nylon materials. The knuckle pads are built to stay supple but strong even through numerous washes.
Cost and Value
This is a really well-priced pair of gloves. Granted they aren't touch screen sensitive and while they're built to keep you warm they may feel a bit thin, but if you're looking for a great looking, well built set than this is an incredibly affordable option and a great value.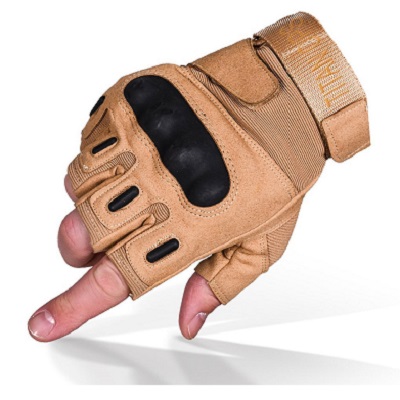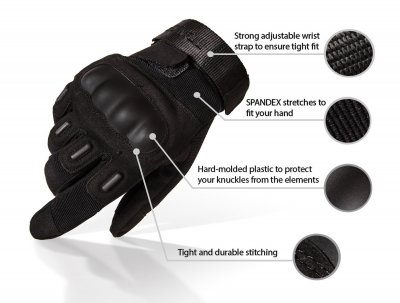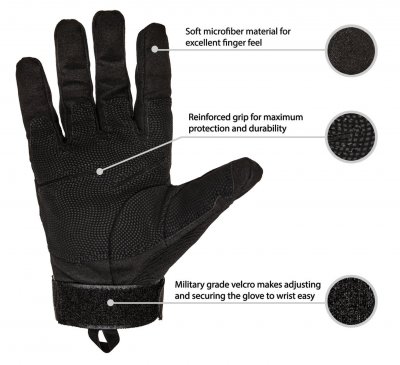 Titan OPS Gear has a lot of buyers covered with their selection of gloves. A lot of professionals depend on this model to see them through a hard day's work.
Two Great Choices
The company offers these gloves as fingerless or full finger, which is great for customers that like the form and want to buy both. By catering to both sides, customers can have the prime choice of either style.
Odor-Resistant
Odor resistance is a practical benefit to have for those who have to have their hands in gloves for long periods of time. Bacteria from sweat can build up causing unsightly odor or even worse infection. Which is why these are also armed with bacteria resistance.
Cost and Value
Customers won't have to break the bank to get one of the best on the list. Both styles are low priced and incredible value.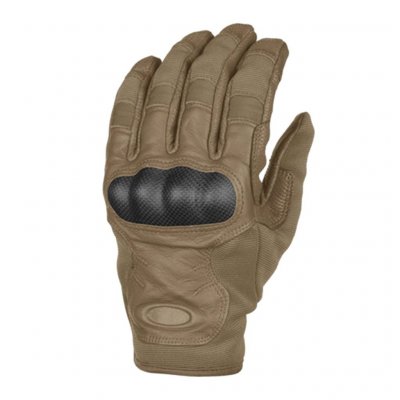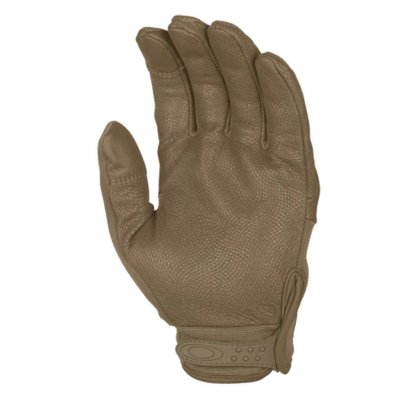 We all know Oakley puts a quality stamp on everything they make, so you can be fairly confident that you're going to get a great pair of gloves here. You're also going to pay the Oakley mark up but even with that we love this set that is touch screen capable, have a full leather palm for a firm grip and knuckle guards to keep your knuckles from scraping or worse.
Touch Screen Capability
Honestly, in this day and age, it becomes a bit hard to recommend a set of gloves that aren't touchscreen capable and having this little feature is going to make your life immeasurably easier when you're out in the field and you need to check GPS or are just getting a random call. And the really great thing about this feature is that they still manage to keep your fingers warm.
Tough Construction
Maybe it's the leather palm, maybe it's the fully articulated stitching that allows for a full range of motion, maybe it's the knuckle guards. But everything about these gloves suggests that a lot of thought went into making sure that these gloves hold up for the long haul and will make sure your life out in the field is just a little bit easier.
Cost and Value
You're paying for the Oakley name, but you're also paying for a really quality pair of gloves here so the price really isn't too much to pay considering you're getting touch screen capability and great leather construction.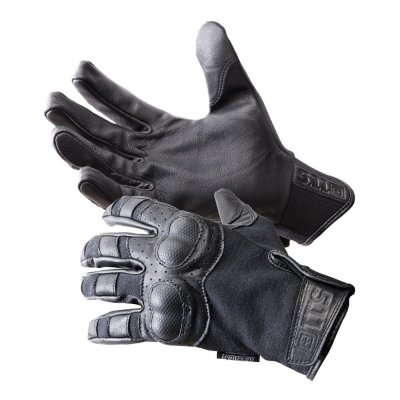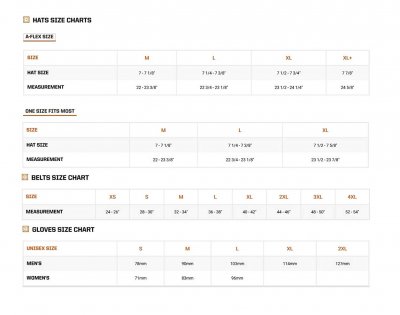 We like this simple pair they're thick and strong and while they won't necessarily keep you warm in cold weather they will allow you a complete range of motion and come with knuckle protectors and fully articulated stitching.
Knuckle Guards
We like to see these in all of our tactical gloves and especially with the 5.11, we like them because they're made of all padded leather that will keep you injury-free no matter how hard you hit whatever it is you're hitting.
All-Leather
We like this unusual element and while this means that they're not a pair of gloves that you're going to be able to toss in the wash, they are really elegant and functional gloves.
Cost and Value
You're paying for the leather of these gloves but these gloves we think are unique in that they're crafted to be elegant as well as useful and you can double use them as a hip glove for a night out on the town.



By not going crazy with the design, Vbiger made a pair that hug hands perfectly. They have a really nice feel to them even when handling heavy tasks.
Good Color Combinations
Available colors are Black, Army Green, Army Green 2, Beige 2 and Black 2. The Army Green's, in particular, are very pleasing to the eye.
Quality
Sometimes this type of glove needs an added layer to secure their durability. After all, if you are wearing these you obviously are working hard. With this set, the back has a two-layer design. Offering a sense of security that they were made to last.
Cost and Value
The quality is great with a very low price tag in all sizes. Customers are getting tremendous value with this deal, and it will last them for years.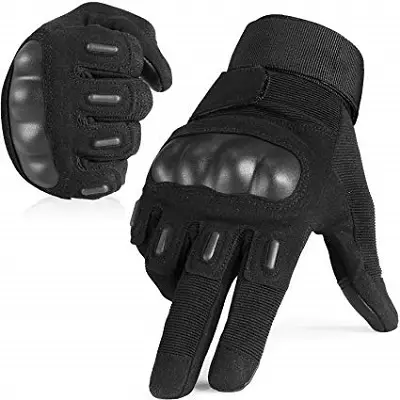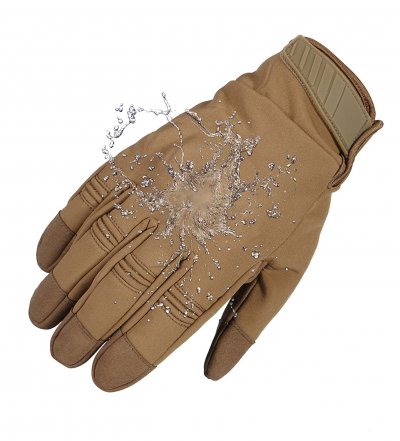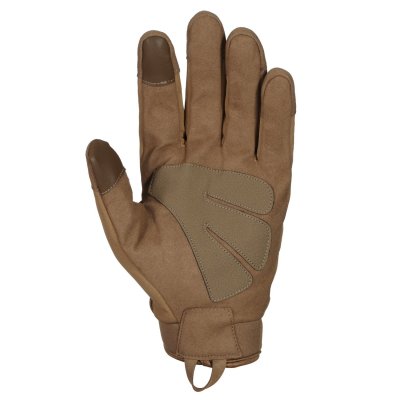 This is a great pair of gloves, military-style with the ability to interact with a touch screen that's actually expanded. Soft rubber knuckles make for ease of motion and nice breathable material makes these a great choice. They come in on the low end when it comes to price so that's another plus.
Good Materials
Rubber knuckles, breathable nylon material make these a great choice not just for tactical wear but also as winter or biking gloves.
Versatile
Molded Rubber knuckles and touchpad sensitive finger protection make this pair quite versatile for users. The rubber knuckles allow for more durability, making them a great option for work. Touch screen capabilities heighten their use in many situations.
Cost and Value
These gloves come in at about mid-range when it comes to price. But you get a lot of add-ons that make these a great choice.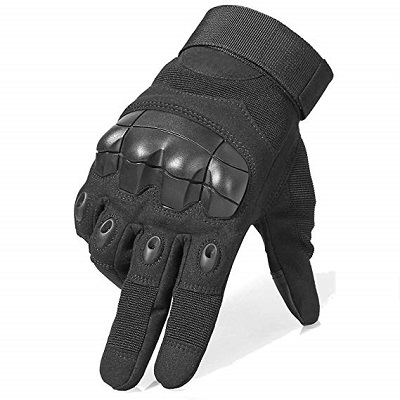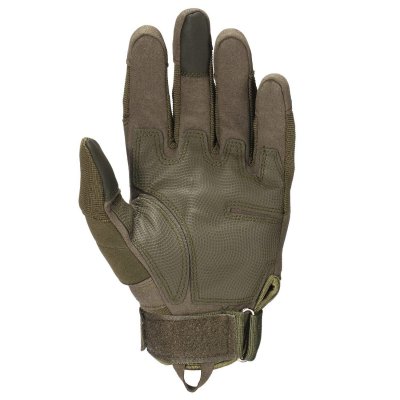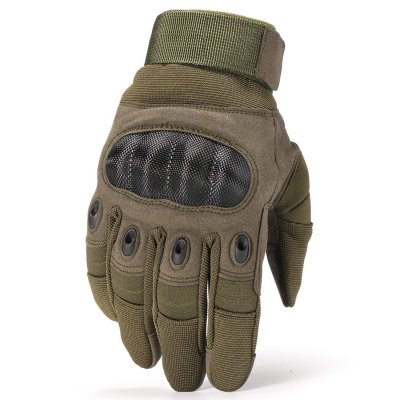 Half finger gloves are just as popular as regular gloves, freeing the fingers for more light tasks. This is all done without compromising much of the protection of a regular glove.
Gets The Feeling Just Right
Half finger gloves are tricky to get right so that they don't cut off too early or go on too long when wearing them. Fuyuanda got it right with the length, and in multiple sizes.
Good Grip
Anti-skid PU palm material gives these and users a great sense of gripping ability. Good grip comes in handy in more situations than you can count on all ten digits.
Cost and Value
This is one of the lowest-priced on the list, fingerless or not. Buyers should purchase multiple pairs so they have a backup in case of an emergency.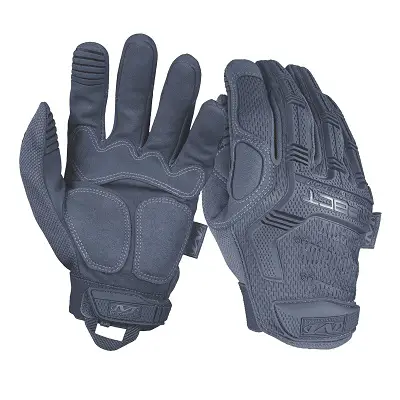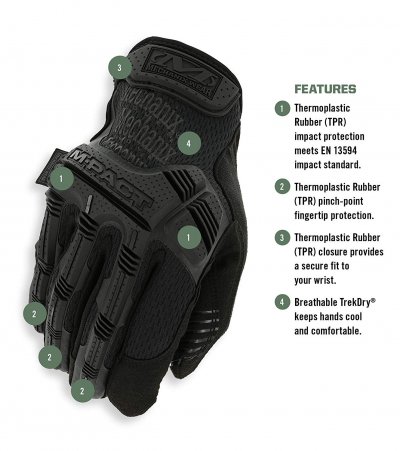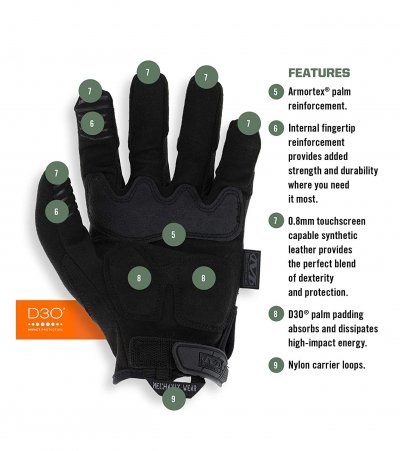 Toughness comes to mind when buyers decide on a pair of any Mechanix Wear products. They are bulky, strong and will outlast a lot of normal accessories.
Impact Protection
Using reinforced Thermal Plastic Rubber finger guards and knuckle guards, users can take on heavy tasks. These same tasks would be hard on regular hands with other gloves.
The Fit
Gloves that sag and fingertips too long can impede your ability to function while wearing them. Many pairs will stretch and become a hassle as time goes on, but not this set. Constructed to have a formed fit and keep it, these gloves will have you up and running in no time flat.
Cost and Value
Customers can get all of the sizes for a low price, even the largest size. These gloves are tough so you'll get instant value from their longevity.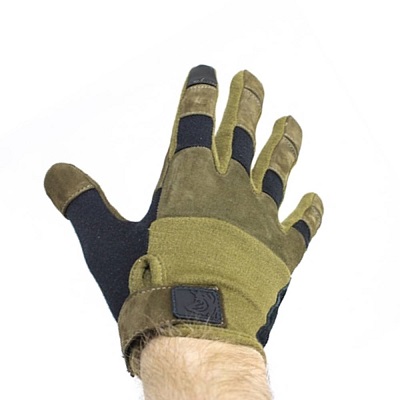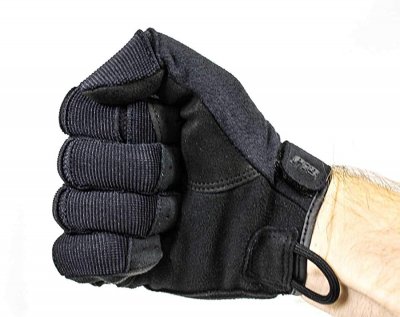 The design is just right, and the best of all the marketing hit the spot for interested buyers. Using some really quality materials, PIG created great gloves for all users.
Can Be Used With Touch Screens
Any high tech users won't have to take their gloves off to use a touchscreen device. The conductive thumb and trigger finger material is reliable when using it with compatible touchscreen units.
Vented
Breathability can be your best friend when looking for a pair of great gloves. Sweat can build up causing some pretty obnoxious odor as well as bacteria growth. To combat that issue these have some venting in place that allows air to flow through the gloves. Reducing the amount of sweating.
Cost and Value
Starting off, the low price of these gloves should bring in a lot of interested buyers. Just be wary of any durability issues if you tend to get tough with accessories.

Subscribe to our Newsletter