Best Hidden Cameras Reviewed & Rated for Quality
In a
Hurry? Editors choice: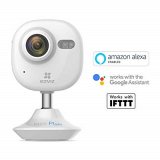 Test Winner: EZVIZ Mini

Okay, we're not paranoid, but that doesn't mean someone isn't out to get us. Nor are we spies surreptitiously gathering information on our friends, neighbors, and visitors. Sometimes we simply have concerns about what's going on
in our home
when we're not there, and sometimes we need to protect ourselves against bad bosses, or other bad actors. And that's where a good hidden camera comes in. These can
sit in your living room
or they can sit quietly on your tie or do double duty as a pen. And we admit these things can be used for evil, so don't do that. But if you're worried about what the contractors are doing or how you're nanny is behaving or just want to record that staff meeting, take a look at some of our favorites.
Standout Picks
Criteria Used for Evaluation
Style
This is an important criterion for obvious reasons, if these look like a camera or can't be hidden or blended into its environment, then it's pretty useless. If you're not a pen user, and all of a sudden you show up at work with a fancy pen, doesn't that look suspicious? Or if you've never used a coat hanger in your life, and now you have one in your one-bedroom apartment-equally as suspicious.
When choosing among the best, make sure that it fits the narrative of your life. It should blend in and not add to who you are as a person. Because if anything looks out of place, it's a dead giveaway to even non-paranoid people! Some styles include a pen, smoke detector, nanny cam, wearable, standalone camera clocks, and web cameras.
Connectivity
Connectivity is important because it affects the way you will be able to use it. This will establish whether the camera will be portable or stationary and how well it will transmit the images to your screen.
Wireless cameras are less dependable, as they will need to be somewhat close to the main box to receive a signal. A hardwired option is reliable but will be harder to hide due to the connecting wires.
Capacity
Storage space must be considered as well. Many of these today use an SD card to store data. There are a few however that uses a built-in internal memory system to automatically store the data.
Systems with internal memory are usually plugged directly into the viewing devices where the user can view the data. However, with those that require an SD card, to view the data the SD card is plugged into an adaptor. The amount of data that an SD card can store depends on its size and are available from 2BG to 64GB.
Effectiveness
What's the reason for using a hidden camera if the picture quality is so horrible you can barely tell who or what you are looking for? It's also not very useful if the range of view is so small that you don't capture what you intended to record. Luckily, technology has fostered major improvements in this area.
It's important that you read how many pixels it can record and how wide its field of view is. Another helpful hint to ensure that you are getting something of quality is to read reviews. Find out what others have said about the quality of videos it produces and if they are satisfied.
Features
Some of the newer models that have come out lately have some really neat features that take security and video recording to a whole new level. Here are some of the best features you should look for:
Motion Activation
Built-in motion sensors are available in many of these cameras. When the camera senses motion, it records a video or captures an image.
Heat-Activated
Some top-of-the-line systems record a video or capture an image only when it detects a significant change in temperature. This is an ideal option for those needing one for security or surveillance purposes.
Adjustable Quality
Some high-end cameras allow the user to adjust the resolution between high, medium, or low. This can be useful to save on your SD card or built-in memory.
Remote Control
Some people want to snap an event or occasion with theirs and not record hours of video. If you prefer to capture still images, this may be the best bet.
Subscribe to our Newsletter