Best GoPro Cameras Reviewed & Rated for Quality
In a Hurry? Editors choice: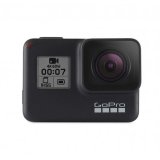 Test Winner: HERO7 Black

Action cameras were developed to capture videos using some of the smallest technology possible. These mountable cameras are most popular with folks like snowboarders, motorcyclists, and skateboarders, as they are
able to mount on nearly anything
, including helmets, promoting a whole world of first-person point-of-view videos. One of the first and most prolific companies to dive head-first into the action camera recorder genre was GoPro, and today they offer up a whole ton of different varieties in the small, high-quality, camcorder market. So whether you're looking to get into action sports, providing your travels with a little bit more safety (and chronicled history), or attempting to capture those angles that just don't really come easy with most still or video cameras, there is probably a GoPro that will set you on the right path to whatever it is that you need.
Standout Picks
Criteria Used for Evaluation
Features
When it comes to electronics, specifically electronics that are designed to be useful for capturing the imagination of its user, making them have to be versitile and adaptable, there isn't much on the vetting list that could possibly rank higher than the features list. This is one of the most crucial portions of any product in the artistic or user-based consumer products market. Of any kind, this doesn't just influence the usefulness of things like cameras, camcorders, or action cams.
Luckily, for the action-oriented video enthusiasts of the world, action cameras as a complete genre of imaging technology has grown so far and so fast in the last decade, making for some of the most robust and complicated (in a good way) products of any narrower imaging marketplace.
Features lists on most of the GoPro line-up consist of a lot of repeat customers. There are the standards of today's GoPro Action Cams in any of their internal families, like the full-bodied waterproofing, the touchscreen displays (on the Hero series of GoPro Action Cameras), some sort of wifi or bluetooth connectivity, and competitive resolution recording capabilities.
GoPro is also one of those companies that prides itself on making astounding accessories for their products, making it ever easier to capture what you wish, thanks to their diverse line-up of tools to partner your gear with.
We started from the highest tier of GoPro Action Cameras and sort of worked our way down (with a few external additions to our guide), and we suggest you do the same as you vet all of their options for the featureset that you're looking for.
Durability
Almost all of the GoPro Action Cameras they've ever made are at the very least dust-proof, or they come with sealable waterproof cases. Now, however, to save on a lot of that bulk, GoPro pretty much offers 100% of their products as completely waterproof right out of the box. No addition cases needed.
Their entire Hero Action Camera line-up, as well as their GoPro Hero Session line of action cameras are completely sealed off to the elements, making for some pretty remarkable abilities to take these powerful video cameras to places that used to be incredibly difficult to reach prior to the invention and popularity of this video camera genre.
The comprehensively over-designed body of the entire GoPro line-up is resistant to damage caused by falls, crashed, or bumps thanks to its rugged housing.
Durability might not necessarily be something one would normally consider when it comes to camera technology markets, because expensive glass-based imaging hardware has always been notoriously fragile. But in the action camera genre, the ability to take a bit of a beating is key. These cameras weren't developed to sit atop a tripod in a safe place, they're made to be attached to your helmet or board, and be right there with the subject as it does something dangerous. Being capable of withstanding some poison is vital in this market.
Value
When it comes to the price and values of electronics, there's the age-old saying of "you get what you pay for", but luckily for us, this whole list is based off of a very successful and amazing company like GoPro.
Because this buying guide has been narrowed to a specific (and prolific) company, the value of these items wasn't a huge factor in our decisions. There isn't anything available on earth today that bares the GoPro logo that isn't worth every single penny that reads on the price tag. Not many companies have had the success that GoPro has, and they've earned it. Everything they put out into the world is of fabulous value.
Parts of the process where price and value came into play a bit more was our decision to include older models of GoPro Action Cameras that aren't as stunning as the latest and greatest. And we chose to do this because the basement specs on the earliest GoPro Action Cameras are still competitive today, and one doesn't lose out on a whole lot by stepping down a few pegs to an earlier model.
Depending on exactly what you need a GoPro Action Camera for, there is most likely no harm in trying to get the most affordable version. There are plenty of entry points, in any of the extensive line-ups on offer by GoPro. You should, as we did, take a moment to scoot back in time to vet older versions of the GoPro Hero Action Cameras, or the Hero Session cameras.
10 Best GoPro Cameras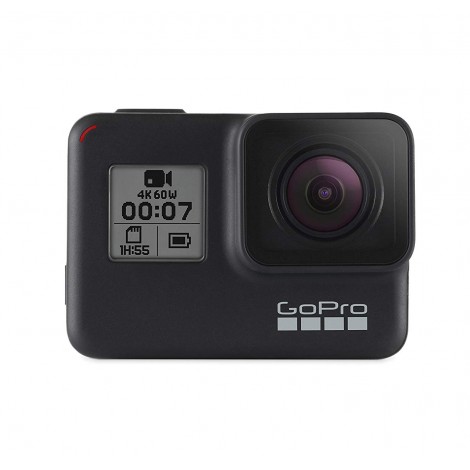 Of all the GoPros on the planet, this one is the king of them all. The GoPro Hero7 Black is the latest in a long line of amazing action cameras by the little company that could and did, out of California. While it is the greatest item in their line-up, we don't necessarily suggest hitting it out of the park with this kind of camera if this is your first GoPro.
Stable
Most of the GoPro action cams that have been developed prior to the Hero7 Black were cameras that needed gimbals, or stabilization software. Now, with the Hero7 Black, their new proprietary on-board software, the video image is nearly completely stabilized, to the point of no gimbal required.
Rocky Horror
One of the better additions to the onboard GoPro software is their fancy and fresh Time Warp Video feature, which allows users to record ultra-smooth, and hyper-stabilized time lapses. Thanks to that super smooth on-board stabilizer we spoke of moments ago, there isn't a basic camera on the market that can match the GoPro Hero7 Black for time lapses.
Cost and Value
Like we mentioned in the summary for the Hero7 Black, this camera is the top tier at GoPro right now, which means that there is a bit of a hefty price tag on it. But after all of that, this is the cream of the crop, right here. It's the king of the castle, except that its predecessors built the castle themselves.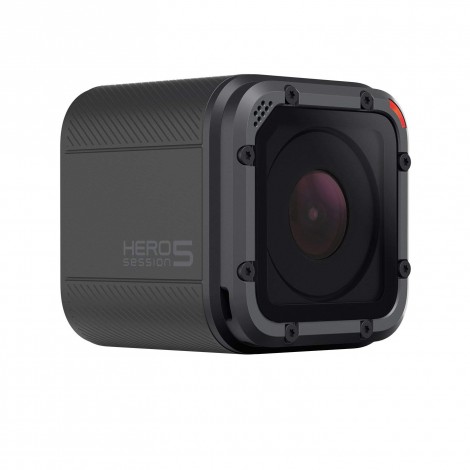 Flipping the script a little bit on common Action Cameras, GoPro upped their own anti with the introduction of their Hero Session lineup. It's a basic action cam (and I say basic in the plainest terms, it's pretty awesome), inside of a tiny cube-shaped housing that is barely even noticeable. Sure, you will lose some of the grander features and software that comes on the GoPro main line-up, but what you gain is a smaller, nearly miniscule option that is handy in its own way.
Small
Perhaps we didn't drive home the biggest selling point of the Hero 5 Session GoPro, but it's a dang small action camera. In an amazingly tiny body, the Hero 5 Session measures in at 1.4 by 1.5 by 1.5 inches total, making for one of the smallest 4k video cameras available on the market in 2018.
Voice Activated
A difficult part of the use and activation of such a tiny video camera, is due to the fact that it can be mounted and placed in difficult to reach spots. It's part of the cameras charm. Luckily, GoPro is a company that thinks ahead, and they made the Session voice-activated, so that you don't have to physically hit a record button.
Cost and Value
As its the premium version of the GoPro Hero 5 Session, there is a bit of a height on the steepness of the cost, but it's all worth it, being that this Session is one of the best and smallest GoPro on the market. It comes backed with the pedigree that has gotten the company this far.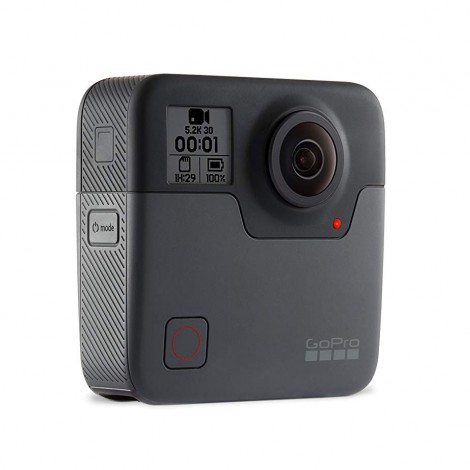 The third of the extremely functional and epic GoPro video cameras, the Fusion 360 Digital VR line-up doesn't get a whole lot of attention, which is unfortunate. This is one of the coolest action cameras on the market today, and it's got the seal of GoPro prowess. Hopefully, as the brand continues to power up this part of their line-up, people will start mentioning it around a bit more, and we'll see more amazing 360 videos on in the world.
Spherical Video
As the name states, the Fusion 360 Digital VR Camera has the ability to capture completely spherical videos, making it one of the smallest, most durable, and highest quality Virtual Reality and 360-degree video creation tools on the market.
More Than Video
It's a common misconception, that action cameras, or camcorders in general, are simply for the recording and creation of video. GoPro, with their Fusion Digital VR Camera makes it easy to crop regular framed 1080p videos from your spherical creations, as well as capture and grab flawless 18 Megapixel still images from those same captured videos.
Cost and Value
Perhaps the reason why the GoPro Fusion 360 Camera isn't on the tips of everyone's tongue is that it's a 360 video camera, which, are not cheap in today's market. There is a lot of room to grow in this marketplace, and hopefully, with the passing of more time and further development of the industry will see the price on these astounding video cameras drop a bit. The value is high, but so is the buy-in.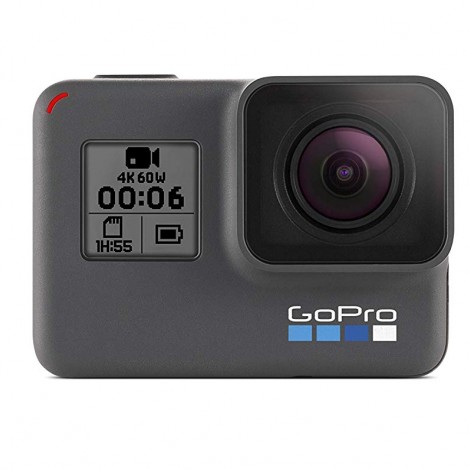 The once golden child in the GoPro Hero Camera line-up, the Hero6 Black is probably the best camera anyone should buy if they're looking to fish out their first action camera from the truest brand on the planet. It's not often that a technology company hits so many home runs that their luck doesn't seem to run dry. But GoPro have always made a habit of improving on their top tier action cams. Which is why previous iterations are more than viable options if you're looking to save a few bucks.
4K @ 60
Cameras and camcorders are one of those types of consumer products that tend to overkill the branding and verbage, it can be a burden to those trying to shop for something. Things like 4K are pretty common, you've four thousand pixels of capture and display, whereas the term "60" in that equation means that it displays at sixty frames per second. These are both well above standards for the industry.
Touchscreen
One of the best additions to the GoPro Hero line-up in the 6th edition is the long-awaited improvement of the on-board screen. The GoPro Hero6 Black has a built-in screen, that has touch functions like tapping for focus, and pinching to zoom.
Cost and Value
As we slowly go down most of the list of products offered by GoPro, we're going to bring up the money we all save if we check our wallets at the door and aim a little lower down the totem pole. It is always an option, especially if you're just into this game, to spend a little less and get something that still has astounding value.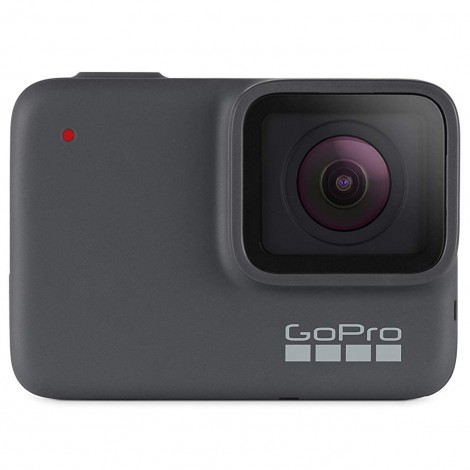 Another perk of getting into the doors with GoPro is that they normally launch a new Action Cam with a few different states. The GoPro Hero7 Silver is the paired down version of the Hero7 Black that we spotted at the very top of our list. It's got the same lense, with the same boards, but it does a little bit less, hence the savings.
Strong
Something that took a surprisingly long time for the action camera industry to figure out is that they, by definition, need to be able to withstand some action. The Hero7 Silver is built with the frame and structure of the Hero7 series, making it super resilient to shock, and drops. There are a lot of variables during action sports or things that most people need action cameras for, having a durable build is key.
Waterproof
Along all of those same lines, the GoPro Hero7 Silver is also housed in GoPros latest waterproof body that keeps all those action sports that might involve wetness, or small to large bodies of water out of your camera. The worst problem to have when it comes to your expensive electronics is moisture. Keep it out!
Cost and Value
While it might be plastered with the Hero7 name, the Silver edition of the GoPro action cam isn't something that can really compete with it's bigger brother the Hero7 Black. But it does come with a lot of the body, and mechanical upgrades that came with the Hero7 introduction. It's a crazy great camera, for under the asking price of the absolute top tier.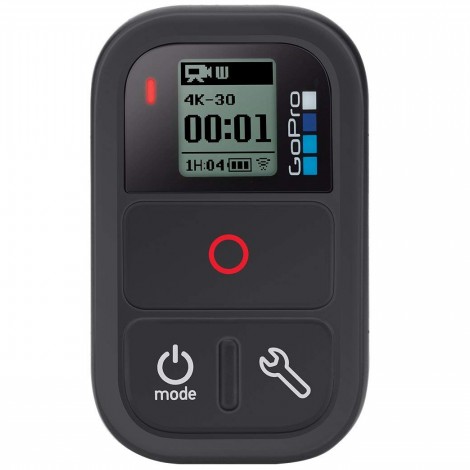 When we started putting this list together, we tried really hard not to delve too far into the vast ocean that is the GoPro official line-up of accessories, because for as much as this company has done for their own action cams, and the small camera in general, they've done almost as much in terms of making amazing accessories to go along with them. But sometimes you just have to include an accessory, because it makes that big of an impact.
Who Cares Where Your Camera Is
One of the most beautiful things about the GoPro line-up of Session or Hero Action Cameras is that they are capable of being mounted nearly everywhere -- I have a chin mount, and a handlebar mount on my motorcycle. The downside to that is they often become difficult to control. That's where this amazing remote comes in. Control your camera wherever it may be mount.
Full Display
On the front of every Hero Action Camera by GoPro is a little screen that displays the mode you're shooting in, how much time you have left on your card, battery power, and more. The GoPro Smart Remote displays all of these things right there on the controller, making it easy to glance and read that information without having to look at your Hero.
Cost and Value
If you're going to spend a few hundred dollars on a GoPro Action Camera, with mounts, and accessories, this GoPro Smart Remote is one of the best additional purchases you could possibly make. Under a hundred bucks, and you've got the greatest tango partners you could ask for in capturing those moments.

7

. HERO Session Waterproof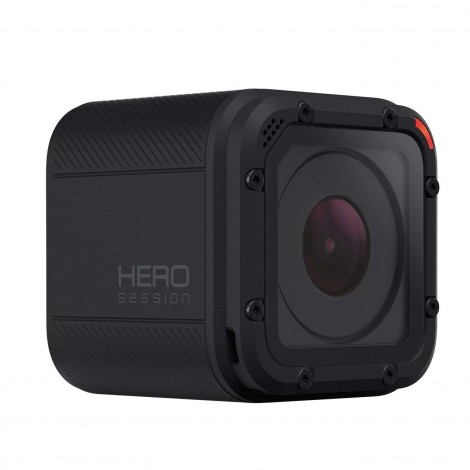 If you're looking into kicking in the door to action camera recording, and you've got your eyes set on the newest and best GoPro Session camera, then maybe it's worth it to take a peek back in time just a bit and consider the original Session Action Camera. It will save you a few bucks (gross understatement), and will easily let you know if the Session line-up is the right path to take for your needs.
100 FPS
Not many video cameras the world over, let alone action cameras, have the guts to shoot up to 100 Frames Per Second. But that didn't stop GoPro from shaking up the game a bit, making the original Session one of the best, and smallest cameras capable of buttery smooth slow-motion video.
Connected
One of the better things that GoPro had started implementing in their camera software as far back as the GoPro Hero4 Black, is the ability to connect directly to the camera via a wifi or Bluetooth connection. This makes it simple and quick to share captures, or offload footage with just your cell phone.
Cost and Value
With a price tag that is only slightly north of that which comes with the GoPro Smart Remote, you can't go wrong with the GoPro Session Action Camera (1st gen). You get one of the smallest, most rugged and reliable action cameras ever made. Now that's a value.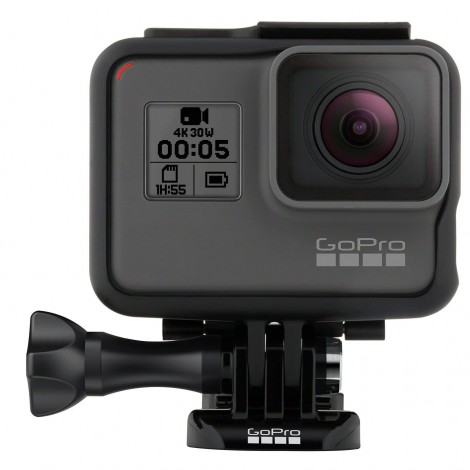 Another, more affordable option for those looking to get into the GoPro Action Camera game is the Hero5 Black. We've spoken about the ability to go back in time with this line-up with relative ease, and without losing much as far as quality goes. This is extremely relevant if you stick with the GoPro "Black" versions of their action cameras.
Introducing Reliable 4K
While the Hero5 Black isn't the first GoPro Action Camera to introduce the capabilities of 4K Resolution in video recording, it's the first to do it reliably, at a steady frame-rate. Previous iterations were able to film in 4K, but only at 15 frames per second, making it pretty pointless. The Hero5 Black has true 4K at 30 Frames Per Second.
Screen Touch
The GoPro Hero5 Black Action Camera was also the first in their extraordinary line-up to introduce the world to their now standard 2-inch display screen. This screen also brought on-board their touch capabilities, allows users to scroll menus, and use play-back all with their fingers.
Cost and Value
If you're looking to save a few big chunks of dough, taking a step back into a two-generation old version of the best action camera family on earth is a really great way to do so. The value is still nearly impossible to fully comprehend, as you don't lose all that much going down a few steps. The GoPro Hero5 Black changed the path for GoPro as a development company, and was their most successful Action Camera offering to date.

9

. Karma with HERO6 Black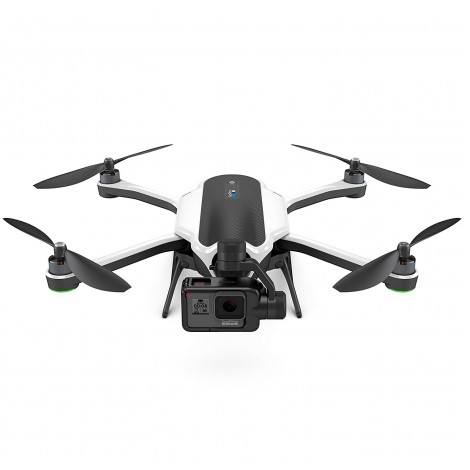 Both the world of photography and cinematography, and the universe of action cameras were truly rocked by the common and consistently available access to small flight drones. Aerial footage changed the game for everyone, and now, with the likes of GoPro and others developing their own remote control drones, that amazing footage is available to nearly everyone.
Drone Action
We would be remiss if we didn't simply include the fact that this is a drone in as one of the biggest selling points. Get amazing aerial footage, birds-eye-view camera angles, and so much more with the addition of a flying camera to your arsenal. There's no question that modern photography and cinematography have warped thanks to the addition of drones.
Removable Components
In one of the smartest manufacturing decisions in modern imaging products, GoPro decided that instead of creating a camera specifically for this drone, they would just attach one of their GoPro models (in this particular case, it's the Hero6 Black). This means that you can remove it and use it like a normal GoPro Action Camera. Or, replace it with a better one as GoPro continues to iterate on their amazing line-up.
Cost and Value
The drone market is a completely different beast than the Action Camera one, which means that even at 30% off, the Karma Drone by GoPro might scare some away with it's lofty tag, but that's because this is an extremely well made product, and reliable drone. It's one of the best camera-mount drones on the market.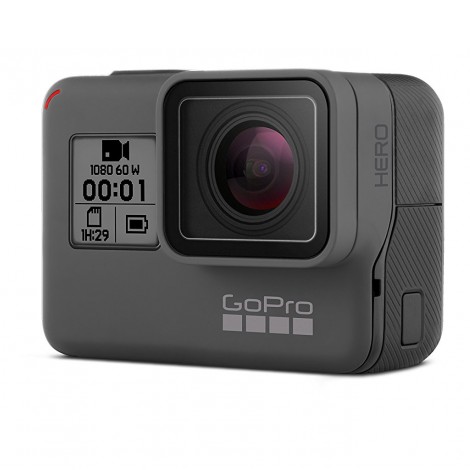 Lastly, it's time to introduce you all to the grandfather of GoPro Action Cameras. The updated version of their original action camera, the GoPro Hero is the first to kick through the swinging saloon doors, able to capture almost anything your action-oriented heart desired. Even by today's standards, the specs and capabilities of this little action camera competes.
Great Video
It's not going to kick anything made today to the curb, but this little GoPro Hero Action Camera has the capability to record videos at an astonishingly crisp 1440p resolution at 60 frames per second, or 1080p for those standard HD displays.
The Full Kit
Unlike some of the later numbers in the series, the GoPro Hero (standard) comes with a fully encased rugged waterproof housing. As well as a fully voice controlled recording software, and the patented 2-inch GoPro touchscreen and display on the back.
Cost and Value
At a fraction of the price that you'll see with today's newest GoPro Action Camera, and even competitive with the budget brand action cameras, the original GoPro Hero is a viable option for everybody. Whether you're looking to find an entry point to this market, or you just need some additional cameras to your kit, this is one of the greatest options out there.

Subscribe to our Newsletter