Best Sofa Beds Reviewed & Rated for Quality
In a Hurry? Editors choice: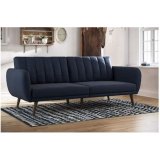 Test Winner: Novogratz Brittany Linen

If you're living in a small space or in an urban metropolis, then you know about having to make concessions regarding living room space. One of the crucial spaces is, in fact, the living room or the sofa to be specific. A sofa bed is the best of both worlds. If you really don't have space for a bed, then a sofa bed allows you to have a sofa and a bed in one, meaning a place to lounge in during the day and a
space
to sleep in at night. It's a great option for personal use and accommodating any guests if space is an issue. Below, we have our top ten sofa beds in the market currently along with an in-depth review of all ten. Following that, we have a buying guide to help you with your researching journey.
Standout Picks
Criteria Used for Evaluation
Ease of Use
Whether it's leather or fabric sofas, converting it into a bed should be a straightforward and simple affair. You should need to call for help or need more than one person to open and close up a sofa bed.
Try to look at what type of mechanism the sofa bed has as well as its weight, as those two factors can determine whether or not the sofa bed will be a one-person job. For more information on the mechanism, check out our Expert Tips section below.
Comfort
When you're buying a sofa bed, you have to examine it for more than just its looks or aesthetics. You should also be considering what's inside of the sofa and the durability of the mattress. Of course, you will want something that's going to be comfortable for you and your guests.
Depending on the style that you're looking to get, you have various options with that style of the mattress type that you choose. The common mattress materials are polyester or cotton fill, memory foam, innerspring, and air-over-coil.
Polyester or Cotton Fill
These are generally used for futon cushions. Synthetic and cotton filled mattresses come in a variety of thicknesses. If you want the finest comfort, then look for a mattress that is at least eight inches deep.
Memory Foam
These are the most popular mattress. The standard mattress that you get with sofa beds is on average three to five inches deep. And when you opt for a low-density material, you'll feel every coil and support bar under the mattress.
Instead, try to opt for a superior memory foam that contains durable and flexible visco-elastic foam. This material molds to your body shape, will spring back to shape quickly and offers steady support.
Innerspring
The traditional innerspring mattresses weren't looked at too fondly before, Nowadays manufacturers add thicker padding and extra coils to guarantee a comfortable night's sleep. The most comfortable innerspring mattresses are five inches deep and have a broad, quilted cover and steel coils.
The higher the number of coils in the mattress, the more comfortable it'll be. So a number like 600+ coils will be the most comfortable. They are noisier than any other type, so if it's a shared living space, then opt for the foam version.
Air Over Coil
The aIr over coil is a relatively new option that's formed from innerspring mattresses. They have innerspring tucked under an inflatable air bed. They allow greater thickness due to their design, but they can easily be tucked away into the sofa when deflated.
Size
Though full-sized and queen-sized sofa beds are more common, it is possible to find a king-sized or twin sized sofa bed. Before you set upon a certain size, we suggest checking how much room you have.
Think about the space with the couch and a fully extended sofa bed. If the desired space is up or down stairs, consider the weight of the product as well. Generally, sofa beds are on the heavier side due to all the mechanisms stored inside.
Style
There are a few different types of sofa beds that range from extra large comfy couches to ultra minimalistic futons, along with everything else in between as well. There are five main types of sofa beds, including futons, daybeds, pull out couches, sleeper chairs, and power open.
Futons
These are the no-frills, simplest version. They usually consist of one cushion placed over a wooden or metal frame. The basic idea of these is that you fold them up when you want to use them to sit on and unfold it to sleep. They are a great choice for smaller spaces for their size, casual look, and low-profile.
Daybeds
These are more like a bed than they are like a sofa, simply due to the size of the 'sitting' area/cushion. If you want something where you don't want to unfold or pull out, then daybeds are the perfect option for you. They usually come in the size of a standard full size or twin size bed.
Pull Out Couches
The traditional sofa beds, the pull out couches are the customary choice when most choose sofa beds as it acts as a double, a full-sized sofa and a queen/full/king sized bed when needed. Nowadays, pull out couches come in a range of sizes and styles, including sectionals and small structured loveseats. The typical choice for a pull out choice is the usual three seater sofa that can accommodate a queen-sized mattress.
Sleeper Chairs
If you're really short on space and don't generally have too many guests over, then one (or more) sleeper chair is a great choice for you. These generally fold out to be a twin sized bed. Sleeper chairs generally give more design options in comparison to futons and they are wider than typical chairs.
Power Open
If you have mobility issues or back troubles, then you might want to consider this style. These simply have an opening system that allows it to fold out automatically by just pressing a button.
Durability
Another main aspect that you should look for when purchasing a sofa bed is the durability of the product. It's very disappointing when you pay large sums of money only to have the bed break in a few months.
This can be avoided by simply doing light to medium research beforehand at customer reviews, product descriptions, comments, and product ratings. Going to well-known brands can also mitigate the risk of getting a bad product.
10 Best Sofa Beds
1

. DHP Independently-Encased Coil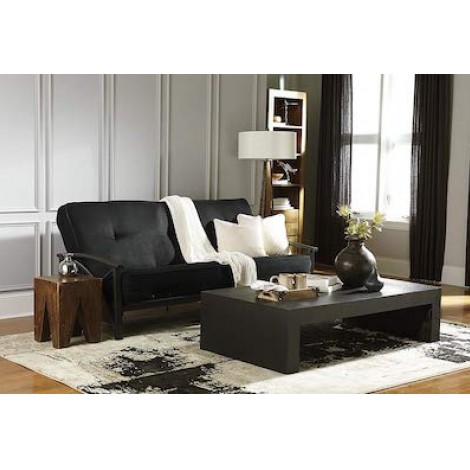 The DHP 8-Inch Independently-Encased Coil Premium Full Size Futon Mattress is made from quality polyester and foam layered between the cover and coils. The tufted microfiber covers provide the sofa with a luxurious, modern look and feel. Though this doesn't come with a frame, it is compatible with any full-size futon frame, allowing you to find one that truly fits into your space.
Versatile Usage
The Full-Size Futon Mattress is versatile for every home. It can be used as a couch during the day and transformed into a comfy bed at night. It gives you more space to host overnight guests.
Designed For Full Size
This DHP Futon Mattress is perfectly designed to fit any standard full-size futon frame. It comes in a range of color choices, including merlot, cobalt, tan, charcoal, chocolate, and black. DHP also has a range of futon covers available for purchase separately.
Cost and Value
The DHP 8-Inch Independently-Encased Coil Premium Full Size Futon Mattress is the lowest priced item on our list. Though it does not come with a frame, the mattress is off very high quality and extremely comfortable for you to sit and lay on cozily. Overall, making the product well worth its price.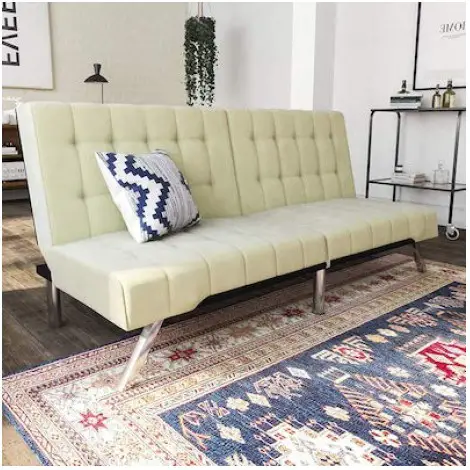 The DHP Emily Futon Modern Convertible Sofa Bed features a modern low profile design complete with metal chrome legs. The tufted back seating and backrests allow a multi-functional piece that's great even for small living spaces.
Multifunctional Sofa Bed
This DHP sofa bed can be easily converted from a couch to a bed in seconds. It offers three modes, sitting, lounging, and sleeping. In the lounging mode, both the sides can be adjusted separately to allow you to customize it for your comfort and needs.
Variety of Color Choices
The Emily Futon Sofa Bed is available in a large variety of color and material choices. Currently, it is available in three materials, including faux leather, linen, and velvet. In terms of its color choices, you can get black, burgundy, green, grey, navy, pink, tan, and vanilla.
Cost and Value
The DHP Emily Futon Modern Convertible Sofa Bed is on the lower end of the price in comparison to the products on our list. It offers a customizable sofa bed, along with three mechanism modes along with the polyester and foam seat providing a firm feel.

3

. Novogratz Brittany Linen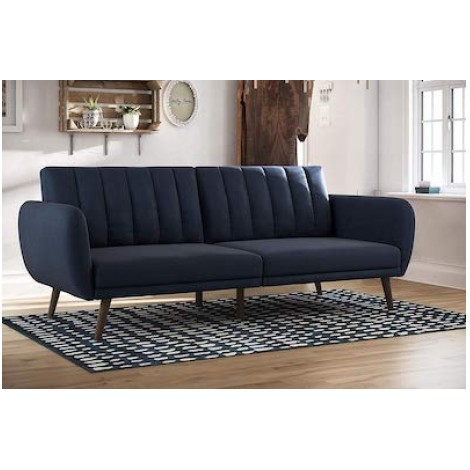 The Novogratz Brittany Linen Sofa Futon is one of the most comfortable sleeper sofas in the market currently. It features a rubbed tufted cushions back to allow you to relax comfortably while seated, relaxed, or laying on it. As with other Novogratz furniture, there has been careful attention to detail and detailed constructed to offer you top quality furniture.
Curved Armrests
The slanted legs combined with curved armrests provide a special rounded look and feel that makes this stand out from other sofas on the market. The upholstery also adds a little bit of elegance to the otherwise simple design.
Medium Size
The size of this futon ensures that it can fit almost all living spaces, regardless of whether a space is small or large. The style is also great for fitting in with different decorative housing styles.
Cost and Value
The Novogratz Brittany Linen Sofa Futon is ranked in the mid-high price range within the products on our list. From modern-inspired to vintage, this futon is great for matching quirky and fun lifestyle individuals. It even comes in a variety of colors, including mustard, green, blue, and grey.

4

. Best Choice Products Modern Faux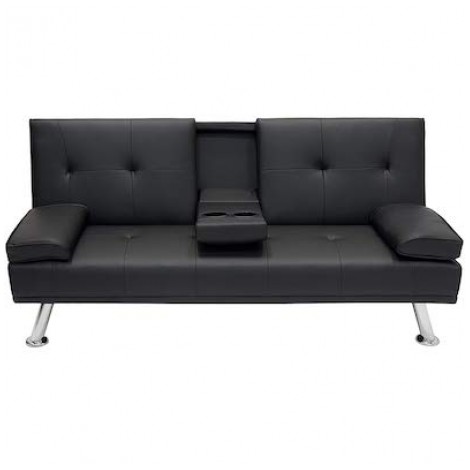 The Best Choice Products Modern Faux Leather Reclinable Sofa Bed is crafted with sleek faux leather and propped up with four chrome metal legs. The convertible futon sofa fuses together style and comfort to give you the best possible product. It converts into a bed quickly for planned and unplanned overnight guests.
Multipurpose Lounger
This reclinable sofa is great for entertainment as it features a reclining function and a fold-down armrest in the middle that has two cup holders. Thus meaning that this sofa is ideal for all your activities, whether that's watching a movie, relaxing on the couch, or taking a little afternoon nap. It also has a split back, meaning that two people can adjust their seating accordingly.
Small Space Approved
This Best Choice Product is approved for small spaced with its 30 inches by 66 inches by 30.5 inches dimensions, making it ideal for smaller and larger spaces. So, if you have a studio or apartment, this is a great choice.
Cost and Value
The Best Choice Products Modern Faux Leather Reclinable Sofa Bed ranked in the mid-low price range in comparison to the products on our list. The design and style that it offers make it seem like it's way more than it actually is, therefore making it worth its set price.

5

. Best Choice Products Tufted Splitback


The Best Choice Products Linen Tufted Splitback Sleeper Futon is tufted and filled with plus padding to offer users with absolute relaxation. The soft fabric ensures premium comfort through the supple linen upholstery. This versatile piece works for any room in your house or apartment. It even comes with two pillows that match the color and style of the futon.
2 In 1 Design
This Sleeper Futon is designed with a hypoallergenic filling that makes it comfortable for all as a sofa or as a bed. It features a split back to accommodate two positions, where one side can be reclined and the other can be in a flat position or they can both be flat to make the bed.
Sturdy Design
The Best Choice Products Sleeper Futon is durably crafted with six strong metal legs and a wooden frame. Aside from the four legs on each corner, there are also two additional legs in the middle to provide further support.
Cost and Value
The Best Choice Products Linen Tufted Splitback Sleeper Futon is a mid-price range product in terms of the products on our list. With all that it offers and the price that it's set at, you won't get much better in terms of the quality of the product.

6

. Milliard Tri-Fold Foam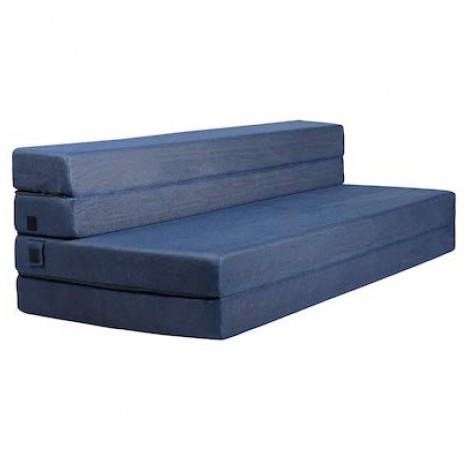 The Milliard Tri-Fold Foam Folding Queen Size Mattress and Sofa Bed is an elegant and simple queen size version of a full-size sofa bed. Whether you're sitting on this for camping, reading a book, video gaming or you're sleeping on it, it's great for all activities. The sofa bed also comes with a removable, machine washable soft cover.
Versatile Used
This sofa bed by Milliard great for family dens, college dorms, and apartment dwellers when your space is limited. This sofa bed is also great for use in RVs when traveling. Overall, the size ensures that you have unlimited uses for this tri-fold sofa bed.
High-Density Foam
The Tri-Fold Foam Queen Sofa Bed is made out of US Certified CertiPUR high-density foam to ensure that the bed doesn't sag over time with use. It is made to be portable enough to be used for traveling purposes.
Cost and Value
The Milliard Tri-Fold Foam Folding Queen Size Mattress and Sofa Bed is ranked as the second cheapest sofa bed on our list. The quality and simplicity of this design ensure that it'll suit everyone's budget and style easily.

7

. Ashley Signature Design - Larkinhurst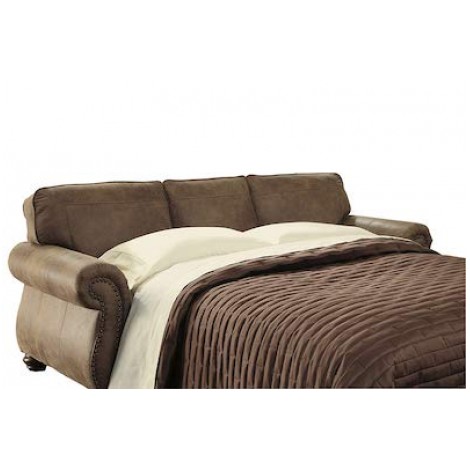 If you're looking for a versatile sleeper sofa, then the Ashley Furniture Signature Design Larkinhurst Traditional Queen Size Sleeper Sofa is one of the best options. With it's simple and immaculate lines, the sofa is able to fit in your regardless of your existing decor genre. It's comfortably cushioned and firm to provide users with optimal support while also being able to accommodate a full-size mattress.
Queen Size Mattress
The Larkinhurst Sleeper Sofa is a multipurpose sofa bed that features solid seat cushions, rounded arms, and an innerspring full-size mattress. The mattress pulls out easily and smoothly with its easy lift mechanism.
Custom Made Casual Silhouette
The Sleeper Sofa allows you to have the utmost comfort with the robustness and sturdiness of Ashley Furniture's easy-lift steel frame. The resilient foam cushions are sandwiched in chunky basil hued poly fiber.
Cost and Value
The Ashley Furniture Signature Design Larkinhurst Traditional Queen Size Sleeper Sofa is the most expensive item on our list. However, with their well-known brand name and quality of goods, the price balances itself out. The sleeper sofa will also be packaged, protected, and delivered to your residence directly from the manufacturer in a timely manner.

8

. Homelegance Upholstered Daybed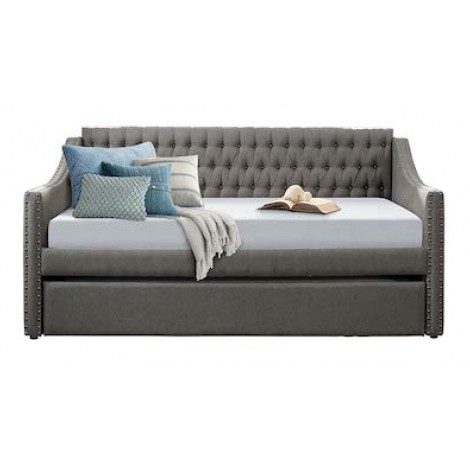 The Homelegance Sleigh Tufted Back Rest Daybed gives you all the comfort that a sofa bed can offer. It's available in three color choices (brown, grey, and dark grey) and can support up to an eight-inch mattress. It's equipped with a tufted backrest along with a nail head accent to give your home furniture class.
Sleep Haven
This daybed is crafted with quality materials that will ensure the comfort of the daybeds user. The tufted backrest gives it a more stylish look that will fit in most modern contemporary home designs.
Quality Assurance
Homelegance is known to offer functional, new, and stylish furniture. With over thirty years of experience, you can be sure of the high-quality product that you'll be getting. It's also very easy to style and personalize it to your home's style.
Cost and Value
The Homelegance Sleigh Tufted Back Rest Daybed comes complete with a trundle with casters to give you easy access. Though this is the second highest priced product on our list, you get quite a lot for the money that you spend. So, if your budget allows it, this is a great option for you to indulge in.

9

. Pearington Mia Microfiber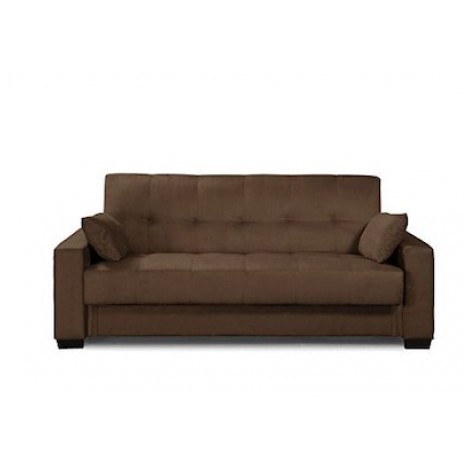 The Pearington Mia Microfiber Multi-Position Lounger With Storage actually doesn't even look like a pullout couch, in fact, it just looks like a normal couch. The wide wooden feet, enclosed base, and fixed armrests help to give it a more upgraded style ensuring that it looks more expensive than it actually is.
Extra Storage
Unlike other futons and sofa beds, this Pearington one actually has a fairly large storage space under the seat, which is ideal for storing pillows, bedding, etc. for when you open it into a bed.
Easy To Use
The Multiposition Lounger is designed as a convertible futon which means it weighs significantly less than traditional pull out sofa beds that tend to be difficult to move and heavy. As it is made out of microfiber, it's also very easy to clean.
Cost and Value
The Pearington Mia Microfiber Multi-Position Lounger With Storage is ranked in the mid-high price range in terms of the products on our list. The design and construction help to make this well worth its price point. It's also different from others on the market which helps for it to stand out.

10

. Ashley Signature Design Tibbee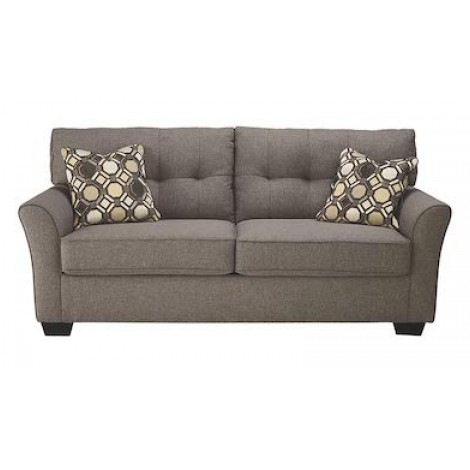 The Ashley Furniture Signature Design Tibbee Full Sofa Sleeper is a contemporary design that features clean lines and a sleek profile. Style and comfort are merged seamlessly with this sleeper sofa that was in fact inspired by high-end menswear. The dark finish on the coordinating toss pillows and sofa feet help to give the sofa an overall refined casual cool look.
Ideal For Larger Spaces
The Full Sofa Sleeper measures 78 inches wide by 39 inches depth by 37 inches height, which extends to a length of 89 inches, thus meaning that you need plenty of space in a room to fit this sofa bed in.
Ultra Soft Cushions
The cushions of this Ashley Furniture design are made with high-quality foam that's been wrapped in cozy polyester upholstery to give you the best quality possible and give you the utmost comfort.
Cost and Value
The Ashley Furniture Signature Design Tibbee Full Sofa Sleeper is the third most expensive product on our list. However, if budget isn't an issue for you, then this is an item well worth investing it. In addition to all the benefits you get, the product is also delivered directly from the manufacturer with a one year warranty.

Subscribe to our Newsletter