Best Universal Remotes Reviewed & Rated for Quality
In a Hurry? Editors choice: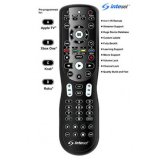 Test Winner: Inteset 4-in-1

Surfing through the couch cushions, peaking under each
piece of furniture
and checking every shelf of the entertainment center when you already have two remotes sitting almost mockingly next to the TV will drive anyone insane. What can you do when everything takes a different remote, and the one you need is still missing? It isn't new news that you can get a universal remote that works with most, if not all, of
your equipment
, but many of those are even out of date for the modern stuff. So, where do you need to go to make sure you get the right one? Which one is best suited for close if not all of your needs? We're here to solve your problem. Here's the list of our favorite universal remotes.
Standout Picks
Criteria Used for Evaluation
Durability
Remote controls are easily one of the more durable devices you can own. That isn't to say that they can't get broken if handled improperly, but it isn't an easy task to put one through enough to break it. With that in mind, we still wanted to make sure that the products we put on our list would hold up to the usual riggers of constant button mashing and kids tossing them every which way around the room (we all know they have some weird game of 'hide the remote' that they play when we aren't looking).
Two things easy to note for possibility was a button not returning where it should, or not responding and the second being that the battery cover often can snap leaving to covering up with tape in the hopes to not end up without batteries before your favorite show comes on. Under normal use, the devices listed here have shown they will last you a good long while- maybe even through a couple of TVs!
Compatibility
Not all remotes can work all devices, but when we are looking at universal remotes, one thing we do want to know is how many uses it does have. Though not all of these are obviously meant for TV they all boast the ability to control one or more of your modern electronics. The more uses the better, obviously. There are some however that can control what the majority of brands cannot, and these two deserved mentions on our list- since finding a replacement can be difficult for anyone.
Ease of Use
While we still have quite a few remotes that work on the old preprogrammed venue, in fact even newer types still have these, we wanted to make sure that you didn't have to spend hours trying to figure out how to get to your particular tv. All of the remotes here have manuals, or easy to locate programming guides online. So, if you know what you are looking for, a great start while you wait for its arrival is to research what you need to do to program it early.
Most of them have a specific one or two-button sequences and then a number line to have it get all the needed programming to run your TV or other devices. There are a few out there though that have a niftier trick that we thought we would mention below in the information part of our guide- so be sure to check that out as well!
Brand
The brand can be important in this case as it means the company is more experienced at having a diverse set up for their products. The brand can also tell you what types of equipment they are most reliable for.
With experience comes a lot of dependability when you go for a quality product. There are some newer brands on our list as well that are worth looking over, mainly because as our technology advances some things simply won't run with the old standard style products. For that, you need fresh minds and ideas. So, if you are looking for something to use with that new digital TV device, you may want to look at some of the not so old companies for it.
Value
As we advance, the quality of our remotes are going to change, and nothing grows faster than our entertainment business. While some of the newer designed remotes may seem costly, the ease and efficiency with which they can be used can make them worth every penny. The more expensive your stuff is that you need it for, and the more of it you have, the more valuable a remote that can control all of it at once becomes. All of the remotes on our list serve multiple uses and have efficiency with products that may not be so easily used without them. Overall, we feel that each one is worth its cost in quality
Best Universal Remotes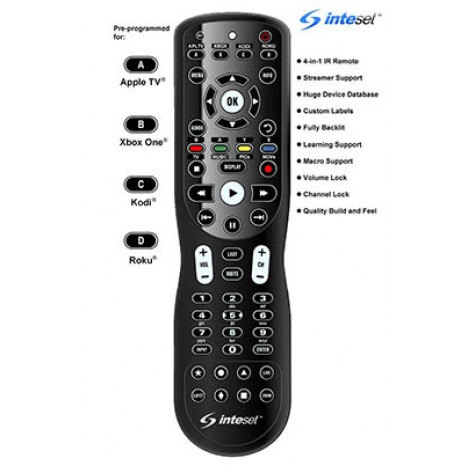 If you are looking for something to control both new and old, you have come across one of the best we have found on the market today. Inteset offers to not only work with your typical TV set up but also works with a lot more equipment than you might have thought possible for a single remote. Read on to see just what this wonderful device can bring together below.
What doesn't it do?
This remote is set up in a way that allows it to learn devices that it isn't already preprogrammed to work with, but what it already comes with is an amazing list in itself! While not every option consistently works with the code, which could be a downside, due to its ability to 'learn' from other remotes, even if it doesn't seem to work one way, it will pick up the controls through a different method. Some of the things included in its code list are the Apple, Steam, Xbox One, Nvidia, Fire, Windows, Kodi and more! Definitely worth looking into if you have a lot of devices and want to consolidate them down into a single package.
You shall not Pass!
Having a lock on channels is great if you have a younger audience in the house that is known to be curious, but a nice feature to add is a volume control lock so you aren't rudely awakened late at night or early in the morning by others in the house. This handy feature means not only is what is watched but how things are watched is kept at a reasonable level. We definitely found this to be a nifty feature to consider.
Cost and Value
This remote is surprisingly inexpensive, to begin with considering all it can do and is programmed for. The quality shows in just how many devices it can work with, and that it has multiple ways of being programmed to work with items in your entertainment center. To top it all off as well, if you are having issues with the remote, the customer service is great with the company and they will help you work through any problem to leave you feeling satisfied.

2

. Sideclick for Amazon TV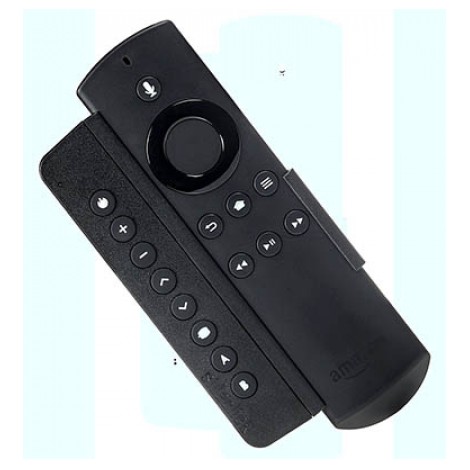 Designed to work with the Amazon fire tv set up, this little universal sidekick style remote is not meant to do everything. In its simplicity, it is designed to help you with the general controls without having to switch controllers. Read on to find out more about what it can do for you.
The One Remote!
When the only reason you have two remotes is that one controls your channels and programs while the other turns your TV on and the volume up, you start to realize what you need is to get it all in one. The sidekick does exactly that- lets you put it all into a single remote. Built to attach to the side of the remote you are using for everything else, it controls the power, volume and other main functions of the second remote so all you need is one to control them all.
Do I hear an echo in here?
Although it's the main purpose was to be used with Amazon Fire TV this little charmer can also work with your Echo and most other streaming TV remotes to give you that extra boost. Knowing that you can use this in conjunction with other brands of TV streaming only makes this a true sidekick to beat all sidekicks.
Cost and Value
Between the usefulness of having everything together, and it's durability, this remote meets the usual standards to be worth the asking price. Though smaller and with few functions, what it does and how long it lasts gives it value because it won't need to be replaced over and over again and brings convenience to your streaming TV devices. Add to that, that unlike many other Universal replacement remotes, this one has a warranty attached to it in case something doesn't work right if and when it is used properly.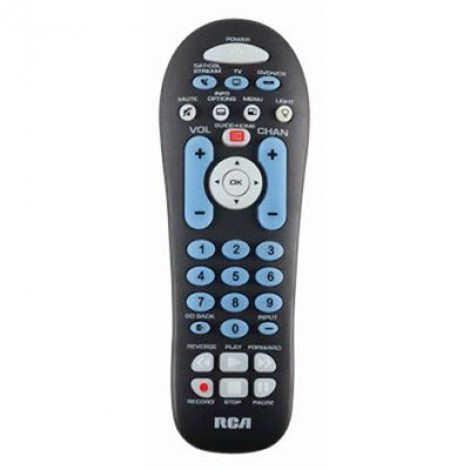 If you need to be able to both easily see and press the buttons on your remote and want to keep all three of your devices on one controller, check this one out. RCA brings you an easy to see and use remote with buttons that don't blend in so easily to the stick, or each other. Read more below!
I know that name…
RCA has been around forever it seems, then their products are likely to be found in most homes no matter what the generation. Why is this? Because they have the experience and know-how to get things right the first time. The company is trusted with good reason, for having products that meet and exceed the expectations of their customers, so why should this remote be any different? It isn't! Just like all of their previous equipment, you can expect this controller to do exactly what it says it can do and las a very, very long time.
I wanna press the button!
With the larger scaled buttons, you don't have to worry if what you are pressing means you are getting more than you were after. While many remotes have small round buttons that can easily accidentally be pressed three at a time by larger or less limber fingers, this remote was designed to be more easily utilized. The larger area makes it much easier on both bigger hands of an adult and the smaller and less dexterous hands for a little one.
Cost and Value
As a true non-specific brand remote, this controller is one you may have to spend time programming, but with the company who made it, you are almost guaranteed your entertainment center is on its list of possible equipment! On top of that it has a limited lifetime warranty, meaning that no matter what goes wrong, as long as you were using it as intended, they will back you up with a new remote or assist you in finding a way to restore the one you have.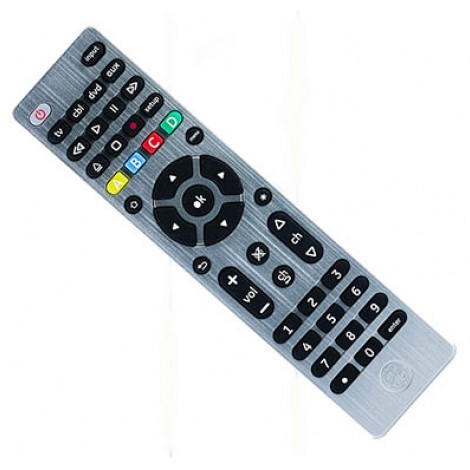 Sleek, easy to read and ready to take on your library of devices, this remote is one you will definitely want to learn more about. So, consolidate your four favorite entertainment devices and check out what it offers below!
Designer
This remote has an interesting additional feature of being able to choose from four different colors. Though the one we were presented with was the visually pleasing Nickle brushed appearance with black and white buttons. Even then, the fact that it isn't black definitely aides in seeing what button is where a lot easier. We are all so used to black buttons on a black stick that seeing this was a definite refreshing aesthetic for our eyes that also gave it better functionality. Who knew a simple stick color change could have such a great effect on how easy it is to use?
Branded but efficient
Although this is a GE remote, it has a lot of brands that it does support, they even give a comprehensive list on a link so that you can look it over before you buy it and know that your equipment is on it and able to be controlled with this remote. For an additional few dollars, you can also go from an already 4 device connections to a six device use and maybe cut back even more on how many controllers are laying about.
Cost and Value
Thus beautiful remote has slightly larger buttons, an eye-soothing color, and great customer support to give it great quality from the start. Of course, being a GE product, we already expected it to be something worth your time to look over. Making it an even better deal is it's already low cost to own, and this pretty thing blasts through this category with ease, making it well-deserving of a place on any top ten list of its kind.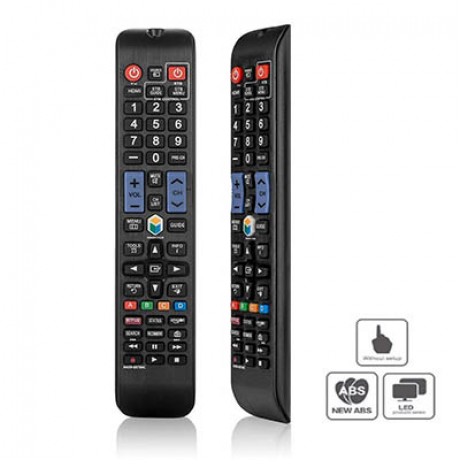 Although this device was built with Samsung products in mind, it has the ability to work with other brands as well, a simple check of its programming list will tell you what it can do to help cut back on your controller count. Read on below to see what other features you might find appealing.
Samsung-a-rific
The selling point of buying any TV brand-oriented universal remote is in knowing you likely don't have to do anything else to get it working with your Samsung TV. This is true for the most part- almost all Samsung TVs work automatically with this remote. Of course, you will want to check their list to make sure that yours is on it as an automatic use.
Sony!
One brand that Samsung remotes seem to work easily on a continuous basis is Sony. This remains true for this product. Like with your TV, this remote comes with the ability to work with most Sony players as well, so you already have two controllers combined, wonder what other powers this stick has?
Cost and Value
You might think that it's brand-specific nature makes it lose on the scale of value for cost, but it simply isn't true. While it is brand-specific, it can be used with other devices as well, and its greatest value comes from its customer service team. This company not only wants to work with you but asks you to contact them no matter what the problem is to see if they can help you resolve it in a way that leaves you happy with them- even if you end up not keeping the remote. They would rather you find yourself returning to them when they can offer you something you need than to leave you dissatisfied and feeling bitter about their device. This makes its already low cost seem like a discount.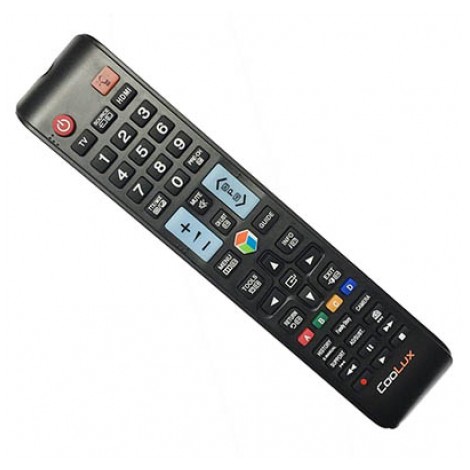 Here we run across another device whose main brand is Samsung, but don't let that fact fool you! This product has more to offer than Samsung control, and you may like what you read in our research on it enough to want to try it for yourself!
No codes you say?
While many branded controllers automatically work with the main brand, they often need extra code inputs to work with anything else. Despite being a branded remote, this one brags of being able to control more than just your Samsung without extra work. Many of the main brand names also don't require any additional work to use it with. Just stick a new set of batteries in and aim, you'll soon find yourself enjoying the comfort of a single remote to control your entertainment.
Old and New
While many of the branded remotes work with the newer models of the TVs, not very often do you run across one that controls the TVs that are several years old. Fortunately, this remote has been said to work with TVs that date back to the early 2000s. So, if what you need is a replacement to a 2008 Samsung, you may just have found a way to relax and enjoy your TV from a distance again with this one!
Cost and Value
Having a remote that you won't have to spend hours scouring a pamphlet or webpage to find the codes for and hoping you are putting them in right is awesome enough to say that this already affordable product is well worth your pocket change. Because it can control so many other devices with just batteries in place means it exceeds any and all qualifications to be where it is on our list. This item also has even more interest because it can control up to five devices at once, so really, you have a great item for a decent price from the start.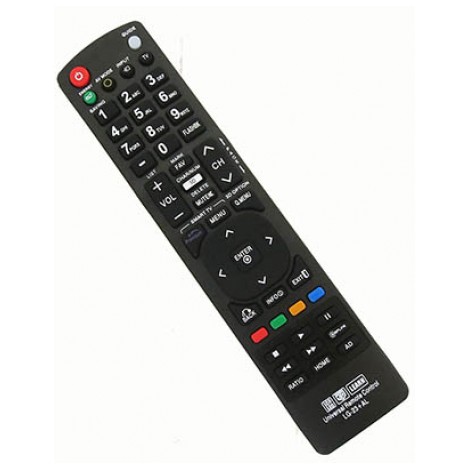 Looking for something for an LG Universal remote? This one has you covered. Ready to go with most LG products, this remote will likely only need to be programmed to work with brands outside of its own. Check out the information we found for you on it!
Life's Good
When you look for a brand-type Universal, it's because you want to know that your main source of entertainment, the TV, is going to be on the list of things it controls. So, if you have an LG, why wouldn't you buy an LG? This remote is built so that it works without the need to program in your LG TV to start using it. Of course, like with any preprogrammed, you will want to check the list to see if yours will be one that only requires batteries, or if you'll still need to find the code to get it to work.
Class time!
While you can't 'teach' this remote in the classic instruction method, it can learn almost all LG equipment by simply pressing one button and holding it to the equipment you want it to learn from. Of course, this works mostly with LG and not a whole lot else. Still, it cuts down on the time it takes to have to put all those codes in by hand, and its quickly becoming a way for the term 'universal remote' to truly become universal.
Cost and Value
While many might feel that the limited number of products this one truly works with makes it not as good, the fact that everything it works with doesn't require anything other than a set of batteries makes any LG owner feel great. The price is not all that high either, it actually is about the same as most other competing products, and it comes with a one-year warranty, so if what you have doesn't work with it, you aren't stuck without options. All-in-all, this remote is worth its price for the customers it is aimed at.



Here is a brand name we know, but didn't expect on a list for universal remotes. Surprisingly it is one that we nearly overlooked and have found is well worth considering if you have multiple devices you want to control without having to spend a lot of time manually entering codes. Check out what we discovered with our research!
Channel check!
The At&T Uverse set up is so easy that it makes you wonder why no one else thought of it first. Instead of having to go over a pamphlet or scour the internet to see if the product you want works with it, all you have to do is go into the menu with your Uverse box and have it check for the name of the device you want to add to your list of 5 operable pieces that this remote can control. Select it from a list, and voila your remote has everything loaded into it to run those items. It works with TVs sound systems and DVD/blue-ray players as well as your UVerse box with just that little bit of effort! How cool is that?
No way!
What would you guess if you were asked how much you think something like this is? Probably at least into the double digits, right? Most cable companies go there, and so does more than a few brand-name companies, so AT&T is not going to be on your list of 'inexpensive' when you look things up. Surprisingly you would not only be wrong, but you'd probably end up in disbelief! On our whole list, nothing is less expensive than this remote, and that even left us doing a double take!!
Cost and Value
Oh, so this is the least expensive remote? Well, don't expect that to mean it has the least to offer, or that it in any way lacks quality in the product. If anything, the fact that you would pay less for this remote comes most shocking when you realize that it offers more than most of the others in the way of ease of use. Not to mention the fact that the customer service to it is great without even having to talk to anyone! (The site to look up all you need to know is so easy to navigate it is likely our kids could set this thing up in seconds!) The quality and convenience of this product combined with the fact it works with so many brands outside its own makes it stand out at number eight and is well worth looking into!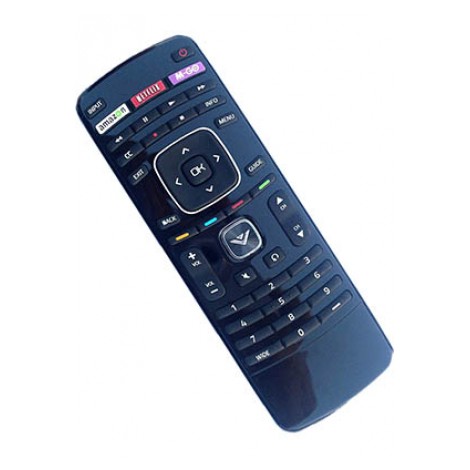 If you are a Vizio fan and having a hard time finding a newer model remote that works with your older TV, there is still an answer for your troubles. This remote has a newer style of programming, but if you read on, you'll see why we felt the need to add it to our list.
Old Pro
Some of us prefer to stick to an older TV, not because we can't upgrade, but because if it's not broke- don't fix it. Sometimes what's new and exciting simply isn't as reliable in the long run as something we already have, unfortunately, our society moves so fast technologically that finding a replacement remote or anything else for that matter, can become a hassle that forces us to move on. Vizio knows their products last, and because of the reliability, they have customers that are loyal and still using their older TVs. Rather than cause their buyers to move on, they keep you up with what is still running- take pride that they can have such! This remote is a learning remote, but it comes pre-programmed with the codes in place for the older models so that all you have to do is add batteries!
Internet too?
While allowing you to hold onto that old TV they don't want you to find you can't use your internet TV connections. This remote allows you to access your apps that can be played on the older TVs via a connection so that you can still keep up without having to start completely new! Talk about catering to their customers, Vizio certainly knows how to do it right!!
Cost and Value
Vizio makes it obvious that they make quality products when they provide tools like this one. After all, if you are willing to make new remotes for TVs that are, by other company standards, 'out of date', what does that tell you about value? By knowing you won't have to keep paying to replace things over and over again, you know that the already low price is clearly outshined by the fact you will have a product you can rely upon, and for the skeptics among us, they even offer a protection plan despite the fact it won't hurt your budget to simply get another!



Are you one of those among the growing crowd who wants to be at the forefront of all invention? Do you jump at the chance to be one of the first to try an amazing product even in its beta stages so that you can claim you knew it would take off before everyone else? Well then, check this gorgeous state of the art true universal remote!
All powerful!
Feel the power of a truly universal remote at your fingertips. This remote doesn't stop at the usual entertainment center, it's a smart remote! It works through the power of apps and the internet so that no device is without your ability to control. From TV to stereo, to computers, video game consoles- and what was that? Is that a smart device, well you got that covered too!
Who needs buttons?
While this remote does have a few buttons near the base, most of the controls are done on a touch screen style on the top, allowing you to easily sift through and pick the item you want to control and control it. With constant updates via wifi, this little beauty offers you a variety of options for control and has a great working radius. So, if you are tired of sticky buttons or buttons that don't light up, are too small or don't respond, this touch screen remote is likely to make life that much easier when you need to work anything smart device controlled in your home.
Cost and Value
We will admit, the price tag to own this is quite high, and out of most of our reaches. A larger number will flick this page closed the second they see it, but in all truth, how many were so quick to grab on to the idea of a computer or wireless controller when they first arrived on the scene? The fact remains that when you look at everything it can do, it definitely covers the aspect of 'does it meet its value?' it controls almost everything, and what it can't control yet will likely join its database in the future. It's an eternally expanding remote- one that will keep up with what you buy in the future while allowing you to keep using what you already have now. You could go through a hundred or more remotes before you'd ever need to replace this one (and it is more likely to get 'upgraded like a phone than need true replacement).

Subscribe to our Newsletter