Best Glass Meal Prep Containers Reviewed and Rated for Quality
In a
Hurry? Editors choice: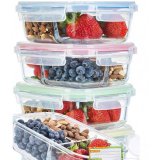 Test Winner: Hello Meal Prep

Remember when Sundays used to be the day of rest and still part of the weekend? Maybe, for the wilder contingent, it was even Sunday Funday. But now, for many of us, our Sundays are filled with preparing ourselves for the week--and that includes meal planning.
Meal planning is an essential tool is gaining control over your diet and eating habits. By planning out well-balanced meals ahead of time, you won't play victim to rash or tired dietary decision making. But getting all of your ducks in a row can be a challenge.
Prepping can cause major traffic jams in your fridge and
improper storage can also result in your food spoiling
before you eat it. So we've compiled this Ten Best List to bring you the best glass meal prep containers which will streamline your organization and make sure your food stays fresh and healthy.
Standout Picks
Criteria Used for Evaluation
Materials
When compiling the group of products for this Ten Best List, we looked at the materials each product is made from. All of the products on this list are made from borosilicate glass which is a tempered glass that can stand a wide range of temperatures. This glass can get super hot and super cold (exact temperatures depend on the quality of the glass) and can go from one to the other without damaging or breaking the glass.
All of the lids on this are made from plastics that are BPA free. They feature silicon or rubber gaskets that help to ensure a snug seel.
Features
In terms of features, we looked at whether products have a vented lid option to let dishes cool when they are hot and placed in the containers right away. We also looked at how the lids locked (all lock with 4 snaps--1 on each side--as this is preferred for secure closure). Finally, we worked to highlight options that come in different sizes and shapes.
Capacity
Building off of features, we worked to showcase products that have larger capacities. That being said, we also highlight sets that come with different size options so that you have more variety in your selections.
Ease of Use
In terms of ease of use, we mean how easy each product makes prepping. Products with 1 or 2 dividers inside of them score highly in this area because it makes portioning meals easier and because your food items won't get mixed together.
Value
The products on this list have great value because they help you to get organized and keep to your dieting plans. Plus, they are made from reliably safe materials that are far better than their plastic alternatives. Not to mention, many companies also offer lifetime warranties on their lids.
10 Best Glass Meal Prep Containers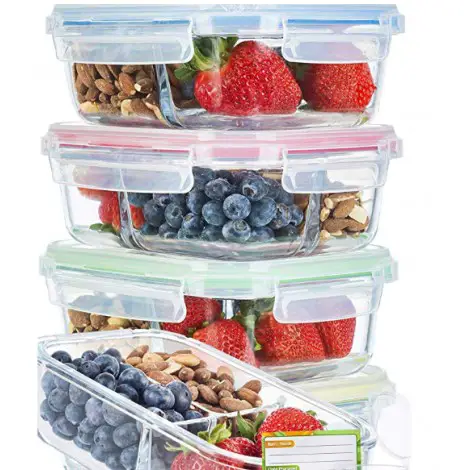 This option from Hello Meal Prep is the perfect way to kick off our list. With this set, you'll get 5 separate containers--one for each weekday. Each individual piece is able to hold 32 ounces of food and offers up 3 separate storage compartments inside. With tons of other cool features, it's not hard to see why this product is number 1.
Color-Coded Lids
The lids on this option from Hello Meal Prep take prepping to the next level. Each lid is a different color so you can color code the food that you have prepared for the week. This set also includes bonus prepping labels that make identifying your food and when it was cooked easy as pie.
The lids in this set are also FDA approved to be BPA-free (a harmful substance that is present in many unregulated plastics which can seep into your food and drink especially when exposed to extreme temperatures).
Hello MP has also worked to deliver a locking and sealing mechanism that ensures against spillage and leaks so these are truly safe to be taken with you anywhere you go. They also nest inside of one another so they are easily and securely stackable.
Hypo-Allergenic, Food-Safe Materials
This set from Hello MP is made from materials that the FDA classifies as hypoallergenic, non-toxic, and lead-free. They are totally food safe and won't result in any unwanted toxins seeping into your food.
Made using borosilicate glass, these containers can withstand a wide range of temperatures without being damaged or compromised. In fact, this glass is so strong that it is used in labs and even on space shuttles. For you, it means you can put these in the freezer, in your microwave, and in your oven without the fear of having to contend with shattered glass.
Each item features 3 different compartments so that you can easily separate your food. This also helps with quickly proportioning your meals. Each piece is 7 inches long, 5 inches wide, and 2 inches tall.
When you purchase this set, you'll also get 8 sauce cups with an attached lid that are reusable. Each cup can hold 1.5 ounces of sauce. These are ideal for salad dressings or condiments that you want to carry along with you for your lunch or dinner.
Cost and Value
This option from Hello Meal Prep rings up towards the top of our price range and we love its value because it is a nice size set with 3 separate food compartments inside and with color-coded lids for easy in planning.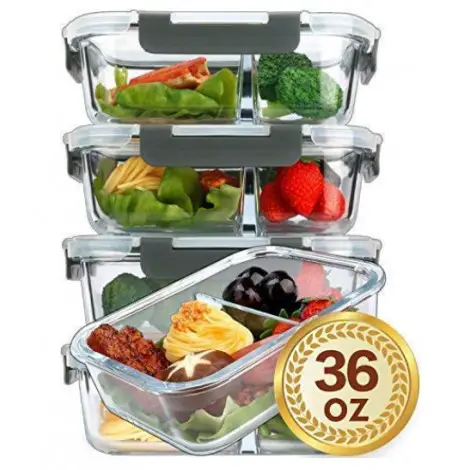 If you've got storage needs that are a little more demanding, then this set from Mcirco could be just the thing for you. Each piece is able to hold up to 36 ounces of liquid or solid food which is more than most others on our list. Plus, each item is divided into two parts so you can keep your food from mixing together.
More Food Space
This set from Mcirco offers up more room for yummy food than other products on our list. While most offer around 30 ounces, you'll enjoy a whopping 36 ounces of space to store your lunches in.
You'll also benefit from easy portion control as each item is separated into 2 separate compartments. One is larger than the other so it makes balancing out your meals and getting the right proportions a little easier.
Each item in this set is made from borosilicate glass which is super durable and can be placed safely in the microwave, oven, and freezer. Plus, it is FDA approved to be food safe.
Lids Guaranteed for Life
The lids on this set are also guaranteed to be food-safe and free of BPA by the FDA. While you can place your glass pieces in the oven, microwave, freezer, and dishwasher, you should not place the lid in any of these.
The lid locks into place with clip locks on every side and is sealed with a silicone gasket. You can easily remove the silicone gasket for even more thorough cleaning. The lids nest and stack on top of each other for easy storage.
Perhaps what we love most about this set is that the lids are guaranteed for life. If you should experience any issues with broken or cracked lids of clips, Mcirco will replace them--for life.
Cost and Value
This set from Mcirco rings up towards the top of our price range and we love its value because it is made with super safe and strong materials, because there is more storage in each individual item than most others on the market, and because the company ensures their lids for life.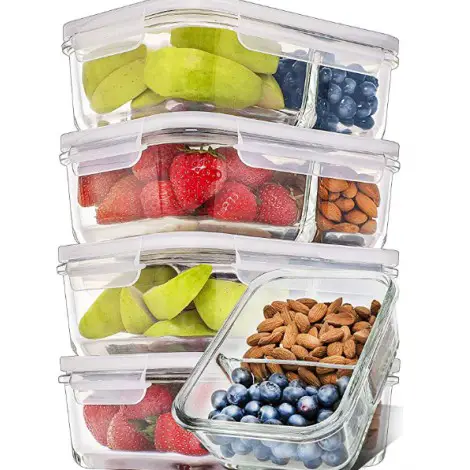 The Prep Naturals are a great companion for anyone who is looking to regain control over their diet. With tons of versatility in function and 2 separate compartments that help you to balance your meal proportions, these stackables are some of the best meal prep containers on the market.
Can Put them in the Freezer and Oven
This food storage option from Prep Naturals is made from incredibly high-quality materials and can be used in a wide variety of situations as a result.
Made from borosilicate glass, which is naturally resistant to the shock of changing temperatures, these products can be frozen without damage and can also be microwaved and placed in the over without experiencing damage there either. What's more, you can move this product directly from the freezer to the oven (or visa-versa) without having to worry about hazardous glass explosions.
This is key to meal prepping. You'll want to be able to pop in your food and eat it immediately after having spent time over the weekend preparing your food. So being able to throw it directly into the fridge or freezer when you're done prepping, as well as into the microwave or oven when you're ready to eat is a necessary feature.
On top of all of that, this product is also safe to go into the dishwasher. It is important to note that the plastic lid (BPA-free, by the way) is not approved to go into the microwave, oven, or dishwasher so you'll have to get your hands soapy cleaning this one the old fashioned way. And to keep this naturally safe, use a natural cleaner.
2 Separate Compartments
This option from Prep Naturals features 5 different contains with 2 different storage compartments each. For one, this helps to keep the different food items that you have prepped separately. For two, this feature helps to balance your meal proportions in a quick and visual way.
The larger compartment holds 1.5 cups while the smaller compartment can hold around 1 cup. Of course, you'll have different dietary needs that you'll want to fulfill, but it should be easy enough to determine which items should fill each space.
Each product comes with a smart lid that snaps on all 4 sides. This lid allows for a secure and snug fit which ensures that the food you store will remain fresh until you're ready to eat it. They also feature a vent that you can open on the lid to let steam out as hot foods cool. Plus, these play a role in easy storage as well.
With this product, storage is a breeze so you no longer have to worry about bulky Tupperware in your fridge taking up tons of space. These will easily stack on top of one another creating a slim profile that will free up necessary room for other items that need to be kept cold.
Cost and Value
This option from Prep Naturals rings up towards the higher end of our price range and we love its value because it can withstand almost any temperature variation and because it features smart lids that keep food fresh and containers easy to stack. Plus, your satisfaction is guaranteed or your money back.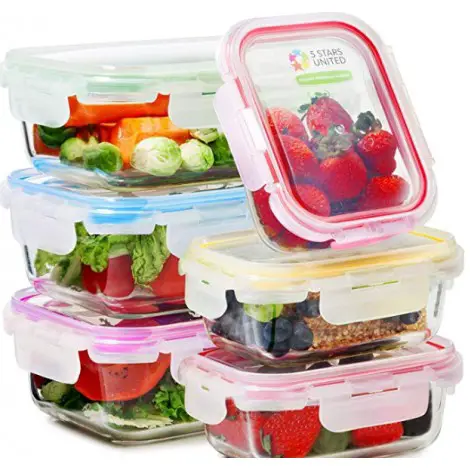 This set from 5 Stars gets close to a 5-star review from us (and actually does have a 5-star review on Amazon). With 6 different pieces in the set--3 pieces that hold 35 ounces of food and 3 pieces that hold 12 ounces of food--you'll be able to mix and match these piece to fit all of your prepping needs.
Different Sizes Come in Handy
The different sizes in this set come in hand when you are trying to meal plan. This helps to balance proportions and also helps to differentiate between snacks and meals. Plus, with color-coded lids, you'll be able to easily tell what is what, and you can even get in the habit for using specific colors on specific days of the week.
Quality Materials Ensure Durability
This set from 5 Stars is made from tempered borosilicate glass that can withstand temperature shocks without shattering. The glass and the lids are BPA free and won't leak and hazardous materials into your food items.
The locking and sealing mechanism on the lids are virtually spill proof so you'll no longer have to worry about mopping up the soup from the remainder of the items in your lunch box. Plus, your food will stay fresher for longer as well.
Cost and Value
This set from 5 Stars rings up towards the top of our price range and we love its value because it comes in different sized containers to suit varying needs and because all of the lids can be color coordinated for specific days of the week.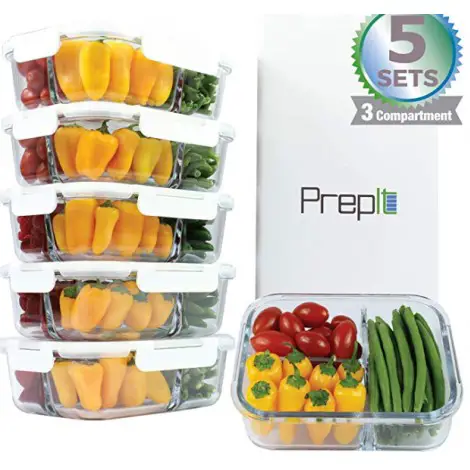 This set from PrepIt comes with 5 containers that are super easy to use. With 3 dividers in each piece, you can use just 1 container for each meal without having to worry about your food getting mixed together.
3 Dividers Inside
With this set, you'll enjoy having 3 dividers inside to separate your food items. Not only is the great for portion control, but you also won't have to eat a random mish-mash of all of the foods you're planning on eating for lunch.
This also means that you only really need one container per lunch or dinner which makes packing in the morning an easier task that takes up way less space. In total, each piece can hold up to 36 ounces of food.
LFGB and FDA Approved
The materials used in making this set are approved by the LFGB and FDA. The containers are made from borosilicate glass and the lids are BPA-free. You can feel safe about storing foods in these containers, even at high and low temperatures, without the risk of toxins seeping into your food.
Cost and Value
This set from PrepIt rings up in the middle of our price range and we love its value because it feature 3 storage zones inside of each piece so that you only have to bring one container with you for your lunch.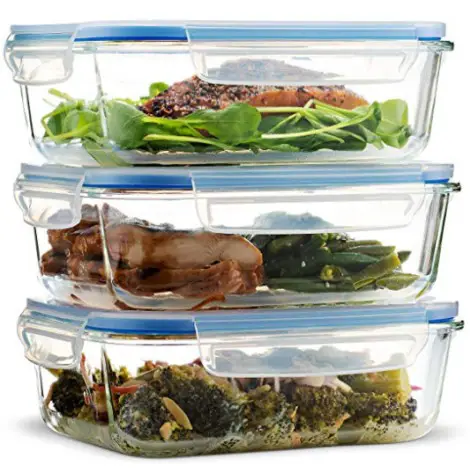 This option from FINEDINE boasts that it is 100% leak proof and most reviews out there confirm that this is the case. While you won't find separate storage compartments in this product, you will still enjoy the benefits of being able to portion food that you make in bulk out ahead of time. With your purchase, you'll get 3 containers that hold 35 ounces each.
Non-Toxic, Environmentally Friendly Option
Let's face it--we're all looking for ways to minimize the amount of plastic we purchase and have in our homes. Not only are these plastics horrible for the environment, but many of them can also contain harmful toxins that are damaging to our health as well.
This FINEDINE product eliminates that worry. Made from borosilicate glass that is food safe and eco-friendly, you can feel confident that the foods you prep won't absorb harmful materials your storage container (especially under extreme temperatures).
Plus, because you're dealing with glass here and not plastic, your containers won't stain or hold on to old flavors or odors from previously stored food. You heard it here first--it is not safe to prep tomato-based products for lunch again!
And speaking of, once you're done with the heavy lifting of prepping, these food storage options can be stacked one on top of the other in your fridge without slipping or sliding around. That way you can optimize more of the valuable space in your fridge.
Easy To Clean
The lids on this product from FINEDINE are made from BPA free plastics that are 100% food safe. These lids feature a rubber gasket that spans around the lid to make a seal. Couple this gasket with 4 smart clip latches (one for each side of the container), and you've got yourself a product that is just about 100% leak proof.
That means you can safely store liquids as well as solids without having to worry about spills all over your favorite gym bag or lunch box. And this same feature serves to keep the food you worked so hard to prepare nice and fresh until lunchtime rolls around.
This lid is also approved to be thrown in the dishwasher (it is suggested that you wash this lid on the top shelf of the dishwasher). You can also was the lid by hand and you can even remove the rubber gasket for a super deep cleaning (you know...every once in a while).
Cost and Value
This option from FINEDINE rings up at the bottom of our price range and we love its value because it is made of borosilicate glass with leak-proof, BPA-free lids at a fraction of the cost of other products made with the same materials.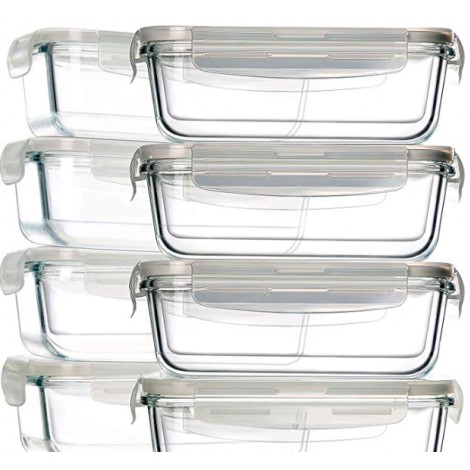 This option from Bayco features 8 storage containers that can each hold 30 ounces. The lids on these offer silicon lining to ensure freshness and spill-proofery. These don't have dividers but they can hold a good amount of food whether you're prepping for lunch or for dinner.
Silicone Lid Seal
This option from Bayco features smart lids that have clip locks on every side of the container. The lid features a silicone lining which helps to maintain airtight suction between the lid and the glass container. These lids nest inside of one another, making them easy to stack and store without having to worry about them sliding off of each other.
The dual action of the locking lids and silicone seal work to ensure that these can hold more than just solids--they're up to liquid jobs as well. And they all serve to maintain food freshness for days at a time so that you can enjoy the food you prepped Sunday on Friday.
These lids are okayed to washed in the dishwasher but exposing the lids to high temperatures (like the hot water in the dishwasher) can warp the plastic over time and cause the seal to become less than 100% effective. Thus, it's best to just go ahead and wash them by hand.
Large Size
This product from Bayco is a bit larger than the other items on our list so far. It measures a little over 7 and a half inches long, a little over 5 inches wide, and just about 3 inches tall. Each separate item can hold 30 ounces or about 4 cups of food.
These are approved to sustain temperatures in the oven of up to 700 degrees Fahrenheit (400 degrees Celsius) as well as temperatures in the freezer of up to -5 degrees Fahrenheit (-20 degrees Celsius). They are also approved to change temperature rapidly so you don't have to worry about defrosting before you heat your food up out of the freezer.
Cost and Value
This option from Bayco rings up towards the top of our price range and we love its value because you get 8 separate food storage items instead of the standard 3 or 5 and because these allow for the same extreme temperature use without damage.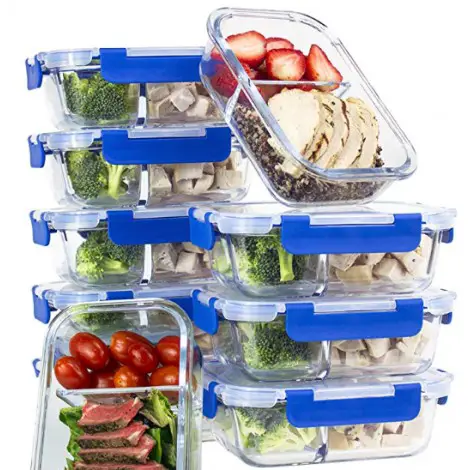 This set from Misc Home is one of the most inclusive on our list. With your purchase, you will receive 10 different glass meal prep containers with 2 separate storage compartments inside of each one. These are high-quality and are built to last so you can keep prepping year after year.
Each Container Holds 3 Cups
This set from Misc Homes comes with 10 different containers. Each can hold 3 cups of food divided into two different sections. The larger component can hold 16 ounces of food while the smaller component can hold 8 ounces.
Made from thick borosilicate glass, these containers can withstand high temperatures without compromising the glass. In fact, you can heat these up to 500 degrees Fahrenheit.
Lids Keep Food Fresher Longer
If you've ever prepped with plastic Tupperware before, you know how easily food items can spoil when the Tupperware is not sealed properly. You won't have those problems with this set.
The lids that come with this set snap on every side and feature seals made from silicone that create lasting and locking seals to keep your food as fresh as possible for as long as possible. These lids are also guaranteed for life. If one should break or crack, Misc Homes with replace it.
The glass and the plastic lids are both FDA approved to be BPA-free and of food-grade quality.
Cost and Value
This set from Misc Homes rings up at the very top of our price range but we love its value because it has more containers than others on our list and is made of the same high-quality materials. Plus, their lids are ensured for life.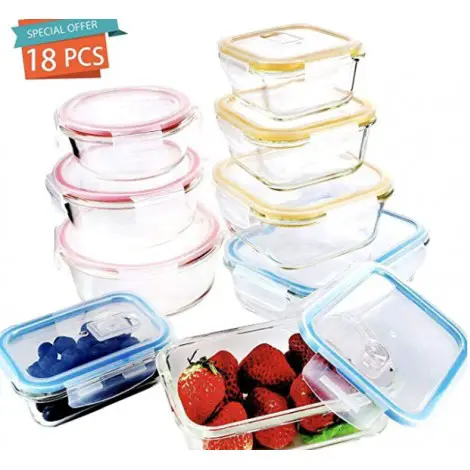 This set from Mealcon is another that is loaded with tons of storage options. You'll enjoy 9 different pieces in this set that are different shapes and sizes to suit your specific needs. You'll likely want mix and match these to keep your food items separate as there are no dividers in these.
9 Different Pieces
This set from Mealcon comes with 9 different containers that are different shapes and sizes. You will get 3 rectangular pieces with blue lids that store 36 ounces, 22 ounces, and 13 ounces. You'll also get 3 circular pieces with pink lids that store 33 ounces, 22 ounces, and 14 ounces. Finally, you'll enjoy 3 square pieces with yellow lids that store 28 ounces, 18 ounces, and 11 ounces.
These different sizes and shapes come in handy when organizing your meals and also help to differentiate meals and snacks. Plus, color-coding your planning can help you to stay organized as well.
Each glass piece is made from borosilicate so they can be placed in the freezer, oven, and microwave. However, these pieces are not as thick as previous items on our list and they should not be pulled directly from the freezer to the oven.
Nest Nicely
These pieces nest nicely both with and without their lids. That makes storing in kitchen cabinets a breeze when the pieces are not in use and it also means that they stack nicely on top of each other in the fridge when they are in use.
The lids snap into place and feature a seal made from silicone. This helps to keep food fresh. There is also a vent latch to let steam out while food is still hot and working on cooling down.
Cost and Value
This set from Mealcon rings up towards the top of our price range and we like its value because it comes with 9 different pieces that are all different shapes and sizes to give a wider variety of storage options.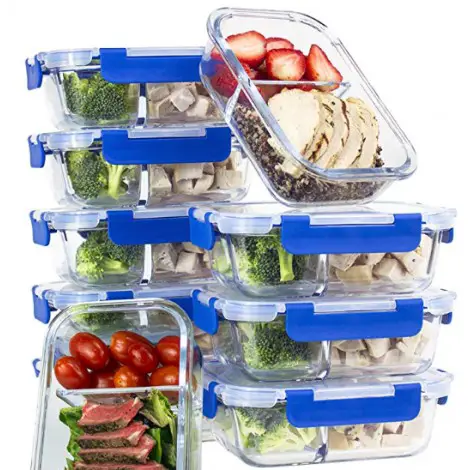 This set from Enther comes with 6 pieces to help organize your meal planning. They can hold 30 ounces each and come with snap on lids to help prevent leaks and ensure that food stays fresher for longer.
Nice Medium Size
The 6 pieces in this set from Enther are nice and medium-sized. They can hold a small meal. With lids that seal and lock into place, you will be able to enjoy fresh food even after it has been stored for some time.
No Residues Leftover
Unlike when using plastic containers, here with these borosilicate glass pieces, you won't have to wrestle with leftover stains, tastes, and smells that don't belong. Your pieces will come completely clean and you'll be able to prep fresh each time.
Cost and Value
This set from Enther rings up in the middle of our price range and we like its value because you get 6 total pieces that can help you to get organized. Plus, they are willing to help if your glass should be broken during shipping.

Subscribe to our Newsletter