Best Upright Freezers Reviewed & Rated for Quality
In a Hurry? Editors choice: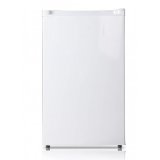 Test Winner: Midea WHS-109FW1

The upright freezer has gone even one step further in making a freezing device even more convenient. Aside from keeping frozen foods, such as
ice cream
and prepackaged frozen vegetables, at an optimum temperature, the freezer allows its user to save time by being able to freeze leftovers and prepare and freeze meals in advance. Read our list of top-rated upright freezers to find the appliance that best suits your needs and budget.
Standout Picks
Criteria Used for Evaluation
Capacity
One of your primary considerations when selecting your new appliance should be your internal storage requirements. Internal storage capacity refers to the number of goods the appliance can comfortably store and is typically measured in cubic feet.
Freezing appliances are available in a compact, small, medium, and large sizes. Typically a compact device will have a capacity of 3-5 cubic feet, a small device 6-9 cubic feet, a medium device 12-18 cubic feet, and a large device 18-25 cubic feet.
As a rule of thumb, it is generally considered that you'd need roughly 1.5 cubic feet of freezing space per member of your household. You can keep this in mind when determining the ideal size of your new device. For example, if you have a family of 3, you can get away with purchasing a compact freezer.
When you consider your new appliance's storage capacity you should also consider its shelving. Removable shelves or baskets are ideal since you can maneuver the shelves to suit your storage needs. However, if this is not available, try to pick a model that has ample space between shelves so you can effectively store your food.
Use
Your chosen device's intended use is a major factor in determining whether it will suit your needs. To ensure that your selected device fully adheres to your requirements, it is suggested that you carefully consider in which environment and to what exact purpose your new appliance will be used.
Not all individuals may purchase their devices for general use. For example, many new mothers purchase a freezer for their nurseries to keep breast milk in. In this instance, the mother may require her freezer to be small, be completely quiet when in operation, to be safe to place in a child's room, and to ideally feature a child lock.
There are plenty of niche uses and environments for freezing devices from being used in hospitals, RV's, dorm rooms, and even libraries.
When considering this, think about things such as: would it be acceptable if my device made some noise? Would I prefer to be able to lock my appliance? Where will I keep my appliance? These questions will ensure that you get the most from your food preserving experience.
Bottom Line
The one thing that sometimes put off new users is the importance of placement of their new appliance. Freezing appliances are notoriously fickle with their placement, however, thanks to technological improvements, most modern devices are much easier to safely place in your living or working environment.
First of all, your freezer should be placed in a sheltered environment close to a safe and reliable electric socket. You should refrain from placing your freezer outside since the elements could damage the exterior of the freezer as well as harm the wiring which could be dangerous.
You should take care to place your freezer on a hard, flat surface such as concrete or tile. Soft areas such as carpeted floors could render the device unstable, making it possible for the device to topple over.
Lastly, you should allow some open space around your device for proper air circulation.
Keeping these requirements in mind, you should select the best space in your home or office to place your new appliance. Before you purchase your product, take care to ensure that the product will fit comfortably in your chosen space. You should leave enough room around the device for air circulation and opening the door.
10 Best Upright Freezers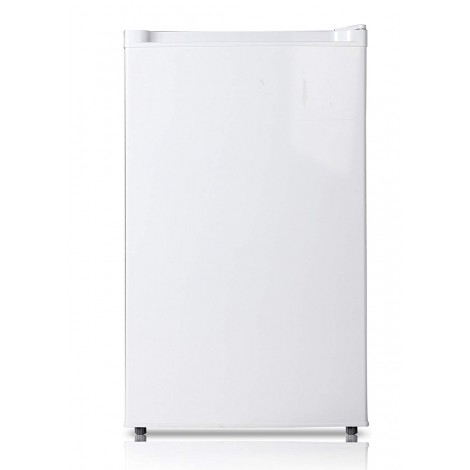 This conveniently sized device from the trusted manufacturer, Midea, still delivers powerful and reliable freezing. Midea prides themselves on being leaders when it comes to implementing innovative freezing technology, and this is clearly noticeable in their WHS-109FW1 model. This device promises reliable performance, completely silent operation, as well as being very affordable and energy efficient. This device would be ideal for users who are looking for a small, energy efficient, and affordable freezing solution.
This device's tiny size makes it the ideal solution for cramped spaces. This device measures 33.9 x 19.7 x 18.5 inches which makes it very versatile in where you can place it. The Midea WHS-109FW1 can be comfortably placed in a mini-bar, small kitchen, RV, and any other cramped space.
Boasting their cutting-edge technology, Midea utilizes completely silent compressors to ensure that this device is ultra-quiet in any environment. This makes it ideal to use in noise-sensitive areas such as nurseries, libraries, hospitals, or an office environment.
Despite its innovative technology and reliable performance, this device is very competitively priced compared with other similar devices available on the market. In addition, this device enjoys an Energy Star rating which will make it easy on your electricity bill.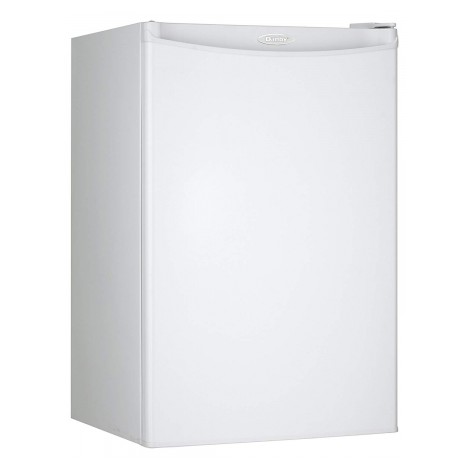 This handy little device will be the ideal solution for users who need efficient freezing in small spaces. The Danby DUFM032A1WDB features an internal storage space of 3.2 cubic feet and two shelves. The freezer has an easy manual defrosting system and has a temperature range between 10.4 and -13 degrees Fahrenheit. With its energy-efficient performance and durable design, this is the ideal solution for any environment.
This product has been designed to allow you to simply plug in and go! It requires no intricate setup and with its easy to toggle settings, you can easily set up your desired temperature. In addition, this device's mechanical thermostat and manual defrosting make it ideal for optimum maintenance purposes.
Everything about the Danby DUFM032A1WDB has been designed to make the user's life easier. This device includes a smooth backed design to easily place it against any wall. In addition, this device features, two shelves, integrated door handle, and reversible door.
This device is competitively priced and definitely in line with other similar products on the market. However, the Danby DUFM032A1WDB, adds more value with its energy-efficient operation and a one-year warranty.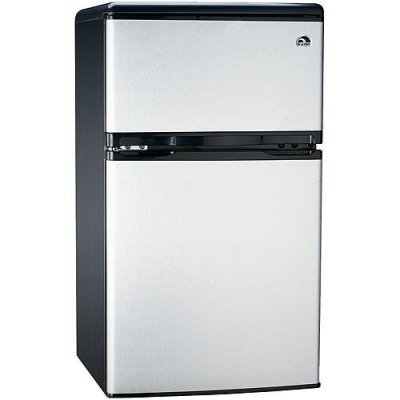 This is a big old freezer for the money. 3.2 cubic feet of cool. More than cool, cold, and that's really the goal. It also has some great extras thrown in that we like. It has a glass slide out shelf, and a vegetable drawer. The freezing unit is CFC free as well, and we're always fans of saving the planet.
Unlike a lot of small freezers, this one has a refrigerated part on the bottom that has a lot of little extras that we like. A door holder for bottles and some slide out shelves. We also like the nice stainless steel look that should fit right in with your décor.
We're big fans of both of these things. Refrigerators are notorious energy guzzlers and keeping the energy usage low is one of this units biggest selling points. We also like the adjustable thermostat and the CFC free cooling method.
We love the price, it is the thing that we love most of all about this product, and we love a lot of things about this product. It's cheap, a nice bang for your buck, it does double duty as a fridge and a freezer and it's got a nice modern look to it. What could go wrong?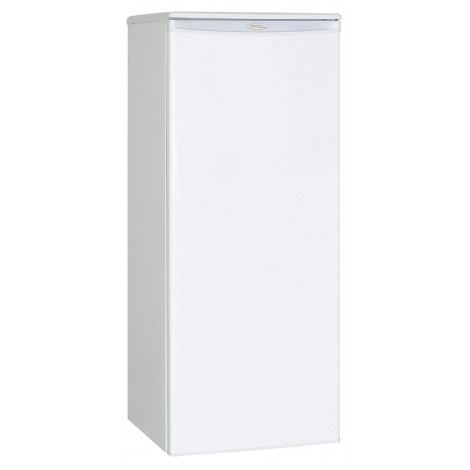 The Danby DUFM085A2WDD1 is the ideal utilitarian solution to freezing. This freezing appliance features a capacity of up to 8.5 c.u f.t and is compliant with Energy Star regulation. This unit has three removable shelves and features integrated door shelving for optimum storage space. This model from Danby is energy efficient and comes with an 18-month warranty.
This model is regulated by the international regulator, Energy Star, to ensure optimum electricity usage. This means that even though your device needs to be constantly switched on, it will not drain your electricity resources or bank account.
This freezing unit already features a capacity of up to 8.5 c.u f.t. What makes this even better is the fact that this device features several unique shelves that allows you to fully utilize your freezing space. All shelves are removable, and the device also features integrated door shelving for added storage space.
This model from Danby is somewhat more costly than most entry-level devices. However, this unit offers a bigger storage capacity than the majority of upright freezers and comes with an 18-month warranty for ultimate user satisfaction.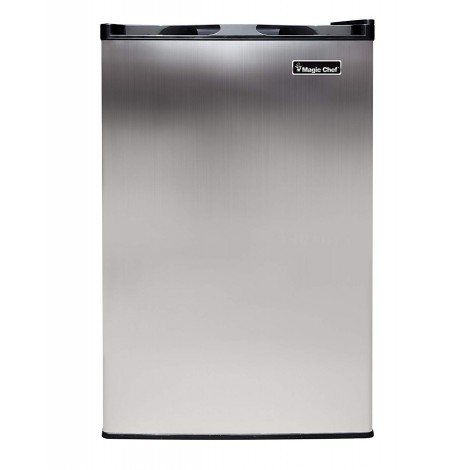 The Magic Chef MCUF3S2 combines a reliable freezing performance together with a beautiful design which translates into an unforgettable user experience. With its stainless steel finish and compact design, this device can fit in stylishly in any given environment. Some prominent features include a reversible door, manual defrosting, removable wire shelves, an and integrated door handle. This is an ideal solution for easy placement and will delight the design and aesthetic user.
The stainless steel finish looks ultra chic but moreover means that the door of the device has been made of a highly durable material that can stand the test of time. The stainless steel provides a high-gloss touch to your living space while adding protection to your appliance.
There are several factors that ensure that you can use the MCUF3S2 in any desired environment. Firstly, the product features a reversible door, smooth back design, and integrated door handle. These factors in addition to the appliance's compact design mean that you can place it safely in almost any interior living space.
Despite its immensely durable design, the Magic Chef MCUF3S2 is one of the most competitively priced products currently available on the market. This model features removable shelves for versatile storage, stainless steel exterior, and intuitive design.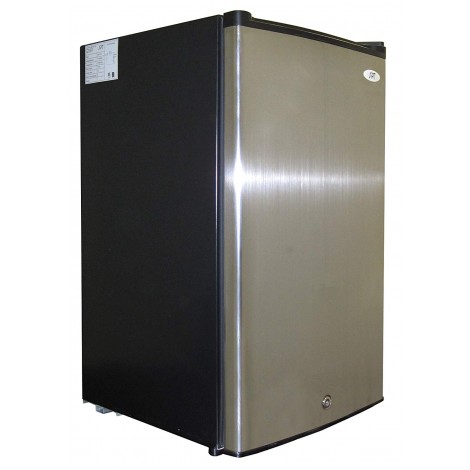 This nifty little freezer is sure to become a family favourite with its reliable and energy-efficient performance. The SPT UF-304SS boasts a total internal storage capacity of up to 3 cubic feet, removable wire baskets, and a stainless steel finish. This model features a flush back design for easy placement and comes equipped with a cylinder lock and keys to keep your goods safe.
This device is rated by Energy Star for optimum energy usage. According to the trusted international energy regulator, this device will cost the owner a mere $28.80 per annum to run. Thanks to its low electricity use, the user can rest assured that their new appliance is saving their wallet and the environment.
This unit is fitted with two fixed shelves along with three removable white wire baskets. The wire baskets give added protection to your frozen goods and ensure that they stay securely in place. The baskets can be easily removed for cleaning.
The SPT UF-304SS enjoys a competitive price that is in line with current market trends in the industry. For this price you'll receive a durable appliance that provides reliable performance, is energy efficient, and is covered by a quality warranty.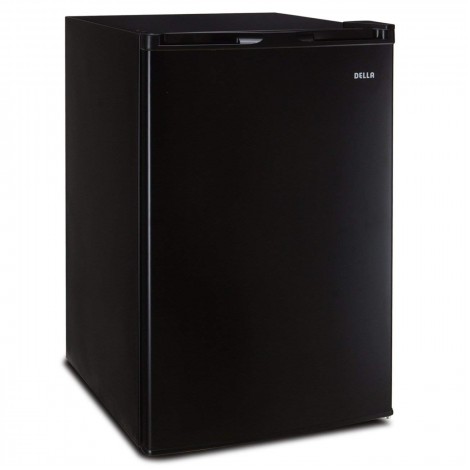 Della's elegantly designed black freezer offers its user a practical freezing solution in very cramped spaces. This model features an internal capacity of up to three cubic feet, is energy efficient, includes two wire shelves, and delivers quick and reliable freezing performance. The sleek design includes an integrated door handle, reversible door and smooth back which makes it ideal for versatile placement.
The Della Compact was designed with the mobile user in mind. With its lightweight and compact design, this freezer can easily be used in cramped and mobile spaces such as RV's or mobile homes.
This unit is rated by Energy Star and has been designed to be immensely energy efficient. It requires only 120V of electricity to run efficiently and will use an estimated 240 kWh per annum.
Despite its efficient freezing power, this unit is available at a very competitive price compared to other similar products. In addition, this device is very energy efficient and, thanks to its lightweight and durable design, can be used anywhere and everywhere.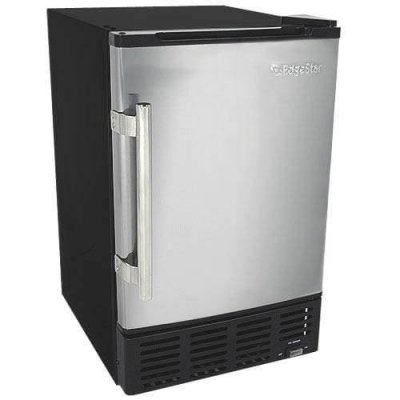 Now, this is a nice piece of equipment right here. It's got a great stainless steel look, a built-in ice maker and it makes a lot of ice and some cool features like an on/off switch and no drain operation.
Water Line Connection
You don't see this in a lot of free-standing freezer and it's a big deal because it gives you ice, and ice doesn't seem like a big deal until you have to make your own, or go buy it. So it'll make up to 12 pounds of ice per day and it will automatically shut off when the ice bin is full.
There's not much to it beyond hooking up the water line and letting your unit go to work. And if you're not enamored of ice you can drag this just about anywhere you need it. It's not very big and the ventilation is in the front so you don't have to worry about it overheating and since it doesn't need a drain it's very mobile.
It's a bit pricey for a small freezer but you're getting a lot with this little baby. The ice maker, the on off switch, the front ventilation and to top it all of a free ice scoop that comes right along with the unit. If you're looking for a great party freezer that can live out near the patio this is the way to go.

9

. Frigidaire DMAFRIGFFFH21F6QW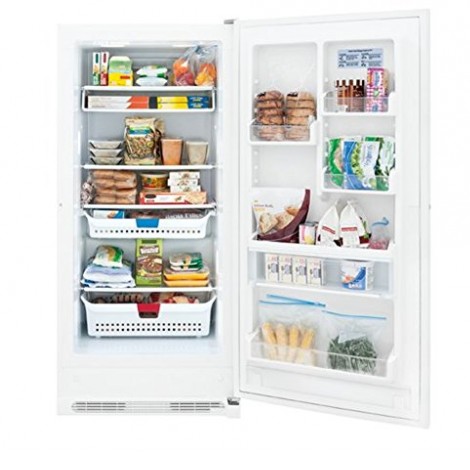 When it comes to freezing solutions, you'll be hard-pressed to find a more comprehensive model than the Frigidaire DMAFRIGFFFH21F6QW. This unit features a huge internal storage capacity of 20 cubic feet and has several well-sized drawers and shelves as well as inner door storage. With its LED thermostat display, you can easily adjust the temperature to suit your needs. Lastly, this model is rated by Energy Star for efficiently using energy.
This unit includes Frigidaire's original patent system for optimal fridge and freezer storage. Every shelf and drawer has been carefully and intuitively placed to ensure that the user gets the most out of their freezing unit.
This model works via a frost-free mechanism which means that it requires no manual defrosting. This means that cleaning and maintaining your appliance will be much easier and require much less manual input.
The Frigidaire model can perhaps better suited as an investment appliance since it is more expensive. However, this unit offers a tremendous amount of extra storage space and has several unique added features that make it stand out from regular freezing appliances.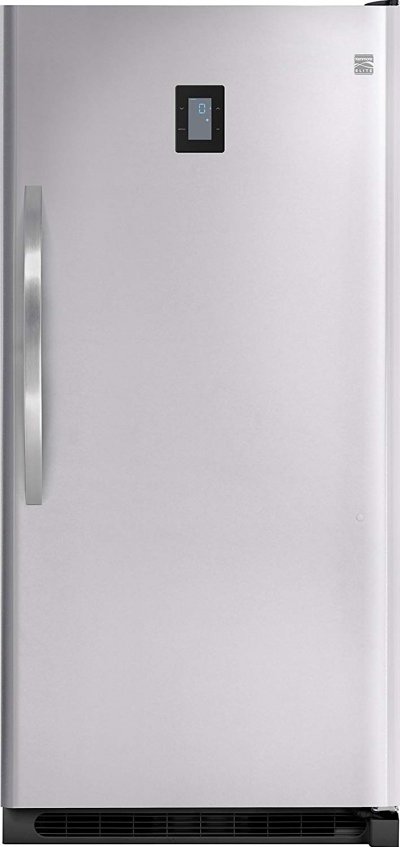 We're putting this in a class of its own in a way, because of the price but it just has so much going for it we had to include it in this list. It has a Soft Freeze zone for storing things like Ice Cream, and a frost free design, and an express chill function. Plus it's over 6 feet tall! You could keep a body in there, not that we'd ever consider that, but just saying.
This freezes food quickly at -20 degrees Fahrenheit which helps lock in freshness and nutrients. It's also frost free which means you'll never have to defrost this baby.
This is another cool feature that quickly reduces the temperature of your foods to -30 degrees for up to 72 hours and that speeds up the food preservation process and that means the things you freeze will stay good longer.
Like we said this is way up on the high end of our scale. It's incredibly expensive but this is an honest to goodness giant freezer. It stands at over 6 feet tall and is almost 3 feet deep, and almost 3 feet long. Kenmore seems to understand that if you're going to pay this kind of money you need a lot of extras and this comes through and gives you a lot for the amount of money you have to put down.

Subscribe to our Newsletter