Best Kids Lunch Boxes Reviewed & Rated for Quality
In a Hurry? Editors choice: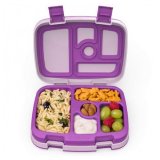 Test Winner: Bentgo

Sending a child
off to school
or on a trip with a well packaged and hearty meal is the mission of every parent and guardian. Without a good lunchbox, this mission would fail. Thankfully, there are plenty of companies out there that understand the essence of having a nicely packed lunch for kids. That is why they have taken the time to make some of the best and most creative lunch boxes that will
keep the food from spilling
or mixing up. Depending on what you and your kids prefer, there is a lunchbox out there for you and in this guide, we will help you find it.
Standout Picks
Criteria Used for Evaluation
Materials
The most important factor to consider when choosing a lunch box not only for your child but even for yourself are the materials. Any material used to make a lunch box should be food grade free from BPA, Phthalates and lead. When it comes to this aspect, you should not compromise. Most good lunch boxes are made from high-quality plastic and stainless steel is also used. Both of these materials are suitable but you should always make sure they are food grade. If possible, you should also check to make sure that the materials have been approved by the FDA to handle food.
Features
For basic products, lunch boxes have quite a wide variety of features to offer. Some like having leak proof lids are a must have while others like having insulated bags and vacuum sealed compartments are a luxury you child can do without. When it comes to such features, your budget and your preference are the limiting factors. The more the features, the more likely the price is higher. You should carefully consider the features offered with each option and choose what works best for you at the best price. Alternatively, you can also consider which features are more essential for your child. If you prefer to pack warm food for your child, a lunch box with a thermos flask or an insulated bag is more fitting than one with compartments.
Size
As earlier stated, the size of the lunch box is like a double-edged sword. While having a big lunch box assures your children of plenty of food, such a lunch box for kids can be harder to carry and tedious for them to move around with. On the other hand, you don't want a lunch box that is too small that your child does not have enough portions. It is important to consider the age of your child and their appetite when considering the size of the lunchbox.
Durability
Considering this is for your child,and they tend to get clumsy at times, durability is paramount. Unless you prefer buying a new lunch box every few weeks after they break the current one. In this regard, go for lunch boxes that are made from drop proof materials like high-quality plastic with rubber edges or stainless steel lunch boxes. Such lunch boxes might cost you more but, they will serve you longer allowing you to save money on replacement in the long run.
Style
Every good parent wants to score some cool parent points with their child. The style of their lunch box is your chance to do so. You might need to know a little bit about what your child loves and buy an option that is fit for your child. If you're not sure, you can always let them choose from a variety that you have pre-selected. That way, you're sure they will love their new lunchbox. Customized lunch boxes might also come in handy in terms of style even though that means spending more than your budget.
10 Best Kids Lunch Boxes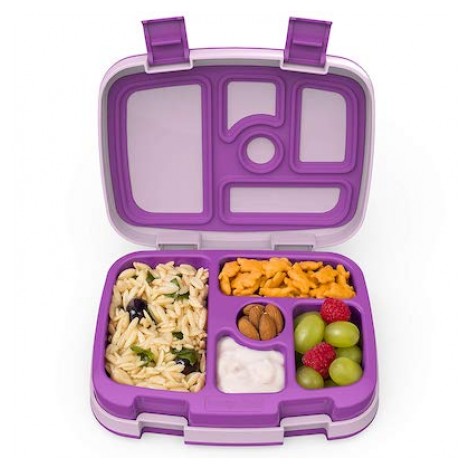 When it comes to making sure your child has the nutrition he needs to grow strong and stay active, you shouldn't hold back. This lunch box offers a wide range of features that most parents will find useful in packing different types of foods for the youngsters. The lunchbox comes in a range of bold and bright colors that are appealing to children. It has different compartments that ensure the foods don't mix and you can pack different portions without having to use different bags for each portion. Another winner for this lunchbox is that it is leak free and easy to carry.
Easy to Clean and Use
The lunch box is dishwasher safe so you don't always have to worry about handwashing and if the food runs cold before your child goes to school, you can just put it in the microwave to quickly heat the food. It saves you time and it is convenient for you and your child.
Quality Materials
Other than being made from high-quality BPA free plastic, the lunch box also has rubber coated edges and its drop proof. It is a great investment when you're looking for quality that can withstand the clumsiness that comes with children and you want something that can last.
Cost and Value
You should expect to dig a little deeper into your budget for this lunchbox but given its quality and the fact that it comes with a 2-year warranty, you're assured of getting great value for your money and a great lunchbox that you and your kids will love.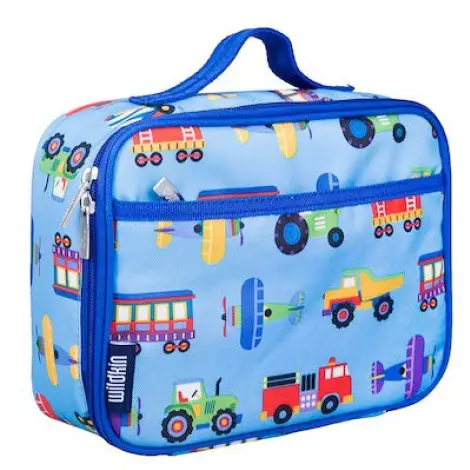 When it comes to kids, style is everything. But as a parent, you know that you can't compromise on functionality as well. With a variety of designs to satisfy your kids and features to meet your functionality, this one of a kind lunch box is an ideal option for your kids. It features a variety of bold patterns which are fun and unique and it comes with an insulated bag that helps to keep the lunch warm or cold depending on what you have packed. The design is travel-friendly and there's a lot of room in the lunch box to pack different types of foods and snacks for your little one.
Simple non-breakable design
When buying lunch boxes, the biggest concern with plastic varieties is that kids will easily break them and the metallic options are heavy. This particular one is made from a high quality fabric so you don't have to worry about the lunch box breaking or taking a hard fall.
Travel Friendly
Kids are always running around. You need a lunch box that doesn't get in their way and is easy to carry around. With its lightweight nature and a carry handle, it is quite easy for your child to tag this lunchbox wherever they go and it ensures their lunch is safe and warm inside.
Cost and Value
Even though you have to forego some of the premium features that come with other lunchboxes like compartments, this one is quite the keeper and it won't set you back too far financially. The price is easy on your pockets and you get value for your money's worth.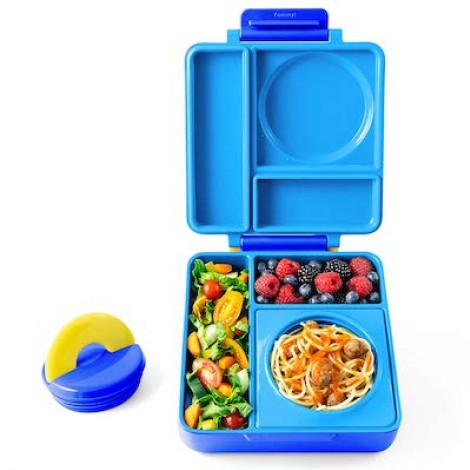 The Omie-Box lunch box is a one of kind that combines state of the art technology and genius design and construction. It is not your average lunch box and offers more than space and convenience. The lunch box is available in a variety of colors so you can easily choose what your child likes. The lunch box has three compartments and the main one has a built-in thermos flask that keeps the food hot for your child for many hours. The lunchbox is also equipped with a nice handle and offers enough room for you to pack a few fruits and some dessert.
Thermos
Keeping the food warm for a child is a big concern for most parents. While some lunch boxes come with insulated carry bags, this one has a fully-fledged and powerful thermos made from food grade stainless steel and is FDA compliant. The thermos even has its own lid to prevent any heat from escaping and maximize on its benefits.
Replaceable Seals
Leak proof lunch boxes come with rubber seals and once the seals are worn out, it is easy for the lunchbox to become useless and you have to change it for a new one. With the Omiebox, you can simply buy the rubber seals, replace them and continue enjoying the lunchbox.
Cost and Value
Considering the set of features and quality that this lunchbox has to offer, it is expected that it has to come at a premium price. It would not be correct to say the price is steep because the lunch box is durable and offers you total value for what you spend on it.

4

. Rubbermaid Sandwich Kit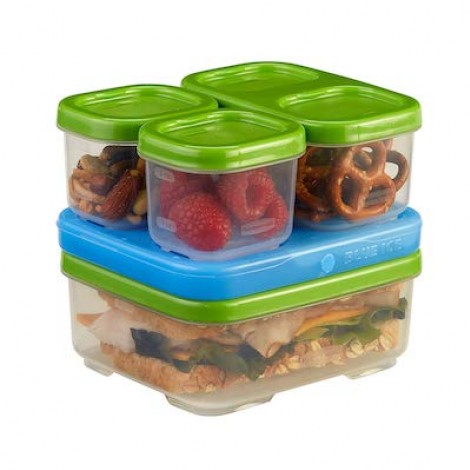 If you prefer to have a lunch box that has more space maybe for your older children who might have a higher appetite, the Rubbermaid Sandwich kit is worth consideration. It is also a great option for parents and kids who prefer to have their lunch packed completely separate. The kit is comprised of one sandwich container, two snack containers, one side container and a medium blue ice pack. All the pieces snap into place to make one space saving and convenient lunchbox.
Plenty of Space
The beauty with having a lunch box that has different pieces is that you get plenty of extra space. You can easily pack loads of food without any concerns of things getting mixed up in case the lunch box falls or if it is not set up properly.
Blue Icepack
Most lunchboxes focus on keeping the food at a steady temperature. This one comes with a dedicated medium-sized blue ice pack that keeps your food chilled and ready for you when the time comes. To make sure all the containers have access to the ice pack, they snap onto the ice pack easily and conveniently.
Cost and Value
This is yet another premium product though not as costly as the Omie-Box. For the price, you get plenty of extra space for your child's food and you get a lunch box that is easy to pack and you don't have to worry too much about the size of the portions.

5

. GRUB2GO Stainless Steel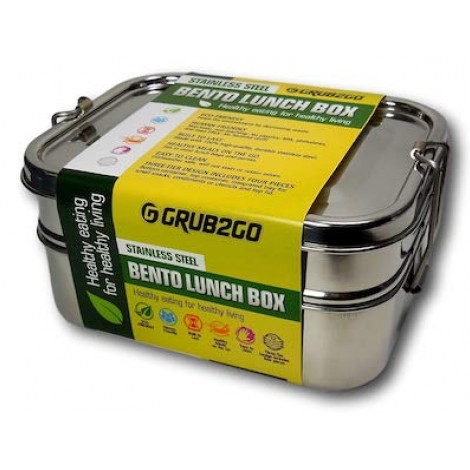 If your child has already gone through a couple of plastic lunch boxes and they never seem to hold up to the abuse, a stainless steel option like this one from GRUB2GO could come in handy. The lunchbox not only offers a strong design but also plenty of room for food. The lunchbox is made from food grade stainless steel and your child can enjoy the benefits that come with such quality materials. It is easy to clean and does not retain odors. As a parent, you will have the confidence of knowing that your child can't break this one.
Stainless Steel Build
The use of stainless steel for lunchboxes is a clever idea. Children tend to be clumsy and on occasion, their plastic lunch boxes might fall and break requiring replacements. With a stainless steel lunchbox, you're assured of long-term use and complete convenience for your child.
Snug Lid
The biggest setback with stainless steel lunch boxes is usually the lids. Unlike the plastic varieties, stainless steel lunch boxes tend to have lids that are prone to leaking. To prevent this, the GRUB2GO lunchbox has a unique snug lid. It wraps over the top of the container to guarantee a secure and leak-free fit.
Cost and Value
Even though the price of this lunchbox does not qualify to be budget-friendly or ideal for parents working on a shoe-string budget, it is reasonable and reflects the quality and functionality of the lunchbox. You might have to extend your budget a bit to get the lunchbox but, it is a decision that you will be happy and live comfortably with.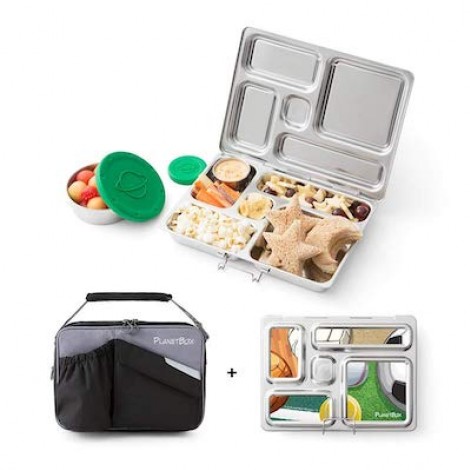 The PlanetBox stainless steel lunchbox is head and shoulder above most lunchboxes. It offers the durability of stainless steel and the convenience of bento lunchboxes. Part Bento and part TV dinner tray, this one of a kind lunch box redefines packing lunch for your youngster in a convenience way. The lunch box has a variety of compartments that keep the food from touching and comes with two plastic containers with tight lids for wet and messy foods. The package also includes a lunch carry bag and for kids that love looking stylish around their peers, there are a few magnetic ball stickers you can stick to the lunch box to get it to stand out.
Design
Stainless steel lunch boxes are somewhat common. But, having one that has compartments is not. The PlanetBox stands out in this aspect and provides for a great way for your kids to carry their lunch to school and for it to get there looking appealing and making it easy to eat.
Plenty of Accessories
You not only get the lunchbox but you also get a carry bag for the lunch box, two plastic containers and stylish magnetic sports balls. It is a great lunch box to consider for first time buyers.
Cost and Value
The PlanetBox Stainless steel lunch box will set you back a handsome amount. However, unlike most of the other options that we have already reviewed, with this one, you will also get a quality lunch carry bag so it is safe to say the price is quite fair.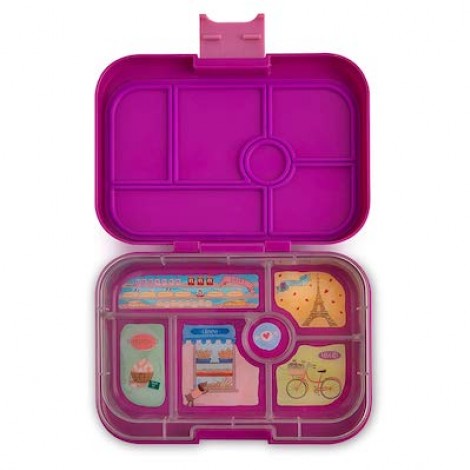 Smaller kids might find a big and chunky lunch box tedious to carry around. They need something that matches their size and won't present challenges when going to school or for trips. The YUMBOX lunch box is carefully designed and is small yet practical which is suitable for small kids. Among the wide range of features the lunch box has to offer is a practical leak proof design with molded silicone lined lids, a removable compartmentalized tray, easy to open latch and it is quite easy to clean. The easy to open latch makes the lunch box perfect for use even by toddlers. To top it all off, the lunch box is an award winner of the Good Design Children's Product award so it has the backing of professionals.
Removable Tray
When it comes to cleaning compartmentalized trays, it can pose a challenge. You need to make sure you get to all the tight spaces. To make it easier for you to clean and pack lunch for your child, this lunch box has a removable tray. It makes it easier to clean the try and space underneath it.
Compact Practical Size
The size of a lunchbox is a fine line. If it is too small, you might starve your child. If it is too big, the child might find it difficult to carry around. The YUMBOX has carefully walked this line to provide a compact yet practical lunch box that is perfect for young children to carry around.
Cost and Value
The lunchbox is budget friendly. Even though it does not offer some of the knockout features that other lunch boxes have to offer, it offers most of the essentials and provides your child with a safe, secure and convenient way for them to carry their packed lunch to school.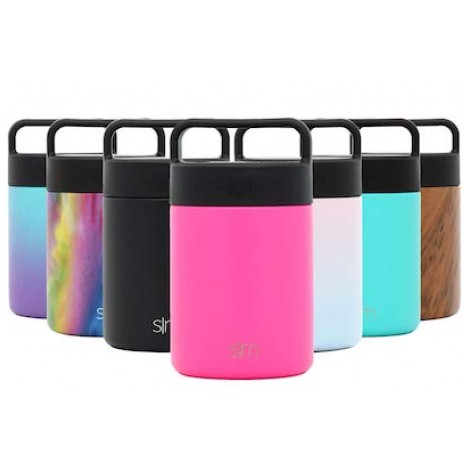 If you're struggling to balance your budget and don't mind stepping out of your comfort zone and going for an extraordinary lunch box for your kids, this provision food ja is what you might be looking for. Even though simple, it has a wide range of features that could be helpful in achieving your goal of sending your child to school with a hearty meal. The jar is vacuum insulated to ensure the food stays hot or cold for hours so it is ready for your child. The jar is made for food grade stainless steel and powder coated in a wide range of finishes or a stylish, bold and vibrant finish that is perfect for kids.
Unique Design
Even though you might have to forego the compartments, the jar's unique design maximizes on space and allows you to pack more food for your little one without having to take up a lot of space. The mouth of the jar is wider to make it easier to eat from the jar and also make cleaning easier.
Vacuum Insulated
With this jar, you don't have to worry about buying an insulated carry bag. The jar is vacuum insulated with a premium copper coat for maximum heat retention. If you're packing hot or cold foods for your child, this jar makes it possible for your child to enjoy their food when it is still hot a few hours later.
Cost and Value
If you don't mind about compartmentalization and you're only looking for a capable lunch box for your child, this could be more than enough. It offers just enough benefits to remain functional without taking too much from your pocket. The price is affordable and you get a durable and efficient lunch box for your child in return.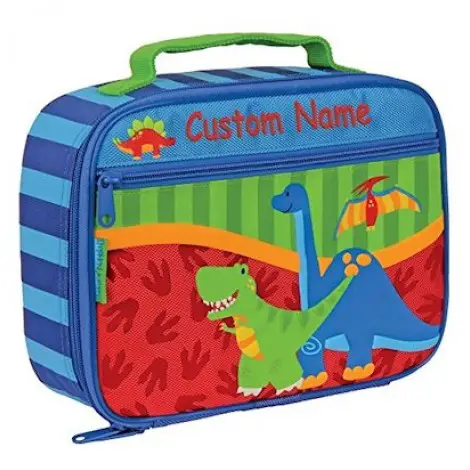 The CUSTOM NAME personalized classic dinosaurs lunch box is a basic lunch box that offers plenty of space while doubling up as a lunch box carrier bag. Its lightweight nature makes it an ideal pick for kids not to mention it has a finishing that is very appealing to young kids. The insulated lunch box gives parents the option of personalizing it with their child's name of up to 12 characters. It might not sound like a big deal but given children and their knack for losing items, having a name embedded to the lunch box could help in tracing it back to the owner. Other features included in the lunchbox include an optional stainless steel water bottle and the lunch box also features a Velcro strap that holds the water in place.
Insulated
Keeping the food cool or warm makes it easier for the child to eat. With the insulated casing, it is harder for heat to escape or make its way into the lunch box. That keeps the food at the optimum temperature for longer.
Personalized Lunch Box
The lunch box comes in a wide range of finishes that are tailored to be interesting to children. As an additional touch, you can decide to customize the lunchbox even further by having your child's name sewn on to the bag. It makes it easier to find the lunch box in case it is lost.
Cost and Value
It is a decent lunch box for the price. But, for a few extra bucks, you could easily land a better lunch box. However, if you prefer the plenty of room that this option has to offer and the personalized features, it is still a good buy. However, the price is slightly on the higher end for the features and quality the box has to offer.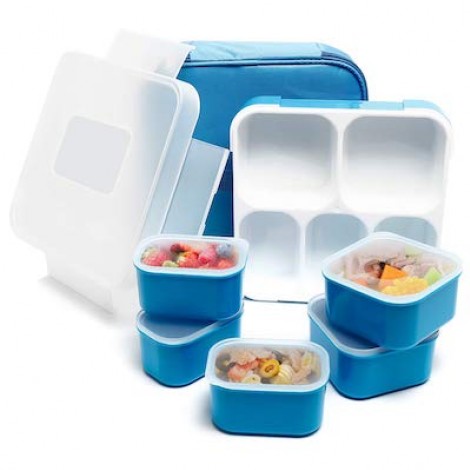 Even though you might be in the market looking for a great lunch box for your kids, you might also prefer to get one that can be used by other people in the family. The Fun Life Bento Lunch Box is a great all around option that offers plenty of space for everyone in the family from you right down to the kids. The lunch box comes with five different food storage boxes all with rubber coated edges to prevent leaking. The design is perfect for active kids and the materials used to make the lunchboxes are drop proof. To make it easier for your child to carry the lunchbox, it comes with a carry bag and the separate boxes snap into one platform to make them easier to carry.
Multiple Compartments
This lunch box has taken compartments to a whole new level. The five separate lunch boxes not only allow you to pack different foods separately but, they offer plenty of space for you to carry enough food and they all have leak-proof lids so you're not limited on what box carries what.
Insulated Lunch Box Bag
To make a good lunch box great, it comes with an insulate lunch box bag. The bag makes it easy for you to carry the lunch box around and it also keeps your food within the right temperature longer.
Cost and Value
The price of this lunchbox will actually knock your socks off. For the quality and features that this lunch box has to offer, the price is quite pocket friendly. It is perhaps one of the best priced products we have reviewed in this list.

Subscribe to our Newsletter