Top 10 Ankle Holsters Reviewed & Rated
In a Hurry? Editors choice: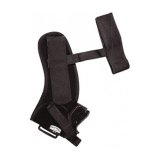 Test Winner: Uncle Mike's Kodra Nylon

The ankle holster can be viewed as an integral part of carrying weapons in a discreet, out of sight manner. Many police officers use these as secondary to their day to day weapons as extra security and backup. For mainstream use, they can be an essential item for
personal security
that is out of sight to the naked eye. The concealment makes it more appealing than other types of holsters on the market, less obvious than being secured either to the belt or to the wrist. The ease of use and comfort must be at the forefront of any purchase, and this review should enable buyers to make a more personal, informed choice.
Standout Picks
Criteria Used for Evaluation
Comfort
One of the things that you will want to consider is how comfortable it feels while you are wearing it. Many people will carry their firearm with them for hours at a time and this means that you will need a holster that feels good against your skin while you are wearing it.
A comfortable firearm holster will feel as if you are not even wearing the holster in the first place just like you do not tend to notice the rest of your clothing. On the other hand, you will notice a concealed carry holster and it will likely bother for the duration of wearing the gun holster. For this reason, you will want to consider comfort as one of the most important factors.
One of the first things you should do is feel the holster with your hands and even rub it against the bottom of your legs where you will ultimately wear the holster. You will want to make sure that the holster does not feel scratchy or itchy against your skin since that will make you not want to wear it. Instead, you should look for a soft feeling that feels smooth against your skin.
Once you have checked to see if the material feels good against your skin, you will want to look for padding. This is because while the material used to make the holster might feel good, you do not want to have the gun, magazine, or other items stored in the holster poking into your skin. If the gun continually rubs against your skin while you are walking or running, you will start to experience chafing at a minimum and may even feel cuts or scrapes in your skin later on. The padding will put a barrier between your skin and the gun so that the gun and magazine aren't bothering your skin while they are stored in the holster.
Fit
How a holster fits on your body is just as important as how comfortable it feels while you are wearing it. You will need to make sure that the holster fits both your leg and your gun properly so that your gun is held to your body in a secure fashion. An improper fit can become a problem and those problems can range from minor skin irritation all of the ways to having your gun end up in someone else's possession.
Many either have a single band or a double band that will be used to position the holster on your leg. A single band holster is only intended for lightweight handguns and it should not be used for heavier guns. The double band ankle holster can be used for larger guns because it has two points of contact on your body which will prevent the holster from slipping and sliding around on your leg.
These should secure to your leg snuggly and have a non-slip design. This will help make sure that the holster is firmly attached to your leg. You should not need to attach the holster so tightly to your leg that you start to cut off blood flow to your feet, nor should the holster feel loose while you are wearing it. The holster should have a snug and fit feel to it where it is neither too loose or tight on your leg.
In addition to having the proper fit on your leg, the holster should have a non-slip design so that it stays put. Your leg will naturally flex while you are sitting, walking, or jogging. While you are moving, your leg will cause the holster to stretch and contract as you are walking and moving around. Eventually, the material in the holster may start to stretch and lose its grip on your leg. This will cause the holster to chafe your skin and cause the gun to bounce around on your body.
It is also important that the holster maintains a tight fit on your gun. While you will want to be able to withdraw your gun from the holster quickly if you need it, most of the time you will want to make sure that the holster keeps the gun secure. Your gun should not be too large or too small for the holster that would cause it not to fit into the holster correctly. You will also want to make sure that the gun is not too heavy for the holster either.
Features
The primary purpose is to hold a sidearm. Many holsters come with additional pockets on them so that you have a place for an extra gun magazine and a knife as well. While you are shopping, you should take the time to look at all of the pockets on the holster and make sure that they will work with your needs. It is important for the holster to have the correct number of pockets for your needs and that the pockets are constructed well so that your items do not fall out of them.
The most important pocket is the one that is for the gun. There are a few things that you will want to take into consideration while you are looking at the gun pocket. First, you will want to make sure that the pocket is the correct size for your gun and that it isn't too large or too small for your sidearm. You will also want to think about how securely the gun is stored inside of the gun pocket and you will want to look at how quickly you can remove the gun from the holster should you need to use the gun in an emergency.
Breathability
You will want one that is breathable and moisture-wicking in order for it to feel comfortable. The last thing that you want to feel around your leg is a hot area right above your foot that is drenched in sweat. Instead, your leg should feel cool and dry while you are wearing the gun holster so that your skin does not get chafed or develop a rash. Not only will this make the gun holster feel more comfortable in the long run, but it will also reduce any smell and odors that could build-up due to sweat and bacteria.
Bacteria and microbes is another reason why you should want a gun holster that is breathable and moisture-wicking. Heat and moisture provide the perfect environment for bacteria and other microbes and if the holster traps both then you should expect that microbes will grow on the inside. Most of the time, this will cause the holster to start to smell bad and your holster will end up having an odor that is similar to what you might smell in a gym bag. In more serious cases, the bacteria may end up causing a skin rash that can require some sort of treatment to make the rash go away.
Effectiveness
One of the things that you will want to look at is the overall quality of the product. A high-quality model will not only lead to you having higher overall satisfaction with the holster, but it can also save you money in the long run as you will avoid the expense of having to repair or replace the holster. A good one is also more secure and will likely do a better job of keeping your gun in place while you are wearing it and it will make it easier for you to withdraw the gun when you need to use it.
An inferior gun holster can quickly turn into a safety issue in the event that your gun falls out of the holster and somebody picks it up to do something harmful with it. Even if the gun isn't likely to fall out of the holster, a low-quality gun holster can be uncomfortable to wear and you will likely want to replace it sooner rather than later which will cost you money. You will be much more satisfied if you take the time to make sure that you have a good gun holster.
10 Best Ankle Holsters
1

. Uncle Mike's Kodra Nylon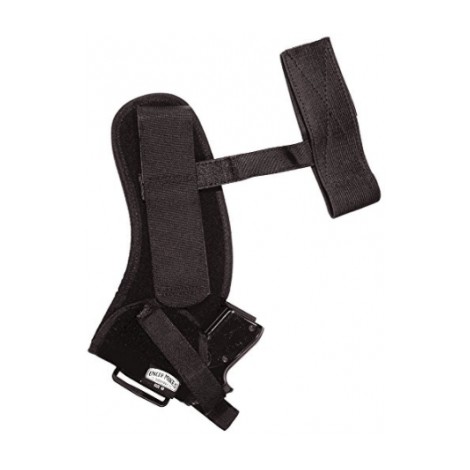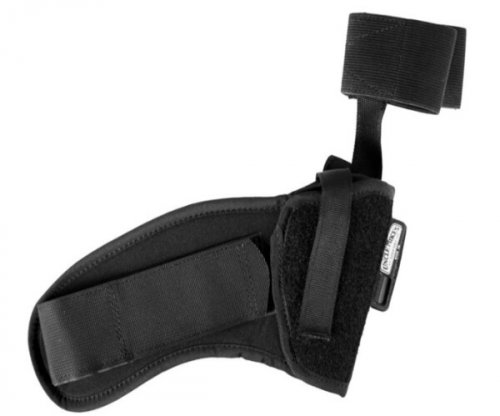 This sits inside the pant leg and is made from softly knit nylon. It is soft next to the skin and works with a hook and loop adjustment for comfortable fitting. It is able to conceal small/medium firearms and boasts close-knit material which not only absorbs moisture but provides padding for extra comfort.
Ensures comfort
An important feature of Uncle Mike's Kodra is the slimness of the design and the Kodra Nylon it is made from. This ensures comfort whilst maintaining its integrity a secure, pain-free fit. This is imperative for the user especially if the holster is worn for sustained periods.
Nylon Retention Strap
Another feature of this product that is important is the nylon retention strap which is a plus for the security of the holster and the firearm inside. A necessity that comes as standard is the thumb break - and both parts together ensure confidence with ease of use.
Cost and Value
The cost of this holster reflects the high standard of the product. It is by no means the cheapest on the list, but neither is it the most expensive. The highest accolade for this product comes from the respectability of the law people who have reviewed it and endorse it.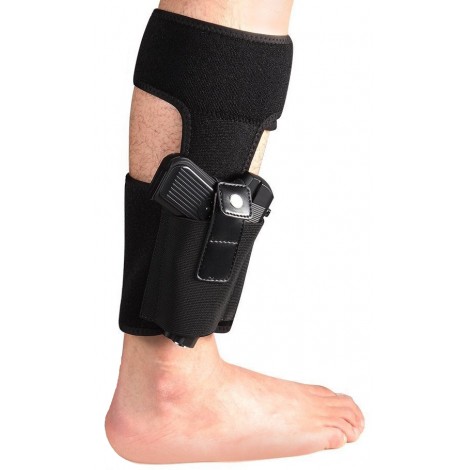 This breathable neoprene holster is designed for comfort and has a bonus pad that offers relief from sore areas usually related to the end of the firearm barrel. It has handy calf straps so it is restricted in its own movement. The Lirisy design also comprises an ambidextrous option so the user can choose between a left or a right-hand draw.
Calf Strap
A clever aspect of this holster that makes it stand out is the calf strap which means it can be adjusted to fit each user individually. A must because it ensures the added peace of mind that the holster will stay put.
Versatile
Another bonus is the range of firearm that can fit into the holster, the range includes many sizes up to 6.5 inches, and will be invaluable to those with access to more than one type of firearm.
Cost and Value
The overall cost of the Lirisy means it offers both great value and longevity. The comfort value of it makes it a highly competitive product on the market.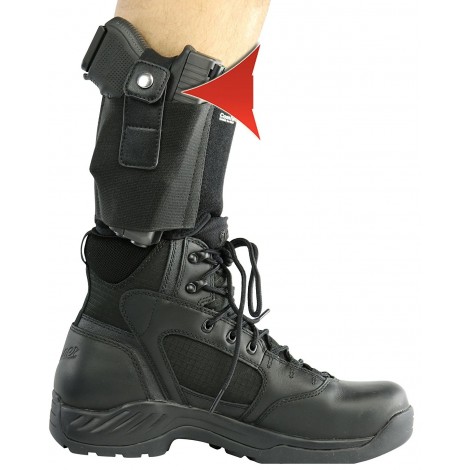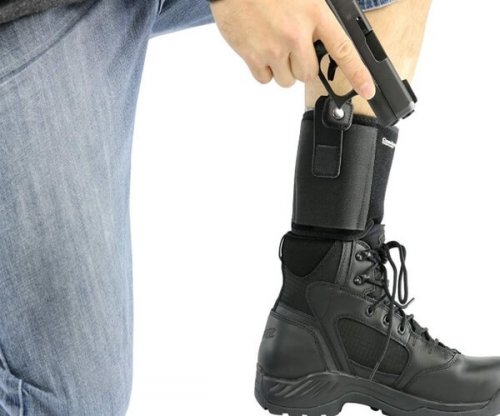 Made with a neoprene band for added comfort next to the skin, with extra foam padding ankles are protected from rubbing. It boasts the versatility of being suitable for a wide range of differently sized firearms and has a metal snap for a near-silent draw.
Flexible Fit
ComfortTac Ultimate is very comfortable to wear and boasts a flexible fit that is available in two sizes. This is an ideal holster that is suitable for all.
Fast, quiet draw
The added bonus of a non-velcro strap gives this holster added security for when it's needed most and also ensures a fast, quiet draw.
Cost and Value
This holster is undoubtedly excellent value for its cost, and being relatively new to this market makes it more appealing and gives it a definite edge.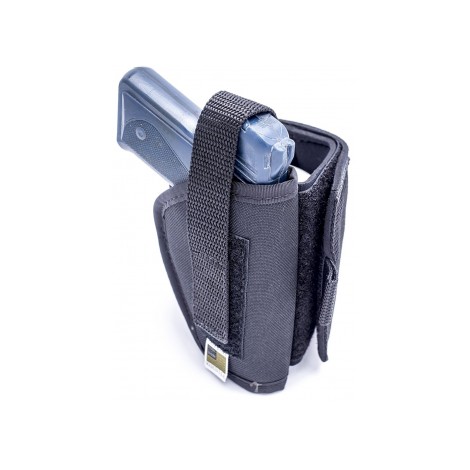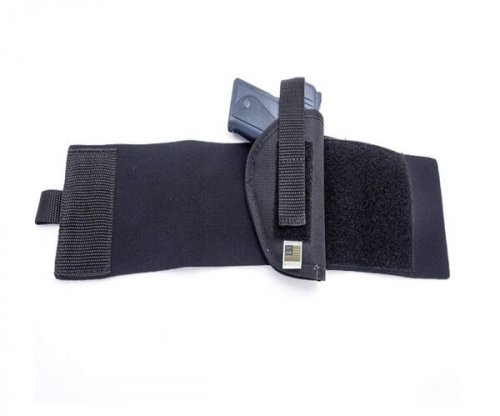 The Outbags boasts being manufactured in Southern California. It can be used on either leg and comes with a 4" ankle strap which is made of soft neoprene. An extra feature is an adjustable 1" velcro strap which will provide secondary security for the firearm.
Secure Hold
An advantage with this Outbags is the neoprene brace - this holds securely and doesn't stretch during long periods of use or over time.
Use on either leg
Secondly, advantageously this holster can be used on either leg and has a range of 10" - 13" fittings for comfort regardless of your calf size.
Cost and Value
The value and cost are undoubtedly reinforced by the fact that it is manufactured by a family business based in the USA.

5

. Bear Armz Tactical Universal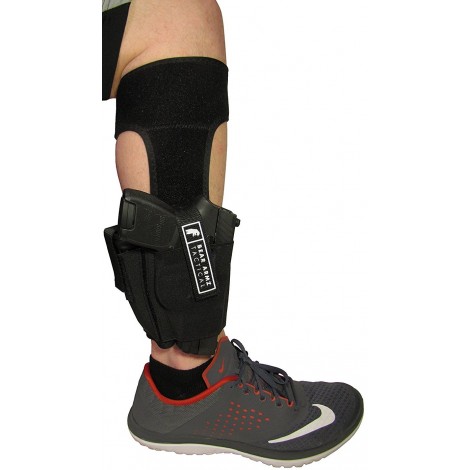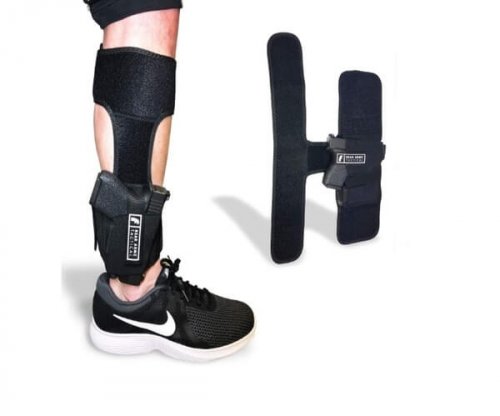 The Bear Armz has a special design which includes two retention straps, this gives room for an extra magazine. This added feature is further security for when you most need it. It is made from breathable neoprene which ensures added comfort and a large range of firearms can fit into it.
Extra Security
The security provided by having room for an extra round is an advantageous aspect of this holster, as is the benefit of having two retention straps.
Left or Right Handed Draw
Another advantage of this product is the ambidextrous design, thus enabling the wearer the freedom to choose either a left or right-handed draw.
Cost and Value
The cost and value are reflected by the two retention straps that ensure no slipping when fitted correctly and the fact that it is adjustable for both ankle and calf support.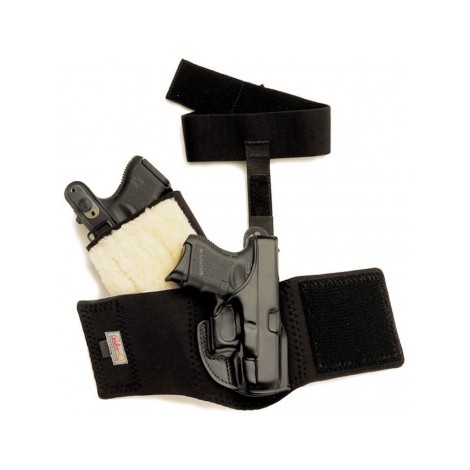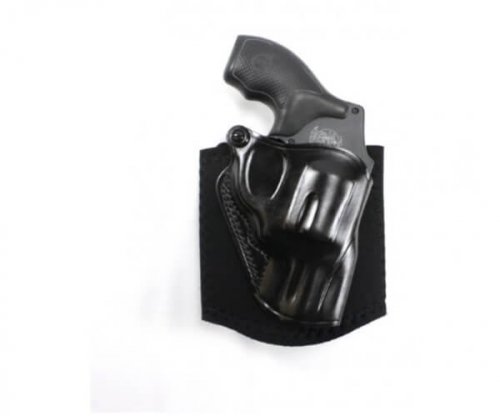 Ideal for those who wear a holster for long periods of time. The premium saddle leather is complemented with a soft sheepskin interior, placed for comfort between the holster and the ankle. It has an optional calf strap and is available for right and left-hand draw.
Double Security
A positive for this holster is the wide neoprene ankle band which provides much-needed comfort, and this coupled with a velcro closure for added security.
Hours of Comfort
Another positive for this holster is that it is ideal for those who need the security for long periods of time, its' quality is matched by its' security.
Cost and Value
The balance of value and cost can be equated with its high standard of production, the user can be confident of receiving the best of both with this product.

7

. Concealed Carrier Universal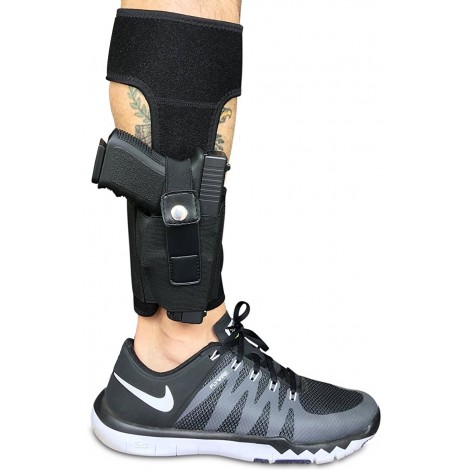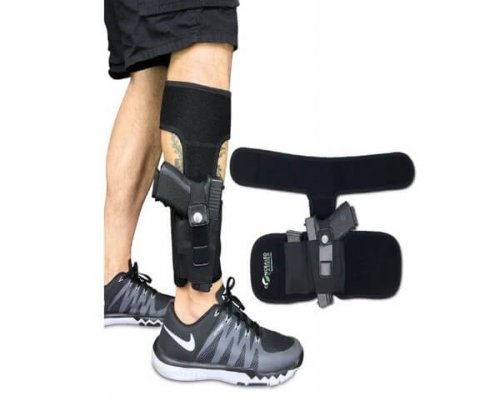 The Concealed Carrier Universal is produced using high-quality surgical class elastic. It benefits from being fully adjustable to any size and for any firearm, without the need for extra optional purchases. It also boasts two hammer straps that are adjustable so individual comfort levels can be achieved.
Optimised Efficiency
An advantage with this has to be noted as the fully universal nature of it, this is coupled with simple fitting for optimized efficiency and speed for premium security.
Extra Magazine Storage
Another advantage is the space provided for the added security of a second magazine, this gives the user greater confidence in adversary situations.
Cost and Value
This provides value for money with the versatility of it, and the benefits of having room for an extra round balance with peace of mind.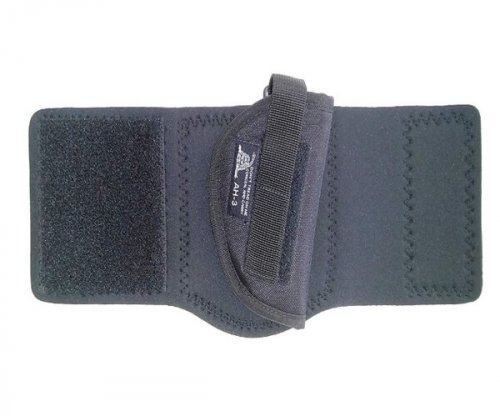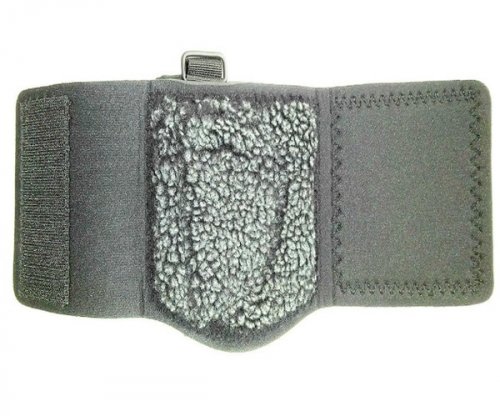 In the course of finding the best holster you want to look for something easy to carry yet conceals quite well, the DTOM AH3 does just that. The manufacturer pays close attention to the construction and using grade value material is constructed to last quite a long time while getting the job done effortlessly.
Great Material
As noted above, this holster is constructed out of quality materials including nylon and neoprene. Two materials that are long-lasting and have stretchability to them. By having these two materials perfectly intertwined together you are getting a sturdier product that will hold almost every single handgun including pistols with laser attachments to them. It's all about getting a quality product with the best materials possible on the market. Furthermore, thanks to having this material as the essence of the DTOM AH3 Neoprene, the holster can fit an ankle with the circumference of 10-12 inches.
Comfort
You want to wear as much of a comfortable holster as possible as you will inevitably be wearing it for an extended period. Thanks to having Neoprene as one of the main material elements you will be getting a durable yet comfortable product. Furthermore, you are also getting Velcro, which plays a huge role in ensuring the belt portion of your holster remains in place the entire time. You do want to keep in mind, this holster is on the thicker side.
Cost and Value
This is a mid-range product, which means its not one of the most expensive but it's not one of the most affordable ones either. It allows you to get a quality product with great materials at a price point that is good for most. Additionally, this holster holds most handguns on the market allowing you to use it time and time again.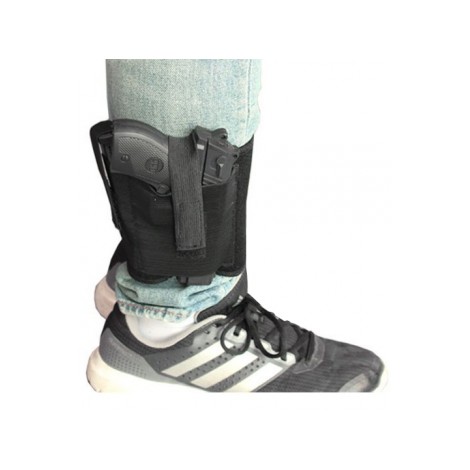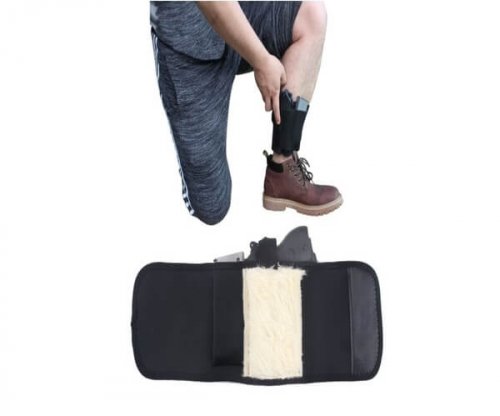 This has a velcro retention strap for security and is seconded by plush padding for increased comfort. It is made of neoprene which is noted for its suitability for applications close to the skin. And it is boosted by the versatility of being able to fit varying sizes of a firearm.
Premium Material
The main advantage here is the high-quality material it is produced in, this provides more comfort and less information.
Added Security
Another advantage is the pouch which enables the user to carry a second magazine for extra security and peace of mind.
Cost and Value
The overall value matches with the last and quality of the product. It has an excellent comfort design and is quality made.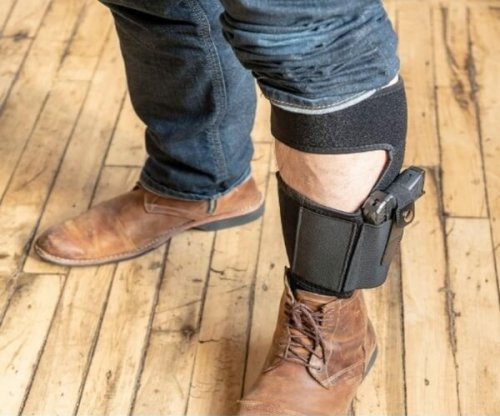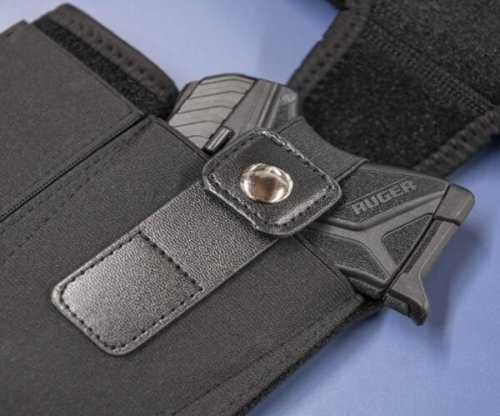 If you are looking for s straight shooter look no further. Built to help you always have your firearm on you the TacX Pro Gear is excellent for those that truly want something that helps you remain concealed without taking from its features. Furthermore, its aesthetic is extremely easy on the eye and lightweight, ensuring you can always have protection on you that does not outweigh you along the way.
Versatile
Though some are specific for one leg this one is quite the contrary. You can wear the TacX Pro on any side you decide to wear it. This is great for those that can shoot from both hands. Even though most of us have a more dominant shooting hand if you can effectively shoot from both this holster becomes quite convenient as you never have to conform to only wearing it on one specific side.
Adjustable
One of the very first things you want is adjustability. Not everyone has the same ankle circumference which is why it is extremely important to purchase a product that is not only comfortable but can adjust to any movement you happen to make. This one allows you to do just that. Featuring comfort-fit neoprene, it is sweat resistant and breathable with a hook element to make it twice as durable than other options.
Cost and Value
While you are getting an excellent product, you will not have to pay a hefty price for it. This excellent product is quite affordable, which is great for those that want a product that is easy and will get the job done without much effort. Furthermore, it comes with an added LED light for a bonus touch.

Subscribe to our Newsletter