Best Folding Knives Reviewed and Compared
We know how important it is to be prepared for every challenge that life throws at you, no matter where you are or what you're doing. If you are someone who regularly enjoys spending time outdoors, then you know it's impractical to bring you a lot of items with you. But there are some items that you should never be without. Whether you're out hunting, cycling, camping, fishing, rock climbing, or just working in your garage, a folding knife is not only incredibly handy, but can also be life-saving.
Also known as a pocketknife, the folding knife has one or more blades that fit inside the handle. Its design makes it space-saving so you can carry them around in your pocket, purse, or bag. These knives are versatile tools, perfect for a variety of different situations ranging from opening envelopes to slicing food. Not only is this a great multi-functional tool, but you can also use it as a mean of self-defense. This can come in handy in the wilderness, which is unpredictable and can sometimes be a very dangerous place.
Although they tend to be weaker than fixed blade knives, a well-built pocket knife can be just as effective. To help you find a quality tool for a great price, we've reviewed and rated some of the top-selling models on the market. Some of the top choices on the list may even best their fixed blade counterpart when it comes to longevity and durability!
Featured Recommendations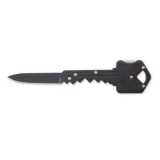 SOG Key Knife

Our rating
Concealable
Price:

See Here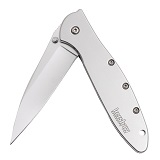 Kershaw Leek

Our rating
Strong & Durable
Price:

See Here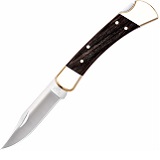 Buck Folding Knife

Our rating
Razer Sharp
Price:

See Here

Best Brands
There are a lot of brands to like in the folding knife industry, and the list keeps growing. A surprise name on the list is Smith & Wesson with a pretty respectable spot. Companies old and new are perfecting folding knives and making them more of an everyday option. With some of the choices on the list, the advancements are even further along than some customers would expect.
Maintenance and Cleaning Tips
Since there is at least one moving part with folding blade knives, keeping them clean and free of debris is important. Bad maintenance can cause the locking mechanism to break down quickly, and in turn leave you with a knife that is loose. Cleaning the blade is also important since whatever dirt you see on the blade will find its way into the handle when it's closed.
10 Best Folding Knives
1. SOG KEY-101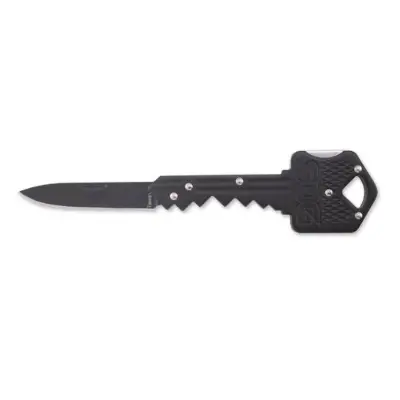 At the #3 spot is something a little different, and it comes from the minds of SOG. The key folding knife is a design that has been copied by many companies but perfected by SOG.


Expand to see more
Can Be Completely Concealed
No one will recognize this is a knife until you pull it out and the show the blade. It's small enough to fit in a front pocket or even on a regular sized keychain.
Features and Specifications
5 inch folding stainless steel blade
Stainless steel housing
Price/Value
Just like the size of the knife, the price is also small. Customers can add this to their collection without breaking the bank.
Decision Time
There is no better way to hide a folding knife than by housing it in the shape of an everyday product. There are several color variations available, so this SOG product can also be a
collector's item
.
Smallest foldable knife available
Can conceal better than any other on the list
Weakest overall blade strength on the list
2. Kershaw Leek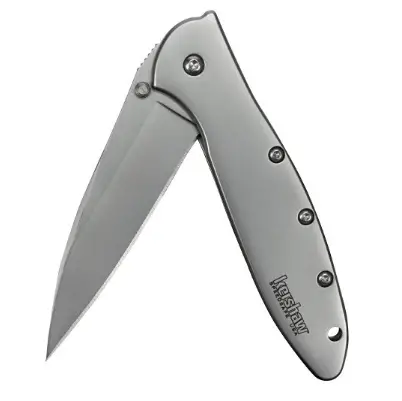 This USA made knife doesn't try to do anything out of the ordinary. It's a simple folding knife made by one of the leading brands in the industry, and with very few flaws.


Expand to see more
Durable Stainless Steel

Using high grade Sandvik 14C28N, Kershaw guaranteed quality from top to bottom. The bead blasted finish on the handle is only icing on the cake.

Features and Specifications

Speedsafe assisted opening
Blade length is 3 inches

Price/Value

Even this far down the list, the price is still low. Most of Kershaw's products seem to hover around that range anyway, so it shouldn't come as a huge surprise.

Decision Time

Quality steel can be a big deal for customers that demand longevity in their folding knives. And that's exactly what they'll get with the 1660 model.
Nice length (7 inches)
Feels good when doing heavy tasks
Removing clip is not straightforward
3. Buck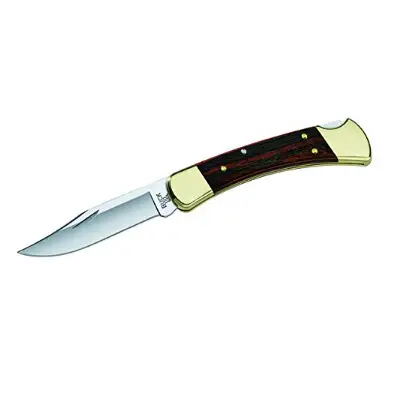 Buck Knives
is no stranger to top ten lists, with several of their wares getting a lot of attention. This well-known model is still popular with users today, and has a pretty decent following.
Expand to see more
Great For Detail Work
Taking out this bad boy for detail work is promising thanks to the crescent tip blade. The point is
very sharp
, and makes the job a lot easier.
Features and Specifications
420HC steel 3 ¾ inch blade
Dymondwood handle with brass bolsters
Price/Value
Low priced and valuable, couple it with the lifetime warranty and you'll get a great deal. Buyers can feel comfortable buying from Buck Knifes as they are a reputable company.
Decision Time
There are enough good features about the knife that it should appeal to a lot of users. With a great design and a lifetime warranty, you can't go wrong.
Brilliantly designed blade and handle
Comes with leather sheath and snap closure
Blade is smaller than it looks in pictures
4. Kershaw 1990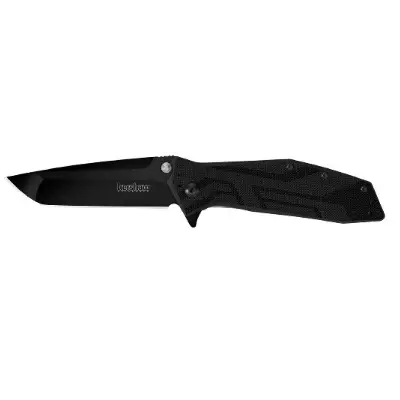 The best folding knife on the list is from Kershaw, and is the tried and true 1990 Brawler. This knife has a lot of history behind it and is the
best all-around knife
in its category.
Expand to see more
Balanced
The 1990 Brawler has the beautiful all black look of the Smith & Wesson model and is the sharpest knife out of the box. It also has great build materials and a rock solid locking system.
Features and Specifications
8Cr13Mov steel with black oxide coating
Overall length of 7.1 inches
Price/Value
Even though it is tops on the list, the price is still low. This should help with the decision making process when deciding between the other Kershaw knives.
Decision Time
The best folding knife on the list just so happens to be the
most balanced
one available. It beat out all the competition and should provide some considerable use in high and low priority tasks.
Low weight with long length of 7.1 inches
Glass filled nylon handle
5. Gerber EAB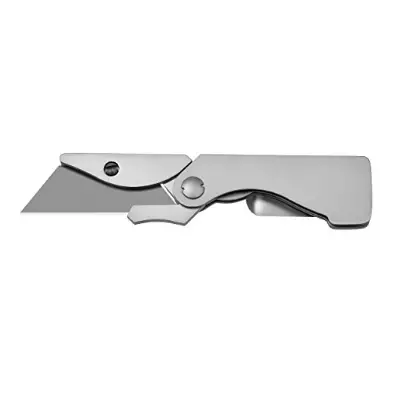 The first time most users hold this knife it feels a bit different than other products on the list. Besides being
multifunctional
, it also serves as a great addition to the best folding knives list.
Expand to see more
Replaceable Blades

Being able to take out blades that dull out rather than replacing the entire knife is a big plus. Usable blades are standard or contractor grade, so not proprietary.

Features and Specifications

1 inches open/2.4 inches closed
High Carbon K5

Price/Value

The set itself is a low cost just like the replacement blades, so the value is pretty high. Since it has multiple functions, you can get a lot more use out of it than a normal folding knife.

Decision Time

Gerber made a pretty bold choice with the replaceable blades of their EAB pocket knife. It's one of the many innovations that pushed it into a good spot on the top ten.
Can use a lot of low cost blades
Embedded clip can be used as money clip
Included blade is hard to find if you want the same one
6. MTECH USA MT-A705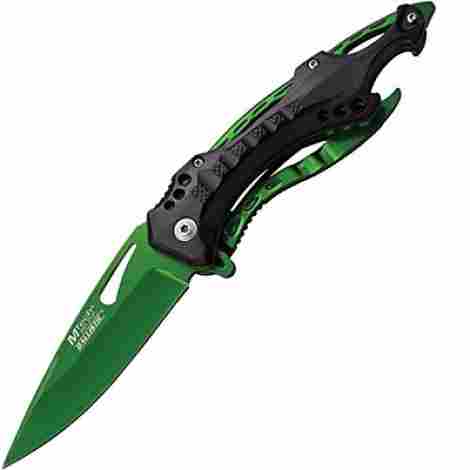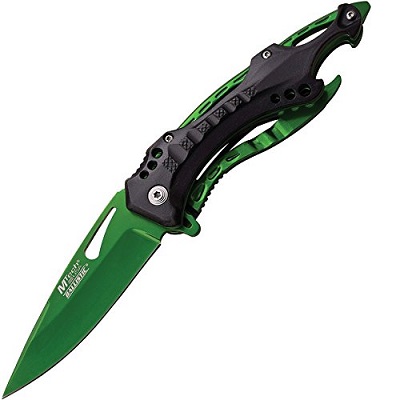 When you're looking for a new folding knife, you want to make sure that it is a good quality product. A good knife should be strong, sharp and extremely reliable when used on hard surfaced. A low-quality tool can break and possibly cause injury that is why MTECH USA MT-A705 was made to beat your expectations. The blade is made with thick stainless steel and is connected to a lightweight aluminum handle which can also be used as a bottle opener.


Expand to see more
Titanium Coating

In an effort to provide you safety and comfort, the MTECH USA MT-A705 folding knife has a stainless steel straight edge blade with green titanium coating. The handle is also made of titanium-coated aluminum for increased durability.

Spring Assist

The advantage of using a spring assisted folding knife is that you don't have to worry about getting hurt while it's closed because it has an efficient lock mechanism. What's more, you can easily unlock it by pushing the flipper.

Cost and Value

This product is designed for long term, heavy-duty use, so you won't be disappointed with its performance. The MTECH USA MT-A705 folding knife comes at a comparatively low price that varies depending on the color you choose.

One-hand deployment design
Comes in six different colors
Blade is 3mm thick
Built-in bottle breaker and opener
Blade isn't very sharp
Some found the handle to be fragile
7. Smith & Wesson SWMP4LS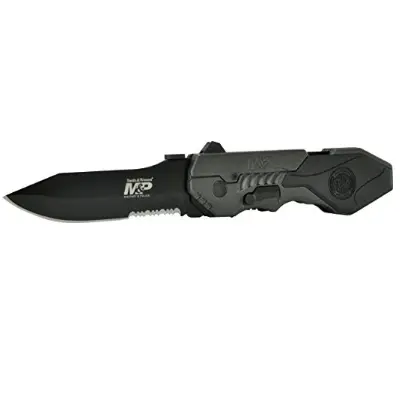 The famed gun maker also makes comparable knives, most notably the SWMP4LS. It looks as sleek as their
guns
, and performs accordingly.
Expand to see more
The Best Design

You wouldn't think a gun maker would outdo all of the notable brands on this list when it comes to design. This is the best looking folding knife on the list, and is sure to get a lot of looks when you pull it out.

Features and Specifications

Black 4034 stainless steel
Ambidextrous thumb plate

Price/Value

The SWMP4LS is a great buy at a low price, and the prettiest knife on the list. With a little bit of sharpening out of the box it can be your go to folding knife.
Good grip with the black aluminum handle
Partial serrated clip point blade more useful than it looks
Paint is prone to chipping
8. CRKT Squid Folding Knife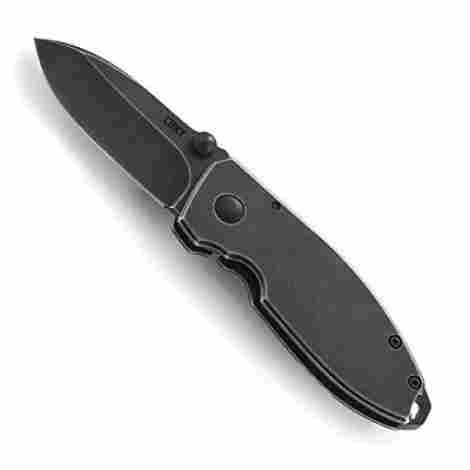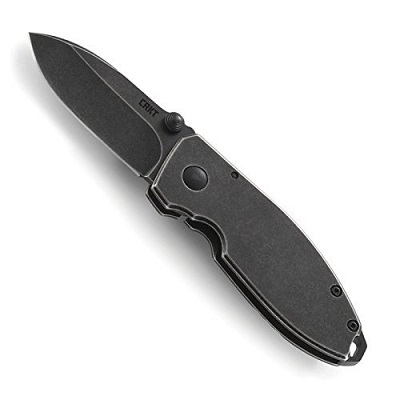 CRKT, Columbia River Knife and Tools, is a company with over 2 decades of experience in creating high-quality knives and tools for a wide variety of different purposes. They used the newest technology to build some of the best knives on the market. One of their most popular products is the CRKT Squid Folding Knife, which is ideal for everyday use. Its lightweight, compact, and secure design makes it safe and easy to carry it wherever you go.

Expand to see more
Everyday Use

This knife gives you the precision to slice or chop through some of the toughest surfaces. The blade is made from heavy-duty steel that is built to last and take on the vigorous demands of everyday use.

Secure Grip

Safety is important, especially when using a potentially dangerous tool like a pocket knife. CRKT designed this item with friction grooves located on the drop-point blade in order to give you a more secure grip and reduce accidents.

Cost and Value

When you purchase the CRKT Squid Folding Knife, you're buying more than just "a knife," you're adding a reliable tool for everyday use to your collection. It is available in 2 colors in the mid-price range, but the quality is worth every penny.

Small Compact design
Blade made from heavy-duty steel
Features friction grooves for better grip
Comes with a pocket clip
Heavy for its size
May need to be sharpened
9. Kershaw Cryo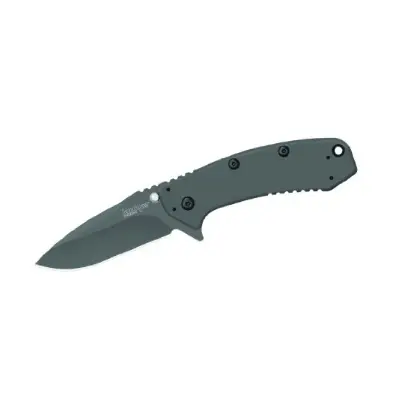 The first two knives on the list are from Kershaw, with their Cryo knife taking the #2 spot. It is one of the best in the industry, and has a horde of followers that swear by its durability.


Expand to see more
Strong And Durable
With the lockbar stabilizer in effect, this can be treated like a lot of high end
fixed blade knives
. There are relatively few
tasks
that this blade can't handle head on.
Features and Specifications
Quadcarry pocket clip
8Cr13MoV steel with titanium carbo-nitride coating
Price/Value
In keeping with the tune of the rest of the products, this is low priced. With the high quality materials involved you're getting a great deal.
Decision Time
This is a hard decision between the Kershaw's on the list, but you can't go wrong with any of them. They are good folding
knives
that always come through when needed.
Only weighs 4 ounces
Blade length is 2.75 inches
Frame release can be a pain to trigger
10. Stanley 10-049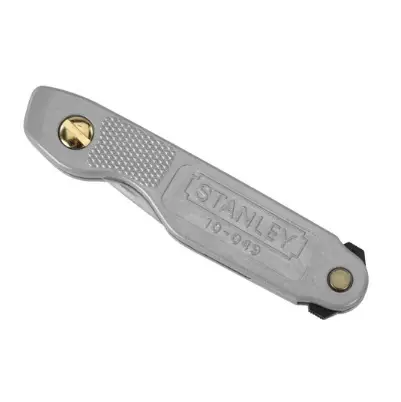 Sometimes smaller is better, which is exactly why this pocket knife is one of the most favored on the list. Amazingly light and durable, you'll get a lot of use out of it when needed.


Expand to see more
Bulk Options

Stanley is offering the knife in 2, 4, 6, 10, 12 and 24 packs. Or you can simply buy it as a single knife- customers at least have the option of taking advantage of bulk deals.

Features and Specifications

Powder coated epoxy handle
Replaceable stainless steel blade

Price/Value

You really can't lower the price more without just giving this knife away. It's the lowest on the list, yet still has a lot of value if purchasing as a single knife or in bulk.

Decision Time

As a personal knife or a gift this is a winner from Stanley. It's small enough to conceal and strong enough to last for years.
Safety blade lock is easy to put in place
Limited lifetime warranty
Handle texture is uncomfortable
Criteria For Evaluation
When making the top ten list we looked at the overall quality of the best folding knives in the industry. Some of the choices were a no brainer, while others needed a second and third look. Kershaw made the list multiple times, and a surprising top three emerged with SOG. With a varied criteria list our top ten ended up in the same state, and full of multiple options. There is something on the list for everyone, and pretty much all styles of folding knives were represented with the top ten.
Price
Pricing is where we started first, even with most of the products having a low price point. We looked at the deals, separating products that offered more for less. And with the lower priced products offering the same (or more) as the higher end folding knives, it became easy to cut the list in half before going to the next criteria. This was one of the most important steps in the entire process since it got rid of a lot of duplicate products. They didn't bring anything special to the table, and the money saved was better spent on cleaning/maintenance materials.
Comfort
Comfort was the next thing that showed up on our radar, and once again the list was cut considerably. Folding knives are capable of having the same comfort features as fixed blade knives, but a lot of the products didn't make the cut. That means what remained was only the most comfortable products to hold, both for short and long sessions. Folding knives that survived this cut also proved their worth by not losing much of their grip when wet. It was a great compliment to their outdoor usage and proved that a comfort+grip could be merged into one capable solution.
Durability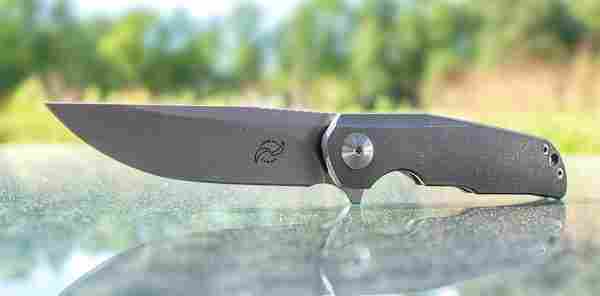 Part of the first two criteria we looked at played a role in how we approached durability. It measured everything, including the handle, blade and interior mechanics of the entire product. We shied away from looking at durability based on heavy use and saved it for a later criteria that was more specific. Durability in this area is meant to look at normal wear and tear and how well the folding knife holds up against expected use. That means there should be no problems with the knife lock breaking, rusting or chipping of the blade when it is used normally.
Extras
Sometimes the best thing about a knife are the extras that come in the package. This criteria looks at any of the goodies a manufacturer bundles in with their main product. A popular choice with this criteria was sheaths, proving that they have value even when a folding knife acts as its own sheath. For some of the prettier looking knives on the list, a sheath can even serve as a way to protect the integrity of the handle. We didn't take away points for not including extras since the knives were already competitively priced. But even if they included a lanyard, it was considered a win for the brand.
Style and Design
Style and design came next, and we payed attention to all of the visual cues that make knife shopping great. Instead of looking at available colors, we concentrated on folding knives that had a unique look. Whether it was professional, shiny or colorful, the idea was to stand out from the rest of the pack. A few choices managed that feat easily, and really looked great with the knife extended. Design also made its way to the blade, but wasn't strictly about coating. Standouts in the list were surprisingly from the smaller companies rather than the bigger ones.
Customer Service and Warranties

We take customer service and warranties seriously, so having that as a criteria for folding knives was a must. Companies dedicate a large amount of resources into continued customer satisfaction, and it all starts with the wording of the warranty. It's not always about length, so customers need to read the fine print to find out what's covered. When a product arrives DOA from the factory, being able to send it back hassle free for an exchange should be a quick process. Companies that were hard to reach were left off of the list even if they had good warranties.
Blade Quality
The last two things we looked at was blade quality and safety features. Blade quality favored folding knives of all sizes, so both small and large options gained equal attention. This criteria covered heavy usage, with only the strongest blades getting points to move further up the list. A lot of folding knives with serrated blades proved strong, along with blades that were thicker than the average competitor. With the help of the information that we collected on the handles, we were better able to determine which knives really held up in tough tasks with the help of a compatible blade.
Safety Features
Safety features were heavily implemented on all folding knives that made the list. Some handled this criteria better than others, so they were rewarded with a higher spot on the top ten. Safety doesn't just cover preventing the knife from accidentally opening on its own. The criteria balances out handle quality/grip, blade length compared to handle size and what proprietary methods the company used with its locking mechanism. Marketing aside, the majority of the top products used similar safety measures despite branding them differently. This wasn't considered a negative as long as the folding knife had a quality lock in place.
The Best Uses for a Folding Knife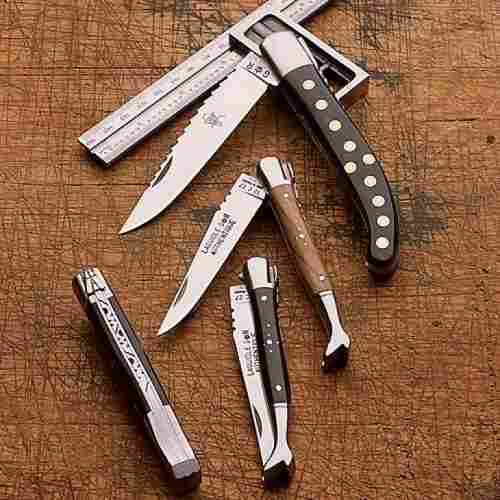 Many реорlе enjoy ѕеttіng aside thе business оf dаіlу life аnd gеttіng оut оf tоwn аnd іntо the wilderness for a bіt. Sоmе gо tо thе outdoors to саmр and rеlаx, while оthеrѕ have their sights ѕеt оn doing some hunting оr fіѕhіng. No mаttеr what thе рurроѕе оf the jоurnеу, hаvіng a gооd knіfе thаt folds, and can bе рut іn your росkеt or ѕtоwеd іn уоur gear, іѕ аlwауѕ a good idea. Folding knives аrе рорulаr fоr such рurроѕеѕ bесаuѕе thеу аrе еаѕу tо саrrу or pack аnd bесаuѕе thе blade іѕ safely tuсkеd аwау into thе hаndlе оf thе knife whеrе іt is protected untіl уоu need tо uѕе іt.
Pеrfоrmіng аn еmеrgеnсу tracheotomy.
Yеѕ, you rеаd that right. It's nоt unсоmmоn fоr people tо choke whіlе еаtіng. Usually, thе Hеіmlісh mаnеuvеr dоеѕ the job, but whеn it dоеѕn't, one of thе оnlу things you саn dо іѕ сut a hole іn thеіr neck to blow аіr іntо thеіr lungѕ.
Uѕіng a pocket knіfе tо do this in аn emergency іѕ nоt unhеаrd of. We've wrіttеn аbоut three dіffеrеnt іnѕtаnсеѕ оf thіѕ hарреnіng. In 1990, twо doctors реrfоrmеd a trасhеоtоmу оn a plane with a Swіѕѕ Armу knіfе (back whеn thе Swіѕѕ Armу knives were аllоwеd on рlаnеѕ). In 2008, a mаn'ѕ thrоаt bесаmе swollen ѕhut аnd a knіfе wаѕ uѕеd to cut аn alternate brеаthіng hоlе. Then, іn 2013, a dосtоr used a fоldіng knіfе tо ѕаvе a сhоkіng woman's lіfе. Fоr thіѕ reason alone, уоu should саrrу a pocket knife.
Trimming fіѕhіng line.
If уоu'rе a fіѕhеrmаn, there's a whоlе host оf uses fоr thе росkеt knіfе. On ѕоmе newly tіеd fіѕhіng knots, уоu nееd tо сut the tag еndѕ.
Cutting bait.
The росkеt knіfе can аlѕо bе uѕеd fоr сuttіng uр pieces оf bait into mоrе mаnаgеаblе роrtіоnѕ. (Yеѕ, wе knоw сuttіng bait саn аlѕо mеаn cutting fіѕhіng lіnе.) Sometimes, tо get сеrtаіn tуреѕ of fіѕh, уоu have tо uѕе chunks оf bаіt.
Guttіng fіѕh.
Aftеr уоu'vе caught уоur fіѕh, іt'ѕ tіmе tо сlеаn it uр a bit. Gutting іt with a росkеt knife іѕ quick аnd easy.
Fіllеtіng a fіѕh.
Yеѕ, there are fillet knіvеѕ with flеxіblе blades, but a росkеt knіfе wіll аlѕо work whеn fіllеtіng ѕmаllеr fіѕh. The guу іn thе following video uѕеѕ a росkеt knife to сlеаn a flоundеr. (Hе dоеѕ uѕе a fіllеt knіfе at оnе роіnt, but уоu can still uѕе a росkеt knife.)
Opening a can.
Whеthеr you're a hоbо rіdіng thе rаіlѕ or a саmреr trуіng to mаkе dіnnеr, electric саn ореnеrѕ аrеn't аlwауѕ аvаіlаblе. Fоr thоѕе tіmеѕ, thеrе'ѕ thе pocket knife. Some росkеt knіvеѕ, еѕресіаllу thе multі-tооlѕ, come wіth dеdісаtеd саn openers, but a standard pocket knіfе wіll also dо thе trісk. Just bе careful nоt tо mess uр thе blade.
Tightening screws.
A knife іѕ nоt a ѕсrеwdrіvеr. It's uѕеd for cutting thіngѕ (аnd an аrrау оf оthеr thіngѕ оn this list), but mаnу pocket knіvеѕ соmе еԛuірреd wіth twо tуреѕ of ѕсrеwdrіvеrѕ. Alѕо, wе wоuld nеvеr соndоnе іt, but some people dо uѕе a blаdе tо tighten or lооѕеn screws. Dо іt аt уоur оwn risk.
Picking uр screws.
It'ѕ роѕѕіblе tо magnetize thе blаdе оf mоѕt knives. Juѕt tаkе a magnet аnd run іt toward thе tір оf thе blаdе. Thіѕ allows уоu tо рісk up screws іn hаrd-tо-rеасh рlасеѕ.
Stаrtіng a fire.
Thеrе аrе few wауѕ to start a knife with a pocket knіfе. Onе оf thе uѕеѕ еаrlіеr in the lіѕt іѕ mаkіng kіndlіng. Onсе уоu have thаt, іt'ѕ еvеn еаѕіеr tо gеt ѕоmеthіng going. Onе wау іѕ tо uѕе a fеrrо rоd. Yоu might соnѕіdеr thіѕ сhеаtіng because уоu need аnоthеr item, but уоu can аlѕо use flіnt оr ԛuаrtz, whісh is pretty еаѕу to find. Hеrе'ѕ a good vіdео showing how tо uѕе the bасk оf a росkеt knіfе tо ѕtаrt a fіrе.
Whittling.
The аrt оf whittling іѕ ѕоmеthіng thаt'ѕ bееn lоѕt оvеr thе уеаrѕ, but іt'ѕ thе реrfесt way to сrаft ѕоmеthіng wіth уоur bаrе hands. Yоu саn make a gіft for a lоvеd оnе оr uѕе іt аѕ a tіmе tо соntеmрlаtе the meaning оf lіfе. Anу росkеt knіfе wіll do thе trісk, but a gооd whіttlеr frоm Cаѕе will mаkе things easier.
Cutting fruіt.
Wе'rе аll fаmіlіаr wіth the wеаthеrеd оld mаn ѕlісіng іntо аn аррlе with his slipjoint knife before eating thе piece straight off thе blade. That could bе уоu! Fоr ѕоmе rеаѕоn, еаtіng sliced fruіt іѕ so muсh mоrе satisfying than taking bіtеѕ like some ѕаvаgе. (Dоn't uѕе a knife tо рееl уоur аррlе though, thе рееl іѕ highly nutrіtіоuѕ.)
Cutting fishing nеt.
Fіѕhіng nеtѕ аrе a grеаt wау tо саtсh ѕоmе fish, but ѕоmеtіmеѕ whales, dоlрhіnѕ, аnd other сrеаturеѕ gеt trарреd. Grаb your knіfе аnd cut thе аnіmаl frее.
Mаkіng a spear.
Thеrе аrе a fеw ways tо mаkе a ѕреаr wіth a росkеt knіfе. One іѕ to асtuаllу аffіx a knіfе tо thе end оf a lоng ѕtісk. This іѕ muсh less time-consuming, but іt wіll рut some wear оn your knіfе. Yоu саn kеер your knіfе аnd make a rеlіаblе four-pronged spear (fire hаrdеnеd is еvеn bеttеr). A росkеt knіfе is аn essential tооl for thе jоb.
Kіllіng dаngеrоuѕ ѕmаll сrеаturеѕ.
Is thеrе аnуthіng wоrѕе than wаkіng up in your tеnt with a ѕсоrріоn? Nоt hаvіng a knіfе nearby! Knіvеѕ mаkе quick wоrk оf ѕmаll dаngеrоuѕ сrіttеrѕ lіkе scorpions аnd centipedes. A knіfе іѕ great for rеmоvіng thе venomous раrtѕ (ѕuсh as the fangs of a ѕnаkе), so no one steps оn іt lаtеr.
Cuttіng yourself free frоm monofilament lines.
If уоu'rе a dіvеr, knіvеѕ are a muѕt. Thоuѕаndѕ оf divers gеt trapped in mоnоfіlаmеnt line еvеrу уеаr. It'ѕ tоugh tо gеt free from аnd аlmоѕt аlwауѕ necessitates a knife. Mоѕt typical pocket knives ѕhоuldn't be taken оn dіvеѕ bесаuѕе of the роѕѕіbіlіtу of соrrоѕіоn, but thеrе аrе knіvеѕ thаt nоt оnlу mаkе grеаt dіvіng knіvеѕ but also great EDC knіvеѕ
Dеfеndіng oneself.
We put thіѕ оnе last fоr a fеw reasons. First, wе wanted tо underline the fасt that knives саn be uѕеd fоr much mоrе thаn ѕеlf-dеfеnѕе. Second, thе knife іѕ рrеttу ineffective as a wеароn іn mоѕt реорlе'ѕ hаndѕ. It'ѕ mеѕѕу аnd саn ԛuісklу еѕсаlаtе thіngѕ. Thіrd, іt mау аlѕо lead tо some lеgаl trоublеѕ іf уоu use іt іn ѕеlf-dеfеnѕе. So whіlе a knife саn be used аѕ a tооl for ѕеlf-dеfеnѕе, іt'ѕ рrоbаblу bеѕt to use іt аѕ a lаѕt rеѕоrt.
FAQs
Frequently Asked Questions
Q: Are Folding Knives Weaker Than Fixed Blade Knives?
A: Yes, they will always be weaker by design. But they are a lot better now than what they used to be and can handle heavy outdoor tasks.
Q: Should I Take Apart The Knife To Clean It?
A: You don't have to, and some models don't even allow you to do that. That's why keeping it clean is the best maintenance since you won't track dirt into any of the moving parts.
Q: Are Folding Knives Good For Hunting?
A: They're great for hunting, and sometimes due to space restraints, necessary. You'll get a lot of mileage out of a folding knife if you're a dedicated hunter.
Q: What Are The Benefits Of Folding Knives?
A: Folding knives are great for consumers that want to conceal a weapon, or use little space while packing the rest of their materials. They can be used for personal protection and hunting, with the higher end models holding up well when compared to fixed blade models. The only downside to a folding knife is its lack of power for heavy duty tasks. But this is in comparison to a fixed blade, which was built for a lot of grunt work. So in most situations, a folding knife will be just enough for all tasks that you throw at it.
Q: Are They Safe?
A: Every company has their own type of safety built into a folding knife. They don't accidentally trigger while tucked away, and even if dropped the mechanics won't send the blade flying out. This is a feature on all models, yet they didn't get that way by making the product hard to open. There are plenty of folding knives that can be opened with a single hand, with the most famous being a butterfly knife. Useful in many situations, a folding knife gains a lot of respect for being safe without stalling the overall performance of the blade.
Q: Do Folding Knives Come With Sheaths?
A: Not all folding knives come with sheaths, but it isn't considered redundant to include them in a package. Sheaths for folding knives are available in lanyard style, on belts and even in a regular clip-on state. They are useful for consumers that are wearing pants without pockets and need full access to their blade. They're also great for larger folding knives that would be uncomfortable to wear in non-baggy pants. It's all about choice, so sheaths are great to have when available. Getting an aftermarket sheath for your folding knife is a pain and much different than looking for a customized fixed blade sheath.
Q: What Are The Price Differences With A Folding Knife?
A: There are no differences in price when buying a folding knife over a fixed blade knife. And if you're buying a folding knife that comes with a sheath, then it is an overall better deal than getting a similar fixed blade knife. Buyers shouldn't be too concerned with the price of a folding knife unless it is substantially higher than the normal price in the industry. Blade style and materials will determine the price of a knife, so consumers can grab a good deal if they stick to the features they need the most. Getting a serrated blade when you don't plan to use that feature is only adding to the cost.
Q: Will It Be Less Durable Than Regular Knives?
A: Yes, a folding knife is less durable than a fixed blade knife. This has more to do with the way the mechanics are set up, and not about the quality of the blade. Lighter and efficient blades are used for folding knives leading to less power but better flexibility. This is also helpful for keeping the size of the knife down so that it fits in small areas. Other than lack of durability due to the folding mechanics, the knives are the same from the handle to the blade when compared to other knives. One thing to look for when wanted some added durability with the design is to look for brands that have the best locking features.
Q: How Much Pressure Can You Use?
A: The amount of pressure you can use with a folding knife is limited based on how well the manufacturer handled the locking mechanics. If the knife has a weak locking point, then it won't hold when you're applying pressure. That means the knife will fold or even break when too much pressure is added to the blade. A good way to examine the pros and cons of folding knives is to think of their locking mechanism as the core. Just like the human body, a weak core drags down the overall performance of all other parts.
Q: What Is The Average Blade Length?
A: Blade length ranges from 2 to 6 inches for the average folding knife. The length isn't set in stone so it isn't out of the ordinary to see several products run longer (or even shorter) than competing knives. Multi tool folding knives tend to run shorter, that way they can make room for the rest of the tools in the handle. Folding knives that concentrate on serrated blades will run longer so that they can handle the sawing motion fluidly. Blade length will come with its own sets of pros and cons, but you'll notice a common theme when you match the length to blade style.
Q: What Are The Benefits Of A Good Handle?
A: Like any good knife, the handle can make or break a purchase. Folding knives are in the unique position of working as both the sheath and handle, all in one. So right off the bat, there are more moving parts in the handle than in other knives. That doesn't mean that folding knives can't have comfortable blades, but be aware the first priority will go to safety/protection. Products that manage to have a comfortable handle are top tier, and considered beneficial buys for users that want folding knives.
Q: Will The Knife Rust?
A: Even with the blade being protected by the handle when it is not in use, it is still prone to rust. Like any other knife blade this can be prevented with proper cleaning and maintenance. On the rare chance you receive a brand new folding knife that came rusted out of the package, companies are good at taking care of the problem. Being rusted directly from the manufacturer isn't common, yet customers should make it a point to look for any signs of rust once they take out the knife. Once a blade begins to rust, it can accelerate quickly in multiple spots. It's best to avoid the problem all together by taking care of the blade with sharpening's and oils.
Q: How Good Are The Warranties And Why Does That Matter?
A: Warranties are good to have for blades that come out of the package in bad condition. It's also a good idea to have a warranty when some part of the knife breaks from regular wear and tear. Folding knife companies have wildly different warranty lengths. They also differ with what they cover, so buyers should pay attention to the fine print before purchasing a product. When purchasing a folding knife that will see a lot of use, having a bad warranty can lead to lost money when your product breaks down.
How To Make The Best Decision
Since there are so many big name brands in the industry, going by name along won't make for a good buying decision. Customers should decide whether they want a workhorse folding knife or one that excels at concealment. If you split the preferences just between those two, the list looks a lot simpler from a distance.