Best Folding Knives Reviewed and Compared
Folding knives tend to be weaker than fixed blade knives when it comes to tough tasks. With some advanced in technology, a good folding knife can be just as effective. Some of the top choices on the list can even best their fixed blade counterpart, with a chance to even beat them in longevity.
Best Brands
There are a lot of brands to like in the folding knife industry, and the list keeps growing. A surprise name on the list is Smith & Wesson with a pretty respectable spot. Companies old and new are perfecting folding knives and making them more of an everyday option. With some of the choices on the list, the advancements are even further along than some customers would expect.
Maintenance and Cleaning Tips
Since there is at least one moving part with folding blade knives, keeping them clean and free of debris is important. Bad maintenance can cause the locking mechanism to break down quickly, and in turn leave you with a knife that is loose. Cleaning the blade is also important since whatever dirt you see on the blade will find its way into the handle when it's closed.
Our Top 3 Picks
10 Best Folding Knives
1. Kershaw 1990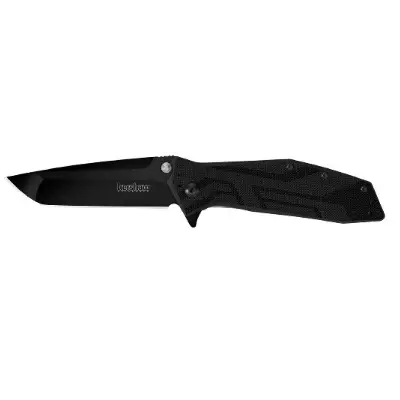 The best folding knife on the list is from Kershaw, and is the tried and true 1990 Brawler. This knife has a lot of history behind it and is the
best all-around knife
in its category.
Expand to see more
Balanced
The 1990 Brawler has the beautiful all black look of the Smith & Wesson model and is the sharpest knife out of the box. It also has great build materials and a rock solid locking system.
Features and Specifications
8Cr13Mov steel with black oxide coating
Overall length of 7.1 inches
Price/Value
Even though it is tops on the list, the price is still low. This should help with the decision making process when deciding between the other Kershaw knives.
Decision Time
The best folding knife on the list just so happens to be the
most balanced
one available. It beat out all the competition and should provide some considerable use in high and low priority tasks.
Low weight with long length of 7.1 inches
Glass filled nylon handle
2. Kershaw Cryo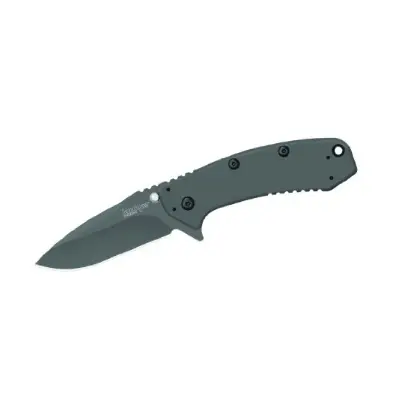 The first two knives on the list are from Kershaw, with their Cryo knife taking the #2 spot. It is one of the best in the industry, and has a horde of followers that swear by its durability.


Expand to see more
Strong And Durable
With the lockbar stabilizer in effect, this can be treated like a lot of high end
fixed blade knives
. There are relatively few
tasks
that this blade can't handle head on.
Features and Specifications
Quadcarry pocket clip
8Cr13MoV steel with titanium carbo-nitride coating
Price/Value
In keeping with the tune of the rest of the products, this is low priced. With the high quality materials involved you're getting a great deal.
Decision Time
This is a hard decision between the Kershaw's on the list, but you can't go wrong with any of them. They are good folding
knives
that always come through when needed.
Only weighs 4 ounces
Blade length is 2.75 inches
Frame release can be a pain to trigger
3. SOG KEY-101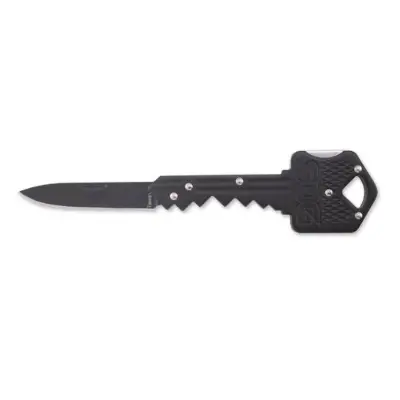 At the #3 spot is something a little different, and it comes from the minds of SOG. The key folding knife is a design that has been copied by many companies but perfected by SOG.


Expand to see more
Can Be Completely Concealed
No one will recognize this is a knife until you pull it out and the show the blade. It's small enough to fit in a front pocket or even on a regular sized keychain.
Features and Specifications
5 inch folding stainless steel blade
Stainless steel housing
Price/Value
Just like the size of the knife, the price is also small. Customers can add this to their collection without breaking the bank.
Decision Time
There is no better way to hide a folding knife than by housing it in the shape of an everyday product. There are several color variations available, so this SOG product can also be a
collector's item
.
Smallest foldable knife available
Can conceal better than any other on the list
Weakest overall blade strength on the list
4. MTech MT423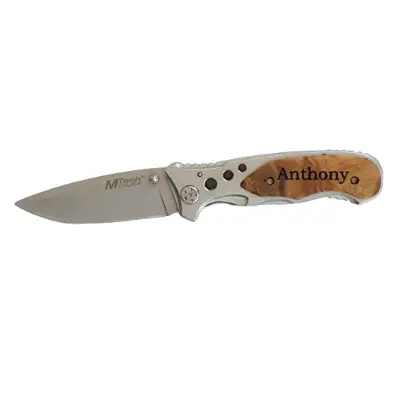 Usually personalized knives are of a lesser quality and fall more into the realm of being good looking. But this folding knife from Palmetto Wood Shop is more than just looks, and can be useful in
hard tasks
.
Expand to see more
Personalization
Buyers can add up to two lines of engraved text within the wood handle. It's professionally done and looks great from up close or far away.
Features and Specifications
Stainless steel blade with dual thumb stud
Pakkawood handle with belt clip
Price/Value
With the personal engraving options, the low price of this product will get a lot of positive reviews. Customers will get a product that will become their personal folding knife for life.
Decision Time
Personal knives always have that special touch, especially when given as a gift. This is the best
laser
model on the list to gift to someone if you want to give them their very first folding knife.
Underrated sharpness when handling tough tasks
Great personalization options on the finished product
Knife doesn't lock into place when opened
5. Smith & Wesson SWMP4LS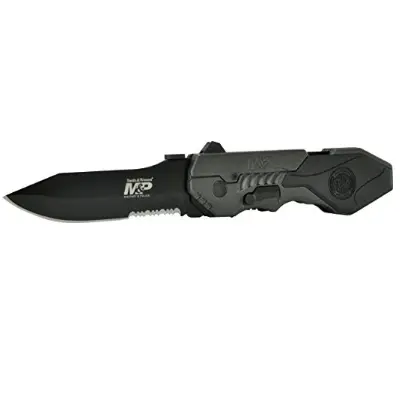 The famed gun maker also makes comparable knives, most notably the SWMP4LS. It looks as sleek as their
guns
, and performs accordingly.
Expand to see more
The Best Design

You wouldn't think a gun maker would outdo all of the notable brands on this list when it comes to design. This is the best looking folding knife on the list, and is sure to get a lot of looks when you pull it out.

Features and Specifications

Black 4034 stainless steel
Ambidextrous thumb plate

Price/Value

The SWMP4LS is a great buy at a low price, and the prettiest knife on the list. With a little bit of sharpening out of the box it can be your go to folding knife.
Good grip with the black aluminum handle
Partial serrated clip point blade more useful than it looks
Paint is prone to chipping
6. Kershaw Leek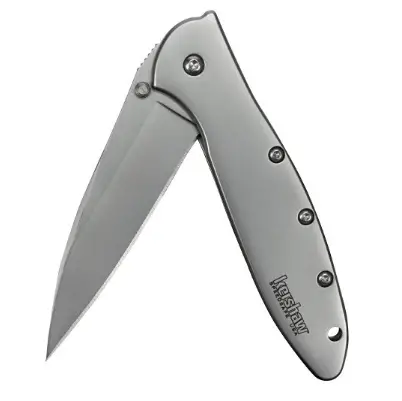 This USA made knife doesn't try to do anything out of the ordinary. It's a simple folding knife made by one of the leading brands in the industry, and with very few flaws.


Expand to see more
Durable Stainless Steel

Using high grade Sandvik 14C28N, Kershaw guaranteed quality from top to bottom. The bead blasted finish on the handle is only icing on the cake.

Features and Specifications

Speedsafe assisted opening
Blade length is 3 inches

Price/Value

Even this far down the list, the price is still low. Most of Kershaw's products seem to hover around that range anyway, so it shouldn't come as a huge surprise.

Decision Time

Quality steel can be a big deal for customers that demand longevity in their folding knives. And that's exactly what they'll get with the 1660 model.
Nice length (7 inches)
Feels good when doing heavy tasks
Removing clip is not straightforward
7. Gerber EAB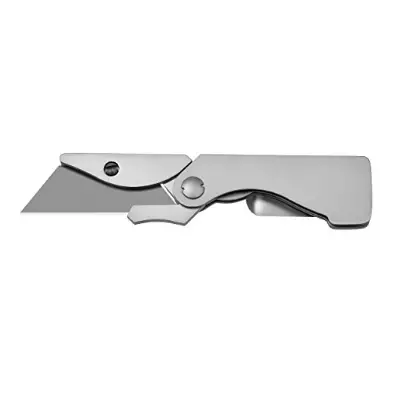 The first time most users hold this knife it feels a bit different than other products on the list. Besides being
multifunctional
, it also serves as a great addition to the best folding knives list.
Expand to see more
Replaceable Blades

Being able to take out blades that dull out rather than replacing the entire knife is a big plus. Usable blades are standard or contractor grade, so not proprietary.

Features and Specifications

1 inches open/2.4 inches closed
High Carbon K5

Price/Value

The set itself is a low cost just like the replacement blades, so the value is pretty high. Since it has multiple functions, you can get a lot more use out of it than a normal folding knife.

Decision Time

Gerber made a pretty bold choice with the replaceable blades of their EAB pocket knife. It's one of the many innovations that pushed it into a good spot on the top ten.
Can use a lot of low cost blades
Embedded clip can be used as money clip
Included blade is hard to find if you want the same one
8. MTech USA MT-A882
Even the smallest of folding knives needs to have available styling options. That was the goal with the MT-A882 from MTech.


Expand to see more
Lots of Available Colors

There are six total colors being offered, with the great part being that the blade rather than the handle is what changes colors. Blue, orange, pink, red, silver and turquoise.

Features and Specifications

Spring assisted folding
Black nylon fiber handle

Price/Value

You're not going to spend a lot for this knife since it is one of the lowest priced on the list. With all of the available colors, it would make a great gift for a first time knife user.

Decision Time

MTech really put some thought into the fun colors of the knife, and it brings out the value. Buyers will enjoy showing it off as much as they enjoy using it.
Lanyard hole built in for easy looping
Good sized knife with a 2.75 inch blade length
Some of the color profiles aren't accurate
9. Buck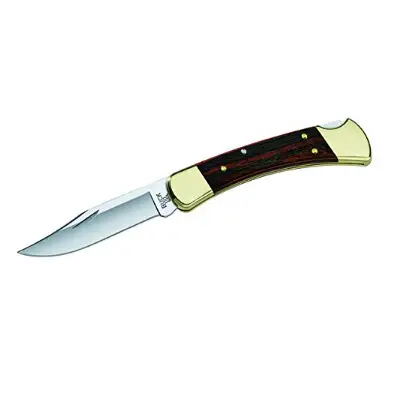 Buck Knives is no stranger to top ten lists, with several of their wares getting a lot of attention. This well-known model is still popular with users today, and has a pretty decent following.


Expand to see more
Great For Detail Work
Taking out this bad boy for detail work is promising thanks to the crescent tip blade. The point is
very sharp
, and makes the job a lot easier.
Features and Specifications
420HC steel 3 ¾ inch blade
Dymondwood handle with brass bolsters
Price/Value
Low priced and valuable, couple it with the lifetime warranty and you'll get a great deal. Buyers can feel comfortable buying from Buck Knifes as they are a reputable company.
Decision Time
There are enough good features about the knife that it should appeal to a lot of users. With a great design and a lifetime warranty, you can't go wrong.
Brilliantly designed blade and handle
Comes with leather sheath and snap closure
Blade is smaller than it looks in pictures
10. Stanley 10-049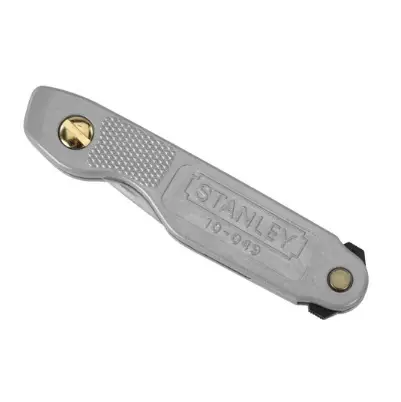 Sometimes smaller is better, which is exactly why this pocket knife is one of the most favored on the list. Amazingly light and durable, you'll get a lot of use out of it when needed.


Expand to see more
Bulk Options

Stanley is offering the knife in 2, 4, 6, 10, 12 and 24 packs. Or you can simply buy it as a single knife- customers at least have the option of taking advantage of bulk deals.

Features and Specifications

Powder coated epoxy handle
Replaceable stainless steel blade

Price/Value

You really can't lower the price more without just giving this knife away. It's the lowest on the list, yet still has a lot of value if purchasing as a single knife or in bulk.

Decision Time

As a personal knife or a gift this is a winner from Stanley. It's small enough to conceal and strong enough to last for years.
Safety blade lock is easy to put in place
Limited lifetime warranty
Handle texture is uncomfortable
How To Make The Best Decision When Choosing A Folding Knife
Since there are so many big name brands in the industry, going by name along won't make for a good buying decision. Customers should decide whether they want a workhorse folding knife or one that excels at concealment. If you split the preferences just between those two, the list looks a lot simpler from a distance.
FAQ
Are Folding Knives Weaker Than Fixed Blade Knives?
Yes, they will always be weaker by design. But they are a lot better now than what they used to be and can handle heavy outdoor tasks.
Should I Take Apart The Knife To Clean It?
You don't have to, and some models don't even allow you to do that. That's why keeping it clean is the best maintenance since you won't track dirt into any of the moving parts.
Are Folding Knives Good For Hunting?
They're great for hunting, and sometimes due to space restraints, necessary. You'll get a lot of mileage out of a folding knife if you're a dedicated hunter.