Best Ellipticals Reviewed & Rated for Quality
In a Hurry? Editors choice: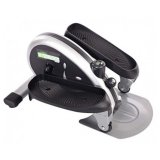 Test Winner: Stamina In-Motion

Raise your hand if you've made a workout or fitness goal and failed time and time again to meet it. What's the hardest part about keeping our goals? Actually
getting to the gym
. That's why we've compiled this list. There are tons of machines out there and we poured over thousands of reviews to bring you the best options. These are great because they provide a low-impact workout that won't put unnecessary stress on the back, hips, knees, or ankles. So if you are new to working out and are looking for a way to ease into a fitness routine, this is a great at-home workout option for you. Of course, we've also included heavy-duty options for the more serious and experienced fitness guru as well. So peruse our list and find the elliptical for you. f
Standout Picks
Criteria Used for Evaluation
Features
When making our list of the best ellipticals, we obviously considered the features each unit provides.
First, we considered the number of settings each elliptical had to offer. We loved units that were inexpensive but still provided 8 or more settings to ramp up difficulty over time. We also loved more expensive machines that provided tons of pre-set exercises so it felt like having a personal trainer in your home.
Next, we loved ellipticals that came with pulse and heart rate monitors--especially those that were on the cheaper end.
We also loved units that had larger ranges of motion in the stride so that you could get a fuller workout in the legs and glutes.
We love units that came with screens to track your progress, and especially those that came paired with mobile apps to link to other fitness apps.
And other features we found useful were built-in fans, cup holders, speakers, and USB charging ports.
Capacity
Because some folks who purchase at-home gym equipment are looking to get in shape for the first time or are uncomfortable with the thought of working out at the gym, we made sure to provide the weight restrictions for each unit. Listed clearly in the introduction for each elliptical is the amount of weight each machine can handle. Most of our machines can handle at least 250 pounds.
Size
The size of each elliptical was also an important consideration because workout equipment isn't the most fashionable at-home item to look at. We loved units that came with front rolling wheels for easy movement and storage. We also loved units that could be used sitting down and easily stored underneath furniture or in closets.
We wanted to draw attention to those larger units and the head clearance they require. Many people like to use basements for their home gyms which often have lower ceilings. When necessary, we noted the ceiling clearance needed for taller users.
Ease of Use
What good is purchasing a piece of at-home equipment if you can't use it? That's why we found ellipticals that were easy to use. Many of the machines on our list are no frills and can move at your pace with the twist of a knob. Others can be used sitting down. And the units with lots of programming options we made sure were easy to follow.
Value
As always, we want to bring you products with the best value. On this list, we included some super inexpensive options and some more expensive options. Our inexpensive items still pack in value with their features and versatility while the more expensive machines on our list are still in the lower range in terms of what's out that.
10 Best Ellipticial Trainers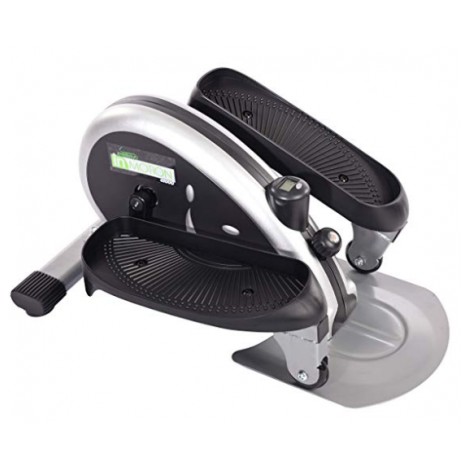 While many ellipticals have a big footprint and take up lots of space in the home, this little guy is super compact and can fit in almost any room or office space out there. With a 250-pound weight limit, this is a good option for staying fit on the go.
Can Use Standing or Sitting
This little elliptical trainer has so many cool features. First, it comes in 3 amazing colors: standard black and grey, bright orange, and lime green. It includes a screen that tracks your workout and tells you how many strides you take per minute, how many strides you take in your entire workout, the number of minutes that you have been working out, and an estimate on how many calories you have burned. There is also an adjustable knob that you can twist for greater or less intensity. Plus, you can use this machine in a few different ways to target different areas and for different purposes. You can use the machine sitting down if you are a gamer or recovering from an injury. This is also a great option for the elderly. Of course, you can use the elliptical standing up as well for a low impact cardio workout that won't put extra stress on your back, knees, or ankles. Pedal forwards and backward to target different parts of your legs and glutes. You don't have to use a support while standing, but you might want to until you get a feel for the machine. It does feature non-slip pedals for extra security.
Weighs Only 24 Pounds
This tiny machine takes up only about 2 feet by 2 feet and weighs just 24 pounds. That means you can use it in virtually any room in your home and office. The machine is quiet so it won't disturb those around you and is a great option to use with a standing desk. The elliptical is easy to put together out of the box and super easy to transport so that you never miss a workout. Plus, when you're not using it, you can simply slide it under furniture or slip it in a closet.
Cost and Value
This elliptical rings up on the low end of our price range. We love its value because it is inexpensive and super versatile and portable. It can be used by multiple family members with different needs and it can go with you anywhere.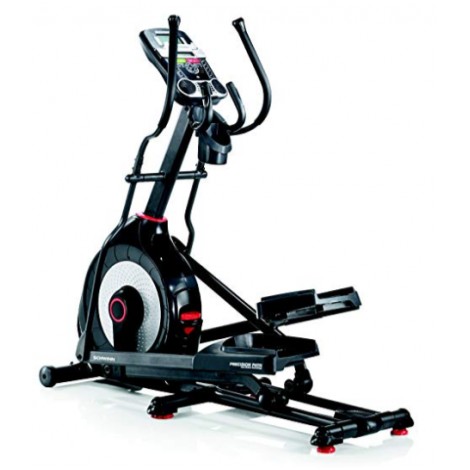 Schwinn is a trusted name in exercise equipment, so they rank high on our list. The 403 Elliptical Machine comes loaded with program features, but it's a large machine so plan on having a space to put it. Schwinn's elliptical can hold up to 300 pounds so it's a great option for those looking to skip the gym and workout at home instead.
Over 20 Different Settings
This elliptical is loaded with features. It comes with a cup holder and phone holder, plus a place to plug a USB in so that you can charge your device or connect it to the built-in speakers to blast some motivating workout tunes. Another great feature of the USB port is that it enables data to be exchanged between your mobile device and the elliptical so you can track all of your workouts and calories burned to keep you on track to achieving your exercise goals. On top of all that, the elliptical comes with 20 different resistance levels so that you can ramp up your workout to get just the burn you're looking for. And with over 20 different training programs incorporated in the system, you can enjoy a personal trainer in your home. But if that's not for you, you also have the option of manually entering a training program to follow. Plus, there's a lovely little fan powered by your workout that will help wick away some of that fat burning sweat.
Smooth and Quiet Workout
The unique flywheel that is weighted ensures that this machine runs quietly and smoothly. That means you can enjoy workouts early in the morning or super late at night without disturbing sleepers in your home or below you. This machine weighs about 225 pounds, so it's not the kind of equipment you can easily pack up and store or travel with. Once you put this baby together, it's going to stay together. Most reviewers assert that assembly was easy but did take a few hours to complete. This machine does come with at home assembly, but for a hefty extra cost.
Cost and Value
This elliptical is on the higher end of our price range, but it isn't the most expensive. We love its value because it is easy to put together and it can hold a lot of weight. Users are super happy with their purchase and it boasts tons of features that other more expensive units have at a much cheaper price.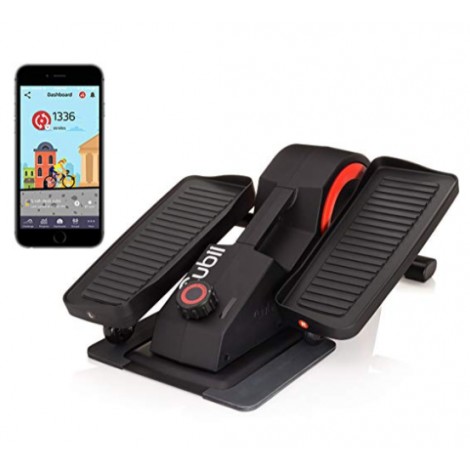 While the previous sitting elliptical on our list presented problems when used underneath desks, this little elliptical buddy was designed for under-the-desk use specifically. The weight limit for a seated user is 500 pounds, but the unit can handle 350 pounds of direct pressure.
Designed to be Used Under a Desk
We love this under-the-desk buddy. It was designed specifically to prevent bumping your knees on your desk as you use it so you can stay fit during long days of desk-sitting. A super cool feature of this elliptical is the Cubii app. The app allows you to sync data to your phone or other mobile device and will automatically pair with your Apple Fitness apps or with your Fitbit. Plus, it has 8 different resistance levels so that you can ramp up your exercise as you get more fit.
Weighs Only 27 Pounds
This little guy weighs only 27 pounds but it can hold a ton--well, 500 pounds, that is. That makes this elliptical one of the sturdiest machines out there. Plus, it is super easy to travel with and move because of its portable handle. On top of all of that, it provides a super smooth and quiet ride so that you won't have to worry about disturbing your officemates or pausing your workout when you're on a call. And if you don't have a lot of confidence in your assembly skills, never fear. With just a 4-screw assembly, anyone can do it.
Cost and Value
This unit rings up in the middle of our price range but it is one of the most sturdy and quiet ellipticals on our list. Plus, you can use it anywhere so you can stop making excuses about when and where you can work out. We love the app and its portability--it makes staying in shape easy.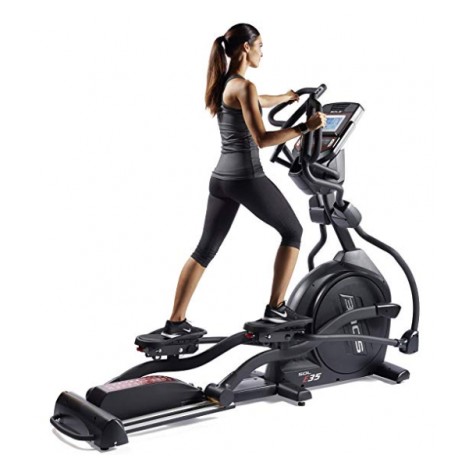 Sole Fitness hits just about every mark with this elliptical machine. With virtually any feature that you could ask for, the E35 has something to offer to the whole family. It can support 375 pounds of weight and comes with a great warranty.
Pulse and Heart Rate Monitoring
Whatever you're looking for in an elliptical machine, this puppy has it. The LCD display tracks tons of data, like incline, distance, minutes, calories, level, pulse, and heart rate. The incline and levels can be changed digitally on the dash (strides 20-22 inches), not manually with a knob like on other ellipticals. The cup holder and built-in fan are there to keep you cool and hydrated. Not to mention the built-in speaker system that can blast tunes to keep you motivated during your workout. If you don't want to disturb others, there is also a headphone jack so that music plays directly into your ears. You can easily adjust the pedals and console so that the unit is just the right fit for you. Plus, the elliptical comes with 6 programs standard, 2 programs that you can customize, and 2 programs meant to target heart rate. We love that this machine can track your pulse and heart rate so that you can be sure to get in the orange zones where you burn the most fat. These monitors are included in your purchase. And the pedals measure 15 inches so they can accommodate almost any shoed foot.
Excellent Warranty Across the Board
This elliptical has one of the best warranties out there. The frame boasts an outstanding lifetime warranty. Electronics have a 5-year warranty as do parts, and there is a 2-year warranty on labor. Reviewers love this machine and there aren't many mentions of actually needing to cash in this warranty as the product maintains functionality for years. The elliptical does not come fully assembled, however, and can take about 4 hours to put together at home. There is an at-home assembly option provided. The E35 weighs about 230 pounds so you won't be moving it around. Reviewers suggest building it where you intend on using it.
Cost and Value
This elliptical is one of the most expensive on our list but it comes with a killer warranty and is one of the most durable machines out there that you can find for at-home use. We love its value because it can be used by multiple family members and because it boasts so many bonus features. Plus, reviewers repeatedly harp on how quiet this machine is--a major selling point for us.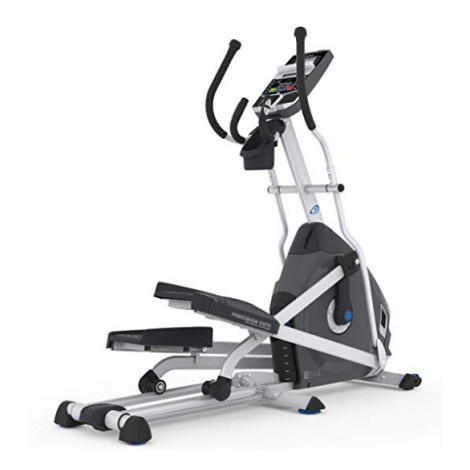 Here's another heavy duty machine with great features. Loaded with programs and resistance levels, you can get just the workout you need with this elliptical. The E614 has a weight limit of 300 pounds.
Over 40 Different Settings
This elliptical has many standard features of other full-sized ellipticals like a cup holder and phone holder, mp3 adapter, speakers, and fan. What's great about this unit is that it allows you to input goals at the beginning of your workout and track them throughout your exercise so that you can be sure to hit all of your targets. There are 22 programs to choose from: 9 standard programs, 8 programs meant to target heart rate, 2 fitness tests, a quick-start setting, and 2 customizable programs. Plus, there are 20 resistance levels so that you can really ramp up your workout to the intensity you need, avoiding sticky plateaus. This machine allows you to work at high speeds.
Lighter Weight but Needs Headspace
The E614 is a little lighter weight (about 185 pounds) than other full-sized ellipticals but can still stand up to heavy workouts. Most reviewers were able to put their elliptical together in about 2 hours without much trouble. The hardest part is moving the heavy box initially and we suggest building the unit where you plan on using it. But be sure that you account for enough headspace. For users 6 feet and over, you will need at least an 8-foot ceiling for comfortable use.
Cost and Value
This elliptical rings up in the middle of our price range but still comes loaded with features and workout programs so we love its value. With so many different level options, this machine will stay relevant even as you get it tip top shape.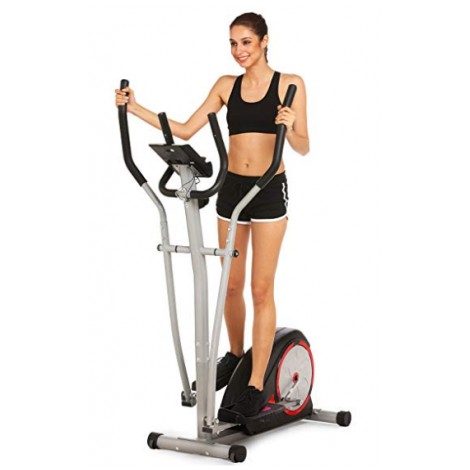 This little compact elliptical won't break the bank but will still provide you with some dynamic features to get a great workout in at home. Though smaller than a full-size elliptical, it can still hold up to 250 pounds.
8 Magnetic Levels of Resistance
With 8 magnetic levels of resistance, you will have a lot of control over how intense your workouts are. This helps in building up stamina and in avoiding plateaus. Plus, this elliptical comes with a fully functional LCD screen that tracks all of your workout data: distance, time, speed, burned calories, and even heart rate monitoring. The pads on the handles that are stationary can read your heart rate so you can hit those high fat-burning zones. The unit comes with over-sized foot pedals with grips to prevent slipping for added safety.
Wider Base for Security
This machine is smaller than other full-sized ellipticals and it weighs in at about 80 pounds. The wider and sturdier steel base make sure that the elliptical stays upright and stable during heavy workouts. The fly-wheel is balanced with precision to ensure a quiet and smooth ride. Because this unit is a little lighter weight, you might be able to store it upright in a closet nearby. Most users were able to put this machine together in under 2 hours, but some of their own tools were required.
Cost and Value
This machine is at the low end of our price range. We like its value because it provides heart rate monitoring and digital features while not breaking the bank.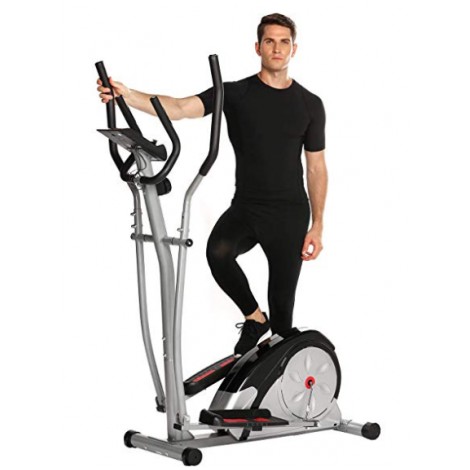 This is another low-cost, small-footprint machine that still packs in some high-cost features. This elliptical can hold up to 265 pounds.
Easy-to-Record Fitness Statistics
With a full LCD screen, you will find recording your fitness statistics and tracking progress towards your goals super easy. The screen records burned calories, time, distance, speed, and heart rate as the pads on the stabilized handlebars have monitors in them that can measure heart rate. The large, no-slip pedals allow for a smooth workout with a range of 13 inches (smaller than your average full-sized elliptical with a 20-inch range). There are 8 different settings controlled magnetically to give you just the burn you're looking for.
Wheels for Easy Movement
The V-belt and the fly-wheel provide a super smooth and quiet ride so you won't disturb sleepers while you exercise early in the morning or late at night. Plus, this machine comes with wheels on the bottom so it's easier to move than other non-portable elliptical machines. The whole unit weighs about 80 pounds, so the wheels are a nice added feature for movement.
Cost and Value
Ringing in at the lower end of our price range, we like this value because it offers more expensive features in a less expensive and smaller package. Plus, the added bonus of a lightweight frame and wheels on the bottom make this a great option if you need some flexibility in location.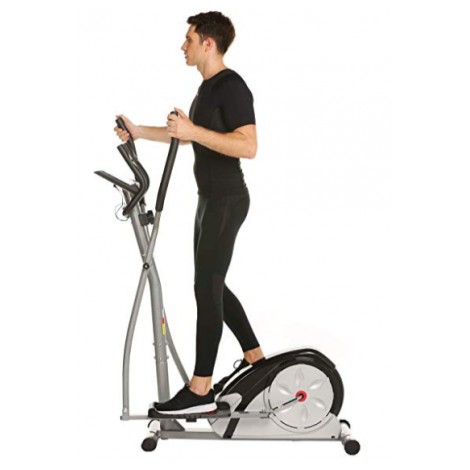 Another small-footprint elliptical to make our list, this inexpensive mini-elliptical still provides high-quality features and a good workout. It can hold weight up to 250 pounds.
Resistance Knob Located at Top
We love that this elliptical places its resistance knob at the top of the elliptical so that the resistance is easy to adjust while you are on the elliptical and exercising. We also love the display features of this unit because it provides you with all the info you need to track your fitness goals. It monitors your calories burned, the distance you have traveled, your average pace, and as a bonus, your heart rate through the heart rate monitors on the stabilized handlebars.
12-Pound Fly-Wheel for Quiet Ride
The built-in 12-pound flywheel provides a smooth and quiet ride that won't disturb sleepers if you're the kind of person who likes early morning or late night workouts. The 13-inch non-slip pedals ensure safety so you won't go slipping all over the place. Plus, this unit has front wheels that allow you to easily move the elliptical to a storage space so you don't have to stare at it all the time when it's not in use.
Cost and Value
This elliptical is another low-cost option that rings up at the lower end of our price range. We like its value because it is compact yet still provides detailed readings, and it is easy to move and store.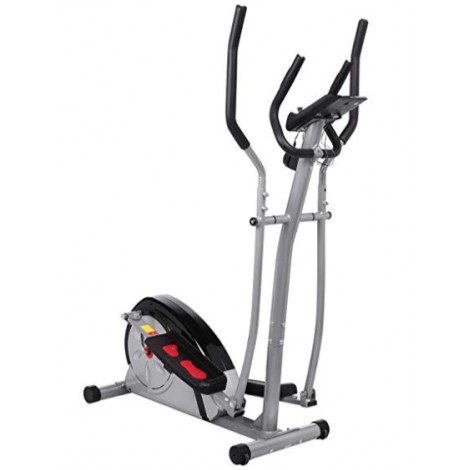 This lightweight elliptical will help you sweat and stay in shape at home. It can hold users up to 250 pounds.
Provides a Full-Body Workout
This elliptical provides a full body workout and will tone your legs and glutes, as well as your core and arms. With 8 different settings, you can ramp up the workout to get just the burn you're looking for, and it is also good for multiple users. The screen tracks your workout and helps you keep focused on your exercise goals.
Won't Disturb Your Family
With a super quiet ride, you won't disturb your family if you are an early riser and like to get your workouts in before work, or if you are a night owl and like to burn the midnight oil as well as your calories. Plus, with front-wheels, the unit is easy to move in your home.
Cost and Value
This elliptical is inexpensive and provides a moderate workout, so it is great for those looking to get back into the fitness game.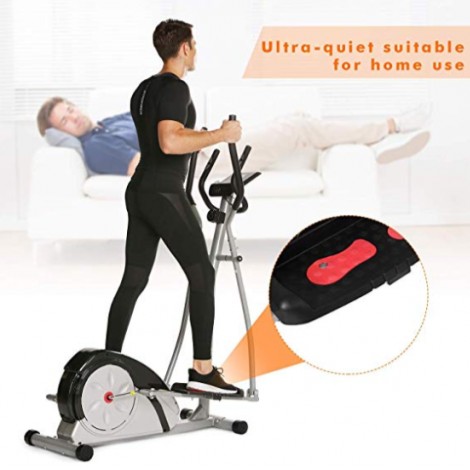 If you're looking for a small quiet ride to keep you in shape, or you are new to the fitness game, this little elliptical will be great for you. It can hold up to 250 pounds.
Can Vary the Challenge for Different Users
With a tension knob on the elliptical, you are able to adjust the challenge of your ride. You can even do so while using the machine. That means you can build up your endurance and you can also share the unit with users of different fitness levels. The elliptical comes with a screen that reads all of your important stats, plus the handles feature a heart rate monitor so you can stay in your orange zones.
2 Sets of Handles for Security
With 2 handles for security, one set that is stationary and one set that moves, you will feel safe on your machine. The stationary handles have the heart rate monitors on them and the moving handles are padded for comfort.
Cost and Value
This machine is a bit more expensive than the others like it, but it is still at the lower end of our price range.

Subscribe to our Newsletter