Best Computer Desks Reviewed & Rated for Quality
In a
Hurry? Editors choice: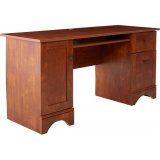 Test Winner: Sauder Office

To be able to fully relax while on your computer, it takes having a good quality computer work surface that can meet any needs you may have. It needs to be able to hold everything you need. It should be at the right height that you don't have to slouch or look up. It's good to look for a computer table that makes having everything you need for your computer time accessible comfortable. This list is of ten of the best options on the market for a variety of needs. There are many styles, features and looks to peruse when trying to find one that just seems right. Here you'll find many great examples of what you might want.
Standout Picks
Criteria Used for Evaluation
Capacity
Most people looking for a table are going to be looking for one that can carry everything that you might need throughout a day in front of the computer. Having as much storage as possible is the best solution in most cases. The higher ranked items on this list do the most with the storage they give you. There are different options when it comes to the kind of storage capacity you would like out of your surface. Some of them won't have very many drawers and instead leave all of your gear out in the open. This is more in line with the modern style of design where the things on your table are as important as the thing itself. It can also be useful having everything you might need in front of you. The other major style of storage is having closable drawers. In terms of style, this is more in line with classic design. It also better presents the table, rather than the things on it. This can also be important for security because perhaps you don't want you work out in the open. These two styles are more a matter of taste, but in general, try to look for a surface with lots of space. It is nice to be able to fit more than just your computer on your computer table.
Materials
Many of the options on this list come in on the cheaper side. This is because a lot of these products are made of cheaper, yet effective materials. This is the major thing that keeps the cost down on many of these, but that doesn't mean that they are low-quality by any means. Some of them are made of wood, others are made of metal, and then some also have finishing touches made of glass. When looking at a wood table, it helps to try to look past the finish. Many finishes put on desks are just laminated material laid over wood to make it look like the more expensive woods, like oak, or pine. This is fine because these materials can still be constructed. Try to find a work surface made of solid wood. Solid wood will have a feeling of stability and strength, which will help you feel at home at your bureau. The metal surfaces are sturdier but don't have the same style as the wooden ones. With metal tables, try to find something lightweight, but sturdy.
Durability
An issue many people have with working surfaces is that they quickly become scuffed and scratched. They have many things put on them and moved around on top of them. You will probably leave your drinking glasses on top of them as well. Because of this, it is easy to damage it. All of the items on this list are definitely good enough that they won't suffer any structural damage that makes them unusable, but it is nice to have a table that looks clean and as like-new as possible. Right when you take it out of the box, it is always good to look for scuffs and damage that has occurred through the shipping process. Catching things like that early means that you can get an undamaged working surface from the get-go. Shipping large items often comes with a lot of knocking and falling over so it is not uncommon for shipped items to be damaged during transit. Wooden surfaces are more susceptible to damge that comes from the laminate peeling off of them. This can be glued back on, which is okay. Wooden desktops can be easily scratched. This can be avoided if you get a desktop that is a bit of a lighter color.
Ease of Use
It is better to have a working surface that makes it easy to grab everything you might need very quickly. The more accessible your things are, the more useful it is. It is nice to have everything within reach and also within sight. This makes the whole thing feel like a workspace that meshes together. Something else that helps with keeping your life easy is having a surface that is easy to install and build. Nothing is worse than having to spend an entire day taking it apart. This is doubly true if you ever have to take your table anywhere, like with moving, or changing offices, and then you have to do it all again. Other features that affect it's ease of use score is having a working surface that you can easily put all of your cords through or one that comes pre-assembled.
Stability
The feeling of security that comes from having a stable surface is something that is immeasurable. Something that helps keep your table stable is solid materials. Many metal objects are extra stable. A good balance of weight on it is also great. Sturdy assembly will also help with this.
Subscribe to our Newsletter