10 Best Zero Gravity Chairs
last updated:
Feb 01, 2019
Let's be honest, when it comes to enjoying the beautiful sunny weather, nothing can be a quicker buzz-kill than a broken lounge chair or one that is uncomfortable. However, there is one particular type of chair that is quickly becoming a popular trend, earning the title "the true summer chair."
Do you know what kind of chair we are talking about? Well, if you haven't caught a glimpse of the title just yet – it's all about Zero Gravity Chairs! Now, these chairs are not going to cause you to float into space, as the name might imply. However, the moment you plop your feet up in a zero gravity chair, you will feel as if you are floating on a cloud. Have you ever heard of the term Cloud 9?
This is the best product on our list that is currently in stock: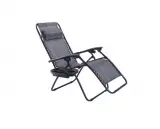 Goplus Folding
Why is it better?
Reasonably priced as many other chairs on this list.
Buckles on the two sides of the chair makes it easy to carry and handle.
The chair offers a drink tray where a person can have two drinks and place a magazine, cellphone, or keys.
The chair comes in a variety of really pretty colors for each individuals style and personality.
The chair is well built from a durable material that makes it easy to clean, handle, and store.
This zero-gravity chair is comfortable and perfect for entertaining and even a cat nap.
In a
Hurry? Editors choice: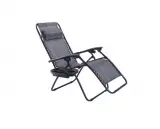 Test Winner: Goplus Folding

Ease of Use
Adjustability
Capacity
Value
Durability
By Default
Top 10 Picks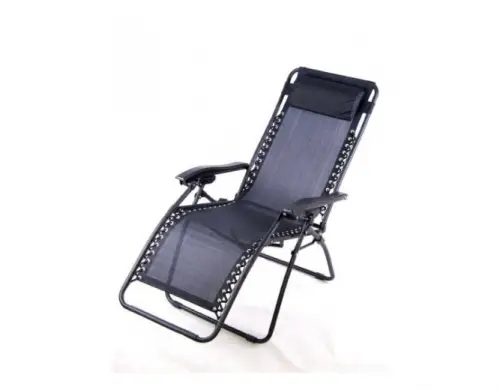 This zero gravity chair has a locking system that can lock while sitting upright or reclining.
The powder coated steel frame is weather resistant and can withstand rainy days and snow.
Plenty of unique and beautiful colors to choose from including bright lime green and sunny yellow.
Zero-gravity chairs are great for physical therapy such as reflexology.
The mesh design is easy to clean.
Pricey for the cost users are considering.
For the price an individual only gets one.
When a brand has been a leader of outdoor equipment for years, you know that they know a thing or two about relaxing outdoor equipment. Therefore, we were not surprised to see this manufacturer on this list. Outsunny has been providing outdoor equipment for years and the Anti-Gravity Chair is one of their premiere products offering premiere comfort. Let's take a look at what makes this anti-gravity chair so special.
Eclectic Straps
The design elements of an anti-gravity chair are crucial for the longevity of the chair. We can say that all of the proper design elements for a well-executed anti-gravity chair was thought out when producing this spectacular product. One of the most notable aspects is the elastic straps, a unique piece of innovation that includes a tight loop around the mesh to ensure maximum support.
Foam Pillow
What could make an anti-gravity chair even better? How about a foam pillow where an individual can rest their head, relax, and have fully padded neck and head support? What is even more exciting is that the foam pillow can be detached at any time so an individual can wash it or remove it completely.
Cost Per Value
When evaluating cost per value for an item such as this one, we can say that the value extends towards design, construction, durability, and other benefits. With that in mind, there may be no other anti-gravity chair more comfortable than this one. We are eager to share this one with all of you because the value per cost is great and supersedes expectations. The only thing is that it comes as a singular product for the same price as two, making it more "expensive" than other products.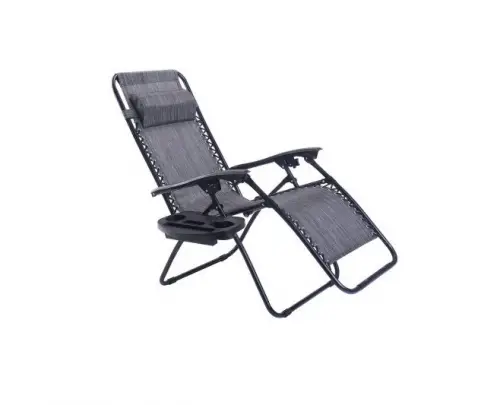 Reasonably priced as many other chairs on this list.
Buckles on the two sides of the chair makes it easy to carry and handle.
The chair offers a drink tray where a person can have two drinks and place a magazine, cellphone, or keys.
The chair comes in a variety of really pretty colors for each individuals style and personality.
The chair is well built from a durable material that makes it easy to clean, handle, and store.
This zero-gravity chair is comfortable and perfect for entertaining and even a cat nap.
This zero gravity chair is not as high end as other chairs.
Users have mentioned that the unpacking process can be difficult.
As the last product on this list, we are eager and excited to end this list with a high-quality product from a trusted company. The Goplus Folding Zero Gravity Chair is known as one of the highest quality and durable zero gravity chairs in the industry. Offering a great build quality, this lounge chair is perfect for an all-day lounging experience, or a quick cat nap. Let's get to know this lounge chair.
Comfort
A zero-gravity chair needs to be comfortable of course. Even with zero-gravity, if the chair is made from a rock-hard material an individual may have a hard time being able to use it properly and fully, often leaving them with aches and pains. Therefore, we can say that this zero gravity chair offers a wonderful cushioned filled pillow and quality build.
Build
The build quality of this lounge chair is another great feature that makes it a worthy and notable product. In fact, the lounge chair is made from a durable steel material that can withstand the elements and also is easy to fold and carry. In fact, a person can store this lounge chair easily anywhere such as the back of their car or in the garage or easy access and minimal disturbance.
Cost to Value
The cost per value for this lounge chair is considered really cost effective and reasonably priced. The reason being is that most lounge chairs are kind of built the same, some offering more features than others. Therefore, this one is highly recommended because of the build quality and cost value.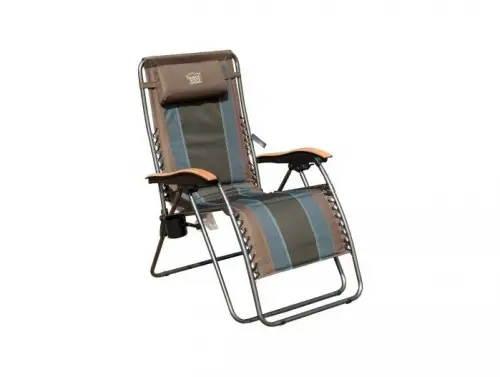 Extremely comfortable zero gravity chair feels more like a padded lounger than anything.
The lounge chair comes in XL allowing for plenty of relaxing moments.
The adjustable reclining position is well built and allows for an individual to build trust with the chair.
1 year manufacturer's warranty will cover the product against any defective parts.
This particular lounger is not as breathable as other ones.
The price is considered very 'expensive' compared to the competition.
There are zero gravity chairs and then there are zero gravity lounge chairs. What is the difference? Well, we are eager to share with you the first official patio zero gravity lounger on this list, the Timber Ridge Zero-Gravity Lounger Chair, a piece of creative innovation alongside maximum comfort. This zero-gravity chair is considered the crème de la crème of the lounge chair industry and the pictures alone make it a worthwhile contender for any person. How about we convince you a bit more with two important notable points?
Padded Seating
There are lounge chairs that offer plenty of seating support and comfort that allows for an individual to relax, and then there is this guy! This zero-gravity patio lounge chair offers padded seating so an individual can enjoy an iced cold tea while fully being immersed in what in a bed-like experience.
Adjustable Reclining Position
We have talked about a fully reclining experience. However, there are numerous brands that skim out on this by only offering partial reclining abilities. This brand does not! The reclining system allows for a full lay down recline alongside a locking mechanism that allows an individual to lock their ideal recline position in place.
Cost Per Value
As we have mentioned, the cost per value for an item such as this is determined by the design and construction quality. We will say that this is created from a premium lounge and no luxury-experience was left out. The lounger chair feels exactly like a lounger chair, alongside a zero-gravity benefit. With that, this particular zero gravity chair is on the more expensive end of the spectrum. However, when the spectrum is this comfortable, why would anyone not want it?
4

. Caravan Sports Infinity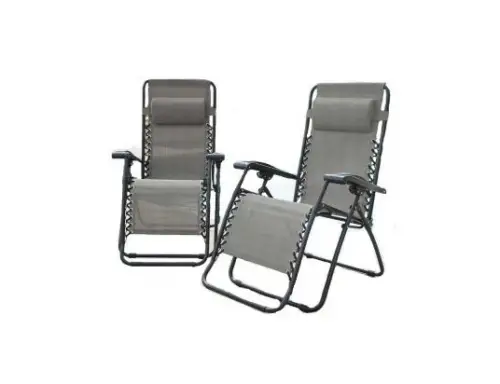 Durable textaline fabric is easy to clean, looks appealing and stands out as a high quality fabric.
The gravity-free chair can hold up to 300lbs of weights.
The fabric is held with a double bungee design that can hold a lot of weight and withstand the elements.
An individual can get their favorite gravity-free chair in a handful of colors; red, black, beige, and blue.
This gravity free chair is somewhat expensive.
The chair can be uncomfortable to carry.
We as humans are creatures of comfort. Therefore, whether it is at a tailgate party, a football game, or just a relaxing night in our backyards, we want to enjoy everything while being as comfortable as possible. Now, there are many types of chairs out there for all sorts of events. Plastic chairs, recliner chairs, and even bar stools. But, there is only one type of chair that comes close to heaven-like comfort, a Caravan Sports Infinity Zero Gravity Chair. Let's talk about why this chair is so special!
Reduces Pressure
A zero-gravity chair is designed to reduce pressure on areas of the back. This becomes extremely beneficial over time. If you work from home and have sat for hours or have enjoyed a long football game ever in your life, you know how painful it can be to sit for hours. Well, stretching alone periodically do not lower the changes of back and leg pain. This is why chairs such as these come in handy.
Gravity Free
The design of gravity chairs is meant to help individuals feel as if they are being holstered or relaxing in a gravity-free environment. In short words, a gravity-free chair simulates the experience of being in space, as if the individual was floating. Therefore, it is highly recommended for people that suffer from physical pain to use gravity-free chairs.
Cost to Value
When looking at the cost per value of a gravity-free chair the main question revolves around what an individual will be using it for. Other than that, an individual should be looking at build quality, design elements, and the specs of a gravity chair to ensure that it is the perfect measurement. Now, the value for this particular gravity chair is held in the quality. The quality alone makes it a great chair to have at a reasonable price.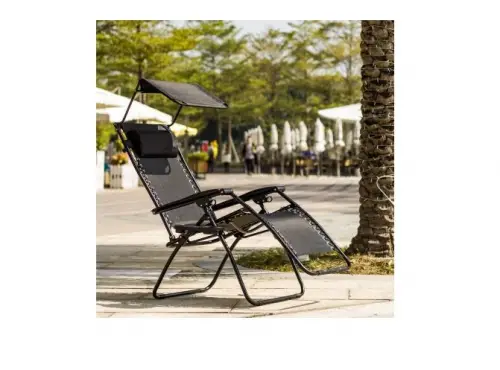 Simple installation of the canopy and utility tray.
The installation instructions are simple and easy to understand.
The surface is treated for rust free.
The safety and comfort of the char- was this manufactures primary concern. Therefore, it went through major rigorous testing before passing inspections.
The mesh material is UV-resistant an easy to clean in the case of messes.
Users have mentioned that if an individual is 6 feet or more In height the will have a difficult time.
The tray and the sun canopy add the weight of the product.
Sometimes we find a product that shows us that the simple things in life really do matter. We are eager to share with you the Ollieroo Zero Gravity Chair, a genius piece of craftsmanship that allows for maximum comfort in a simple to use the chair. This zero-gravity chair may be like most but with one simple shady twist that makes it stand out from the crowd. Let's dive further!
The Features
As we have discussed in many of our articles, the features of a product are known as the bells and whistles and this one has plenty. I mean, where can you find a zero gravity chair that is comfortable, easy to use, offers a padded headrest, and a shade canopy to block the sun? Only here we say! That is true in fact, the canopy part. If you are interested in a zero-gravity chair that is high-end and crafted from great materials that also features a pull-out canopy to shade you on a hot day, this is certainly it!
Dual Finger Lo tock
When it comes a gravity chair, convenience is key. Therefore, no individual can spend time trying to lock the chair in place when they can spend their time relaxing, enjoying the day, and breathing it all in. Therefore, this manufacture has provided a simple two-finger locking system that allows for an individual to simple lock in place when in use.
Cost Per Value
When we talk about cost per value for a high end product, the build quality and material important, but what brings p the price drastically is the features. The features of this high end portable chair are certainly worth it if you want a chair you can practically eat, sleep, and enjoy the day all day long. With that in mind, even for the features its not overly priced.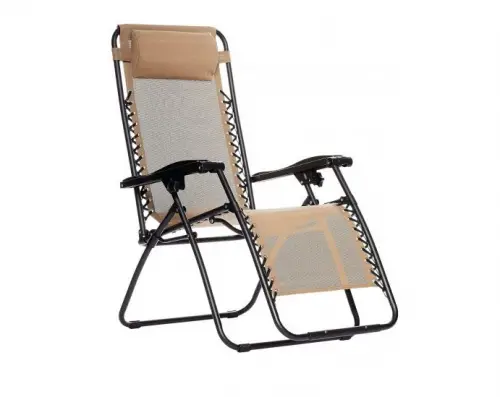 The powder-coated steel frame is great for strength and weather-resistance. With a coated frame the chances of the item rusting is very minimal.
The steel frame is very lightweight and is able to fold down to a portable carry chair.
The 300-pound capacity and padded headrest allow for perfect comfort.
Four beautiful colors to choose frame; burgundy, beige, black, and blue.
Not as many colors as the competition.
Not as well built as more high end zero gravity chairs.
If you are in the market for a zero-gravity lounge chair, then look no further than this manufacturer. In fact, this manufacturer understands that people are looking for basic and simple needs items with great construction and durability. The AmazonBasics Zero Gravity Chair comes directly from the Amazon team and is known as one of the best zero gravity chairs to date. Let's talk about two worthy points!
Optimal Relaxation
The purpose of any lounge chair is to offer maximum relaxation and that is what this product is intended to do. With a zero-gravity lock-in system, a person can adjust how much they want to recline back and they can just allow the chair to do the rest. The stress-free feel of weightless seating allows for many moments of relaxation and the Textilene fabric is comfortable enough to sit on for hours.
Fabric
Like many furniture products, it is important to be able to trust the materials that the product is made of. In all honesty, a product has to be able to hold its value for years to come for it to be considered a worthwhile item. We can say that the Textilene fabric of this lounge chair is in fact made from a really durable fabric that can withstand the elements known as, "weather-resistant". In fact, the frame as well is weather-resistant to avoid rust.
the
Cost Per Value
When we consider cost per value, we also take into consideration the manufacturer. This manufacturer has been known to supply well-built and crafted products that fit every day needs. We can say that this is standard price for a simple zero gravity chair with not too many bells and whistles. When you take the price of a set of zero gravity chairs, like the ones above this one and look at how much one would cost on its own, it would come to the cost of this one item.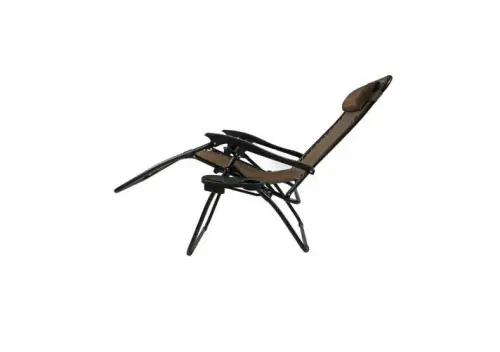 Engineered for comfort, an individual can sit back, enjoy and relax fully.
There are plenty of color options so an individual can pick their favorite one. Such as red, blue, green, and white.
The chair includes a removable back pillow for simple comfort features that go a long way.
The chair can be easily transported thanks to the light weight and simple foldable design.
The drink holder tray can hold a drink easily and even includes a device slot so an individual can place their cellphone or any other item.
Can be bulky to store in certain places.
The chairs can be hard to get out of when it reclines mode.
We are eager to bring you another high-end gravity chair that offers plenty of benefits for any individual looking for a comfortable all-day lounge chair. As we have said, zero gravity chairs are intended for relaxing and releasing pressure from the back and legs. Therefore, this one had to make it onto the list. Let's talk about the SunnyDaze Zero Gravity Lounge Chair.
Durable
A lounge chair needs to be supremely comfortable, especially if a person plans to take them outside of their home. Whether it is the beach, the park, or just an outdoor event, your zero-gravity chair needs to be able to withstand all of the elements. This zero-gravity chair, in fact, is made from a durable and high-grade material known as fade-resistant Textilene fabric. Now, the frame is made from a steel tube that is also powder-coated to prevent corrosion.
Design
The design of a zero gravity chair is as important as the materials used to create it. It's like a work of art, the tools are there but the execution needs to be just right. We can say that this zero-gravity chair is created from some of the best materials available today in a way that formulates a simple and easy to use design.
Cost to Value
The cost per value for a zero-gravity chair is quite simple, offering plenty of comfortable solutions for a person that wants to sit comfortably and in a lounge style manner. With this in mind, a zero-gravity chair is also a healthy way for people with a lot of back pain and leg pain to sit comfortably for hours. For the value of this product, we can say that the cost is reasonable and in alignment with many other zero gravity chairs in the industry today.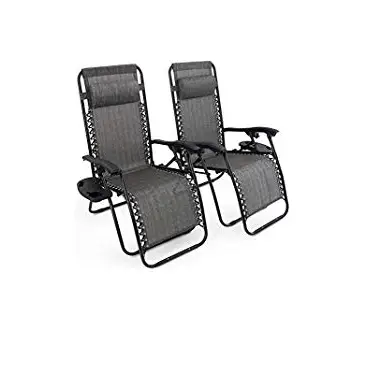 Comes in a pack of two so an individual does not have to enjoy zero gravity comfort alone.
The durable mesh is made from a breathable material that is UV-resistant and stain resistant.
The material can be easily cleaned in the case that it rains, gets dirty, or pollen covers the chairs completely.
The smooth recline mechanism has a feature lock so an individual can lock the chair in place.
The color variety includes red, brown, and even midnight blue.
People were not impressed as they thought they would be.
Users do not recommend the chairs to stay outdoor during snowy or rainy days.
It seems that zero gravity chairs are all the rage right now. First, we had the Snuggy at tailgate parties, now we have people with Snuggies sitting in gravity chairs at tailgate parties. With this said, why don't you join the party and pick up one of these super comfy Belleze 2-Pack Zero Gravity Chairs for you and a pal? We will say, they are plush, comfortable, and come in beautiful colours! Let's talk more about them.
Smooth Recline
The perfect gravity chair will have a smooth recline mechanism that helps an individual get into a comfortable sitting position. No one wants a reclining system that jolts more than a beat-up station wagon. Therefore, we can say that the smooth recline of this zero-gravity chair is made from the most premiere materials available today.
Ergonomic Design
Now, as we said earlier, the design of a zero gravity chair was intended for premium comfort while also supporting the back and legs and minimizing pressure to those areas. Well, the ergonomic design of these zero gravity chairs elevates the legs to improve blood flow circulation and allows for a comfortable feel that is only matched by the beauty of the outdoors. Relax and enjoy a calming evening with these zero gravity chairs.
Cost Per Value
Another set of twos! It is great when a brand offers a great deal for two products and that is exactly how we feel about these zero gravity chairs. The chairs are well built and the value that comes with them will last for years. Whether taking them on a trip or simply putting them in your backyard, these zero gravity chairs are relaxing and offer plenty at such a reasonable and low cost.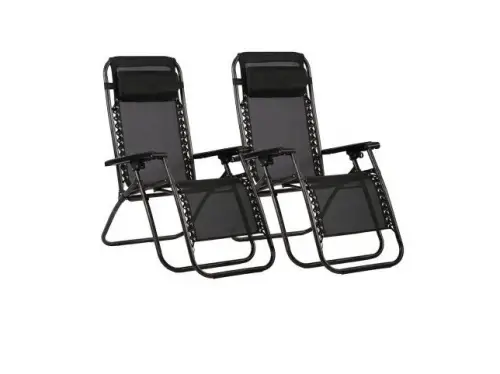 The price is extremely competitive, considering that a person is getting two chairs.
The colors are neutral and look beautiful.
The weight capacity is about 250lbs making it ideal for everyone.
The chairs are easy to clean, durable, and stain resistant in the case of messy hands or accidents.
The chairs can withstand the strong elements such as snowy days and rainy moments.
Price is very low, which makes people nervous.
Not much information online.
Zero gravity chairs are known for their well-built design and construction. The right zero gravity chair can easily replace a person's mediocre sofa, am I right? With this in mind, we want to share the FDW Zero Gravity Chair Set of 2, a well-built zero gravity chair offering plenty of relaxing benefits in a well-built design. Let's dive in!
Powder Coated
Nothing is more disheartening than spending all of your money on an item you really desire such as zero gravity chairs and begin noticing they have started to diminish in value. Well, this brand ensures that your zero gravity chairs last a long time with an powder covered finish that prevents rusting and reduces the chances of the design or construction withering and braking.
Adjustable Head Cushion
No zero-gravity chair would be the ideal zero gravity chair with an added layer of support right? Well, the support in this one comes in the form of an adjustable head cushion that can be removed or adjusted for any height. The head cushion is well padded, well insulated for breathability, and can be easily cleaned and wiped down just like the chair itself.
Cost Per Value
When considering cost per value we can say that this brand focuses on being able to supply a great solution to people that want comfortable outdoor sitting. For the price, these outdoor chairs are extremely under priced which makes people question the value. However, the value can hold its weight and we highly consider these zero gravity chairs as one of the best In the industry.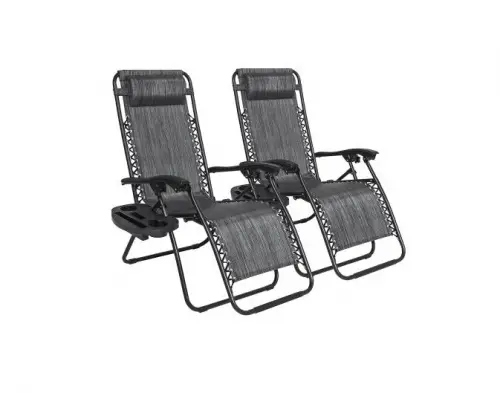 Each chair includes a cup holder tray that is perfect for holding drinks, phones, and other important items.
The cup holder tray is detachable in case it becomes a nuisance or you want to store it somewhere.
The chairs come in a set of two making the price extremely competitive.
The chairs include an extremely comfortable removable pillow for added back support and neck support.
The chairs can withstand a total weight of about 250 lbs.
The material can stain easily at times.
The chairs are not as plush as other gravity chairs.
Onto the last product on the list, this brand is widely known for producing and creating some of the best zero gravity chairs in the industry. Best Choice Products brings us a set known as the Zero Gravity Chairs for Lounge and Patio. Whether an individual utilizes these gravity chairs for the beach, outdoor activities, or takes them to their next cookout, they will be comfortable from head to toe.
Lockable Recline
The important aspect of gravity chairs is the design and safety features to ensure the chair is well built and stays in place. Due to the reclining mechanism, a zero-gravity chair should have a lockable reclining system set in place so an individual can pick and choose the best spot for reclining. With this said, we can say that this gravity chair has that mechanism so an individual can adjust it in place.
Foldable Design
Gravity chairs are designed more uniquely than regular chairs. They not only have to be designed to withstand the weight of the full body while sitting but also while a person is reclining back. Now as a big bonus, this brand allows for the design to extend towards a foldable position which allows for individuals to easily fold it towards a transportation position and then store it anywhere they desire, take it in the core, or move it around.
Cost Per Value
The cost of these gravity chairs is quite surprising considering the value and history of this brand. In fact, the design is built from quality materials that one would expect from high-end outdoor furniture and the mechanism serves the desired purpose easily and effortlessly. We can say that the value is great for the price. Also, we cannot forget that the price includes a set of two chairs!
Criteria Used for Evaluation

Ease of Use
Criteria Used to Evaluate Zero Gravity Chairs
After we have spent the time evaluating and scanning the many different zero gravity chairs available for consumers to pick from today, we have realized something that took us off guard. There are HUNDREDS of different types of zero gravity chairs, all claiming their right to the throne.
Claims mislead consumers, resulting in bad purchases and products. So, rather than having consumers purchase the wrong zero gravity chair, we made it our goal and attention to find and present only the very best products on the market today. Our genuine concern was to ensure you get your money's worth, which can heighten the feeling of relaxation in your chair.
In our article today, we intended to provide you with only the best information regarding each product. We understand that it can be challenging to figure out what matches your needs. So, we broke each product down by the most notable features for your consideration.
Now, before purchasing a zero gravity chair, we highly suggest taking the time to figure out what type of chair matches your needs. Create a list of your needs and see what product on our list today matches! Oh, did we say, there is most certainly no other product in-store or online that can compete with those represented here today? So, before you begin your journey let us ask you:
How do you see yourself relaxing this summer?
As we have discussed in this article, and we think it has been proven true, there are a vast amount of options for consumers to pick from when it comes to zero gravity chairs. In truth, when we first stumbled across the concept of zero gravity chairs, we did not think there were that many manufacturers. As a result, it made it a challenge before even could begin selecting products for our list.
In this, we started to ponder about how many consumers have gotten lost in this market already, making impulsive purchases because they were overwhelmed by marking ploys. Regardless, our goal with this article was to shine the flashlight for any interested consumers as to what the best zero gravity chairs are today.
Now before we were able to create this article for you, we needed to sit down and get creative. We realized, we needed to have some standards to hold each shoe too. So, what we did was create something known as a list of criteria for evaluation.
Criteria included concepts and features like the materials used in construction, innovative features, padding and pillows, and even the cost to value ratio. As we evaluated each product, our list criteria helped us select the very products from which to choose. So before you are done reading for the day, we thought we would share with you precisely how we picked out our products.
Materials
The most important aspect of a zero-gravity chair is the material used to make the product. The material is a running theme that can be said of any product. So, as we began to evaluate each zero-gravity chair for our list today, we carefully looked at the specific materials, including the fabric, metals, and foam padding, if it included it. In doing this, we were able to find out that many zero-gravity chairs in the top-end market were made from the same high-quality materials.
The most significant distinguishing factor came from the padding and comfortability for consumers. In addition to this, we also looked at what previous customers are saying about their experience with the material. We looked out for stories of consumers complaining about the product ripping or tearing, or anything of this nature.
Durability
Can you imagine what it might feel like to purchase your first zero-gravity chair, set it up, and sit in it for the first time to find out it breaks? Breakage has happened to many consumers because they purchased a low-quality or cheap chair.
Our goal with this article was to avoid this problem. So, what we needed to do was to analyze each product based on its durability carefully. Now, this is a huge marketing factor, so we were interested to know how manufacturers talked about the durability of their products.
In this, we always compared their information with the real pictures to see how the product was built. We also reviewed the materials to make sure they were long-lasting and durable materials. The last step that we took was looking to see if any consumers complained about their product breaking. If we found any complaints, typically, those products were eliminated from the competition.
Comfortability
The whole purpose of any chair is the comfort, right? Otherwise, human beings would still be sitting on stumps of wood. Now, here is the thing with zero-gravity chairs: these are pieces of innovation that should excel in comfort.
In fact, in comparison to any other chair you may find out the market, these chairs should exceed them in comfort. Comfort can be attributed to the unique design and science behind these chairs. In addition to this, these manufacturers tend to include some excellent padding for the neck and back, which helps in alleviating that pain.
So, when we started this article – we wanted to ensure that each product that made our list superseded what consumers thought of comfort – we tried to build a roster that exemplified this. We carefully looked at the padding, foam, and pillows provided with each chair. We even compared customer reviewers, keeping note of any comfortability complaints. What we can say is that we are proud of our ten products as they are the role models of the zero-gravity chair industry as far as comfort and innovation are concerned.
Functionality
If you are in the market for a zero gravity chair, you must have some understanding of the functionality of these products. With that being said, you also might know that sometimes, there are products that claim to be a particular "type of product," but they are more of a poor mock-up. Now, because our guide was intended for the best in class – we needed to remove any of these mock-up zero gravity chairs.
We wanted to highlight chairs on our list that were loaded with functionality. Functionality meant looking at how the chair could be used, where it could be used, and how individuals could travel with it. What you will find throughout our list is extensive functionality. Each product is designed to be taken wherever your needs or travels take you.
Cost to Value Ratio
In our opinion, the best way that any consumer can ensure they are getting their money's worth for purchase is by using the famous cost-to-value ratio, which we talked about through-out today's article. What this means is figuring out whether or not a company is charging a fair price for their product. Now, to figure this out – what you need to do is first, look at the entire market, What does the pricing market look like? What are companies charging? What is the highest price? What is the lowest price?
If you can answer this question, you might able to draw some reliable conclusions right away! From there, we took the time to highlight the value of each product in comparison to its price. From there, we were able to highlight the best-valued products at the best prices. If you want to get your pennies worth for a purchase using this tactic next time you buy anything!
Design and Color
After we have evaluated each product on essential features – we knew that another credential we needed to consider was the design and color of the product. We are all consumers – so we understand that this matters to us. Let's be honest, if there was a zero-gravity chair with beautiful color or design in comparison to one that was plain and boring – which one would you pick?
Of course the one with some colors or designs. With that being said, as we evaluated each product, we wanted to ensure that they offered some degree of customization for customers, alongside high-value. If you carefully look at each product on our list, you will notice that each product is packed with value and features, and also has some beautiful design and color appeal.
Warranties
When it comes to purchasing any products like this, it's important to look at if the manufacturer is offering any warranty or guarantee. In truth, many of these companies consumers have never heard of before.
So, these companies understand that to hook a potential customer; they need to offer some assurance. With that being said, as we evaluated all of these products, we wanted to keep a lookout for products that came with some consumer assurance. This may mean a regular manufacturer's warranty or even a lifetime warranty.
Expert Interviews & Opinions
Most Important Criteria
(According to our experts opinion)
Experts Opinion
Editors Opinion
Users Opinion
By Default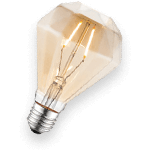 Care
When not using your new zero gravity recliner be sure you store it inside out of the harsh elements. The material can get faded and brittle from the sun. The metal framework can eventually rust if left out in the rain.
Side Tray
The side tray is handy in any situation. You won't have to worry about holding your drink while you are sitting or lugging around a table.
Frequently Asked Questions
q:

How do you know if a zero-gravity chair will be comfortable?

a:

The whole purpose of a zero-gravity chair is the comfortability aspect. So, if a chair wants to be considered a zero-gravity chair, it needs to not only offer the zero-gravity functionality, it needs those comforting features! Now, before we answer your question, we would like to say that each product that we reviewed today is known for its comfortability.

Many of these companies, as we discussed, offer consumers some of the best padding and foam pillows for back and neck comfort. So, if you are looking for comfort, start here! When it comes to these chairs, you can tell if they are comfortable by looking at the padding of the chair and the material used. If there is no padding or lack of innovation in this area, chances are, it may be a zero-gravity chair with standard recliner features.
q:

Do Zero Gravity Chairs go fully flat?

a:

Typically, zero gravity chairs are not intended to go flat. The purpose of these chairs is to hold a position in which the force of gravity is at a minimal. With that being said, there may be some zero gravity chairs that do come with this feature. However, this was not of primary concern for this article.
q:

Are Zero Gravity Chairs good for back pain?

a:

One of the main reasons why zero-gravity chairs have become such a phenomenon is because of their impact on the human body. As we have covered in today's article, zero-gravity chairs function much differently than standard reclining chairs.

In fact, when an individual sits in a zero gravity chair – they are sitting in a particular position that has been scientifically proven to be in a place where the force of gravity is a bare minimum, hence the name. Due to this – zero-gravity chairs have been scientifically proven to help individuals that suffer from not only back pain but also neck pain. Today, there is a wealth of research n the topic should anyone be interested in researching it.
q:

Do Zero Gravity Chairs come assembled?

a:

Yes! Zero Gravity Chairs should all come assembled. However, we would like to say, not all chairs are the same. So, some manufacturers may require some assembly. If you are interested in knowing whether or not there is any assembly – take the time to look at what the manufacturer says. Additionally, look at what previous customers are saying in their reviews. This is a common question consumer ask, so you are bound to find this answer there.
q:

Can you store or pack a Zero Gravity Chair with ease?

a:

Yes! Zero Gravity Chairs are mostly relatively easy to store and pack. Now, evidently, this will depend upon the specific type of zero gravity chair. However, most standard designs are not only retractable and foldable, but you can also easily tuck them away in a garage or in the trunk of a car.

We do suggest finding out before making a purchase so you are aware. Look at what the manufacturer says about packing up their product – this sound be in the product description. If you are not finding anything – look to see if any previous customer reviews could shine some light.
Subscribe to our Newsletter