Best Gaming Monitors Reviewed & Rated for Quality
last updated:
Feb 28, 2019
One would think buying a gaming monitor is all about graphical fidelity, which is important, but you also have to account for things like the speed of your monitor's refresh rate. The best monitors will cover both of these fronts, but you should try to pick the monitor that best suits your style of gaming. There are large 4k monitors that will make your games look as beautiful as possible or options that have a 144 Hz refresh rate that will keep up to the action of the most hectic competitive games. This guide will get into the nitty-gritty of why the monitors on this list are the best of the best.
In a Hurry? The test winner after 12 hrs of research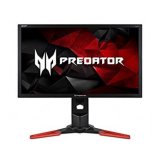 Acer Predator XB24
Why is it better?
G-SYNC creates a smooth gaming experience
Ergonomic monitor stand
1ms response time
No motion blur
In a
Hurry? Editors choice: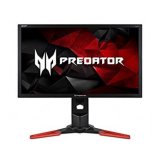 Test Winner: Acer Predator XB24

5
Interviewed Experts
16
Researched Sources
8078
Total Readers
2007
Reviews Considered
12
Hours Researching
15
Products Evaluated
Accuracy
Color
Adjustability
Style
Size
By Default
10 Best Gaming Monitors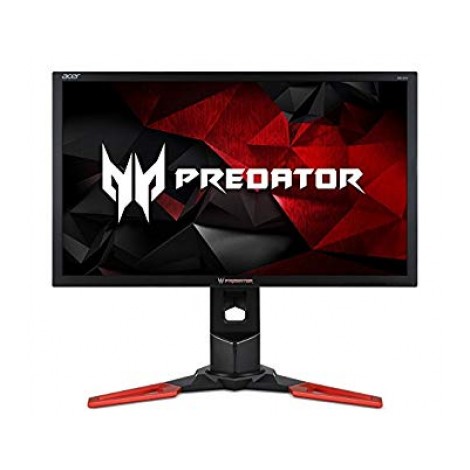 G-SYNC creates a smooth gaming experience
Ergonomic monitor stand
1ms response time
No motion blur
G-SYNC only works with NVIDIA graphics cards
The Acer Predator 24 is the top end gaming monitor from Acer. It supports a 144 Hz refresh rate for accurate gaming, and also supports G-SYNC from NVIDIA to reduce screen tearing.
G-SYNC
G-SYNC from NVIDIA is a technology designed with NVIDIA graphic cards in mind. It works with your monitor to avoid screen tearing and to keep the gaming experience as immersive as possible. It does this by allowing your GPU and monitor to communicate and better align themselves to each other. Sometimes the refresh rate of your monitor will be out of sync with the speed of your computer. G-SYNC technology solves that problem.
Ultra Low Motion Blur
The Acer Predator is designed with technology that reduces the blurriness that come from playing a fast-paced game. Motion blur happens when your monitor can't keep up with the game going on. The result is that the screen will blur or cause after images that make it harder for you to see what you need to succeed. Acer was ready for this, and has designed a monitor that can keep up.
Cost and Value
The Acer Predator is a high end monitor at a midrange price. The screen is a bit smaller than many of the more expensive monitors on this list, but it is totally workable. The predator line from Acer can also size up as needed if you want something with higher resolution. Any Predator monitor will do you and your wallet good at it's value.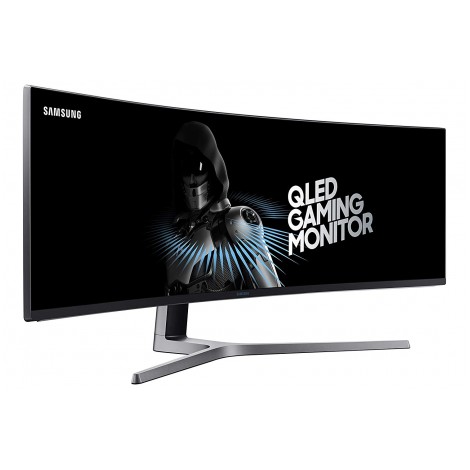 Large screen for as much space as you need
Can be used as two monitors
144 Hz refresh rate
Great color
Might take up too much space
The Samsung LC49 is the best choice if you are looking for something luxurious. It has all the latest in cutting-edge monitor technology like high-dynamic-range imaging (HDR), a curved screen, and a big screen sized monitor.
32:9 Aspect Ratio
The LC49 has a unique aspect ratio that is the equivalent of having two 16:9 monitors side by side. These days, it isn't surprising to find people use two monitors so that they can have something going on in the background while they game. The extra wide LC49 makes it so you can have two screens in one if you want.
Curved Screen
The curved screen of the LC49 is great because it really adds to the immersion of the gaming experience. Like other high end monitors, the LC49 has a 144 Hz refresh rate and it supports HDR. The unique thing that the LC49 brings that you won't find anywhere else is how extremely cinematic having your game wrap around your vision can be. You'll feel like you are being surrounded by your games.
Cost and Value
The Samsung LC49 is more expensive than the Predator, but you do get a lot more physical space for the price. This is the largest screen on the list and it comes at a great price for what you get. As stated before, this monitor can act as two monitors so it might even save you some money if you are in the market for that. This monitor feels like having the best of both worlds in some ways.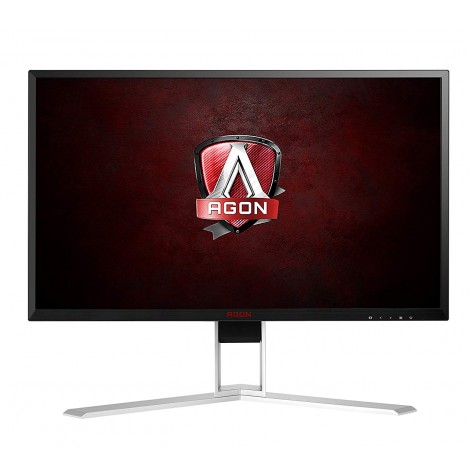 Very affordable
High refresh rate
Easy control of monitor features
Supports adaptive sync
Might have to send it back once to get a perfectly working one
The AOC Agon is a 27" gaming monitor that has all the features you might need out of a gaming monitor at a reasonable price. A high refresh rate, Ultra HD resolution, and syncing technology are all in once place.
QuickSwitch Controller
The Agon AG27 comes with something called a QuickSwitch controller. This handy device allows you to change the settings on your monitor on the fly to help you adapt to any gaming situation without having to play around with the bottom of your monitor's screen. It allows you to switch between three different settings for things like contrast and brightness so that your monitor is always on your side.
Extra Connections
These days, you probably want your monitor to do a bit more than just represent what is coming out of your tower PC. The AG27 also has connections for other devices like your smart phone. If someone has something they want to stream off their phone then you can use some of the specialized ports in the back of the monitor so you won't have to crowd around a tiny screen.
Cost and Value
For being the budget option on this list, the AG27 doesn't act likee a budet option. It comes with all the features you would expect out of a modern gamin monitor. It has a 144 Hz refresh rate so that you'll be able to keep up to the action. It uses adaptive sync so your GPU and monitor are communicating properly, and it even presents all this in a beautiful 2560x1440 resolution. This is the choice if you are searching for a new monitor, but are also on a tight budget.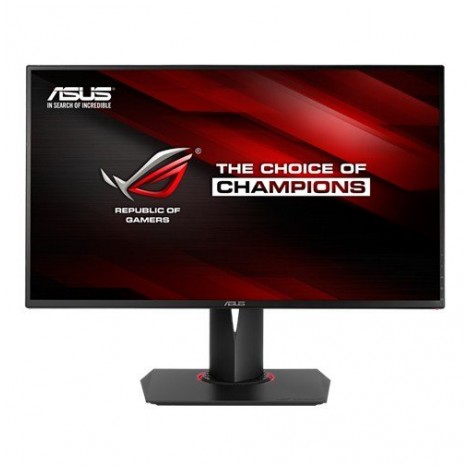 High refresh rate that is designed for overclocking
G-SYNC enabled
Quick response time
Ergonomic movement
Designed for higher-end PCs
ASUS are a trusted company for all things computer and their ROG Swift is no exception. Expect the the top end in everything you may need in your gaming monitor.
2K Gaming
The ASUS ROG Swift is has a 2560x1440 resolution. This resolution is very demanding, but for good reaosn. It will leave all of your games looking beautiful and smooth. If you have a powerful computer then you owe it yourself to get this monitor.
Designed for Competitive Play
The Swift has been designed from the ground up to be used with G-SYNC. This will give you a technical edge over the competition. Don't be surprised if it actually improves your play in games that require reflexes and pin point accuracy. Other things that will help you along that path are the 144Hz refresh rate that can be bumped up to 165Hz, and the 1ms response time.
Cost and Value
The Swift costs a little bit more than other monitors in this price range, but it makes up for that with all of the features designed for online gaming. This is a great choice if you have hit your peak with your game and want to move on to the next level.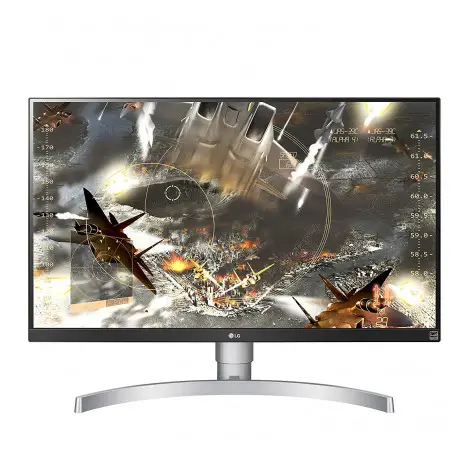 4K gaming
Great color palette
Affordable
IPS monitor is the best currently available
Refresh rate is a little slower than with other monitors
The LG 27UK is a 4K gaming monitor designed to bring you the best gaming experience possible, It has all the latest in visual fidelity as well, with features like UHD, HDR, and an IPS monitor.
Visual Fidelity
The LG 27UK is crammed with every modern graphical element you can think of. It has a resolution of 3840x2160 so you'll have the sharpest image you can find on the market. It has been designed with HDR for that extra eye-popping color contrast. It also has an In-Plane Switching (IPS) monitor that is the best on the market for keeping your colors accurate.
Colorful
The LG 27UK is a great monitor for those who care more about their graphics than their accuracy. 4K gaming is quite a spectacle to behold and this monitor will definitely wow you every time you turn it on. This monitor is great at showing the many shades of black there are when your game is taking place in a dark area, but also the million colors that can pop out in the light.
Cost and Value
This monitor is quite cheap for all of the beauty and life it will bring to your games. This is a great monitor to buy if you are thinking about future proofing yourself for the next few years. 4k is the future, and more and more media will be designed with it in mind. On the other hand, the refresh rate for this monitor is less than the previous entries on this list. This monitor is not a good choice if you like your gaming intense and twitchy.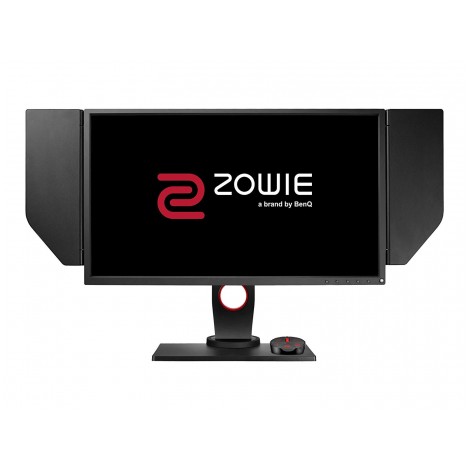 Great refresh rate
Designed to let you focus
Easy to configure display settings
1ms delay time
Some colors appear to be washed out
The BenQ XL2540 is an affordable monitor designed for focused gaming. It will let you get things done quickly and help keep you focused on your game, and not the outside world.
Convenient and Ergonomic
The XL2540 is adjustable with a single finger. This means you won't have to stand up to move the screen around to the optimal angle. The BenQ also uses an S-Switch to quickly change between preset display settings to adapt to whatever you are playing. This monitor also has set ups for different genres of play.
Tuned for E-Sports
The XL2540 is a great monitor because of how it has been designed to give an edge in competitive multiplayer. This monitor has been designed so that you have every advantage over your opponents. The monitor has been designed to reduce screen glare so that you can see what is happening. It also has flaps on the sides of the screen that block out any outside distraction. This monitor is also unique in that it has a 240 Hz refresh rate, much higher than the competition.
Cost and Value
Maybe the most surprising thing about the BenQ is that it is still so affordable with all of these features. It is cheaper than most of the other entries on this list. This is a great choice if you are a fan of twitchy shooters or other games that need you to be fast, but accurate.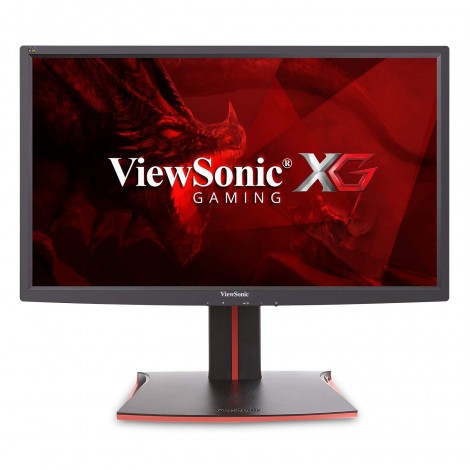 Low input lag
144Hz refresh rate
Very afforadable
Good response time
Not very well designed menu control
This ViewSonic is another good choice if you want your monitor to work quick, but without the bells and whistles of the BenQ. This monitor will give you the edge over your opponents at a good price.
Accurate Gaming
The XG24 has all the things you need in a good gaming monitor. It has a refresh rate of 144Hz so that the screen accurately represents the action it has been designed with Free Sync from AMD technology so that the refresh rate is more in line with what the GPU can handle. This stops things like blurring and ghosting.
Low Input Lag
Further cementing it as a monitor designed for competitive online play, the ViewSonic has some extra features that will give you an extra edge in online combat. The first is its lack of input lag. The input lag is extra low with the ViewSonic because it has a process reducer that puts less in the way of translating commands from you to actions on the screen.
Cost and Value
This is a great monitor to get if you like winning online, but are still on a tight budget. This is the cheapest monitor on the list, yet it still has many of the features you'll be looking for in an expensive one. This is a good choice if it is your first monitor or if you need something that can keep up with the action.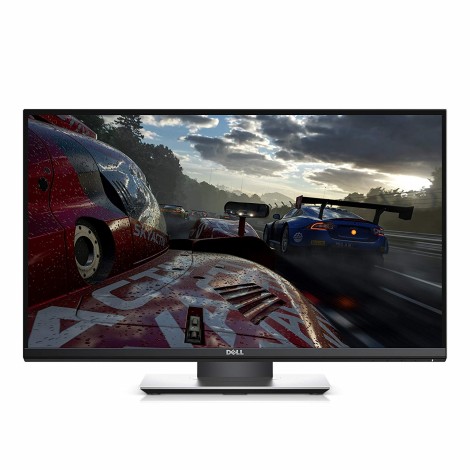 Looks better than its price
165Hz refresh rate
Affordable
Works well with dual monitor displays
Suffers from color banding, or bunching of colors
The Dell 24 is a 24" monitor that is designed with Quad High Definition (QHD), which is almost the best you can find on the market at a 2560x1440 resolution.
Customizable and Ergonomic
The stand for the Dell 24 is very easy to move around and customize. It can be flipped entirely on its side if you would like. Another nice feature of this monitor is that it has a very thin outline compared to other monitors. This is good if you want to use a dual monitor display because it will feel like you are using only one screen.
Great Performance
The Dell 24 has a bit of everything that you might need. The high resolution looks really good, with some users saying it has comparable color depth to more expensive monitors This is great because you also don't have to sacrifice the refresh rate like with 4K monitors.
Cost and Value
This monitor is pretty cheap for the value you will get out of it. The visual quality is that of a more expensive monitor, while not sacrificing any of the accuracy of the better looking monitors. This is a good budget option for someone who wants both graphics and performance.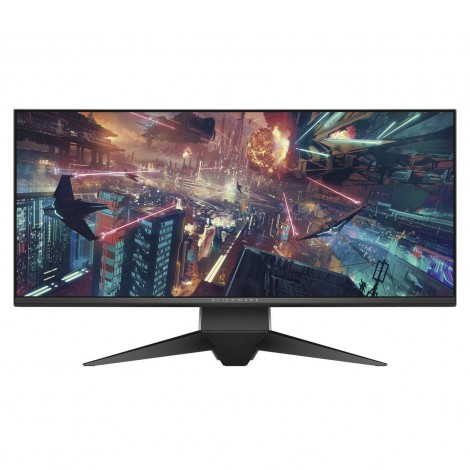 Slightly cheaper curved screen option
Great design
120Hz refresh rate
Good on the eyes
Light bleeds from back of monitor to front
The Dell Alienware is a curved gaming monitor with an aspect ratio of 21:9 and a 3440x1440 resolution is a great premium choice if you are looking for an immersive gaming monitor.
Curved Design from Alienware
Alienware are best known for their uniquely designed PC towers. They've taken that pedigree to this monitor as well. It sports a unique aspect ratio and is extremely thin. It also sports some stylish back lighting as well. This curved screen is great because it has been designed to reduce your eye movement by keeping everything within your vision.
Dynamic Lighting
Alienware's design can also be seen in the customizable lighting themes that adorn the back of the monitor. You can program different colors of light for each quadrant of the back of the monitor for a more immersive and cinematic experience.
Cost and Value
Although Alienware are known for their expensive equipment, the curved screen of their gaming monitor is quite cheap for being a curved screen. This is a great choice if the other curved screen on this list is too expensive or too big.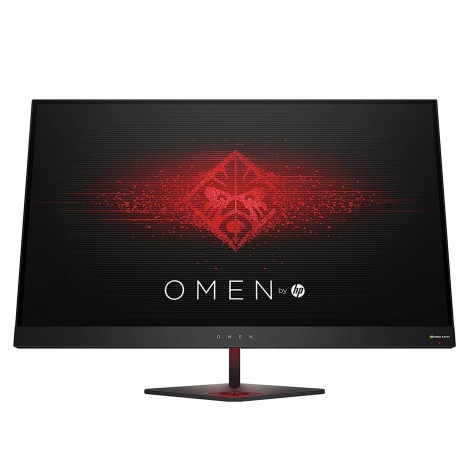 QHD looks great
High refresh rate
Good price
Stylish looking monitor
Small amount of ghosting and blurring
The monitor offered by HP is a great monitor all-around. It is great for gaming, but also for anything else you might need.
Stylish and Effective
The Omen has a stylish look and a thin screen. It is light weight and works very well. It has a 144Hz refresh rate, 5ms input lag, and runs a 2560x1440 resolution. This gaming monitor looks great, but also runs very well.
QHD
The 2560x1440 resolution is very effective for getting you that pinpoint accuracy of picture. Besides that, the Omen does a good job with its color contrast. The contrast between the blacks is especially impressive. This is helpful for picking out targets when you are playing in a dark setting.
Cost and Value
The HP Omen is a great gaming monitor at quite a cheap price point. This is another one of those monitors that is great for someone on a budget. This is a good choice if you use your monitor for all types of gamin, but also other activities as well.
Criteria Used for Evaluation

Accuracy
Something very important when buying a gaming monitor is how accurately it reflects what is happening on the screen. The best gaming monitors will depict the action on the screen without motion blur, but also very accurately. The lack of graphical artifacts like motion blur, where the graphics blur when you move the action on screen too quickly, or ghosting, where afterimages of the movement on the screen are left behind, can be cured by a few things found in a gaming monitor.
Look for monitors with high refresh rates. The best currently on the market are around 144Hz. This dictates how often the pixels on the screen take pictures of the action. At 144Hz they are flashing 144 times a second. This will give you a very smooth experience.

Color
The technology going into screens has become more advanced in recent years, and there has been a huge improvement in the variety and depths of colors. A big thing that you might note with your new gaming monitor is the larger amount of shades of black and white. There have been great strides in differentiating between all the shades of black. This is extra helpful when playing a game set at night or in a cave. It lets you make out shadows and enemies where you wouldn't have been able to before.
The major technology that is making colors pop like they haven't before is HDR. This is a type of imaging that deepens the contrast between the darkest and brightest colors on the screen, which makes for more stark images with higher fidelity.

Size
The resolution of the gaming monitor is often the holy grail as far as important specifications go. Like TVs, the higher this number is, the better. There are even 4K, or 3840x2160, gaming monitors now. The resolution is counting the amount of pixels along the length and width of your monitor. The higher the pixels, the clearer the image will be. With the 4K there are around eight million pixels on the screen, which will make for a very clear image. 1080 monitors are beginning to become a thing of the past so at least look for a monitor around the 2560x1440 range. These monitors will actually be best because you won't have to sacrifice any control of the game for graphical fidelity.
Style
It doesn't truly affect your game, but how your monitor looks is still very important. When you put together the entire image of monitor, desk, and tower, it is nice to see something sleek and modern looking. The monitors on this list all have a sleek look. Monitors are always getting thinner so the thinner the better. As long as it isn't so thin that the back lighting of the monitor doesn't bleed through. Depending on the type of gamer you are, there are more overt design choices among the monitors on this list, such as colored lights that light up your wall to set the mood, or various stylish insignias.
Another thing to look for when looking at the look of you monitor is how adjustable the screen is. It's always better to have a monitor that is easily moved around to match whatever posture you are taking on.
Effectiveness
When buying a gaming monitor it is always important to get one with a low amount of latency, or input lag. What you should be looking for is around one to five milliseconds. This is such a low amount there is no way you will be able to notice, and more importantly, it is low enough that your enemies won't be able to get away.
Input lag is affected by many of the other criteria on this list. 4K monitors are great, but the higher the resolution, the more input lag there will end up being. This is because of the amount of data needed to be processed by your computer. The other thing to keep in mind is the better the tower you have, the better your input lag will be. This is because it will be easier for your computer to keep track of everything going on.
Expert Interviews & Opinions
Most Important Criteria
(According to our experts opinion)
Experts Opinion
Editors Opinion
Users Opinion
By Default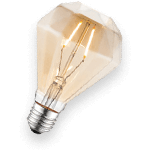 Refresh Rate
There is a lot of lingo associated with gaming monitors (and with technology in general)., but the refresh rate of your new monitor is an important term to get familiar with as you begin shopping. The refresh rate refers to the speed at which your monitor's image changes. Faster rates mean that the image can reload faster, providing a smoother image. It's important for gamers because the faster image refreshing time means more seamless gameplay. A better refresh rate means you have a split second advantage over your competitors and sometimes that's all it takes to win the game.
Monitor Resolution
Another tech term you should get used to when you begin hunting for a gaming computer is 'display resolution.' This refers to the number of distinct pixels that can be displayed on your screen. The higher the resolution, the higher the pixel count. The higher the pixel count, the more visually appealing your game will be. Most monitors today fall into one of three resolution options - 1080p, 1440p or 2160p. Another important thing to take into consideration before you purchase one of these monitors is whether or not your computer hardware or graphics cards can handle the higher end of the spectrum. At some point you may need to choose between computer performance and visual quality.
Other Factors to Consider

Value
The price range among gaming monitors is quite a wide one. They range from the low hundred to the multiple thousands. Despite this, many of them are comparable quality wise. The more expensive ones will usually have the more advanced technology. Something important to remember with that is that often those technologies have note been fully accounted for by other technology. Not everything is advancing at the same time. A 4K monitor is a good investment, but they still have trouble with input lag when played on modern computers.
A budget gaming monitor won't be as great one of the more advanced ones, but they are still worth buying. The monitors on this list all look great, and you can wring some of the best performance out of some of the cheaper ones on this list.

Protection
As with many products that cost a bit more money, it is always good to get a warranty with your gaming monitors. Warranties with monitors can range from a single month to up to three years. It is always in your best interest to buy a monitor with a warranty. There are many things that can go wrong with a gaming monitor. They are very sensitive products. There's physical damage, but there's also the matter of the lighting degrading, or even the dreaded dead pixel.
Luckily, the companies making these products understand this too, and are more often than not, willing to fix your monitor for you or even send you a new one. When you first receive your monitor make sure to check to see everything is fine. The sooner you send it back when there's a problem, the better.

Compatibility
The monitor that you buy doesn't exist in a vacuum. It is always important to make sure your computer is compatible with the new monitor you are buying. There are a few things to check before you go ahead with your purchase.
A new technology becoming more and more prevalent in gaming monitors is syncing technology. This is a new design that allows your monitor and your computer to communicate to give the the best refresh rate possible. This will make your gaming experience as smooth as can be. However, these syncing functions are done by connecting your monitor and graphics card. Because of this, your graphics card and your monitor's syncing technology have to match. Just make sure that if you have a NVIDIA graphics card to get a G-SYNC enabled monitor, and if you have an AMD graphics card to get a Free Sync enabled monitor.
Frequently Asked Questions
q:

What should I be looking for if I want to future proof my gaming monitor?

a:

There's always a new piece of technology around the corner. Things are going obsolete quicker and quicker these days. It might be in your best interest to think about the future when making your next monitor purchase. HD technology is beginning to ebb away as the world moves towards 4K. Much like the early days of HD, not that many things are built for 4K monitors. However, soon 4K will be the standard for video games. With that in mind, if you want to own a monitor that will last you for a long time then you should be looking towards 4K monitors.

Another new thing on the market that you should be looking for are the adaptive qualities of syncing technology. G-SYNC and Free Sync from NVIDIA and AMD are pretty new systems that are beginning to be put in all gaming monitors. The ability for your monitor and GPU to communicate allows for a smoothness in your gaming experience that wasn't there before.

The final thing to look for with your monitor is to make sure it is HDR enabled. HDR is only truly accessible on 4K monitors, but it is almost more important than 4K. It has been the big advancement in color technology.

Making sure your monitor has these three things will ensure that you won't have to look for a new monitor for the foreseeable future.
q:

Why get a gaming monitor over a regular monitor?

a:

It may seem odd that there is a difference between gaming monitors and regular computer monitors at all, but there is. Many screens can be used to display what is on your computer. You can even use your TV screen if you would like. The issue is that gaming monitors are designed to better represent your clicks and mouse strokes than a regular monitor, and especially a TV. Gaming monitors focus on a few specific areas to do this.

The biggest difference is that the focus of gaming monitors is on a high refresh rate. Having a high refresh rate will better display what is happening on the screen and make for a smoother experience. Having the bad guys show up where they actually are rather than where they were is obviously quite helpful to winning an online match.

Another thing that is focused on by gaming monitors is a lower amount of input lag. Sure, you can see what is happening with a high refresh rate, but being able to do something about that is a different story. Having a low amount of input lag means that your actions will translate more quickly onto the screen. The better your reflexes are reflected by the monitor, the better you will do in a game.
q:

Why should I get a curved monitor?

a:

Curved monitors are often treated like a bit of a gimmick, but they have real value for some people who are looking for a monitor. There are three major reasons to get a curved monitor.

The first is that it makes for a more immersive experience. Having your game fully encompass your vision will better place you in the game, With how great graphics are getting for some games, it can be nice to just bask in a setting. With a curved monitor, it can feel like you are right in the thick of it.

The second reason to get a curved monitor is that it can give you a bit of an advantage by allowing you a full view of your surroundings. The idea is that it works like your field of vision works. So what is in the periphery of your character's eyes, is also in the periphery of your own eyes. This can give you a better sense of depth perception and where things are in relation to you.

The final reason to get a curved monitor is that it is more relaxing on the eyes. By having the curved monitor surround you, you will have to move your eyes less to get an idea of where things are. Having relaxed eyes will let you spend more time gaming without getting tired.
Subscribe to our Newsletter