Best Boot Dryers Reviewed & Rated for Quality
In a
Hurry? Editors choice: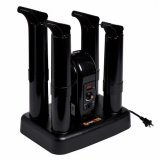 Test Winner: PEET

A boot dryer might be one of the best purchases you didn't realize you wanted to make. It's like having that wonderful feeling of
freshly dried clothing
, but for your feet, and every time you leave the house. There are more than a few companies making boot dryers, and on top of that, there are multiple kinds. Some are portable, some also reduce the smelliness of your footwear, and others can handle multiple pairs at a time. This list has ten of the best options you can find on the market at the moment. There's sure to be something that will keep your boots warm and dry.
Standout Picks
Criteria Used for Evaluation
Effectiveness
The main reason you are thinking about getting yourself a boot dryer is the end result. Having a warm, dry pair of boots waiting for you before you leave the house to go out in the cold again. The higher the rating in the effectiveness category, the more likely it is that you will end up with that result. Of course, there are variables to achieving that. How wet your boots are will change how much power you are going to need to get your boots how you want them. If your boots often come home dripping wet then it might be in your best interest to get one of the more powerful items on this list. If you just need something to warm your boots in the morning before you go out, then any of these will do the job.
There are multiple ways that boot dryers go about getting your boots to how they were meant to be worn. The more subtle dryers will only use some irradiated heat to bring your boots up to temperature. If you need something to dry some seriously wet boots, then maybe one of the options that use a fan and some thermal convection are your best bet. Something to remember is that your boots can only be as warm as the temperature that the dryers operate at, so keep that in mind before you purchase.
Speed
Sometimes you are going to need to use your boots multiple times in a day. On the other hand, maybe your boots go on in the morning, and come off in the evening, and that's it. If you are in the former camp, then it would be in your best interest to check how long the dryer claims to take to dry your boots. Boot dryers scoring high in this category will take wet boots and give you dry boots in the quickest amount of time possible.
A good rule of thumb for telling if your dryer is going to work in a few hours or overnight is if it comes with a timer. The dryers on this list that don't have a timer are probably meant to be used for overnight drying. On the other hand, however long the timer is, then that is probably how long it will take for you to get the boots you would like. Just a tip, if your boots are sopping wet and dripping, then it will probably take multiple rounds of the timer.
Fit
All of the dryers on this list should be able to fit any kind of boot you might need, but the better the fit they can provide, the better job they'll do drying your boots. You want to look for a fit that allows for enough air flow to circulate through the shoe, but without too much escaping. If there is a fan in your boot dryer, it works best if it isn't flush against the boot's sole.
As far as the ability to adjust the prongs on your boot dryer, there are multiple types. The most common are removable tubes that extend the prongs by about double their length. Using these will depend on the length of your boot's shaft. For an even more custom fit, it might be in your best interest to find adjustable rods. With the portable pairs of dryers, look for ones that can adjust their length to fit their shoe. It also helps to see if there are any mentions of the maximum size that the dryer will fit.
Durability
When looking at any kind of appliance that deals with wet materials, it is always best to make sure that they are waterproof. All of the products on this list should be fine in any situation involving your wet boots. However, it may not seem like it, but boot dryers can go through a bit of a beating. They are often left on for long hours, and they also deal with wet clothing on a regular basis. Because of this, you should keep the durability of the dryer that you end up getting in mind. The higher the rating, the more likely that they will last you for the long haul.
Portability
The portability of your dryer can be important for a few reasons. Sometimes you're going to want a model that you can bring on a trip up to the mountain. Or maybe it's something that you want to bring along to a job site. There are two major types of boot dryers, and one of them is more designed for portability. The pairs of boot dryers that simply plug into the wall are great for weekend trips up to the sloes, but they often don't do as good of a job drying your boots. The larger ones are more heavy duty, but harder to carry around. If you travel and do need a heavy duty dryer, then think about trying to find one of the ones with a lower profile. Things that make it easier to carry are if they have removable extenders, or if they can be folded up into a more easily carried form.
10 Best Boot Dryers
The PEET Dryer is a fan-based product that can hold two pairs. It will take the stink out of your footwear while it dries them. The process should take between one and four hours.
Effective Drying
The PEET uses fans and a little bit of heat to dry your items while also killing any odor-causing bacteria in them to make them like new every time. It will work with any material that you might find in a boot, even things like rubber or neoprene. It will take up to four hours and you will have boots that feel dry and clean.
Convenient
The motor in the PEET is quiet so that it won't take up any of your attention or cause a distraction. It is also energy-efficient so you don't have to worry about using up any extra power when you turn it on. Another thing that will make sure you don't worry about the PEET is that it comes with a timer that can go up to six hours, just in case. Just turn it on and don't worry about it until you need your boots again.
Cost and Value
The PEET costs around the same as other stand up units you will find on the market. This means it has some extra value because it can carry two people's boots. Having the ability to dry two pairs of boots is great because you won't have to worry about taking one pair off and replacing it with another one. This is a good choice for couples or families.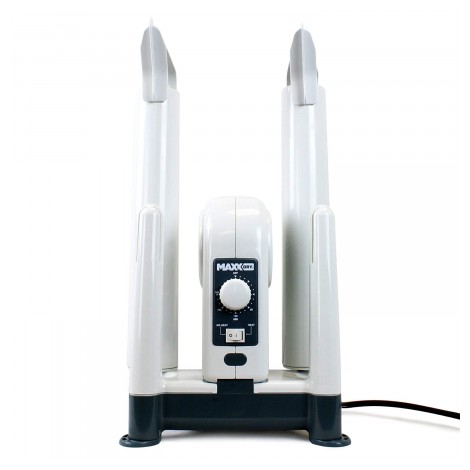 The Maxxdry is another four pronged dryer that will make your boots extra warm on a three hour timer.
Heavy Duty
The Maxxdry dries your boots, but will also keep them nice and warm. This product will heat your boots up to roasty one hundred degrees Fahrenheit. This is a great temperature for warming boots without any damage. The Maxxdry will dry most boots in an hour, but you can put the timer up to three hours if you just want to make sure.
Customizable
The Maxxdry also has the handy feature of choosing the height of the prongs. They are usually around eight inches high, but that height can be doubled with longer rods that easily fit on top of the original ones. This makes it possible to warm longer boots, or you can keep the Maxxdry low profile when warming smaller ones.
Cost and Value
The Maxxdry costs a little bit less than the PEET dryer. It is built for those who get their things especially cold. This would be a good choice if you worked outside in the snow. Because it will also dry your boots more quickly, this is a good choice if you are going to need your boots more than once a day.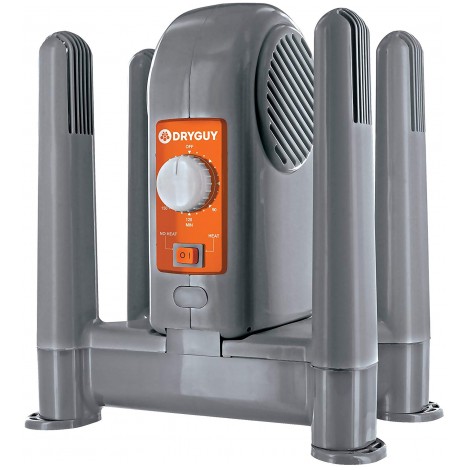 The DryGuy DX uses a rotary blower to dry your boots and other clothing. It can hold four items at a time for more effective drying.
Odor Eliminating
Because the DryGuy is so quick at drying your boots, it will reduce bacteria growth inside of them. Cold and wet places are perfect for smelly bacteria to grow so the DryGuy's quick drying fan will reduce that. The timer for the DryGuy only goes up to three hours, which is all it should take.
Choose Your Own Dryer
The DryGuy gives you multiple choices for how you would like your footwear dried. It comes with two tubes that extend the prongs for if you have items with longer shafts. There is also the aforementioned timer so you can cater to the wetness of your clothing. The DryGuy also lets you choose if you would like blown or heated air for if you don't want to use the extra energy or if you want to dry something extra delicate.
Cost and Value
The DryGuy falls between the Maxxdry and the PEET options. This is another good choice for a family that often goes out in the snow, or for someone who works outside in the colder months. It should dry your clothing quickly, so this is also a good choice for someone who plans on needing their boots throughout the day.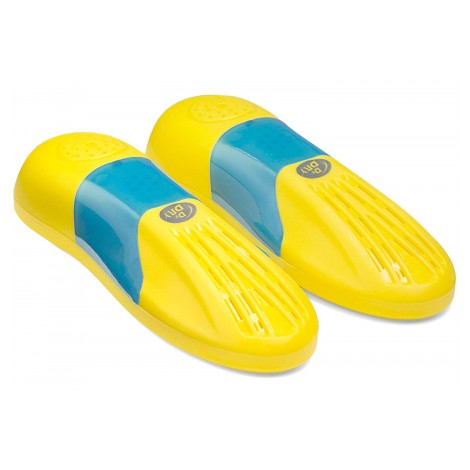 The Dr. Dry looks like a pair of inserts that you would use to help your shoes keep their shape, but instead they are plugged into the wall and placed inside your footwear to dry them.
Low Profile
The previous options on this list are better left near your front door. They are small, but do still need their own space in your home. The Dr. Dry can be left in a closet until needed because it takes up so little space. When they are taken out, the Dr. Dry will only take up as much space as your shoe takes up.
Regulates Itself
The Dr. Dry uses PCT heating, which is a self-regulating heat source that is very safe. It will never allow itself to overheat. Because of the PCT heating, the Dr. Dry also does not need any fiddling, or buttons. If it is plugged into the wall, it is on. You don't have to check the temperature or set any timers.
Cost and Value
Another great thing about the Dr. Dry is that they are very cheap. You could buy a few pairs of them and it would still not cost the same amount as the more heavy duty dryers on this list. This is a good pair of dryers to get if you don't have very much space in your home, or if you only need one set of boots dried at a time.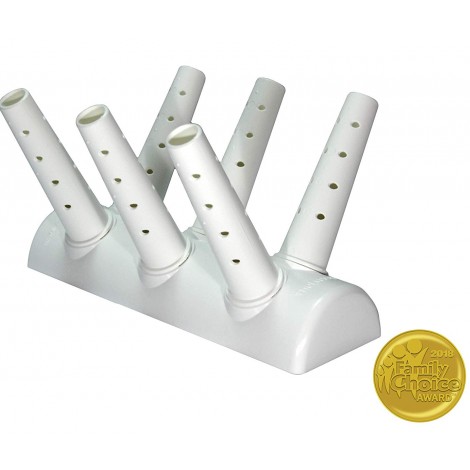 This product is has plenty of special features that make it a viable option for using in your home to keep your winter gear dry. It has a multi-purpose design that is very easy to set-up and doesn't require any extra power to use.
Versatility
The really great thing about this product is that it is incredibly versatile. You don't have to use it just for your footwear. It's designed to be used to dry all of your winter gear, including gloves, hats and skates eliminating any sweaty and stinky gear from accumulating in your
Economically Designed
This product is not only a fantastic way to dry your winter gear, but it's economically designed to use less power than other options on our list. You simply place this over top of your forced air register which then will allow you to use the hot air that's already circulating through your house to dry your items.
Cost and Value
This product is extremely affordably priced. Prices range depend upon if you wish to purchase it with extra nozzles but either way you can expect to make a very small investment for a huge return.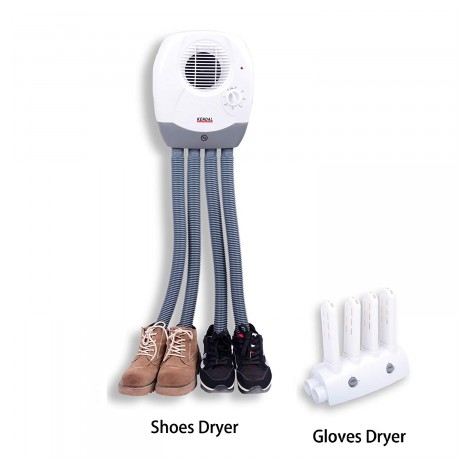 The Kendal has a unique design that uses flexible tubes and warm air to dry any kind of material in a short amount of time.
Unique Design
The Kendal is a small unit with four flexible hoses coming out of one side of it. The flexible hoses are useful for choosing how you want it to fit inside the thing you want to dry. The Kendal works best when you take advantage of it's ability to be used as a wall unit. When attached to the wall, the tubes hang down and can be put into your standing boots and should dry them in about an hour.
Choices
Besides being able to hang the Kendal as a wall unit, there are other choices that you can make to use the Kendal how you want to use it. The Kendal has two levels of heat depending on the level of wetness of your items. The Kendal also comes with an attachment that is meant for gloves. By putting two of the hoses into the glove attachment, you can dry up to two pairs of gloves as well as a pair of boots.
Cost and Value
The Kendal is pretty cheap for the many uses it can put towards. The Kendal is a good choice for a family that likes to play outside together. The design of the flexible tubes makes it easy to be used by anyone. The wall mount means you can put it out of reach of smaller ones, or at least out of the way of your crowded foray.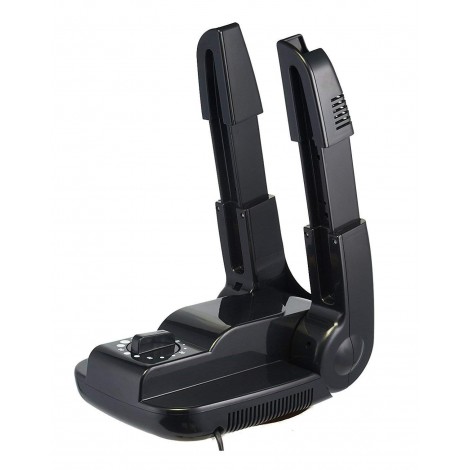 The Manledio Electric is a dryer that is designed to be compact and portable. It works quickly and can be tucked away after it has been used.
Portable
If you like the idea of the Dr. Dry's size, but want the stand-up design of the other options then the Manledio is a good choice for you. It is more compact than the other products on this list and can be folded up after every use. That means that when the wet season ends you won't have another bulky appliance to find a home for.
Adjustable
Many of the option on this list have extendable tubes for your longer boots, but they are separate pieces that have to stored elsewhere when not in use. The Manledio uses extendable brackets instead. This adds to its low profile because you won't have extra pieces lying around the house. It also means you have more than two lengths of prong to put your footwear on so that you can have the fit of your choosing.
Cost and Value
The Manledio isn't as cheap as the Dr. Dry, but it is a little cheaper than the more fortified choices on this list. The big advantage of the Manledio is its low profile and portability. It will dry your shoes quite quickly, and won't damage them while it does so.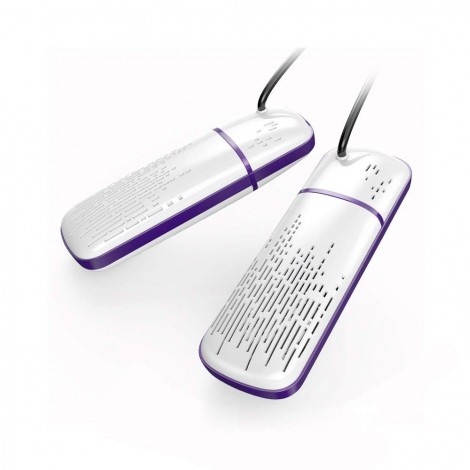 The HaloVa is another good electric option if you want something simple and small. This product is useful for smaller apartments or people who only need one pair of footwear dried.
Retractable
One advantage these have over the Dr. Dry is that this option can be adjusted so that they can fit inside whatever shoe it is that you would like. They do still have a minimum size, but these could be a good choice if you are looking for something that can fit many types of shoes while remaining small and manageable.
Smart Heating
This product also uses PTC heating so you don't have to worry about what is going on inside of your shoe. They can be left on overnight without having to worry about a fire or any damage to your items. The advantage this gives over a timer is that you don't have to wait until the timer is over to find out if your items are warm and ready.
Cost and Value
The HaloVa are incredibly cheap. For how expensive some of the appliances on this list are, it is surprising how cheap you can get a pair of HaloVas for. This is the perfect choice for someone who is living in an apartment or a dorm, and on a budget. Think about getting these if you are spending the season up on the mountain at a hostel.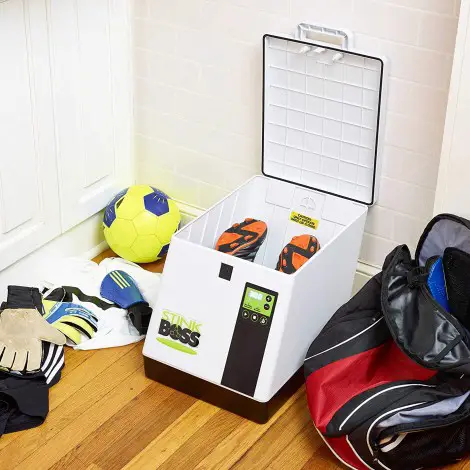 The StinkBOSS is a bit different than the other options on this list. As the name implies, the StinkBOSS has been designed to tackle your smelly footwear while simultaneously drying them.
Unique Design
The StinkBOSS looks more like a laundry machine than a boot dryer. You put your items inside on prongs and then close the lid. This is good for a few reasons. This type of design hides all of the goss, wet clothing that it is in the middle of drying. It will also hold in the smell.
Kills Smells
The StinkBOSS uses ozone to take the smells out of your clothing. Users have said that it works very well, and makes the clothing smell like new. It is similar to leaving your dish sponges on the window sill to kill them smell. However, this will do it quicker, and more reliably.
Cost and Value
This product costs a little more than other options on the market. It isn't by enough to break the bank, though. This is a good choice for families with teenagers or anyone else who's clothing keeps coming back a little too smelly.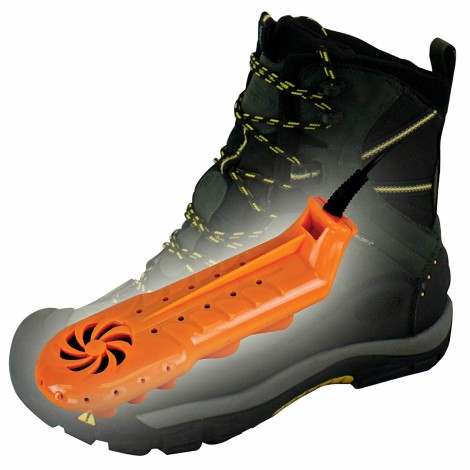 The DryGuy Travel Dry is a portable edition of the above option from DryGuy. It's smaller size makes it a good choice for travel, or smaller living spaces.
Strong Fan System
This more portable option from DryGuy does its best to keep the power from its larger brother. The other slip-in products on this list use only the smart heat of PCT, but this one uses a fan and convection system. When compared to those other entries, the DryGuy Travel is much hotter and will dry your items much quicker.
Heavy Duty and Portable
The DryGuy Travel's portability makes it something that is great to bring along on trips into bad weather. Because it dries your things so quickly, and is so easy to carry around. This is a great choice to keep in the back of a car for weekend trips. It is as easy as plugging into the wall for it to work.
Cost and Value
The more heav-duty nature of the DryGuy Travel does mean it costs a bit more than other similar options. It is the most expensive of those on this list. It does make up for it with the power involved in its technology. This is a good choice for those who travel often and need their boots warm at a moment's notice.

Subscribe to our Newsletter