Best Hunting Chairs Reviewed for Quality & Comfort
In a Hurry? Editors choice: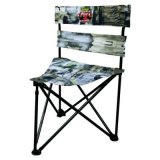 Test Winner: Primos Double Bull Tri

When the adventurer in you is calling, you need to know the kit that goes with your needs to be up to the mark, the last thing you want in the wilderness is dodgy or under-performing gear. You need to know the kit is the right choice for the job in hand, and a hunting chair is no exemption.

It may be considered an impractical luxury, but when you're on your feet with a heavy backpack on for hours and on rough terrain; the welcome of a comfy break will not seem a luxury. So sit back and relax, and take in our recommendations for the best Hunton Chairs out there today!
Standout Picks
Criteria Used for Evaluation
Application
As we've already noted, it important that you decide on what's best for you individually and the trip you are planning to take. If you know the trail or route prior to embarking on your adventure, it will give you a better choice of what you need to take. You need to have all the important and emergency equipment at the top of your list for obvious reasons, this will include 'must have' items like basic first aid, drinking and eating equipment and even sleeping kit for longer overnight trips out.
Another thing you may want to consider; is if you will be returning to either a base camp or even a vehicle during your trip, this can help you decide what type of hunting chair is best suited for your requirements. You should have a rough knowledge of weather conditions and even prepare for some 'worst-case' scenarios. Will your chosen hunting chair be practical for a variety of situations or will it limit what you can do and in what weather? It may sound over the top but to get the most enjoyment from your trip will you need the right kit for the job.
Weight
Of course the weight of a hunting chair is important, you don't want a heavy one if you are planning on taking it on your backpack, likewise, if you are setting a base camp for longer trips – it may be practical to have a more substantial chair for comfort. There are a variety of different designs that vary in weight, and each type has specific types of use in mind. For example, some are for uneven surfaces so are ideal for when you are hunting on rough terrains.
The variations on design also alter the overall weight, and a simple checklist should be able to guide you in the right direction. And another point to be aware of when you are looking for your ideal chair, make sure your own body weight is not put under additional strain by placing unbalanced items on your back-this can be quite debilitating.
Style
If you are looking for a low-maintenance, no setup chair, then an 'L' shaped version may be ideal for you. It is easy to use – it simply folds out into an 'L' on the ground and has internal supports, you lean back on it to make it comfy. However, these are not as steady as versions with legs and you need to use your own muscle strength to use them correctly.
Another type of hunting chair is a bucket style, these are lightweight and come compactly folded, these usually require minimum set up and are made from tough materials to support you. The poles within them are similar to tent poles in both style and manufacture so tend to be light and will seat you close to the ground.
There are stools on the market too – some with three legs, and even with just one pole. These are smaller to carry, more compact, lighter and definitely easy to use. They can be beneficial on uneven surfaces due to the reduction of placement poles. Single poles are super-light but do require you to balance your weight to stop toppling over.
A blend of the above comes in the form of a hunting chair that sits directly on the ground and has two support poles for your back and neck. These are ideal for grabbing that little luxury break when you're out on a long hunting trip.
Materials
Ideally, your chair will use aluminum for the poles (if that's the type you choose), this is tough and is great with weight dispersing for your comfort, They generally won't rust and are designed for longevity and their lightweight quality. Fabrics used in the manufacture of the chair can differ widely depending on what you are buying it for. Coated rip-stop nylon is a top choice because it is tough against tearing and ripping, is water-resistant and provides a level of comfort for your well-earned rest.
If you know you are going to be in a predominantly wet area, or even damp – The last thing you want is a soggy seat. This will not only be uncomfortable but in extreme weather can cause a faster loss of heat and may have health repercussions. Closed cell foam padding does not absorb water so is ideal and very practical for moist surfaces. If your chosen hunting chair has a back support – chances are this will be made with carbon fiber to aid in support and comfort, it is also lightweight and hard-wearing.
And last, but of course, not least, you need to ensure the seat you buy does not have any scent or the potential to release scent in changing weather and temperatures. When you're out hunting you need to be as invisible as possible and because what you're hunting is likely to have a great sense of smell – the better prepared you are with scent reduction, the more successful you are likely to be.
10 Best Hunting Chairs
1

. Primos Double Bull Tri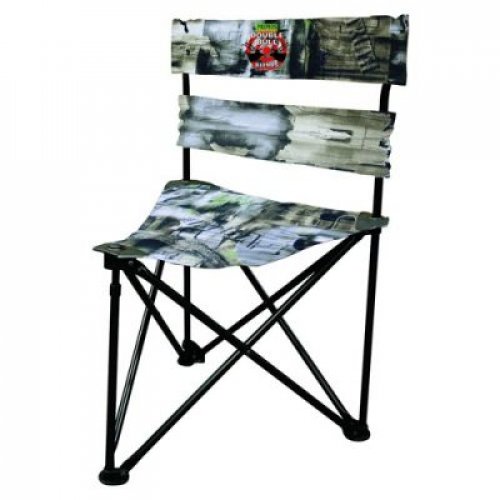 This lightweight compact stool is ideal for most hunting trips long or short, it's tripod style leg system folds easily and effortlessly for storage. It is available in Truth Camouflage which is dark enough to be discreet when it's required. The backrest is designed in a flared fashion for superior back comfort when sitting for long periods. The comfortable shape of the seat hugs the back of your torso and frees movement for the legs.
Material
The material is designed to be tough to cope with most weather variations. It's lightweight, portable design is simple to add to any hunting gear kit and weighs in at only 6.5lbs so it's no compromise that size will offer a comfortable respite and rest.
Strong
The stool boasts being suitable for weights up to 300 lbs and stands at a comfortable height of 16." It is manufactured with double-coated PU-backed polyester that is not only tough but is weather resistant and will not fade in the sun.
Cost and Value
The TravelChair Slacker offers both comfort, and versatility for many different uses as well as hunting - meaning less equipment for separate trips, the cost and value are equally excellent value and the product is high quality and well recommended.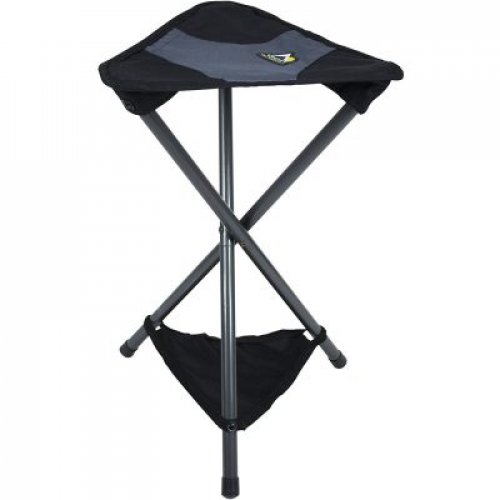 This neat and compact stool is ideal for taking on any hunting trip, it's tripod design means it can be set down anywhere. The seat has a patented shock-cord construction which improves the ease of setting up and putting down, the anti-splay feature ideal for improving confidence when sitting for long periods and on uneven surfaces. It comes with its own handy carrying bag and is light to carry so could be a great addition to hiking kit.
Practical
The overall weight of the stool is under two lbs, and the convenient, practical design of the setup and foldaway means there are a variety of outdoor pursuits this can be used for. The load bearing weight is very useful for all body types and the seat is comfortable for long periods.
Versatile
The carry bag has a useful strap so, it can be carried on its own slung over the shoulder or back, and is compact enough to be attached to a backpack without being cumbersome and heavy. The different sizes that are available mean that even the tightest space for the kit can be accommodated.
Cost and Value
The GCI Outdoor PackSeat is low to mid-range, the overall value of the product is well justified by this. The practicality and versatility of the stool make it very good value as it is designed for ease of use, ease in carrying and it's tough design with durability included as a priority.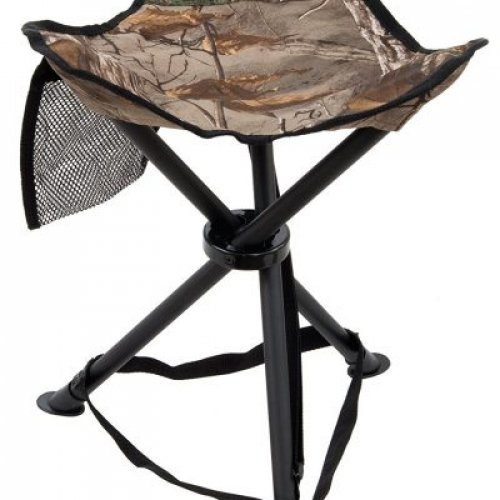 This ALPS Outdoorz seat is a tripod style chair with the added bonus of bottom webbing strap to increase stability. It comes in suitably dark colors and has a handy shoulder carry strap - and it boasts a useful mesh storage pocket for keeping valuables close. It weighs in at two lbs so is more practical for attaching to the hunting gear without increasing bulk, it is fully portable and collapses down with ease. It is manufactured with steel that is powder coated for durability and 600D polyester.
Practical
The chair benefits from an easy to set up design which makes it very easy and quick to erect and put away which is a real bonus when rest is long overdue and duly earned. It conveniently folds to a compact size for light storage.
Hard Wearing
A good benefit with this chair is the durable Realtree 'xtra' fabric that makes it hard wearing and tough, this is a real boost when out in changeable weather. It also enables greater versatility because it can be used for a variety of outdoor and even indoor activities where anything can happen.
Cost and Value
This mid-range chair is well made with quality materials and is multi-use, the extra features that include the cup holder and auto-fold - ensure the product is very good value. The comfortable supportive backrest gives it extra added value for the price.

4

. Browning Camping Strutter
This strutter chair is designed to be a low-profile and offers a comfortable seat. It boasts a strong and stable powder-coated steel frame will stand both the test of time and elongated use. It comes in two suitable patterns of traditional camouflage and Realtree Xtra to ensure maximum discretion when on the hunt. The HD fabric is both hard wearing and comfortable, and it comes in two sizes for individual preference.
Rotating feet
The chair benefits from having four rotating feet, this allows for adjustments on uneven terrain and will improve stability. By turning the feet it is possible to set down safely in a variety of situations and gives a solid feel for a confident seat.
Practical
The seat comes with an inclusive carry bag that boasts a padded shoulder strap for comfort when transporting it to a favorite destination. It weighs in at eight lbs and can accommodate weights up to 300 lbs; this is on top of it folding neat and compact.
Cost and Value
This Browning Camping Strutter Chair is suitable for hunting and a wide range of outdoor activities, the multi-use capabilities it offers, with the sturdy set ensures that overall, this chair is excellent value for the cost.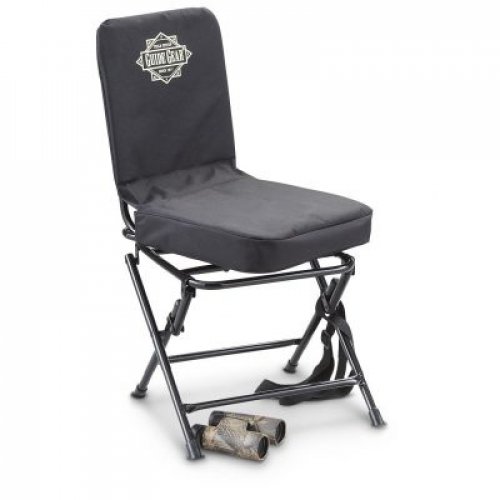 The Guide Gear swivel chair is ideal for setting up in a hunting blind, it features a full 360-degree swivel that is silent so every angle can be viewed from the spot. It has a comfortable 2.25" thick cushion to benefit long periods of quiet on the hunt, the backrest is also padded for a little luxury when it' needed. The fabric benefits from being manufactured with protective 300 denier polyurethane to give the chair a longer life expectancy when it's used in tough and harsh conditions for long periods.
Robust
The chair is produced using a powder coated tubular steel frame and this enables a sound structure to ensure its suitability for tough jobs. The coating protects the frame from knocks and will increase its life for long sessions and heavy use.
Ease of use
The swivel chair has easy to fold legs and benefits from a useful carry strap so it can be stored and moved to the blind with little fuss. The handle is more than sufficient to support the 11 lb + weight and makes light work of the walk to the hunting grounds.
Cost and Value
The balance between the cost and value of this swivel chair is equally on the same par, the level of comfort it provides, along with the functionality and versatility of it mean it is great value for the cost, the hard-wearing materials only serve to increase the overall value.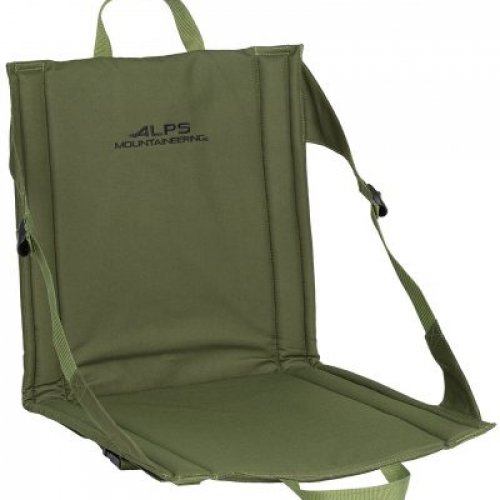 This ALPS Mountaineering Weekender seat is available in three colors and is light to carry, it folds flat and is compact enough to attach to any hunting kit. It boasts webbed straps which can be adjusted for individual preference to seating tilt. It also benefits from extra webbed straps to the base, so it can be conveniently attached to a variety of different items. It weighs in at a mere 21oz so won't need space compensation. The webbed handles make it easy to carry or attack to kit bags so freeing up interior space and hands.
Handy
The seat has a useful mesh pocket to the rear so enables important items to be easy to reach in comfort. A benefit with the design as well as the pure versatility it offers, it can be used anywhere in a wide range of activities, and the adjustable straps make it supportive to the back.
Comfort
The ALPS Mountaineering seat is filled with 1/2" closed cell foam that will take the edge from any hard surface and provide comfort on the hunt. It benefits being on the ground, and this enhances the discretion required when invisibility is a must.
Cost and Value
The pure versatility of this chair, combined with the features of adjustability, lightness, carry handles and pocket ensure this purchase is excellent value for money. The multi-use capabilities of it make it ideal for a wide range of outdoor pursuits when practicality is vital.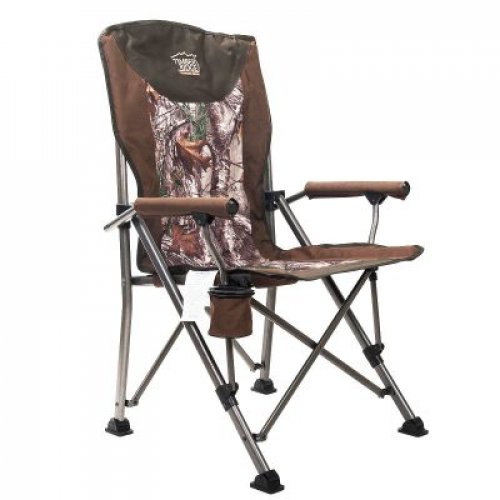 The Timber Ridge chair is conveniently produced in camouflage material for ultimate discretion when hunting. This comfortable, sturdy chair has a solid steel frame and boasts being able to accommodate weights up to 300 lbs, this is boosted with hard wearing and tough polyester. Its compact size measures in at 20 x 19 x 22 ", and comes equipped with its own handy carry bag, and as a bonus, there is a flexible cup holder on its side so refreshment is always close to hand on the hunt.
Comfortable
The chair benefits from padding on the armrests and on the seat so makes it more comfortable to use for longer periods when stillness is of paramount importance. The high backrest adds to the comfort and means less chance of stiffness and aches from staying put.
Neat
The Timber Ridge chair boasts being easy to fold away for quick storage and for erection. This adds to the portability of the whole product and the heavy duty design is not compromised by the features for use and storage.
Cost and Value
The price paid for the features on this chair is justified with the compact size of it both folded and up in use, the comfortable padding and support coupled with the strength of the build, maintain this as equally good value for the price.

8

. Dead Ringer Hammock Chair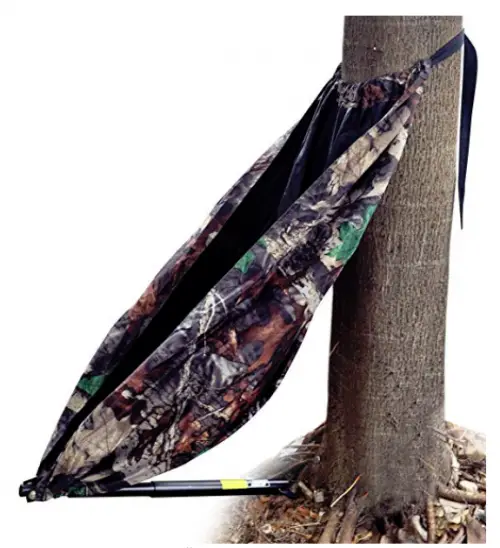 Camo Hammock chair allows you to set up against a tree in a multitude of positions covering everything from an upright archery shot to a down low turkey hunting position.
Mulit-Position
The steel frame support can be set up in different positions to allow you to adjust to your needs. The camo style makes this chair ideal for hunting situations. The chair comes with a carry bag and clip to easily attach to a backpack.
Light Weight
This chair comes in under 2 pounds which makes it an awesome choice for hunting or back country hiking, camping, or canoe trips. The comfort of this chair far exceeds other light weight styles.
Cost and Value
This high-end chair is unique in design covering a large range of positions. The light weight design makes it ideal for carrying over long distances. This chair comes at above average price per weight ratio but the comfort will exceed the other ultra light alternatives.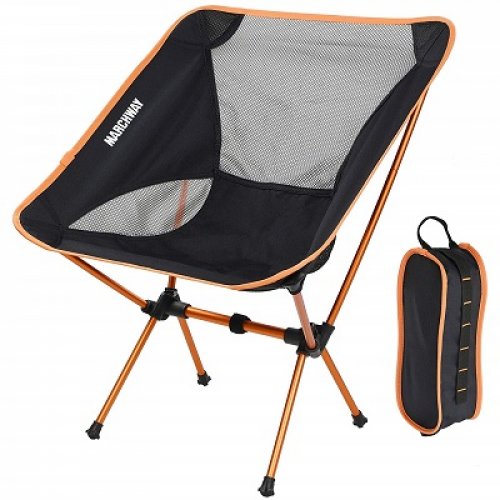 This chair is a must-have for everyone who is always on the go. It is durable enough for hunting, but it's versatile enough to be used for other situations, such as camping, outdoor concerts, or just chilling in the yard. The ergonomic seat design will provide extreme comfort. Ant the aluminum frame is lightweight and easy to fold. Therefore, you can pack the Marchway travel chair and be on your way in a jiffy.
Breathable Seat
This outdoor chair is breathable. In order to avoid overheating, its design includes some areas made of mesh net. This material prevents excessive sweating while taking a break from what you're doing.
Aluminum Frame
The frame is made of aluminum alloy and can hold up to 250 pounds and is corrosion resistant. The high-quality material ensures a long lifespan and the innovative designs allows for quick and easy set-up.
Cost and Value
This hunting chair is a great bargain and comes in the low price range. Made of durable and resistant materials, this piece of equipment can improve your experience when going on an adventure. Furthermore, it is available in a large variety of colors.

10

. Caldwell DeadShot ChairPod
This chair is specifically designed to be supportive of both users and chosen guns or crossbows. It is built to be stable for accuracy, it boasts a system that allows for a swing arm and a fully rotational 360 degrees spin on the chair itself. It is ideal for use for longer periods and for seating within a blind and has backpack straps included ease of carrying for the 22-lb chair. The Caldwell is suitable for any sized weapon and will ensure a steady bench rest so increases accuracy out on the hunt.
Tilt function
The chair benefits from a tension adjustable tilt function that allows for movements both up and down, this is an essential aid in driving the perfect force on the hunt. It had molded forks front and rear to maintain weapon stability.
Heavy Duty
The chair is designed to be used for longer periods and is heavy duty for tough terrains, it is all in one and so reduces overall kit that needs to be taken on the hike to the hunt. The secureness of the weapon anchorage leaves hands free for convenience.
Cost and Value
This chair is at the higher end of the market, but the features and support it offers mean it is money well spent. The accuracy of the aim and the versatility it gives in the movement for weapon and user which makes it a great value purchase.
Subscribe to our Newsletter