Best Truck Tents Reviewed for Quality & Durability
In a Hurry? Editors choice: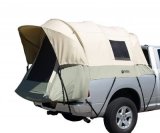 Test Winner: Kodiak Canvas

Pickup trucks offer a lot of versatility and all-around usefulness that you can't get from cars.  A truck is as much of a tool as it is an automobile. Plus, there's always the possibility that you can make all kinds of friends when people need help moving. Truck tents increase the versatility of your vehicle. Traditional tents sit on the ground and put you at risk for things like floods; which, if you are not careful, can increase the chances of hypothermia. Truck
tents
keep you elevated on your truck bed and are typically pretty easy to set up. Another advantage to a tent on the back of your truck is that if you need to move your campsite you don't need to worry about disassembling. With a variety of options and price points, consider the highly recommended products above to take on your next camping trip.
Standout Picks
Criteria Used for Evaluation
Size
There are a few different reasons why you would need to consider the size of the truck tent when you are shopping for a tent. One of the main reasons is that you will need enough room for your gear and space for you to sleep while you are in a tent. The other reason is that the tent needs to fit your vehicle. When you are picking out a tent for your truck, you will need to check the dimensions of the tent to make sure that it is the proper size for your needs. Otherwise, you will end up with a truck tent that you will not be able to use.
The height of the truck tent will also be a concern that you will want to think about when you are picking out a tent for your truck. Some people only sleep inside of the truck tent and for this reason, will not need a truck tent that is tall. However, the downside of owning such a truck tent is that you may not be able to stand up when you are inside the tent. You may not see this as an issue, but on the other hand, there are times where you may want to stand up while you are inside of your tent.
Water Resistance
Tents are used to create a temporary shelter so that we are protected from the weather. The whole idea of having a tent is that we can set it up and take it down quickly and can trust it to have a safe and dry place to sleep at night. A tent that does not provide you with protection from the weather does not have much value so you will need to make sure that the tent you are looking for will protect you from the wind, rain, sun, and temperature. A tent that serves all of these functions can help make your time outdoors more enjoyable while tents that fail to protect you from the weather will cause you to feel uncomfortable.
One of the most important things that a tent can protect you from is the rain. Rain can happen at any time when you are outside and without shelter, you can have your skin and clothing end up getting soaked by the rain. People who end up getting exposed to too much rain can end up getting sick. For these reasons, it is important that you have a safe place that you can go when it starts to rain and that safe place should be your truck tent. You will want to make sure that your tent is fully waterproof so that rain does not leak through the canvas of the tent. It should also have waterproof seams and stitching because these are also areas where water can penetrate into the tent.
Ease of Use
A well-designed truck tent will set up and tear down in a matter of a few minutes when you have practiced with it. On the other hand, a poorly made truck tent will take a much longer time to set up and tear down. The easier it is to set up the truck tent, the happier you will likely be with the truck tent. It will also make it much easier to take down the tent in the event that you need to use your vehicle while you are camping.
Truck tents are not difficult to set up for the most part. In many ways, a truck tent is similar to a traditional tent in the sense that most of the tent is already attached to the frame and you just need to pop the tent up into place and secure the frame on the tent. Rather than using tent stakes to secure the tent to the ground, a truck tent normally has some sort of mechanism that allows you to secure the tent to the bed of the truck. In many cases, these are straps that secure to the bottom of the truck box but this can be different depending on what sort of truck tent you own.
When you are looking at a truck tent, you should see if the setup directions are visible on the packaging or available online. This will help you determine how much effort you will need to put into setting up the tent. Some truck tents have a color code pole system that makes it really easy to follow the directions. Other truck tents may not have a color-coded system but are constructed in a way that is simple to understand. There are also popup truck tents that stand up on their own when they are released from their storage bags. You will have more than enough options for truck tents so you should make sure that you pick one that can be set up and used easily.
Features
Everything in this world comes with features and truck tents are no exception. Features are a great way for manufacturers to set their tents apart from their competitor's products and they can make your experience with the truck tent better in the long run anyway. It is always a good idea to become familiar with some of the more common features that are found on truck tents so that you at least know what is being sold when you are shopping. Some truck tents have more features than other tents and some of these features can be a really nice addition to the tent.
A tent floor is one of the more commonly found features in a truck tent is a floor. Unlike tents that are placed on the ground, it is not necessary for a truck tent to have a floor since the truck bed itself can function as the floor of the tent. However, this means that you will need to do a great job of cleaning out the bed of your truck prior to using it for your truck tent.
Another feature that you may want to look for in a truck tent is a lantern holder. Lantern holders are simply hooks that are placed on the ceiling of the tent that provide you with a place to hook a light or a lantern to the tent. This can be helpful because it will allow you to light the tent after dark without you needing to worry about knocking over a light while you are moving around the tent. Having a hook on the top of the tent also saves space inside of the tent because you no longer need to leave room on the floor of the tent for a light.
One of the most important features that you should look for in a truck tent is screened windows and doors. All truck tents need some sort of ventilation system because hot air will build up inside the tent. However, if your tent does not have window screens, then you are leaving a wide-open entryway for insects to get into the tent.
There are plenty of other features that you will find that are available for truck tents but these are some of the more common ones. Of course, there is nothing that says that you have to own a tent with any of these features, but you will likely realize that some of these features are worth spending a little extra money.
10 Best Truck Tents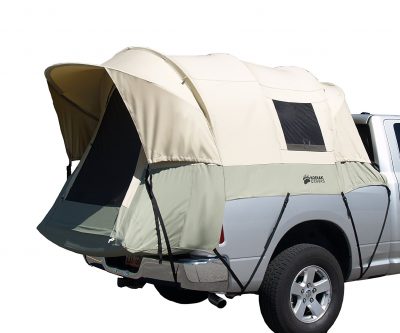 Ranked number one on the list is the Kodiak Canvas. This sturdy truck bed tent is made from duck cotton and has 3/4 " steel tubing as a frame. The tunnel design creates an optimum amount of space while the five windows give you a view of the outside and allow you to access the inside of your truck if you have a removable back window.
Optimum Space
The Kodiak Canvas is available in 5.5 feet or 8 feet. No matter what the size of your bed there is a size available. The door is "D" shaped, making it easier to get in and out of while the YKK zippers offer a dependable way to close the door.
Cotton Duck Canvas
Duck canvas is known for being a heavy, durable material. Often used to make strong work pants and attire, duck canvas is woven tighter than other canvas materials due to a different weaving process. Unlike the name suggests duck canvas is not made from the aquatic bird. However, like the waterfowl, the Kodiak Canvas is waterproof and suitable for camping in most weather. It is not suggested however for heavy snow downfall.
Cost and Value
The Kodiak Canvas ranges in price depending on the size you get. This tent is heavy-duty and built for years of use. The high-quality material will cost a bit more but will be worth it for what you get.

2

. Napier Backroadz 13 Series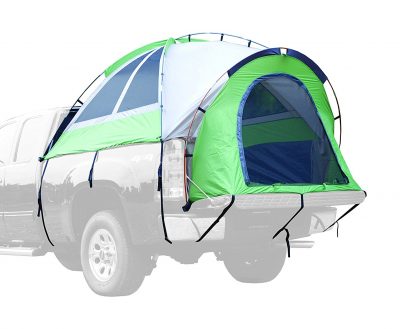 From the Sportz company comes the Napier Backroadz 13. This tent looks like a traditional ground tent from the polyester material to the fiberglass poles. This two-person tent is effortless to set up and has four windows for increased views and ventilation. Also, the Backroadz 13 is compact enough that it can be stored permanently inside the truck under a seat for spur of the moment camping.
Sewn in Floor
Unlike some truck tents, the Backroadz 13 features a sewn in floor that keeps you completely enclosed. This way, you don't have to worry about cleaning your bed to keep your blankets and sleeping bags clean.
Rain fly
Four windows offer increased ventilation but also zip up to keep you dry during rain. The included rainfly attaches easily over the top of the tent.
Cost and Value
The Napier Backroadz 13 is a pretty basic tent. This being said it sits at a medium ranged price. Also, the company is partnered with Trees for the Future. Every Backroadz 13 tent purchased pays for a tree to be planted.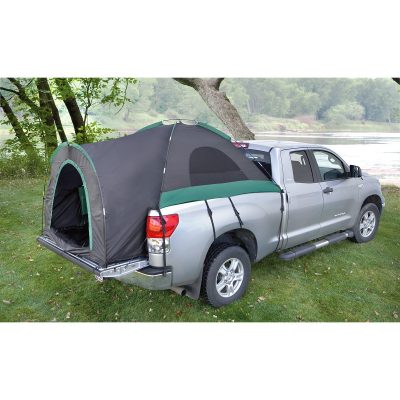 Gear Guides Compact Truck tents bigger brother deserves a spot of its own on the list of best truck tents. This full-size version offers internal storage compartments, a full rainfly, and enough room to fit an air mattress for two people to sleep on.
Spacious Interior
Guide Gears full-size tent has over 5' of headroom. The 63" x 75" space is optimized with a large "D" shaped tunnel entrance.
Quality Design
This truck tent is made from polyester and comes coated with waterproofing material. The mesh windows give you great ventilation and views of outside while the rain fly adds privacy and protection from the rain. The Gear Guide Full-size Truck Tent also has a polyurethane floor.
Cost and Value
This tent earns its spot at the best value for a number of reasons. It costs the same as its compact little brother but you get a bit more tent. The floor and other features are impressive and not seen in other tents that are at this price point.

4

. Guide Gear Compact Truck Tent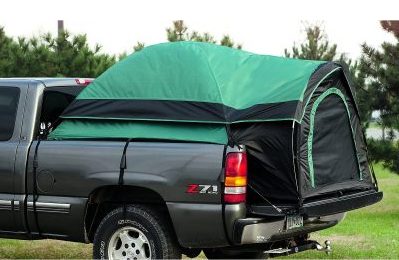 The little brother of the best value truck tent listed is Guide Gear's Compact Truck Tent. This tent fits compact trucks such as S-10s and Dakota's. The compact model features just under 5' of headroom. It is easy to assemble for one person and fits a twin size air mattress!
All One Piece
Guide Gear's compact truck tent has a built-in floor to add to the weatherproofing and overall sturdiness of the tent. Five feet of headroom gives it a good amount of interior space for a compact tent.
Weatherproofing Material
The tent comes with a 1500 mm coat of weatherproofing material on the polyester tent. While you may have to put an additional weatherproofing solution on the seams this is a great start to making it waterproof.
Cost and Value
The Guide Gear Compact Truck Tent is one of the most affordable tents on the list. If you have a smaller truck and want to give truck tents a try, this is a great option.

5

. Sportz Truck Tent Blue/Grey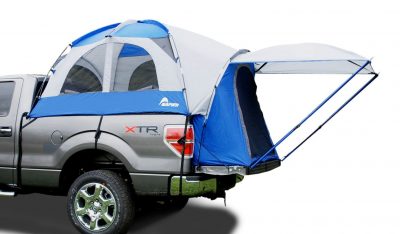 Another from the Sportz Outdoor company is the updated Blue and Grey truck tent. This tent features color-coded poles for easy assembly, a shade awning, corner vents, and many other cool features to enhance your camping experience.
Updated Design
This Sportz truck tent is a new and improved version of an older tent that Sportz had available. Included in the new design is the trademark sewn in floor, added windows, corner vents, improved weatherproofing, interior cargo net, and much more.
Panoramic Views
The roof of this Sportz tent has four mesh windows to give you a great view of the outside and give you plenty of ventilation. An included rain fly is easy to assemble and covers the tent to protect you from bad weather and give you increased privacy.
Cost and Value
This tent is on the more expensive side of truck tents. It's loaded with unique features and has a floor. It's available in many sizes and is usually true to fit. Another good attribute is that the straps will not scratch the body of the vehicle it's connected to.

6

. Sportz SUV Blue/Grey Tent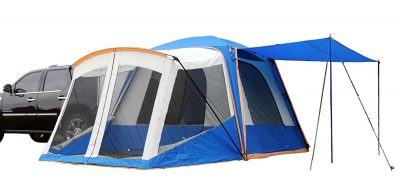 So you don't have a truck but still, like the idea of converting your vehicle into a shelter. Then the Sportz SUV tent is the choice for you. This tent fits both SUVs and minivans. Really just about anything with a hatchback. The tent sleeps five people but being attached to the vehicle allows more people to sleep inside the van or SUV. If you have to leave the campsite for any reason but do not want to take down the tent, the sleeve detaches and the whole thing becomes a regular ground tent.
Screen Room and Awning
The Sportz SUV tent has a screened in "patio" that can be used as a mud room, additional sleeping space, or a spot to hang out away from the bugs. The extended awning also creates a shady place to relax. The screen room is also detachable.
Never Leave the Tent
Except, you know, maybe to go to the bathroom. With full access to the cab of the vehicle, you barely have to unload anything. Full access to your vehicle means no need to zip and unzip the tent doors if you have to go get something from your van. This is an amazing feature during rainy weather.
Cost and Value
This unique tent can be seen as kind of expensive. As one of the most pricey tents on the list, it also offers a lot of conveniences and set up possibilities. Are the conveniences worth the extra dough? A lot of people seem to think so and this is a great choice when it comes to vehicle/tent conversion.

7

. Rightline Gear 110730 Full-Size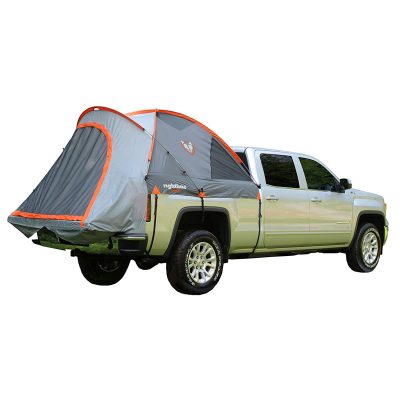 Another traditional looking truck tent is the spacious Rightline Gear truck tent. This review is for the full-size model as it was the most mentioned and recommended one that came up during research for this list. However, there are many different sizing options available and all have the same features as the full size. This includes a rain fly, gear pockets, and lantern hook.
Get Away
All of the tents in this series are big enough for two adults to sleep in. This is a great option when you are just needing to get away for a while. The color-coded poles and sewn in instruction manual make setting it up a breeze especially for two people working together.
No Floor
This is a feature that could really be a benefit or a hindrance. No floor means putting your blankets and sleeping bags directly on the metal truck bed. However, this also means you do not have to completely unload the truck to pitch the tent. The tent is designed to slip over the sides of the truck so you do not have to worry about water or bugs getting into the tent.
Cost and Value
The Rightline Truck Tent sits at about an average price for truck tents. Unique characteristics such as color-coded poles and hooks that won't damage your trucks paint job are advantages to consider if you're looking to buy this tent.

8

. Sportz Avalanche Truck Tent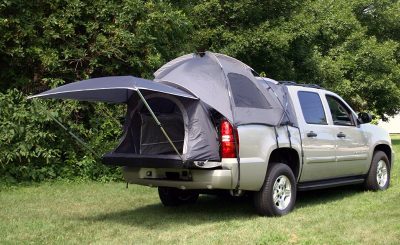 The Chevy Avalanche is a vehicle that incites a lot of polarizing opinions in people. The people that like them REALLY like them and the people that hate them do it with a passion. As an owner of an Avalanche, I belong to the former group. The truck offers a lot by way of versatility. The Sportz outdoor company has made a product to give the Avalanche even more useful possibilities.
Tailor Made
One of the unique features of the Avalanche is the midgate. This is a door that folds down to give you access to the cab from the back of the truck. This Sportz truck tent has a rear door so you can still use the midgate. It also has a floor with windows so you can use the Avalanches cargo lights while camping. The tent poles are also color coded for easiar set up. However, setting this tent up might take some practice if you are planning to set it up on your own
6 Foot Awning
Extending from the front entrance of this truck tent is an awning that measures over 6 feet in length. This helps keep the area in front of the tent relatively dry and gives a fine shaded place to lounge.
Cost and Value
Like most products specifically designed for a particular vehicle the Sportz Avalanche truck tent has a relatively high price point. However with all of the one of a kind features incorporated into its design, ou get what you pay for and more.

9

. Honda Genuine Factory OEM Tent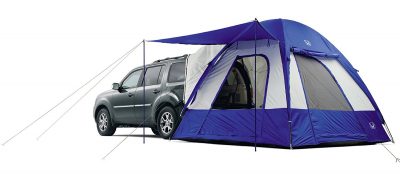 This tent was specifically made for Honda pilots and the Honda Odyssey. It was even featured in some of the Hoda Pilots commercials. This OEM tent has a Honda part number and is made to stick with your Honda. The sleeve is detachable so you can leave the campsite and not take down the whole tent.
Original Parts
Specifically made for the Honda Pilot and Odyssey means it has a custom fit. Sizing for other tents may be difficult but you can purchase this knowing it was made for your Honda. The tent itself measures 10' x 10' and has enough headroom for even taller people to stand up. Plus, the total living space is extended when it is attached to your vehicle.
Rain Fly and Awning
Unlike some other truck tents listed, the Honda Pilot and Odyssey tent have an included rainfly and a huge awning for extra space to hang out while camping. This also helps keep you dry during bad weather.
Cost and Value
Much like the Avalanche truck tent, the Honda tent is specifically made for the Pilot and the Odyssey. With a genuine part number comes a relatively high priced tent. This tent was a huge selling point for Honda when these vehicles began featuring it.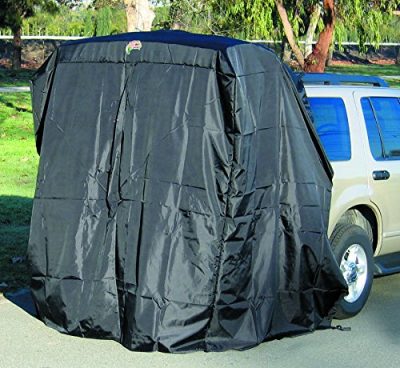 At this point of the list, we have seen many awesome options for converting your vehicle to a shelter for camping. While this last one is called a tent, the AddaCabana is more of a pop-up structure that attaches to your SUV or van to give you increased privacy or a hangout spot during recreational outings. The AddaCabana will add to a day at the beach or a picnic. Also, if you already have a traditional tent and just want increased space for privacy, the AddaCabana is for you.
Compact and Portble
When packed up into the included tote bag, the AddaCabana weighs only four pounds. This makes it easy to load and take anywhere. You can even store it in your vehicle.
Multipurpose
The Addacabana is a great option for days at the beach, camping, picnics or any outdoor recreational activity. Some people have also reported using it as a mobile dressing room for photo shoots or athletic meets.
Cost and Value
This product does not cost as much as other truck tents on this list. However, it is not a full tent. It is pretty basic for what you pay.

Subscribe to our Newsletter