Best Bibs for Hunting Reviewed and Tested
In a Hurry? Editors choice: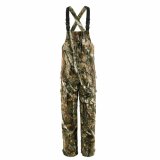 Test Winner: Legendary Whitetails

One of the most important things you have to consider when you go out on your little hunting tours is
how you dress
. There's nothing worse than finally getting to your favorite hunting spot only to be freezing to death. You can stop this unusual trend with some of the warmest hunting apparel on the market. No matter if you're hunting in Alaska or tackling the brutal winters of New England, you'd really be grateful for the
warmth
they provide. There are some hunting essential pieces of clothing that are crucial to your hunting expeditions, and one of these is your bibs. This is why we published this complete guide for the best bibs for hunting!
Standout Picks
Criteria Used for Evaluation
Materials
The most important factor in selecting hunting bibs is the material they are made from. One of the golden rules for wilderness comfort is "cotton kills." Cotton is a nice material for lazy afternoons and fairly does its part in extreme conditions as well. One of the hunters' favorites is the ones made from fleece because they are absolutely quiet no matter what you walk through or brush against. It also does a fairly good job of repelling moisture. For a novice hunter, fleece or even a cotton/polyester fabric would be simply great and they can even add layers beneath to keep warm.
The next strengthening feature is the ability to be rip-resistant. Notice I didn't use the term rip-proof. That is because this feat would be virtually impossible to pull off unless you wanted to wear metal pants. However, rip resistance is much easier to achieve, though in most cases you will be forced to pick specific fabrics.
For example, manufacturers are making their bibs with a certain amount of ripstop materials, such as nylon or polyester. This not only reinforces the pants against tearing, but it also provides a measure of breathability as well as improving your range of motion. Despite all their added benefits, nylon and polyester are quite thin and will require either an insulated lining or additional layers in order to be effective in the winter. One small exception in terms of material is anyone that has been interwoven with Teflon as a waterproofing technique. The side effect of this is the inherent strength of the substance, which adds some increased protection against wear.
Weather Resistance
A hunter has to adapt to different weather conditions. For example, it's a little risky to be out there when you're wet. You need a nice pair of bibs that are not only insulated but also has nice waterproofing features, especially when you're out waterfowling in swampy areas. Plus waterproof clothing comes in a wide range of impressive user-oriented designs and patterns to fulfill your needs in every condition – from trudging through rocks and terrains to hunting in the winters.
Just like regular clothing, hunting bibs are designed to wear in warm weather, and some are designed to keep you warm. Plus they can protect you from bug bites and branches. You want your clothing to be strong enough to protect your legs from cuts and scratches all while keeping yourself comfortable the whole time regardless of the weather condition.
A good hunting bib takes care of the elements and sticks around for multiple hunting seasons no matter what game you're hunting. Choose the camo of your clothing related to the environment you'll be hunting in as the pattern should fit in just perfectly. A decent pair of hunting bib should be comfortable to wear and easy to move around. Spending a few minutes to consider the above-mentioned features will help you choose the right one.
Fit
The fit is a big one. Not only will it dictate how comfortable you are going to be while on your hunt, but it also has quite a bit to do with things such as noise and tear resistance. We all know how important it is in determining how the pants will feel. If the pants are too loose around the waist, seat or thigh, it doesn't matter how soft or breathable the fabric is. The clothes will feel like a clown suit. That's why designers need to be very specific in their sizing, especially since the pants also need to fit at least somewhat snugly.
How snug the pants are is the key factor in the levels of noise and rip proofing. If the pants are too loose, there is a lot more surface to surface contact, and the fabric rubbing together will make a lot more noise than if the pants fit correctly. Also, being loose allows passing branches and rocks to grab onto the clothing and potentially rip a hole in them or pull a seam.
Just as much as the manufacturers need to be aware of sizing and fit, the hunter also needs to do their research into the ideal cut and style of pants to suit their particular body size and shape, and therefore reduce the possibility of anything unwanted happening.
A good and comfortable hunting bib is more than a mere accessory; in fact, it's your better half, your best companion, your travel buddy that accompanies you on your hunting trips. A solid hunting bib comes with articulated knee and seat system, which is great when it comes to intensive wear and brings comfort just as well. They also come with lower leg zips to put it over your boots or tuck into some even higher boots. A good hunting bib should not only be comfortable to wear but also able to provide protection from all weather conditions and environmental factors.
Value
Price only factors here in so much as how dedicated you are to hunting. If it is just a casual hobby that you do once in a while on the weekends, then spending a lot of money on a high-end feature-rich bib is probably not a good choice. In order to get a great value on your investment, you need to first figure out your needs.
If hunting is just a part-time thing, then really all you're going to need is a solid pair of bib pants that have good camouflage and decent waterproofing. These are the most common types available, so you'll be able to easily find several pairs that fall right into your wheelhouse.
If, however, you hunt day and night in rain or shine, it may be a good idea to get yourself a pair that gives heavy protection, and is capable of performing in all conditions. These are going to cost quite a bit more though, so make sure your level of commitment matches the price tag before making that purchase. Luckily, there are several pairs of hunting bib pants to fit every need at every level, so getting into hunting is not going to be an issue as far as cost is concerned.
Style
If you're looking for your next big game, you might want to prefer camouflage bibs so that you could just blend in without alarming your prey. Appropriate camouflaging puts you at a greater advantage over your target while making it easy to mark your target because out there, every shot counts and you don't want to ruin your perfect shot. Well, camouflage clothing varies depending on their surroundings. Snow hunting basically requires a white camouflage clothing while when you go forest hunting, green or brown is your go-to clothing.
A good hunting bib takes care of the elements and sticks around for multiple hunting seasons no matter what game you're hunting. Choose the camo of your clothing related to the environment you'll be hunting in as the pattern should fit in just perfectly. A decent pair of hunting bib should be comfortable to wear and easy to move around. Spending a few minutes to consider the above-mentioned features will help you choose the right one.
BEST BIBS FOR HUNTING REVIEWED AND TESTED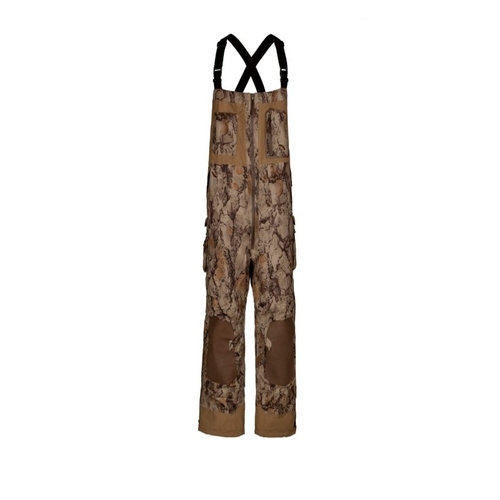 When it comes to finding something to wear for hunting that is not only comfortable but keeps you dry, the very first thing that might come in mind is a hunting bib. While most hunting bibs can get the job done, not all of them are constructed the same. This Natural Gear overall hunting bib is unlike most that you have seen, as this one was created with the wintertime in mind. Though most hunters will hunt during the summer, there are a few who enjoy cooler weather. If that is you, this one is the best for all-year-round hunting.
Cold Weather Protection
As stated above, this hunting bib was designed to work in cold weather. Designed with dry stalk rigid shell material, this bib keeps the heat in, while helping the cold remain outside. Furthermore, this material is so sturdy it is waterproof so you can be warm and dry the entire time. Additionally, these overalls come with adjustable shoulder straps and abrasion-resistant overlay on the knees for an added dose of protection.
Natural Pattern
Natural Gear has been around for over 25 years creating comfortable hunting bibs for all, so it makes sense that they came up with one of the very best on the market. The unique aspect of this bib is the natural pattern that it displays. This hunting bib was not created to fit in with other bibs it was designed to fit in with nature. If you take a close look you will notice the trees and branches displayed are extremely similar to what you would see in nature.
Cost and Value
In spite of designing a thick, quality product with essential bits, Natural Gear did not increase the price. This bib is priced quite fairly. Simultaneously you are getting a product you can use all-year-round and with the superiority, the brand is known for throughout the years.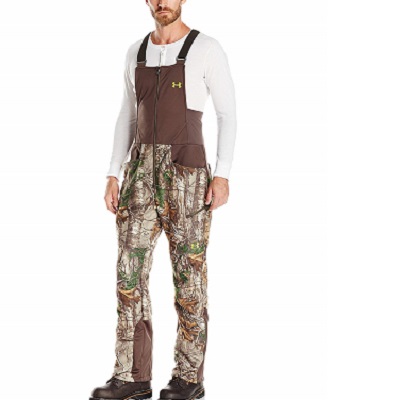 The Under Armour Men's UA Scent Control Barrier Bib provides pivotal multi-season protection and safety during relentless big-game hunting. Rugged 100% polyester Silent Shell is soft, comfortable, and quiet, plus it helps you maneuver without noise, thereby reducing your chances of being detected during those close-combat situations.
Storm Technology
This Barrier Bib features Storm 2 technology that delivers superior water and wind resistance to shield your body against the harshest of elements. And the exclusive ColdGear Infrared technology – a soft thermo-conductive coating on the pant's interior – absorbs and retains excessive body heat for reliable warmth without excess weight or bulk.
Scent Control
The UA Scent Control technology lasts longer and works better, suppressing odor-causing bacteria thereby keeping you undetected while in the field. The UA Storm technology repels water without compromising breathability. Adjustable shoulder straps cinch up easily for a comfortable fit; the full-length front zipper allows for controlled ventilation, and strategic insulated padding offers added comfort and warmth. Hand pockets, back pockets, and flap-closed cargo pockets provide convenient storage for all your hunting essentials.
Cost & Value
This selection has a higher price point than some other brands on the market. But you can ask any experienced outdoorsman, the extra you spend the more potential benefits you will have. Whether you are looking for warmth or overall performance, quality is the best value for choosing this type of hunting gear.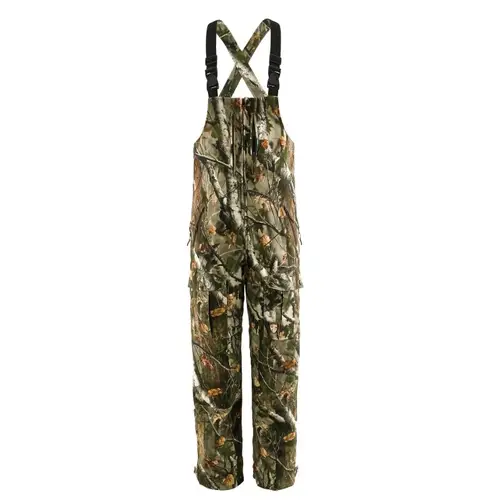 In hopes of keeping you warm and dry through the entire year, this Legendary Whitetails bib was constructed with top-notch materials and superior quality. Featuring an outer shell designed out of 100% Polyester membrane, and 100% Polyurethane, this bib can withstand the colder, and rougher weather conditions in mountainous areas.
Water-resistant
Due to how thick and pliable the construction of this bib is, you are getting a water-resistant feature. Having this feature will ensure you are fully protected from a multitude of weather conditions, including rain, snow, or a combination of both. The water-resistant feature also allows you to have a sturdier and more durable product that continues to work in extreme weather conditions.
Added Comfort
When you will be spending an abundant time outdoors, waiting for your prey to arrive the very first thing you want to ensure you have besides protection is some sort of comfort. Having a comfortable bib is key as it allows you to move around with ease. Showcasing adjustable zippers on each leg, this bib wants to make sure your bib fits correctly without missing a beat.
Cost and Value
Ordinarily, we would say this hunting bib is on the pricier end; however, when you take a look at what you are getting and the superior quality of the materials, the bib is priced quite fairly. Furthermore, the brand itself has been on a mission for years to bring the best bib on the market possible.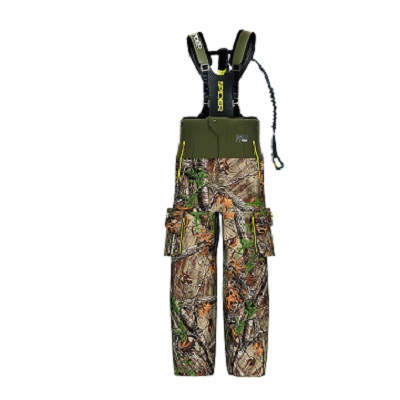 Hunting safety has never been quicker, easier and more comfortable. Tree Spider redefines the entire category of hunting safety with its new line of hunting safety products including the very versatile SpiderWeb Harness and Bib.
Scent Blocker
For the first time, hunters can slip into a pair of SpiderWebs and answer the necessity of their basic needs. SpiderWeb technology is a fusion of ScentBlocker hunting apparel and Tree Spider safety. It actually helps make consistent shots and provide unprecedented ease of use, comfort stealth, and mobility.
Ripstop Fabric
With the rugged Recon material with durable ripstop fabric, the removable bungee tether allows a set of SpiderWebs to be used in many other hunting situations. The ScentBlocker S3 Silver Antimicrobial fabric technology keeps garment fresher, longer by eliminating the formation of odor. But it goes above beyond, with a great harness system that eliminates unnecessary straps, buckles, and noise.
Cost & Value
Light, quiet, easy and fast – you won't find a system like it anywhere else. To make this even more valuable, you will find that they also have plenty of extras. Other features include adjustable shoulder straps, climbing belt loops, contoured and padded shoulder straps/upper back panel, 2 cargo pockets with zippered side entry, and 1 inset pocket with hook and loop closure.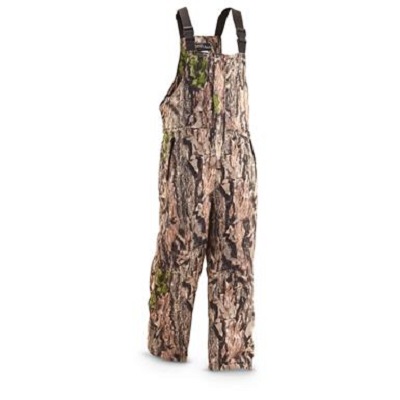 Become invincible without worrying about wind, water, rain or sweat getting in your way with the World Famous Sports Bibs Blaze Woodland. These breathable camo bibs make you weather-ready for the worst weather conditions you can encounter. It's soft but tough, waterproof, breathable made with 100% polyester with taped seams for 100% dry coverage.
Great Insulation
You can sit for long hours on mid-20 degree mornings and still cannot feel any cold spots with these breathable camo bibs. Adjustable suspenders with quick-lock buckles easily convert your bibs to pants. Plus the elasticized straps allow you to stretch and obtain a decent range of free motion.
Durable Design
The front zipper closure has storm flap with snaps for easy on/off. And they are big enough to allow comfortable movement without being too loose or too long. You can expect them to last for several seasons, thanks to the all-weather, durable design, and at this reasonable price, it would make a great bang for your buck.
Cost & Value
The fit is perfect – not too tight and not too baggy. The best part, it keeps you warm and dry through a cold wet deer hunting season no matter if you're sitting in a tree stand or making your way through two feet of snow. A well-deserved spot on our best bibs for hunting list.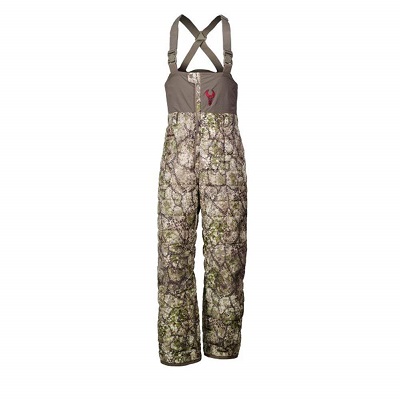 As the name suggests, the Badlands Convection Hunting Bib is specially designed to keep you warm without wasting a single unit of the heat your body generates. The secret is to keep the heat circulating throughout your legs and core.
Dual Insulation
The Badlands Hunting Bid ensures the cold doesn't bother you so that you can hunt through almost anything. Exceptional performance starts with the best quality materials, but if you want something that combines all your favorite fabric capabilities into one highly-efficient outerwear, the Badlands Convection Hunting Bib fits the bill. With dual insulation plus both water and wind-resistant outer shell make sure you hunt all day without compromising your comfort
Wide Suspenders
The best thing about this hunting bib is how easy it is to use the full-length, dual zipper system to customize the level of warmth or ventilation that you need. The fit of these bibs is also outstanding, plus they stay in place thanks to the integrated waist belt and wide suspenders. It also keeps you hidden in plain sight by eliminating your target's ability to smell you, giving you more advantage over your target in the field.
Cost & Value
No matter if you're sitting in a tree stand for long hours or humping your through way through thick layers of snow, these bibs come in just handy when it comes to layering for extreme conditions.



With this selection, I've decided to go with a classic hunting bib that epitomizes exactly what this piece of gear should be. They are made for hunters, those who live to spend their free time out in the bush, searching out their elusive target. Their single purpose is to keep you out as long as you need to be, a hidden from your prey the entire time.
Won`t hold you back
I`ve used a few bibs in my time, and I find them constricting, especially while trying to get out of them. This pair makes that simple with convenient leg zippers, and wide, adjustable shoulder straps.
Hiding in any environment
Easily one of my favorite features of these pants is that they are available in an assortment of patterns, so you can easily tailor your hunt the way you want to, and have to worry about standing out in all the wrong ways.
Cost and Value
These pants are going to appear to be a bit pricier than others on this list, and they are, but there is a caveat. Keep in mind that these buying guides encompass a wide range of products, from beginner to expert, bargain-priced to high end. These fall into the high-end category and provide you with all you`ll need for a successful outing.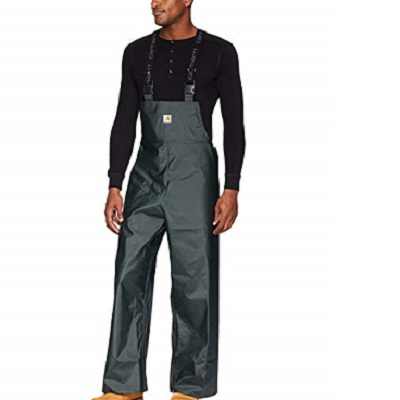 Carhartt? But they don't make hunting gear. No, not specifically. What they do make is highly regarded as multi-purpose clothing that can be used in all settings. These ones are on the list because they are more for heavy rains and wetter climates where a traditional pair of bib pants just isn't going to cut it. They'll keep you dry so you can keep hunting.
Reinforced seams
The seams on these pants are not going to come loose anytime soon. That's because the manufacturers decided to electronically weld them, and also reinforce the bigger ones to make sure that nothing is coming loose.
Fit so nicely
Carhartt didn't see the need to include zippers on the legs to allow you to get them on and off, because they decided to make them in such a way that they fit perfectly from the start.
Cost and Value
Carhartt quality for less than many other choices on this list? Yes, please. You 're not just paying for a name with these ones, but instead, you're paying for the peace of mind they bring while keeping you bone dry.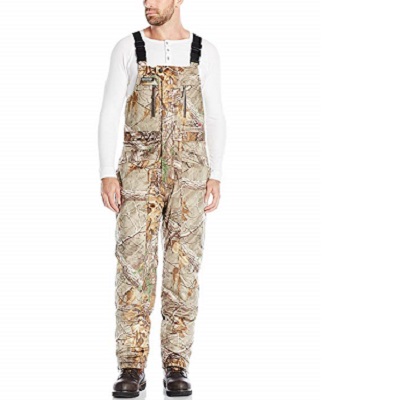 When you're out hunting in a pair of 10X Men's Realtree Xtra Waterproof Breathable Insulated Bib Overalls, you will blend into the surrounds very well. That's is the idea, obviously, but these ones do this task so exceedingly well. Add in the fact that they are waterproof, breathable, and well insulated, and you'll never have any need to leave the bush.
Stay dry all day
The waterproofing found in these pants is something else. The makers went the extra mile to fully laminate their product against moisture of any kind. You could almost swim in them.
No smells
Having some measure of scent control for hunting pants is a surprisingly good idea. Animals in the wild rely as much on scent like any other sense, so to take that out of the equation gives the hunter an invaluable advantage.
Cost and Value
Warm, waterproof, breathable, and expensive. Not so much so, however, that you overlook all the benefits these pants provide you with. There is more than enough value in these pants to keep you coming back.

10

. Frogg Toggs Toadskinz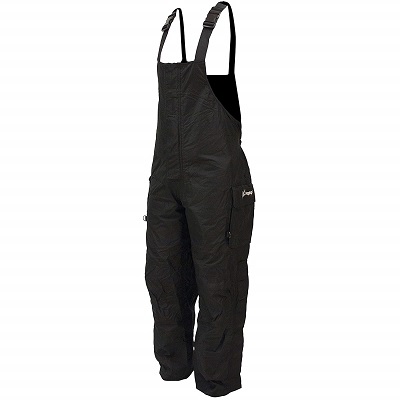 These Frogg Toggs Toadskinz Bib Pants are versatile enough to be used for much more than hunting, and in fact, aren't primarily geared for it. The reason I've included them, then, is that what they are is a very well made multi-use pair of outdoor pants that will get the job done no matter what their job may be. The fact that they are windproof, waterproof, and insulated make them ideal for being in the bush for a long time.
Great fit
A proper fit is especially important when it comes to hunting gear because you are going to be in the great outdoors, totally at the mercy of the climate. If your clothes don't fit right, then it won`t matter how weatherproof they are. Frogg Toggs knows this, and their pants fit great.
All weather worthy
When I was looking for hunting bibs that would suit this list, I was concentrating mainly on them being waterproof. These pants take it a step further and protect the wearer from all sorts of elements.
Cost and Value
If you're in the market for a good, dependable pair of outdoor bib pants that will work equally as well in any situation, while not costing you an arm and a leg, then do yourself a favor and give these ones a shot.

Subscribe to our Newsletter