Best Baseball Arm Sleeves Reviewed & Rated for Quality
In a
Hurry? Editors choice: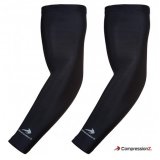 Test Winner: CompressionZ

Getting yourself a baseball arm sleeve is a good idea for many reasons. It is helpful in ways that include its ability to prevent and assuage elbow and muscle injuries. Even if your muscles are not injured, a compression arm sleeve will do a good job of keeping the blood flowing through your limbs. They are also useful for giving you protection when you are doing outdoor activities, such as baseball. These arm sleeves can block out the sun, but they can also wick away sweat so that you can remain cool. They are also very fashionable these days, on top of everything else. It might be just the right time to buy yourself a baseball sleeve, no matter what the reason is. This list is a collection of sleeves that are best used for an array of purposes. Give these a shot and see what they do.
Standout Picks
Criteria Used for Evaluation
Compression
The first reason anyone thinks to buy themselves an arm sleeve is the health benefits that come from the effectiveness of the sleeves compressions. These days, not all sleeves are designed to be used for true compression, but it is arguably the most important thing that you can get out of an arm sleeve. These arm sleeves will make it so that you get improved circulation in your arm muscles, as well as your elbows. This will help you in multiple ways. This can improve your performance in the gym, as more blood flow means more power when lifting weights. It can also reduce inflammation that comes from things like tendonitis and arthritis. The higher the rating in this category, the more effective the arm sleeve will be at giving you the benefits of compression.
Comfort
Even if the arm sleeve is doing a good job of compressing on your arm, if it isn't comfortable, then you probably won't use it. These arm sleeves are designed to feel good when you are wearing them. This can be accomplished in multiple ways. There is the material that the sleeve is made of. it should be something that is not rough and grates against the skin. It should also be a good choice of material that won't make your arm overheat either. It is a surprisingly difficult balance to hold up, given how tight the sleeve is going to hold onto your arm. The higher the rating in this category, the more likely that the compression sleeve has been designed with your comfort in mind. If it isn't making you more healthy, it should at least be comfortable.
Protection
The third reason many people wear arm sleeves is that they are an effective way of protecting yourself from the elements when you are exercising outside. The ways that a sleeve can protect you are limitless. There are sleeves that are designed to keep out the rays of the sun. You could wear sun screen, but that stuff is annoying to put, and will come off when you sweat. An arm sleeve can be taken off and put back on whenever you need to. Sleeves are also very popular among runners because it makes it very easy for them to protect themselves from the wind and the cold. It also won't reduce your profile and have any loose parts flying around. Finally, many sleeves are designed to wick sweat away from your body, so sleeves are great for keeping yourself getting too hot or too cold.
Size
A very important aspect of a compression sleeve is the size that you get it at. It is important to read the sizing guides that are present on each of these product's pages. A compression sleeve that doesn't fit you snugly, is not a very good compression sleeve at all. That being said, the fit of the sleeves are very important, and each of the sleeves on this list fit a little differently. Try to buy a sleeve that does a good job of fitting on your arm. The higher the rating in this category, the more likely that you will find a good fit with a specific brand of sleeve. Sleeves shouldn't be able to roll down your arm. They also shouldn't be wrinkly on your arm. You want a uniform tightness in both the upper arm, and in the lower arm. It will be harder for some people to find a perfect fit in comparison to other people.
Style
This one isn't as important as far as the benefits of wearing a sleeve go, but it is still something to keep in mind. Many people are going to be wearing their sleeves out in public. It takes a lot of wearing for the sleeves to be able to do their job effectively. The sense of style that you have will probably decide what kind of sleeve you want. There are some sleeves on this list that take the style aspect a little further than others. There are sleeves with full patterns of the American flag, such as the Bucwild. This can be a great look if you are on a sports team. The more simple styles are probably better for wearing them out in public. It should also be noted that many of the sleeves come with a company name on them, which might be a deal breaker for some people.
10 Best Baseball Arm Sleeves
Subscribe to our Newsletter