Best Backpack Coolers Reviewed & Rated for Quality
In a Hurry? Editors choice:
Test Winner: RTIC 30 Cooler

There are a few different ways we can
pack food and water.
Backpack coolers are one such option. These coolers are useful because they allow you to carry food and water
on your back or shoulder
. They are usually capable of keeping the items stored inside of the cold for several hours, which is more than useful for a day trip. If your only concern is water, then there are also backpack coolers that are dedicated to water which can keep water cold for hours. Such coolers are especially useful because they usually have pockets for items besides water. If you're looking for this type of
cooler
for your next rip, this list will provide you with all the information you need to make the best choice!
Standout Picks
Criteria Used for Evaluation
Size
The size of the backpack cooler you require should reflect full functionality for your individual uses and ensure you have the right kit for the job in hand. Some products are primarily made with hydration in mind and consequently have large water bladders within them; and whilst this is practical for some activities, it may not suit all due to the free space left around it. Larger coolers are specifically designed for holding a number of cans and for the soda lovers, these will be a must!
Ideally, for an everyday backpack cooler, the best fit will be one that fits both and drinks inside. Flexible straps are useful too because they help to maintain comfort on longer walks/hikes. If size is of optimum importance, especially on the return trip, some sizes are collapsible and so are less bulky once the contents are finished with.
Effectiveness
For most of us; when the weather warms it is time to start on getting out and about. There is always a chance that our destination doesn't have amenities, so it is important to ensure we take enough supplies to make the trip comfortable. For the day to day excursions a backpack cooler is an ideal solution, it is less cumbersome than the hard, box coolers traditionally utilized. The backpack cooler works on a very simple basis and is easy to maintain. The cooler inserts are secured in the backpack when they are frozen; and ready for the day out with any supplies that require cooler temperatures.
They come in various forms and sizes, and you should probably decide what you will be using it for on a general basis. That way, you can buy the ideal size so you don't end up with too much space or not enough. Backpack coolers will always work best when they are filled correctly – if it Is too full; it will lose its effectiveness quicker. A half-empty one will have the same effect on the contents. Another important aspect to consider is an idea of the temperatures it will be used in and a rough timescale that the cooler is required to keep chilled. This will give you a better idea of the size of both the backpack and the cooler inserts you require.
Value
The reasons for buying your backpack cooler may vary, but largely it will be for specific outdoor activities when you enjoy cooler snacks and drinks. There are a number of factors that may well be more important to you than others, size is of importance as seen above. But the extra features and functions that are on offer can be of great value when you are out of areas with basic amenities. One such important feature that can improve the functionality of a backpack cooler is its performance with regards to ice-retention. (The last thing you need is a lower performance model that doesn't keep your stuff cool).
Another thing that has to be a focus, is how leakproof the bag is. Generally, there will be an indication of the individual product information but check carefully because some may not be as robust and can leak. This is due to lower quality materials which are not as thick – these may be more appropriate for shorter periods, but definitely not for longer trips when the last thing you want is a wet back. The lining of the backpacks should be of superior quality too, especially if you are storing tech and maps in the same bag.
Style
The style of backpack cooler you decide on will also depend greatly on what the primary use is. They come in a variety of shapes and sizes and your purchase should reflect a balance with your stature. It's not wise to buy a large, heavier weight capacity backpack if you are slight, this will be uncomfortable and can cause back problems. Modern designs are similar to ordinary backpacks, and these are infinitely better because they have support, and padded shoulder straps to equalize and balance weight.
Contemporarily, there is a wide range of colors and brands to choose from, and your individual style will determine what you choose. Important here though is the incorporation of both style and functionality for the best choice. Don't be tempted to buy the latest look and style just because it's popular – the purchase may look good initially, but may not stand up to the job in hand or last for longer periods.
Features
The market for backpack coolers is huge, and many have varying features for different requirements. A good starting point should be the ease of care – most interiors are lined with polyurethane which is not only practical but is also easy to keep clean. Often, they will have inside sealable pockets for safe storage of your valuables like keys and wallets. For comfort, they have padded straps to provide and maintain comfort on your shoulders, and for the unexpected – the exteriors can be produced with a weather-resistant exterior.
The shape of backpack coolers varies depending on the style and size, some are single sling designed, but the majority are twin strapped for an equal balance of weight. They can have extra external clips so you can attach useful items for your trips such as picnic blankets. The types of the external material vary too, some are weather resistant whilst others may just be a basic fabric. The way to ensure you buy a backpack cooler that is right for your individual needs – starts with planning ahead.
BEST BACKPACK COOLERS REVIEWED & RATED FOR QUALITY


This is a premium cooler that can keep ice cold for up to five days at a time making it the ideal cooler for camping or hiking. The cooler's exterior is made out of a vinyl shell that is heavy duty and resists tearing UV damage. The interior of the cooler features a thick layer of closed cell foam which keeps your items extremely cold. It is completely waterproof.
Fully Water Proof
You should have no issues with leaking water from melting ice when using this cooler. The cooler is designed to be fully leak proof so you will not get wet if the ice melts or a liquid container leaks inside the cooler.
Mildew Resistant
The cooler's interior liner is antimicrobial and resists mildew. This will keep all food and beverage items protected from harmful bacteria and will also keep the cooler smelling fresh even after repeated uses.
Cost and Value
This cooler is very expensive and justifies its high price tag by being built out of quality materials. The insulating foam is two inches thick and is made out of closed cell material. This feature provides the cooler with a five-day cooling ability.

2

. Polar Bear Coolers Nylon Series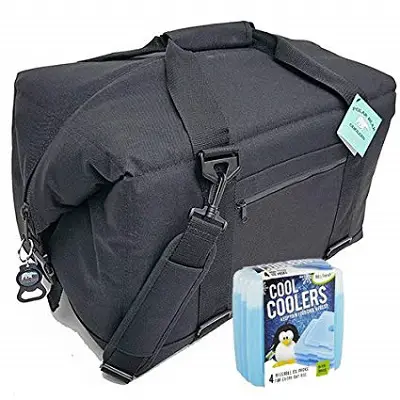 This backpack cooler is an excellent choice if you are looking for a high-quality backpack cooler that will keep ice cold for an entire day. It is made out of heavy duty nylon which will not rip, tear, or scratch. The zippers are also high quality and are built to not tear or jam when you are opening or closing this backpack. The product itself is sold with a lifetime warranty.
1 Day Cooler
The foam used in this cooler is a high-density foam that is also open cell and will keep ice cold for twenty-four hours. You can trust that your food and water will remain cold for a day if packed properly.
High Density Exterior
The backpacks exterior is made out of 1000D nylon. It is advertised to never scratch, tear, or rip. The material is leakproof and sweatproof which makes this rugged cooler the ideal tool when you are camping or spending time outdoors.
Cost and Value
You should expect to pay a high price for this backpack cooler but it is well worth the investment. This cooler keeps ice cold for an entire day when packed properly and it is constructed to be extremely durable.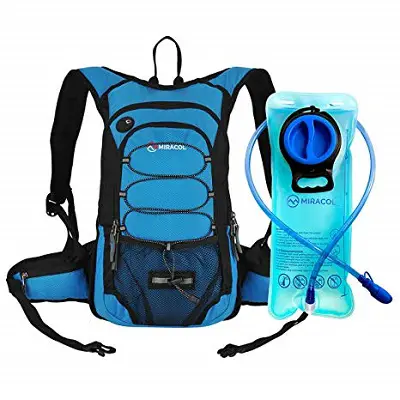 If you are looking for a backpack cooler that is geared towards supplying you with cool water, then you should take a look at the Miracol Hydration Backpack. This cooler is designed to keep your fluids cold for up to four hours at a time. This makes it the ideal backpack cooler for activities such as fishing, biking, hiking, or even skiing. It also has additional storage pockets for other items.
2L Bladder
This backpack has an insulated compartment and a replaceable 2-liter bladder. You fill the bladder with water or other drinking liquid and the backpack will go to work to keep it cool for up to four hours at a time.
Storage Compartment
The backpack does more than just keep liquid cool. It also comes with a large main storage compartment where you are free to store other items that you may need. It's a great place to store food in sealed bags.
Cost and Value
This backpack has a price that is below average, which makes it a great value. You get features such as excellent water cooling capabilities and large storage compartments without having to pay a high price for them.

4

. Arctic Zone Titan Deep Freeze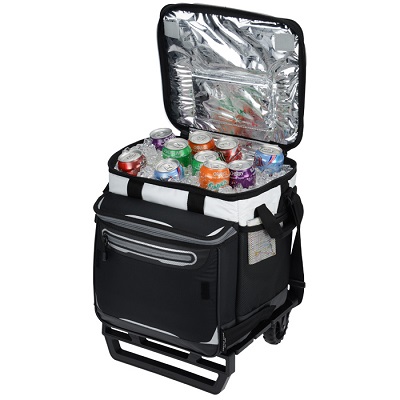 Here is another great cooler that is perfect for camping or fishing. You can purchase it in sixteen can, thirty can, and forty-eight can sizes so that you can find the size that is right for you. The entire cooler is made out of a leak-proof hard shell design. It does not have any zippers but instead uses a tight sealing lid with a buckle on the top.
High Performace Insulation
The cooler has insulation that is high performance. The larger models can keep ice for up to three days at a time. The coolers have a heat barrier and a triple layer on the bottom of the cooler.
Organizers
The cooler features a removable organizer compartment that allows you to easily separate food items from liquid items. This prevents mishaps such as sandwiches getting crushed by soda cans or pouches bursting open from pressure.
Cost and Value
This cooler has a price that is slightly below the average which makes it into an excellent value for the money. It offers an excellent cooling capacity and allows you to easily separate soft food from heavy items.

5

. OAGear Cooler Back Pack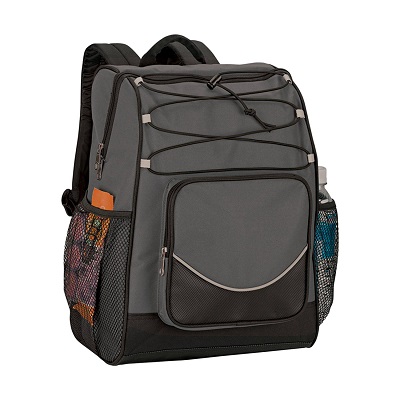 If you are looking for a regular backpack cooler that can hold up to twenty twelve ounce cans and ice, then this backpack is for you. It is shaped like a regular book bag and has features such as mesh side pockets for holding water bottles and even bungee cords on the front so that you can attach extra gear. The interior of the backpack is fully insulated and lined.
No-Leak Liner
This backpack has a liner that is designed not to leak. Having a no-leak liner is an important feature because it allows you to use actual ice inside of the cooler to keep your food and drinks cold.
Padded Straps
This is a large cooler that can become extremely heavy when it is filled to capacity. The shoulder straps are wide and padded so that they don't dig into your shoulders while you are carrying the backpack.
Cost and Value
You should expect to pay a low price for this backpack cooler. It gets its value by being a basic backpack cooler that simply fulfills its intended purpose. There aren't a lot of bells and whistles on this cooler so you save.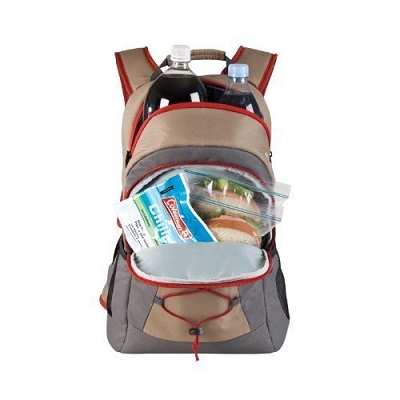 Here is an ideal cooler backpack that is large enough to hold up to twenty-eight twelve-ounce cans. This makes it the perfect backpack cooler for activities such as camping, fishing, hunting, or anything else outdoors. You will have plenty of room for both food and water in this cooler and you can even store ice or ice substitutes in this cooler. It is anti-microbial, easy to clean, and resists odors.
Large Storage
The cooler compartment on this backpack is extra large and will allow you to store up to twenty-eight twelve ounce cans. You will have no trouble finding room for food, water, ice, or other things that you decide to take.
Padded Straps
The shoulder straps are padded and are extra wide. This feature is really helpful when the backpack is fully loaded since it can become extremely heavy. The heavy-duty straps distribute the weight across a wider area which makes it easier to carry the cooler.
Cost and Value
You should expect to pay a low price for this backpack cooler. It is an excellent value because it is extremely large and allows you to easily carry a day's worth of food and water. You can even fill it with ice.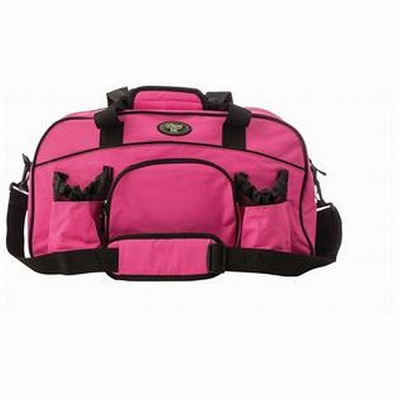 This is a great choice for a day out at the beach, pool, or the lake. The bag is durable and is also sturdy which allows you to pack both food and many drinks into this bag. It has two exterior pockets that zipper shut and there are two additional mesh pockets. You can easily carry this cooler using the handles or the shoulder straps that are provided.
Five Side Insulation
The cooler is insulated on five of the six sides which allows you to pack it plenty full and keep items cool. You can use ice substitutes to help keep items cooler for a longer time if desired.
Padded Shoulder Strap
The main shoulder strap is fully adjustable and padded. This allows you to comfortably carry the cooler when it is packed full. The straps can be adjusted so that they fit comfortably around your body.
Cost and Value
This cooler has an extremely low cost which makes it a bargain buy. It has plenty of extra pockets besides the main storage pocket so you will have no trouble packing everything you need into this cooler.



This cooler was designed for airplane pilots and flight attendants. It is small, lightweight, and allows you to pack a day's worth of food and water. The liner is insulated to keep your items cool and it also has compartments that are specifically designed for non-perishable items. The cooler has handles on the top as well as shoulder slings so that you can carry it on your shoulder.
Dry Compartment
The top of the cooler has a special compartment that is intended to provide you with easy access to dry items and non-perishables. It is located on the top of the cooler and it offers a great spot for napkins and cutlery.
Pass Through Pocket
The cooler has a pass-through pocket which allows you to insert the handle of your luggage through the cooler's pocket. This allows you to easily stack the cooler on top of your pull behind carry-on luggage.
Cost and Value
You should expect to see this cooler sold at an average price. It gets its value by offering features such as handles and shoulder straps that make it easy to carry. The cooler is also fully lined on the inside.

9

. Tourit Insulated Cooler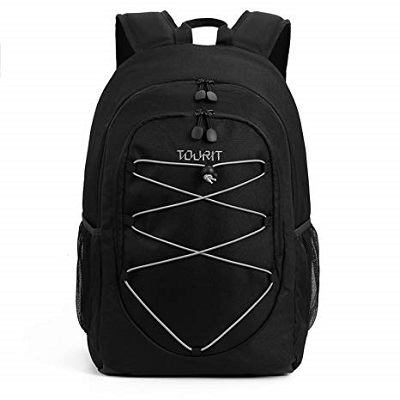 The TOURIT cooler is suitable for most trips outdoors and boasts a 25 ltr capacity for food and cans. It is lightweight and benefits from being available in a choice of four contrasting, complimentary colors. It offers a good variety of multi-sized pockets with 1 larger compartment, 2 x mesh pockets, and a zipped front pocket with an added mesh divider.
Leakproof
This cooler is produced with high-density insulation, and a leak-proof liner; this is divided into the pockets and helps items to retain the chosen temperature for longer periods. The exterior is tough and benefits from being water resistant and lightweight for added comfort.
Padding
The added padding around the shoulder straps keeps comfort at a premium whilst remaining versatile for a variety of uses. The back padding is designed to detract discomfort from the cooler packs and reduces the chances of chafing where the cooler sits on the back.
Cost and Value
The features included in the manufacture of this backpack cooler; mean it's versatility is wide – this ensures that with this purchase; cost and value are well represented. The leak-proof interior and water-resistant exterior are a bonus in inclement weather.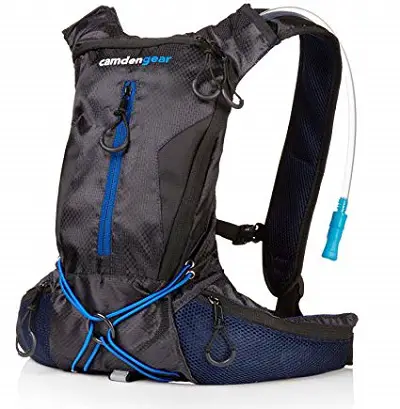 This is another backpack cooler that is specifically geared towards hydration. The backpack is designed to hold up to 1.5L of water and keep it cool. You can easily get a drink by using the straw that is long enough to reach from the backpack all of the ways up to your mouth. It won't be a problem to carry other gear also because you can use the bungee cords or triangle hooks.
Holds 1.5L
This backpack is designed to hold a 1.5L water bladder. The bladder has a wide opening which screws shut so that you can fill it easily and even add ice to it to help your drink stay cool for hours.
Lightweight and Breathable
The exterior of the backpack is made out of a lightweight mesh material that allows the backpack to breathe easily. This feature prevents sweat from pool up where the backpack touches your body. The material is also lightweight.
Cost and Value
You should expect to see this backpack at a low price. It gets its value by being specifically geared towards holding large quantities of water while still being lightweight and durable. People who spend time hiking, biking, or running will love this backpack.

Subscribe to our Newsletter